How to Buy an Induction Range: The Definitive Guide
September 8th, 2022 | 13 min. read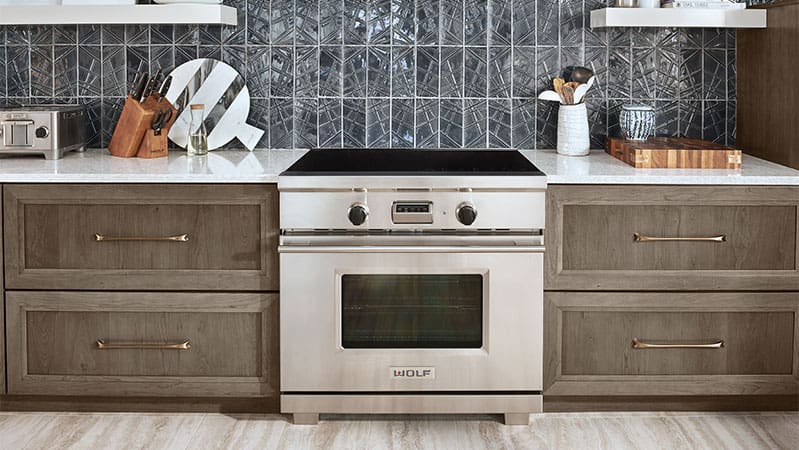 Induction ranges have been touted as the best cooking product you can buy. The technology is the best, better than electric and gas cooking in almost every case.
In this article, you will learn all about the best features of the most popular induction ranges. We'll cover stovetop features, oven features, and controls, so you can choose the best range for how you cook.
But is induction better for you?
Induction isn't for everyone. Many people can't buy induction. You don't want to find out you can't use an induction range when you're installing it.
I will also show you the many reasons to consider a gas range and a few reasons not to.
I have included every possible feature, consideration, argument, and counterargument heard over the last years so you can weigh every possible consideration.
You'll find videos and related articles to guide you along the way, or you can click on any link of personal interest in the table of contents.
How Induction Works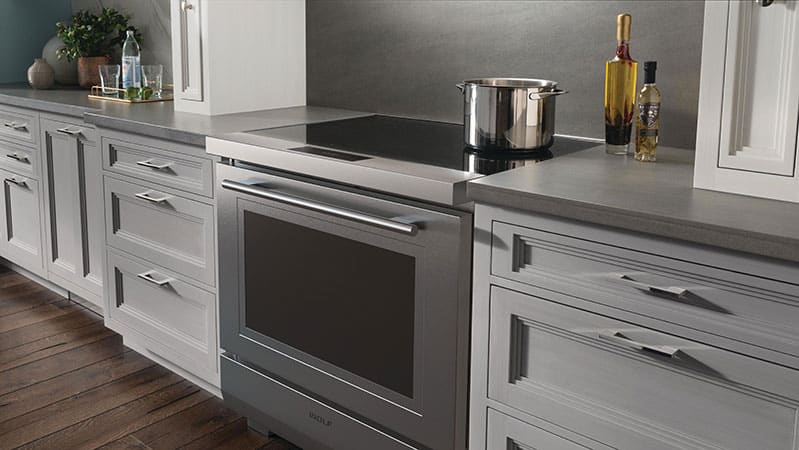 Wolf Induction Range
I just moved to be closer to my daughter's new school.
I have a 15-year-old Kenmore Elite electric range in my new kitchen and wanted to try a new pan-seared salmon recipe.
I turned the range on high and waited. Then I added butter and avocado oil and promptly smoked out my apartment, setting off the alarms.
I had to remove the pan from the stove and wait for the burner to cool down. Electric heat is residual because it heats the glass with the glass cooking the food.
I could have left the pan on the surface with induction and turned the heat down for an instant simmer.
In induction, the pan cooks the food by passing the glass.
Let me explain: Induction uses magnetic heat. The magnets excite the metal of your cookware with the pan cooking your food. That's my definition.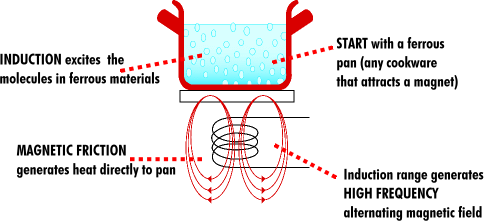 Carbon Switch, an online platform for guides and reviews on sustainable living, defines it more technically.
"Beneath each zone of a smooth ceramic-glass induction cooktop lies a coiled copper wire. When you turn on a burner, an alternating electric current darts back and forth through the coil, oscillating dozens of times a second to create a magnetic field.

If that field hits a material that resists its flow – the base of your favorite cast-iron skillet – it induces swirling electric flows called eddy currents, which generate heat in the resistant metal.

Your induction stovetop will no longer create heat if you lift the pan, breaking the molecular connection. Each burner on an induction stove has a sensor that recognizes the metal's temperature and adjusts accordingly."
That's why induction cooktops only work with pots and pans made of ferromagnetic materials, like iron and steel.
One way you can test this is by using a magnet. If the magnet stick to your pot, you can use the pot on an induction stovetop.
Why Induction May Be the Right Choice
Speed
Induction is efficient and fast. It's faster than the fastest pro range at 25-30,000 BTU (British Thermal Unit). Induction is the "newest" cooking technology introduced in the 1980s.
Gas ranges haven't changed that much since the 1930s. However, gas burners have a higher output than induction, but you lose nearly 40% of that heat while cooking.
Simmer
Induction stovetops have an instant simmer. In the example above, I had to wait for the element and the glass to cool. Induction bypasses the glass to provide an instant simmer.
Cleanability
Food doesn't bake on the cooktop because the glass doesn't heat. Thus, cleaning is much easier. It's much easier than a sealed gas burner because that, too, is tough to clean.
Pro Tip: Our previous chef used a splat mat between the pot and glass, making it simple to clean. The rubber mat doesn't heat, and she always just cleaned it off at the sink.
However, you must be careful if you're cooking for longer periods because the mat picks up the residual heat from the pot.
Easier to Vent
Induction requires less venting because you have less heat escaping from the burners, like a gas range.
It might not seem like a big deal, but Massachusetts has Make-Up Air Laws stating any vent over 410 CFM (Cubic Feet Per Minute) needs fresh air to return.
You can buy a 36-inch pro range in induction or even with sous vide and still be within 400 CFM.
You can't properly vent an equivalent gas range at 400 CFM. It would have to be at least 600 CFM.
Read More: How to Vent Your Kitchen Range
Better for the Environment and Indoor Air
We have written articles about gas cooking and the number of toxic gases generated while cooking, such as Carbon Monoxide, Formaldehyde, Nitrous Oxide, and Carbon Dioxide.
Along with better-built homes and higher BTU ranges, your indoor air is probably worse than outside. If you cook often, it could be a lot worse.
Then you have numerous gas leaks throughout the system and perhaps in your house, so environmentally induction is a better option for your house and the planet.
Induction is a much cleaner power source than gas, with much less toxicity than a gas stovetop.
Zero Waste Chef, an online recipe blog, had an interesting article and graphic describing how to reduce pollutants in your kitchen with induction cooking.
Read More: Why Are Gas Ranges Being Banned?
Safety
My five-year-old can easily turn on a gas or electric range, but not an induction range. It must sense metal to activate.
Similarly, it's hard for her to be burned on an induction stovetop. The glass only has residual warmth from the pan. For gas or electric ranges, scalding is much more of a concern.
When Induction Might Be the Wrong Choice
High Amperage Needed
Gas requires less than 12 amps, while induction requires up to 50 amps.
If you live in an older building or condo, you may not have the amperage you need to power your induction range.
At the very least, you will need a new electric line to the range and maybe a new panel and service.
Cost
An induction range will cost more than the equivalent gas range and far more than an electric range.
Reliability
Gas ranges are 6.4% more reliable versus 9.6% for induction ranges. Much of the service for induction is electrical spikes shorting out the ranges.
Power Outages
You can light a gas range during a power outage. You cannot start an induction range during a power outage.
You Are Used to Gas
You see the gas when it's on. You want to toss the pan with the food up like a restaurant. You can do that with gas. In induction, the unit will shut off when the magnets do not sense metal.
Read More: Pros and Cons of Induction vs. Gas Cooking
How to Buy an Induction Range: The Definitive Guide
Now that you have the pros and cons of induction, let's pick out an induction range.
Size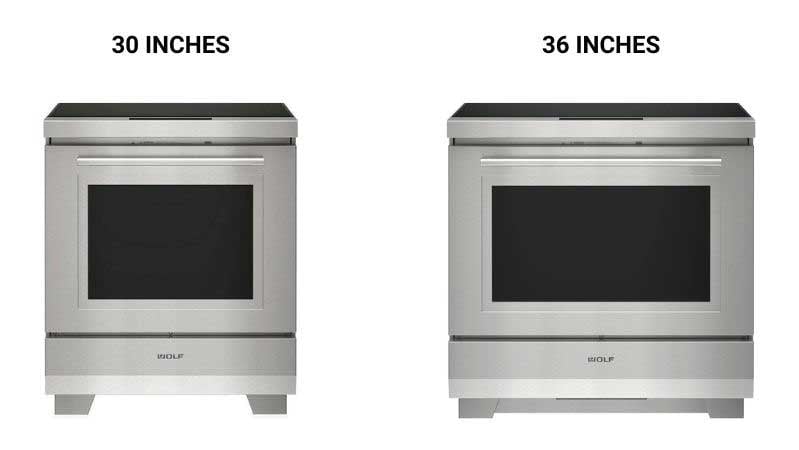 Thirty-inch ranges have been far more popular with more brands and styles to offer. However, thirty-six-inch ranges are becoming more popular as people prefer induction over professional gas.
What's the difference between 30- and 36-inch induction ranges? You have a larger oven but also more burner configurations as well.
Style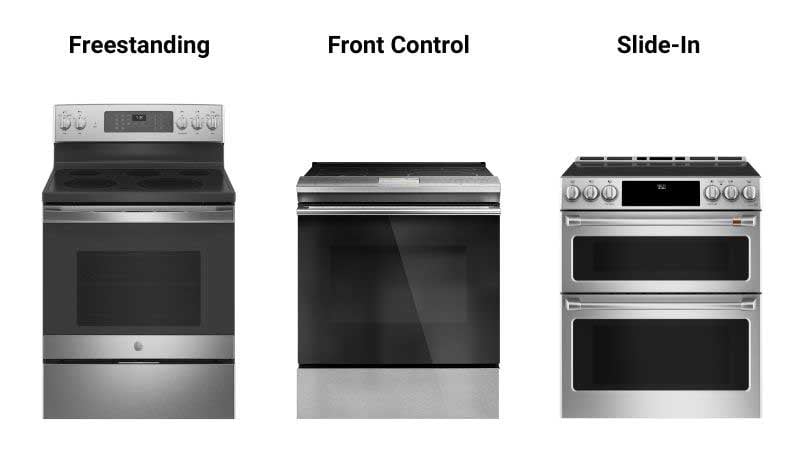 Freestanding ranges have controls on the back with finished sides, so you can place them anywhere. Freestanding ranges tend to be the least expensive.
Front control ranges have the controls on the front with finished sides, so you can also place them anywhere.
Slide-in ranges also have controls on the front with unfinished sides, making them perfect to fit between cabinets. However, you can't place them anywhere.
Slide-ins fit over the countertop to eliminate the seam, making cleaning much easier.
Between slide-in and front control ranges, front control ranges are better for replacing an existing range.
You will like slide-ins for cleanability, but they are harder to replace with a new stove without some minor cabinet and cooktop modifications.
Slide-in ranges are better for new construction.
Features
Wattages
All the induction burners will be powerful, but some are better than others.
LG has the most powerful single burner at 4000 watts, while Miele is the most powerful with two 3850-watt burners.
However, you have at least one more powerful burner on most ranges.
Below are several popular range models and their burner wattages:
| | | | | | | |
| --- | --- | --- | --- | --- | --- | --- |
| | Size | Burner 1 | Burner 2 | Burner 3 | Burner 4 | Burner 5 |
| Beko PRIR34450SS-1 | 30" | 2300/3700 | 1400/2200 | 1400/2200 | 2600/3700 | No 5th burner |
| Café CHS950P2MS1 | 30" | 2500 | 2500 | 3700 | 1800 | 100 warming |
| Fisher & PaykelOR36SDI6X1 | 36" | 2100/3700 | 2100/3700 | 2100/3700 | 2100/3700 | 5500 |
| Profile PHS930YPFS | 30" | 1800 | 3700 | 2500 | 2500 | 100 warming |
| LG LSE4617ST | 30" | 1800 | 100 | 3200 | 4000 | 1800 |
| Miele HR16222I | 30" | 1450/2300 | 1950/3100 | 2400/3850 | 2700/3850 | No 5th burner |
| Wolf IR36550/S/T | 36" | 2100 | 2100 | 3700 | 3000 | 3000 |
Stovetop Configuration

Induction Stovetops from Wolf, Fisher & Paykel, and Café
You have mostly four burners. A few have five burners, but that 5th burner is for warming only. A bridge burner allows you to fit an oversized platter to heat evenly.
A few have multiple rings to accommodate larger pots as well.
Read More: How Does Sharing Wattage and Power Affect Induction Burners?
Knobs vs. Touch Controls
Some people are suspicious of electronic or touch controls. It's understandable to a point. Electronics are costly repairs, but they don't usually break.
When was the last time your microwave broke? They are one of the most reliable appliances at Yale and are just electronics.
Knobs have parts behind them and break more. In terms of performance, the electronics are more precise than the 1-10 dial controls.
Smart Features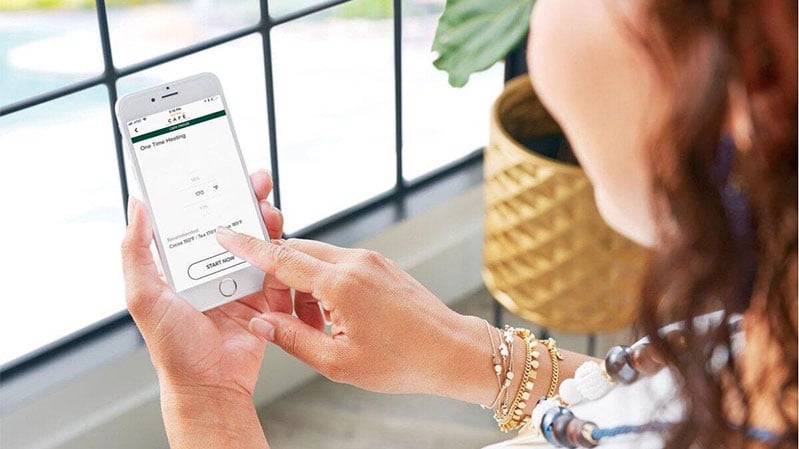 GE's SmartHQ App
Half the manufacturers have Wi-Fi functionality, so you can operate the stove from an app on your phone.
The two best smart ranges are GE with their SmartHQ app and LG's ThinQ app.
GE may be a bit better because they always add modes wirelessly, like their famed Turkey button released before Thanksgiving.
However, both have tie-ins to different gourmet apps like Innit and SideChef, so you can follow them step by step.
Both have cameras inside the stove to see the food cooking on your phone.
Service is being tested by both manufacturers as well. The range will diagnose itself and send for repair before the issue arises.
Learn More: Smart Appliance Buying Guide
Oven Features to Consider
Capacity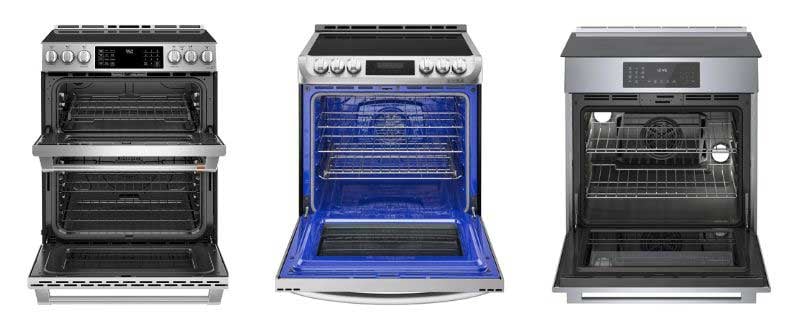 Induction Range Ovens from Café, GE, and Bosch
Capacity runs the gamut from 3.5 cubic feet to 7.1 cubic feet. Fisher & Paykel is the smallest at 3.5 cubic feet. That powerful Miele is on the smaller side at 4.59, Bertazzoni is 4.6, and Viking is 4.7.
KitchenAid and JennAir are 7.1 cubic feet, Café is 6.7, LG is 6.3 cubic, and Beko at 5.7 cubic feet will be your largest.
Convection
You see the feature for "True," "European," and "Pure" convection. They all mean the same thing.
The heating element is behind the fan, with the heat blown across to maintain a more even temperature.
In electric, most are blown from the back, unlike gas, where only BlueStar and LG have that convection style.
However, you have several different convection types to choose from:
Blower Convection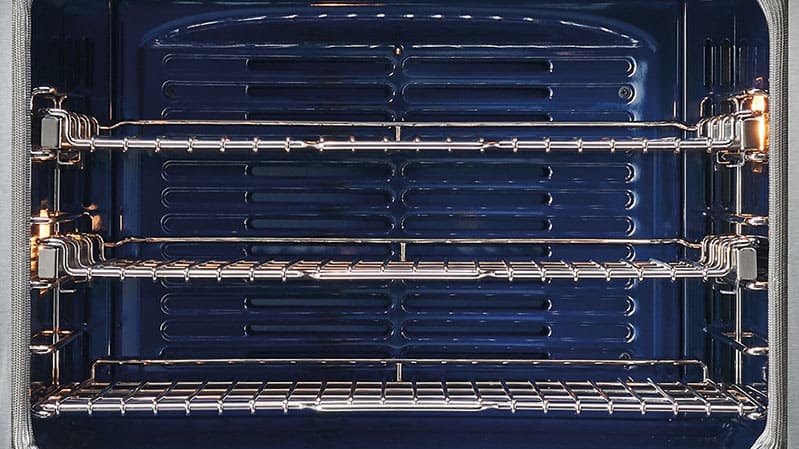 Wolf VertiCross Convection Oven
Wolf has their newer "VertiCross" blower-style convection. Blowers move more heat than fans, so you have a faster, more even heat distribution.
Curiously, Wolf doesn't offer air fry as a feature. Maybe because they already know it doesn't work even with blowers in a larger oven.
SURF Convection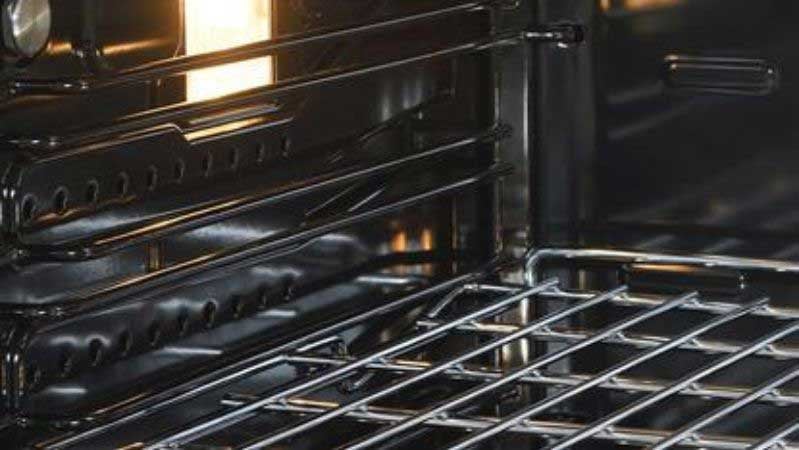 Beko SURF Convection Oven
Beko has "SURF" convection. A larger fan with slats moves the air through the sides with surf convection.
Twin Convection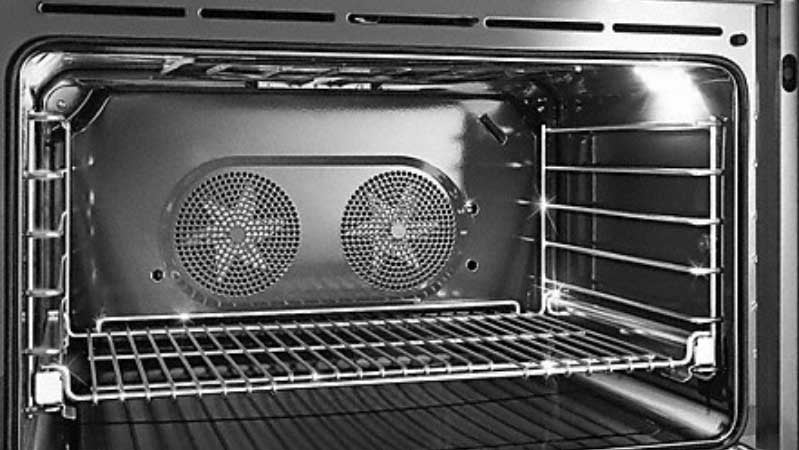 Miele Twin Convection Oven
Two fans must be better if one fan is good.
Read More: What Is a Convection Oven and How Do You Use It?
Self-Cleaning
Most have it, but some, like Bertazzoni and other Italian ranges, do not. Self-cleaning is a high-heat three-hour cycle.
Steam Self Cleaning
Steam is a 20–30-minute cycle to clean after you cook at a lower temperature. It will loosen the stains to wipe down, but you cannot clean the baked-on stains the next day.
Steam self-cleaning is a better option if you remember to use it.
Steam Assist Cooking
Miele offers up to three bursts of steam. Steam is essential for baking bread, and Miele makes it easy with their MasterChef controls. You have 17 recipes on the range. All you have to do is touch a button.
Speaking of which, let's dive into guided cooking systems.
Guided Cooking
Most have some guided cooking, like convection conversion. It will convert your recipe into a convection recipe with a touch of the button.
Other brands like GE, LG, and Samsung are compatible with other cooking apps.
However, the two best are Wolf and Miele.
Wolf Gourmet
You select the type of food, weight, and doneness. The range will calculate time, temperature, and even the best rack position. You also have preprogrammed recipes on the range.
Miele MasterChef
The MasterChef calculates time and temperature like Wolf but not the rack position.
Miele is the only company offering steam assist for cooking.
Read More: Miele MasterChef vs. Wolf Gourmet vs. JennAir Culinary Center Guided Cooking Systems
Double Ovens
You can now buy two ovens in many 30-inch brands. Café offers two independent ovens with the smaller one on top.
Samsung has their "Flex Duo," which can be two ovens or one larger oven without the "Smart Divider."
However, you can't cook in both ovens at many temperatures simultaneously.
In JennAir and KitchenAid induction ranges, you have a larger oven with a smaller baking drawer in these models.
Warming Drawers
LG and Bosch will have a warming drawer to keep food warm for up to three hours. It's a good feature to consider with staggered mealtimes.
Temperature Probe
Meat probes are a good option if your recipe demands an internal temperature. The probe can signal the range to shut off when that internal temperature has been reached.
Oven Features to Not Consider
Air Fry
Well, we still haven't been able to air fry on any manufacturer. Air fry is high-speed hot air movement, so you don't use oil. It's healthier.
Our local BGoods chain has made a killing selling healthy French fries to people like me for years.
Yet the BGoods air fryer has a small capacity, probably 1.5-2 cubic feet compared to the 3.5-7 cubic feet of a gas stove.
Each range is 4.59 to 7.1 cubic feet, so the air cannot be circulated with enough heat and speed to fry.
Please leave your process in the comments below if anyone has air fried successfully.
Air Sous Vide
Sous vide is precision boiling in a bag. Air sous vide uses air.
Interesting, but you need vacuum-sealed bags for a two-hour cycle. Then you will need to finish off on your stovetop for texture.
Reliability
The following service rates are based on a minimum of 25 induction ranges sold and a total sample of over 450 pieces from December 2020-October 2021.
| | |
| --- | --- |
| | Service Rate |
| JennAir | 2.6% |
| GE Profile | 3.5% |
| KitchenAid | 6.0% |
| Bosch | 8.0% |
| LG | 10.3% |
| Samsung | 10.6% |
| Beko | 13.9% |
| Café Appliances | 15.6% |
| Miele | 17.2% |
| Fisher & Paykel | 17.7% |
| Grand Total | 9.6% |
Induction is about the same as appliances at 9.6% versus 9.5%. However, the problems are mostly electrical, not from the unit.
Induction ranges, unlike electric, max out the amperage in the circuit. This leaves them vulnerable to surges and voltage spikes.
Two of the most common induction range problems are from units tripping breakers and having no power to the cooktop.
Before you buy an induction range, make sure you have adequate power.
The Café has two ovens and should have more problems as a percentage. The Profile version, as an example, is excellent.
Miele must have a water line installed for the steam, while Fisher & Paykel is sold at the larger 36-inch size.
Read More: Most Reliable Induction Ranges
Best Induction Range Brands to Consider
We cover this in greater detail in our Best Induction Range Article. You can click here, and I will leave a link at the end of the article.
Wolf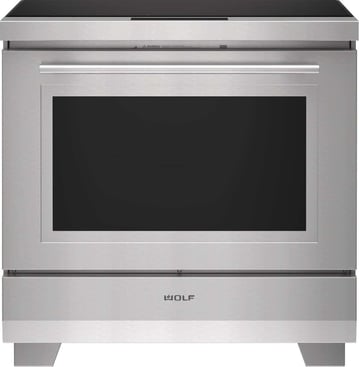 Wolf's induction ranges have good output and fully featured stovetops with one larger burner and two bridge burners. Wolf's ranges include the Gourmet guided cooking system and the industry's best convection system.
Their best 36-inch induction range is the Wolf IR36550/S/T (shown above).
Wolf Strengths: Guided cooking system, powerful burners, bridge element, excellent convection system
Wolf Weaknesses: Expensive with longer lead times
Read More: Should You Buy a Wolf Induction Range?
Fisher & Paykel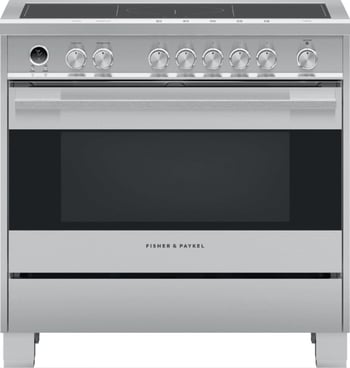 Fisher & Paykel's induction ranges have excellent stovetops with larger burners and four bridge elements.
The Fisher & Paykel OR36SDI6X1 induction range (shown above) has a warming drawer and a five-year warranty.
Fisher & Paykel Strengths: Burner configuration, good ovens modes with nine functions, warming drawer
Fisher & Paykel Weaknesses: The 4.9 cubic oven is small, smaller than many 30-inch sizes. No smart functionality.
Pro Tip: A five-year warranty means you don't pay for service within the first five years. However, most independent servicers won't service in warranty because labor rates are so low. Make sure service is available for any manufacturer with an extended warranty before buying the product.
Read More: Should You Consider a Fisher & Paykel 36-Inch Induction Range?
Miele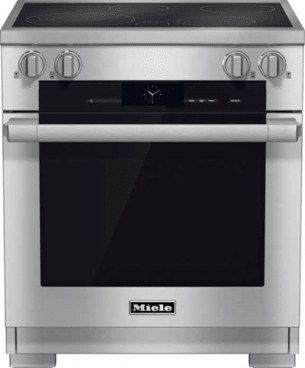 The Miele HR1622-2I induction range (shown above) has the most powerful all-around induction stovetop with two burners at 3850 watts. Miele's guided cooking system, MasterChef, is simple to use. They are the only range with steam cooking functionality.
Miele Strengths: Miele has the most powerful cooktop, best oven, and controls. You can cook better and more creatively with a Miele.
Miele Weaknesses: No bridge elements and small 4.59 cubic foot capacity.
Read More: Wolf vs. Miele Induction Ranges
LG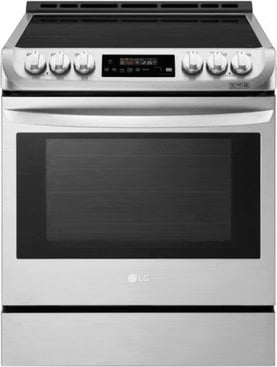 LG is the big winner throughout the pandemic, still shipping while others have shortages. LG's best induction range, the LSE4617ST (shown above), has a large oven, good Wi-Fi capabilities, and a 4000-watt burner.
LG Strengths: Power burner, good Wi-Fi, large oven
LG Weaknesses: No warming drawer and knob controls (which may be another strength depending on what you like).
Café Appliances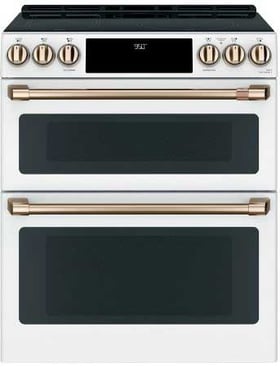 You can buy the CHS950P2MS1 in three finishes and accessory combos for a unique look. The ovens can be used at any temperature and have a total capacity of 6.7 cubic feet.
Café Appliances Strengths: Double oven, style options, Wi-Fi enabled, and recipe tie-ins.
Café Appliances Weaknesses: The drawback to GE's double oven is the main oven sits on the floor. You will have to stoop for that turkey.
Bosch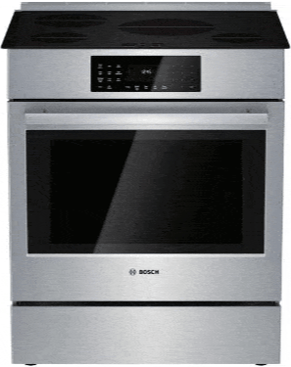 Bosch is the best looking with its industrial look and clean European lines. You can package Bosch well with other appliances for a good look in your kitchen.
From a specification standpoint, Bosch has a decent stovetop at 3,700, two at 3,600, and a 2,200-watt burner for the Benchmark series slide-in range (the HIIP056U). You have a convection oven and a warming drawer underneath as well.
Bosch Strengths: Looks, package opportunities, and easy-to-clean slide-ins.
Bosch Weaknesses: No smart functionality. Smaller ovens
Beko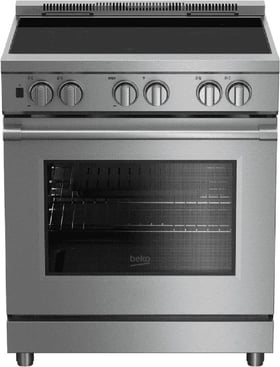 Beko, like LG, has been a reliable supplier throughout the pandemic. Their best induction range, the PRIR34450SS-1, is "Pro-Style," so it looks like a professional range.
Beko has two 3700-watt burners, a good convection system with "Surf" convection, and a 5.7 cubic foot capacity.
Beko Strengths: Style, decent overall features
Beko Weaknesses: No warming drawer or smart functionality
Profile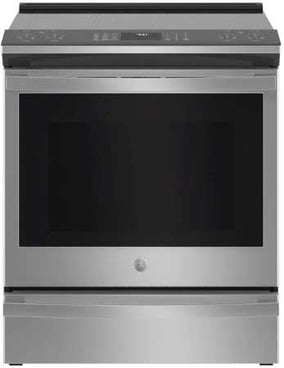 You see the Profile PHS930YPFS induction range in many other publications as the best choice. You have great smart functionality. Burners are varied with the bridge and larger burners.
Profile Strengths: Modes, smart functionality, excellent reliability
Profile Weaknesses: No warming drawer, only one 3700-watt burner. The oven size is average at 5.3 cubic
Key Takeaways
First, you need to decide on several basic factors. What size do you need for an induction range, 30 or 36 inches?
Second pick the style, whether it's a front control, slide-in, or freestanding range.
Third, look at features: Do you want high output, a versatile stovetop, or a larger, more fully featured oven? Which will you use the most?
Lastly, you want to determine which one can be fixed quicker in your area.
If you have any questions, please leave them in the comments. We can certainly help with issues you may be facing.
Upcoming Webinar: How to Buy an Induction Range
Click here to sign up for our next webinar, How to Buy an Induction Range, on Oct 26, 2022, at 11:00 AM Eastern Time (ET).
During this free webinar, you will learn all about the best induction ranges to consider. We'll also cover their features, problems, and the pros and cons of induction cooking. This way, you can decide if an induction range is right for you.
If you can't attend, we'll send you the recording. You can ask any appliance or design-related questions at the end of the webinar or submit them when you sign up.
Additional Resources
Read our Induction Cooking Buying Guide for features, buying tips, and ratings of every available induction cooking product in the market. Well over 1 million people have read a Yale Guide. Induction is our most popular.
Related Articles:
Why Should You Trust Us?
It seems that every appliance review has nothing but glowing comments about almost every product, yet you read customer reviews and they are almost universally bad.
We are here to fill in the disconnect. We'll give you the best features, and the drawbacks as well, including reliability based on over 37,000 calls performed by our service team just last year. Our goal is to give you ALL the information so you know what's right for you.
Please consider subscribing or adding to the conversation in the comments below. We appreciate you stopping by.
Steve Sheinkopf is the third-generation CEO of Yale Appliance and a lifelong Bostonian. He has over 38 years of experience in the appliance industry, and he is a trusted source of information for consumers on how to buy and repair appliances.

Steve has also been featured in numerous publications, including the New York Times, Consumer Reports, The Boston Globe, Bloomberg Radio, the New York Post, The Wall Street Journal, and Entrepreneur, for his knowledge of how to buy appliances and appliance repair.

Steve is passionate about helping consumers find the best appliances for their needs, and he is always happy to answer questions and provide advice. He is a valuable resource for consumers who are looking for information on appliance buying, repair, and maintenance.

Despite being the worst goalie in history, Steve is a fan of the Bruins and college hockey, loves to read, and is a Peloton biker. The love of his life is his daughter, Sophie.
A Note About Pricing
Pricing on this blog is for reference only and may include time sensitive rebates. We make every attempt to provide accurate pricing at time of publishing. Please call the stores for most accurate price.