The Best 36-Inch Induction Cooktops for 2017 (Ratings / Reviews / Prices)
Induction is not new technology since it was introduced in the 1980s. However, it is far more recent than gas or traditional electric, which started in the 1920s and 1930s. The first popular induction cooktops were the now defunct Diva at $3,500 for four basic burners.
Now induction is far more accepted with every manufacturer marketing a 30 and 36-inch cooktop. It is now the high-endcooktop of choice surpassing electric over $1,000.
Short on time? Get our free Pro Cooking Buying Guide
How Induction Works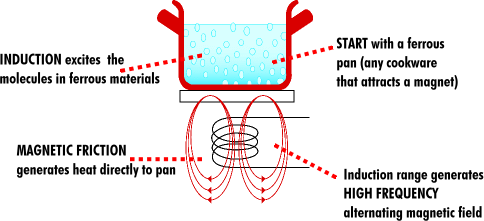 Induction is the safest cooking method. Unlike the glass on a traditional electric cooktop, the glass on an induction cooktop does not get scolding hot to heat the pan.
Instead, a magnet excites the molecules in the pan so that the pan itself becomes the cooking surface, directly cooking the food bypassing the glass.
For this reason, induction is the most efficient cooking method as there is very little loss of heat when cooking. It is 90% efficient, which is more than gas at 60% and electric at 55%.
It has the least amount of residual heat, so you do not need a powerful exhaust hood. Likewise, it can be used with a downdraft, unlike professional gas ranges and rangetops.
Induction is one of the easiest cooking surfaces to control. It is faster than pro gas but is capable of achieving the lowest simmer.
This allows you to either melt chocolate without a double boiler or sear a steak in minutes. In terms of performance, induction is the best cooktop without question.
Choosing an Induction Cooktop
The two most common determining factors to consider when purchasing a new cooktop are package promotions, rebates, and the cooktop layout.
All of the induction cooktops will have a similar range of high to low power. You should base your decision on functional characteristics, such as the layout of the cooking surface.
The Best 36-inch Induction Cooktops for 2017
The following cooktops were ranked higher than other brands for their configuration and wattage. Additionally, the following rates and displays 36-inch cooktops. Go here for the best 30-inch induction cooktops.
Benefits of Induction Cooking [VIDEO]
Thanks for reporting a problem. We'll attach technical data about this session to help us figure out the issue. Which of these best describes the problem?
Any other details or context?
message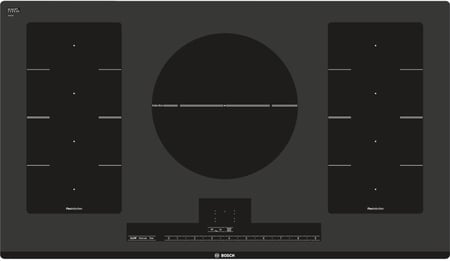 Bosch Benchmark was one of the first induction cooktops that have a true bridge burner. Numerous brands are connecting the controls of two burners for ease of use. They don't have an induction element under the bridge like this benchmark. Having griddle cooking on this makes it one of the best.
Burner Layout:
(1) 3,600W Element
(1) 3,300W Element
(3) 2,200W Element
Certain zones can be boosted to 3,600W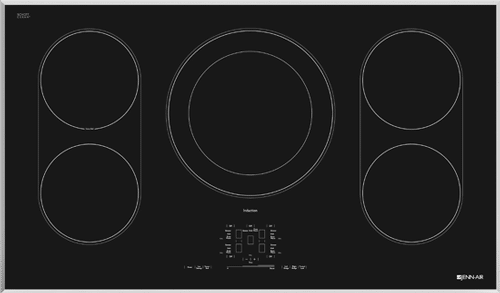 Jenn-Air is the premium brand in the Whirlpool Corporation. The Jenn-Air line has some great package options and has earned a reputation as a solid, reliable brand in our service history. The Jenn-Air cooktop has a large center burner and has two burners on each side connected by a bridge so that these elements can accommodate rectangular or oblong pans and skillets.
Burner Layout:
Center: 12" or 9'' to accommodate multiple pan sizes - 5,000-2,800 watts

Left front: 7" 2,500-1,800 watts

Left rear: 7" 2,500-1,800 watts

Right front: 7" - 2,500-1,800 watts

Right rear" 7" - 2,500-1,800 watts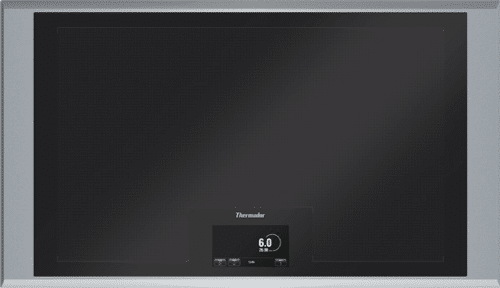 The Thermador "Freedom" cooktop is one of the coolest products on the market today. Essentially, the Freedom can cook 4 pans at once and can be placed anywhere on the cooktop surface. Thermador's sister brand, Gaggenau, makes a similar product at $5,499. Thermador also manufactures a 36'', 5-burner cooktop for $2,999.
Thermador has a reliable line of products and typically runs quality package promotions if you are looking to incorporate this cooktop into your kitchen design. If you want to see the "Freedom" cooktop live we have it on display for you to try.
Burner Layout:
Full Surface: 4,600-100 watts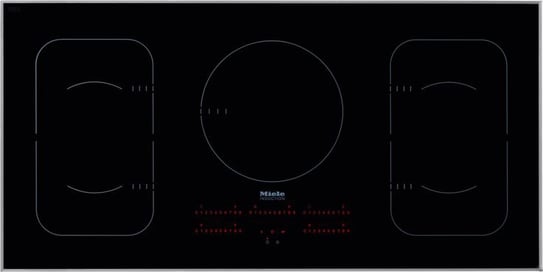 Miele makes the most powerful induction cooktop in the industry and is the only company to make an induction cooktop larger than 36" for the U.S. appliance market.
Burner Layout:
Minimum wattage 1,450, maximum wattage 7,700 when borrowing power from an adjacent burner, the highest wattage in the industry

5 distinct cooking zones with independent power in each zone

Miele induction cooktops can communicate with Miele hoods so the hood can automatically adjust power based on cooking performance
Additionally, Miele is offering a complimentary La Crueset cookware set with the purchase of one of their full-size cooktops or ranges now until May 31st.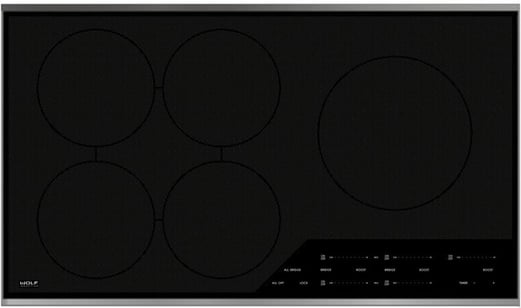 Wolf has been a well-known premium appliance brand name and this cooktop is a popular choice in our showroom.
Instead of placing a big burner in the center and two bridge burners to the sides, Wolf has a different (and arguably a better solution). Put a big burner in the right-hand corner behind the controls and four smaller burners on the left side. The small burners on the left can bridge horizontally, vertically, or all four can make one very large burner. The result is you can have two large round pans cooking simultaneously.
Two 2,100W Elements

Two 2,100W Elements with 3,000W boost

One 2,600W Element with 3,700W boost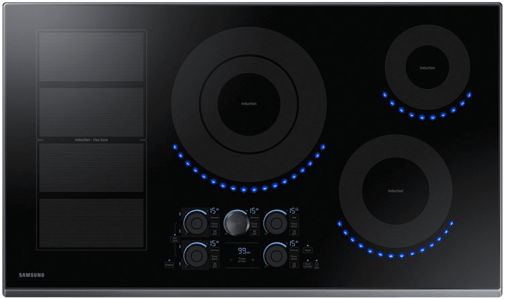 Now for something completely different. Samsung is the first Wi-Fi enabled cooktop in the industry. You can turn the cooktop on/off, preheat and change temperature right from your smartphone.
It also has the Virtual Flame Technology meaning you will see blue LEDS around the burner. So you will know it is on. The cooktop also has BlueTooth so it will signal to your Samsung hood to turn on.
Key Takeaways
First, all are good.
Miele has the utmost powerful single burner at 7,700W. Samsung has the WIFI technology. Both Jenn-Air and Bosch have two expandable burners, so you can fit any type of cookware.
Thermador Freedom enables you to touch and scroll through the power settings like you would on a smartphone. Other controls would let you slide your finger across power settings like in the Jenn-Air.
Remember, Induction is:
Induction is the fastest cooking

method

Induction gives off the least residual heat (less venting required)

Induction is the safest cooking

method

because it needs to be

activated by metal

Induction is very easy to clean

because the glass does not heat as hot
Additional Resources
Read our Induction Cooking Buying Guide for features, buying tips and ratings of every available induction cooking product in the market. Well over 120,000 people have read a Yale Guide. Induction is our most popular.
Related Articles
Editor's Note: This article was originally published on March 22, 2013 and has been updated for accuracy and comprehensiveness.
Jessica Petrino
Jessica Petrino was an Appliance Sales Consultant at Yale Appliance + Lighting for 4 years. Jessica is a graduate of Brandeis University where she studied Economics and Philosophy. In her spare time she enjoys skiing, golfing, and traveling.

Read more about Jessica here.
A Note About Pricing
Pricing on this blog is for reference only and may include time sensitive rebates. We make every attempt to provide accurate pricing at time of publishing. Please call the stores for most accurate price.