Best Electric and Induction Ranges for 2020
April 9th, 2020 | 7 min. read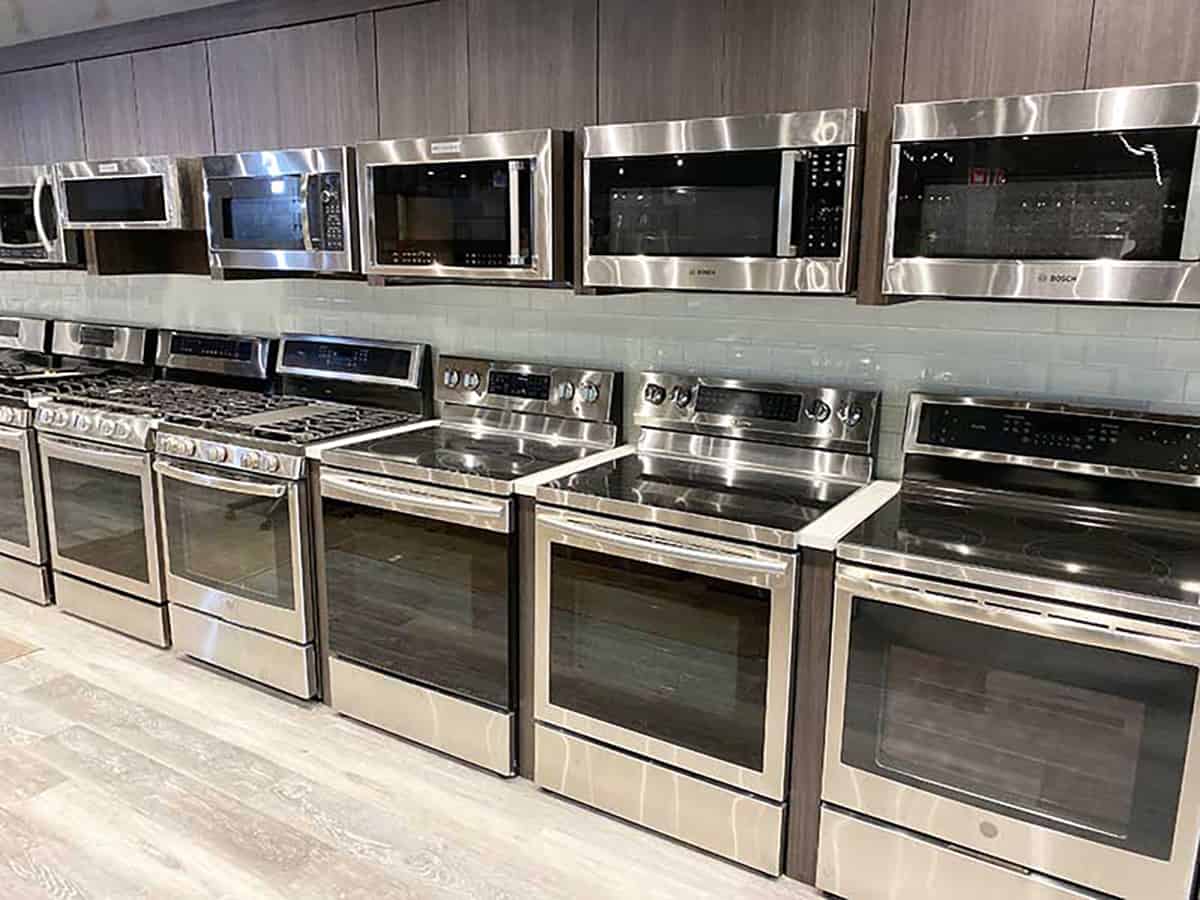 Electric ranges have not changed over the years as much as you would think. In fact, they are pretty similar.
An electric range is still ceran glass over heating elements, but some of the features like a convection system, a warming drawer, and an added 5th warming burner make new electric ranges worth considering.
Induction or magnetic, electric heat, however, has completely changed with upscale brands like Wolf, Miele, Viking, Fisher & Paykel, and Dacor offering interesting new products and features.
You also will see bigger price differences when you consider different range types like front control and slide-in for aesthetics (you will see your kitchen backsplash) and then induction for performance and safety.
Before you look at any ranges, you should know their differences and how to choose a range.
How to Choose a Range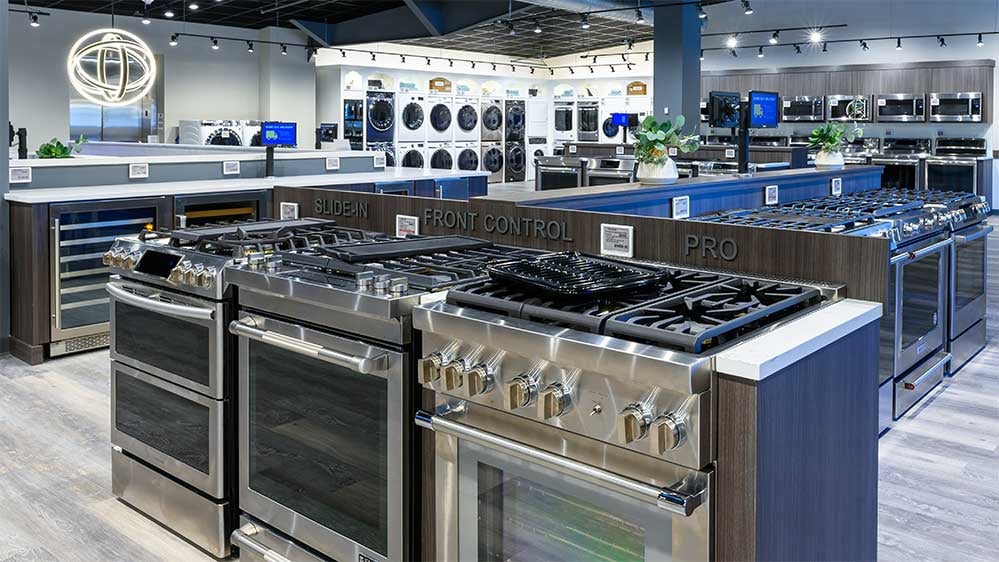 Range Learning Station at Yale Appliance in Hanover
Out of the 1000s of models available, you will learn the 19 best covering freestanding, slide-in, and induction 30 and 36-inch ranges.
More manufacturers are marketing front control ranges than freestanding. We only recommend three freestanding ranges to consider right now.
We picked the best ranges by their features, prices, and, most importantly, reliability. Our reliability statistics are based on our 35,256 service calls logged in 2019.
Differences Between Freestanding, Slide-In, And Front Control Ranges
These ranges are different in appearance, but there is a big difference in price.
Let me describe each and then show you what is less for you to buy:
A Slide-in range has controls on the front, and the cooktop sits over the counter. It's much easier to clean because there are no seams between the cabinet and the range.
Front control has the controls on the front but fits in a 30-inch space. You have the seams on either side.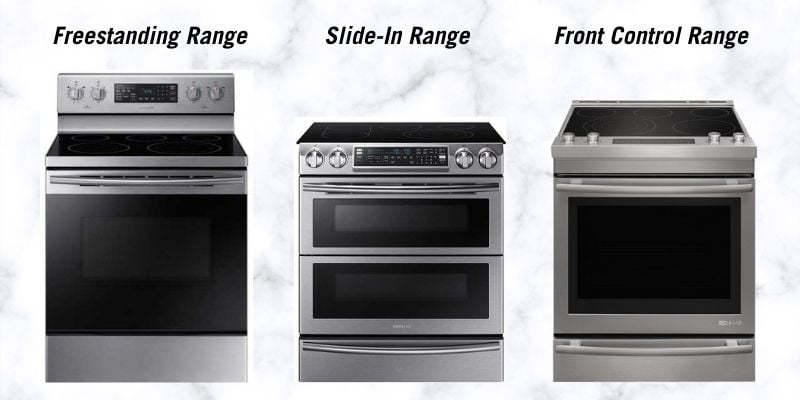 The difference between front control and a slide-in is the installation. Slide-ins fit over the cabinet, whereas freestanding does not.
Typically people buy slide-ins for new construction and front controls to replace a regular 30-inch range.
Both look the same, so be careful before you buy.
Now the least expensive type of range is freestanding. These ranges are the most popular and have the controls on the back versus the front on the other two types.
These ranges can have similar features, but freestanding is the least expensive of the three.
Click here to learn more about Freestanding vs. Slide-In Ranges.
Induction vs. Electric
As I said in the beginning, electric hasn't changed much since the glass top became popular in the 1990s.
Induction is more recent. It uses magnetic heat and is fastest to boil, even faster than pro gas, quickest to simmer, and is the most child safe.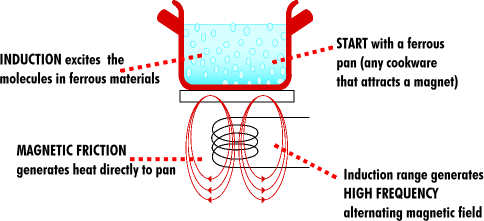 Induction bypasses the glass surface and excites the metal in your pan with the pan cooking the food. With electric, the glass has to heat first.
Reliability
Electric Range Reliability For 2020
| | | | |
| --- | --- | --- | --- |
| | Service Qty | Shipped Qty | Service Ratio |
| Jenn-Air | 28 | 63 | 44.44% |
| KitchenAid | 31 | 89 | 34.83% |
| GE Profile | 2 | 18 | 11.11% |
| Café Appliances | 3 | 28 | 10.71% |
| Bosch Appliances | 10 | 154 | 6.49% |
| Samsung | 27 | 754 | 3.58% |
| Whirlpool | 12 | 1269 | 0.95% |
| LG Electronics | 0 | 62 | 0.00% |
| Premier | 0 | 19 | 0.00% |
| Blomberg | 0 | 17 | 0.00% |
| Avanti | 0 | 17 | 0.00% |
| Grand Total | 114 | 2513% | 4.54% |
Electric ranges are the most reliable single appliance at 4.54% versus 13.1% for the industry in general. Samsung and GE are the best. Whirlpool is sold mostly to builders.
Read More: Most Reliable Electric Ranges
Induction Range Reliability For 2020
| | | | |
| --- | --- | --- | --- |
| | Service QTY | Shipped QTY | Service Ratio |
| Jenn-Air | 58 | 135 | 42.96% |
| KitchenAid | 5 | 14 | 35.71% |
| Fisher & Paykel | 4 | 12 | 33.33% |
| Café Appliances | 5 | 15 | 33.33% |
| Wolf | 16 | 71 | 22.54% |
| Bosch Benchmark | 4 | 23 | 17.39% |
| Miele | 3 | 18 | 16.67% |
| Bosch Appliances | 5 | 38 | 13.16% |
| GE Profile | 2 | 25 | 8.00% |
| Samsung | 2 | 67 | 7.46% |
| Grand Total | 108 | 417 | 25.90% |
Induction is a different story. It's strange because induction cooktops are so reliable. However, most of the range problems are surge related. This range takes the full 50 amps.
Once you know the style and electric versus induction, picking an electric range is about features and price.
Read More: Most Reliable Induction Ranges
When Is the Best Time to Buy an Electric or Induction Range?
As we have said throughout this blog, you should wait to buy appliances until there is a promotional holiday. Manufacturers always have the most heavily rebated appliances during the following holidays:
Presidents' Day
Memorial Day
July 4th
Labor Day
Black Friday
Most Popular Electric Ranges
Samsung Freestanding Range NE59M4310SS - $499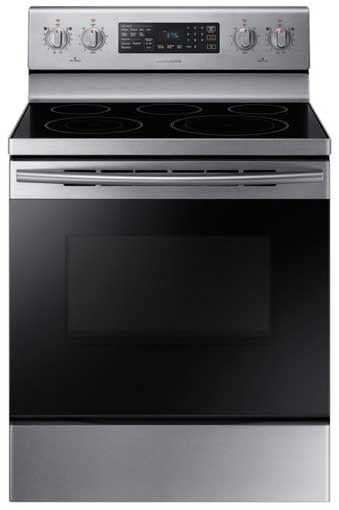 Features:
5.9 cu. ft. Capacity - Cook multiple dishes at once or accommodate larger items
Flexible Cooktop - Accommodates multiple pan sizes on 5 specialized elements with two dual elements
It's very similar to the range you probably now own. However, Samsung has a 5th burner and a convection oven. $499 is the lowest price for a convection range.
Samsung Freestanding Range NE59N6630SS - $699
Features:
5.9 cu. ft. Convection Oven
5 Radiant Elements
SteamQuick Self-Cleaning
Proofing and Storage Drawer
Stainless Steel
This range is nice looking. Samsung offers convection and various burners for the various pots and pans. It also has a 20-minute steam self-cleaning cycle rather than 3-hours.
It also has a convection oven, but the heating element is behind the fan rather than having a fan assist like the previous Samsung freestanding range for $629. The third convection element, known as true convection, is more precise for baking than having a fan assist.
GE Profile Freestanding Range PB911SJSS - $909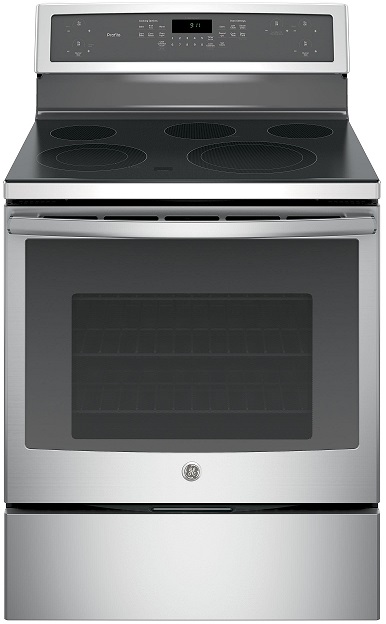 Features:
Electronic touch controls
Chef Connect
True European Convection with Precise Air
Fifth element warming zone
Self-clean with Steam Clean option
GE has always been strong in cooking in general. You have a larger 12-inch burner, and True convection so it is blown in through the back for even more consistent baking.
GE is also Wi-Fi-enabled, so you can control the features remotely through an App on your phone.
Samsung Slide-In Range NE58F9500SS - $1,299
Features:
Get a Sleek Customized, Built-in Look for Your Kitchen
Premium Design with Illuminated Controls
Extra-large Oven Allows you to Cook Multiple Dishes at Once
At $1,299, it's a pretty big jump from the best freestanding ranges to slide-in ranges to consider. However, the freestanding range at $999 is where the electric ranges stop in features. You do not have to pay more.
At $1,299 a slide-in range with twin convection is considered inexpensive. Twin convection has a second fan while true convection has one.
KitchenAid Slide-In Range KSEG700ESS - $1,699
Features:
Even-Heat(TM) True Convection
Steam Rack
6.4 Cu Ft. Oven Capacity
5 Cooking Elements Including a Warm Zone
EasyConvect(TM) Conversion
FIT Guarantee
Aqualift(R)
Storage Drawer
KitchenAid improved the look of their front control ranges to have an industrial look a few years ago. With this range, you have features like convection and a convection conversion button.
The convection conversion system allows you to easily convert your traditional recipes to convection by simply inputting the regular temperature and timing. Your range will convert the temperature automatically.
Samsung Slide-In Range NE58K9850WS - $2,199
Features:
FlexDuo
5.8 cu. ft. Capacity
This model is the best executed 2 oven range. Instead of a smaller permanent oven and a larger oven below, you have flexibility on this oven with a removable divider. Both ovens are also convection.
You can also remove the divider for one big oven.
Most Popular Induction Ranges
Samsung Slide-In Range NE58K9560WS - $2,399
Features:
Virtual Flame - Visual of gas cooking with the precision of induction cooking
Slide-in Design - Modern and Sleek, Built-in Look
Samsung has a cool induction range. The top features LEDs emitting blue light, so you know the unit is on.
You also will have better baking with two convection fans as well.
GE Profile Front Control Range PHS930SLSS - $2,439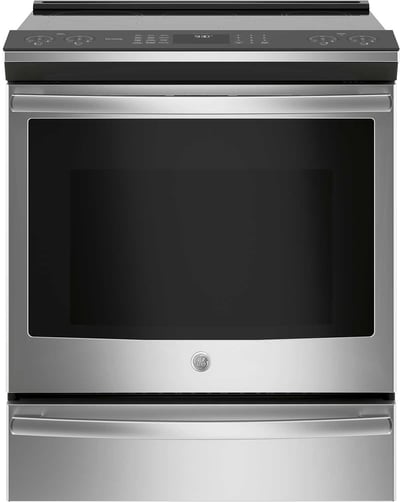 Features:
Glide touch controls
11" 3700-watt induction element
Two 8" 2500-watt synchronized elements
Anywhere control with remote notifications
Chef Connect
Never-scrub oven racks
True European Convection with Precise Air
GE has a ton of cooking possibilities and modes like Proof (baking breads), warming and even menu options for frozen foods like pizza and other frozen snacks.
GE connects with every online platform Alexa, Google, even Digorno (not a joke).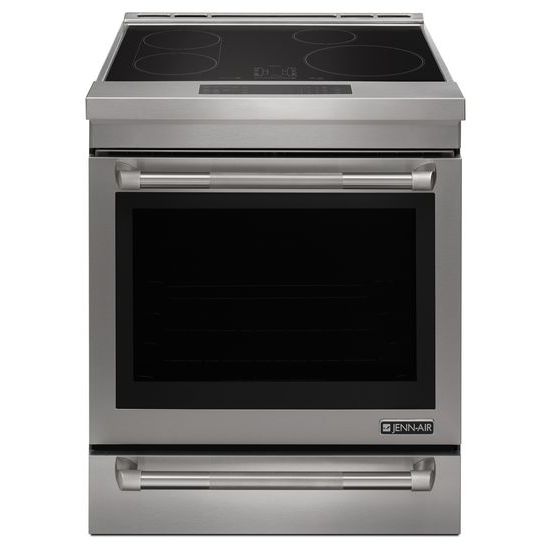 Features:
30" Range
Induction Technology
6.9 Cubic- -Foot Total Baking Capacity
Baking Drawer
Soft-Close Door
Telescoping Glide Rack
6.2 Cubic-Foot Oven Capacity
Glass-Touch Electronic Controls
Sensor Boil
The JennAir slide-in offers the largest cubic footage, convection, 5 burners, and separate baking drawer.
You should consider JennAir for two reasons: Their huge oven capacity and their package rebates with other appliances.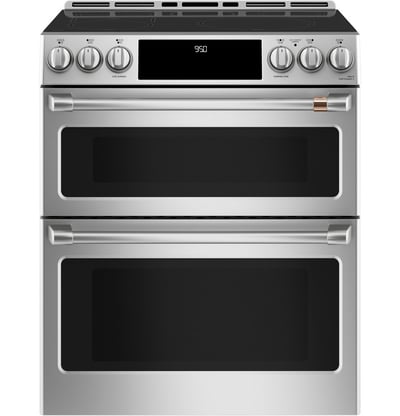 Features:
True European Convection with Precise Air
Double Oven
Warming Zone
Self-Clean with Steam Clean Option
Wi-Fi Connect
Café Appliances is an interesting double oven. You have Wi-Fi like the others plus two separate ovens and a warming drawer below.
You can also accent the handles in copper and brass as well as stainless as well as buy in a few different finishes (try white copper, fellow Bostonian).
Premium Induction Ranges
Features:
Multi-shelf cooking
Quality and durability
Power & control
Easy to clean
Even heat
Large capacity oven
Like GE, Fisher & Paykel is part of Haier. This range has every type of cooking mode including ones just for pizza and pastries.
The 36-inch model has twin convection and a warming drawer as well. Fisher & Paykel adds a 5-year warranty.
However, that does not guarantee good service and qualified technicians...make sure you investigate who can fix sophisticated appliances before you buy them.
Miele Range HR1622I - $7,999
Features:
M Touch controls and backlit precision knobs
EasyClean Ceran surface with 4 variable induction cooking zones
TwinPower Convection fans
Moisture plus
MasterChef and MasterChef Plus automatic programs
Miele will have the most intuitive controls of any cooking product. You just input the type of food and how you want it prepared, the oven will calculate time and temperature.
You also have steam assist for baking bread or hardening foods like the top of your lasagna. You have 16 automatic recipes just for bread in this oven.
Wolf Range IR365PESPH - $9,800
Features:
Incredible Control
Flexible Cooking Surface
Cookware sensing
Dual convection for faster, more consistent cooking
Cobalt blue porcelain interior
Your choice of control knobs
Convenient features
10 cooking modes for predictably delicious results
Wolf was the first with twin convection. Because each fan has its own thermostat and can turn on/off separately, Wolf can keep better temperatures than other convection ranges. It is also available in 30 and 36-inch sizes.
Which Range Should You Buy?
This depends.
Features are less expensive than the type of range and whether you are considering electric or induction. Convection, fifth burners, and even Wi-Fi are not huge price increases.
A freestanding electric range is dependable and affordable. The slide-in and front control ranges look better because you can see your backsplashes.
Slide-on and front control ranges along with counter depth refrigerators are simple ways to improve the overall look of your kitchen without spending a fortune.
The induction will perform appreciably better than electric. You will be able to boil faster and simmer instantly. It is the most child safe and allows for a smaller vent.
So it depends on your budget, what you want your range to look like, and how you want it to perform.
Additional Resources
Download the Yale Induction Cooking Buying Guide with features, specs, and inside buying tips every induction cooktop and range from Wolf, Thermador, Frigidaire, Electrolux, Jenn-Air, Bosch, and more. Well over 700,000 people have read a Yale Guide.
Related Articles
Why Should You Trust Us?
It seems that every appliance review has nothing but glowing comments about almost every product, yet you read customer reviews and they are almost universally bad.
We are here to fill in the disconnect. We'll give you the best features, and the drawbacks as well, including reliability based on over 37,000 calls performed by our service team just last year. Our goal is to give you ALL the information so you know what's right for you.
Please consider subscribing or adding to the conversation in the comments below. We appreciate you stopping by.
Steve Sheinkopf is the third-generation CEO of Yale Appliance and a lifelong Bostonian. He has over 38 years of experience in the appliance industry, and he is a trusted source of information for consumers on how to buy and repair appliances.

Steve has also been featured in numerous publications, including the New York Times, Consumer Reports, The Boston Globe, Bloomberg Radio, the New York Post, The Wall Street Journal, and Entrepreneur, for his knowledge of how to buy appliances and appliance repair.

Steve is passionate about helping consumers find the best appliances for their needs, and he is always happy to answer questions and provide advice. He is a valuable resource for consumers who are looking for information on appliance buying, repair, and maintenance.

Despite being the worst goalie in history, Steve is a fan of the Bruins and college hockey, loves to read, and is a Peloton biker. The love of his life is his daughter, Sophie.
A Note About Pricing
Pricing on this blog is for reference only and may include time sensitive rebates. We make every attempt to provide accurate pricing at time of publishing. Please call the stores for most accurate price.