6 Best 30-Inch Induction Cooktops for 2023
In this article, you will learn how induction works, its many benefits, and the seven best induction cooktops to consider. We will also cover every brand's reliability and how to buy an induction cooktop during a supply crisis.
August 11th, 2023 | 10 min. read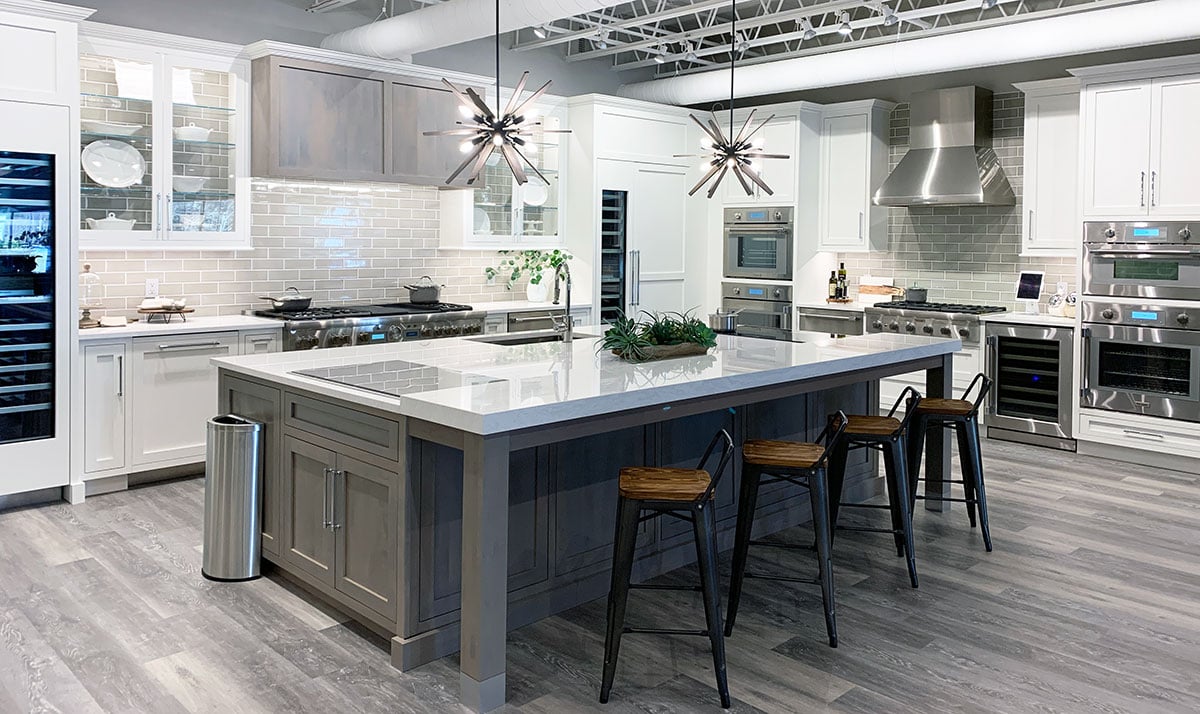 Induction cooking has gained popularity because of its lightning-fast speed, precise simmering capabilities, effortless ventilation, and safety features.
However, buying one takes work.
Due to demand, induction appliances are currently the toughest to buy for availability along with a Sub-Zero refrigerator.
In this article, you will learn how induction works, its many benefits, and the six best induction cooktops to consider, including reliability based on 33,000 service calls logged last year.
One important takeaway from this article is that induction cooktop availability and repair are tough, so consider both before deciding.
6 Best 30-Inch Induction Cooktops for 2023
Our recommendations at a glance:
The reason why the Bosch Benchmark induction cooktop tops this list is because it is highly accessible and widely available.
Also, the reliability of this series has been remarkably good at just 2.7%
While many induction cooktops feature bridge elements, the Bosch Benchmark NITP060SUC stands out for its functionality.
This induction cooktop can be split into three preset zones, so you only have to move the pan to the new zone to change the temperature.
This is especially great for foods like Risotto or my kid's mac and cheese. You boil the water, place it at medium heat when adding the noodles, and then warm it after draining it.
You can do that automatically with the FlexInduction feature by moving the pan two inches.
In addition, it's Wi-Fi enabled to be turned on or off remotely. Bosch's HomeConnect App has recipes and different food preparation ideas (HomeConnect connects better than most brands' Wi-Fi apps).
Lastly, the Bosch Benchmark 30-inch induction cooktop has some fancy features like AutoChef so that you can program recipes. AutoSize automatically sizes the burner to the pan.
Features:
Child Safety Lock: Many Bosch cooktops have a child safety lock to prevent unintended operation, which enhances safety in homes with young children.
Power Boost Function: Some Bosch models have a power boost function that temporarily provides additional power to heat things even faster.
Residual Heat Indicators: This feature will tell you if the cooktop surface is still hot, even after you've turned off a cooking zone.
Expandable Cooking Zones: Certain Bosch models have zones that can be expanded or reduced depending on the pot size or pan used.
Consistent Cooking: Induction cooking provides even heat distribution, ensuring consistent cooking results.
Wolf's 30-inch induction cooktop is new. This cooktop is equipped with a bridge element and an innovative Boost Mode, delivering power and rapid heat for a faster response time.
Wolf may be the most user-friendly with a new LCD touchscreen control system on the unit.
Over the last few years, availability has been an issue, but Wolf has always made a reliable induction cooktop.
Features:
Precision Temperature Mastery: Enjoy consistent and pinpoint control over your cooking endeavors with nearly instantaneous temperature adjustments, ensuring culinary perfection every time.
Direct Energy Transfer: Elevate your cooking experience with an innovative design that directly channels energy to your cookware, optimizing heat transfer and efficiency.
17-Level Power Precision: Fine-tune your cooking like a pro with 17 power settings, allowing for half-increment adjustments that grant you unmatched precision in culinary creations.
Simmer, Melt, and Warm with Confidence: Sensors expertly regulate low heat levels for simmering, melting, and warming delicate dishes, guaranteeing flawless results without the risk of scorching.
Revolutionary Boost Mode: Unleash rapid heat with Boost Mode, boasting an incredible 40% faster boiling time—surpassing the swiftness of both gas and electric alternatives.
Seamless Cookware Placement: Effortlessly center your cookware thanks to the sleek and subtle surface graphics, ensuring optimal heating and cooking performance.
Cooking Control at Your Pace: Pause the cooktop and timers for up to 10 minutes with the pause feature, allowing you to manage your cooking process with ease and flexibility.
Effortless Zone Control: Achieve culinary finesse with the ability to turn off individual cooking zones via quick double taps or power down the entire cooktop surface with a single tap.
Safety First: Automatic cooktop controls lock when not in use, delivering heightened safety by preventing unintended adjustments and interactions.
Elegance Meets Durability: The sleek black glass surface is not only visually striking but also highly resilient, resisting scratches, stains, impacts, and high heat for a lasting allure.
Effortless Cleanup: Bid farewell to stubborn spills as the non-stick surface makes cleanup swift and simple, allowing you to focus on what truly matters—your culinary creativity.
Seamless Installation: Embrace a clean, contemporary aesthetic with the frameless design that seamlessly installs flush against your counter, enhancing your kitchen's modern charm.
The Thermador Freedom induction cooktop debuted over ten years ago and is still the most featured, with 48 sensors.
Thermador's innovative Freedom Move mode allows for seamless cooking adjustments as the cooktop automatically adapts to your desired temperature when you move the pot in any direction.
Thermador, similar to the Bosch Benchmark, offers preset zones. However, with Thermador, you can adjust the which burner you're cooking on by simply moving your pot a few inches.
You can griddle on either side of the cooktop as well.
It also has Wi-Fi through the reliable HomeConnect app.
You can receive a $1,399 credit toward a Thermador dishwasher if you purchase their wall oven and cooktop.
Features:
Freedom Induction: Many of Thermador's induction cooktops boast the "Freedom Induction" feature, allowing for more pot placement flexibility. Instead of fixed burners, the entire surface can detect and heat cookware.
PowerBoost: This feature can boost power, resulting in faster boiling times and quicker cooking.
Sleek Design: Thermador is known for sleek, modern designs that fit seamlessly into luxury kitchens.
Touch Controls: High-resolution touch controls offer ease of use and precision in adjusting heat levels.
Pan Recognition: The cooktop only heats where the pan sits, which provides efficiency and safety.
Child Safety Lock: A critical feature for households with children to prevent unintended use.
Residual Heat Indicators: Indicators tell you which zones are still hot even after being turned off.
Automatic Shut-off: The cooktop will turn off automatically if no cookware is detected for a certain period, enhancing safety.
Integrated Connectivity: Some newer Thermador models can be connected to smart home systems, allowing for remote monitoring and control.
Timer and Cleaning Lock: Some models have a timer function and a cleaning lock that temporarily locks the control panel to prevent accidental changes in settings while cleaning.
Café is an interesting line with color options, mirrored glass, and different handle accessories. This cooktop, like the others on this list, is plain black.
Café does have the bridge burner on the left side and the 3700-watt max burner capability.
Features:
SyncBurners: The cooktop is equipped with the ability to control two 7" elements simultaneously to heat larger cookware or griddles evenly.
Glide Touch Controls: Rather than traditional knobs or buttons, the CHP95302 uses a touch-sensitive panel to easily glide your finger to the desired heat setting, offering a sleek and uncluttered design.
Multi-Element Timer: This feature lets you manage multiple dishes simultaneously by setting individual timers for each induction element.
Pan Presence & Size Sensors: These sensors ensure that the cooktop only heats in the area where the pan sits, adding an extra layer of safety and energy efficiency. If no pan is detected, the element doesn't heat up.
Customizable Settings: You can personalize your cooktop settings to fit your cooking style.
Control Lock Capability: This protects against unintended activation; adding a safety feature is especially important in households with young children.
Red LED Display with Beveled Edge Gray Glass Surface: A stylish design combining aesthetics and functionality. The LED display is easily read, and the beveled edge seamlessly integrates with countertops.
Power Boil: This feature provides rapid boiling by using more power to heat the cookware quickly.
Café Fits Guarantee: The Café promises that their cooktop will fit seamlessly into a standard countertop cut-out, or they will provide up to $100 towards modifications. This is a testament to their confidence in product design and customer satisfaction.
Wi-Fi Connect: Some Café models come equipped with the ability to connect to Wi-Fi, allowing homeowners to control and monitor their cooktops from anywhere via a smart device.
Fisher & Paykel is known for its double-drawer dishwasher and uniquely styled appliances.
They are also owned by Haier, the Chinese conglomerate known as GE turnaround specialists.
Their burners, like most on this list, top out at 3700. Their power boost has two 3000-watt burners as well as a 2200-watt burner as well.
The output is good but is missing a bridge element.
Features:
SmartZone: Many Fisher & Paykel induction cooktops feature the SmartZone capability, which allows users to pair two zones for cooking in larger pans or cookware.
PowerBoost: This function significantly boosts power to a zone, resulting in rapid boiling or intense heat for searing.
GentleHeat: Some models come with a GentleHeat feature that provides very low, consistent temperatures, ideal for melting chocolate or preparing delicate sauces without the risk of burning.
Touch & Slide Controls: Fisher & Paykel's intuitive touch & slide control interface makes selecting and adjusting cooking levels precisely easy.
Pan Detection: The cooktop will only start heating when suitable cookware is placed on the zone, ensuring efficiency and safety.
Safety Features: Including features such as child locks, safety time out (automatic switch off after an extended period of inactivity), and residual heat indicators.
Easy Cleaning: With a smooth, flat surface, cleaning is straightforward. There are no raised burners or grates to work around.
Aesthetics: Fisher & Paykel cooktops often come with a sleek and minimalistic design, making them suitable for modern kitchens.
Timer: The built-in timer allows for precise cooking times and can automatically turn off a zone when done.
Miele is best known for their powerful 7700-watt bridge element for oblong-shaped dishes.
That's the most powerful single induction burner you can buy and the fastest cooking appliance available.
The other burners are 3100 watts and 1900 watts on Boost Mode.
The Stop and Go feature lowers every burner to the lowest setting and a safety switch to power down after a long period.
Features:
Direct Selection Plus Control: Miele's Direct Selection Plus offers a straightforward touch interface allowing quick and precise control of each cooking zone.
PowerFlex Technology: Some Miele induction cooktops feature PowerFlex technology, which combines two individual cooking zones into a larger one, accommodating larger cookware.
TwinBooster: This feature can concentrate the power of two separate cooking zones into one, speeding up the cooking process when necessary.
Pan Size Recognition: The cooktop automatically recognizes the size of the cookware and only heats that specific area, ensuring energy efficiency.
Stop & Function: With this feature, all cooking zones can be reduced to level one with a single touch, allowing the user to leave the cooktop unattended briefly without worry.
Timer and Auto Heat-up: The cooktop can be programmed to turn off after a certain period, and the auto heat-up function ensures that the cooktop rapidly reaches a set heat level.
Overheating Protection and Residual Heat Indicator: The cooktop will automatically turn off if it becomes too hot, and the residual heat indicator informs the user if the cooktop zones are still hot to touch.
Safety and Locking Functions: Features like system lock, safety switch-off, and integrated cooling fan provide added layers of safety.
Easy-to-Clean Ceramic Glass Surface: The smooth, flat surface of the cooktop is easy to clean, without any burners or grates to work around.
Efficiency: Induction cooking, in general, is more energy-efficient than other cooking methods, and Miele's technology ensures optimal use of energy.
Elegant Design: Miele cooktops are designed to fit seamlessly into modern kitchens with a sleek, sophisticated look.
Con@ctivity 2.0: Some Miele models offer this feature, which allows the cooktop to communicate with a Miele range hood, automatically adjusting the hood's settings based on the cooktop's use.
What You Should Know About Induction Cooking
Our Induction Cooking Buying Guide covers this more extensively, but induction is a magnetic heat.
The magnets excite the metal molecules in your pan. The pan cooks the food, bypassing the glass cooktop.
This is in stark contrast to an electric cooktop where elements heat the glass, and then the glass heats the pan cooking your food.
Benefits of Induction Cooking
Induction is the fastest heat (even faster than the hottest pro range) and offers an instant and the lowest possible simmer.
Gas will extinguish itself at low temperatures.
Because the glass surface does not heat up too hot, it is the easiest to clean.
Food doesn't stick and become baked onto the smooth surface of the induction cooktop, unlike what would happen on an electric or gas cooktop.
Induction is the most child safe because the magnets in induction can only be activated with metal.
The glass does not heat up like an electric or a gas burner, so your toddler (and my six-year-old) is the safest around an induction cooking surface.
However, there will be some residual heat from the cooktop to the glass.
So, still be careful.
Read More: Induction vs. Professional Gas: Which Is Faster?
Shared Features Among Induction Cooktops
The Glass: The SCHOTT CERAN® company still makes most glass surfaces for cooktops.
They have been the main glass supplier for electric and induction cooking surfaces since the 1980s.
Many reviewers will discuss how "easy this one is to clean."
They are all easy because they are the same glass type but with different patterns.
Induction doesn't heat the glass, so food drippings don't bake like gas or electricity.
Every cooktop chosen below has a bridge connecting two heating elements to fit an oblong dish or pan.
The maximum wattage tends to be 3700 watts on an induction burner, with some exceptions.
Power Boost vs. Power Share
Induction cooktops have a boost feature for max power in one or two of the burners. This output will be siphoned from other burners.
BSH companies such as Bosch, Gaggenau, Bosch Benchmark, and Thermador use Power Boost.
Power Boost will take all the power from the adjacent burner, leaving that burner with no power.
The other brands use Power Sharing for 70% of the adjacent burner's power, leaving 30% for low-temperature simmering.
Induction Cooktop Reliability
Based on our service calls and sales from January 2022-December 2022, the most reliable induction cooktops are from Wolf, Bosch Benchmark, and Thermador.
Induction Cooktop Reliability from January 2022 – December 2022
The following service rates are based on at least 25 cooktops sold and a total sample of over 300 cooktops.
| | |
| --- | --- |
| | Service Rates |
| GE Profile | 0% |
| Bosch | 0% |
| Bosch Benchmark | 2.7% |
| Gaggenau | 2.8% |
| Fisher & Paykel | 8.8% |
| JennAir | 8.8% |
| Miele | 15.6% |
| Grand Total | 6.2% |
We calculate appliance reliability based on service calls divided by sales within the first year.
Thermador is interesting because they have the best technology and reliability. Usually, more featured means more service.
Read More: The Most Reliable Induction Cooktops
Buying Induction Cooktops During an Availability Crisis
Last year, this article was titled "7 Best Induction Cooktops". This year you saw six options with the hopes of finding one or two in the area.
Availability is especially tight for induction. The high demand and lack of supply for induction elements make this a hard purchase.
Ventilation Considerations for Induction Cooktops
Induction appliances require less venting.
I still wouldn't downdraft any cooking products. If you cook, you must still vent properly with a 23-inch deep hood, decent CFM, and a short duct run.
You can learn about how to vent your kitchen range or cooktop in our Free Ventilation Buying Guide.
Induction doesn't need as much venting because it doesn't add heat, gasses, and smoke like a professional or gas cooktop.
Then again, gas cooking diffuses 40% as heat loss, while induction is 90% efficient.
Remember, a 36-inch pro gas cooktop can add almost 100,000 BTUs into your kitchen. The heat needs to be vented.
In Massachusetts, Make-Up Air laws stipulate a return of air over 400 CFM.
You will need that make-up air return with a higher-powered pro or gas stovetop.
Air Quality and Efficiency
Induction is much cleaner than gas. It does not emit Carbon Dioxide and far less Nitrogen Oxide, Cabon Monoxide, and Formaldehyde.
However, induction still diffuses some gases, especially if you work to cook or griddle.
Many cities have abolished gas ranges in multi-family buildings because of air quality concerns.
With induction, you have far fewer fumes and better air quality than gas.
Which Induction Cooktop Should You Buy?
There is a reason to buy each unit, depending on how long you can wait.
Wolf is excellent so that we will wait for their new cooktop.
Traditionally, Thermador and Bosch have excellent units as well.
But the best induction top may be the most available.
So, which is right for you?
Additional Resources
Download the Yale Induction Cooking Buying Guide with features, specs, and wattage of every induction cooktop in the market. Over 1 million people have downloaded a Yale Guide.
Related Articles
Why Should You Trust Us?
It seems that every appliance review has nothing but glowing comments about almost every product, yet you read customer reviews and they are almost universally bad.
We are here to fill in the disconnect. We'll give you the best features, and the drawbacks as well, including reliability based on over 37,000 calls performed by our service team just last year. Our goal is to give you ALL the information so you know what's right for you.
Please consider subscribing or adding to the conversation in the comments below. We appreciate you stopping by.
Steve Sheinkopf is the third-generation CEO of Yale Appliance and a lifelong Bostonian. He has over 38 years of experience in the appliance industry, and he is a trusted source of information for consumers on how to buy and repair appliances.

Steve has also been featured in numerous publications, including the New York Times, Consumer Reports, The Boston Globe, Bloomberg Radio, the New York Post, The Wall Street Journal, and Entrepreneur, for his knowledge of how to buy appliances and appliance repair.

Steve is passionate about helping consumers find the best appliances for their needs, and he is always happy to answer questions and provide advice. He is a valuable resource for consumers who are looking for information on appliance buying, repair, and maintenance.

Despite being the worst goalie in history, Steve is a fan of the Bruins and college hockey, loves to read, and is a Peloton biker. The love of his life is his daughter, Sophie.
A Note About Pricing
Pricing on this blog is for reference only and may include time sensitive rebates. We make every attempt to provide accurate pricing at time of publishing. Please call the stores for most accurate price.