5 Best 30-Inch Induction Cooktops (Reviews / Ratings / Prices)
Induction has become more popular over time for its quick response and low simmer.
There is a host of reasons to buy an induction cooktop, especially if you live in Massachusetts.
Of course, every brand manufactures an induction cooktop, and they all look the same.
So which induction cooktop do you consider?
These days it's not an easy answer.
In this article, you will learn how induction works, its many benefits, and the five best induction cooktops to consider.
The Top 5 Induction Cooktops for 2020 are:
Beko 30-Inch Induction Cooktop BCTI30410 - $1,679
KitchenAid 30-Inch Induction Cooktop KICU509XSS- $1,999
Bosch Benchmark 30-Inch Induction Cooktop NITP069SUC – $2,499
JennAir 30-Inch Induction Cooktop JIC4730HB – $3,299
Thermador 30-Inch Induction Cooktop CIT30XWBB – $4,799
We will also cover every brand's reliability and how to buy an induction cooktop during a supply crisis.
Thirty-inch cooktops are not as popular as 36-inch cooktops for induction.
Click here to look at the best 36-inch induction cooktops.
Buying Induction Cooktops during an Availability Crisis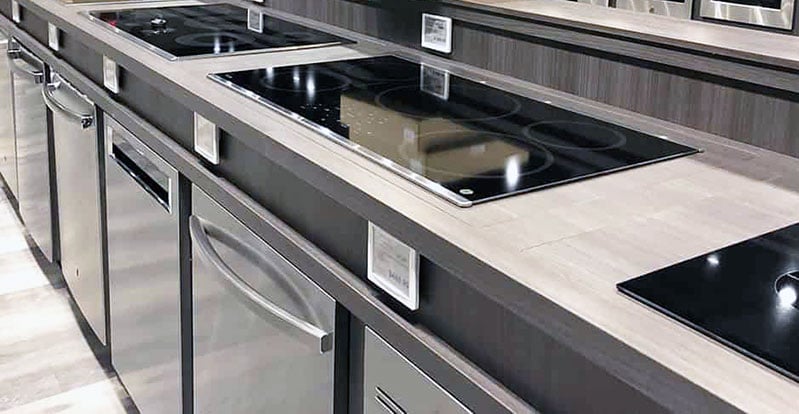 Induction Cooktops at Yale Appliance in Hanover
As I write this, COVID-19 has been around for almost a year. With a global supply chain, parts to assemble appliances have been especially hard to stock.
At the same time, demand for appliances has increased because, quite frankly, we can't go anywhere or do anything, so we might as well work on our homes.
Spending money on your house and kitchen is always a good idea and now is almost the only option.
Fortunately, the five induction cooktops in this article are all available as of now.
For induction, many of these cooktops are decent and have similar features.
Your best option to receive an induction cooktop soon is to look at reliability numbers and features, then purchase a comparable, available unit in your area.
Be flexible with brands as much as you can during this supply crisis.
Read More: How To Buy Appliances During A Supply Crisis
Short on time? Get our free Induction Cooking Buying Guide
What is Induction Cooking?
We cover this more extensively in our Induction Cooking Buying Guide, but induction is a magnetic heat.
The magnets excite the metal molecules in your pan. The pan cooks the food, bypassing the glass cooktop.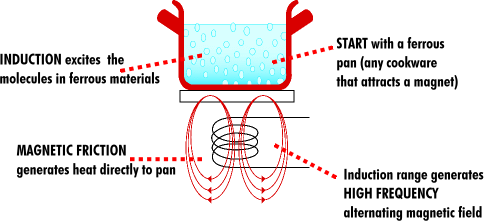 This is in stark contrast to an electric cooktop where elements heat the glass, and then the glass heats the pan cooking your food.
Benefits of Induction Cooking
Induction is by far the fastest heat (even faster than the hottest pro range) and offers an instant and the lowest possible simmer.
Gas will extinguish itself at low temperatures.
Because the glass surface does not heat up, it is the easiest to clean. Food doesn't bake on electric and gas cooktops.
Induction is the most child safe because the magnets in induction can only be activated with metal.
The glass does not heat up like an electric or a gas burner, so your toddler (and mine) is the safest around an induction cooking surface.
Read More: Induction Vs. Professional Gas: Which Is Faster?
Ventilation for Induction Cooktops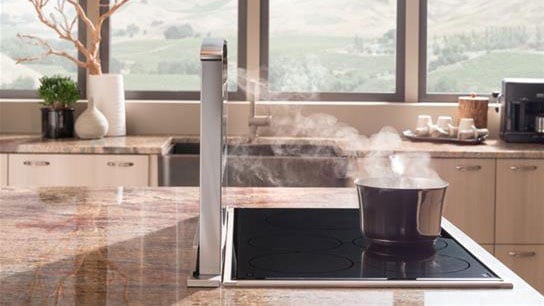 Induction Cooktop With A Downdraft
Induction requires less venting. You can use a downdraft for ventilation, unlike professional gas ranges or cooktops.
Remember, a 36-inch pro gas cooktop can add almost 100,000 BTUs into your kitchen. The heat needs to be vented.
In Massachusetts, Make-Up Air laws stipulate a return of air over 400 CFM. You will need that make-up air return with a higher-powered pro or gas stovetop.
Gas requires around 6500 CFM for a pro cooking surface. Induction requires only 400 CFM.
Induction Cooktop Reliability
Induction Cooktop Reliability For January 2020 to October 2020:
| | | | |
| --- | --- | --- | --- |
| | Service Qty | Shipped Qty | Service Ratio |
| JennAir | 9 | 32 | 28.13% |
| Miele | 5 | 23 | 21.74% |
| Thermador | 15 | 83 | 18.07% |
| Gaggenau | 2 | 13 | 15.38% |
| Wolf | 13 | 112 | 11.61% |
| GE Profile | 2 | 22 | 9.09% |
| Samsung | 1 | 12 | 8.33% |
| Bosch Benchmark | 1 | 19 | 5.26% |
| Bosch Appliances | 1 | 52 | 1.92% |
| KitchenAid | 0 | 13 | 0.00% |
| Grand Total | 49 | 381 | 12.86% |
Based on our service calls and sales from January 2020 to October 2020, the most reliable induction cooktop brands are
We calculate our appliance reliability based on our service calls divided by sales within the first year. In this particular case, we removed any brands with less than 10 cooktops sold.

Thermador is particularly interesting because they have the best technology. The burner can follow the pan in their Freedom cooktops.
What All Induction Cooktops Have in Common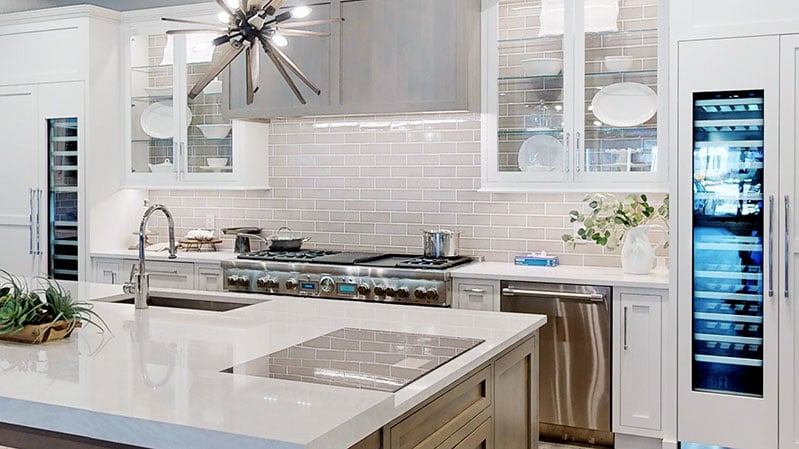 Thermador Kitchen Featuring an Induction Cooktop at Yale Appliance in Hanover
The Glass: The SCHOTT CERAN® company still makes most glass surfaces for cooktops. They are the main glass supplier for electric and induction cooking surfaces.
Many reviewers will talk about how "easy this one is to clean." They are all easy because they are the same glass type but with different patterns.
Bridge Elements: Every cooktop chosen below has a bridge connecting two heating elements to fit an oblong dish or pan.
Maximum Wattage: The maximum wattage on an induction burner is 3700 watts.
Power Boost Vs. Power Share: Induction cooktops have a boost feature for max power in 1 or 2 of the burners. This output will be siphoned from other burners.
BSH companies such as Bosch, Gaggenau, Bosch Benchmark, and Thermador use Power Boost. Power Boost will take all the power from the adjacent burner, leaving that burner with no power.
The other brands use power share for 70% of the adjacent burner's power, leaving 30% to do some low temperature simmering.
Read More: Free Yale Appliance Induction Buying Guide
5 Best 30-Inch Induction Cooktops for 2020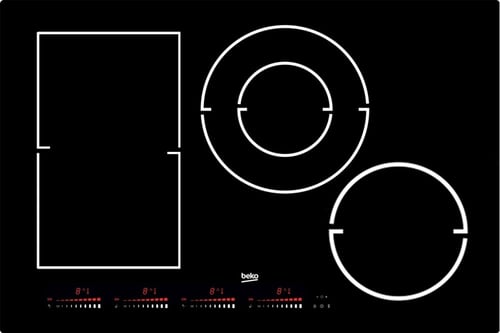 Beko is a Turkish company and popular in Europe. Beko markets its appliances in 140 countries.
They manufacture Viking dishwashers, BlueStar refrigerators and are the parent company to the Blomberg brand.
Every burner on a Beko induction cooktop has 3700-watt capability, making it the most powerful on this list along with JennAir.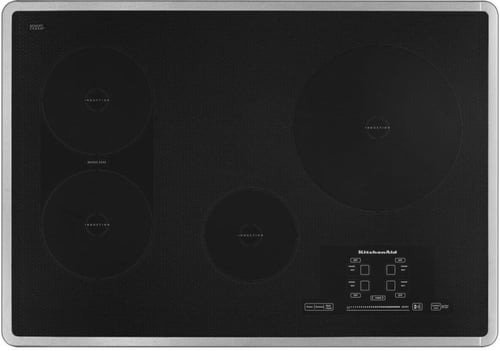 According to KitchenAid's advertising, KitchenAid's induction cooktop has 12 Cooking levels, so the temperature is more precise. Yet induction is, by definition, precise.
KitchenAid is a somewhat standard induction cooktop with one powerful 3700-watt burner that's 11 inches. It also has a bridge element to connect two burners.
It does have better than average reliability.
Bosch Benchmark Induction Cooktop NITP069SUC – $2,499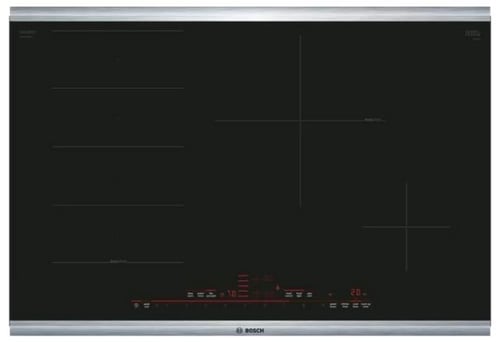 The FlexInduction cooktop can be split into three preset zones, so you only have to move the pan to the new zone to change the temperature. This is especially great for foods like Risotto.
It's Wi-Fi-enabled so that it can be turned on or off remotely. Their HomeConnect App has recipes and different food preparation ideas (HomeConnect connects better than most brands' Wi-Fi apps).
Bosch has some fancy features like AutoChef so you can program recipes. AutoSize automatically sizes the burner to the pan.
Premium Induction Cooktops
JennAir Induction Cooktop JIC4730HB – $3,299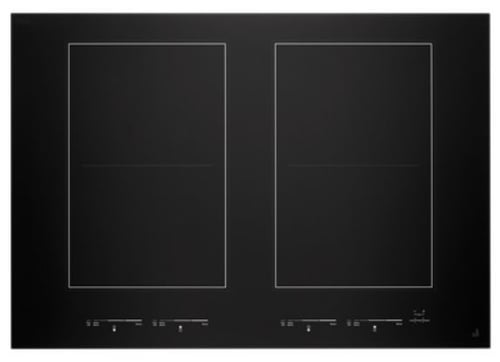 JennAir has the best looking cooktop of the five. It can be easily flush installed or placed over a single wall oven (you should install it flush because it's better looking and easier to clean).
Its two bridge burners allow you to cook anything simultaneously, or you can cook four different items. Like Beko, each burner is 3700 watts.
Purchase a JennAir wall oven receive a $1,000 credit towards another JennAir product.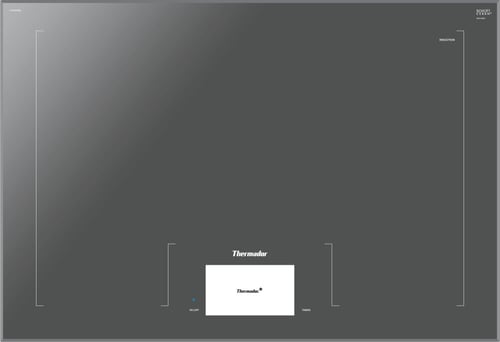 The Freedom cooktop has 48 different sensors so that you can place the pot or pan anywhere (the 36-inch size can handle up to five pans).
Thermador has the three pre-set zones like the Bosch Benchmark. It also has Wi-Fi through the reliable HomeConnect app.
If you purchase their wall oven along with their cooktop, you can receive a $1,399 credit towards a Thermador dishwasher.
Which Induction Cooktop Should You Buy?
There is a reason to buy each unit.
Beko has the best power, and it's affordable.
KitchenAid has decent features, is reliable, and can be packaged with other KitchenAid appliances.
JennAir is pretty and powerful.
Thermador and Bosch Benchmark have good features with HomeConnect, and they're reliable as a producer of induction cooktops.
So, which is right for you?
Additional Resources
Download the Yale Induction Cooking Buying Guide with features, specs, and wattage of every induction cooktop in the market. Over 800,000 people have downloaded a Yale Guide.
Related Articles
Why Should You Trust Us?
It seems that every appliance review has nothing but glowing comments about almost every product, yet you read customer reviews and they are almost universally bad.
We are here to fill in the disconnect. We'll give you the best features, and the drawbacks as well, including reliability based on over 37,000 calls performed by our service team just last year. Our goal is to give you ALL the information so you know what's right for you.
Please consider subscribing or adding to the conversation in the comments below. We appreciate you stopping by.
A Note About Pricing
Pricing on this blog is for reference only and may include time sensitive rebates. We make every attempt to provide accurate pricing at time of publishing. Please call the stores for most accurate price.