How to Use a Wok on an Induction Cooktop
People often ask me if it's possible to use a wok on an induction cooktop.
They also ask if induction cooktops are as powerful as using professional gas.
Induction cooktops are incredibly efficient for high-temperature searing, boiling, and wok cooking.
I recently conducted an induction wok test requiring high heat for stir-fry cooking. Most woks are made with carbon steel making them induction compatible. However, most traditional woks also have a rounded bottom.
Rounded-bottom woks do not sit easily on a flat surface without additional support.
There are some cookware brands that make flat bottomed induction compatible woks. I put this to the test against a traditional carbon steel wok.
In this article, you will learn how wok cooking on induction differs from wok cooking on professional gas based on my stir-fry test.
First, let's review what induction cooking is.
What is Induction Cooking?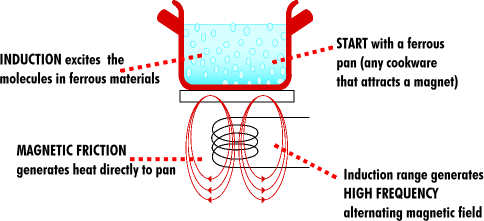 Induction uses magnets and electricity to transfer heat from the cooking surface directly to the pan. It does this by using magnetic friction to generate heat directly to the pan.
It excites the molecules in ferrous materials. Then it generates a high frequency alternating magnetic field.
Advantages of Induction Cooking
Precision Cooking: Induction cooking is extremely precise. The reaction in the pan is immediate when you change the temperature.
Faster to Heat or Cool Down: There is no residual heat like with cast iron grates on gas stoves, which in turn takes longer to cool down and heat up.
Consistent Temperature: Holding a consistent temperature on induction is easier. It's also ideal for keeping food warm without compromising the texture or consistency.
What Kind of Cookware Should You Use With Induction?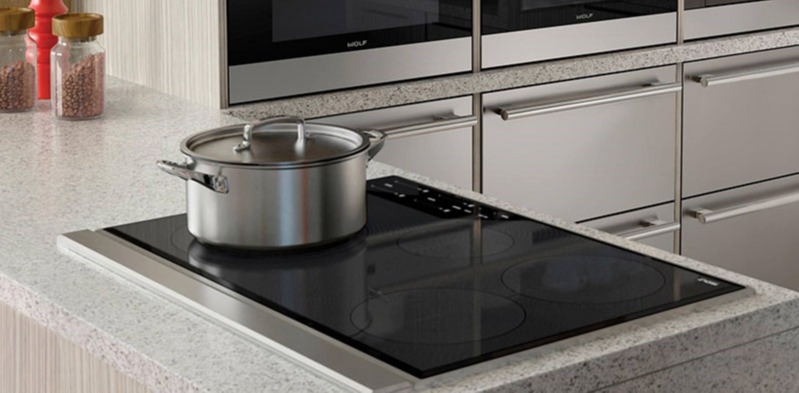 Wolf Induction Cooktop with a Stainless Steel Pot
Most stainless steel pans will work on induction, as well as cast iron, cast aluminum, and carbon steel. Dutch ovens like Staub and Le Creuset also work well with induction.
One of my favorite induction compatible brands is Scanpan. Scanpan is made of ceramic titanium or cast aluminum. It has a built-in non-stick surface that won't scratch or peel off. They are also oven and dishwasher safe.
The only limit to the type of cookware one can use on induction is the compatibility.
The cooking style will also have to be adjusted slightly. It's sturdy for the most part. The surface is made of Schott Ceran (Glass Ceramic). It can crack or scratch if things are dropped on top or if it's misused.
Short on time? Get our free Induction Cooking Buying Guide
How to Use a Wok on an Induction Cooktop
The key to properly stir-fry or use a wok on an induction cooktop is to get the right pan.
A flat bottom, induction-compatible pan is the best option for this style of cooking.
I recommend Scanpan's (non-stick) induction compatible wok. There are cheaper flat bottom carbon steel options available on Amazon as well, but I have not used them.
To test how a wok performs on an induction cooktop and a gas range, I conducted a high heat cooking test for stir-frying Mongolian beef.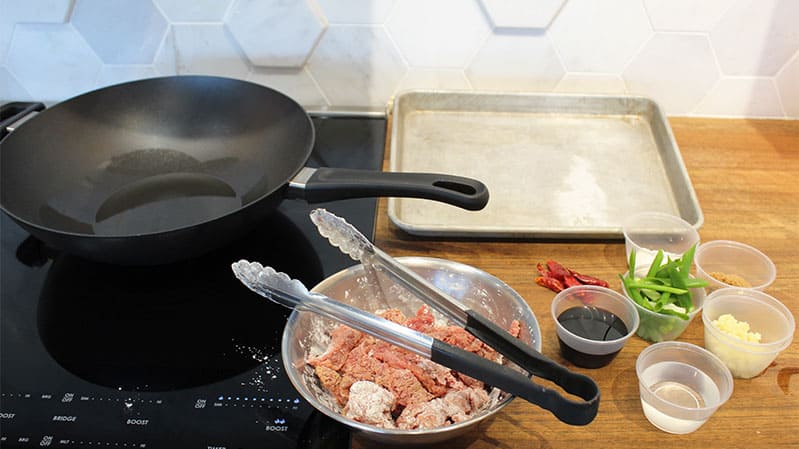 Induction Cooktop with a Flat-Bottom Wok at Yale Appliance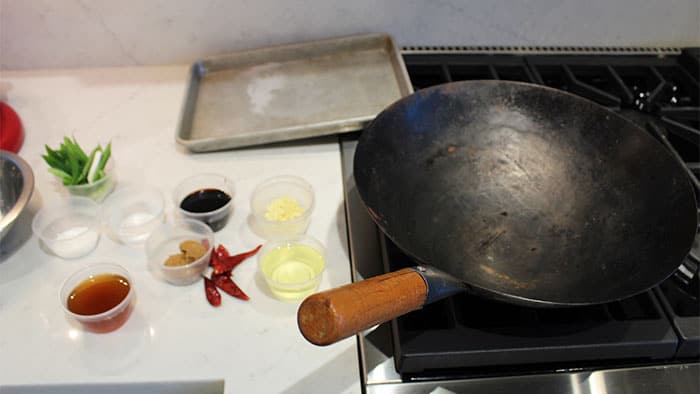 Professional Range with a Round-Bottom Wok at Yale Appliance
When compared side-by-side to a traditional carbon steel wok, I noticed there was more surface area at the bottom of the induction flat bottom wok. This helped the beef crisp up evenly.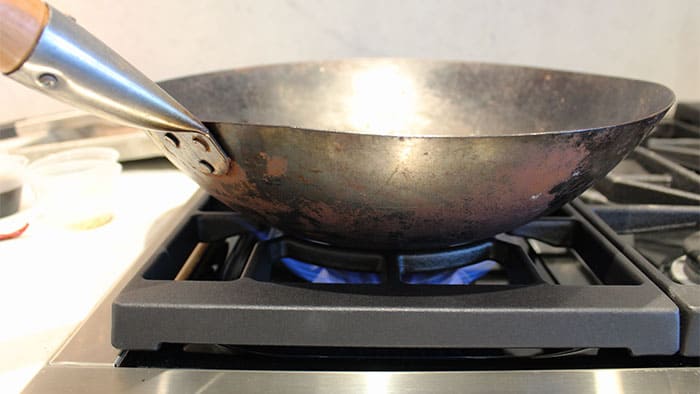 Round-Bottom Wok With Less Heat Transfer on Pro Gas Range at Yale Appliance
The rounded bottom wok had limited space on the bottom of the pan. The wok on the gas range would not allow for all the meat to cook as evenly.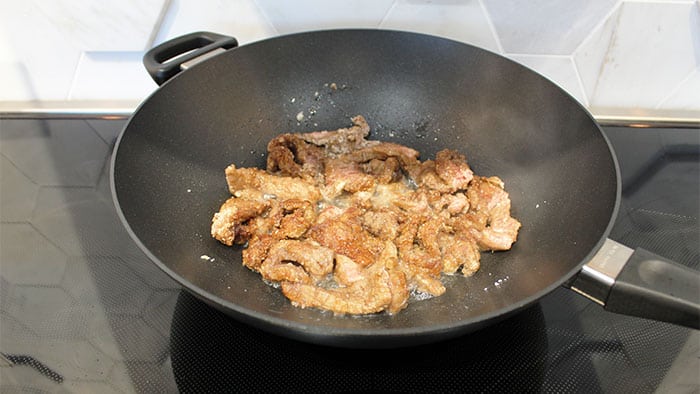 Seared Mongolian Beef Using a Flat-Bottom Wok on an Induction Cooktop at Yale Appliance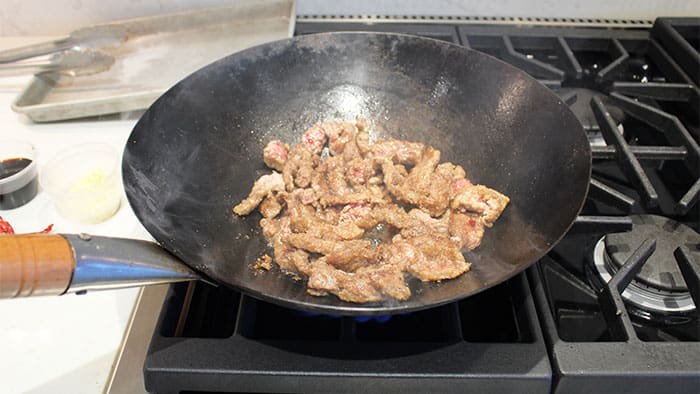 Using a Round-Bottom Wok, Mongolian Beef Cooks Unevenly on a Pro Gas Range at Yale Appliance
In fact, I noticed the meat started to steam as opposed to getting a proper crispy sear.
At this point, the flat bottom wok has done a better job of searing the meat.
▶️ How to Use a Wok and a Griddle on an Induction Cooktop [Virtual Webinar]
What Kind of Wok Works on an Induction Cooktop?
Traditional carbon steel or cast aluminum woks with flat bottoms will work on induction.
A flat base will be best, so it can easily sit on the cooking surface.
My recommendation for induction compatible woks is the cast aluminum Scanpan woks.
There are also carbon steel woks with flat bottoms that can be used with induction cooktops. Some have to be seasoned, and some come pre-seasoned.
Some appliance brands, like Gaggenau, offer an induction module and a wok ring for the round bottom wok to sit on.
I found this is not as effective as the flat bottom wok.
Jenn-Air also makes a rounded bottom (concave) induction module.
This type of module is ideal for a traditional round base carbon steel wok. However, I have not used this particular module.
Key Takeaways
My Mongolian beef cooking test produced satisfactory results from both induction and gas.
The wok on the gas range finished 3 minutes faster than the induction wok.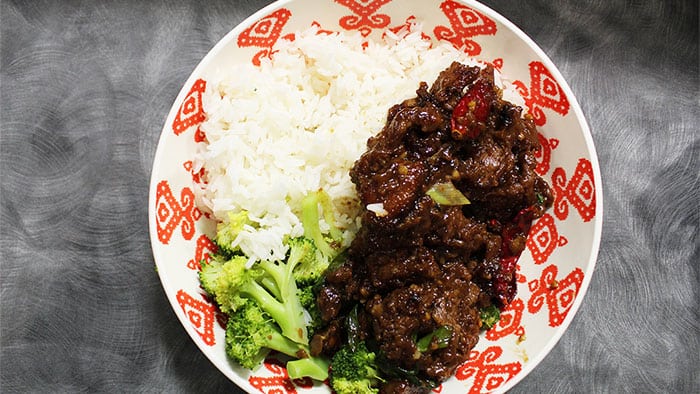 Final Test Results for Stir Fry Using a Round Bottom Wok and a Pro Gas Range
However, I did notice a slight difference in the texture of the meat between the two.
The results from the induction wok achieved a crispier and more even exterior. The meat absorbed the sauce and had better caramelization on the surface of the meat.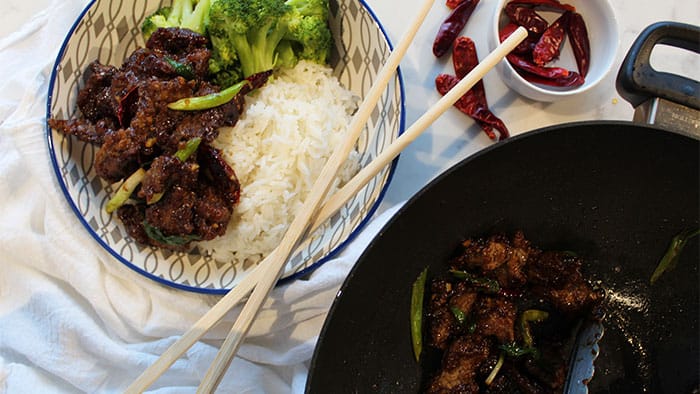 Final Test Results for Stir Fry Using a Flat Bottom Wok and an Induction Cooktop
I also found wok cooking on the induction cooktop much cleaner. There was far less splatter, and it just required a simple wipe down after.
If you wanted to save that step, a piece of parchment paper could also be placed on the cooktop for easy cleanup.
You don't have to wipe down the grates and clean around the burners like you would with a gas cooktop.
Frequently Asked Questions
1. Can You Use a Wok on a Glass Cooktop?
If the wok has a flat bottom, it can be used on a glass cooktop.
2. Should a Wok Have a Lid?
A lid is not required for stir-frying. If you're using a wok for other things like making a sauce or keeping things warm, then the lid will be useful.
3. Which is Better, a Flat or Round Wok?
This depends on what type of surface you are cooking on. A flat bottom wok will be best for induction. However, if you have a gas range/cooktop with a wok grate, the round wok will be ideal.
4. Is Induction Better Than Gas Cooking?
This comes down to personal preference. Induction cooking is efficient, precise, and clean. There is a slight learning curve with it, and you have to have the right pans. More people are comfortable with gas and like to see the flame when they cook.
Additional Resources
Download the Yale Induction Cooking Buying Guide with features, specs, and wattage of every induction cooktop in the market. Over 800,000 people have downloaded a Yale Guide.
Related Articles
Why Should You Trust Us?
It seems that every appliance review has nothing but glowing comments about almost every product, yet you read customer reviews and they are almost universally bad.
We are here to fill in the disconnect. We'll give you the best features, and the drawbacks as well, including reliability based on over 37,000 calls performed by our service team just last year. Our goal is to give you ALL the information so you know what's right for you.
Please consider subscribing or adding to the conversation in the comments below. We appreciate you stopping by.
Saba Wahid
Saba is the Resident Chef for Yale Appliance. Using her culinary expertise, Saba teaches Yale's sales team and clients how to use the latest appliances from steam ovens to induction cooktops. She has been in the culinary industry for many years working in various aspects of the business. She began her career in New York City and then made strides in the Dubai culinary media market while doing a live TV show and hosting food-based events all over the Emirates. From recipe development with several international brands to teaching cooking classes here at Yale, Saba's experience has evolved incredibly over the years.
A Note About Pricing
Pricing on this blog is for reference only and may include time sensitive rebates. We make every attempt to provide accurate pricing at time of publishing. Please call the stores for most accurate price.