Most Reliable Gas Ranges for 2021 (Reviews / Ratings)
Ah, Thanksgiving, the food, the family get-together, and your non-working range.
Thirty years ago, I was the service manager at Yale and had to deliver bad news about stoves not being repaired before Thanksgiving, Easter, Christmas, and (add your family holiday here).
Back then, we couldn't repair it within 24 hours. Or send emails to existing customers asking them to check their range.
I wasn't the most popular guy in the state.
Although Yale now has over 30 technicians on the road to rectify service problems, buying more reliable brands is the best way for you to have fewer of these situations.
In this article, you will learn about the most reliable brands based on real service data are.
We logged 37,061 service calls in 2020 alone and over 100,000 in less than three years.
Most Reliable Gas Range Brands for 2020 are:
KitchenAid - 1.75%
Whirlpool - 2.14%
Beko - 3.91%
Bosch - 3.95%
Samsung - 4.33%
First, let's discuss our reliability methodology.
Short on time? Get our free Gas Cooking Buying Guide
How Gas Range Reliability Is Tracked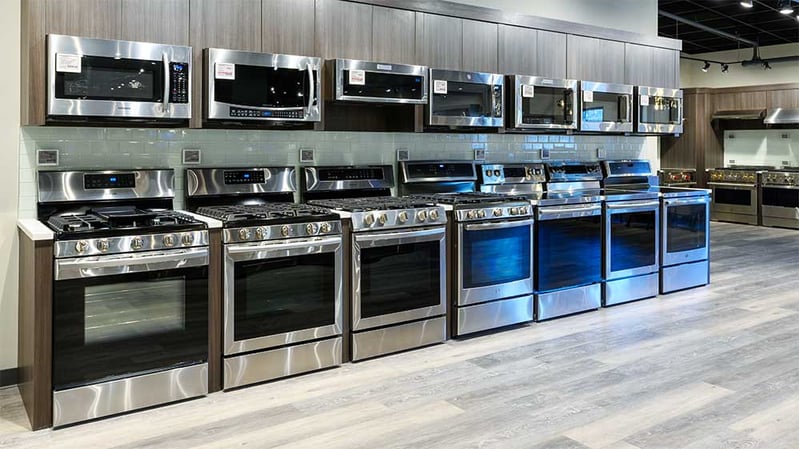 Gas Ranges at Yale Appliance in Hanover
Every day, we have 30-35 service technicians performing 8-10 service calls, with another 110 or so on Saturday.
Our methodology is simple.
We calculate appliance reliability by looking at the products sold compared to the products serviced by brand for one year.
We don't play favorites, mostly because we don't have any. Our favorite is the product we don't have to fix under warranty.
For the first time this year, you will be able to see how products perform in your house within the first year (not in a lab somewhere).
Most Reliable Gas Range Brands for 2021
Gas Range Reliability from December 2019 - November 2020
| | |
| --- | --- |
| | Service Ratio |
| KitchenAid | 1.75% |
| Whirlpool | 2.14% |
| Beko Appliance | 3.91% |
| Bosch | 3.95% |
| Samsung | 4.33% |
| JennAir | 12.20% |
| Grand Total | 4.62% |
These figures are based on a minimum of 100 ranges sold with over 2400 total pieces.
KitchenAid and Whirlpool have been historically reliable and are the same company. Whirlpool has fewer features, while KitchenAid is more premium.
Beko has proven statistically reliable for all categories like refrigerators, dishwashers, and laundry. Their gas range is slide-in only with seven different cooking modes.
Beko is Turkish sold in 157 countries. They were popular last year in the US because their product was available while most other brands had problems.
Bosch is another good brand. Their reliability number represents higher-end slide-ins with warming drawers.
Although I will be bashed for this yet again, Samsung has to be considered for reliability.
Samsung has been a lightning rod for criticism on this blog and the internet.
However, as their many detractors point out, their service is lacking in many areas of the country.
Their appliances are not any harder to fix than any other brand.
However, Samsung doesn't have any service technicians while exploding in growth to be the most widely sold brand in the US.
Check service before you buy any appliance. If there is none available, then do not buy Samsung.
Are Gas Ranges More or Less Reliable Than Other Appliances?
Gas range service rates are less than appliances in general at 4.62% versus 9.7% for all categories.
Gas burners and ovens haven't changed all that much over the years. Burners have become hotter with more output, but that is the only real change.
Smart functionality is still in the infant stages. We will see if that adds problems and future service.
Gas requires more repair than an electric range.
Then again, electric range burners are sealed by glass tops. Gas burners are exposed, and the igniters tend to need repair more often.
Gas ranges are more reliable than induction by about 5%. Induction requires more voltage, and their induction drivers can malfunction with electrical surges.
Read More: Most Reliable Appliance Brands
Which Gas Range Should You Buy?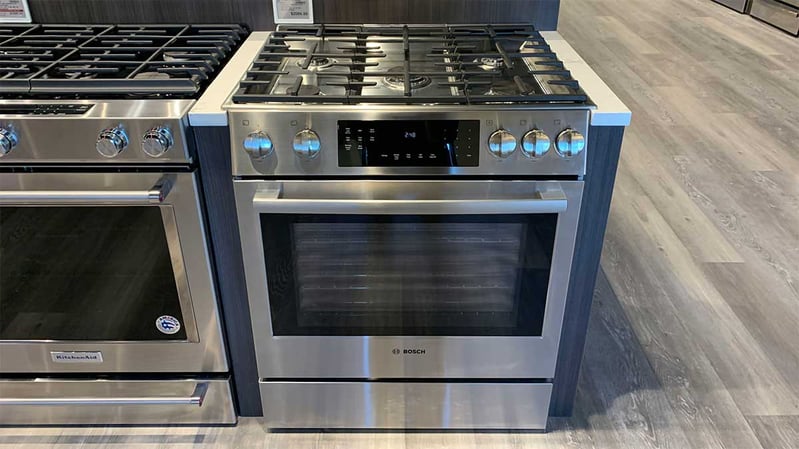 Bosch Gas Range at Yale Appliance
Everyone equates us with high-end, but anything that doesn't break becomes our favorite brand.
KitchenAid, Beko, and Bosch are all more reliable appliance brands than the average. Even Samsung tends to be higher.
However, service rates escalate after year 1, so make sure any brand you consider has service in your area.
Read More: Why Your New Appliance May Not Be Repaired
Frequently Asked Questions
1. Should I get a slide-in or freestanding range?
Freestanding ranges are cheaper with the same features. Slide-ins look better because you can see your backsplash without looking at the controls of your range.
2. Can a freestanding range replace my slide-in range?
Probably not. Slide-in ranges are probably notched on either side with a rim on the back. That said, it's hard to do so. Buy it as a front control range. It's similar to a slide-in but is made to replace a freestanding range directly.
3. What's the difference between a front control and slide-in range?
Slide-in is slid over the countertop, so it has no seams and is easier to clean. Front controls can replace a freestanding but have seams on either side.
As a rule, front controls are easier for replacing an existing range, while slide-ins can be planned for new construction.
4. What's the difference between a slide-in range and a drop-in range?
The older drop-in ranges were dropped on a base cabinet. They look like a range without a bottom. Slide-ins touch the floor like every other range.
Additional Resources
Need more information on Gas Ranges? Download the Yale Gas Cooking Buying Guide with specs, features and detailed profiles of all the brands. Well over 820,000 people have read a Yale Guide.
Related Articles:
Why Should You Trust Us?
It seems that every appliance review has nothing but glowing comments about almost every product, yet you read customer reviews and they are almost universally bad.
We are here to fill in the disconnect. We'll give you the best features, and the drawbacks as well, including reliability based on over 37,000 calls performed by our service team just last year. Our goal is to give you ALL the information so you know what's right for you.
Please consider subscribing or adding to the conversation in the comments below. We appreciate you stopping by.
Steve Sheinkopf
Steve is the third-generation CEO of Yale and a lifelong Bostonian. He currently resides in Boston, one mile from where he was born. Despite being one of the worst goalies of all time, he is a huge hockey fan of college hockey and the Boston Bruins. The love of his life is his daughter Sophie.
A Note About Pricing
Pricing on this blog is for reference only and may include time sensitive rebates. We make every attempt to provide accurate pricing at time of publishing. Please call the stores for most accurate price.