Are Wolf Professional Ranges Worth It? (Reviews / Ratings)
September 24th, 2020 | 9 min. read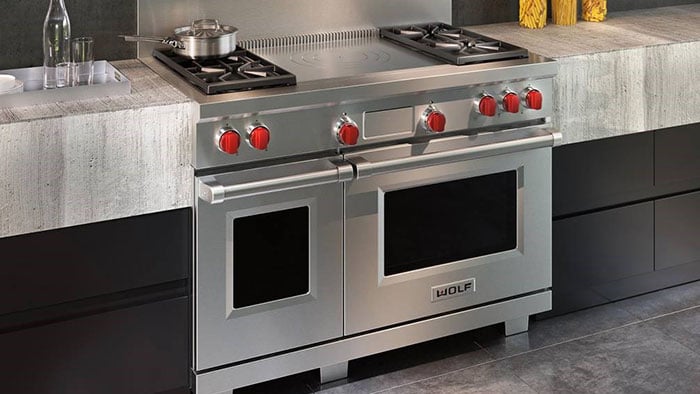 Ah, those iconic red knobs on a Wolf professional range.
Since Sub-Zero purchased the company over 20 years ago, they have symbolized performance, especially in the professional range category.
However, 20 years later, Wolf has some pretty good competitors with newer products like Miele, JennAir, and Thermador.
In this article, you will learn all the best features for Wolf ranges, as well as the differences between their all gas and dual fuel models.
Most companies pro dual fuel, and all gas ranges are similar in look and function other than the fuel type.
Wolf ranges are so different I have placed them in separate categories.
Then you will see a comparison between Wolf and its major competitors along with reliability based on real service calls.
Our company logged 35,256 service calls just last year so that you will have a pretty good idea on Wolf and the pro range category in general.
In the end, you will understand whether a Wolf pro range is right for you.
Are Wolf Professional Ranges Worth It?
Wolf Pro Range Sizes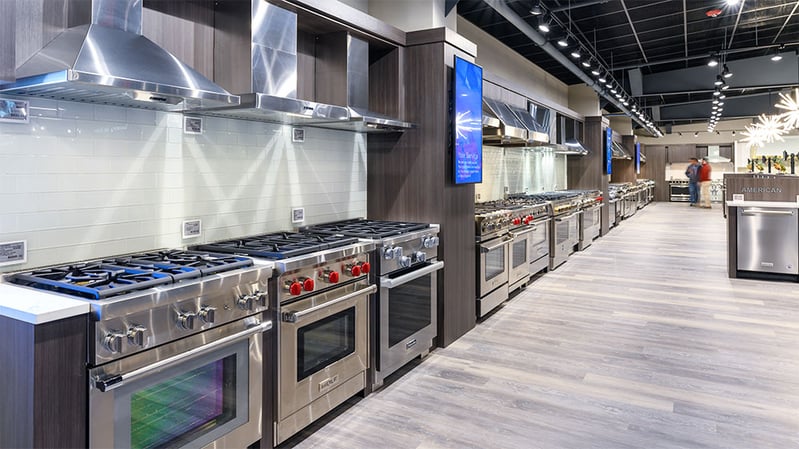 Best Professional Ranges including Wolf at Yale Appliance in Hanover
Wolf pro ranges are available in the following sizes in dual fuel and gas at 30, 36, 48, and 60 inches.
You are probably reading this for gas, but they also manufacture an induction at 30 and 36 inches.
To see all of Wolf's professional ranges, click here.
Differences In 30 And 36-Inch Wolf Pro Ranges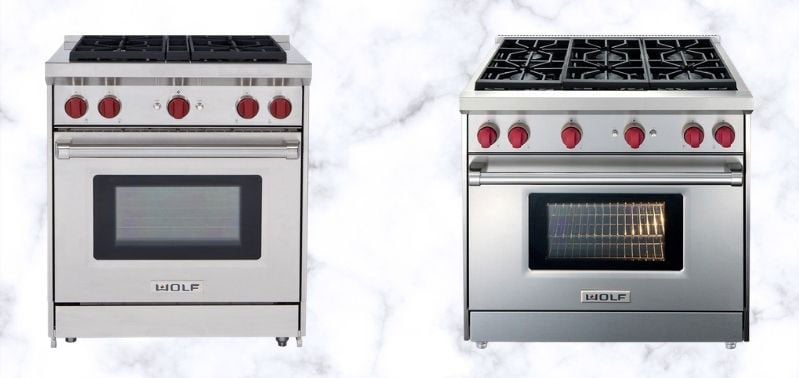 Wolf 30-Inch All Gas Pro Range GR304| Wolf 36-Inch All Gas Pro Range GR366
Differences is a larger oven and the ability to have six instead of four burners or infrared grill and griddle. You will read about the features later.
Read More: Best 36-Inch Professional Gas Ranges
Differences In 36 And 48-Inch Wolf Pro Ranges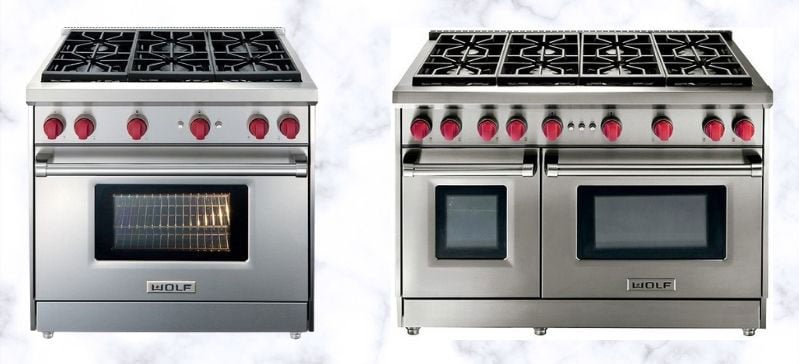 Wolf 36-Inch All Gas Pro Range GR366 | Wolf 48-Inch All Gas Pro Range GR486G
A 48-inch unit has an additional smaller oven and another set of burners. You can also buy their French top as well as grill and griddle in different combinations.
You can also buy the all gas in an eight burner 48-inch pro range.
Read More: Best 48-Inch Pro Ranges
Differences In 48 And 60-Inch Wolf Pro Ranges

Wolf 48-Inch All Gas Pro Range GR486G | Wolf 60-Inch All Gas Pro Range GR606CG
In 60 inch you will have another burner set as well as two 30 inch ranges instead of the 30 and 18-inch sizes.
The all gas Wolf pro range has a French top model available while the dual-fuel has different French top, grill, and griddle options.
Read More: Best 60-Inch Pro Ranges
What's The Difference Between Wolf's All Gas And Dual Fuel Pro Ranges?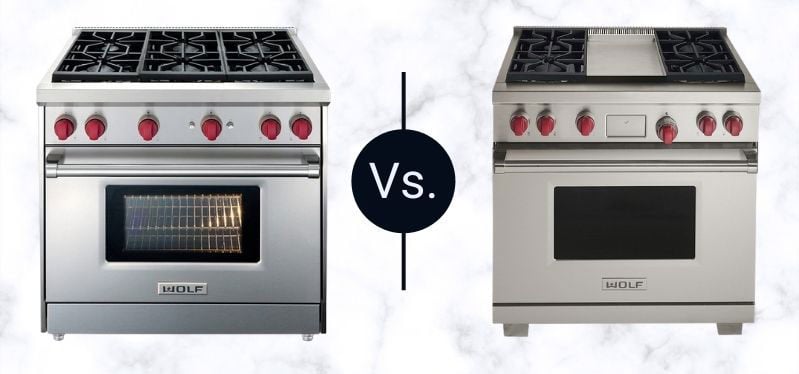 Wolf 36-Inch All Gas Pro Range GR366 | Wolf 36-Inch Dual Fuel Pro Range DF364G
Many people assume dual fuel with an electric oven is much better. That isn't necessarily the case.
Electric is a drier, more precise heat, so its better for baking.
Gas is a moist heat, so its better for roasting meats.
Nobody ever talks about broilers. My mother broiled everything growing up, so may be I am highly sensitive.
Gas broilers, especially the more direct infrared, is also better than electric.
Wolf has other advantages to their dual fuel as well. It's almost a completely different oven and cooktop surface.
The dual fuel and all gas have the same options. The output of the grill, griddle, and French tops are identical whether you buy all gas or dual fuel.
Are Wolf 48-Inch Dual Fuel Professional Ranges Any Good? [Video]
You will see a description of each feature in detail below.
Every other part of the range is different from burner output, controls, and cost to their ovens.
Let's start with the burners.
Differences Between Wolf All Gas And Dual Fuel Pro Range Burner Output
BTU output on the all gas range is 15,000 BTU with one at 9200 BTU.
For Dual fuel, it's higher for six-burner ranges. You have a 20,000 BTU, 2 18,000, 2 15,000, and 1 at 9,200.
Differences In Controls Between Wolf's All Gas And Dual Fuel Ranges

Wolf 36-Inch All Gas Pro Range Controls | Wolf 36-Inch Dual Fuel Pro Range Controls
All gas is a restaurant-style with no clocks and timers. Many pro gas ranges like Thermador, Capital, and BlueStar have no timers and controls.
You will have clock and timer functionality in dual-fuel along with light-up knobs with temperature displayed on the top.
Oven Differences In Wolf's Dual Fuel And All Gas Ranges
The Wolf all gas is straight single convection on all their models. It is not self-cleaning like some other manufacturers.
The dual-fuel is electric self-cleaning in every oven, including the smaller 48 inches.
It is also twin convection. Almost every company has copied Wolf for dual convection. Wolf is still better because both fans run independently to keep the temperature consistent.
The ovens' color differs from black in the all gas to high gloss blue in the dual fuel.
Broiler Differences In Wolf's Dual Fuel And All Gas Ranges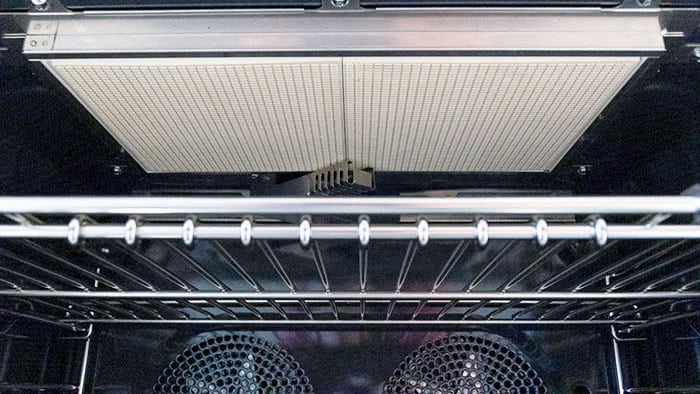 Wolf Pro Range Infrared Broiler
The infrared broiler in the Wolf gas is one of the best in the industry at 15,000 BTU. Infrared is also the most direct, intense available.
Regular gas is diffused through the air, whereas infrared directs the heat to the food below.
As I have said in many articles, the sear burners in $10,000 outside grills are infrared burners with a fancier name.
Cost Differences Between Wolf's All Gas And Dual Fuel Ranges
The cost differences between a dual fuel are about 15% more than all gas.
Read More: What's the Difference Between All Gas and Dual Fuel Pro Ranges?
Best Features Of Wolf Pro Ranges
Simmer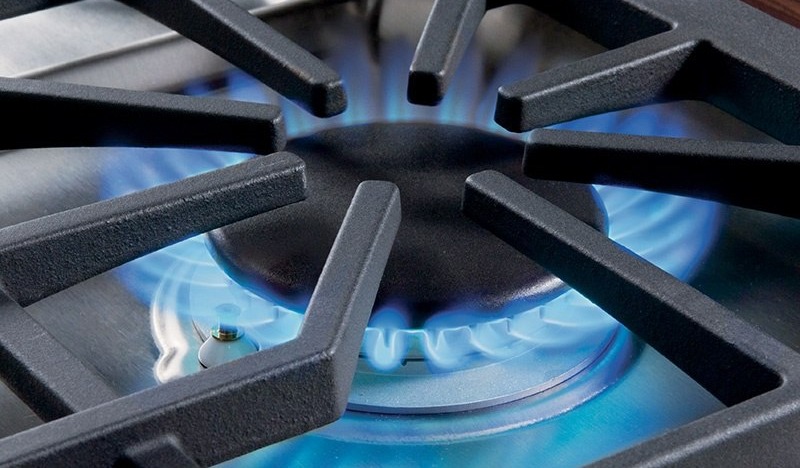 Wolf Pro Range Gas Burner
Every Wolf burner can simmer extremely well. Thermador has two extra-low burners, but it is an on/off simmer to keep a lower mean temperature.
Wolf has a two-stage burner (or two ports for flame) to keep a consistent simmer at 500 degrees.
Wolf Pro Infrared Grill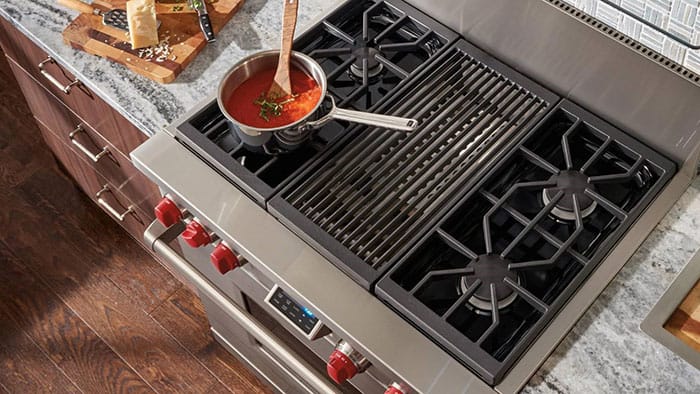 Wolf 36-Inch Dual Fuel Pro Range With An Infrared Grill
You now know what an infrared grill is. Wolf provides an infrared on their grill tops as well, so now you have a sear element on your stove.
Once again, it's one of the fastest and hottest. Also, its heat evaporates grease, so it is much easier to clean as well.
Many brands, as you will see, feature a regular gas burner or even electric to grill.
The only problem is the lack of temperature control. You only have one temperature. They provide a diffuser to lower effective temperatures.
Wolf Pro Infrared Griddle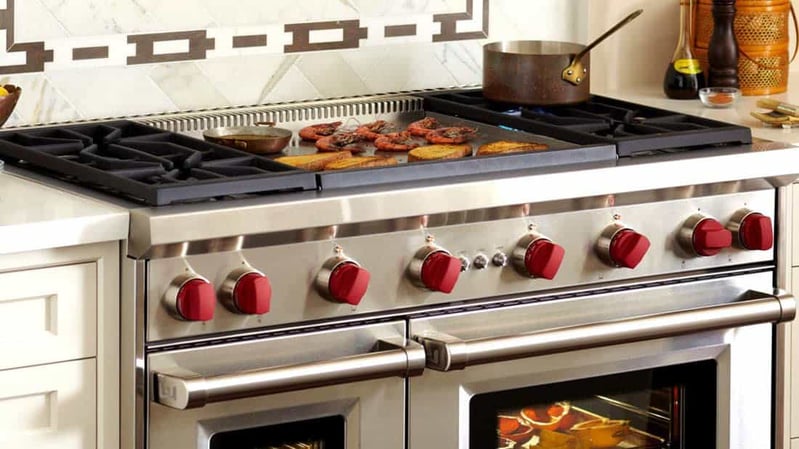 Wolf 48-Inch All Gas Professional Range With A Griddle
Like the grill, an infrared griddle will perform better and faster.
Wolf Pro French Top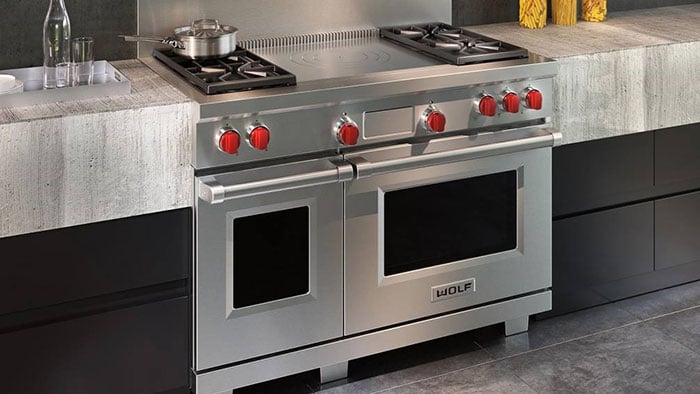 Wolf 48-Inch Dual Fuel Pro Range With A French Top
French tops are different from griddles. The design of a griddle is to provide even heat throughout the surface.
French tops are designed to provide uneven heat throughout the top. It's just one big burner in the middle of a top French griddle, so it's hot in the middle and cooler away from the burner.
It allows you to cook multiple foods at different temperatures.
Oven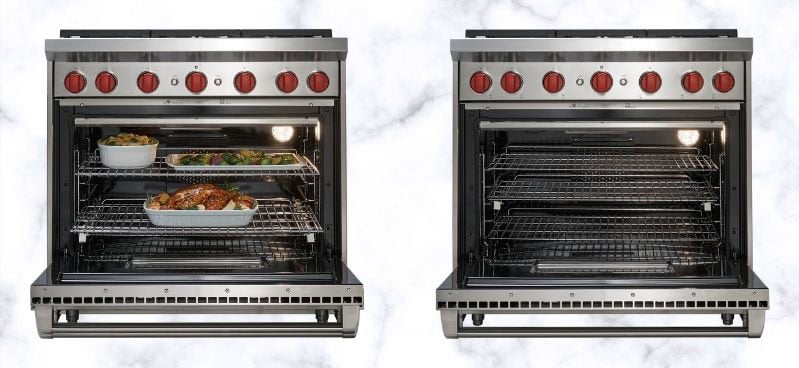 Wolf 36-Inch All Gas Pro Range Oven Interior
The broiler on all gas is one of the best, as is the electric's twin convection.
Now let's see how Wolf compares to its main competition in all gas and dual fuel.
How Does Wolf Compare To Its Competitors?
It all starts with reliability.
All Gas Pro Range Reliability For 2020
| | |
| --- | --- |
| | Service Ratio |
| Miele | 71.4% |
| BlueStar | 71.4% |
| Wolf | 16.3% |
| JennAir | 14.6% |
| Thermador | 12.3% |
| Grand Total | 18.1% |
Dual Fuel Pro Range Reliability For 2020
| | |
| --- | --- |
| | Service Ratio |
| Café Appliances | 6.66% |
| Wolf | 30.36% |
| KitchenAid | 50% |
| Fisher & Paykel | 40.91% |
| Jenn-Air | 46.43% |
| La Cornue | 52.38% |
| Thermador | 53.10% |
| Miele | 60.87 |
| Bosch Appliances | 68.75% |
| Grand Total | 39.88% |
Everyone in the appliance industry, from manufacturers to retailers, hates these reliability reports.
It is an uncomfortable reminder that service, especially for high-end products, is important if not essential for retailers.
Most retailers don't offer service. So the reminder is particularly uncomfortable.
Brands are upset because it reflects a higher than average number.
To a certain degree, they are correct.
We try to mitigate service calls by providing service and advice over the phone.
Our repair process passes from customer service to a technician inside evaluating the call for parts, then a regional who will also look at the call.
However, it still does count as a service call if you need us to look at the range without ending up with issues.
Expensive products have a greater service percentage. If you have spent a ton of money on a pro range, sometimes you want that checkup and reassurance.
Read More: Most Reliable Professional Ranges
Wolf & Appliance Service
About 15 years ago, Wolf gathered all their best dealers and had a message:
You have to do better on the service side.
To cement this, the company's CEO had read actual customer comments on various botched service calls and how it needed to be improved in the future.
I've never sat through a meeting like that in my career, and I've sat through plenty of incredibly uncomfortable meetings.
The flip side to reliability is what happens when there is an issue.
For that, Wolf is the best to react to issues in this industry. Then again, most family-owned companies react that way.
It's like calling our baby ugly. We hate people not liking our products and services.
To that end, Wolf directly controls service and reacts faster to issues than any other appliance brand.
Wolf Pro Ranges Vs. Thermador Pro Ranges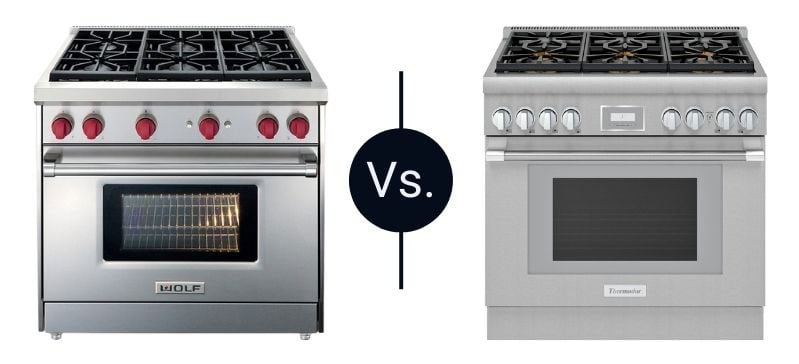 Wolf 36-Inch Pro Range GR366| Thermador Pro Harmony 36-Inch Range PRG366WH
Wolf and Thermador All Gas Pro Ranges
Thermador has two series, the Pro Harmony and Pro Grand.
The Thermador Pro Grand has a higher BTU burner, self-cleaning, and a clock, but isn't popular due to its extra depth. It will protrude past your cabinet.
Thermador Harmony has a good mixture of burners of 18 and 15,000 for greater total output than the Wolf. It has Wi-Fi on the larger ranges. It works fairly well with tie ins to recipes as well.
You also have a clock on the larger Pro Harmony units.
However, the grill and griddle are electric, so Wolf is far superior to their infrared. Wolf also has the Frenchtop option.
Thermador has their ExtraLow simmer on two burners. Wolf has a consistent simmer on all their burners.
Both have straight single convection.
Wolf And Thermador Dual Fuel Pro Ranges
The cooktop is slightly better on the Wolf with a 20,000 BTU burner to Thermador's 18,000.
The oven is different in both.
Thermador has single convection in the main oven versus the dual convection of the Wolf.
In the Thermador Pro Grand collection, you can opt for a steam oven and warming drawer versus Wolf's straight oven.
Wolf Vs. Miele Pro Ranges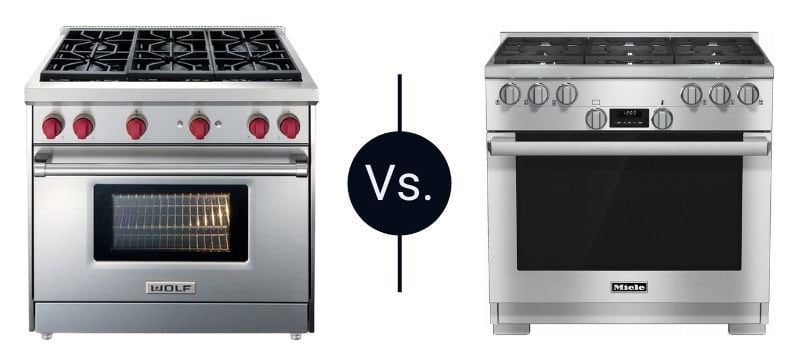 Wolf 36-Inch Pro Range GR366 | Miele 36-Inch Pro Range HR1134-1G
Wolf And Miele All Gas Pro Ranges
Miele is a newer pro range designed in 2015. It was designed to compete directly with Wolf.
They have a similar infrared grill and griddle as the Wolf. However, Miele does offer temperature control on the grill, unlike Wolf.
They have a combination of 19,500 BTU and 1 12,000 BTU burner in their 30 inches and 3 19,500 and a combination of 9500 and 8,000 on their 36-inch unit.
Miele does not manufacture a 48-inch all gas range.
Miele does offer a clock and timer on their all gas models. Their story is cleanability with the grates being able to be placed in the dishwasher.
The oven is self-cleaning as well. You can even keep the racks inside the oven during the cycle.
Wolf and Miele Dual Fuel Pro Ranges
In dual fuel, Miele has its M Touch controls. You scroll through the control panel like your phone, choose your food and how you liked it cooked.
The range cooks automatically.
You also have steam assist. It's not a steam oven, but steam assist allows you to provide moisture in the baking process. It's important for baking bread and caramelized foods.
Wolf has the more powerful top along with a French top option in the dual fuel.
Both are twin convection, but Wolf works independently based on temperature. Miele's two fans operate at the same speed regardless of temperature.
Wolf Vs. JennAir Pro Ranges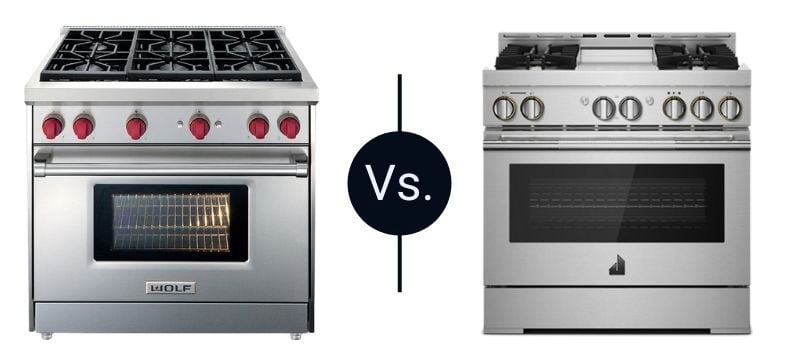 Wolf 36-Inch Pro Range GR366 | JennAir 36-Inch Pro Range JGRP536HL
JennAir is an interesting pro range. They have two series, and the range doesn't change in dual-fuel like Wolf.
It's been completely redesigned around their internet experience, including the addition of their lifestyle and recipe app, JennAir.
JennAir is the most powerful sealed top with up to three 20,000 BTU burners on the 48-inch units. Their griddle is coated with chromium, so it's the easiest to clean.
JennAir is the only brand without infrared burners on their residential ranges.
However, JennAir's new commercial ranges, both dual fuel and gas, have infrared burners.
JennAir is the least expensive, starting at $4,600 with a free dishwasher rebate on their 30-inch ranges. The only issues are JennAir's reliability and availability.
Wolf has the French top, better simmer on the burners, and better dual convection inside the oven.
Key Takeaways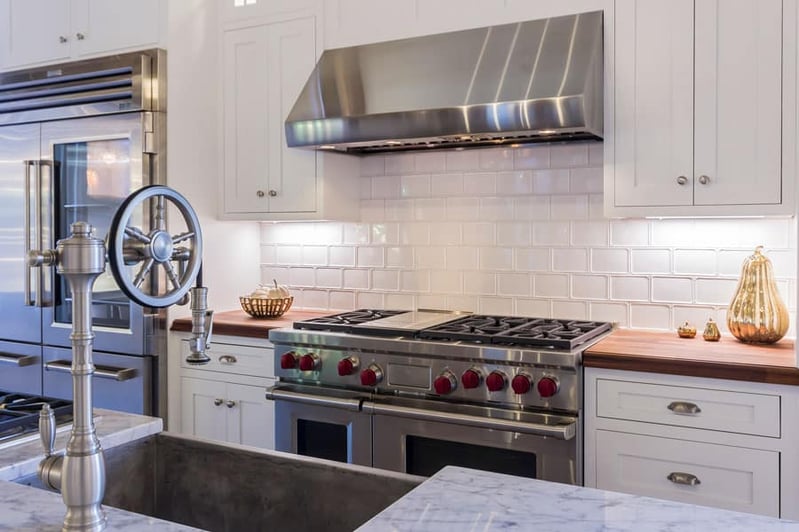 Wolf 48-Inch Pro Range at Yale Appliance in Boston
By now, you probably have an idea of what a Wolf range is not.
It's not a Wi-Fi enabled, steam-driven product. If you are looking for that type of pro range, Wolf is not the range for you.
However, Wolf is reliable and performs the cooking basics like grilling, simmering, and broiling incredibly well.
The after sale experience with Wolf is better than any other brand. That should be a major factor if your appliance dealer or store does not have a service department.
Ultimately, Wolf should be a consideration for your new pro range.
Additional Resources
Get our free Pro Cooking Buying Guide for tips, trends, and reviews of all the best brands. Over 800,000 people have already found answers in a Yale guide.
Related Articles:
Why Should You Trust Us?
It seems that every appliance review has nothing but glowing comments about almost every product, yet you read customer reviews and they are almost universally bad.
We are here to fill in the disconnect. We'll give you the best features, and the drawbacks as well, including reliability based on over 37,000 calls performed by our service team just last year. Our goal is to give you ALL the information so you know what's right for you.
Please consider subscribing or adding to the conversation in the comments below. We appreciate you stopping by.
Steve Sheinkopf is the third-generation CEO of Yale Appliance and a lifelong Bostonian. He has over 38 years of experience in the appliance industry, and he is a trusted source of information for consumers on how to buy and repair appliances.

Steve has also been featured in numerous publications, including the New York Times, Consumer Reports, The Boston Globe, Bloomberg Radio, the New York Post, The Wall Street Journal, and Entrepreneur, for his knowledge of how to buy appliances and appliance repair.

Steve is passionate about helping consumers find the best appliances for their needs, and he is always happy to answer questions and provide advice. He is a valuable resource for consumers who are looking for information on appliance buying, repair, and maintenance.

Despite being the worst goalie in history, Steve is a fan of the Bruins and college hockey, loves to read, and is a Peloton biker. The love of his life is his daughter, Sophie.
A Note About Pricing
Pricing on this blog is for reference only and may include time sensitive rebates. We make every attempt to provide accurate pricing at time of publishing. Please call the stores for most accurate price.