Is a Sub-Zero Refrigerator Worth the Money?
You are probably wondering, "Is a Sub-Zero refrigerator worth the money?"
Do you need a $10,000+ refrigerator in your kitchen?
My answer is: It depends.
After all, you can buy an affordable luxury kitchen and have plenty of money left over.
In this article, you will learn about Sub-Zero's refrigerator features. This includes their compressors, door seals, temperature controls, and shelving.
You will then see results from our Project Produce test to answer the question:
Does Sub-Zero keep food fresher than any other brand?
We tested Sub-Zero against other brands with fruit and vegetables over four weeks.
Next, you will understand the many Sub-Zero refrigerator styles and what might be best for you. We'll cover how much a Sub-Zero refrigerator costs.
Also, with new competition from True, JennAir, and Thermador, we wanted to answer the following questions:
Does Sub-Zero keep food fresher longer?
How much does a Sub-Zero cost?
How does Sub-Zero compare to other manufacturers?
What is the difference between the Sub-Zero Professional, Classic, and Designer series?
By the end of this article, you'll be able to answer whether a Sub-Zero refrigerator is worth the money.
Why Choose a Sub-Zero Refrigerator
Fist, let's look at the main features and benefits of a Sub-Zero refrigerator.
1. Two Compressors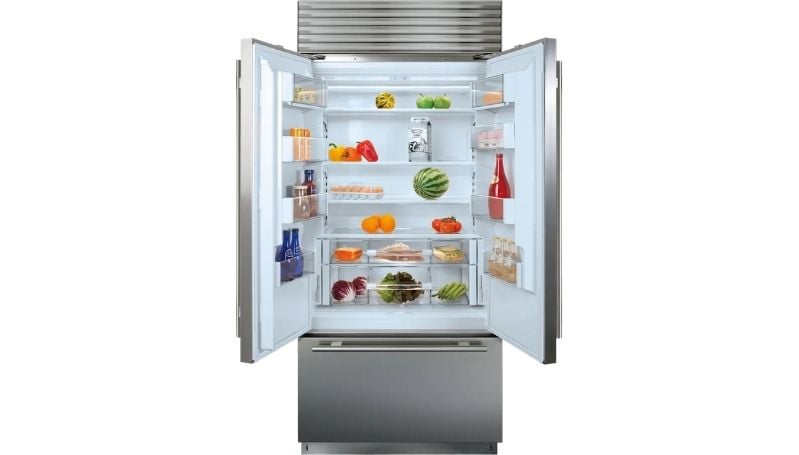 Sub-Zero was the first refrigerator with two compressors. One compressor for the refrigerator and one for the freezer.
The air in the refrigerator and freezer stays within the same compartment.
This prevents odors and tastes from the refrigerator migrating to your freezer. No one wants their ice smelling like fresh fish.
With two compressors, your frozen food will taste better. Also, the warmer refrigerator air is never circulated to the freezer. This means there will be less frost in your freezer.
In 2020, almost every integrated refrigerator had two compressors. JennAir will have three zones in their integrated refrigerators.
Even Bosch basic cabinet depth refrigerators have two compressors. Beko and Samsung offer two evaporators.
You will see a test between all these refrigerators later in the article.
2. Vacuum Seal Door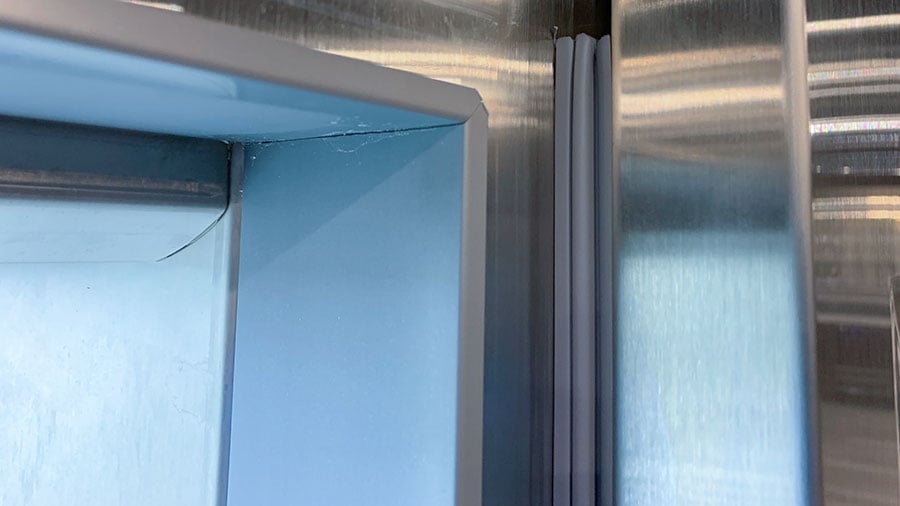 Sub-Zero has an active vacuum seal (pictured). It is more challenging to open, but outside air does not infiltrate into the refrigerator.
The vacuum seal's main benefit is that food stays fresh with less exposure to warmer air outside.
The refrigerator drawers are magnetized for the same reason.
The seal on the Sub-Zero is still the best.
3. GUI Temperature Screen Interface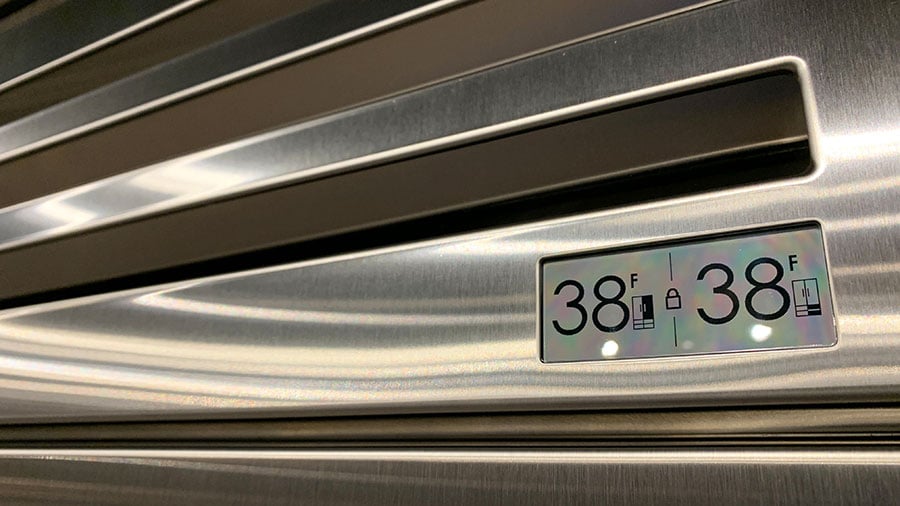 A GUI temperature screen (shown above) is like your phone's display. You can control the temperature by one degree in both the refrigerator or freezer.
Sub-Zero has less temperature deviation than other brands. The average refrigerator can deviate 5-10 degrees.
In 2020, Thermador offered a similar interface as does True.
4. Air Purification Scrubber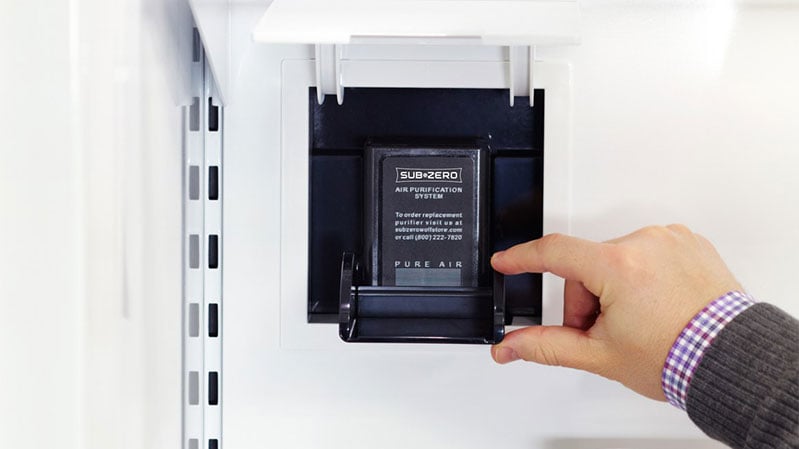 When food spoils, it emits ethylene gas.
Sub-Zero employs an antimicrobial air scrubber (pictured above). This scrubs the air of ethylene, mold, viruses, and bacteria every 20 minutes.
This slows the spoilage process for your food by not cross-contaminating gases.
In 2021, air purification has become more common. It's almost a buzzword.
KitchenAid, Bosch, and Beko use filters. Thermador has their green crisper designed to trap ethylene gasses.
However, none are as efficient as Sub-Zero.
5. Magnetic Crispers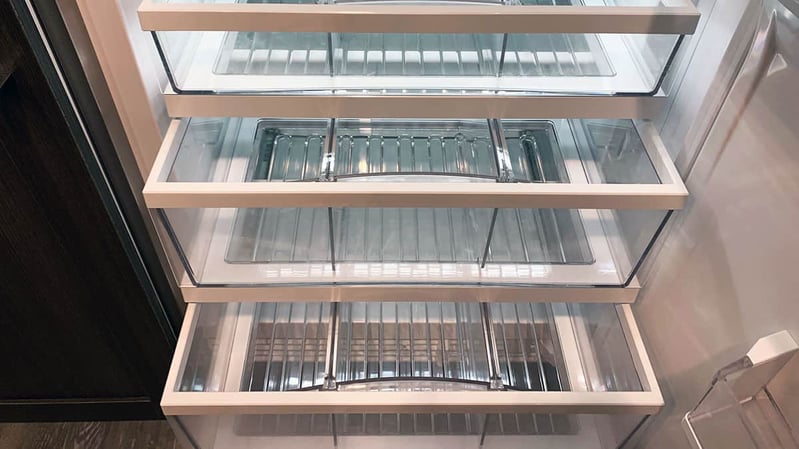 The refrigerator crisper drawers (shown above) are designed to keep fruit and vegetables "crisp." Sub-Zero has magnetized crispers so air cannot infiltrate into the crisper.
6. Spill-Proof Nanotechnology Shelving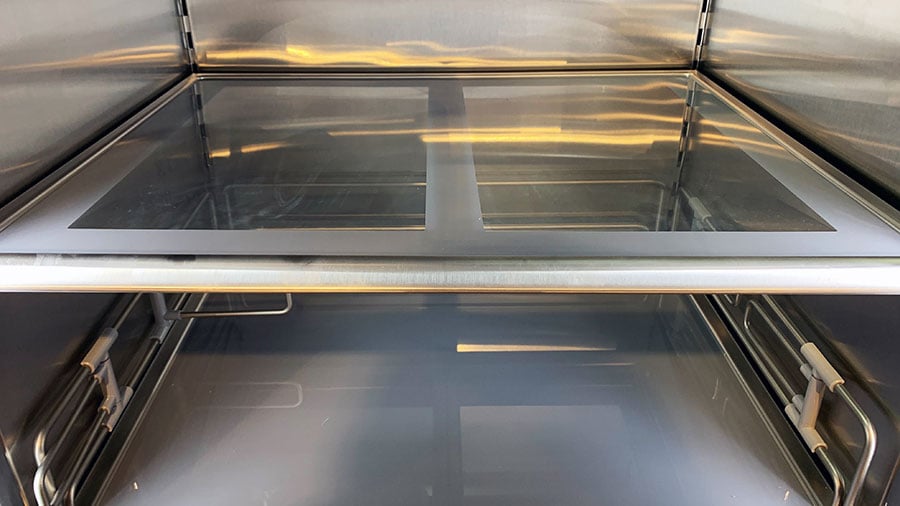 Ever spill any milk or soda in your refrigerator? You are finding those droplets for months afterward, even after a thorough cleaning.
Every shelf in a Sub-Zero is coated with nanotechnology to congeal spills. This stops the liquid from spreading to other parts of the refrigerator.
Only JennAir and Sub-Zero refrigerators have nanotechnology shelving.
7. Best for Keeping Food Fresh
A Sub-Zero factory rep once asked me if there ever was a Sub-Zero dead upon installation. I could not remember any instance in my 32 years at Yale.
Every unit is tested before it ships. Most factories may test one or two units per manufacturing run.
Does Sub-Zero keep food fresher than any other brand?
In our "Project Produce" experiment, we tested Sub-Zero versus Thermador, Samsung, Beko, Bosch.
Each company has unique claims of food freshness.
Sub-Zero won the experiment and had the freshest fruit and vegetables over one month.
Read More: Which Refrigerator Keeps Food Fresh the Longest?
8. Sub-Zero Resale Value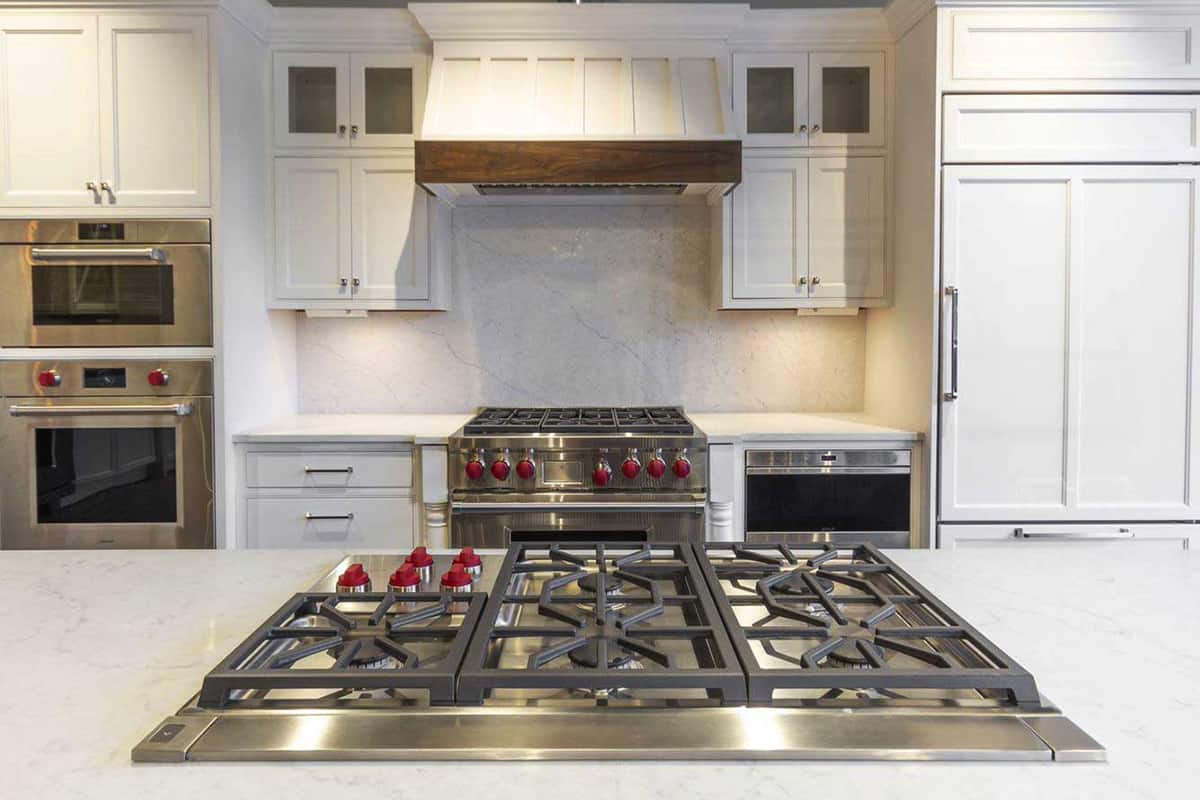 I had lunch with an old friend from Hingham. He was our lighting rep and later joined his family's lighting business.
He explained the process of selling his house (I am selling mine as you're reading this). He was talking to his retailer, telling her all the improvements to his home.
She explained his house would sell because it had a Sub-Zero and Wolf kitchen. All the other improvements, like his lighting, would not resonate with potential buyers.
Types of Sub-Zero Refrigerators
Not including wine storage, there are four types of Sub-Zero refrigerators:
Pro Series
Built-In Classic Series
Designer Series
Undercounter Refrigeration
Let's look at each:
1. Pro Series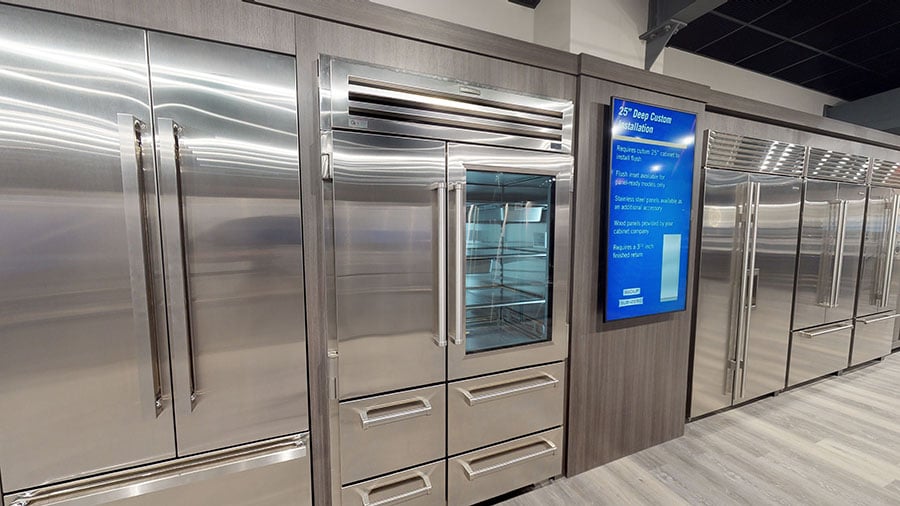 The Pro is available in 42 and 48-inch sizes. It is designed to look like a commercial refrigerator with its restaurant look.
You can choose this style with or without a window.
Editors Note: You generally do not want to place a commercial refrigerator in your house. They are not designed for households. They use a ton of energy and do not have basic features like shelving on the door.
2. The Built-In Classic Series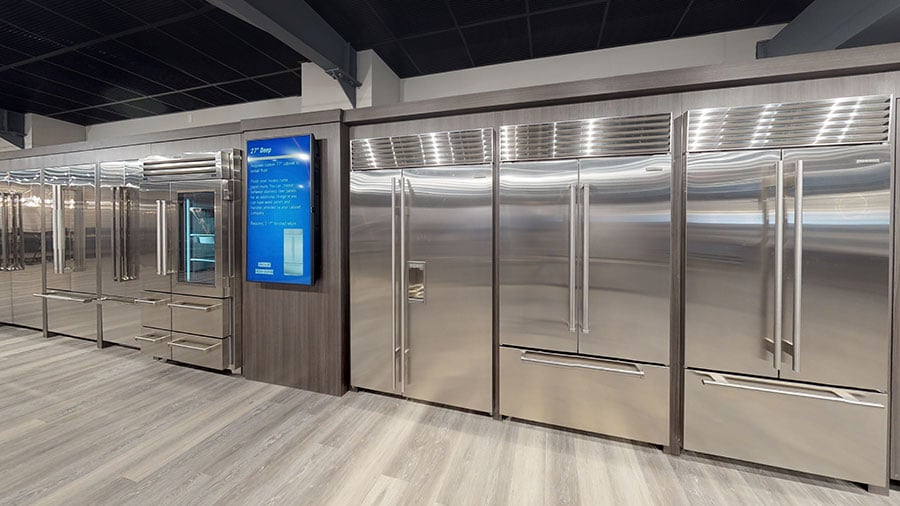 The Classic series features the compressor on the top, like the Pro. However, it can be ordered in several ways.
You can order it as one large refrigerator with no freezer or you can order with with the freezer. It's available in 30, 36, 42, and 48 inches.
French doors (side-by-side doors on the top with a bottom freezer) are available in 36 and 48-inch sizes.
You can buy this series in all stainless, or you can add a custom panel with your cabinet fronts as an option.
Differences Between Pro and Classic Refrigerators
The Classic has more sizes and can be panelized. The Classic has the air scrubber as well.
The Pro emulates the restaurant-style. It has more cubic footage with easily accessible crispers, an icemaker, and a freezer drawer.
Pro costs $6-8,000 more.
3. The Designer Series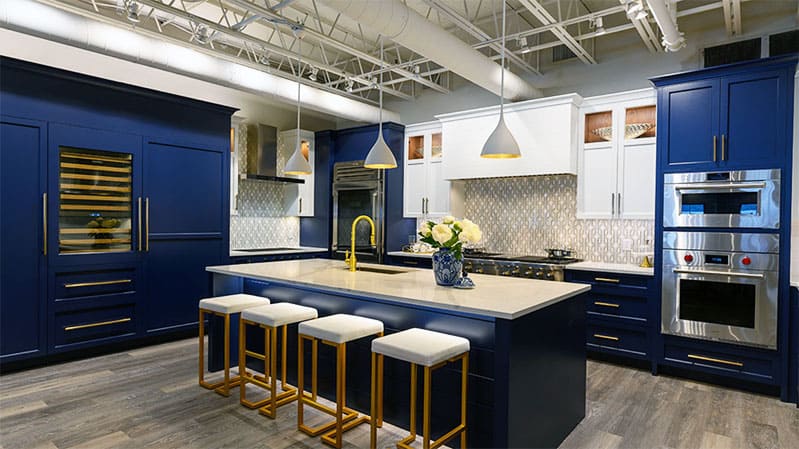 The Designer Series is available in 18 to 36-inch sizes. All refrigerator and freezer combinations are available in several configurations.
You can also customize your refrigeration to be placed anywhere.
Instead of a 48-inch refrigerator you can have two column refrigerators. For example, you can have 30-inch refrigerator next to an 18-inch refrigerator.
Differences Between the Designer and Classic Series
You can choose more options in the Designer series. However, the Designer series is integrated, so it blends seamlessly with the cabinet.
The door will protrude in the Classic series, but it will have more cubic footage with the added depth.
The Designer series looks great with custom cabinet panels. The Classic is impressive in stainless steel.
4. Undercounter Refrigeration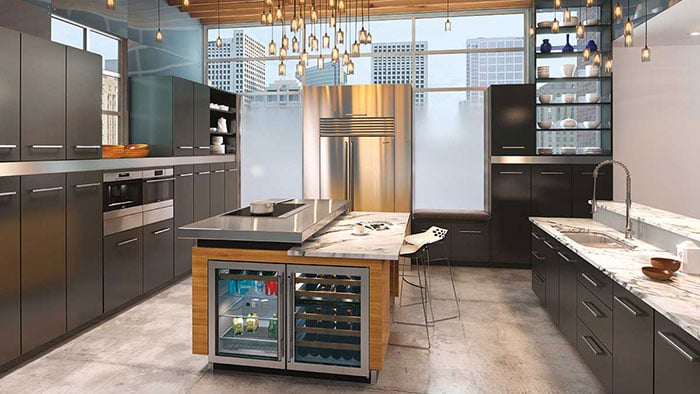 Sub-Zero has undercounter refrigerators in several different types.
Undercounter drawer refrigeration
Wine storage
Many undercounter refrigerator and freezer styles
How Much Do Sub-Zero Refrigerators Cost?
Full-size Sub-Zero refrigerators cost between $6,000 to $18,000. Wine refrigerators and freezers start at $6,000 to $9,500. Undercounter refrigeration costs between $3,000 and $4,500.
What Is Included in Sub-Zero's Warranty?
Warranty on the Sub-Zero is amongst the best in the industry. It's a five-year full warranty with 12 years on the sealed system components, compressors, and evaporators.
Are Sub-Zero Refrigerators Reliable?
Sub-Zero was the most reliable built-in refrigerator in 2020.
Most of those service calls were installation, not product related.
As I said earlier, in my 36 years at Yale, there has never been a Sub-Zero failure out of the box - a testimony to Sub-Zeros manufacturing and testing.
Short on time? Get our free Counter Depth Refrigerator Buying Guide
What Sub-Zero Refrigerators Do Not Have
Wi-Fi
JennAir, Samsung, GE, and LG all feature Wi-Fi in their refrigeration. Wi-Fi, at this writing, does not have the same functionality as Wi-Fi in cooking appliances.
A refrigerator only allows you to change temperature and sends alerts. Dacor has cameras so you can see inside your refrigerator.
You (and I) probably set the temperature , and it remains that way forever.
Stainless Interiors
Stainless absorbs cold better than other surfaces and is more hygienic. Milk will be colder against a stainless surface.
JennAir, Gaggenau, Dacor, and True offer stainless steel in their refrigerators.
Motorized Shelves
Integrated refrigerators are a bit taller, so having a motorized shelf can be handy. At this writing, only Gaggenau has that type of shelving.
Sub-Zero Refrigerators Vs. the Competition
In this next section, we'll compare the best pro, classic, and designer refrigerators.
Pro Refrigeration
There are fewer competitors for professional refrigerators than integrated, designer styles.
Energy efficiency could be a reason. It's harder to build the larger Pro types to the tougher standards.
The only companies marketing a Pro or classic type built-in are GE Monogram, Viking, and True.
Out of those three, True is the better choice.
True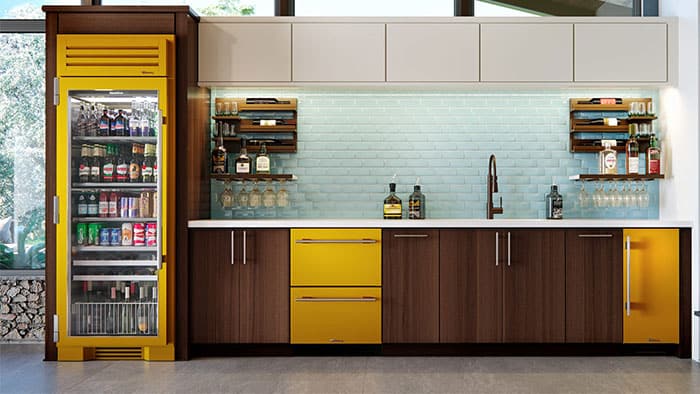 True has newer pro refrigerators.
As a company, they have a similar profile as Sub-Zero. They are family-owned, also based in the US, and specializing in refrigeration.
They are a large commercial refrigeration company.
If you shopped in Whole Foods, Wegmans, or any other supermarket, you removed a frozen item from a True freezer.
Their Pro has solid hinges and similar temperature controls as a Sub-Zero. You can customize a True with nine high fashion colors and six accents.
So if you want a statement piece in color, then consider a True. It is a reliable refrigerator and all stainless inside and out.
Yet, Sub-Zero has a better warranty, an ethylene air scrubber, and more styles. The reliability rate is also better.
Read More: True vs. Sub-Zero Professional Refrigeration: Which Is Better?
Integrated Refrigerators
There is a wide variety of companies manufacturing integrated, designer style refrigerators.
In this section, we'll compare integrated refrigerators from Sub-Zero, JennAir, and Thermador.
Thermador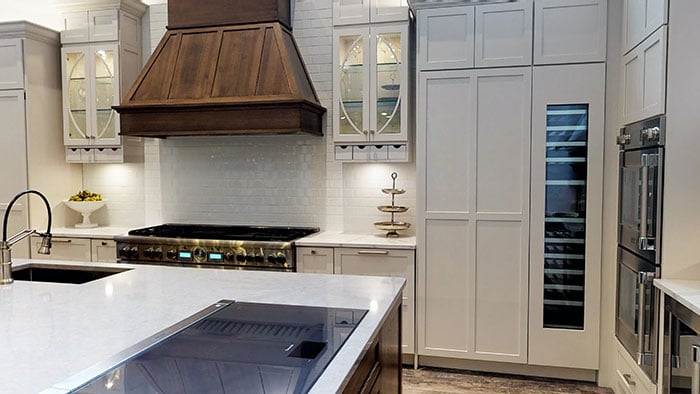 Thermador is their main competition for integrated refrigeration. We compared the two refrigerators in this blog post: Thermador vs. Sub-Zero Refrigerators.
Thermador has some great features with its customizable bins, TFT interface, and handless design.
Yet, Sub-Zero still has a better seal, shelving, and air filter.
Thermador will have a new refrigerator series with a stainless interior and their HomeConnect Wi-Fi.
Read More: Thermador vs. Sub-Zero Integrated Refrigerator Columns
JennAir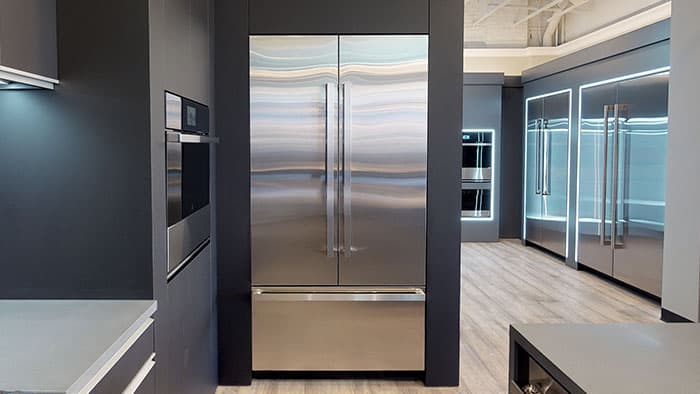 JennAir is a newer breed of refrigerator.
These more modern refrigerators have Wi-Fi and stainless interiors. JennAir has more zones of temperature control than a Sub-Zero.
But, it does not have the seal and air scrubber of a Sub-Zero.
Sub-Zero is also the most reliable refrigerator.
As for price, the difference between Sub-Zero and its competitors is roughly $2,000-$4,000.
Read More: The 5 Best Integrated Refrigerators
Is a Sub-Zero Refrigerator Worth the Money?
Sub-Zero is the best refrigerator sold at Yale and still the most reliable in its class.
Many competitive brands have improved, but none keep food fresh better than a Sub-Zero.
The features and branding are still the best in the industry. That said, is it worth spending $10,000 plus on a refrigerator?
It depends.
I used to tell builders to buy Sub-Zero during the recession. It would help distinguish their property versus their competitors.
In a seller's market, it's not as important.
For most of us, a $10,000 refrigerator is not an option.
You can buy whole kitchens of affordable luxury appliances for less and have another $5,000 to spend.
However, if you're planning your dream kitchen or are a builder, Sub-Zero is still your best choice.
Additional Resources
Want to learn more about Sub-Zero and Counter Depth Refrigerators? Get our FREE Yale Counter Depth Buying Guide with features, specs, and complete breakdowns of integrated and professional counter depth refrigerators from Sub-Zero, Thermador, Viking, JennAir, GE Monogram, and more. Over 820,000 people have read a Yale Guide.
Related Articles:
Why Should You Trust Us?
It seems that every appliance review has nothing but glowing comments about almost every product, yet you read customer reviews and they are almost universally bad.
We are here to fill in the disconnect. We'll give you the best features, and the drawbacks as well, including reliability based on over 37,000 calls performed by our service team just last year. Our goal is to give you ALL the information so you know what's right for you.
Please consider subscribing or adding to the conversation in the comments below. We appreciate you stopping by.
A Note About Pricing
Pricing on this blog is for reference only and may include time sensitive rebates. We make every attempt to provide accurate pricing at time of publishing. Please call the stores for most accurate price.