Speed Queen Washers (Reviews / Ratings / Prices)
When you look at new appliances, you look at updated features, sophisticated "smart" controls and better efficiency. We used to carry Speed Queen 15-20 years ago and have decided to once again partner with this brand.
Speed Queen is just the opposite. Perhaps you had an early front load washer and had numerous problems like mildew, mold or mechanical issues. Maybe you do not want to bend for your washer anymore like a front load.
In laundry in particular, you are the more likely to trade "smart" for reliable than with any other appliance. People still talk longingly about their old (pre-Neptune) Maytag that lasted 20+ years. The fit and finish of a Speed Queen reminds me of that old Maytag.
Short on time? Get our free Washing Machine Buying Guide
We will look at the company and the products so you can decide whether Speed Queen would be right for you.
History
Headquartered in Ripon, Wisconsin Speed Queen is the world's largest manufacturer of commercial laundry equipment and producers of a vast variety of residential & commercial grade washers and dryers.
Its commercial machines are a popular choice for laundromats, apartment buildings, and hotels.
The founding fathers of this company had purchased some hand powered washing machines way back in 1908. By adding an electric motor and through experimentation, they created a more efficient way to launder clothes with new innovations that we still see in today's laundry care.
The Products
Top Load Washing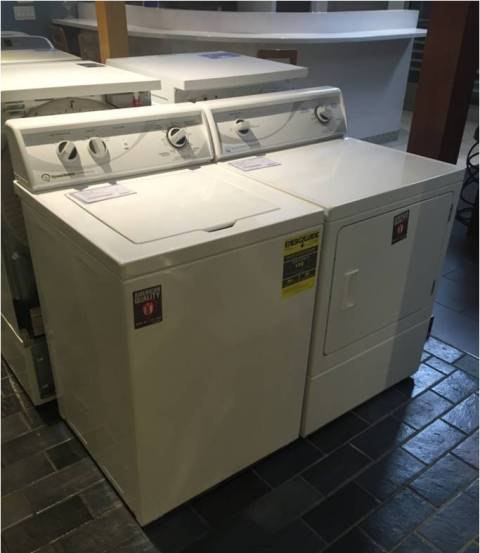 Washer Mechanical Controls Top Load (AWN432SP) - $799
Electric Dryer (ADE3SRGS173TW01) - $699.99
Gas Dryer (ADG3SRGS113TW01) - $799.99
Features
3.3 cu. ft. Capacity
½ HP Motor
710 RPM Max spin speed
Capable of doing a heavy duty load in 30 minutes
25lbs per load capacity
Self leveling rear legs
Soak/Prewash/Extra Rinse options
Stainless Steel Tub
This Speed Queen top loader may not look like much on the outside, but it's a no nonsense top load washer designed to work.
Due to the 210 – degree agitator, the machine not only cleans your clothes but is very gentle on them at the same time, relying on moving water around & through clothing rather than the typical hard agitation.
710 RPM spin is better than most top loaders at 400-450 RPM and will dry clothes faster. Front loads are still faster at 1200 RPM.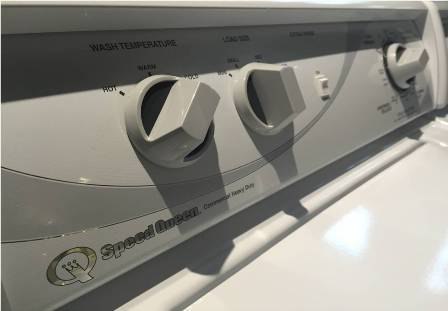 Simple old school style mechanical controls
Front Load Washing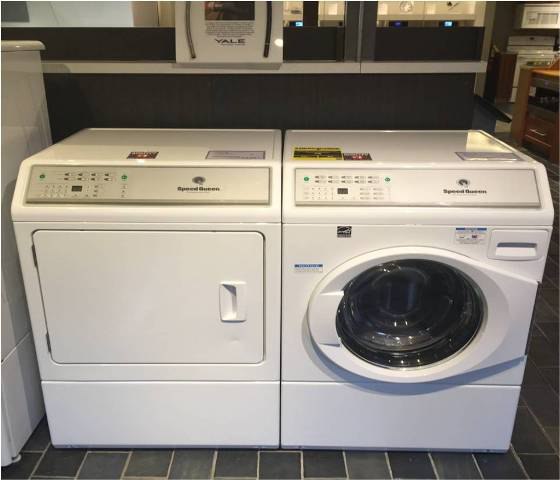 Front Load Electronic Contols Washer (AFNE9BSP113TW01) - $1,899.99
Electric Dryer (ADEE9BGS173TW01) - $1,039.99
Gas Dryer (ADGE9BGS113TW01) - $1,139.99
Features
3.42 cu. ft. Capacity
1 HP motor
1200 RPM Spin Speed
Stainless Steel Tub
Electronic Controls
Delay start
2nd and 3rd Rinse options
Similar to their top loader counterpart, this model is not looking to be flashy. Performance and reliability come first. This drum design manages and redistributes unbalanced loads for uninterrupted cycles.
Notice something? The washer is placed on the right.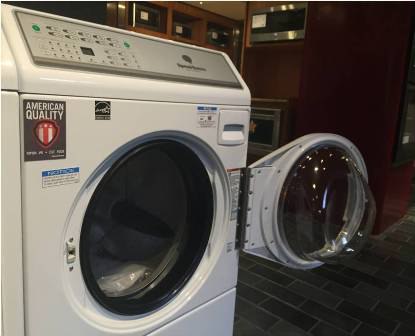 Also, note the robust door hinge
Standard Features for all models
Constructed with premium metal components (others will use plastic)
Tested for 25 years of commercial use
No distinction between commercial or residential products
3 coats of commercial grade finish
Manual control models: 3 year all parts all labor in home service warranty
Electronic control models: 5 year all parts all labor in home service warranty
Front serviceable, so there's no need to move product
Made in the USA
Manufactured in the same factory and line as their commercial products certainly speaks to their build quality.
The controls are simple and the unit is solidly built with mostly metal instead of plastic.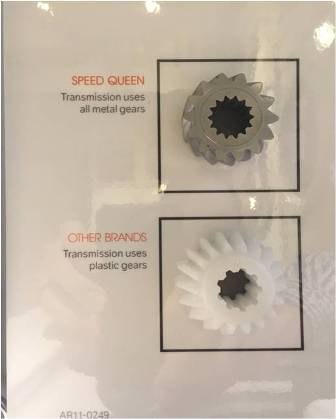 Final Thoughts
Well, I really believe a front load has better efficiency in all aspects with greater capacity. I also expected traditional top loaders to be phased out over time. However, as I said in the opening, people have become leery of some legacy front loading issues.
The high efficiency (without agitator) top load washers have not in my opinion worked as advertised. The washer is designed to really work with an agitator.
The Speed Queen success has run counter to the industry as 95% of their machines sold are traditional top loading machines.
I moved this machine, and it is significantly heavier than any machine on our display. While that is not an indicator for less repairs, I like the warranty at 5 years instead of 1 and especially the front panel serviceability.
It should be a very easy machine to repair which is a stark contrast to the intricate front load.
It reminds me of the old Maytag. We will know over time whether it performs like one.
Thanks for reporting a problem. We'll attach technical data about this session to help us figure out the issue. Which of these best describes the problem?
Any other details or context?
message
Additional Resources
Get the Yale Washer Buying Guide with features, specs and inside tips to all the brands and machines. Well over 180,000 people have read a Yale Guide.
Related Articles
Rick Medeiros
Rick Medeiros has over 10 years of appliances sales experience and is in the appliance sales department at Yale Appliance + Lighting. He enjoys travelling, live music and learning to play the guitar.

Read more about Rick here.
A Note About Pricing
Pricing on this blog is for reference only and may include time sensitive rebates. We make every attempt to provide accurate pricing at time of publishing. Please call the stores for most accurate price.