Best Speed Queen Washers (Reviews / Ratings / Prices)
Speed Queen is certainly a compelling brand. If you've had problems with your washer, Speed Queen almost speaks to you. It has a long warranty and is absolutely the most solidly built appliance of any type in the industry.
However, there are issues you would not expect and should be made aware of before you buy a Speed Queen washer or dryer.
We'll look at Speed Queen as a company and their products so you can decide whether a Speed Queen washer and dryer are right for you.
Best Speed Queen Washers
Speed Queen Top Load Washers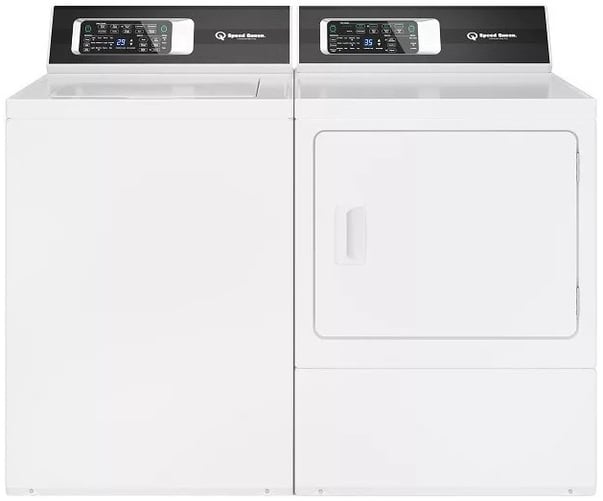 Washer Controls Top Load TR7000WN - $1,069
Electric Dryer DR7000WE - $989
Features:
3.2 cu. ft. Capacity handling 16 lbs per load capacity
1 HP Motor - Powerful and durable
840 RPM Max spin speed for better water extraction
Capable of doing a heavy-duty load in 30 minutes saving you time
Self-leveling rear leg for easy balancing and installation
Soak/Prewash/Extra Rinse options
Stainless Steel Tub with a porcelain outer tub for the best longevity.
This Speed Queen top loader may not look like much on the outside, but it's a no-nonsense top load washer designed to work (in theory).
Due to the variable speed agitator, the machine not only cleans your clothes but is very gentle on them at the same time, relying on moving water around & through clothing rather than the typical hard agitation.
710 RPM spin is better than most top loaders at 400-450 revolutions per minute (RPM) and will dry clothes faster. Front load washers are still faster at 1,000-1,200 RPM.
Speed Queen Front Load Washers
As of 2018 Speed Queen has reduced this category down to their stacked units and no longer offer the standalone units. However, their focus has always been on their top-loaders.
Standard Features for all models:
Constructed with premium metal components (others will use plastic)
Tested for 25 years of commercial use
No distinction between commercial or residential products
3 coats of commercial grade finish
Manual control models: 3 or 5 years all parts all labor in-home service warranty
Electronic control model: 7 years all parts all labor in-home service warranty
Front serviceable, so there's no need to move product
Made in the USA
Manufactured in the same factory and line as their commercial products speaks to their build quality.
The controls are simple and the unit is solidly built with mostly metal instead of plastic.
Who Makes Speed Queen Washers and Dryers?
Headquartered in Ripon, Wisconsin, Speed Queen is the world's largest manufacturer of commercial laundry equipment and producers of a vast variety of residential & commercial grade washers and dryers.
Their commercial machines are a popular choice for laundromats, apartment buildings, and hotels.
The founding fathers of this company purchased hand-powered washing machines way back in 1908.
By adding an electric motor, and through experimentation, they created a more efficient way to launder clothes with new innovations that we still see in today's laundry care.
New vs. Old Changes
Speed Queen introduced some changes to their lineup in 2018:
.5 HP up to 1 HP Motor.
Flagship model warranty went from 5 to 7 years.
Added a locking lid and therefore has removed their brake system and you will need to wait for the drum to stop spinning before the lid can be opened.
New wash system that mimics the gentleness and cleaning of a front load washer. This allows for a 20% improvement in cleaning.
What Brand of Washers Are Most Reliable?
Reliability is a good news/bad news scenario. Below, we'll take a look at our most reliable front load washer brands, most reliable top load washer brands, and lastly, how Speed Queen compares.
Most Reliable Front Load Washers
| | | | |
| --- | --- | --- | --- |
| | Units Sold | Units Serviced | Service Rate |
| Whirlpool | 524 | 20 | 3.82% |
| LG | 320 | 17 | 5.31% |
| Maytag | 1,124 | 74 | 6.58% |
| Samsung | 154 | 12 | 7.79% |
| Electrolux | 1,549 | 295 | 19.04% |
| Speed Queen Commercial | 13 | 3 | 23.08% |
| Frigidaire | 86 | 21 | 24.42% |
| Speed Queen | 44 | 16 | 36.36% |
You may have become leery about purchasing a front load washing machine due to reported issues from reviews and the high cost of repairing one.
However, front load washers have better efficiency and greater capacity than a traditional top load washer. That said, traditional top loaders may be phased out over time due to energy consumption.
Most Reliable Top Load Washers
| | | | |
| --- | --- | --- | --- |
| | Units Sold | Units Serviced | Service Rate |
| Amana | 32 | 2 | 6.25% |
| Fisher & Paykel | 7 | 2 | 66.67% |
| Frigidaire | 3 | 2 | 66.67% |
| LG | 24 | 0 | 0% |
| Maytag | 104 | 21 | 20.18% |
| Samsung | 14 | 0 | 0% |
| Speed Queen | 329 | 49 | 14.89% |
| Whirlpool | 378 | 9 | 2.38% |
Top load washers are reliable, but the more basic top load washers are still marginally more reliable.
The top load high efficiency washers (washers without an agitator) like the Whirlpool Cabrio and Samsung models, have not worked as advertised in our opinion. The top load washer is designed to work with an agitator and not without one.
Are Speed Queen Washers Reliable?
Speed Queen has run counter to the industry as 95% of their machines sold are traditional top loading machines.
According to Yale Service Manager Tim Willis, the old Speed Queen top load washer had a lot of draining issues due to high-volume water discharge. Since the newly redesigned model was released, we are not seeing this issue any longer.
Front load washers require much more repair but most have been redesigned as well. Speed Queen has a 36.36% service repair rate within the first year for front load washers but recently introduced a new generation of front load washers to the market.
There have been a few reviews lambasting the performance of the newest Speed Queen generation of washers. Our tests didn't yield the same results.
The one piece of advice from Willis is to not use the "Normal Eco Cycle" on Speed Queen's new front load washers. It only does a spray rinse and wasn't intended for full loads. It would have been better if they cycle was separated into two, Normal and Eco.
Should You Buy a Speed Queen Washer and Dryer?
You should probably wait on the new front loads. The old ones needed too much repair and the new machines are too new to safely recommend. As far as front loaders go, we'd have to suggest the 8200 series Maytag instead.
The top loads are a different story. It has a better spin speed and will clean better than a normal top load plus a 7-year warranty. The repair rates will be far better in the newer models.
However, it is more than double in price than a front load.
Additional Resources
Get the Yale Washer Buying Guide with features, specs, and inside tips to all the brands, to dimensions and explanations of every washer and dryer type are included. Over 355,000 people have read a Yale Guide.

Related Articles
Rick Medeiros
Rick Medeiros has over 10 years of appliances sales experience and is in the appliance sales department at Yale Appliance + Lighting. He enjoys travelling, live music and learning to play the guitar.

Schedule a showroom visit with me
A Note About Pricing
Pricing on this blog is for reference only and may include time sensitive rebates. We make every attempt to provide accurate pricing at time of publishing. Please call the stores for most accurate price.