Should You Buy a Speed Queen Top-Load Washer?
October 11th, 2022 | 8 min. read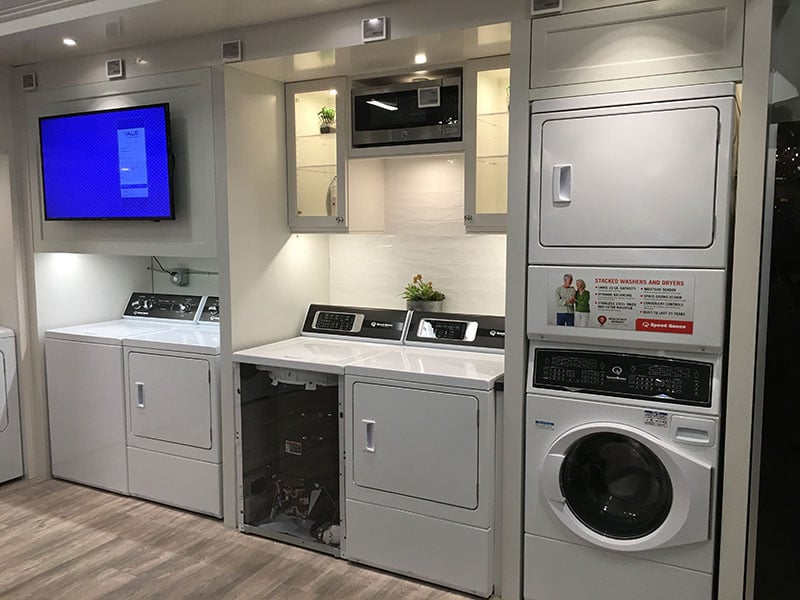 Speed Queen has become a go-to laundry set for top load laundry.
It's almost like many people want their old indestructible Maytag back from 30 years ago, and Speed Queen is the next best option.
Many people have stopped caring about capacity, water savings, energy savings, having 20 cycles, and Wi-Fi operation.
For that reason, Speed Queen top load washers have an almost cult-like following amongst its customers.
But is it warranted?
In this article, you will learn the main feature differences between the Speed Queen models and their two different wash systems, Classic Clean and Perfect Clean.
You will also learn Speed Queen's reliability based on over 40,000 service calls logged by our service team last year.
Then we will compare Speed Queen against other popular top-load washers from LG and Maytag. We'll also compare Speed Queen to several front-load washers.
By the end of this article, you should know whether a Speed Queen washer is right for you. This article will be more balanced than the other reviews you may have read.
But first, let's answer the question: Who is Speed Queen?
Speed Queen History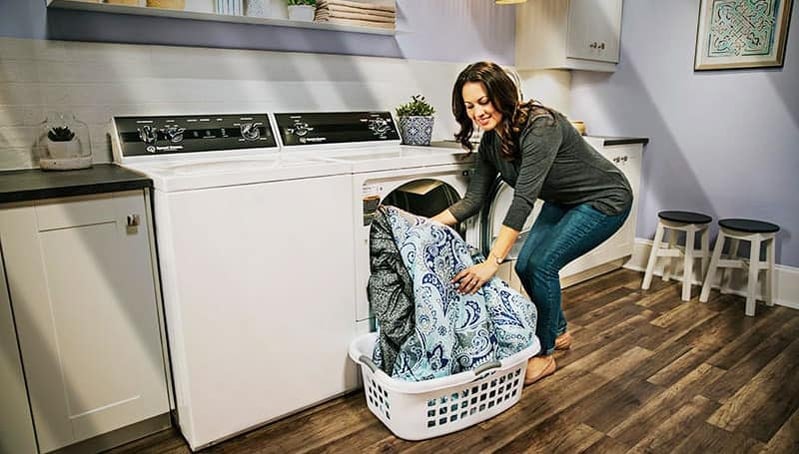 Speed Queen Top Load Washer and Dryer
Speed Queen started as a commercial laundry supplier based in Ripon, Wisconsin. For anyone who has been to the laundromat, commercial machines are solidly built to withstand repeated use and occasional misuse.
Speed Queen residential is built with the same commercial-grade quality.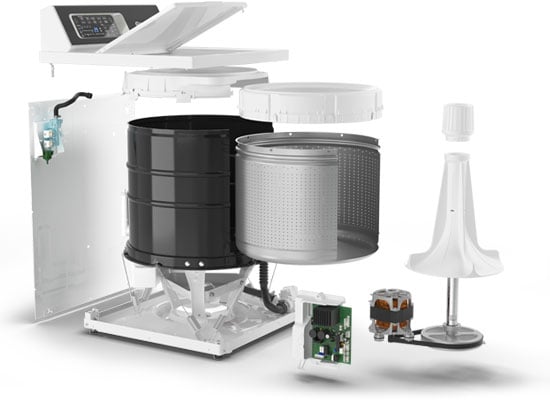 For competitive brands, a Speed Queen top load washer weighs 196 pounds compared to the average, 135-156 pounds, for other washers.
You will see later in this article that the type of construction translates into better reliability.
Best Speed Queen Top-Load Washers
Speed Queen Washers with Perfect Clean
Speed Queen Top-Load Washer TR7003WN - $1,399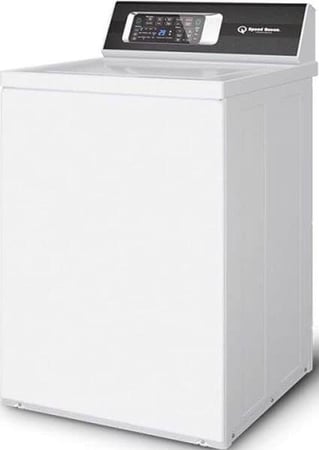 Speed Queen Top-Load Washer TR5003WN - $1,199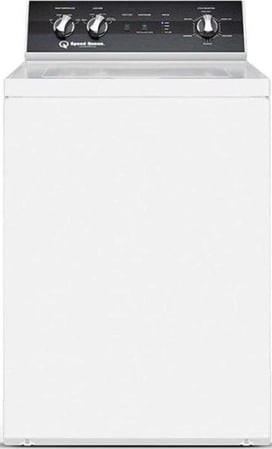 Speed Queen Top-Load Washer TR3003WN - $1,229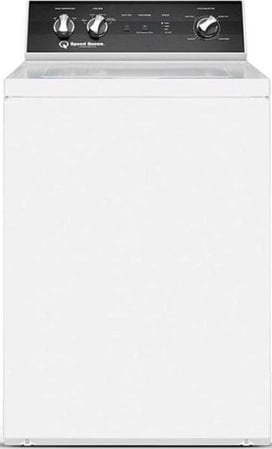 Speed Queen's top load washers use the same inverter motor for 43 decibels and an 840 RPM spin speed.
The difference between the three models is their number of cycles. The TR3003 has four cycles, the TR5003 has six, and the TR7003 has eight.
TR3003 Wash Cycles: Normal, Heavy Duty, Perm Press, Delicates
TR5003 Wash Cycles: Adds Handwash, Spin Only
TR7003 Cycles: Adds Bulky, Rinse and Spin, Favorites, and Special Cycles. Special Cycles include Eco Heavy Duty, Eco Delicate, Waterproof, Super Soiled, Whites, Wool, Athletic, and Denim.
The TR7003 top load washer uses digital controls, while the other models use rotary knobs. With the TR7003 washer, you can set customized cycles as well.
The warranty differences are three years for the TR3003, five for the TR5003, and seven for the TR7003.
The Only Speed Queen Washer with Classic Clean
Speed Queen Top-Load Washer TC5003WN - $1,299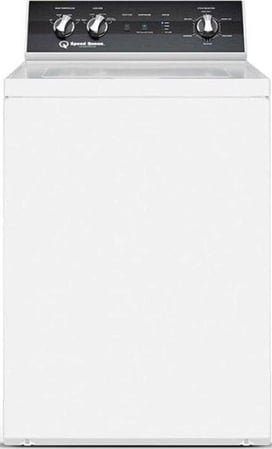 The TC5003 is the only Classic Clean model in the Speed Queen line. It's similar to the TR5003 except it has a louder decibel rating and slower spin speed.
Speed Queen doesn't list the decibels on their website, so you know it's not quiet.
The washing system is different, as previously outlined. Classic Clean is motor-driven and is more similar to the old system loved by Speed Queen enthusiasts.
The RPM spin speed is less on this series at 710 vs. 840 for the Perfect Clean washing system.
Speed Queen Wash Systems
Before we go over the rest of Speed Queen's features, let's take a minute to understand their two different washing systems.
Classic Clean
Classic Clean is only available on their most popular model, the TC5003. I would use the word "aggressive" to describe the washing action of this machine.
Unlike the back-and-forth motion of most machine's agitators, this machine uses 60 wash strokes per minute. The agitator is also tied to the motor to generate that torque.
Perfect Clean
Perfect Clean is Speed Queen's latest design. The agitator is tied to the tub rather than the motor. The agitator flows with the water with a less aggressive wash action.
It is also quiet at 43 decibels using an inverter motor.
You can't hear 43 decibels. A quiet Bosch dishwasher, for example, is 44 decibels. Inverter motors are becoming more popular among appliance manufacturers due to fewer parts and quieter operations.
Perfect Clean vs. Classic Clean Wash Systems: Which Is Better?
It depends on what you wash. Classic Clean washing system may be better if you are washing towels, jeans, and other durable fabrics.
Remember, you want to ensure your jeans do not even have a minor tear because the agitator could turn that tear into a larger rip.
The Perfect Clean washing system is better for more delicate items like shirts. It won't yank at the collars due to the gentler agitation.
It's also much quieter.
After researching this article, users have found better cleanability for Perfect Clean by first using the soak cycle and then following with a wash cycle.
Best Speed Queen Features
Deep Fill
Although other manufacturers have started to copy Speed Queen, Deep Fill is a core Speed Queen cycle.
Unlike the energy-efficient front-loads washers, the water fills to the top, so you wash your clothes by water saturation at 40 gallons versus 10-15 in a front load washer.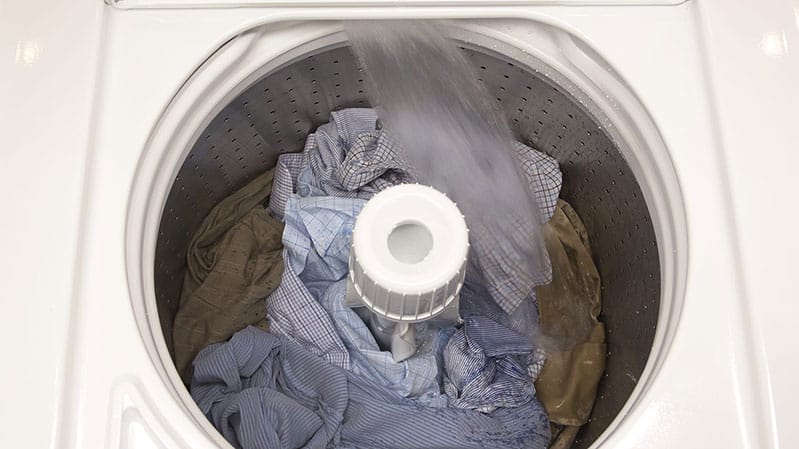 Cycle Time
Because it completely saturates the clothes with water, the cycle times are about 40 minutes versus 60 for most other brands.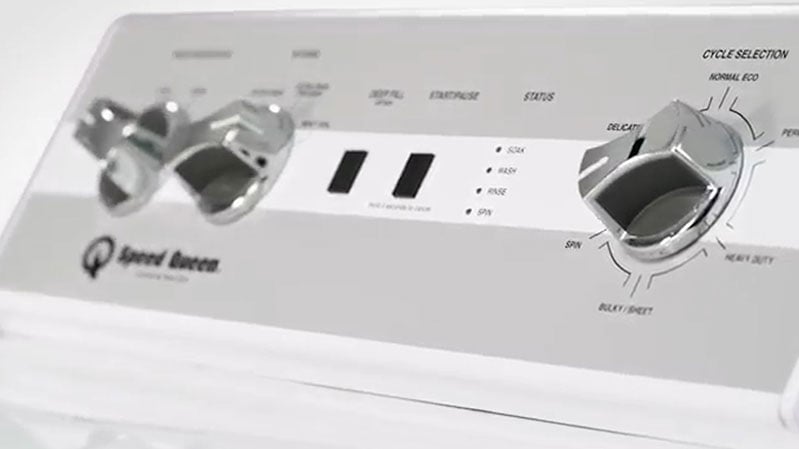 Warranty
Speed Queen has the best warranty, with the TR7003 having a seven-year warranty. Their five series machines, the TR5003 and TC5003, have five-year warranties, with the less-featured TR3003 having a three-year warranty.
Important Tip: Ensure your local servicer will service Speed Queen or any other manufacturer's extended warranty. Manufacturers' warranty rates are usually artificially low, so many independent servicers will not repair your machine during the warranty period.
No Lid Lock
Forgot that matching sock? You can add it to the already started wash cycle. The lid will only lock during a spin cycle. By that time, it's probably too late, anyway.
Sanitize
Speed Queen doesn't mix your water, so it can be as hot as your water heater allows.
No Mold
Speed Queen top load washers, like most top load washers, do not allow standing water, so mold, odor, and mildew do not develop.
Standard Features for all models:
Constructed with premium metal components (others will use plastic)
Tested for 25 years of commercial use
No distinction between commercial or residential products
Three coats of commercial-grade finish
Front serviceable, so there's no need to move product
Made in the USA
Other articles and reviews claim Speed Queen will last 25 years or more based on better materials. Yet, there is no documentation to support these claims. You will see Speed Queen in our reliability reviews later in the article.
What Features Do Speed Queen Washers Not Have?
Large Capacities
Speed Queen top load washers have 3.2 cubic feet of total capacity and around 2.6 in usable capacity. The average front-load washer has a capacity of 4.5 to 5.0 cubic feet.
Other review sites claim 3.2 cubic feet is the most a washer can wash effectively. However, I read a few front-load operation guides, and none say to limit capacity.
I always used to stuff my front-load washers without an issue. I recently moved to an apartment with a top-load washer. It does not fit as much clothing, and it is harder to stuff comforters around the agitator.
Fast Spin Speeds
Speed Queen is decent for a top load washer at 710-840 RPM. However, the average front load washer spin speed is 1160-1300 RPM for a front load washer, so the clothes will be considerably drier.
Automatic Detergent Dispensers
Many washers now employ an automatic detergent dispenser. An auto dispenser delivers the exact amount of detergent needed for the load size at the right time for better cleaning.
Smart Functionality
Although it sounds gimmicky, smart technology works for laundry. With Wi-Fi and smartphone connectivity, you can see the time remaining for both the wash and dry cycles.
You can even set up text alerts to receive a notification when the cycle is over. Never again will you stand in front of your washer waiting for the cycle to end.
Speed Queen Top-Load Washer Reliability
Does the vaunted Speed Queen build quality add up to a more reliable machine? The answer is yes and no.
Top Load Washer Reliability for December 2020 to October 2021
| | |
| --- | --- |
| | Service Rate |
| LG | 1.7% |
| Maytag | 6.4% |
| Speed Queen | 7.5% |
| Whirlpool | 8.0% |
| Grand Total | 5.7% |
The most reliable top-load washers are based on a minimum of 150 sold per brand with a sample of over 900 units.
Speed Queen's service rate is slightly higher than the average service rate of 5.7% at 7.5%.
Both LG and Maytag are more reliable, with LG being the best. Speed Queen is front serviceable, simple to fix, and usually covered under warranty. Suppose you can find a company to fix their machines.
Speed Queen does not operate any service of its own.
Speed Queen Customer Reviews
Concerning customer sentiment, Speed Queen probably has the best reviews on the internet. It does clean well because cleaning through water saturation does work.
Most bad reviews on any appliance are about the process of repair. People expect issues, especially with appliances. They don't expect a long process to rectify them.
Read More: Most Reliable Top Load Washers
How Do Speed Queen Washers Compare to Other Brands?
Let's compare Speed Queen's top competitors for top-load and front-load laundry.
LG vs. Speed Queen Top-Load Washers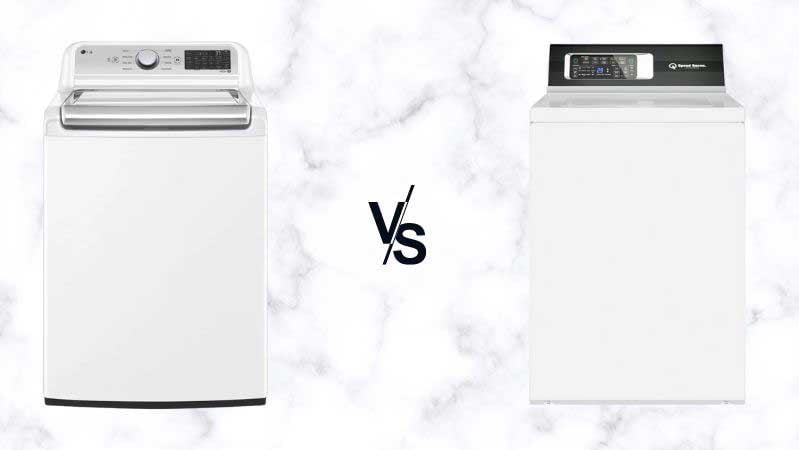 LG WT7405CW | Speed Queen TR7003WN
LG is one of the new brands of high-efficiency (HE) top load washers. The original HE top load washers did not have an agitator and did not wash well.
The new HE machines feature an agitator and a larger drum, and this LG top load washer is huge at 5.3 cubic feet compared to 3.2 Cu. Ft. of capacity for Speed Queen.
LG's service rate of 1.7% is also outstanding. LG manufactures more of its appliances than most other brands. They also pioneered inverter motors with fewer parts and fewer problems.
An LG top load washer includes Wi-Fi connectivity and nearly every conceivable wash cycle. The LG WT7405 top load washer has eight cycles and 15 options.
8 Washer Cycles - Normal, Heavy Duty, Bedding, Deep Wash, Pre-Wash+ Normal, Delicates, Waterproof
15 Options - TurboWash™, Soak, Extra Rinse, Add Garments, Delay Wash, Control Lock, Deep Fill, ColdWash™, Rinse+Spin, Spin Only, StainCare, Tub Clean, Signal, Remote start
GE Profile vs. Speed Queen Top-Load Laundry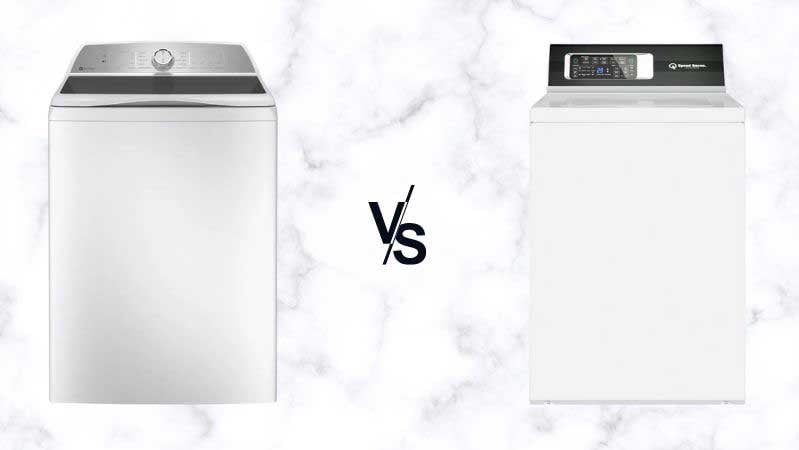 GE PTW605BSRWS | Speed Queen TR7003WN
GE Profile's washer has 4.9 cubic feet of capacity and several different features.
GE introduced Microban technology to reduce mold in their front load washers. The PTW605BSRWS has Microban in the drain hoses, dispenser, and tub parts.
Their "Smart FlexDispense" dispenser allows you to wash your clothes with pods, softeners, and other additives you can customize in their SmartHQ app.
This machine even has a "Tangle Control" cycle to adapt the washing action to prevent tangling (it is a problem I've noticed with my top load washer while washing bed sheets).
GE vs. Speed Queen Front-Load Laundry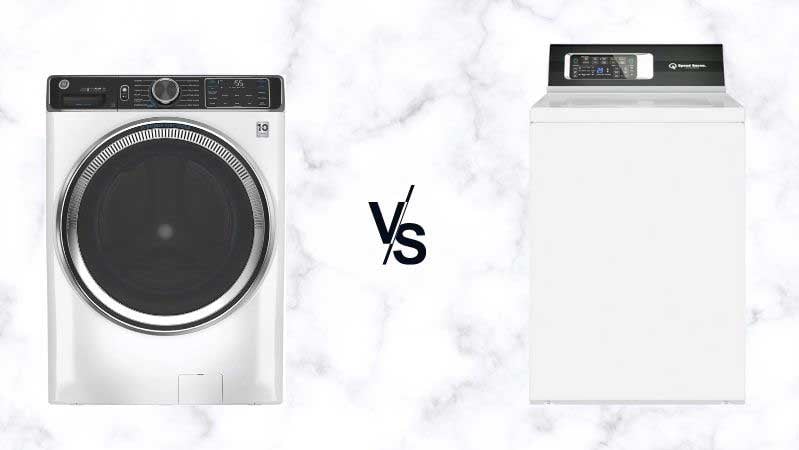 GE GFW850SSNWW | Speed Queen TR7003WN
Most people dislike front-load washers due to the possibility of mold and mildew accumulating in the drum.
However, this GE washer provides comprehensive mold protection with Microban antimicrobial surfaces and a fan to dry any residual water.
This washer also uses an automatic dispenser to release the exact amount of detergent needed at the right time.
You only need a capful of detergent at most. When you use more, the foam ends up in the machine causing an expensive service call.
Front load washers are the largest in capacity, use the least amount of water, and are energy efficient.
GE's front load washer has a faster spin speed at 1300 RPM versus 840 for the Speed Queen. Faster spin speeds mean your clothes take less time to dry in the dryer.
Should You Buy a Speed Queen Top-Load Washer?
This is a really tough call.
The TC5 series is great for heavily soiled fabrics with that heavy wash action. However, you lose many features by buying a Speed Queen washer.
Choosing a top-load washer over a front-load washer means spending more money on energy, water, and detergent. Top load washers are also smaller in capacity.
In addition, an automatic dispenser is always worth considering.
Regarding reliability, the product is built well but needs to be fixed more than the others due to its high service rate.
Should you buy a Speed Queen top-load washer? It's not the worst decision, but you should consider all your options.
Additional Resources
Download our Yale Washer Buying Guide with all the features, terms, and brands of laundry. Over 1 million people have already found answers in a Yale guide.
Related Articles:
Why Should You Trust Us?
It seems that every appliance review has nothing but glowing comments about almost every product, yet you read customer reviews and they are almost universally bad.
We are here to fill in the disconnect. We'll give you the best features, and the drawbacks as well, including reliability based on over 37,000 calls performed by our service team just last year. Our goal is to give you ALL the information so you know what's right for you.
Please consider subscribing or adding to the conversation in the comments below. We appreciate you stopping by.
Steve Sheinkopf is the third-generation CEO of Yale Appliance and a lifelong Bostonian. He has over 38 years of experience in the appliance industry, and he is a trusted source of information for consumers on how to buy and repair appliances.

Steve has also been featured in numerous publications, including the New York Times, Consumer Reports, The Boston Globe, Bloomberg Radio, the New York Post, The Wall Street Journal, and Entrepreneur, for his knowledge of how to buy appliances and appliance repair.

Steve is passionate about helping consumers find the best appliances for their needs, and he is always happy to answer questions and provide advice. He is a valuable resource for consumers who are looking for information on appliance buying, repair, and maintenance.

Despite being the worst goalie in history, Steve is a fan of the Bruins and college hockey, loves to read, and is a Peloton biker. The love of his life is his daughter, Sophie.
A Note About Pricing
Pricing on this blog is for reference only and may include time sensitive rebates. We make every attempt to provide accurate pricing at time of publishing. Please call the stores for most accurate price.