Miele vs. Gaggenau Steam Convection Ovens (Reviews/Ratings/Prices)
Miele has a new combi steam oven with the ability to cook with steam as well as a standard oven. It can also be plumbed so you do not have to continuously add water.
Gaggenau is the only company with a similar product. Both companies are German with remarkably low service rates of less than 6% within the first year.
There are, however, differences between both. So we will be comparing the features and prices plus explain the capabilities of steam convection ovens.
Short on time? Get our free Speed + Steam Oven Buying Guide
Why should you purchase a steam convection oven?
Steam convection ovens are arguably the fastest growing trend in high-end kitchen renovations. You will likely use your steam convection oven more than your main oven. What is all the hype about?
Versatility
This appliance category is the most versatile. You can use it as a regular electric convection oven, a steam oven, or use a combination of convection and steam to restore moisture in the food while browning. Convection in a steam oven also prevents flavor transfer between racks. This is very convenient for the time-conscious cook.
Chef Kurt Von Kahle demonstrated in our showroom that you can make banana muffins at the same time as seafood casserole in a convection steam oven. If you were wondering, the muffins did not taste like seafood.
Efficiency
Steam convection ovens are a great alternative to your traditional microwave, especially for reheating leftovers. For example, reheating rice in a microwave can be a challenge. You need to add a good amount of water, butter, chicken broth etc to put moisture back into it. Reheating rice in a steam convection oven is fast, easy, and will restore the original moisture without drying out your food.
Healthy Cooking
Steamed vegetables are way better for you than sautéed vegetables. Steam cooking maintains nutrients in your food and softens your cooked vegetables without adding butter or oil. Steam adds moisture and does not bake out nutrients like radiant cooking.
Miele
Miele is a well-known luxury appliance brand in the US market. They are a German company and is the largest family-owned appliance company in the world. This brand is extremely meticulous with quality control. Every product is tested and inspected prior to shipping with almost every part designed and produced in their own factory.
Miele DGC6705XL - $4,199 (plumbed)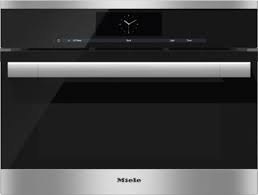 M-touch control panel

Steam cooking
Maxi broil
Intensive
Convection bake
Broil
Surround
Combi steam
Climate sensor
Individual setting of moisture in combi mode (0-100%)
Humidity plus
Keep warm
Favorites
Sabbath program
Defrost
Browning
Bake
Blanching
Proof
Reheat
Canning

MasterChef and MasterChef Gourment, menu driven controls – you can pick from over 100 recipes that take the guesswork out of cooking with steam
Halogen interior lighting
Wired roast probe takes the guesswork out of cooking, will turn the oven to keep warm after your food reaches the desired temperature
External steam generator heats water to create steam before it enters the oven cavity for a faster, more even cooking result
3rd element convection designed to burn off impurities in air to prevent flavor transfer between racks similar to a catalytic converter
Comfort handle will move with your hand when you pull own oven door
Included accessories

XL perforated stainless steel container
½ XL solid stainless steel container
½ XL perforated stainless steel container
Grease filter
Roast probe
Perfect clean wire rack
Perfect clean universal tray
Take a look at how the Miele MasterChef controls work:
Gaggenau
Gaggenau is a premium brand in the appliance industry, owned by the BSH Corporation. Gaggenau ovens are hand crafted in France and are also under strict quality control. Gaggenau ovens always have the side-swing door for easy access and all are plumbed.
Gaggenau BS485610 - $7,999 (plumbed)
TFT touch display control panel
Handle-less door with touch-to-open door
Cooking modes

Convection + 100% humidity
Convection + 80% humidity
Convection + 60% humidity
Convection + 30% humidity
Convection + 0% humidity
Full surface grill + convection
Full surface grill
Full surface grill level 1 + humidity
Full surface grill level 2 + humidity
Proofing
Refreshing
Misting
Low temperature cooking

Convection cooking from 89 degrees F to 450 degrees F
Humidity level settings of 0%, 30%, 60%, 80% or 100%
2000 Watt full surface grill behind glass ceramic, combine broil with convection up to 450 degrees F
Removable meat probe
Timer functions including Sabbath mode
Interior halogen lighting
Actual temperature display tells you the exact temperature in the oven in addition to the temperature you set it to (Gaggenau exclusive)
External steam generator heats water to create steam before it enters the oven cavity for a faster, more even cooking result
3rd element convection designed to burn off impurities in air to prevent flavor transfer between racks similar to a catalytic converter
Included accessories

Stainless steel unperforated tray
Stainless steel perforated tray
Grid
Outlet hose
Inlet hose
Meat probe
Which should you buy?
The Miele and Gaggenau ovens have many similarities: both are plumbed, broiler element, 3rd element convection, temperature probe, the ability to customize how much steam is used in the cooking process, and many shared cooking modes. There are also many differences.
I like the Miele menu-driven system that takes the guesswork out of cooking a variety of dishes. I also like the price on the Miele relative to the Gaggenau. The touch-to-open door of the Gaggenau is a nice feature when holding a tray or pan. The ability to know what the temperature is in the oven cavity at all times is also a nice feature.
In my experience, you will use new products and technology when it's simple. Miele is incredibly simple and intuitive to operative. I would recommend this unit if you have never used a steam oven. However, the Gaggenau has great style with a better door and more overall functions for the seasoned steamer or chef.
Recommended Reads
Additional Resources
Get the Yale Steam and Speed Oven Buyers Guide with features, specs and inside buying tips to all the brands. Over 85,000 people have read a Yale Guide.
Jessica Petrino
Jessica Petrino is an Appliance Sales Consultant at Yale Appliance + Lighting. Jessica is a graduate of Brandeis University where she studied Economics and Philosophy. In her spare time she enjoys skiing, golfing, and traveling.

Read more about Jessica here.
A Note About Pricing
Pricing on this blog is for reference only and may include time sensitive rebates. We make every attempt to provide accurate pricing at time of publishing. Please call the stores for most accurate price.