Everything You Can Cook In A Steam Oven
October 30th, 2020 | 7 min. read
By Saba Wahid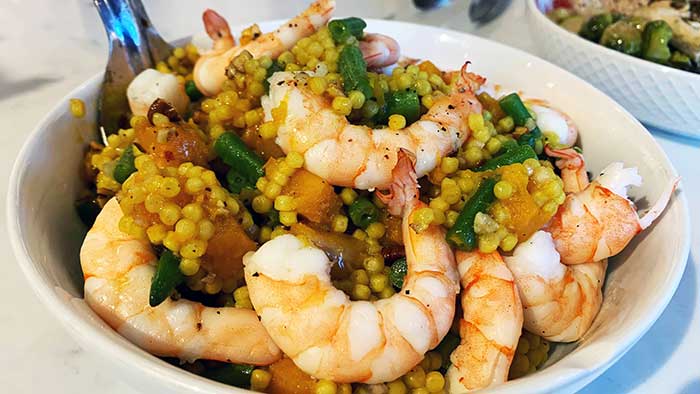 One of my favorite kitchen appliances is the combi-steam oven. They are extremely versatile, and you can achieve fantastic results after cooking with them in various modes.
The modes include straight steam, convection steam, convection, sous vide, broil, and proofing.
As a new mom, I'm also finding this steam oven useful to sanitize baby bottles, make baby food, and steam grains for easy and efficient meal prep.
Steam ovens can almost do everything you need for your daily cooking and meal prep needs.
In this article, you'll learn all the different foods you can cook in a steam oven and how steam ovens work, along with a few of our favorite recipes to get you started.
How Does A Steam Oven Work?
Steam ovens use the oven's heat to convert water into steam. The steam is then injected into the oven's cavity to cook your food with tender, juicy, and more nutritious results.
The water supply for steam ovens vary. Some are equipped with a water reservoir, others with a plumbing system or a simple boilerplate style.
Read More: 6 Best Steam Ovens
Steam Oven Pros And Cons
Pros:
Steam ovens are reliable, efficient, and provide consistent cooking results.
There are many cooking options in this oven, including steam, a combination of steam and convection, straight convection (dry heat), including other specialty modes.
Steam allows you to maintain the nutritional value of your food, as well as taste, texture, and color.
The culinary applications and potential are vast. There is far more you can do with this than a regular oven.
Cons:
Steam ovens are more expensive to buy than a regular convection oven.
There is a learning curve to using a steam oven.
The size can be limiting in terms of what you're cooking (i.e., 25 lb turkeys or extra-large roasts).
Some steam ovens don't have drains, so there is a little more effort required when cleaning after steam cooking (some steam ovens have drains to alleviate this).
Read More: Benefits Of Cooking With Steam
What Can You Cook In A Steam Oven?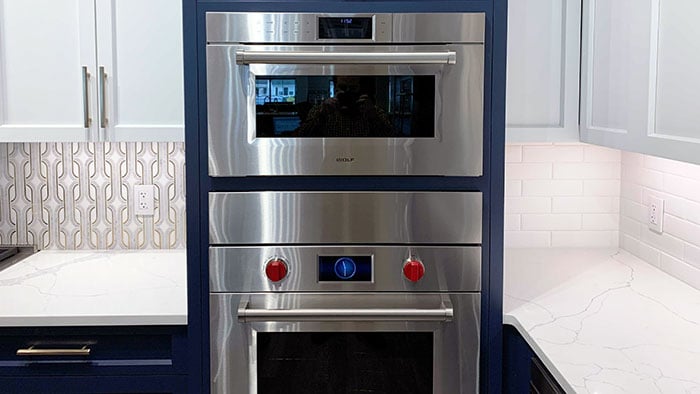 Wolf Steam Oven at Yale Appliance in Hanover
You can cook anything and everything in a steam oven except deep-fried items. The only other limitation is size!
The only limitations I've found is with the size depending on which brand or model you buy.
Most steam ovens cannot roast a whole 25 lb turkey, but you do not usually do this daily anyway.
Grains
It can be cooked in steam mode, typically using a 1:1 (liquid: grain) ratio in a flat, even pan.
No need to watch your pan as it cooks as you would on the stovetop.
There will be no boiling over, no drying out of your liquid, or scorching. Most grains cook in about 20 minutes. Heartier grains like brown rice or farro will take a bit longer.
Just remember, anything you can boil, you can steam.
Proteins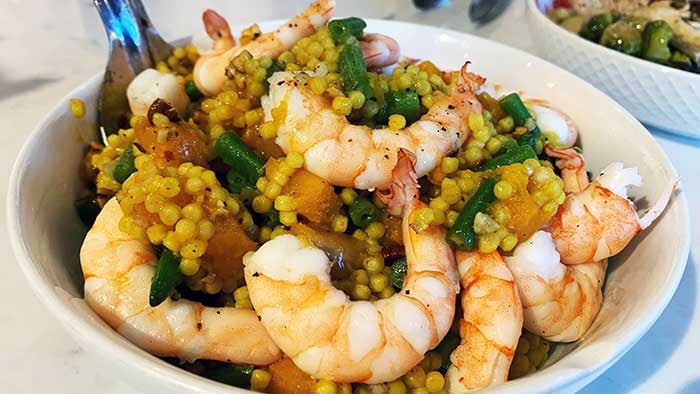 Shrimp And Israeli Couscous Salad Made In A Steam Oven
You can cook a variety of different proteins in a steam oven. Straight steam is best for seafood like salmon, fish, lobsters, crab, mussels, and clams.
It's also excellent for poultry like chicken and turkey and eggs in the shell, poached, or as a frittata. Convection steam is also great for fish, poultry, meat, and eggs.
Click the link below to learn how to cook lobster in a steam oven from our virtual webinar with Chef Saba.
▶️ How to Cook Lobster in a Steam Oven
Vegetables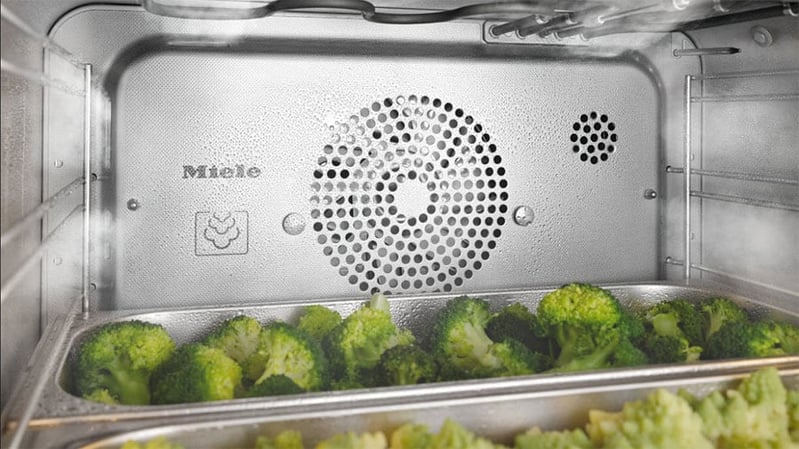 Broccoli And Cauliflower Made In The Steam Oven
You can cook almost every kind of vegetable in a steam oven, and the results are near-perfect every time.
My favorites are asparagus, beets, broccolini, zucchini, sweet potato, peppers, carrots, and spinach.
The cook time is similar to how you would prepare it on the stovetop, depending on the vegetables' density and thickness.
There is no need for an ice bath to cool the vegetables down afterward.
They will still retain their texture, flavor, color, and crunch.
For example, if you have thin asparagus, it will take around 3 minutes in the steam oven. Thicker asparagus will take around 5-6 minutes.
Beets take a while to tenderize; for this, I recommend at least 40 minutes - the same amount of time it would take to roast beets in the oven.
Legumes/Beans/Lentils
If you've soaked your legumes ahead of time, they will cook easily with steam. I recommend a 2:1 (liquid:legume) ratio.
As for timing, use the recommended cooking time according to the package. Like the grains, there will be no boiling over, no drying out of the liquid, or scorching.
Bread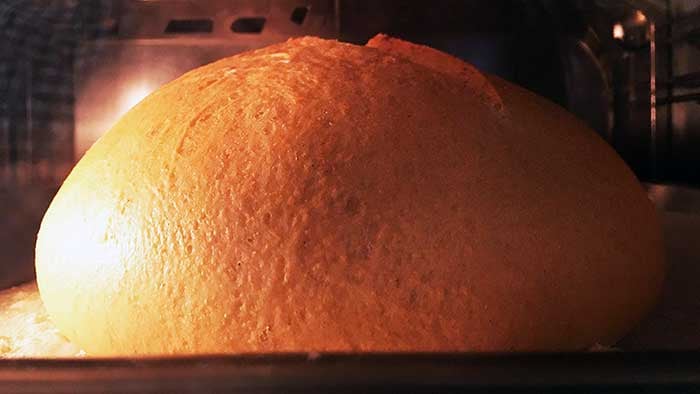 Artisanal Bread Made In A Steam Oven
You can start by proofing the dough in straight steam mode at a very low temperature to activate the yeast, then bake delicious bread with convection steam.
A crusty European bread fares very well in this environment like Baguettes, Ciabattas, Sourdoughs, Batards, and Boule.
I have also made beautiful pita bread in the convection steam mode.
You can brown the tops and simultaneously use a pizza stone or inverted sheet tray to crisp the bottoms and steam the inside for a soft and chewy texture.
Custard
Instead of using a Bain Marie or water bath, you can use straight steam for your favorite creme brulee, pot de creme, custards, and puddings.
The temperature is better controlled, and you don't have to worry about spilling the water and making a mess with the cumbersome water bath.
I recommend completely covering or wrapping your food items before you place them in the oven to prevent any steam or condensation from compromising the final texture of the dish.
Sous Vide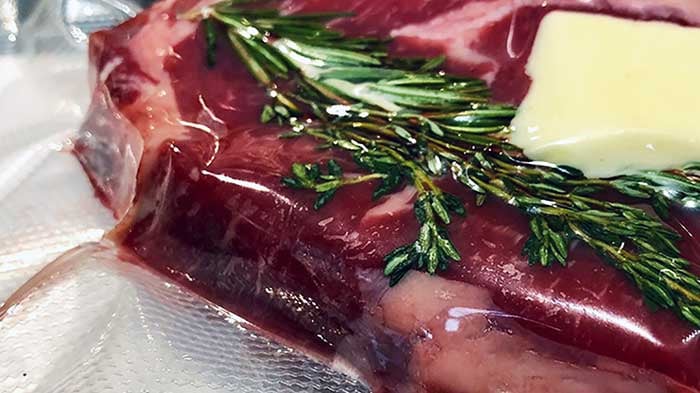 Sous Vide Steak With Butter And Herbs
Almost any protein or vegetable does great in sous vide mode.
You will love making steaks, turkey breast, bone-in chicken (to grill or fry after), duck fat potatoes, and glazed carrots.
Small Roasts
On convection steam mode and with a temperature probe, your roasts will stay tender and juicy, form a beautiful crust on top, and never overcook.
Cookies, Cakes, And Other Baked Goods
Most baked goods should cook on straight convection mode.
However, if a particular dessert tends to dry out in a regular oven like a bread pudding, muffins, cupcakes, or a pastry, then convection steam or convection humid is an excellent option.
You can maintain the natural level of steam by using these modes.
Pasta/Dumplings/Tortillas
Anything with a soft dough or shell will fare beautifully with this gentle cooking method.
This includes ravioli, gnocchi, short or small noodles (i.e., orzo, macaroni, Israeli couscous), dumplings, wontons, steamed Chinese buns, and tortillas all do great in steam mode.
Casseroles/Lasagnas/ "No Boil" Mac And Cheese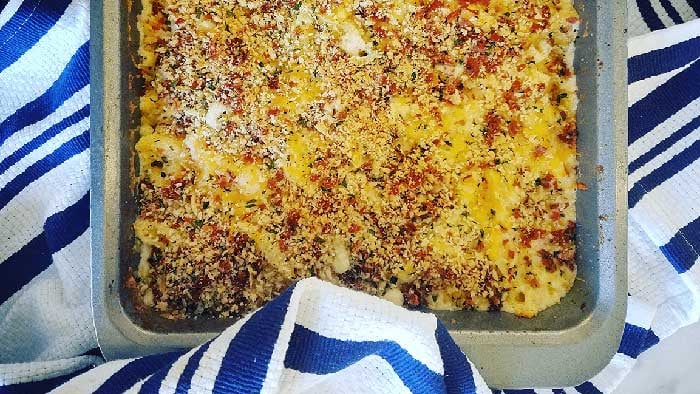 No Boil Mac And Cheese Made In A Steam Oven
Dense casseroles and layered lasagnas take a while to cook completely in a regular oven, which means the edges and tops can dry out or burn before the dish is done cooking.
Using a convection steam mode will prevent this from happening.
The oven will use the convection mode for cooking your casseroles at higher temperatures. The steam's moisture will help to either tenderize the noodles or keep the moisture in your casseroles as they cook.
My famous "no-boil" mac and cheese is another great example of convection steam cooking.
I don't cook the noodles ahead of time. They are placed in the baking dish along with the rest of the ingredients. Then they are set to cook for 25 minutes with a quick stir halfway through.
The macaroni cooks in and absorbs all the liquid to give a rich and deep flavor.
As the liquid reduces with the convection and tenderizes with the steam, the sauce thickens up, producing the perfect one-pan dish. (Yum says the editor).
Baby Food
You can use the steam mode to make all sorts of things for your little one, from salmon to sweet potatoes, orzo, zucchini, carrots, chicken, plus more.
You will ensure your baby is getting the most nutritional value out of the food without using any oils or fats for their sensitive stomachs.
You can also sanitize your baby bottles and utensils in the steam oven.
Sanitize, Clean Dirty Dishes/Pans, And Towels
You can sanitize your water bottles (or baby bottles), or if you're into making your jams and jellies, this will help make the process easier.
No need for a sanitizing kit - wash it and place it in the oven.
If you have dirty pots, pans, or casserole dishes that have food that has crusted on, place it in the steam oven for a couple of minutes to help dislodge the food particles or residue.
If you ever have guests over for messy food like ribs or wings, you can be a hero to them by giving them a perfectly steamed towel to clean their hands.
Par-Cooked Foods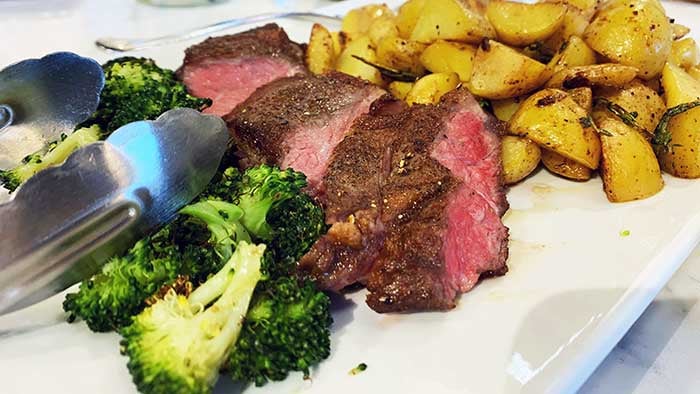 Potatoes, Broccoli And Steak Made In A Steam Oven
You can partially cook tons of things and finish them off on your stovetop, grill, broiler, or oven.
Simple things, like carrots and potatoes, can be steamed ahead of time. Then you can finish them in the pan for a little caramelization and color.
Ribs can be steamed ahead of time, then dry rubbed and finished off in your smoker or grill to cut the actual cooking time down.
Reheating
Using a steam, convection steam mode, or the reheat mode, you can bring your leftovers back to life! Your leftover Chinese food, roast chicken, and pasta will benefit from the straight steam or reheat mode, and you will be surprised at home fresh everything tastes.
The only thing I don't recommend is using steam to reheat your pizza. The results will be soggy.
For this, I recommend convection steam mode.
Are Steam Ovens Good For Baking?
Yes! You can bake anything in your steam oven on either straight convection mode (using dry heat only) or convection steam.
Steam Oven Cooking Times For Common Foods
The steam oven doesn't change your cooking times, but it makes your time in the kitchen more efficient.
Instead of standing over your cooktop monitoring your food so it doesn't scorch, burn, dry-out, or overcook, you can pop it into the oven and let it do its thing. Steam is very forgiving, so even if you leave it in there a little extra, it won't do any harm.
Here are some examples of how long to cook common foods:
Rice: 20 minutes
Quinoa: 15 minutes
Asparagus: Depending on the thickness: 4-6 minutes
Broccoli: 6 minutes
Salmon fillet: Depending on thickness and size: 8-12 minutes
Shrimp: 5 minutes
Chicken breast: Depending on thickness, 20-25 minutes
Lentils: 40 minutes
Beets: 40 minutes
Steam Oven Recipes
Here are some of our most basic, easy steam cooking recipes to try at home to get you started:
Key Takeaways
Steam ovens are an excellent consideration for your kitchen. You can cook anything in your steam oven from proteins, grains, and vegetables to reheating food or sanitizing bottles.
Just remember, you have to learn how to use a steam oven to make it worthwhile.
Frequently Asked Questions
1. Can a steam oven replace a regular oven?
The Miele XXL or Thermador would be the closest thing to replacing a regular oven since they have the largest capacity plus a broiler.
Otherwise, I would consider this a specialty oven you would get in addition to a wall oven or range.
2. Can you make popcorn in a steam oven?
No, you can not make popcorn in a steam oven.
3. Can you cook meat in a steam oven?
Yes, I recommend using the Sou Vide method in steam for steaks, lamb, plus other gamey meats. I do not recommend cooking any of these meats on straight steam.
However, proteins like seafood, chicken, turkey, and eggs will fare well in steam.
4. Is steaming healthier than baking?
These are two completely different cooking methods for completely different end products.
Steaming a chicken breast won't require any additional fats or oils and will be more nutritious than a baked chicken breast. But there will be a big difference in flavor or lack of depth of flavor as well.
So it depends on what you want your result to be.
5. What are the best steam oven brands?
Right now, the best steam oven brands on the market are Wolf, Miele, Gaggenau, and Thermador.
Additional Resources
Get the Yale Speed and Steam Oven Guide with features, specs and inside tips to all the steam and speed ovens like Wolf, JennAir, Thermador, Gaggenau, and more. Well over 800,000 people have read a Yale Guide.
Related Articles
Why Should You Trust Us?
It seems that every appliance review has nothing but glowing comments about almost every product, yet you read customer reviews and they are almost universally bad.
We are here to fill in the disconnect. We'll give you the best features, and the drawbacks as well, including reliability based on over 37,000 calls performed by our service team just last year. Our goal is to give you ALL the information so you know what's right for you.
Please consider subscribing or adding to the conversation in the comments below. We appreciate you stopping by.
Saba is the resident Chef at Yale. She will teach you how to use your new oven, cooktop, or range. She is skilled in every new feature, including steam, induction, convection of all types, air frying, and sous vide. Saba is also the reigning Chopped Grand Champion crowned by Martha Stewart herself. Saba is incredibly versatile with all different types of cuisine. After just one session with her, you will be a better chef.

Saba has also been featured in numerous publications such as Mashed, Eater Boston, the Boston Herald, and the Framingham SOURCE.
A Note About Pricing
Pricing on this blog is for reference only and may include time sensitive rebates. We make every attempt to provide accurate pricing at time of publishing. Please call the stores for most accurate price.