Thermador vs. Miele Steam Ovens (Reviews / Ratings / Prices)
One of the most frequently asked questions about steam ovens is their capacity.
You may see the standard 1.8 cu. ft. steam oven and hesitate because you think it is too small.
Thermador and Miele have resolved this issue with the largest capacity steam ovens on the market. Their steam ovens do vary in aesthetics, design, modes, and functionality.
In this article, you'll learn about both Miele's and Thermador's best steam ovens, how they work, and how they compare.
Before we get started, we produced a general video on steam ovens, how steam works, and how they cook food.
If you are thinking about a steam oven, this video will answer many of your questions.
Thermador vs. Miele Steam Ovens
Thermador
Home Connect: Wi-Fi smart appliance capabilities include personalized control, remote start, plus more
Standard modes include: Broil, Steam, Steam and Convection, True Convection, Convection Bake, Bake, and Convection Roast
To ensure a smooth closing, they have SoftClose hinges
Includes rack, pans, temperature probe, and recipe book
More Modes offers 41 Easy Cook Programs
Full Access telescopic rack holds up to 45 pounds, integrated easy-grip handle
Fast Preheat (7 Minutes)
2-hour self-clean mode
Thermador Steam Oven Features
The best features of the Thermador combi-steam oven are the larger capacity, ease of install, broiler, and full access telescopic racks.
Capacity
Thermador offers the largest capacity steam oven (2.8 Cu. Ft.) on the market today. It's suitable for replacing a traditional 30" wall oven and is available in a double oven configuration with a regular wall oven on the bottom.
Design
This combination steam oven cis available in 2 styles, the Professional and Masterpiece.
Both can be installed flush or standard and have the same functions, but differ slightly in aesthetics with the professional model boasting knobs and a thicker handle while the Masterpiece has a sleeker look with a digital control panel.
Both the traditional Thermador knobs and digital control panels are very straight forward, and fairly easy to navigate.
Short on time? Get our free Speed + Steam Oven Buying Guide
Installation
This is the only steam oven configured as a double wall oven or it can easily fit into a standard 30" wall oven space. Because this is a non-plumbed appliance, it can be easily installed into an existing cutout.
Combi-Steam Cooking
There are 17 cooking options within the menu, plus 41 Easy Cook Programs (guided cooking) that can customize your cooking experience.
The Thermador combi-steam oven will cook pastries, meats, and vegetables beautifully in True Convection mode.
Casseroles and lasagnas will retain moisture in the steam convection mode, and convection broil will produce even results with larger cuts of fish or trays of dense food.
Thermador Steam Oven Problems
This oven does not have a drain, and because of the larger capacity more steam will need to be generated to fill it. It also means you will have more water to clean at the end of the cycle.
If you are trying to switch between modes, from steam to convection steam, you will need to burn off all the residual moisture.
Additionally, the water reservoir is on the inside of the oven. If the oven needs more water in a longer recipe, Thermador will take longer to reach the desired temperature.
Miele
Thirteen operating modes including Combi Steam with Convection Bake, Combi Steam with Surround, Combi Steam with Broil, Convection Bake, Surround, Intensive, Gentle Bake, Bake, Convection Broil, Humidity Plus, Special Modes, Side Dishes, and a Sabbath program
Combination Cooking: Steam cooking can be combined with various other modes with the option to select temperature and percentage of steam to customize your cooking experience.
Automatic Menu Cooking: This allows you to program up to three items in steam mode. The appliances will notify you when each item needs to be placed in the oven, so they all finish at the same time.
Electronic Climate Control: Climate sensors in the oven regulate the moisture in the oven. It also takes into account the natural moisture cooking off of the food.
MultiSteam Technology: There are 6 steam inlet ports in this large capacity steam oven which means the cavity will fill with steam quickly.
Steam Oven with complete oven function: This oven also offers all the modes a regular Miele oven has such as Convection Bake, Broil, Intensive, Gentle Bake, plus so much more.
Quantity-independent cooking: Cooking times in the Miele steam oven stay the same regardless of portion size.
Roast Probe
MasterChef
Miele Steam Oven Features
The best features of a Miele XXL combi-steam oven are the large internal cavity, the drain, Perfect Clean interior, broiler, the fact that it can be plumbed, MasterChef, and Automatic Menu Cooking.
Menu Cooking
One of the best modes on the Miele is the ability to "Menu Cook." It allows three different items to be programmed and finish cooking simultaneously (only in steam mode).
The oven will ask you for the quantity and size of your protein, grain, and vegetable.
hen it will calculate the time for all three based on a preprogrammed algorithm for when to place in each item.
They will all finish cooking at the same time automatically.
Modes & Features
In terms of modes, Miele offers the widest variety with thirteen different cooking modes from Gentle Bake to Special Modes for making yogurt or de-crystallizing honey, plus many more.
MasterChef Program
Miele is also known for the MasterChef program, which contains over 200 guided meal entries.
This is a useful feature if you have never used steam. It takes the guesswork out of cooking and ensures you get consistent results.
You just pick the food and doneness. The oven calculates the right amount of time and temperature.
There is also a temperature probe available for perfectly cooked proteins. It also offers an option to program and save your favorite meals.
Installation
This oven is not only extensive with features but also offers versatility. It is available in a plumbed and non-plumbed version. All models are equipped with a broiler and drain.
Cleaning
The Perfect Clean interior finish is a non-stick coating for easier cleaning.
A grease filter is also provided to protect the convection fan from splatter.
Short on time? Get our free Speed + Steam Oven Buying Guide
Miele Steam Oven Problems
I also found the internal duration timer to be a bit of a nuisance.
If you have to open the oven door to place a food item in the oven after the timer has started, you lose steam, and the timer pauses while the oven regenerates steam.
I found that the food in the oven is still cooking while the oven is coming back up to temperature. This could result in your food being overcooked if you are solely relying on this.
Which Is Better?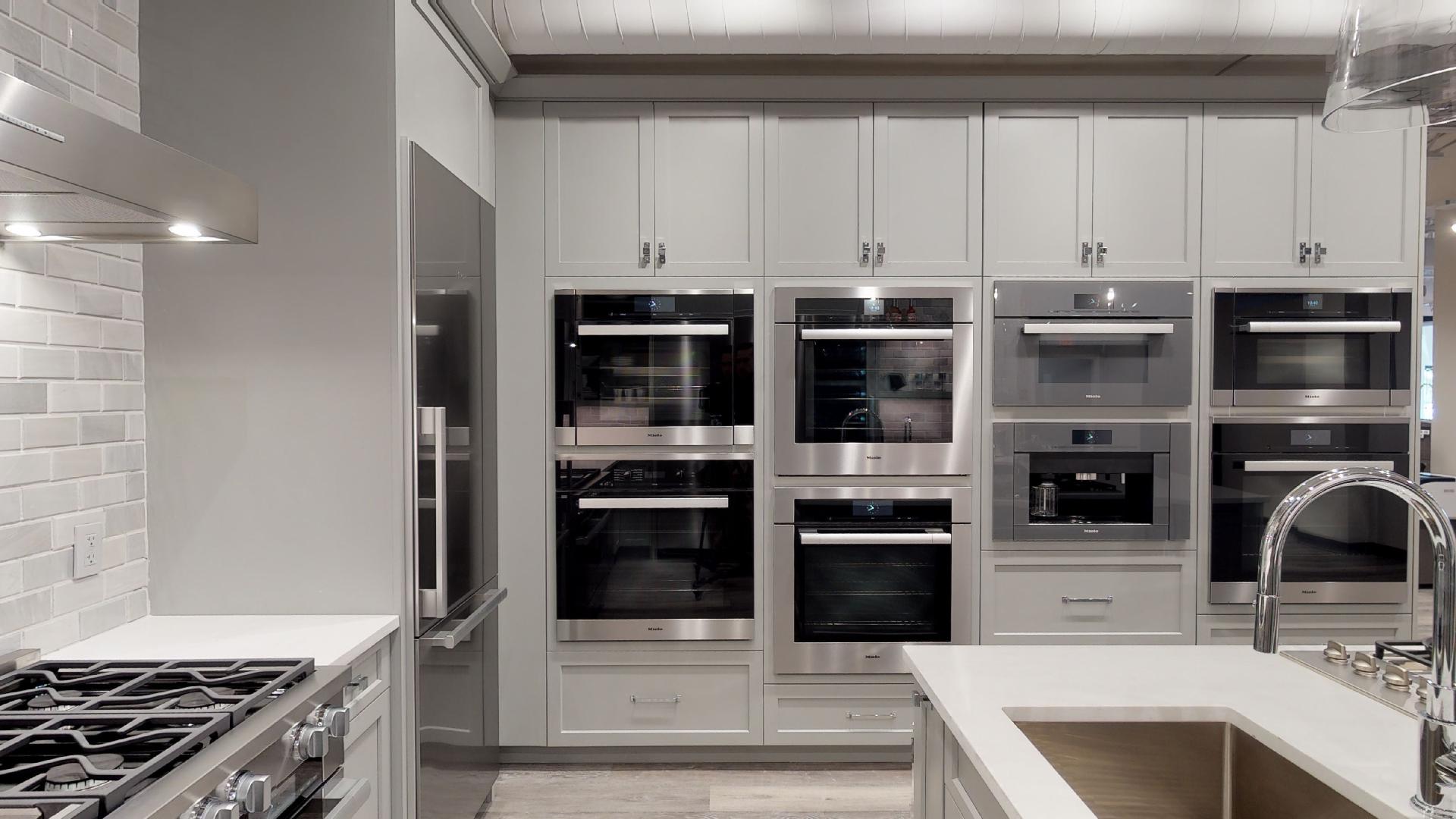 Choosing one brand over the other comes down to lifestyle and cooking style.
Both the Thermador and Miele are state of the art and modern but have their signature designs.
The main factors to consider here would be the controls or interface of the appliance, modes that would be used frequently, ease of cleaning, wanting the appliance plumbed vs non plumbed, and aesthetics of course.
Let's look at a few major factors.
Capacity
If you're trying to weigh out your options in terms of size and capacity of a larger style Combi-Steam oven, the Miele XXL would be the closest in comparison to the Thermador.
The interior cavity for the Miele is 2.51 cu ft. vs the 2.8 cu ft. in the Thermador, so just a difference of .29 cu ft.
Interface/Controls
The Miele XXL comes with a smartphone-style interface, whereas the Thermador has the 2 more straightforward options. I found the Miele to be easier to operate.
Cooking Modes
Miele has up to 20 cooking options, menu cooking, special modes, and over 200 guided cooking programs, plus the ability to save favorites recipes.
Thermador operates the basic modes of steam, true convection, and steam convection well, but also offers broil and temperature probe cooking.
Drainage and Water Usage
Because the water reservoir is on the inside of the Thermador, it's important to have it filled before the cooking begins.
The larger cavity, once the door opens, takes much longer to regenerate steam.
Also, there isn't a drain, so the bottom of the oven does collect water during steam cooking, which would have to be either manually wiped or burned off with dry heat (Convection Mode).
This is not an issue in the Miele XXL in either the plumbed or non-plumbed version.
Both are equipped with drains, plus the interior of a Miele combi-steam oven has a "Perfect Clean" non-stick finish which makes cleaning very easy.
Which Steam Oven Should You Buy?
If you are looking for an appliance that can be plumbed, has a drain, an extensive guided cooking program (MasterChef), special modes, broiler, and the best technology on the market, then Miele is the one for you.
With two different styles, plus the fact that the Thermador oven can be easily installed into an existing 30" wall oven space without having to rework the plumbing, makes it a great option for those looking to save a little on the installation.
The simpler interface and large internal cavity also make this appliance more appealing.
Thermador often sells its products in packages with discounts. This would be a great incentive to invest in the appliance, and also save some money in the process.
Additional Resources
Need some more information on steam ovens? Download the Yale Steam and Speed Oven Guide with features, terms and specs plus detailed profiles of the major brands like Miele, Gaggenau, Wolf, Thermador and more. Well over 825,000 people have read a Yale Guide.
Related Articles
Editor's Note: This article was originally published on May 17, 2016 and has been updated for accuracy, freshness, and comprehensiveness.
Why Should You Trust Us?
It seems that every appliance review has nothing but glowing comments about almost every product, yet you read customer reviews and they are almost universally bad.
We are here to fill in the disconnect. We'll give you the best features, and the drawbacks as well, including reliability based on over 37,000 calls performed by our service team just last year. Our goal is to give you ALL the information so you know what's right for you.
Please consider subscribing or adding to the conversation in the comments below. We appreciate you stopping by.
Saba Wahid
Saba is the resident Chef at Yale. She will teach you how to use your new oven, cooktop, or range. She is skilled in every new feature, including steam, induction, convection of all types, air frying, and sous vide. Saba is also the reigning Chopped Grand Champion crowned by Martha Stewart herself. Saba is incredibly versatile with all different types of cuisine. After just one session with her, you will be a better chef.

Saba has also been featured in numerous publications such as Mashed, Eater Boston, the Boston Herald, and the Framingham SOURCE.
A Note About Pricing
Pricing on this blog is for reference only and may include time sensitive rebates. We make every attempt to provide accurate pricing at time of publishing. Please call the stores for most accurate price.