Speed Ovens vs. Steam Ovens: Which Should You Buy?
As the Resident Chef at Yale, I'm often asked which appliances are the best to invest in.
One of the most common questions I receive is, "Should I buy a steam or speed oven?"
The answer is not straight forward.
The decision to invest in one over the other is more based on your style of cooking and kitchen habits.
Both are useful appliances. To understand which one is right for you, I will explain what each oven excels at and how this will impact you.
Let's get started.
What Is a Steam Oven?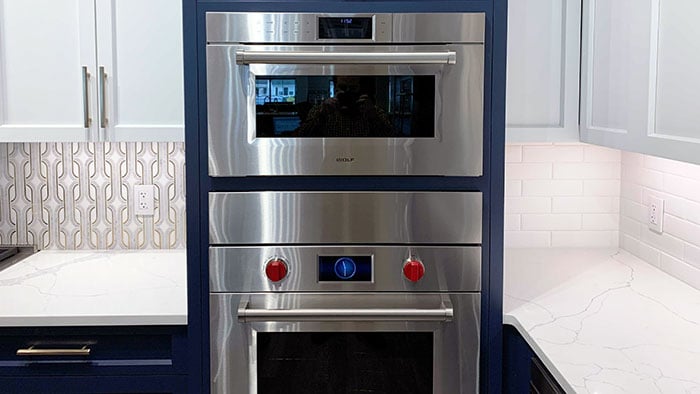 A steam oven uses water and turns it into steam to cook your food.
Many steam ovens have a removable tank filled with water that needs to be refilled when you use the oven.
Some high-end models are plumbed or are connected to a water line. The oven has a valve to release the steam pressure, like a pressure cooker or a tea kettle.
The best steam oven brands to consider are Bosch, Thermador, Gaggenau, Wolf, Miele, and JennAir.
Steam Oven Pros and Cons
Pros
You can use a steam oven for cooking vegetables, poultry, meats, and casseroles.
It works well for delicate foods such as seafood, custard, or as an alternative to a bain-marie method.
Additionally, you can use it to reheat your food by adding moisture back into your leftovers.
Steam ovens are also versatile with different cooking modes such as:

Straight steam
Convection steam
Convection
Sous vide
Broil
Proof

Steam cooking retains more nutrients, vitamins, and minerals than other cooking forms. Your food will taste better as well as being healthier.
Steam ovens can cook a wide variety of items.
Cons
The only limitation I've found (depending on the model and brand) is the size. Most steam ovens (except the Thermador and Miele XXL) cannot roast a whole 25 lb turkey.
Some people also have maintenance concerns, especially for steam oven without drains.
Not all proteins steam well. For things like steak, lamb, or duck, use the sous vide method instead of straight steam.
Read More: Best Steam Ovens
Short on time? Get our free Speed + Steam Oven Buying Guide
What Is a Speed Oven?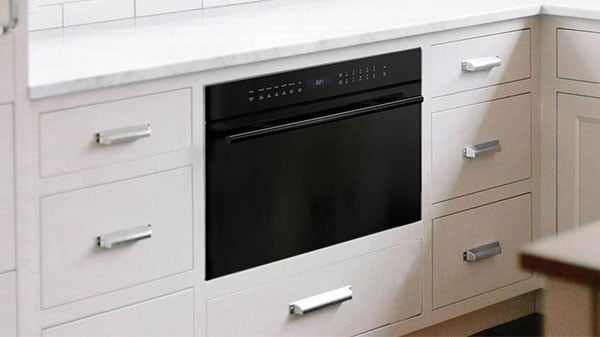 A speed convection oven is a convection oven, microwave, or a combination of the two. "Speed" refers to its ability to use microwaves in select convection oven modes. This "speeds" the cooking process without compromising the quality of your food.
Speed ovens combine the best capabilities of convection and microwave cooking. It pairs the efficient browning capabilities and heat distribution of a convection oven with power and speed.
The best speed oven brands to consider are Jenn-Air, Miele, Bosch, Thermador, Gaggenau, and Wolf.
Speed Oven Pros and Cons
Pros
You can increase your cooking capacity and decrease your cooking time. This is great for large parties and holiday meals or if you need to get dinner on the table in a hurry.
With faster cooking times, speed ovens can replace your oven for your everyday meals.
Because it combines two appliances into one, it saves you counter and kitchen space.
Cons
Speed ovens are a little pricey, especially when compared to a microwave oven.
The interior cavity is smaller than a standard 30-inch wall oven.
You will also not be able to use metallic pans when using any microwave or combination mode.
Read More: Best Speed Ovens
Speed Ovens Vs. Steam Ovens
What Do Steam Ovens and Speed Ovens Have in Common?
Steam ovens and speed ovens share some common features when it comes to convection modes.
They both work as smaller-scale convection ovens. Both will preheat faster than a standard wall oven.
How Do Steam Ovens and Speed Ovens Differ?
Steam ovens specialize in cooking foods using steam and convection as a heat source.
Speed ovens use microwaves and convection for cooking food rapidly.
Speed Vs. Steam Ovens: Cooking Test
Test qualifications
I will use the convection steam and convection speed ovens to make the same meal.
I will use straight microwaves vs. straight steam for one test and convection steam vs. convection speed for another test.
Test 1: Microwave Vs. Steam Cooking with salmon, asparagus, and sweet potato
Test 2: Convection Speed Vs. Convection Steam Cooking with roasted chicken with potatoes and green beans
Test 1: Microwave Vs. Steam Cooking
Speed Oven Performance
Using the speed oven's microwave setting, I cooked the salmon and vegetables together for 5 minutes on the highest power level.
The speed oven's salmon exploded slightly from the corner (pictured below).
This caused a bit of a mess in the speed oven (shown below), causing extra clean-up time.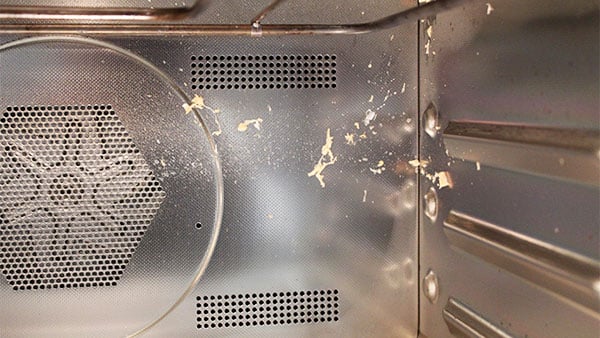 The asparagus' texture was stringy, and it also wilted.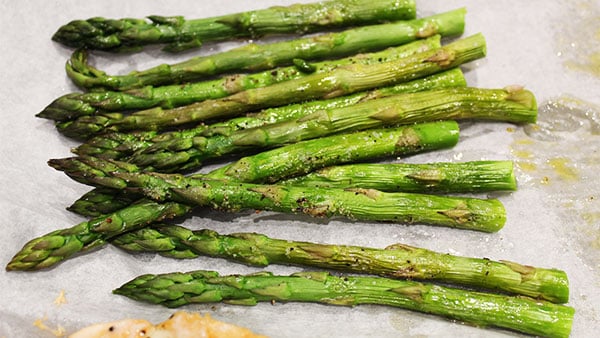 The sweet potatoes had a bit more texture on the outside but were drier to taste.
Final Plate From the Speed Oven: Cooked in 5 Minutes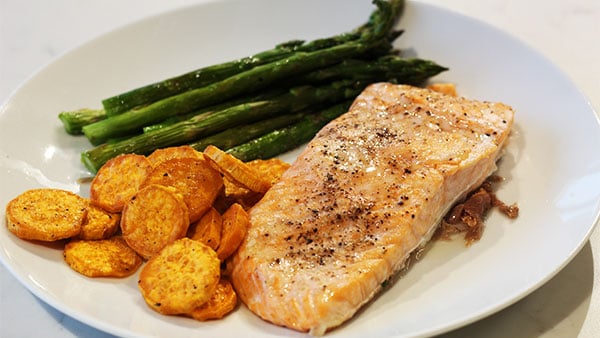 Overall, the salmon tasted and looked good. The sweet potatoes dried out a bit but had great caramelization and texture. The asparagus looked faded and lacked flavor.
For a dish that only took 5 minutes to cook, it was a decent plate of food.
Steam Oven Performance
Using the steam oven's straight steam setting, I cooked salmon, asparagus, and sweet potato.
The steam oven took 10 minutes to preheat. The potatoes then went in for 5 minutes, followed by the salmon for 5 minutes, then the asparagus for 3 minutes.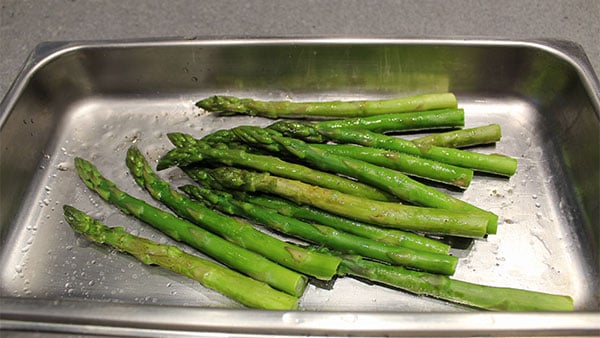 The steam oven's asparagus (pictured above) was vibrant, crunchy, and flavorful.
The sweet potatoes retained a lot more moisture and flavor. But, it did not achieve caramelization.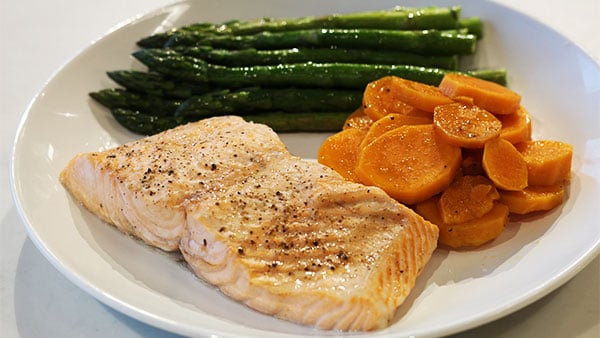 Final Plate From the Steam Oven: Cooked in 23 minutes
The overall cook time for all the items was around 23 minutes, and they all finished at the same time.
The salmon's texture was juicier, and the sweet potatoes retained more flavor. The asparagus had the ideal crunch, texture, and flavor.
Test 2: Convection Speed Vs. Convection Steam Cooking
The second test was between the convection speed vs. the convection steam option. I roasted half a chicken along with some Yukon gold baby potatoes and green beans for this test.
Both ovens were set to 375 F convection speed and convection steam for the roasted chicken and vegetables. I seasoned the chicken with herbs, spices, olive oil, salt, and pepper. The vegetables were lightly coated in salt and pepper with olive oil as well.
All three items went into each of the ovens to cook simultaneously once the ovens were ready. I used a probe for the chicken in both ovens.
Speed Oven Performance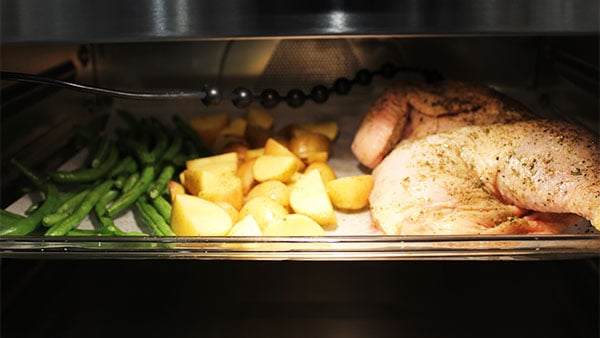 The convection speed oven required preheating, which took around 6 minutes.
The speed oven was operating at power level 3 for microwaving along with convection heat.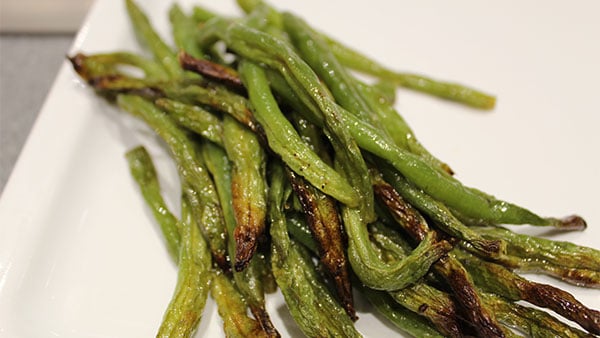 The convection speed oven-roasted the vegetables very quickly. I had to remove the green beans and potatoes before the chicken was done.
The green beans came out 26 minutes ahead of the chicken and were stringy (featured above).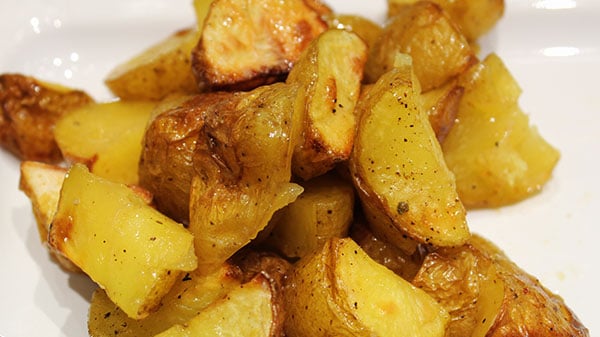 The potatoes were done 6 minutes ahead of the chicken and had a good crunch.
The chicken took around 3 minutes longer to cook in the speed oven, which I found surprising.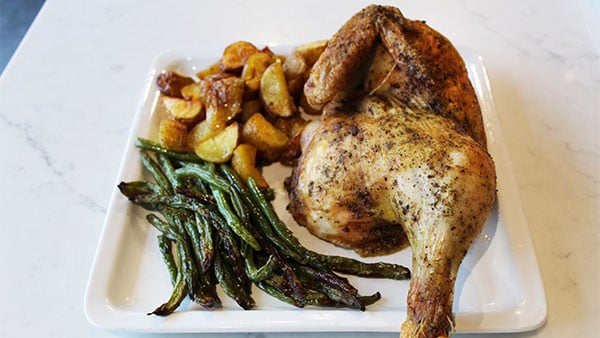 Final Plate From the Speed Oven
The chicken had nice crispy skin, but the vegetables suffered in the process. They dried out and lost some of their flavor and texture.
Steam Oven Performance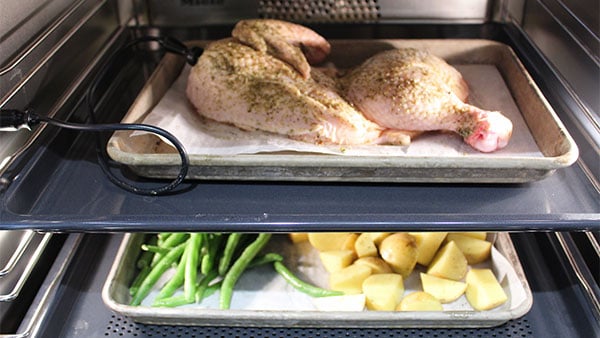 The convection steam oven did not need to preheat but did take around 16 minutes to get to 375 F. However, the chicken was in the oven while the oven was coming to temperature.
The steam oven injected 60% moisture into the oven along with convection heat.
It retained the moisture level in the vegetables. All three items were able to come out of the oven at the same time.
In the steam oven, the chicken was extremely moist. The vegetables cooked perfectly and retained moisture. They also achieved some crispiness on the exterior.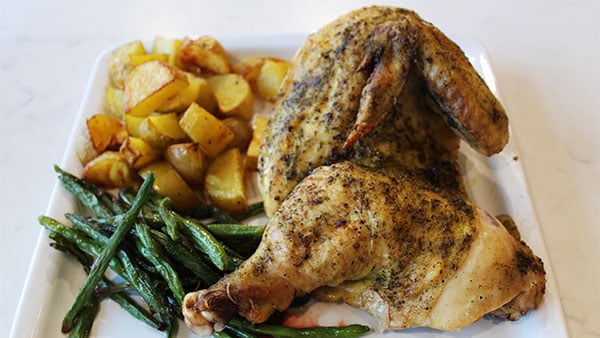 Final Plate From the Steam Oven
However, the chicken could have crisped up a bit more. This can easily be done in broiling or browning mode right before serving.
Overall Speed Oven and Steam Oven Performance Review
You can see how the vegetables were impacted by the lack of moisture in the speed oven compared to the steam oven's extra moisture.
The same goes for the potatoes. Although there was more crunch and caramelization on the potatoes from the speed oven, there was a lot less flavor.
The microwaves in the speed oven impacted the food by obliterating the moisture and natural flavor.
Overall, there was a lot more flavor in the food that came out of the convection steam oven.
Speed Oven Vs. Steam Oven: Which Should You Buy?
After conducting my cooking test, here is my recommendation if you're trying to choose between a speed oven and a steam oven:
The steam oven will provide more nutritious results with ample variety, along with color, flavor, and texture than a speed oven.
The speed oven will cook the food quickly, but you will experience some loss in nutrition, flavor, and texture.
If you are trying to decide between a steam and speed oven, ask yourself, what kind of food do you make and eat regularly?
Do you enjoy the nutritional aspect of cooking?
Do you enjoy being able to prepare a variety of food efficiently?
Do you like to use the Sous Vide method for cooking?
If you answered YES to the above questions, then a steam oven is the right choice for you.
Do you need to get dinner on the table quickly?
Do you reheat your liquids like coffee, tea, and soup frequently? Or enjoy making microwave popcorn?
Do you have young children that require quickly heated frozen foods and/or reheated meals?
If you answered YES to the above questions, then a speed oven is the right choice for you.
Frequently Asked Questions
1. Can You Use a Steam Oven as a Normal Oven?
Yes, a steam oven can be used as a normal oven. The only limitation is the size of a standard size steam oven (excluding the Thermador and Miele XXL)
2. Are Steam Ovens Better Than Microwaves?
Steam ovens can reheat food while preserving the integrity, flavor, and texture. Unlike microwaves, steam ovens inject moisture into your food. Microwaves tend to dry foods out by targeting moisture, resulting in a rubbery or dry texture.
3. Can a Speed Oven Replace a Microwave?
A speed oven can replace a microwave, but a steam oven cannot. A steam oven cannot reheat liquids such as a cup of coffee or pop popcorn.
Additional Resources
Get the Yale Speed and Steam Oven Guide with features, specs and inside tips to all the steam and speed ovens like Wolf, JennAir, Thermador, Gaggenau, and more. Well over 820,000 people have read a Yale Guide.
Related Articles
Why Should You Trust Us?
It seems that every appliance review has nothing but glowing comments about almost every product, yet you read customer reviews and they are almost universally bad.
We are here to fill in the disconnect. We'll give you the best features, and the drawbacks as well, including reliability based on over 37,000 calls performed by our service team just last year. Our goal is to give you ALL the information so you know what's right for you.
Please consider subscribing or adding to the conversation in the comments below. We appreciate you stopping by.
Saba Wahid
Saba is the resident Chef at Yale. She will teach you how to use your new oven, cooktop, or range. She is skilled in every new feature, including steam, induction, convection of all types, air frying, and sous vide. Saba is also the reigning Chopped Grand Champion crowned by Martha Stewart herself. Saba is incredibly versatile with all different types of cuisine. After just one session with her, you will be a better chef.

Saba has also been featured in numerous publications such as Mashed, Eater Boston, the Boston Herald, and the Framingham SOURCE.
A Note About Pricing
Pricing on this blog is for reference only and may include time sensitive rebates. We make every attempt to provide accurate pricing at time of publishing. Please call the stores for most accurate price.