Should You Buy A Miele Steam Oven? (Reviews / Ratings / Prices)
Combination steam ovens are always a favorite topic of conversation because I want you to understand their versatility and culinary potential.
Miele offers the most variety in the combination steam oven category. Although for this article, I will be referring to the Miele DGC6500XL (combi-steam).
This particular model is the higher end in the series and offers a more straightforward "smartphone" interface plus extensive features.
In steam, easier is better, especially if you are new.
This is a standard size combi-steam oven, with an internal cavity measuring around 1.84 cu ft, but there is an XXL version of this oven with an internal cavity of 2.51 cu ft.
You may consider the XXL a "one-stop-shop" because it offers more than most steam ovens with the larger size of the interior cavity and ability to broil.
In this article, I will share my experience cooking with the Miele combi-steam oven, its best features, and comparisons to its direct steam competitor, Wolf.
Miele Steam Oven Review
Miele DGC67051XL Combination Steam Oven (1.84 Cu. Ft.) - $4,149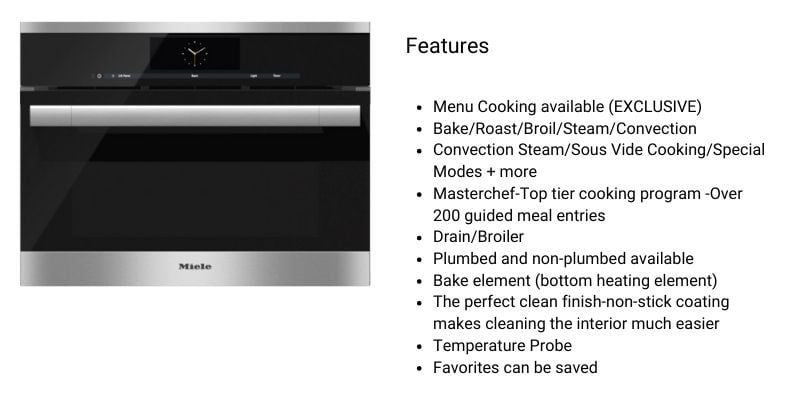 Key Features Of A Miele Steam Oven
One mode on the Miele is the ability to "Menu Cook."
It allows three different items to be programmed and finished at the same time in the steam mode.
The oven will ask you for the quantity and size of your protein, grain, and vegetable and stagger the items.
The oven will signal you based on an algorithm for when to place each item in the oven.
They will all finish cooking at the same time for a nutritious and healthy meal. This is a useful feature if you are new to steam.
It takes the guesswork out of cooking and ensures consistent results.
There is also a temperature probe available for perfectly cooked proteins. It also offers an option to program and save your favorite meals.
In terms of steam oven modes, Miele offers the widest variety from Gentle Bake/Bake/Convection Broil/Humidity Plus/Roast/Broil/Steam/Surround/Intensive/Convection Bake/Combi Steam with Convection Bake/Combi Steam with Surround/Combi Steam with Broil/Sous Vide Cooking/Special Modes (including a yogurt mode, recrystallize honey, plus much much more).
Miele is also known for the MasterChef program containing over 200 guided meal entries.
The combi-steam ovens also offer a drain, plus a "Perfect-Clean" interior for a non-stick coated surface. It allows any oven splatter to roll down and go into the drain.
These features are available in both plumbed, meaning you add the waterline, and non-plumbed, meaning you add water each time versions of the oven.
Regardless of style, there will still be a separate condensation tank to be emptied after you have finished cooking.
The M Touch interface is also noteworthy because you can scroll from mode to mode with efficiency and ease because of the "smartphone" style design.
Miele stands out as the most sophisticated and easiest to use when comparing this to other combi-steam oven technologies.
To see all of Miele's steam ovens, click here.
Miele Steam Oven Cooking Tests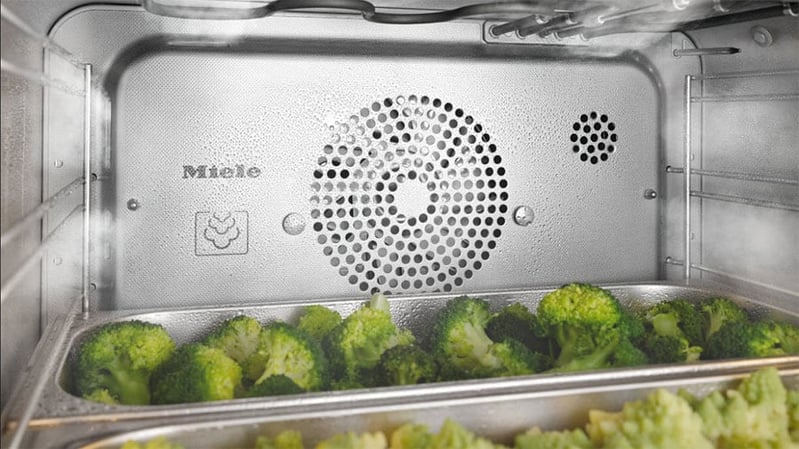 Miele Steam Oven Interior
I have cooked a variety of food in the Miele combi-steam oven and have had consistent results compared to other similar-sized steam ovens.
However, because of the XXL's larger capacity, it takes longer to generate/regenerate the steam to fill the cavity than the standard size XL (DGC67051XL), but not as long as the Thermador combi-steam oven.
That being said, the cooking times will need to be adjusted slightly for the XXL.
Regarding specialty modes such as yogurt making, the Miele oven has only one option, 5 hours, where Wolf's yogurt mode gives you two options, creamy yogurt 5 hours and 30 min or set yogurt 7 hours and 30 minutes.
I found the Miele yogurt mode results were slightly more set after 5 hours than the Wolf, but there could be adjustments made with the temperature here as well.
In terms of my standard cooking tests such as straight steam with grains, proteins, and vegetables, the timing and cooking were on par with the Wolf.
Miele combi-steam ovens also offer a Sous Vide mode, which was easy to program and execute.
I made a perfect no-boil mac and cheese in the combi-steam mode, along with roasted vegetables, chicken breast, and reheated frozen bread.
The convection system in the Miele combi-steam oven additionally has a straight baking mode utilizing heat from the bottom of the oven to offer even more cooking options.
Wolf's combi-steam oven has a bake element, but it can not exclusively be programmed. It would be used through a specialty mode such as Slow Roast or Reheat.
Additionally, Miele offers many more dry-heat cooking options, such as surround (without convection), browning, Humidity Plus, and Intensive Bake.
It allows you to use the Miele combi-steam oven as a versatile, but smaller, regular oven.
Miele Steam Oven Styles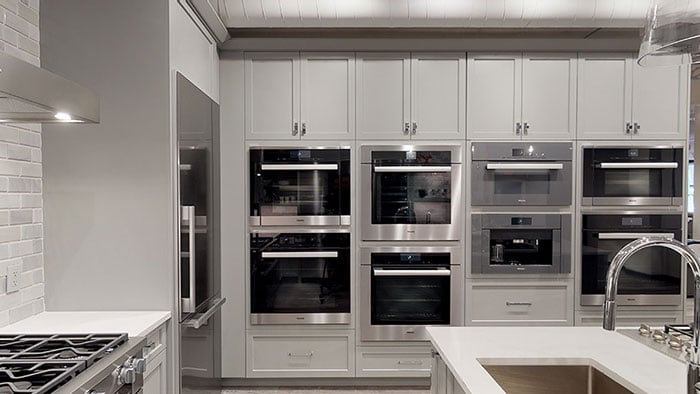 Miele Steam Ovens and WAll Ovens at Yale Appliance in Hanover
Miele combi-steam ovens are available in Sensor Tronic, or M touch style technologies with either the Pure or Contour Line handle options.
The Miele XXL is only available with the M Touch style technology.
There is a lot of variety in terms of combinations, especially when you add in the option of trim kits, stainless steel paneling, and colors.
Miele combi-steam ovens are available in a plumbed and non-plumbed version. All models are equipped with a broiler and drain.
The Perfect Clean interior finish is a non-stick coating, which makes cleaning the interior of the oven much easier.
A grease filter is also provided to protect the convection fan from splatter. The steam percentage can be adjusted based on what you are cooking.
To see all of Miele's steam ovens, click here.
Miele Steam Oven Problems
Software glitches, power failures, or error codes are inevitable with anything that is a high tech, which means the problem may not be as straightforward to troubleshoot.
When it comes to servicing Miele, Yale is one of the only places to handle this level of repair in Massachusetts. You would have to check in your area if service is available.
Lastly, I've found the cooking timer option on the Miele to be confusing as the timer's countdown does not begin until the oven has fully reached the desired set temperature.
For example, if you have to open the oven door to place an item into the oven while something is already cooking, you will lose steam in the process.
Once the oven door is closed again, it will take a couple of minutes for the oven to regenerate the steam and come back to temperature.
The Miele oven timer pauses until the oven's temperature fully returns.
This doesn't make sense to me because the food is still cooking while the oven comes to temperature, and could result in overcooked food if you were relying solely on this.
I prefer to use the timer option on the control panel for all my cooking with the Miele.
How To Use A Miele Steam Oven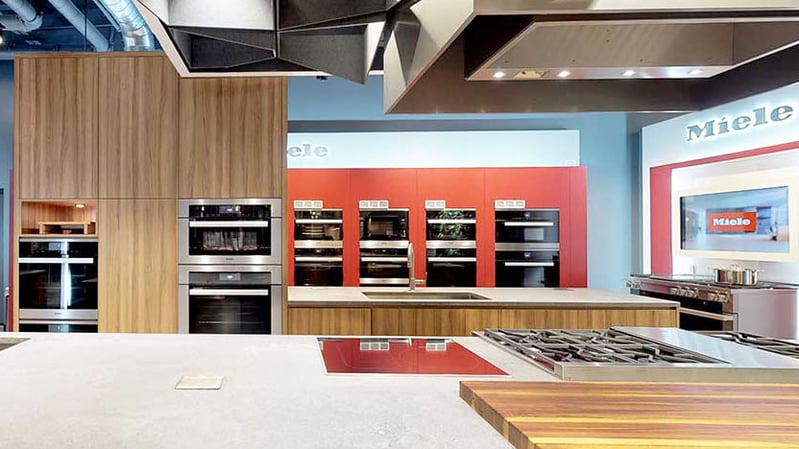 Miele Steam Oven and Wall Ovens at Yale Appliance in Framingham
I enjoy cooking with the Miele combi-steam oven, programming it, and changing between modes is seamless. There are a lot of cooking options, which might overwhelm you at first.
My recommendation is to understand the basic modes and use them as building blocks for more advanced cooking.
Miele also offers the top tier in guided menu cooking, which makes the whole process of learning to use this appliance much easier.
Learn More: Download our free Steam and Speed Oven Buying Guide
How Does The Miele Steam Oven Compare To Other Brands?

Miele is one of the most popular appliance brands we sell. The direct competition is the Wolf combi-steam oven.
Both of these appliances work well, in my opinion, but it becomes about personal preference and your style of cooking.
The Wolf and Miele XL are similar in size and basic functions.
I achieved consistent results when using steam, convection steam, and straight convection modes in both.
The biggest difference between the Wolf and Miele XL is that the Miele XL is available as a plumbed and non-plumbed unit with drains and a broiler, where the Wolf is non plumbed, without a drain or a broiler.
Also, Miele is easier to operate than a Wolf.
Once you determine which of these modes is important to you, the two's decision becomes easier because they are both top-notch appliances.
Read More: Best 6 Steam Ovens
Should You Buy A Miele Steam Oven?
You should consider a Miele steam oven. Its controls are the easiest to operate, so there is less of a learning curve than other brands.
You also have more models and applications.
But in terms of modes, features, and basic usage, Miele could be considered the best steam oven on the market.
Frequently Asked Questions
1. Is it worth buying a steam oven?
It's worth buying a steam oven because there is so much you can do with this appliance. It operates as a steamer, convection oven, or combination of convection and steam, plus so much more. You can make everyday healthy meals or prep for parties with ease.
Read More: Are Steam Ovens Worth Buying?
2. Can you use a steam oven like a normal oven?
Yes, most combi-steam ovens (220 V or 240 V) can operate as a regular oven as well. If you purchase a Jenn-Air at 110 V, it might take a little longer to achieve the results you are looking for.
3. Does a steam oven need plumbing?
You can purchase either a plumbed or non-plumbed version of the combi-steam oven.
Read More: Plumbed Vs. Non-Plumbed Steam Ovens
Additional Resources
Get the Yale Speed and Steam Oven Guide with features, specs and inside tips to all the steam and speed ovens like Wolf, JennAir, Thermador, Gaggenau, and more. Well over 820,000 people have read a Yale Guide.
Related Articles
Why Should You Trust Us?
It seems that every appliance review has nothing but glowing comments about almost every product, yet you read customer reviews and they are almost universally bad.
We are here to fill in the disconnect. We'll give you the best features, and the drawbacks as well, including reliability based on over 37,000 calls performed by our service team just last year. Our goal is to give you ALL the information so you know what's right for you.
Please consider subscribing or adding to the conversation in the comments below. We appreciate you stopping by.
Saba Wahid
Saba is the resident Chef at Yale. She will teach you how to use your new oven, cooktop, or range. She is skilled in every new feature, including steam, induction, convection of all types, air frying, and sous vide. Saba is also the reigning Chopped Grand Champion crowned by Martha Stewart herself. Saba is incredibly versatile with all different types of cuisine. After just one session with her, you will be a better chef.

Saba has also been featured in numerous publications such as Mashed, Eater Boston, the Boston Herald, and the Framingham SOURCE.
A Note About Pricing
Pricing on this blog is for reference only and may include time sensitive rebates. We make every attempt to provide accurate pricing at time of publishing. Please call the stores for most accurate price.