5 Healthy Meals You Can Make in a Steam Oven
Using steam to prepare healthy meals is a no brainer, but creating more ways to incorporate flavor and texture into those meals can be challenging.
There's a lot of variety when it comes to items you can cook efficiently in a steam oven full of flavor and nutrition.
In this article, I will show you how you can create meals you and your family will love extremely healthy and taste great.
What is a Steam Oven?
A steam oven uses water and turns it into steam to cook your food.
Many steam ovens have a removable reservoir or tank filled with water that needs to be refilled when you use the oven. Some high-end models are plumbed or are connected to a water line.
The oven has a valve to release the steam pressure, similar to a pressure cooker or a tea kettle.
Benefits of Steam Cooking: Efficiency, Nutrition, Versatility
Best Steam Oven Brands to Consider: Miele, Wolf, Gaggenau, Thermador, Bosch, and JennAir
Short on time? Get our free Speed + Steam Oven Buying Guide
5 Healthy Meals You Can Make in a Steam Oven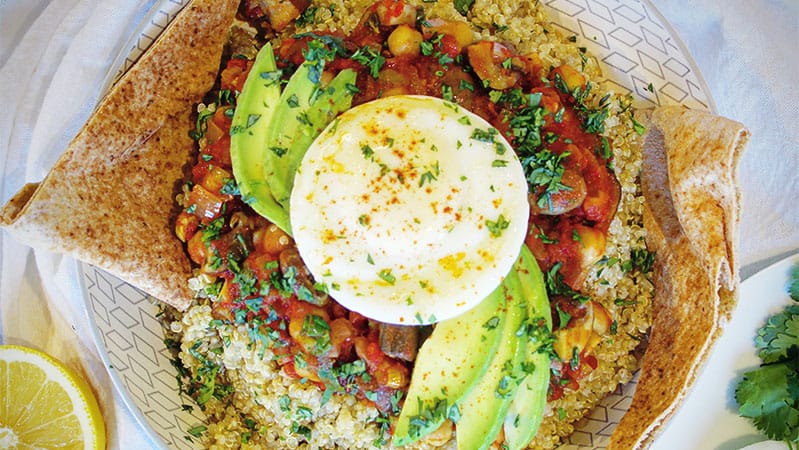 How to Make This Recipe
The first step is to combine the olive oil, spices, onion, garlic, salt, and pepper in a shallow steam pan, and steam for 10 minutes. Simultaneously, steam the quartered mushrooms for 10 minutes in a separate pan plus the quinoa in its pan for 20 minutes.
To the spiced onions and garlic, add the San Marzano tomatoes, herbs, salt, and pepper, and steam for another 10 minutes. While this dish is steaming, crack the eggs into individual lightly greased ramekins and steam for 7-8 minutes.
After 10 minutes, add in the chickpeas, strained mushrooms, and chopped spinach to your tomato mixture and steam for another 4 minutes.
Ingredients: onion, garlic, spices (turmeric, coriander, cumin, paprika, harissa), EVOO, mushrooms, chickpeas, spinach, crushed San Marzano tomatoes, thyme, parsley, avocado, cilantro, lemon juice, quinoa, eggs
Temperature: I cooked everything on steam mode at the highest setting 212/210 F
Timing: Overall cook time was about 25-30 minutes
Steam Cooking Modes Used: This recipe only required steam, so it was about coordinating ingredients, timing, and staggering the items placed in the oven.
Pro Tip: Try to minimize how many times you open the oven door during the cooking process. You will lose heat and steam every time you open the door, which will prolong the cooking process while your steam oven regenerates.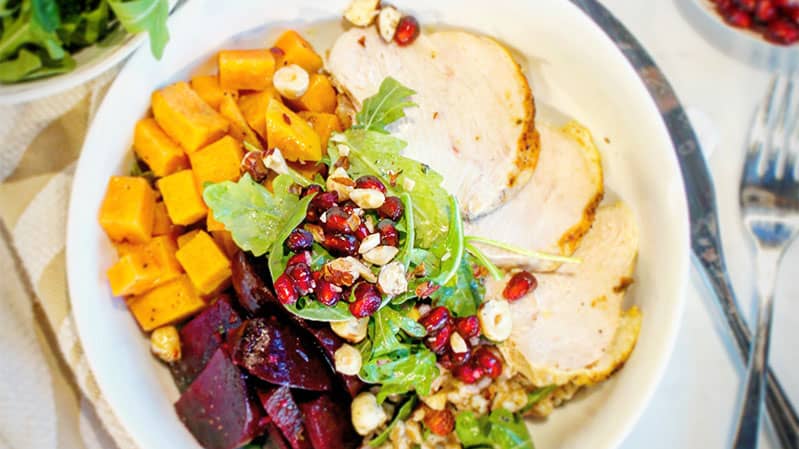 How to Make This Recipe
First, get the turkey vacuum sealed with aromatics and into the oven at 165 F on steam or sous vide mode for an hour.
Once that is done, place the beets, farro, and sweet potatoes in the oven. The beets and farro will take around 40 minutes, and the sweet potatoes will take around 20 minutes.
Make your dressing, then reverse sear the turkey and slice. Assemble your bowl by tossing the farro with half the beets, sweet potatoes, arugula, and some of the dressing - transfer to serving bowls or platters.
Top with the remaining beets, sweet potatoes, and arugula salad topped with pomegranates and hazelnuts and a drizzle of the remaining dressing. Serve with the sliced turkey.
Ingredients: Beets, sweet potatoes, farro, sous vide turkey breast, arugula, pomegranate seeds, roasted hazelnuts, maple dijon vinaigrette (maple syrup, dijon mustard, white wine vinegar, thyme, lemon juice, olive oil)
Temperature: 210/212 F
Timing: Overall cook time was around 60 minutes, but the turkey breast, beets, and farro can be made ahead of time. Once those items are prepared, it comes together in no time.
Steam Cooking Modes Used: Steam and sous vide mode
Pro Tip: I recommend making the turkey ahead of time and searing it just before serving to save some time. The farro will cook quicker if it's soaked for 30 minutes before cooking.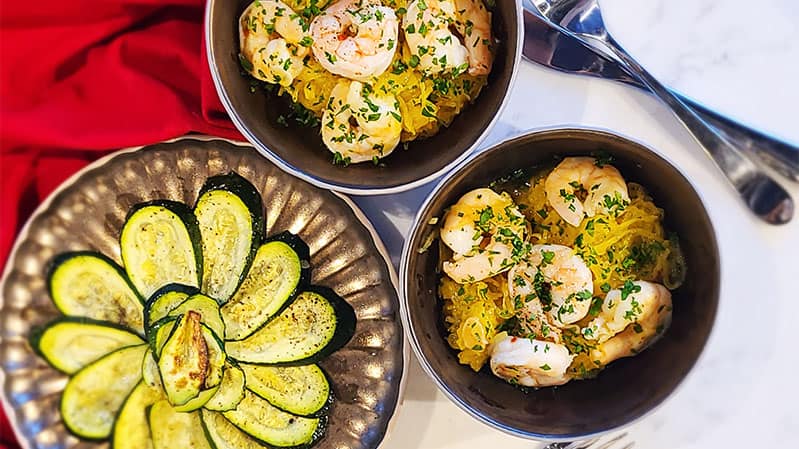 How to Make This Recipe
The first step in this recipe is to steam the spaghetti squash. Once that has been tenderized, it's time to make the sauce.
At a higher temperature in convection steam mode, cook the garlic olive oil, white wine, and reduce. Then add the shrimp, and cook through. Remove it from the oven, and then mix it with the shredded spaghetti squash. Finish with lemon juice and parsley. Serve with oven-roasted zucchini.
Ingredients: Spaghetti squash, garlic, sauvignon blanc, chili flakes, shrimp, EVOO, lemon, parsley, zucchini
Temperature: For the first part of cooking, the oven was set to steam at 210/212. For the second part of cooking, the oven was set at convection steam 375 F.
Timing: the overall cook time is about 45 minutes
Steam Cooking Modes Used: Steam mode and convection steam mode
Pro Tip: Buy frozen shrimp and defrost it for this recipe. It thaws quickly under cold running water or put in the steam oven at a low temperature for a couple of minutes. Make sure the shrimp are cleaned, peeled, and deveined for quicker execution.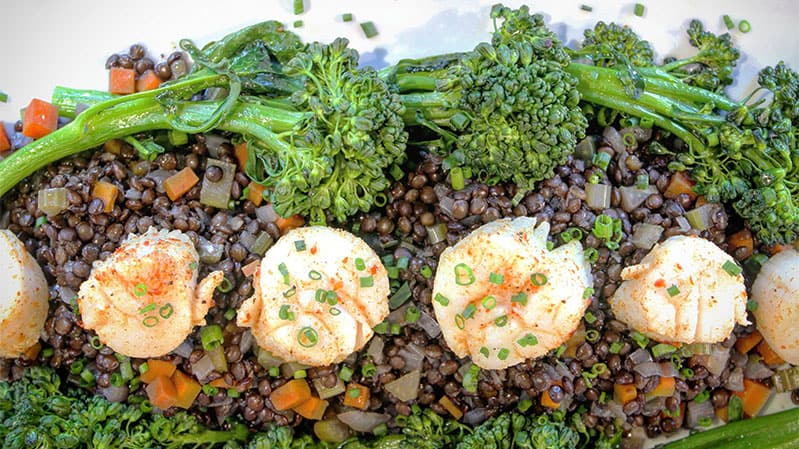 How to Make This Recipe:
First, combine your rinsed lentils with mirepoix, aromatics, and water or stock. Then place them in the steam oven for 45 minutes or until tender. While the lentils are cooking, marinate the scallops.
Once the lentils are cooked, remove them from the steam oven. Add one pat of butter, and season. When ready, place scallops in the steam oven along with the broccolini for about 6 minutes.
Ingredients: Beluga Lentils, onions, carrots, celery, garlic, thyme, butter, scallops, lemon juice cumin powder, garlic powder, chili powder, EVOO, Broccolini
Temperature: 210/212 F
Timing: the overall timing for this was about 50 minutes
Steam Cooking Modes Used: Steam Only
Pro Tip: The lentils can be made ahead of time and reheated in the steam oven. If you don't like scallops, you can replace them with an alternate protein. This recipe works great with chicken and salmon or any other mild white fish.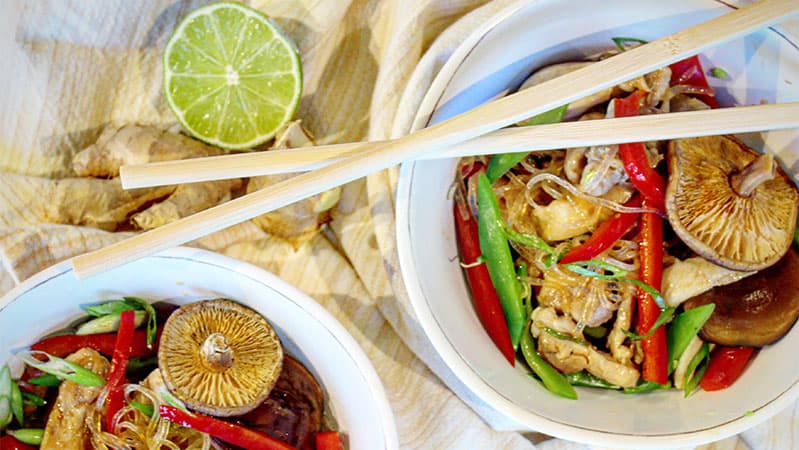 How to Make This Recipe
First, start by rehydrating the shiitake mushroom (20 minutes) and bean threads (20 minutes) in a little bit of water in the steam oven.
You can also cook the chicken (20 minutes) and vegetables (6-7 minutes) at the same time, depending on what kind of pans you have.
While everything is steaming, whisk together the sauce.
When everything is fully cooked and tenderized, discard the liquid from the chicken and mushrooms (thinly sliced), transfer to a large bowl, toss everything together with the sauce.
Ingredients: Bean Threads, ginger, scallions, garlic, cilantro, chicken thighs, bell pepper, snow peas, shiitake mushrooms, soy sauce, mirin, sesame oil, brown sugar sriracha
Temperature: 210/212 F
Timing: The overall cook time is about 30-40 minutes if everything cooks simultaneously.
Steam Cooking Modes Used: Steam Only
Pro Tip: Try to minimize the number of times the oven door is opened. You will lose steam, which will have to be regenerated once the door closes again. Switch out the chicken for your protein of choice. Salmon, shrimp, or scallops would also work great with this style of preparation.
Key Takeaways
Steaming entire meals are extremely efficient and easy with the help of a steam oven.
Once you understand the method, the ingredients are interchangeable.
The idea is to include a grain or starch, a vegetable, and a protein. Once you've selected something from each category, just figure out how long each item takes to cook and stagger the cooking times in the oven.
When trying to figure out flavor profiles, steam oven recipes are easy to adapt. Experiment with a different sauce, aromatics, and spices. The possibilities are endless once you understand the basic functions of the oven.
Additional Resources
Get the Yale Speed and Steam Oven Guide with features, specs and inside tips to all the steam and speed ovens like Wolf, JennAir, Thermador, Gaggenau, and more. Well over 800,000 people have read a Yale Guide.
Related Articles:
Why Should You Trust Us?
It seems that every appliance review has nothing but glowing comments about almost every product, yet you read customer reviews and they are almost universally bad.
We are here to fill in the disconnect. We'll give you the best features, and the drawbacks as well, including reliability based on over 37,000 calls performed by our service team just last year. Our goal is to give you ALL the information so you know what's right for you.
Please consider subscribing or adding to the conversation in the comments below. We appreciate you stopping by.
Saba Wahid
Saba is the resident Chef at Yale. She will teach you how to use your new oven, cooktop, or range. She is skilled in every new feature, including steam, induction, convection of all types, air frying, and sous vide. Saba is also the reigning Chopped Grand Champion crowned by Martha Stewart herself. Saba is incredibly versatile with all different types of cuisine. After just one session with her, you will be a better chef.

Saba has also been featured in numerous publications such as Mashed, Eater Boston, the Boston Herald, and the Framingham SOURCE.
A Note About Pricing
Pricing on this blog is for reference only and may include time sensitive rebates. We make every attempt to provide accurate pricing at time of publishing. Please call the stores for most accurate price.