Wolf vs. Miele Steam Ovens: Which Is Better? (Ratings / Reviews / Prices)
Combination steam ovens are becoming more popular in homes after being used in restaurants for years.
With steam, you are adding moisture and not baking out nutrients. Food tastes better, as well.
You can cook almost anything in steam, not just rice and grains. I cooked meat, poultry and have baked a mean batch of brownies in steam ovens.
There are several reliable brands on the market, like Gaggenau, Bosch, Café Appliances, and JennAir.
However, the two most popular brands of combination steam ovens I am asked most about are definitely Miele and Wolf.
How to Use a Steam Oven 101
If you're just starting your research on steam ovens, make sure you learn how to use one before deciding which one is right for you.
You can learn all about cooking with steam by watching the video below.
Wolf vs. Miele Steam Ovens: Which Is Better?
This is not an easy answer because it depends on your cooking style.
Both are extremely popular and work efficiently, but vary in features, controls, and size.
We'll at the best features of both, then compare them more closely at the end.
First, we'll start with Wolf's best convection steam oven, its best features, and potential problems.
Let's get started.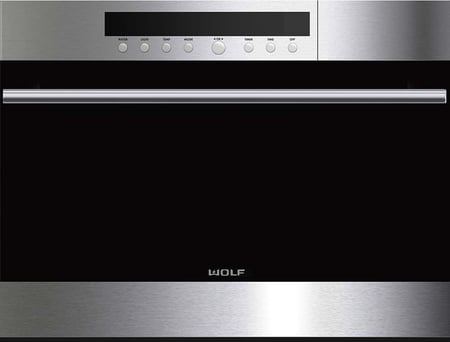 Wolf Convection Steam Oven CSO24TE/S/TH
Features:
Gourmet Mode (pre-programmed options)
Simple interface for ease of use
Temperature probe
Convection Humid mode
Auto Steam Bake Mode
Interior cavity 1.8 Cu ft
Sous Vide
Temperature Probe
The Wolf has a more straightforward interface and only one size for the interior cavity (1.8 Cubic ft).
Wolf is a bit complicated with nine models, but there are four styles for different applications, whether over a range or microwave.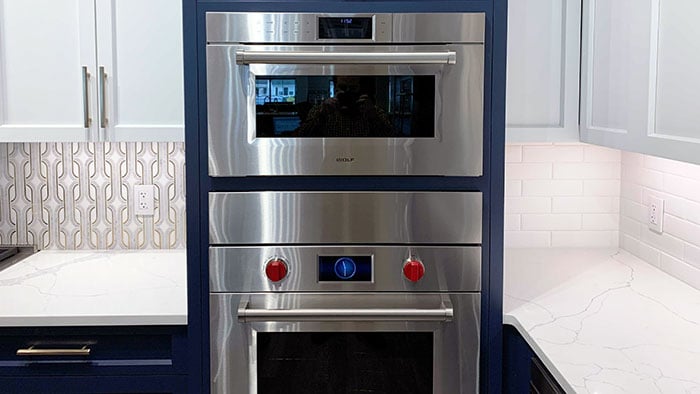 Wolf M Series Professional Convection Steam Oven CSO30PM/S/PH at Yale Appliance In Hanover
I don't recommend the under cabinet install due to the functions of a steam oven. The steam escapes in an upward direction every time the door is opened while cooking in steam mode.
Chances are you will most likely be standing above or beside the oven so that the steam would be going directly into your face.
It's not dangerous, just a bit annoying.
The ideal installation is at eye level or only slightly above so you can easily reach in for your food and is more accessible for cleaning.
To see all of Wolf's steam ovens, click here.
Wolf's Best Steam Oven Features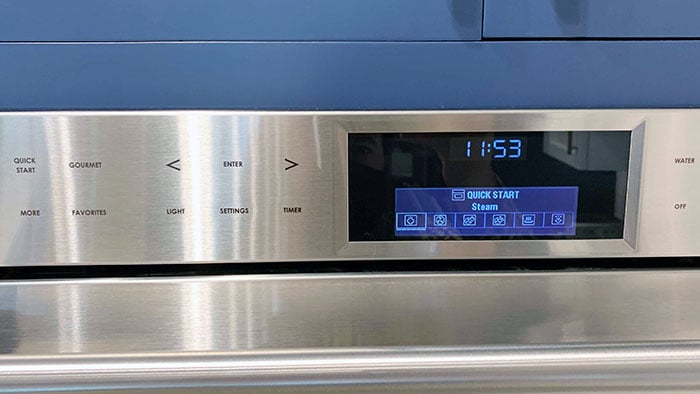 Wolf M Series Professional Convection Steam Oven Controls
Their Auto Bake mode is ideal for bread and other baked goods because it turns the steam on and off during the cooking process for ideal cooking results.
They also offer the Convection Humid mode creating a vacuum-like seal in the oven while maintaining the natural moisture cooking off from the food.
This mode is ideal for casseroles, lasagnas, and bread pudding, or any foods that may dry out in a regular oven.
Short on time? Get our free Speed + Steam Oven Buying Guide
Another interesting feature is the Wolf Gourmet mode offering pre-programmed recipes, from baked potatoes to frozen appetizers plus so much more.
You will achieve near-perfect results in the Gourmet mode as well.
The oven's internal sensors calculate the amount, shape, and consistency of the food to adjust the temperature and humidity.
Wolf's convection steam oven modes are:
Steam
Convection
Convection Steam
Convection Humid
Reheat Mode
Slow Roast
Auto Reheat
Sous Video cooking is also available in Steam Mode, as long as the food item is appropriately vacuum sealed and the desired temperature is selected.
There is also an option to cook with a temperature probe on Convection Steam or Convection mode, ensuring your proteins will not overcook.
Wolf's Steam Oven Problems
These aren't problems. They are limitations.
You cannot adjust the percentage of steam in any cooking mode.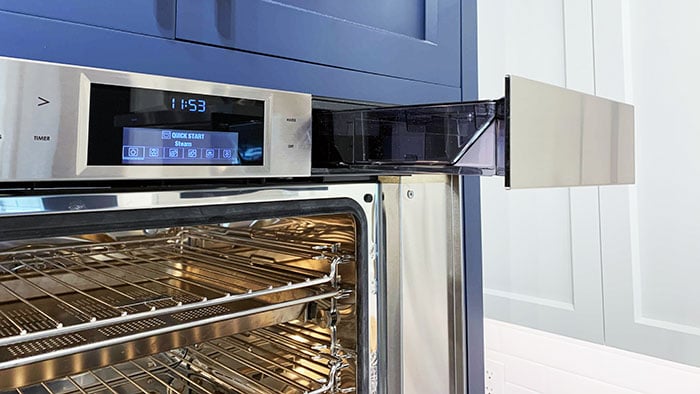 Wolf M Series Professional Convection Steam Oven Water Reservoir
Wolf steam ovens do not have broilers or drains and are only available in a non plumbed version. You will have to manually add water into the reservoir.
Read More: Should You Buy A Wolf Steam Oven?
Miele Combination Steam Oven
DGC6705-1 XL - $4,999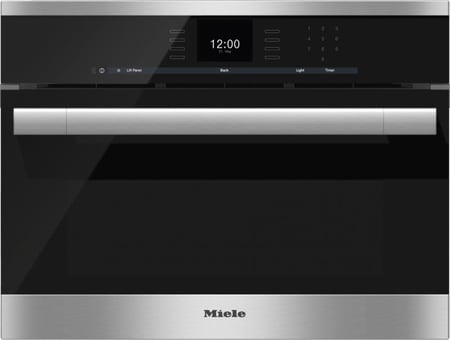 Miele Convection Steam Oven DGC6705-1
Features:
Menu Planning for multiple-step cooking
MasterChef pre-programmed options (some models)
Convection
Temperature probe (wired and wireless depending on model)
"Perfect Clean" Easy clean interior
Broil element (up to 450 F)
Wi-Fi Connectivity (some models)
XL (1.84 Cu Ft) Slightly larger cavity/available in XXL model (2.51 Cu. Ft same width, but taller)
Drain
Broiler
Sous Vide
Bake element (heat from the bottom)
Miele offers the most variety for combination steam ovens
For this comparison, I will be referring to the Miele DGC67051XL (combi-steam).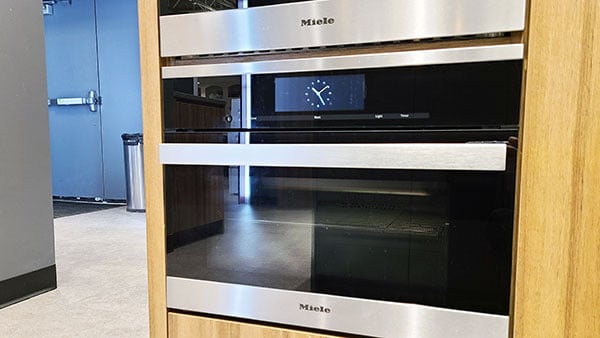 Miele Combination Steam Oven DGC6705-1 XL at Yale Appliance in Hanover
This particular model is the higher end in the series and offers a "smartphone" swipe interface and extensive features.
It's comparable in size to the Wolf at 1.84 cu. Ft, but there is an XXL version of this oven at 2.51 cu ft.
To see all of Miele's steam ovens, click here.
Miele's Best Steam Oven Features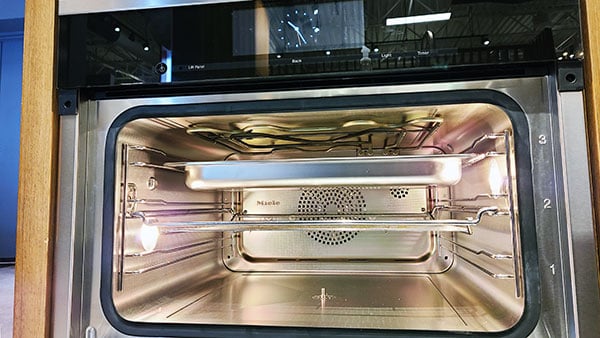 Miele Combination Steam Oven DGC6705-1 XL Interior and Oven Controls
One of the best modes on the Miele is the ability to "Menu Cook."
It allows three different items to be programmed and finish cooking simultaneously (only in steam mode).
The oven will ask you for the quantity and size of your protein, grain, and vegetable.
Then it will calculate the time for all three based on a preprogrammed algorithm for when to place in each item.
They will all finish cooking a the same time automatically. So dinner will be served at the same time.
In terms of modes, Miele offers the widest variety:
Gentle Bake
Bake
Convection Broil
Humidity Plus
Roast
Broil
Steam
Surround
Intensive
Convection Bake
Combi Steam with Convection Bake
Combi Steam with Surround
Combi Steam with Broil
Sous Vide Cooking
Special Modes (including a yogurt mode, decrystallize honey, plus much much more)
Miele is also known for the MasterChef program, which contains over 200 guided meal entries.
This is a useful feature if you have never used steam. It takes the guesswork out of cooking and ensures you get consistent results.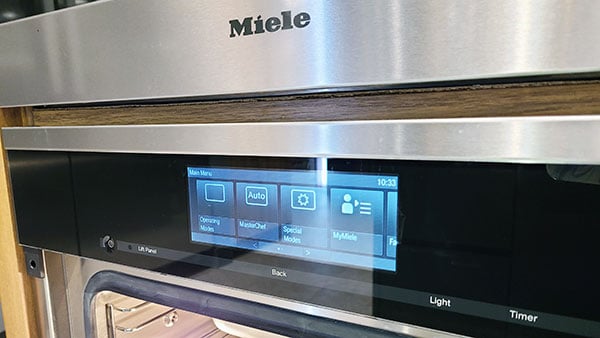 Miele Combi-Steam Oven Main Menu Controls
You just pick the food and doneness. The oven calculates the right amount of time and temperature.
There is also a temperature probe available for perfectly cooked proteins. It also offers an option to program and save your favorite meals.
This oven is not only extensive with features but also offers versatility. It is available in a plumbed and non-plumbed version. All models are equipped with a broiler and drain.
The Perfect Clean interior finish is a non-stick coating for easier cleaning.
A grease filter is also provided to protect the convection fan from splatter. The steam percentage can be adjusted based on what you are cooking.
Read More: Benefits Of Cooking With Steam
Miele's Steam Oven Problems
However, Miele does have a problem with their timer. If you place food into the oven, the timer only begins when it reaches temperature.
This can cause a problem because the food is technically cooking in the oven at the same time.
So you have to wait until the oven reaches temperature and then place your food inside.
Read More: Should You Buy A Miele Steam Oven?
Miele vs. Wolf Steam Ovens: Which Cooks Better?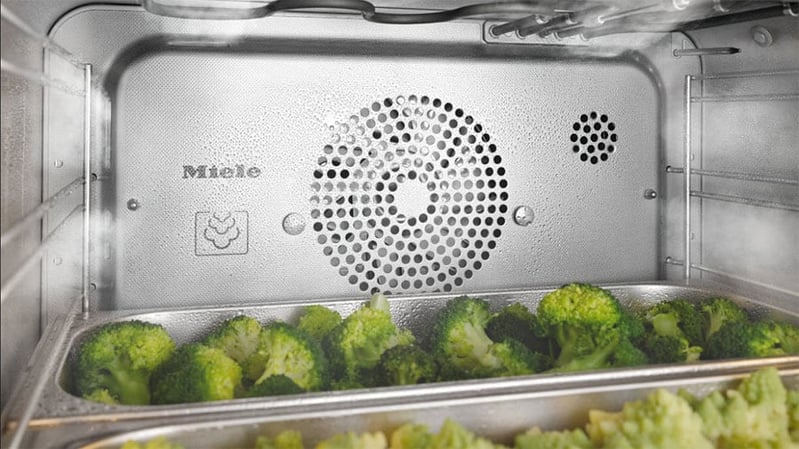 Miele Combi-Steam Oven
They actually cook similarly. I know you want a definitive winner.
I have tried cooking grains, veggies, meats, Sous Vide, custards, meats, brownies, yogurt, and bread in both steam ovens.
There are some functional differences, however.
Miele has an easier-to-use control panel. They also offer more models with the XXL being larger at 2.51 vs. 1.8 cubic Wolf.
There is also a broiler, a drain, and a plumb version of the Miele.
Your choice comes down to what you enjoy doing in the kitchen and what features matter to you as the home cook.
Wolf has its easier-to-use modes like Auto Bake and Convection Humid Versus Miele's MasterChef controls and enhanced functionality and cooking modes.
Which Steam Oven Should I Buy?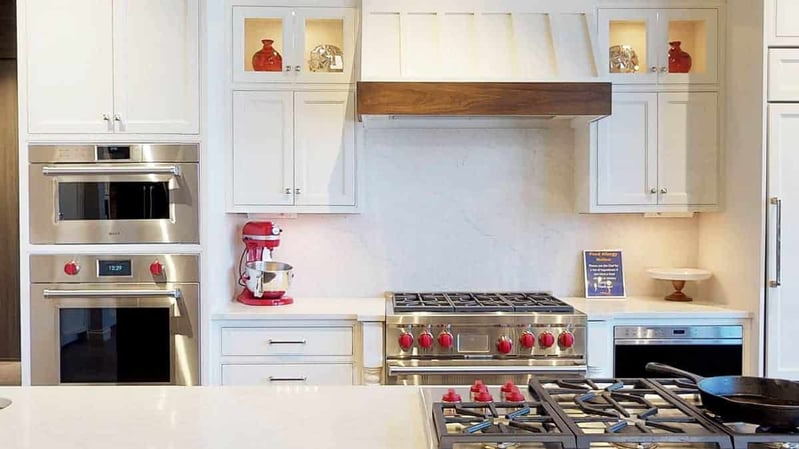 Wolf Convection Steam Oven Installed at Yale Appliance in Framingham
You will achieve similar cooking results with either oven once you learn how to use a steam oven.
If you are trying to decide between the Wolf and Miele XL, it comes down to the design, technology, aesthetic, modes, features, and plumbed vs. non-plumbed capabilities.
If you like the more tech-driven appliances and would like more features and modes plus a broiler, drain, and option to plumb, then Miele is the right choice for you.
If you appreciate the simpler and more straightforward interface, minimal aesthetic, non-plumbed reservoir, and understand how to incorporate your cooking technique into this specialty appliance, then Wolf is the steam oven for you.
Steam is a wonderful way to cook. It's healthier, and the food does taste better.
But only if you use it and learn how to use it.
So spend some time operating the controls at your local store, and buy what you are comfortable learning.
Additional Resources
Get the Yale Speed and Steam Oven Guide with features, specs, and inside tips to all the steam and speed ovens like Wolf, JennAir, Thermador, Gaggenau, and more. Well over 820,000 people have read a Yale Guide.
Related Articles
Why Should You Trust Us?
It seems that every appliance review has nothing but glowing comments about almost every product, yet you read customer reviews and they are almost universally bad.
We are here to fill in the disconnect. We'll give you the best features, and the drawbacks as well, including reliability based on over 37,000 calls performed by our service team just last year. Our goal is to give you ALL the information so you know what's right for you.
Please consider subscribing or adding to the conversation in the comments below. We appreciate you stopping by.
Saba Wahid
Saba is the resident Chef at Yale. She will teach you how to use your new oven, cooktop, or range. She is skilled in every new feature, including steam, induction, convection of all types, air frying, and sous vide. Saba is also the reigning Chopped Grand Champion crowned by Martha Stewart herself. Saba is incredibly versatile with all different types of cuisine. After just one session with her, you will be a better chef.

Saba has also been featured in numerous publications such as Mashed, Eater Boston, the Boston Herald, and the Framingham SOURCE.
A Note About Pricing
Pricing on this blog is for reference only and may include time sensitive rebates. We make every attempt to provide accurate pricing at time of publishing. Please call the stores for most accurate price.