The Best Top Load Washers (2024 Update)
November 17th, 2023 | 8 min. read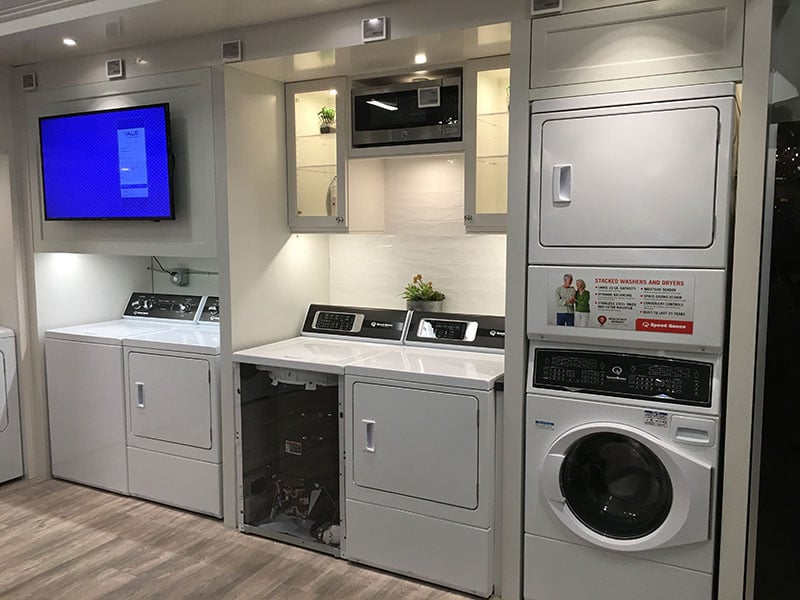 My mom had a Maytag top-load washer when I was a kid. She had it for over fifteen years until we moved.
But that old Maytag washer does not exist anymore. Maytag was acquired by the Whirlpool Corporation about 20 years ago.
Most of the best top load washers have large capacities, new features, and smart functionality. That's not always a good thing, as you will learn.
You can still buy more basic machines.
In this article, you will learn all about the best washers to consider, along with their features and reliability ratings from over 33,000 service calls completed last year.
You will also learn all about the differences between top-load and front-load washers.
As someone who transitioned from a front-load washer to a top-load washer after two decades, I can provide a good perspective into the differences between the two.
Let's get started.
The Best Top Load Washers for 2024
LG 5.3 Cu. Ft. White Top Load Washer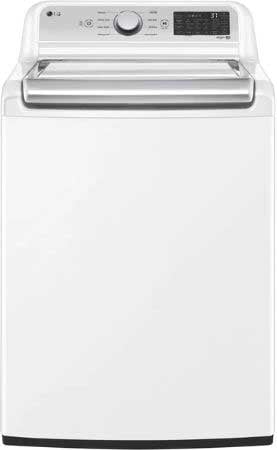 Dimensions: 27" W x 44 1/2" H x 28 3/8" D | Capacity: 5.3 Cubic Feet | Number of Cycles: 8 Cycles, 15 Options | Spin Speed: 950 RPM (Revolutions Per Minute) | Wi-Fi: Yes
LG has become the most reliable brand over the last few years.
According to our service statistics, their top load washers have a service rate of 2.5%, far lower than any other brand. They have been the most reliable for availability as well.
The two are related because LG manufactures more of its appliances than most other brands. So, they are less reliant on outside suppliers, which is a huge benefit during the pandemic and subsequent supply issues.
LG has attached their future on inverter technology. It has fewer working parts, so it runs quieter and is more reliable. In 2019, the inverter was the target of a successful class-action lawsuit but recently has been incredibly reliable.
LG is the most reliable brand for appliances utilizing inverter technology, including washers, dishwashers, and refrigerators.
The size is large at 5.3 cubic feet. LG has smart functionality with their ThinQ app. Most of the machines on this list are Wi-Fi-enabled, except for Speed Queen.
Smart technology allows you to turn the machine on or off and see the time remaining. You also receive push notifications when the cycle is complete.
You will like LG's smart top load laundry set because you will never have to trudge to your basement again to a machine still running.
LG also has tons of cycles. Our parents' washers had three. This washer has eight cycles and 15 options. The TurboWash3D cycle employs a gentle yet powerful jet spray to turn any cycle into 37 minutes
GE Profile™ 4.9 Cu. Ft. White Top Load Washer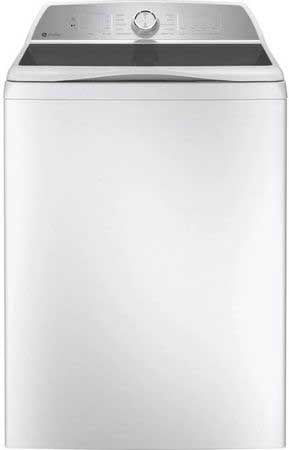 Dimensions: 27 7/8" W x 46" H x 28" D | Capacity: 4.9 Cubic Feet | Number of Cycles: 12 Cycles, 7 Options | Spin Speed: 800 RPM | Wi-Fi: Yes
The GE Profile is new and exciting. GE has successfully deployed Microban antimicrobial surfaces in the dispenser, tub, and hoses to resist mold and mildew.
Top-load washers typically do not have the mold problem of a front-load washer (we compare the two below). However, it does offer some further protection during the post-pandemic era.
They have the best detergent dispenser for any kind of liquid, detergent, and pods. You can even customize your own.
SmartHQ, their Wi-Fi app, allows you to customize cycles and dispense detergent remotely.
GE Profile's top-load washer is among the largest with an agitator at 4.9 cubic feet and is a 12-cycle, seven-option machine with downloadable cycles. You have one specially designed wash cycle to sterilize with OXI detergent.
They also have a Tangle cycle to minimize tangled loads. I would always select the Tangle cycle because my bed sheets and larger items always tangle together.
GE Profile's biggest advantage is service. GE operates the best service department among manufacturers.
Service availability is crucial, especially if you are buying appliances from a store without a service department (which you probably will be).
Best Cycles: Maytag MVW6230HW
Smart Top Load Washer with Extra Power Button - 4.7 CU. FT.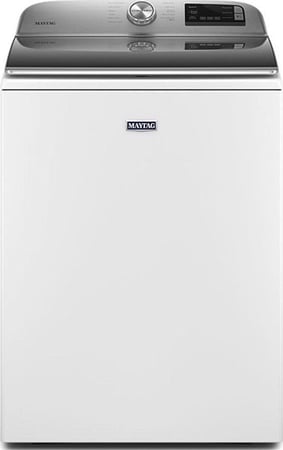 Dimensions: 27 1/4" W x 57 1/4" H x 27 7/8" D | Capacity: 4.7 Cubic Feet | Number of Cycles: 11 Cycles, 6 Options | Spin Speed: 750 RPM | Wi-Fi: Yes
Guilty as charged. I wash my clothes and seldom separate the whites and colors. Now that I am writing this, I probably should.
However, Maytag solves this problem with their Extra Power button, effectively allowing you to wash both.
The wash cycle starts in cold water and gradually increases the temperature to achieve a more efficient clean.
This Maytag top-load washer has 4.7 cubic feet of usable capacity with 11 cycles and six options. Its RPM spin speed and dispensing are not as good as the other top-load washers on this list.
Quietest and Most Gentle: Speed Queen TC7003WN
TR7 Ultra-Quiet Top Load Washer with Speed Queen® Perfect Wash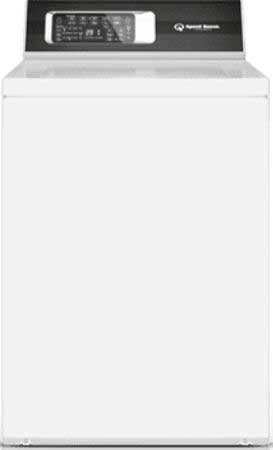 Dimensions: 25 5/8" W x 42 3/4" H x 28 D | Capacity: 3.2 Cubic Feet | Number of Cycles: 8 Cycles | Spin Speed: 820 RPM | Wi-Fi: No
The TC7003 operates at a noise level of 43 decibels, making it quieter than most dishwashers designed to be quiet in your kitchen.
The agitator moves in sync with the water, independent of the motor. The agitator floats with the water flow, so in addition to being quiet, it's gentle on your clothes.
For this particular washer, don't look at reviews. The range of opinions will drive you crazy. Some people love this washing machine. Others don't think the agitator cleans well.
Speed Queen is American-made like Maytag with a commercial heritage and offers the best seven-year full warranty.
Its capacity is smaller than the other machines on this list at 3.2 cubic feet and doesn't have smart functionality.
Most Aggressive Wash Action System: Speed Queen TC5003WN
TC5 Top Load Washer with Speed Queen® Classic Clean™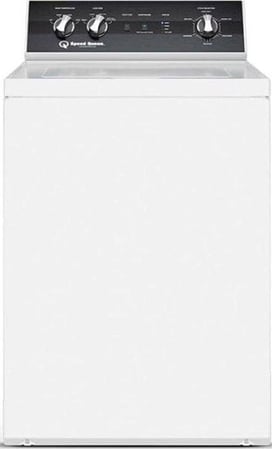 Dimensions: 25 5/8" W x 42 3/4" H x 28 D | Capacity: 3.2 Cubic Feet | Number of Cycles: 6 Cycles | Spin Speed: 710 RPM | Wi-Fi: No
The TC5003 is Speed Queen's older "Classic Clean" model. After a public uproar, it was discontinued and then later updated. It's like the "Old Coke" to date myself a bit.
The TC5003 is known for its aggressive 270-degree agitation and deep fill to clean clothes. Is it quiet? Not on this machine.
Do you have grimy clothes? Then the TC5003 is a good machine to consider. The TC5003 has six cycles and, like the TC7003, is 3.2 Cubic feet.
How to Buy a Top Load Washer
Agitator vs. Impeller Top Load Washers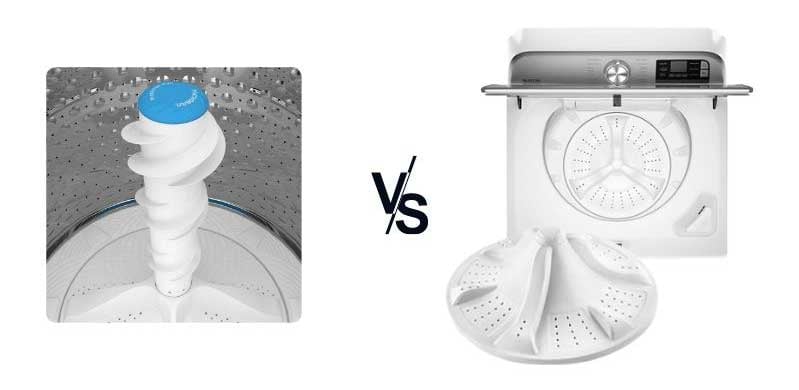 Top loaders have changed more than any other appliance. My mom's old Maytag was 2.5 cubic feet with an agitator.
Now you have washers over five cubic feet without agitators. The machines employ an impeller or part that cycles the clothes and washes.
Unfortunately, the agitator is what cleans the clothes, so the cleaning is questionable in these machines. Consequently, none of these models are on this list.
The larger GE, Maytag, and LG have smaller agitators, so they should work better in theory. The larger agitators in smaller tubs, on the other hand, have always worked.
What Is Better, a Top Load or Front Load Washer?
As trends come and go, many consumers are now transitioning back to top load washers. In order to determine the most reliable options, let's take a closer look at some key statistics and separate fact from fiction.
Top Load Washer Reliability
Our team logged more than 33,000 service calls in 2022, allowing us to calculate the reliability of appliances based on the ratio of serviced products to those sold between January 1, 2022, and December 31, 2022.
The following service rates are based on at least 100 top-load washers sold and a total sample of over 600 pieces.
| | |
| --- | --- |
| | Service Rate |
| LG | 2.5% |
| GE Profile | 5.1% |
| Speed Queen | 5.9% |
| Grand Total | 4.3% |
Front-Load Washer Reliability
The following service rates are based on a minimum of 100 front-load washers sold and a total sample of over 3,000 over a 12-month period.
| | |
| --- | --- |
| | Service Rates |
| LG | 2.1% |
| GE Appliances | 3.7% |
| Grand Total | 3.7% |
The service rates for front-load and top-load washers are close, with both averaging around 3.7% to 4.3%.
However, top loads are cheaper to fix than a front-load, with the belt-driven GE being the easiest.
Read More: The Most Reliable Top-Load Washers
What You'll Like About Top Load Washers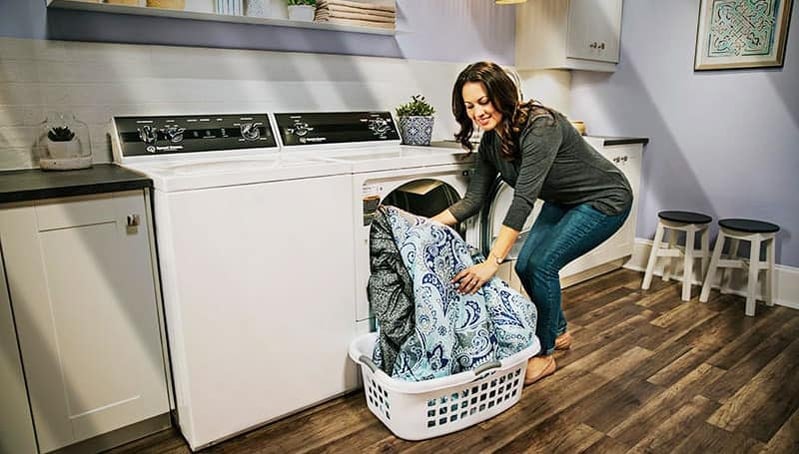 Speed Queen Top Load Washer Set
Less expensive to buy

: Using GE as an example, the Ge FW650 front load is about $1049 while the PTW605 is $649

Less expensive to fix:

The front-load direct drive motor is a 5-hour job. It's less expensive to buy a new one.

Mold Prevention:

Top loads, don't collect standing water in the gasket like front loads, so you don't have mold issues. Of course, GEs front-loads have Microban and fans to automatically prevent mold and dry water.
What You'll Like About Front Load Washers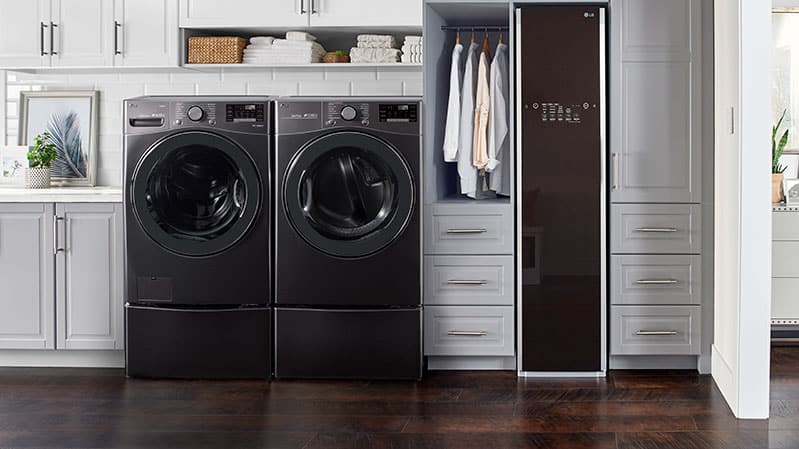 LG Front Load Washer and Dryer Set
Less expensive to operate:

The water in an average front load is 11-17 gallons versus 40 for the top load, not including the deep fill option of up to 70. A front-load will use much less electricity as well.

Better capacity

: A 4.5 cubic foot front load is 4.5 cubic feet. Makes sense. However, that 4.7 cubic Maytag does not consider the volume of the agitator.

Gentle on your clothes:

Front loads do not have an agitator to agitate your clothes.

Stackable

- Almost every front load can be stacked in a closet (except Speed Queen).

Better RPM spin speed

: LG and GE spin at 1300 RPM versus 750-900 for the larger top loads for less water in your clothes and less time in your dryer.
No tangling: Your clothing is least likely to become tangled in a front load washer. That really bothers me about my top-load washer.
Read More: Front Load vs. Top Load Washers
Key Takeaways
You have a lot of options in top loads, unlike years past. GE, LG, and Maytag will give you different cycles and larger sizes.
Perhaps you want to stay with a more traditional machine-like Speed Queen. Top loads like laundry, in general, have unique features with no one brand or model with every possible option.
Pick the brand and type that best fits your lifestyle.
What do you think? Share your questions and comments below.
Washers
FAQs
Discover everything you need to know about top-load washers with our list of frequently asked questions and answers.
How do top load washers work?
Are top load washers more efficient than front load washers?
Can I wash larger items like blankets and comforters in a top load washer?
Do top load washers have any special features or technologies?
How long does a typical wash cycle take in a top load washer?
Are top load washers prone to tangling or damaging clothes?
Can I use high-efficiency (HE) detergent in a top load washer?
How do I clean and maintain a top load washer?
Additional Resources
Download our Yale Washer Buying Guide with all the features, terms, and brands of laundry. Over 1 million people have already found answers in a Yale guide.
Related Articles
Why Should You Trust Us?
It seems that every appliance review has nothing but glowing comments about almost every product, yet you read customer reviews and they are almost universally bad.
We are here to fill in the disconnect. We'll give you the best features, and the drawbacks as well, including reliability based on over 37,000 calls performed by our service team just last year. Our goal is to give you ALL the information so you know what's right for you.
Please consider subscribing or adding to the conversation in the comments below. We appreciate you stopping by.
Steve Sheinkopf is the third-generation CEO of Yale Appliance and a lifelong Bostonian. He has over 38 years of experience in the appliance industry, and he is a trusted source of information for consumers on how to buy and repair appliances.

Steve has also been featured in numerous publications, including the New York Times, Consumer Reports, The Boston Globe, Bloomberg Radio, the New York Post, The Wall Street Journal, and Entrepreneur, for his knowledge of how to buy appliances and appliance repair.

Steve is passionate about helping consumers find the best appliances for their needs, and he is always happy to answer questions and provide advice. He is a valuable resource for consumers who are looking for information on appliance buying, repair, and maintenance.

Despite being the worst goalie in history, Steve is a fan of the Bruins and college hockey, loves to read, and is a Peloton biker. The love of his life is his daughter, Sophie.
A Note About Pricing
Pricing on this blog is for reference only and may include time sensitive rebates. We make every attempt to provide accurate pricing at time of publishing. Please call the stores for most accurate price.