Dirty laundry is just something that will never go away, unfortunately, and selecting a new washer can be as daunting as the chore itself. Choosing a machine that is going to wash your laundry well and hold up over time should be the preliminary qualifications.
Although the vast majority of consumers are currently purchasing front load washers due to the fact that they have a larger capacity and are overall more efficient, top loaders are a traditional style and are still somewhat in demand.
Short on time? Get our free Washing Machine Buying Guide
Why Choose a Top Load Washer?
Some people find the ergonomics of a top loader more user-friendly, where you simply reach into the machine as opposed to bending into a front loader. Others are more "comfortable" with top loaders because it is what they have always used and to be honest, from a functional standpoint these machines are basically the same as the first fully automatic models that hit the market nearly 70 years ago.
Top loader machines run on a motor which is attached to the agitator through a component called a transmission. The motor and transmission are housed in the lower part of the machine and the agitator sits vertically in the center of the tub. The transmission functions much like that in your car where it changes the speed and direction of the agitator. It can be argued that this piece can be a little rough on your clothing and potentially damage delicate garments even when being used on a hand wash or delicate cycle.
In addition, top loaders use about 30-45 gallons of water per load on a normal cycle, which is a lot compared to the average 15 gallons in a front loader.
Top Load vs. Hybrid Washers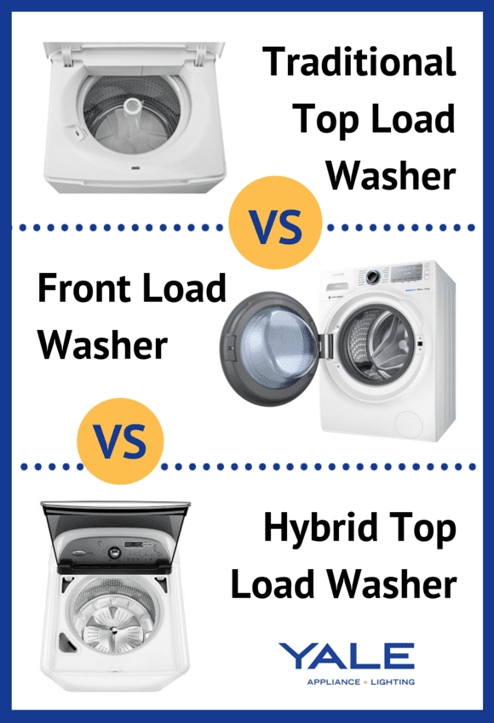 There are a few companies that have introduced hybrid machines. These washers are top loaders but without an agitator and with higher spin speeds. Although they were a novelty item, we found that the consumers who did buy these did not purchase them again when it came time for a replacement.
Let's see which brands are still standing in the top load washer category and which are the best.
Best Top Load Washers
Maytag
Maytag is one of five brands within the Whirlpool Corporation since their acquisition in 2006. They manufacture all kitchen appliances, washers and dryers, irons and even central heating and cooling systems. They entered the commercial laundry sector in 1950. They marketed their laundry at one point in combination with ranges and refrigerators which were actually built by other companies.
Their washers are currently a good buy from a service perspective due to the fact that their motors are still belt driven, which are less costly to repair than the metal spring arm found in some other machines.
11 Wash Cycles – gives the ability to customize what is being washed
800 RPM
PowerWash Cycle
Wrinkle Control
Deep Water Wash Cycle
Automatic Load Size Sensing Technology
PowerWash Agitator
Fisher & Paykel
Fisher & Paykel is a New Zealand based company that dates back to the 1930s. They make various appliances that meet unique specifications including washers and dryers, refrigerators and are best known for their dishwasher drawers.
Their products can be found in over 50 countries and manufacturing spans throughout the U.S., Mexico, Italy, Thailand and New Zealand. They were the innovators of the electronically controlled direct drive motors in washing machines which they introduced in August 1992.
Fisher & Paykel AquaSmart WL4027G1 - $899

SmartDrive(TM) Technology - A set of mechanical and electronic parts including a Direct Drive Motor, Floating Bowl and Motor Controller, form a mechanically simple washer that can sense and respond to each and every clothes load. Providing better clothes care and reliability with no belts, pulleys, gearboxes, clutches or brakes.
22 LB Capacity - Saves you time and money, requiring fewer loads to wash your week's laundry. Infinite water level sensing makes these washers very efficient with both small and large loads. The big basket will easily wash bulky items like comforters and blankets.
High Efficiency with 1100rpm Spin - AquaSmart uses a low profile agitator to wash clothes efficiently and effectively. AquaSmart can also be used in the Conventional mode when you require a little more water, giving you the best of both worlds. With a maximum spin speed of 1100rpm, your clothes will take less time to dry.
Speed Queen
Speed Queen is strictly a laundry company and was founded in 1908 by John Seelig & Joe Barlow in Ripon, Wisconsin. They started their business by taking existing washing machines and improving them. They make commercial, coin operated and residential units with the highest quality parts.
Their commercial machines can be found in laundromats, hotels and even on cruise ships! Speed Queen offers the best warranty on their products with three years of coverage on their knob controlled models and five years on the digital controls.
Full Tub Wash & Rinse fills the entire tub with water to achieve maximum cleanliness.
210 Agitation with 68 strokes per minute provides a better clean that's gentle on your clothes.
Commercial-Grade Steel Cabinet provides three layers of protection for maximum durability.
No Lid Lock lets you open the lid to stop a cycle at any time.
Durable Stainless Steel Tub is gentler on your clothes and ensures long-lasting, dependable performance.
Comparison
As you can see the Maytag is very basic but will do the job and has a long-standing reputation in the industry. It's a good value with its conventional design and function and is one of the few belt-driven washers still on the market today.
The Fisher & Paykel has proven to be reliable and emulates the workings of both front and top loading machines. It has been reported, however, that articles can get tangled in these units because of the high revolution spin speed and the design in the tub. Without the full agitator in this unit, it does allow for a larger capacity which is a huge bonus when it comes to top loaders.
Although Speed Queen is not as well known yet, in my opinion, is the best choice by far. Its durability, reliability, and strong warranty stand behind this workhorse of a machine. It offers a good variety of cycle options without being overwhelming or excessive. It satisfies all of the qualifications for a top load washer and promises to last a long time.
Additional Resources
Read about Dishwasher features, specs and service ratings in our Washing Machine Buying Guide Buying Guide. Over 180,000 people have read our appliance and lighting guides so far.

Related Articles
Steve Sheinkopf
My goal has always been simple: I want Yale to be the best retail experience anywhere. I have tried to create a compelling environment for customers and employees alike.
A Note About Pricing
Pricing on this blog is for reference only and may include time sensitive rebates. We make every attempt to provide accurate pricing at time of publishing. Please call the stores for most accurate price.