The Best Time to Buy Kitchen Appliances in Boston
There are now best times to buy an appliance. Like electronics, appliances are best purchased within 5 days of the year. In this article, you will learn when to buy, which brands qualify, and what type of discount you should expect.
If you do not want to read the article, you can scroll to the end for the five most promotional holidays. You should also know that today, President's Day, is one of those best buying days.
The Fluctuating Nature of Appliance Prices
This is an electronic price tag. We implemented this system because prices can fluctuate almost weekly.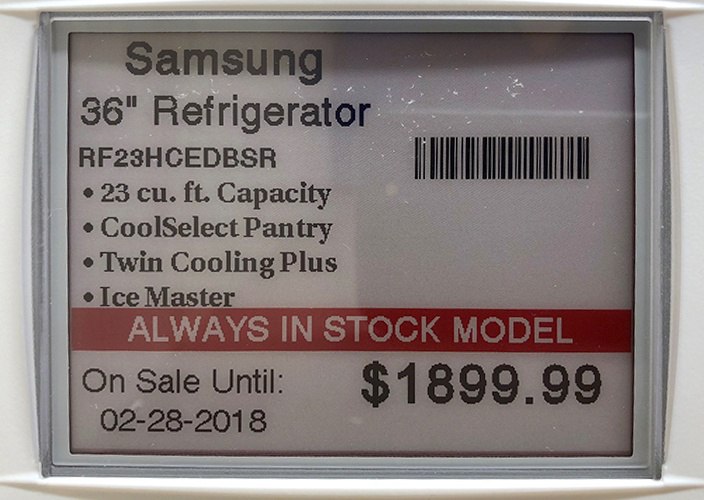 Case in point, this Samsung Refrigerator has been priced at $1,899 today. It's $2,699 tomorrow. Rebates and other markdown promotions are the cause.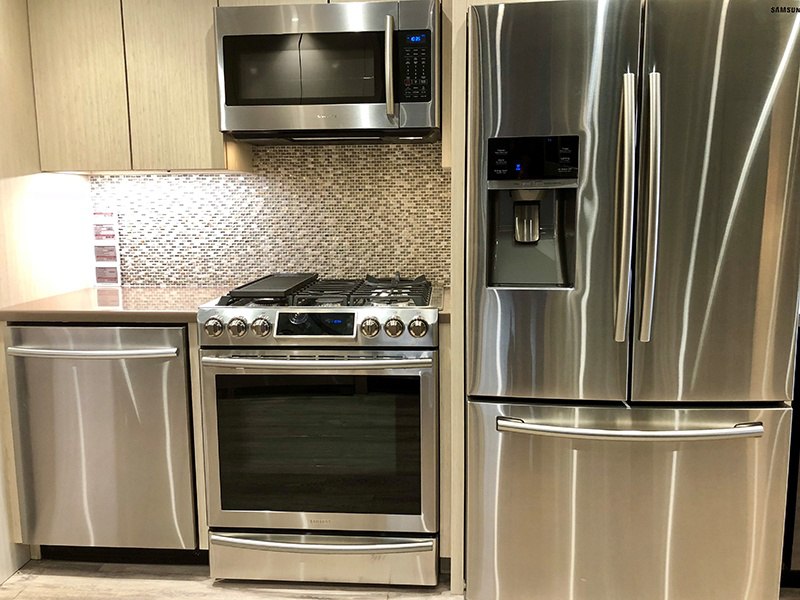 Samsung RF23HCEDBSR Counter Depth, French Door Refrigerator shown with Display Package
We will look at both, but first, we will look at the brands who take part in these sales.
The Brands
Many brands offer a consistent rebate.
Wolf, Sub-Zero, Thermador, and Jenn-Air would be in that category. Wolf and Sub-Zero have a straightforward rebate. Thermador offers a free dishwasher and hood with other qualifying purchases. Jenn-Air has a $1,300 package rebate.
Brands like Miele, Maytag, KitchenAid, Amana, GE, Frigidaire, and Electrolux have products with fluctuating prices or discounts.
I should mention LG and Samsung, especially. They started these periodic discounts in their electronics business. They are the most aggressive.
Short on time? Get our free Appliance Buying Guide
Rebates
A rebate should be straightforward. However, it is not.
The manufacturer gives you $50-$200 when you buy an appliance. Also, there are package rebates based on multiple purchases.
Buying groups also have a pile of promotional rebates, so you could have another line of rebates with national buying groups.
But wait! There's more.
Promotional Times of the Year
LG and Samsung have added another layer to discounting. They will have different promotional periods where the prices just drop.
Now, the key to buying that Samsung refrigerator we mentioned before at $1,899 instead of $2,699 is timing the promotional periods along with Samsung's rebates.
So now, I will tell you the best time to buy appliances in Boston during the calendar year.
Best Times to Buy a Kitchen Appliance
Martin Luther King Jr. Day: Any holiday with a Monday off is in play. Martin Luther King Jr. Day is usually in the middle of January.
President's Day: Without question, after Black Friday, the next major holiday is President's Day in February.
Memorial Day: At this point, I need to explain that appliance buyers "buy" twice a year in late April and late August. Warehouses are the fullest after that. Memorial Day has been a big holiday simply because it is the first after a buying show.
July 4th: It is huge everywhere else but Boston, mostly because nobody is around.
Labor Day: Circle this day on your calendar. Labor Day is the closest holiday after the Summer buying show, and many stores and brands will have a tough time without a Tax Holiday to sell products.
Black Friday: Black Friday is the biggest promotional time of the year. It is the last time for factories to move products.
Once again, some major companies, like Samsung and LG, have used Black Friday to obtain share by discounting their products.
They used that strategy with TVs to drive their competition out of the market. Most companies, like Whirlpool, have followed suit.
Warehouse Clearances
Many regional companies have warehouse clearances at various times during the year. Having a warehouse clearance helps to clear discontinued units, floor models, and outlet products (scratched or dented products).
We have three, in January, May, and October.
You could save 20-50% on warehouse clearances, but the product is not new in the box.
Final Thoughts
You don't have to haggle anymore. Just know when rebates and promotions occur together. The appliance business is now like cars or electronics as there is a time to buy if you can.
President's Day, Labor Day, and Black Friday are the best times to buy in Boston this year.
Wait until one of these days to buy for the best deal.
Additional Resources
We actually cover this and all things appliance in our Appliance Buying Guide. You can download it for free by clicking the link below. Over 240,000 people have read a Yale Guide for buying tips, the best features, and specs.
Related Articles:
Steve Sheinkopf
My goal has always been simple: I want Yale to be the best retail experience anywhere. I have tried to create a compelling environment for customers and employees alike
A Note About Pricing
Pricing on this blog is for reference only and may include time sensitive rebates. We make every attempt to provide accurate pricing at time of publishing. Please call the stores for most accurate price.