Should You Buy GE Smart Front Load Laundry? (Reviews / Ratings / Prices)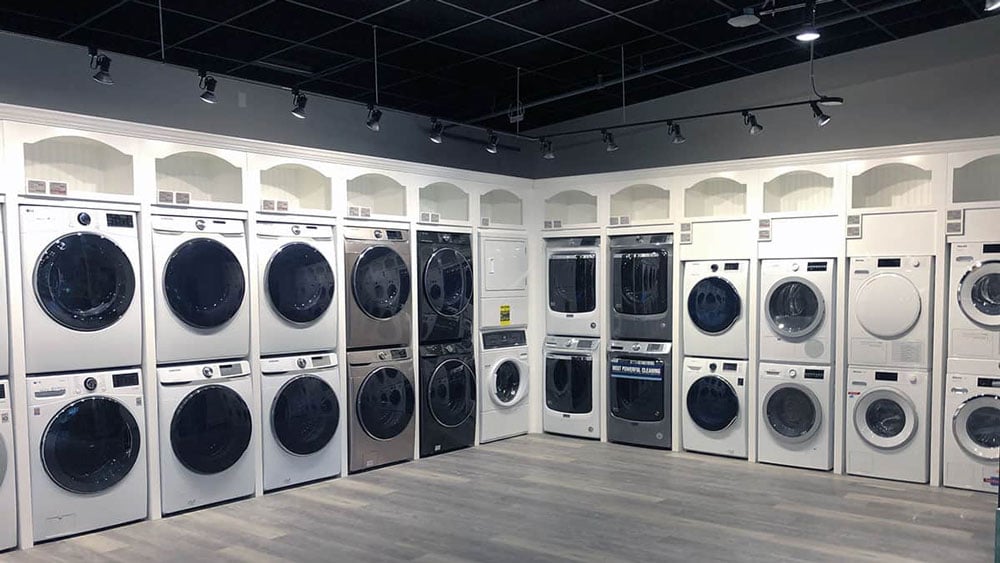 GE is offering a new washer and dryer. It's a pretty intelligent design, especially for a new product.
First let me share a story.
I was changing my 3-year-old daughter on a Koala folding table at the Museum of Science. Most of you, with kids, know what I am talking about. You start to wonder how many other kids were changed on that table.
However, those tables have been treated with Microban technology, so you, like me, can feel a lot better about that experience.
Microban technology acts as an extra layer of antimicrobial protection from bacteria, mold, and mildew.
In this article, you will learn about GE's features, why that story is relevant to its front load washer, and how it differs from the other manufacturers.
We'll also cover some possible issues, and the reliability stats from 35,256 service calls made by our service team last year.
New GE Smart Front Load Laundry Review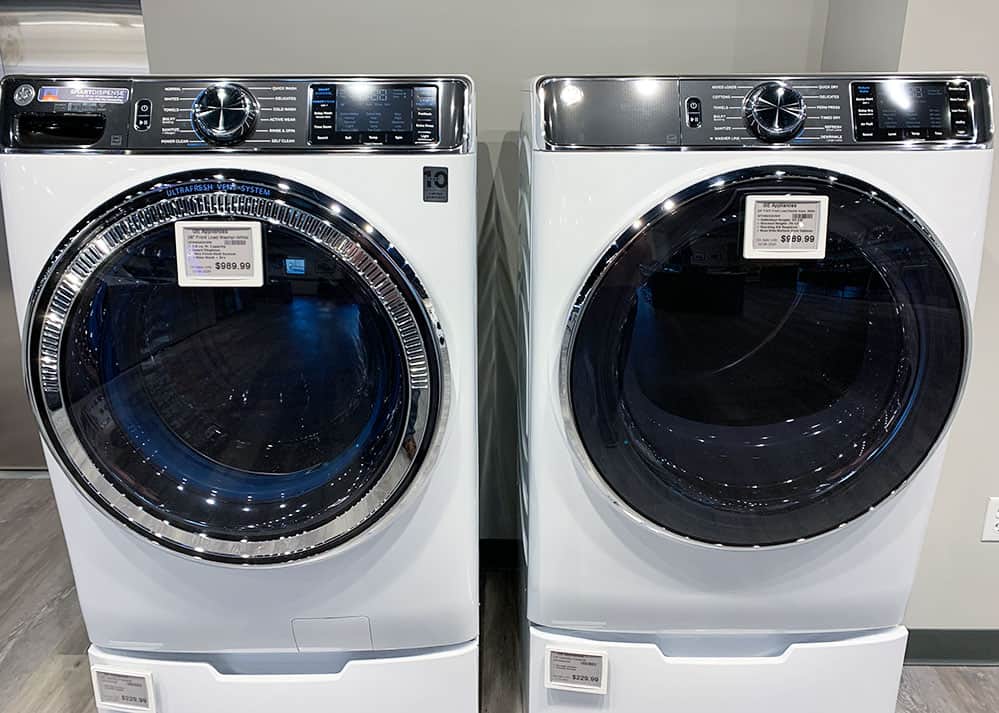 5.0 cu. ft.
12 Wash Cycles
Steam Cycle
Sanitize Cycle
Allergy Cycle
Wi-Fi
7.8 cu. ft.Stainless Steel Drum
Washer Link
PowerSteam
Reversible Door
Sanitize Cycle
12 Dryer Cycles
Sensor Dry
GE's front-load washer is brand new, so it includes many of the best features of all the brands.
The GFW850SSNWW has Wi-Fi, Microban technology , an overnight wash and dry cycle, a 32 load dispenser, and a reversible door.
Let's take a look at some of those same features and their advantages.
6 Feature Highlights And Advantages
1. Mold and Mildew Prevention
Mold and mildew have always been an issue in front load washers. It's a result of standing water pooling on the gasket and the back of the machine.
You can prevent mold, by the way, but you have to remember to keep the gasket dry, wipe down the dispenser, and keep the door open after each cycle.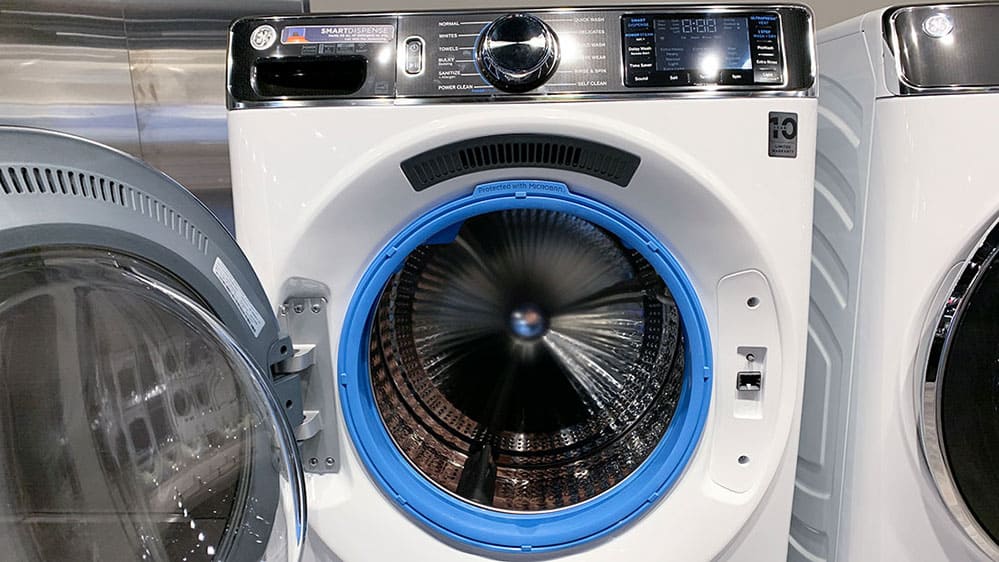 We wrote a blog article on preventative maintenance for mold and mildew.
GE is the only company to actively address this problem. They coated their gasket, hoses, and dispensers with that same Microban technology.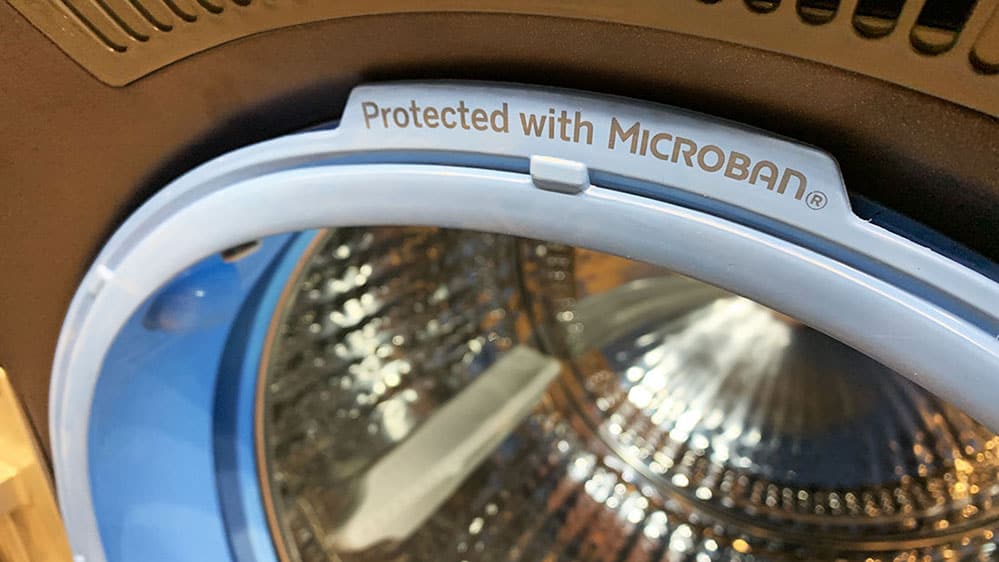 GE also employs a fan in the door to further dry any residual water in the gasket. They call this their OdorBlock system.
GE is the best and only company for eliminating mold, but this machine also has all the latest features with plenty of cycles and options.
Short on time? Get our free Washing Machine Buying Guide
2. GE Washer Cycles
There are 12 wash cycles with ten options. So it can wash almost any type of fabric. For example, GE has the Allergen cycles made popular by Whirlpool and LG to eliminate over 99% of the bacteria on clothes.
3. Steam/Dispenser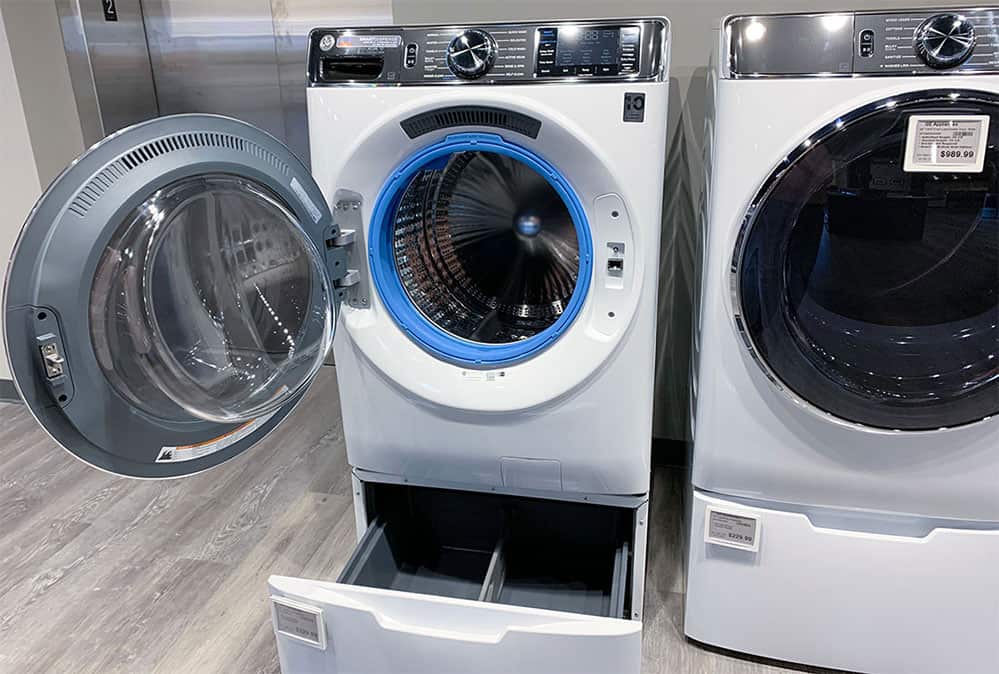 GE also has steam to loosen and power-out tough stains. You can pour up to 50 ounces of detergent in the washer, and it dispenses automatically. So you will never have to worry about adding the right amount. The machine will do that for you.
At 50 ozs, GE has one of the largest dispensers, and only Whirlpool has slightly more. The Maytag dispenser had issues with mold last year. GE's dispenser is located in a different spot and is coated with Microban to prevent that issue.
4. Wi-Fi
It also has Wi-Fi. You can turn it on or off remotely and have the machine alert you when the cycle is complete through Google Assistant, Amazon's Alexa or IFTTT.
You won't have to trudge to the basement anymore only to find out your washer has another 7 minutes and 17 seconds left.
5. Door Reversal
You can also reverse the washer door, so its easier to transfer clothes from your washer to your dryer. Only GE and Electrolux have this feature for full-size laundry.
6. Overnight Cycle
Like the best Whirlpool and Maytag washers, you can wash and dry a small load like a single outfit just in the washer.
So you don't have to transfer the load from the washer to the dryer in the middle of the night. Just wake up, and it's ready.
As you can see, GE has combined the best features of all the different manufacturers and added mold prevention.
Now here are a few possible problems to look out for.
GE Washer Problems
Oddly enough, GE has better capacity than most brands at 4.8 and 5 cubic feet depending on the model versus the average front load at 4.3-4.5 cubic feet.
However, the overall width of the machine is 1 inch larger, and the depth can be 2-4 inches deeper than competitive brands like LG at 30.25 or Samsung at just over 31 inches.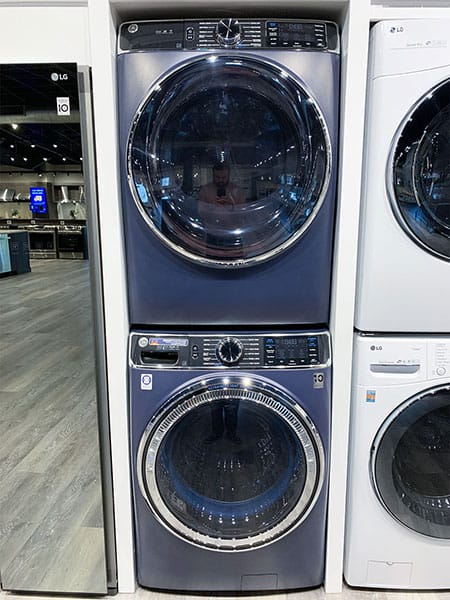 For many stacking and other tight installations, especially in closets, GE may be too large.
Are GE Washers Reliable?
Most manufacturers in laundry have significantly lower repair rates than the 13.1% average within the first year.
Most Reliable Front Load Laundry Brands for 2020
| | | | |
| --- | --- | --- | --- |
| | Service Qty | Shipped Qty | Service Ratio |
| Whirlpool | 20 | 350 | 5.71% |
| GE Appliances | 1 | 15 | 6.67% |
| LG Electronics | 161 | 2270 | 7.09% |
| Samsung | 27 | 349 | 7.74% |
| Maytag | 251 | 659 | 38.09% |
| Electrolux | 13 | 13 | 100.00% |
| Grand Total | 473 | 3656 | 12.94% |
With GE laundry being brand new, the reliability ratings are not an accurate representation.
Maytag had more because of problems with mold in their dispenser last year. Electrolux and Speed Queen have been historically less reliable as well.
If you look at other product categories like gas and electric ranges, GE is one of the most reliable.
In the most serviced product category, French door refrigerators, GE is the most reliable at 14.29%. GE beats the average by 54% in refrigerators for reliability.
If that is any indication, then GE should be at least as reliable as Whirlpool, Samsung, and LG.
Since we are a repair agent for GE in the Greater Boston area, we will know pretty quickly if it's reliable or not.
Should You Buy GE's Smart Front Load Laundry?
New GE Smart Front Load Laundry [Video]
GE was smart. They included all the best laundry features from every manufacturer in one machine and then added one more they all do not have - the ability to remove mold, mildew, and odors before they start.
Our final answer: Yes, you should consider GE laundry. The larger size can be an issue in closets, and other smaller installations, so measure first.
Here is a tip for buying GE or any other manufacturer at the best price: Always buy appliances around promotional holidays like Presidents' Day, Memorial Day, Black Friday, Labor Day, and July 4th. You can usually find rebates of 10-35%.
That said, as long as their laundry is as reliable as their other appliances, this new washer could be the best available on the market today.
Additional Resources
Download our Yale Laundry Buying Guides with all the features, terms, and brands of laundry. Over 620,000 people have already found answers in a Yale guide.
Related Articles:
Why Should You Trust Us?
It seems that every appliance review has nothing but glowing comments about almost every product, yet you read customer reviews and they are almost universally bad.
We are here to fill in the disconnect. We'll give you the best features, and the drawbacks as well, including reliability based on over 37,000 calls performed by our service team just last year. Our goal is to give you ALL the information so you know what's right for you.
Please consider subscribing or adding to the conversation in the comments below. We appreciate you stopping by.
A Note About Pricing
Pricing on this blog is for reference only and may include time sensitive rebates. We make every attempt to provide accurate pricing at time of publishing. Please call the stores for most accurate price.