Best Front Load Washers for 2018 (Ratings / Reviews / Prices)
Our Best Washers article is updated frequently as rebates change from month to month. Recommendations can change with prices.
Washing machines have become as much about capacity, energy, and water savings as they are about washing clothes.
Front loaders offer the larger size, almost double of a top load, with better efficiency and a higher spin. This, in turn, reduces drying time, so you save by washing more clothes with less energy.
Almost all the brands have 5 wash/rinse combinations and 5 speeds for any type of fabrics. They are very similar in many ways with slight differences in features and reliability.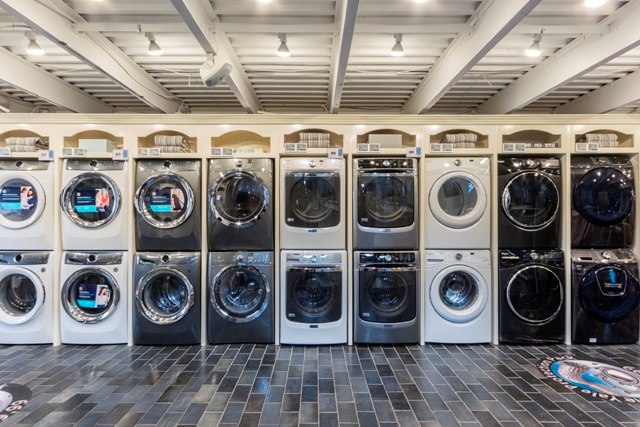 Short on time? Get our free Washing Machine Buying Guide
Buying a new Washer/Dryer [Video]
Thanks for reporting a problem. We'll attach technical data about this session to help us figure out the issue. Which of these best describes the problem?
Any other details or context?
message
Best Washers for 2018
Pricing updated for January 2018
Top Load Washers
The first two are top loads for comparison. As I said previously, front loads have a larger capacity and use less water and energy, so you will save money in the long run. However, if you are still looking for a top load, these two are the best to consider.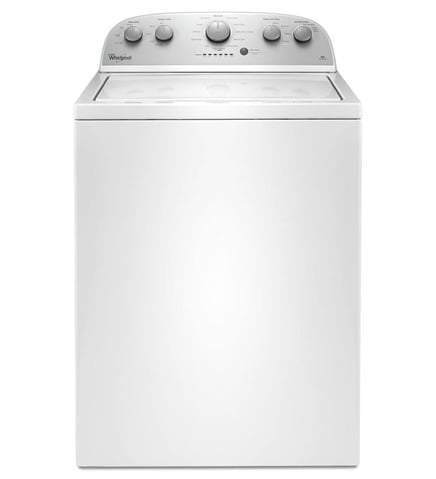 This top load washer has multiple spin speeds, 12 wash cycles including "Quick Wash," and a porcelain drum.
This is actually the same machine I sold in 1986. What you will like is its reliability and ease of use.
Speed Queen AWNE92SP113TW01
- $999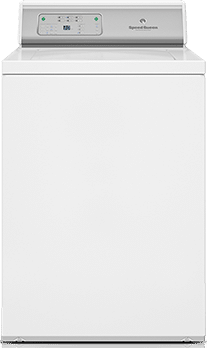 This top load washer is constructed of durable stainless steel. Speed Queen is known for their commercial, high-quality machines.
In fact, this machine has a 5-year warranty. However, the capacity is much smaller than a front load while using a ton of water and energy.
You would think the reliability would be excellent, but it is 1-7% higher than the most popular front load washers.
Front Load Washers
Samsung WF45M5500AW - $609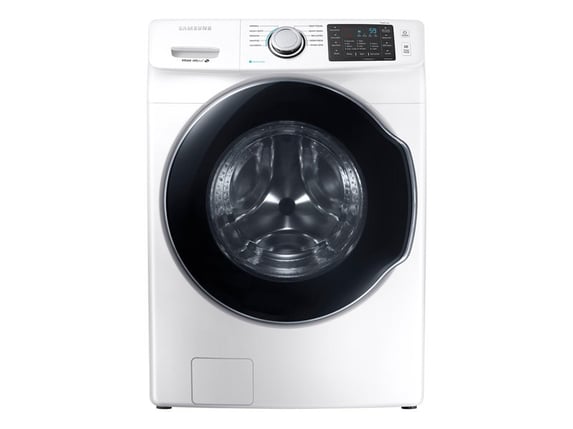 This is the better washer to the $499 piece you see online and at Yale. It has a greater capacity of 4.5 cubic feet and steam functionality.
If you have children, then trying to get out stains from their clothes is a daily ritual. Steam is great for loosening ground in stains. This machine also offers Wi-Fi, so you can track the cycle time on your phone.
It is reliable but needs repair within 11.45% of the time within the first year.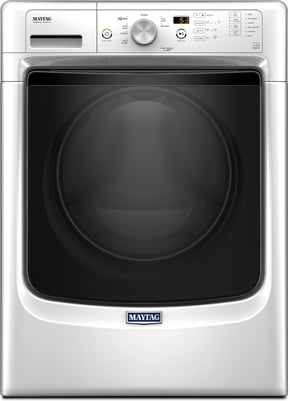 This is a good basic machine that has great a capacity of 4.3 cu. ft., 8 wash cycles with 5 wash/rinse combos, 5 speeds, and steam functionality.
Whirlpool and Maytag (same company) have the best reliability based on our 20,000 + service calls.
LG has the base cycles and no steam. However, it is the shallowest at 29.5 inches in depth and won the least serviced after Whirlpool at 7.32% in the first year.
The LG WM3270CW Front Load Washer
Thanks for reporting a problem. We'll attach technical data about this session to help us figure out the issue. Which of these best describes the problem?
Any other details or context?
message
;
Whirlpool is the lowest in terms of repair at just over 5%. This machine has the Smart Dispenser, which automatically sends the right amount of detergent into the wash. It also has a steam function and is fairly large at 4.5 cubic feet.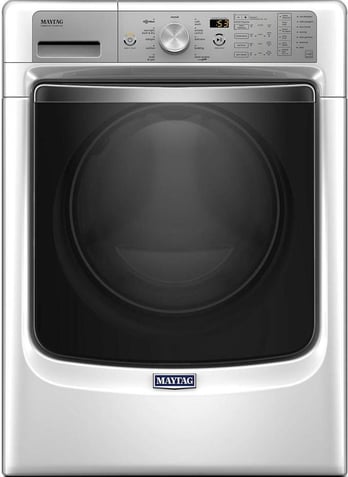 This is the best Maytag washer (and Whirlpool who is the actual manufacturer). It has every cycle including steam and a "Fresh Hold" option which will rotate the machine to keep clothes fresh in case you are not around.
The detergent dispenser will hold up to 12 loads, so you do not have to reload after each wash.
Two key features to Maytag are the overnight wash cycle and their reliability.
The overnight wash allows you to put an outfit in the washer and have it completely washed and dried the next morning.
In terms of reliability, Maytag is among the best. Their parts turn around and support is better than their competition, so problems are solved faster.
Maytag Washers
Thanks for reporting a problem. We'll attach technical data about this session to help us figure out the issue. Which of these best describes the problem?
Any other details or context?
message
Top Front Load Washer & Dryer Laundry Pairs
Most people concentrate on the washer as part of a laundry purchase, yet the dryer is very important.
Almost all of the front load dryers now have a "sensor dry" which automatically shuts down the heat by sensing how much moisture is in the clothes. This will save you money and prevent shrinkage.
Maytag Entry Line Laundry Pair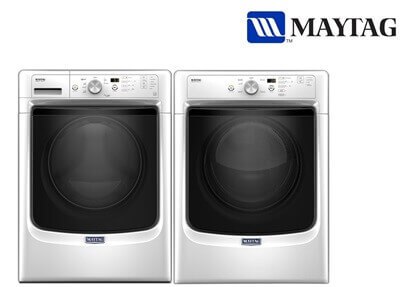 This is a good, less expensive option for a washer and dryer pair. The washer has 4.3 cu. ft. capacity and steam functionality. The dryer has a wrinkle release, so clothes can tumble for an extra 90 minutes with no heat.
Samsung Entry Line

Laundry Pair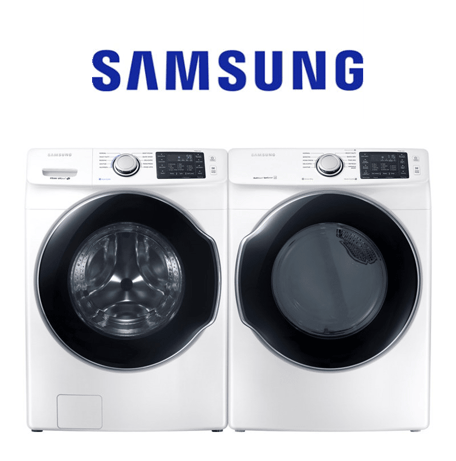 Samsung's entry level laundry pair come with their diamond drum interior, which is gentler on clothes than most machines and their washer uses the power of steam for a deeper clean.
Maytag Front Load Laundry

MHW8200FW and MED8200FW
The top of the line Maytag Maxima set will give you every conceivable feature you could want in a machine. Steam, a 1,400 RPM spin-speed, and 11 wash cycles are standard on most high-end machines.
What isn't standard is the overnight wash cycle which allows for a small load to be washed AND dried overnight. The dryer adds steam as well.
Which Should You Buy?
Confused? Don't be. All the machines have an abundant number of cycles and features. Every unit has 5 speeds and different temperature selections for every fabric type. Back when I started, it was 1 speed and three temperatures.
Samsung is the largest and fastest but needs service a more than the others.
Maytag is the most reliable in terms of percentage with the fastest turnaround for parts and service. Their 8200 models may currently be the best value.
Related Articles:
Additional Resources
Download our Yale Laundry Buying Guides with all the features, terms, and brands of laundry. Over 220,000 people have already found answers in a Yale guide.
Steve Sheinkopf
My goal has always been simple: I want Yale to be the best retail experience anywhere. I have tried to create a compelling environment for customers and employees alike
A Note About Pricing
Pricing on this blog is for reference only and may include time sensitive rebates. We make every attempt to provide accurate pricing at time of publishing. Please call the stores for most accurate price.