Miele vs. SKS 48-Inch Professional Dual Fuel Ranges
Shopping for a professional range is not easy anymore.
You have to decide between a gas or a dual fuel oven. Then you have to decide on features or lack of features depending on the brand.
Do you buy a basic range without even a clock-like BlueStar, Wolf, Hestan, or Thermador? Do you buy a highly technical range with tons of features like Dacor, Miele, Wolf, or SKS on the other side of the spectrum?
In this article, you'll learn the differences between two of the most advanced brands you can buy - SKS and Miele.
Both Miele and SKS make 30, 36, and 48-inch professional ranges. However, we'll be comparing both their 48-inch professional dual fuel ranges starting at $14,999.
Let's get started.
Miele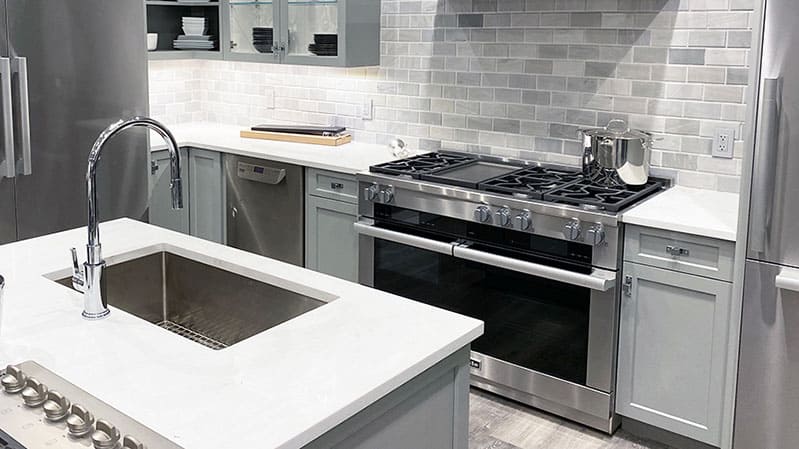 Miele is the largest family-owned appliance company in the world. Based in a little town outside of Cologne, Germany, Miele is best known for its dishwashers and laundry units.
Miele is an anomaly in the appliance industry because they manufacture every component of their appliances at their factories. It's more expensive than outsourcing, but the supply chain is less volatile during disruptions like a pandemic, for example.
Miele introduced their professional ranges in 2014. It was built for the American market by copying and improving the existing technology. Miele copied their infrared grill, griddle, and three-stage burner for low simmering from Wolf.
Miele also added a few of their proprietary features to their professional ranges, like their MasterChef controls.
However smart the strategy was or it, it did leave Miele a bit vulnerable to newer technology advances, as you will see.
Miele 48-Inch Professional Dual Fuel Ranges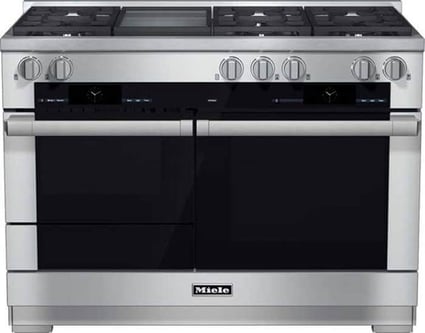 Available Options: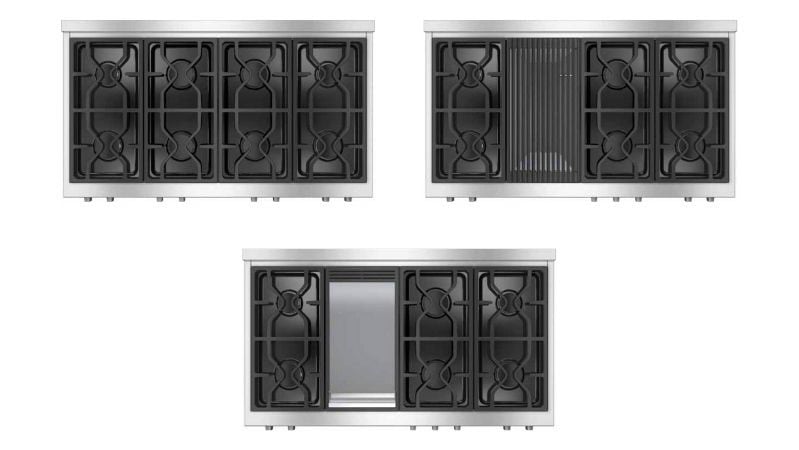 Miele has three stovetop options for their 48-inch dual fuel ranges. You can have a stovetop with eight burners, six burners with a grill, or six burners with a griddle.
Miele's grill and griddle are infrared. Infrared uses intense direct heat. It's similar to a sear burner on a Lynx grill.
It doesn't spread the heat like a gas burner or regular grill. You have the dual benefits of an intense sear. Also, you have less clean-up because the high heat evaporates the drippings.
Miele has the best controls for simplicity. Miele's MasterChef controls, the first guided cooking system in professional cooking, easily beat JennAir's Culinary Centre and Wolf's Gourmet guided cooking controls.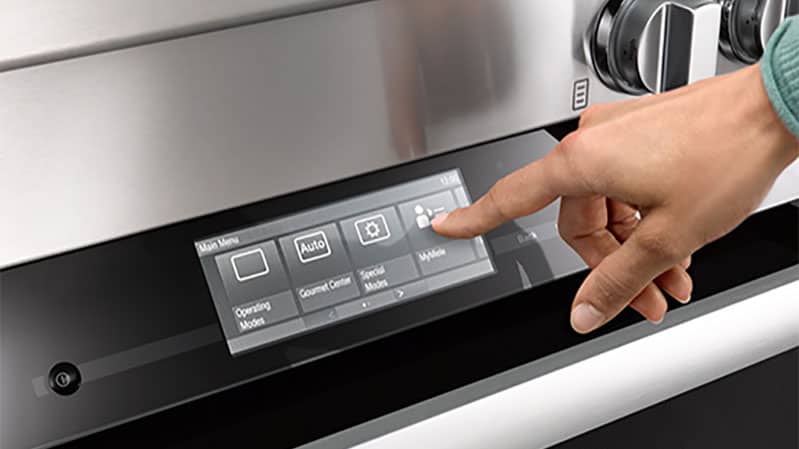 With Miele MasterChef, you input the food and how you want it cooked. Miele's range will calculate the time and temperature for you. It also has 100 programmed recipes. Fifteen of those programs are just for bread.
Having advanced technology is great, but it has to be easy to use. Miele does a great job here. You can bake bread or use steam for cooking your food with a touch of a button.
Miele has twin convection in their professional ranges. Wolf created dual convection to evenly spread heat in their larger ovens. Miele copied that system, and now Miele's two fans run continuously despite the temperature.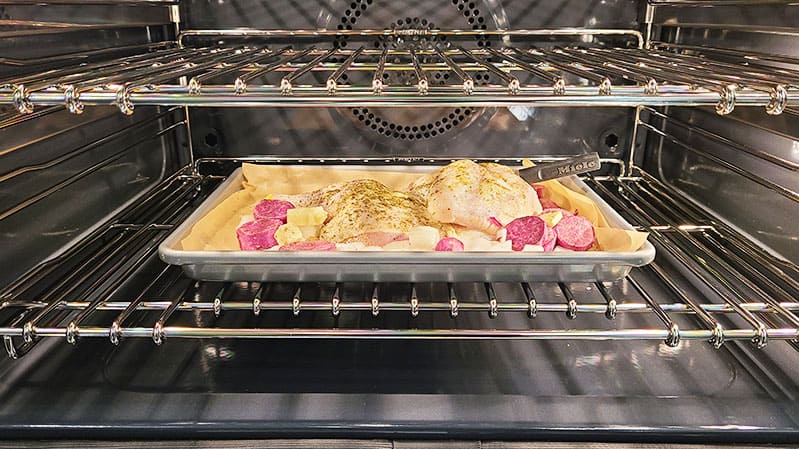 Wolf's twin convection system is a cycle based on the temperature reading in the oven.
Dual fuel is still better in larger ovens.
Miele's Steam Assist feature aids in hardening foods like the crust of bread.
You cannot cook a whole meal in Miele's steam oven, but you can refresh leftovers, bake bread, and use it for so much more.
Miele's speed oven allows you to use it as a microwave, convection oven, or a combination of both. When you use both, you can save half the time without that rubbery microwave texture (microwaves target water).
Miele's 48-inch professional ranges also come with the option of a warming drawer. Warming drawers are very convenient, especially if you cook at one time and your family eats later.
You can leave your food warm and fresh in a drawer for up to three hours without it dehydrating.
Miele uses a wireless probe, whereas every other manufacturer uses the plug-in type. The big advantage to Miele is you can place the probe anywhere for a more accurate reading.
You can place all of Miele's oven grates in a dishwasher for easy cleanability. You can also leave the racks in a self-cleaning cycle instead of removing and scouring them by hand.
Weaknesses of Miele Professional Ranges
BTU Output
At one time, a 19,500 BTU burner was considered powerful. Now, it's slightly below average, especially compared with Hestan at 30,000 and 23,000 BTU, BlueStar at 25,000 and 22,000, and SKS at 23,000 and 15,000 BTU.
Also, Miele's back burners are slightly underpowered, with one burner at 13,6000 BTU and two at 10,000 BTU.
No Wi-Fi
First, the MasterChef eliminates the cooking aspect of recipe tie-ins like Thermador's Home Connect or JennAir's Culinary Centre.
But if the future is you saying "lasagna" to your range, and the range cooks it automatically, Miele should get started.
No Finish Options
SKS and Miele offer only stainless steel like Wolf and JennAir. Stainless is the most popular and common finish.
However, Viking, La Cornue, and BlueStar offer many color options giving you the ability to add a pop of color to your kitchen. BlueStar has the most color finishes at 1000.
Short on time? Get our free Pro Cooking Buying Guide
Signature Kitchen Suite (SKS)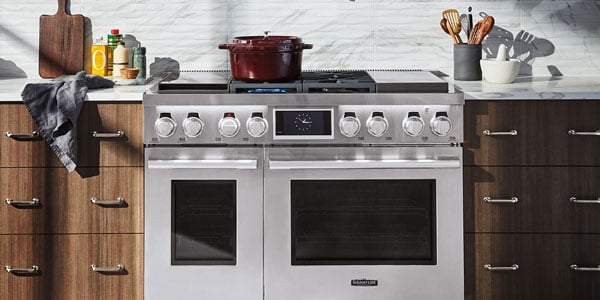 SKS is owned by LG, a rapidly evolving technology company based in Korea.
Like Miele, SKS copied some of their best professional range features from Thermador, such as a 100 BTU simmer burner and steam oven functionality.
However, SKS reimagined their professional range with features like Sous Vide and multiple 23,000 BTU and 30,000 BTU burners this year. You have two different companies manufacturing two different ranges. Hestan just started marketing their 23,000 BTU burners this year.
SKS 48-Inch Professional Dual Fuel Ranges
Available Options: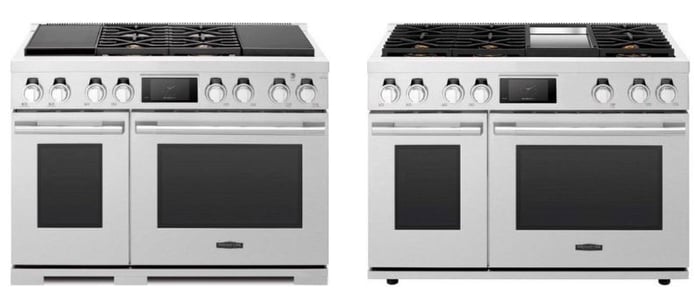 SKS professional ranges are available in two options. A 48-inch SKS pro range can have six burners and a griddle or four burners with induction and sous vide.
SKS's burner output at 23,000 BTU and 15,000 BTU is competitive to every professional range except Hestan. Hestan's professional ranges include a power burner at 30,000 BTU output.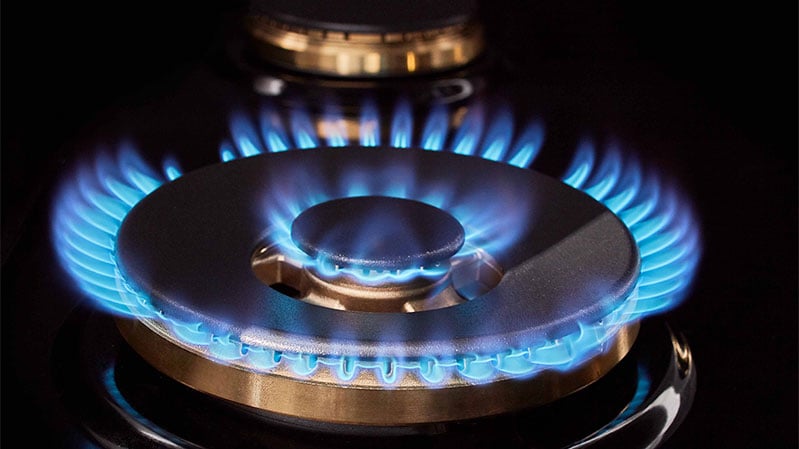 Their UltraLow simmer is 100 BTU, identical to the Thermador XLO simmer burner.
SKS's induction burners offer an infinite simmer and are faster than gas. Induction requires less venting, is more child-safe, and is easier to clean.
Unique to SKS ranges only, sous vide is precision boiling in a bag. You can add protein, vegetables, starches, and seasonings or condiments to have a fully cooked meal with little work.
Remember your Stouffer "Boil in a Bag" meals in college?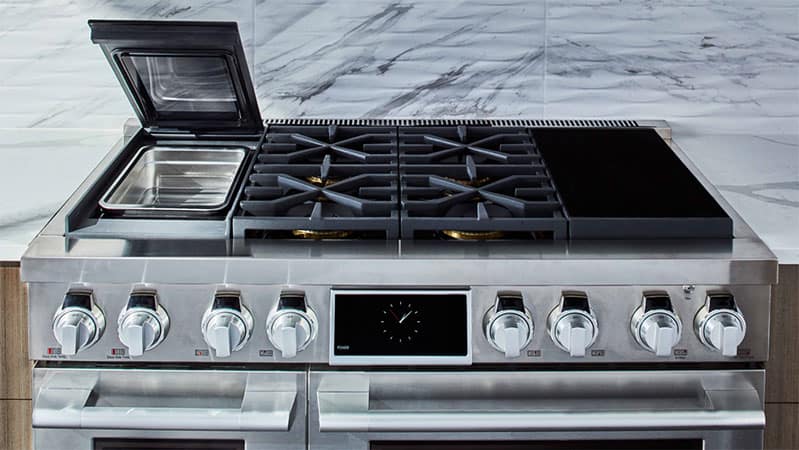 If you aren't choosing SKS's range with induction and sous vide, you have the option of six burners and a chromium griddle. SKS copied their griddle from JennAir. A chromium surface is simple to clean. Food just slides off. The BTU output on the SKS range is 18,000, now the hottest on the market.
With SKS's steam oven, you can cook a whole meal using the combi-steam convection mode in the side oven. Steam cooking is the most nutritious and healthiest way to cook.
You add moisture and do not bake out nutrients.
You can set your oven's temperature or turn it on and off remotely with SKS's ThinQ app. It also monitors your range for potential service problems and maintenance with remote diagnostics.
SKS's Smart Knobs to show the temperature you're setting your burners to, like Wolf's professional ranges. In addition, SKS employs a smartphone interface that's easy to use for their Gourmet Chef controls.
Weaknesses of SKS Professional Ranges
Controls
Despite SKS's Wi-Fi compatibility, their guided cooking system is nowhere as advanced as Miele's
No Grill
Grills are less popular than a skillet, but still 20% of range sales. You also do not have an eight-burner option with SKS 48-inch pro ranges.
Ultimately, you have two different companies manufacturing two very different ranges.
Miele vs. SKS 48-Inch Professional Dual Fuel Ranges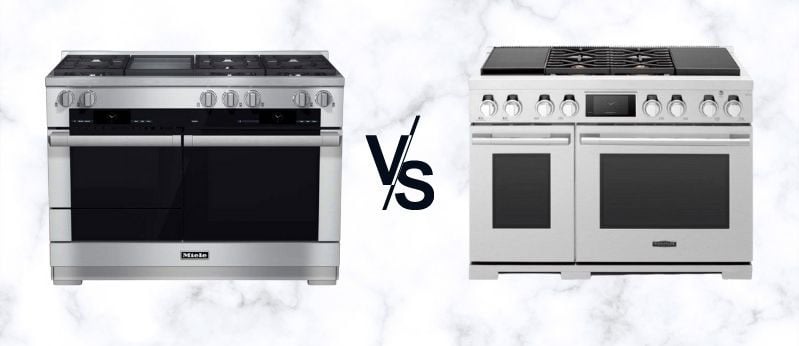 First, some good news. Both ranges performed well when our resident chef, Saba Wahid, tested them.
Cooktop
You have greater output with SKS in any configuration.
Their range with six burners and a griddle has three 23,000 BTU burners, three 15,000 BTU burners, and an 18,000 BTU griddle. Even in the four-burner model, their induction will have greater output as well.
Compare that to a Miele with three burners at 19,500 BTU, one at 13,600, and two at 10,000 BTU.
Other than that, their cooktops are completely different. Miele has a grill with infrared technology.
SKS's 18,000 compared to 14,000 for Miele with a chromium coating for easier cleaning.
However, SKS is a two-pass gas burner versus the infrared of Miele. They should be even with SKS being easier to clean. SKS also has Sous Vide.
Controls
MasterChef is the best control system offering 100 preprogrammed recipes and simple prompts. SKS has smart controls but is not as easy to use as the Miele.
Wi-Fi
Wi-Fi is the future feature, but at present is not a reason to buy any appliance yet.
Ovens
In the main oven, Miele has the advantage with the steam assist twin convection. Steam assist allows you to bake bread simply with the MasterChef automatic controls.
You have a variety of other uses, like hardening the tops of lasagna as an example.
Speed vs. Steam Oven
A speed oven will allow you to cook faster when you use the combo set. However, you aren't cooking differently.
Steam is different and has the most potential. You can steam almost anything (other than a pizza crust).
You also have the warming drawer on the Miele.
Reliability
SKS's professional ranges are so new that we don't can't provide an accurate representation of their reliability at this time. Miele has worse than average reliability based on service calls.
However, some of Miele's service calls are installation-related with poor connection to the water lines and other basic igniter issues common for professional ranges.
For after-sales support, Miele has their own service available. It can be good or bad depending on your area.
SKS, through LG, has committed to service with a five-day guarantee on SKS ranges.
However, saying it is one thing. Execution is another matter completely.
Which Professional Range Should You Buy?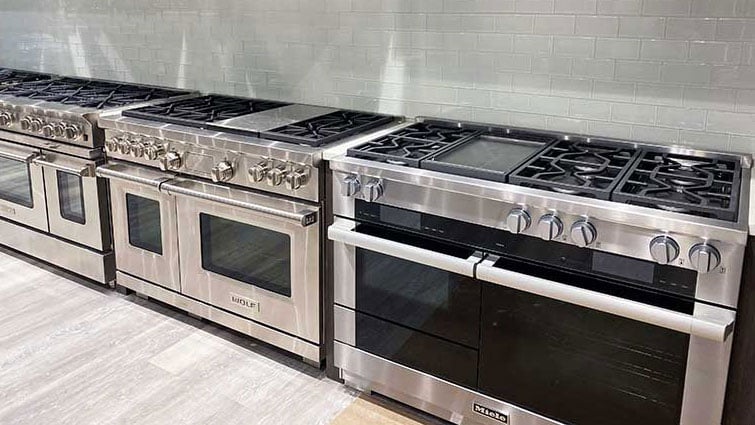 You don't have a clear winner between these two.
What you buy depends on what you value.
SKS has greater output, while Miele is simpler to use.
Much of it hinges on features like Miele's steam assist and speed oven or SKS's sous vide feature, induction, and steam oven.
Buy what feature package appeals to the way you cook.
Lastly, make sure both have service organizations behind them in your area. You will need service and support while you own either range.
If you cannot decide, then service is the tiebreaker.
Additional Resources
Get our free Pro Cooking Buying Guide with tips, trends, and reviews of all the best brands. Over 900,000 people have already found answers in a Yale guide.
Related Articles:
Why Should You Trust Us?
It seems that every appliance review has nothing but glowing comments about almost every product, yet you read customer reviews and they are almost universally bad.
We are here to fill in the disconnect. We'll give you the best features, and the drawbacks as well, including reliability based on over 37,000 calls performed by our service team just last year. Our goal is to give you ALL the information so you know what's right for you.
Please consider subscribing or adding to the conversation in the comments below. We appreciate you stopping by.
A Note About Pricing
Pricing on this blog is for reference only and may include time sensitive rebates. We make every attempt to provide accurate pricing at time of publishing. Please call the stores for most accurate price.