Wolf vs. Monogram Professional Dual Fuel Ranges
September 22nd, 2023 | 7 min. read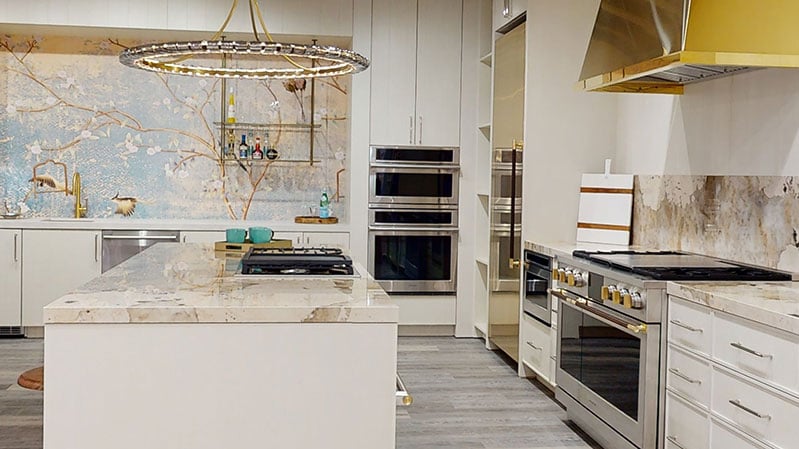 Comparing Monogram and Wolf dual fuel ranges is an interesting topic, especially at Yale.
In this article, we will compare the features of both ranges in a head-to-head comparison.
By the end, you will know which range is right for you.
Dual Fuel vs. All Gas Professional Ranges
This article exclusively features dual fuel ranges.
Most people think dual fuel is far better than gas, but that is not always true.
Electric heat is better for baking while gas heat is better for roasting. A gas broiler with infrared heat is better than electric ones.
As a result, choosing dual fuel or gas depends on whether you roast or bake more. However, most brands like Wolf and Monogram add better features to their dual fuel ranges.
Wolf's dual fuel range is a definite upgrade from their gas range with better burner output and a better convection system. Their dual fuel range also features the Wolf Gourmet guided cooking system and self-cleaning.
Read More: What's the Difference Between All Gas and Dual Fuel Professional Ranges?
Wolf Professional Dual Fuel Ranges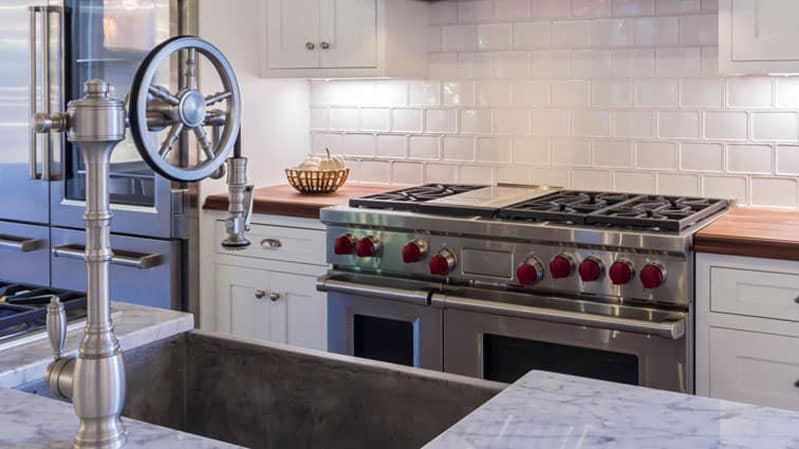 Wolf 48-Inch Pro Dual Fuel Range at Yale Appliance in Boston
Wolf was an independent commercial range manufacturer until their purchase by Sub-Zero over 20 years ago.
Sub-Zero and Wolf is the largest family-owned American manufacturer with factories in Wisconsin and Arizona.
Sub-Zero is popular with homeowners, architects, and designers and is arguably the best luxury appliance brand.
They were first with a lot of innovation in cooking and refrigeration, like their VertiFlow convection system and even counter depth and professional refrigeration.
Wolf Dual Fuel Models
Wolf has 13 dual-fuel professional range models.
Wolf offers one 30-inch, three 36-inch, six 48-inch, and three 60-inch dual fuel models.
Wolf Pro Range Burner Output
Wolf has one 20,000 BTU burner, 18,000 and 15,000 BTU burners, and a 9,200 BTU simmer burner.
Every burner can simmer as low as 300 BTU.
Wolf Grill and Griddle Stovetop Options
The maximum output of the infrared grill is 16,000 BTU, while the griddle can reach up to 15,000 BTU.
Wolf Oven Modes
Wolf's dual fuel ranges feature ten chef-created cooking modes, including Bake, Broil, Convection, Convection Roast, Dehydrate, Gourmet, Proof, Roast, Stone, and Warm.
Wolf Gourmet
The Wolf Gourmet guided cooking system allows you to input the food, the weight, and how you want the food cooked. The oven will calculate time, temperature, and recommend a rack position.
You can also choose from 50 preset recipes.
VertiFlow Convection System
Wolf was the best with twin convection, yet they changed to a blower-style convection years ago. Blowers deliver more heat than fans for faster and better results.
Wolf Oven Capacities:
30 Inch 5.1 cubic feet
36 inch 6.3 cubic feet
48 inch 5.1 cubic main/2.7 side
60 Inch 5.1 cubic/5.1 cubic
Wolf Price Ranges:
30 inch $8,245
36 inch $11,620-12,570
48 inch $15,380-17,930
60-inch $21,285-21,935
Read More: Should You Buy a Wolf Dual Fuel Pro Range?
Monogram Professional Dual Fuel Ranges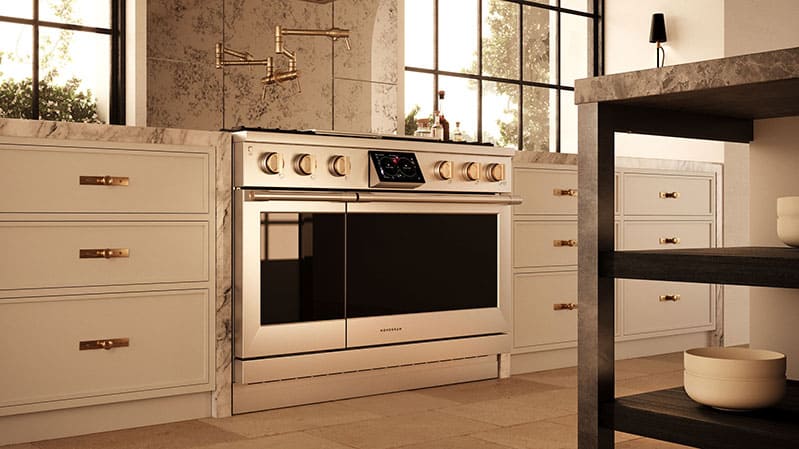 Monogram is now a division of Haier, a Chinese manufacturing company.
After years of being stuck in the GE conglomerate, Haier has improved every product line in its appliance portfolio, especially cooking.
Monogram now has some unique features and is still manufactured in the US.
Monogram Dual Fuel Models
Monogram offers one 30-inch, two 36-inch, and two 48-inch dual fuel ranges.
The differences between the two series in the 36 and 48-inch ranges are the stovetop configurations and the clock and timer functions.
Monogram Pro Range Burner Output
Burner outputs vary depending on the range. On the 48-inch range, there are two 23,000 BTU burners, two 18,000 BTU burners, and two 15,000 BTU burners.
Monogram Grill and Griddle Options
The infrared grill has an output of up to 14,000 BTU. Infrared heating elements are better because of their directed heat, while gas heating elements diffuse and spread heat.
The griddle is powerful with an output of 18,000 BTU.
Wi-Fi Enabled and Home Connectivity
Monogram dual fuel ranges have good smart functionality with ChefConnect and are compatible with Hestan Cue cookware.
Oven Modes
Monogram's dual fuel ranges feature the following oven modes:
Convection Bake Multi-Rack (Both Ovens)
Convection Broil Hi/Lo (Both Ovens)
Convection Crisp Convection Roast (Both Ovens)
No-Preheat Air Frying (Both Ovens)
Precision Cooking Modes Proof (Both Ovens)
Scan-to-Cook Warming (Both Ovens)
Monogram Oven Capacities:
48-inch 5.75/2.5 for 8.25 cubic feet
36 inch 5.75
30 inch 5.3 cubic feet
Monogram Price Ranges:
$6,800 for 30 inches
$10,400-$11,400 for a 36-inch
$14,000-$15,000 for a 48 inch
Wolf vs. Monogram Professional Dual Fuel Ranges
Aesthetics
I was watching a 20-minute video on Monogram to prepare for this post. It was from a retailer who spent 11 minutes talking about brass hardware as accents on the range.
Monogram has brass accents, while Wolf is known for its signature red knobs.
Aesthetics are only attractive if you like brass or red. It's up to you.
Understanding the functions and then looking at the aesthetics is important, especially in this case.
Both are stainless only, like JennAir, Miele, and Dacor ranges.
BlueStar has 1000 colors and ten trim options to choose from, allowing you to customize your appliance finish.
However, for Monogram and Wolf, you only have one choice: stainless steel.
Sizes
Wolf and Monogram are available in 30, 36, and 48-inch sizes.
However, Wolf has a wider selection with three 60-inch ranges, six 48-inch ranges, three 36-inch ranges, and one 30-inch range.
Monogram has two ranges for 48 and 36 inches and only one 30-inch range.
You also have French top and all burner models in the 48-inch size and any burner configuration with Wolf.
Stovetop Options
Wolf and Monogram have various stovetop options, such as grills, griddles, and all burner models.
Wolf vs. Monogram
Pro Range Grills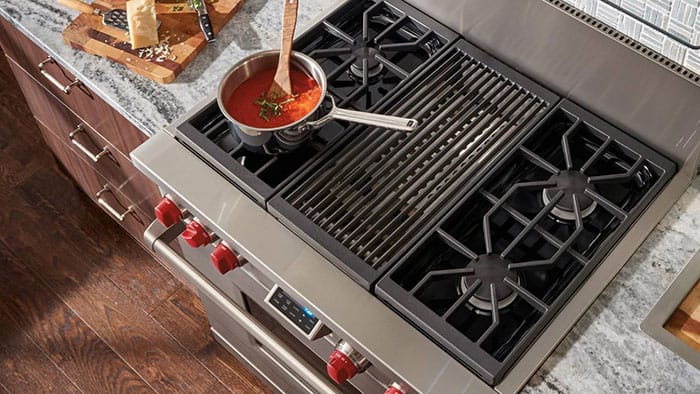 Wolf Pro Dual Fuel Range with a Grill
Both use an infrared burner. Infrared is much better for quick grilling and searing. It also burns off any residue for easier cleaning.
Wolf has a better output at 16,000 BTU compared to 14,000 BTU for the Monogram.
If you have a Lynx or Hestan outdoor BBQ grill, that "sear" burner is just a higher BTU infrared burner.
Wolf vs. Monogram Pro Range Griddles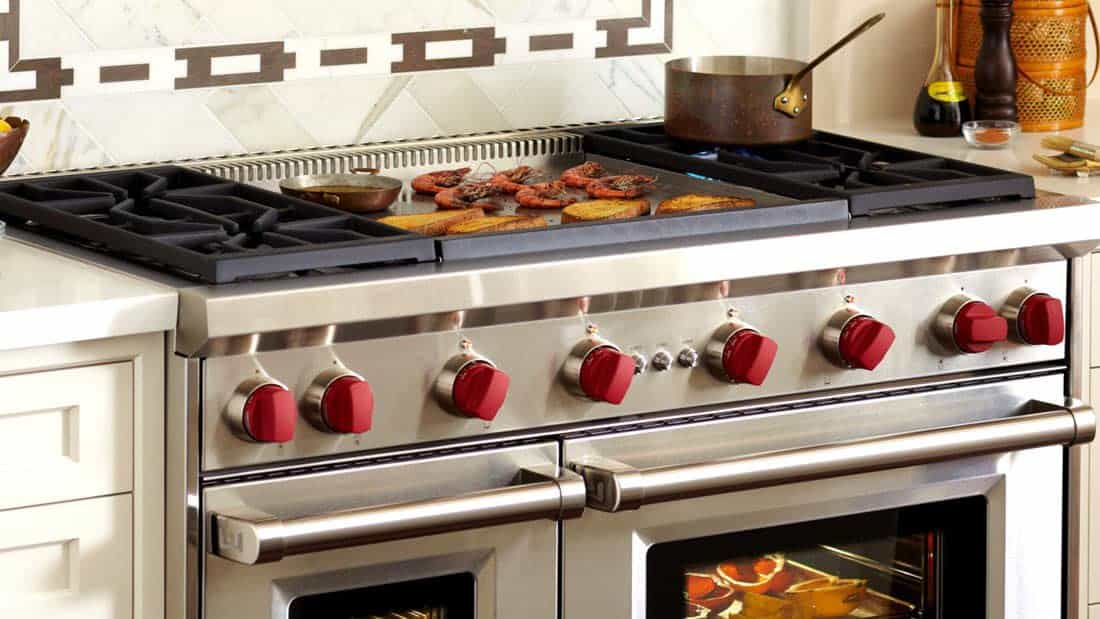 Wolf Pro Range Griddle
Wolf has an infrared griddle while Monogram has a U-shaped gas burner for their griddle. Infrared is more important on the grill but will heat the griddle faster with its intense, more directed heat.
That said, the Monogram has a higher output at 18,000 BTU compared to 15,000 BTU for the Wolf.
Wolf Pro Range French Top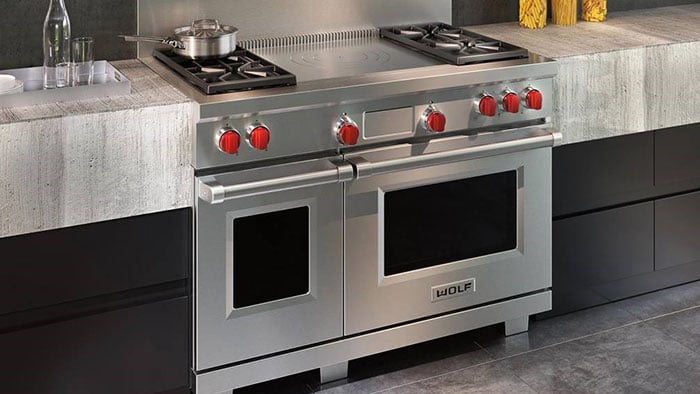 Wolf has a French top. It looks like a griddle but is used completely differently.
The griddle allows for consistent heat throughout the unit.
A French top has high heat in the middle and cooler temperatures towards the edges or outer rings.
You can cook a variety of foods at different temperatures on a French top, while a griddle only allows for cooking at a single, consistent temperature.
Lastly, you leave the food in the pots on a French top.
On a griddle the food is placed directly on the griddle.
Wolf vs. Monogram Burner Output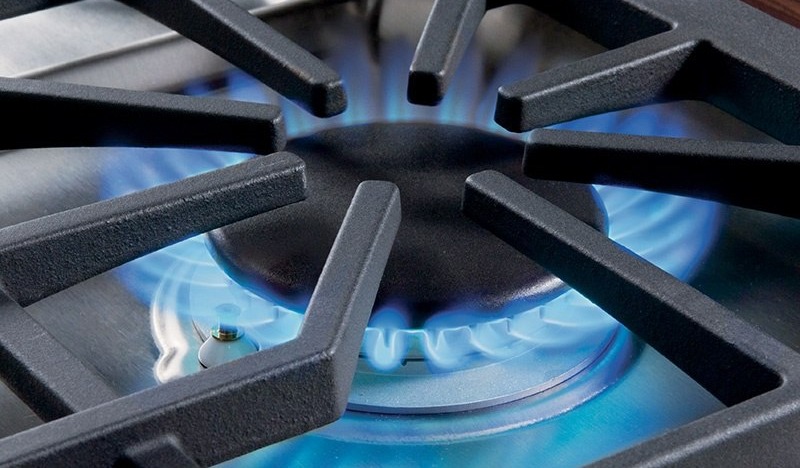 Wolf Pro Range Burner
Monogram has an excellent output with 23,000 and 21,000 BTU burners as well as two 18,000 and two 15,000 BTU burners.
Wolf will have one 20,000 BTU burner, two 18,000 BTU burners, two 15,000 BTU burners, and one 9,200 BTU burner.
Wolf has an excellent simmer with its three-stage burner. You have low temperatures of 300 BTU.
Monogram doesn't rate their burners in British Thermal Units. Like BlueStar, DCS, and others, they rate their burner at 140 degrees.
Oven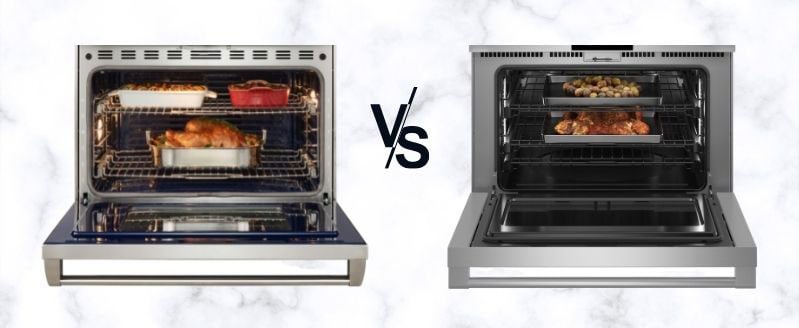 Wolf 36-Inch Dual Fuel Range Oven | Monogram 36-Inch Dual Fuel Range Oven
The Monogram has a straight single convection system or one fan circulating the heat.
Many brands have evolved into twin convection or two fans to spread the heat.
Wolf introduced the trend of using two fans for air circulation, but has now implemented blowers instead with their new VertiFlow Convection System for faster and more efficient air flow.
Oven Controls
Both have LCD screens. Monogram's control panel protrudes outward.
Wi-Fi and Smart Functionality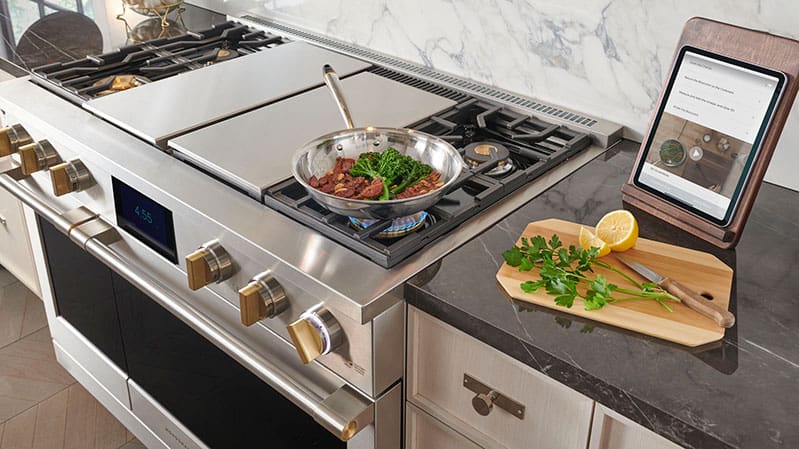 Monogram Pro Range with Smart HQ
You are finally starting to see the evolution of smart functionality with better features and usability.
Monogram is a pioneer with Wi-Fi.
Haier was smart, combining all the websites and brands, like GE, GE Profile, Café Appliances, and Monogram, into one Smart HQ platform.
Smart HQ allows you to remotely monitor and control your appliances, use voice integrations for hands-free commands, and receive notifications, service alerts, and software updates.
You can turn your oven on at the grocery store with a remote control.
With the notifications feature, you can receive alerts when your oven is done preheating or if you leave a door open.
Service and software alerts help to keep your appliances running smoothly.
Benefits of Monogram's Smart HQ
Monogram's software updates will include advanced features or modes that can be downloaded remotely.
The service aspect has potential as well.
In theory, Smart HQ will sense the problem in your stove and send the part and technician to your home before you know of the problem.
It would certainly make our life easier as a servicing dealer. Hopefully, it will happen within three years.
The recipe section allows you to download recipes and use the scan-to-cook feature.
Benefits of the Wolf Gourmet Guided Cooking System
Wolf has a newer Wi-Fi system along with their Wolf Gourmet guided cooking system.
With Wolf Gourmet, you input the food and how you want it cooked. The oven sets the time, temperature, and recommends the best rack position.
You even have 50 pre-programmed recipes in Wolf Gourmet as well.
Choosing between Monogram and Wolf depends on whether you desire an app-oriented experience or an auto-cooking system that recommends rack positions.
Wolf's Gourmet guided cooking system doesn't have the service bulletins or the ability to download more customized cooking modes of the Monogram.
Sub-Zero and Wolf are newer to Wi-Fi and app functionality.
Price
Monogram's dual fuel range is priced at $14,000-$15,000 with a $3,500 rebate for qualified purchases, while Wolf's dual fuel range costs an average of $17,200 with a $2,000 rebate for qualified Sub-Zero purchases.
The price is significantly more for a Wolf range by roughly $3,000.
Reliability
We do not have accurate service data on Monogram yet because the product is new at Yale.
Wolf is one of the industry's most reliable premium appliance manufacturers based on our internal service numbers.
Both are excellent with parts and service after the sale. They are the two best in service for premium brands, at least in Boston.
You should check in your area for service before you buy Wolf, Monogram, or any other appliance brand.
Read More: Most Reliable Appliance Brands
Wolf vs. Monogram Professional Dual Fuel Ranges: Key Takeaways
Both are good.
Monogram is decent with good output, excellent smart functionality, and is a reasonable price.
You should consider Monogram if you are mostly using the stovetop.
They offer fewer models and only a single convection oven, which is a downside.
Wolf is an excellent range with a good simmer burner and the best burner, grill, griddle, and French top assortment.
The oven is the best with blower-style convection and their Wolf Gourmet guided cooking system to make your life easier.
Wolf should be considered if you like using the grill, griddle, or French top. Its oven will bake the best. The only downside is the price.
So, do you buy a good range at a better price or the best range at a higher price?
Additional Resources
Get our free Pro Cooking Buying Guide for tips, trends, and reviews of all the best brands. Over 1 million people have already found answers in a Yale guide.
Related Articles:
Why Should You Trust Us?
It seems that every appliance review has nothing but glowing comments about almost every product, yet you read customer reviews and they are almost universally bad.
We are here to fill in the disconnect. We'll give you the best features, and the drawbacks as well, including reliability based on over 37,000 calls performed by our service team just last year. Our goal is to give you ALL the information so you know what's right for you.
Please consider subscribing or adding to the conversation in the comments below. We appreciate you stopping by.
Steve Sheinkopf is the third-generation CEO of Yale Appliance and a lifelong Bostonian. He has over 38 years of experience in the appliance industry, and he is a trusted source of information for consumers on how to buy and repair appliances.

Steve has also been featured in numerous publications, including the New York Times, Consumer Reports, The Boston Globe, Bloomberg Radio, the New York Post, The Wall Street Journal, and Entrepreneur, for his knowledge of how to buy appliances and appliance repair.

Steve is passionate about helping consumers find the best appliances for their needs, and he is always happy to answer questions and provide advice. He is a valuable resource for consumers who are looking for information on appliance buying, repair, and maintenance.

Despite being the worst goalie in history, Steve is a fan of the Bruins and college hockey, loves to read, and is a Peloton biker. The love of his life is his daughter, Sophie.
A Note About Pricing
Pricing on this blog is for reference only and may include time sensitive rebates. We make every attempt to provide accurate pricing at time of publishing. Please call the stores for most accurate price.