Wolf vs. Monogram Professional Dual Fuel Ranges
It was once easy to buy a professional range for your home.
You had a few similar-looking ranges and bought based on what the store probably had on hand.
Thirty years later, you have a wide assortment of colors, options, and features not originally available on the early professional ranges.
Wolf and Monogram have two new ranges in this new feature-laden group.
In this article, you will learn the features and differences of both ranges. You will also learn about their new smart technology.
By the end, you will know which range is right for you.
Dual Fuel vs. All Gas Professional Ranges
This article is dual fuel only. Most people think dual fuel is far better than gas, but that is not always the case.
Electric has dry heat and is better for baking. Gas has moist heat and is better for roasting. A gas broiler is also better than an electric one.
However, most brands add better features to their dual fuel ranges.
Read More: What's the Difference Between All Gas and Dual Fuel Professional Ranges?
Short on time? Get our free Pro Cooking Buying Guide
Wolf Professional Dual Fuel Ranges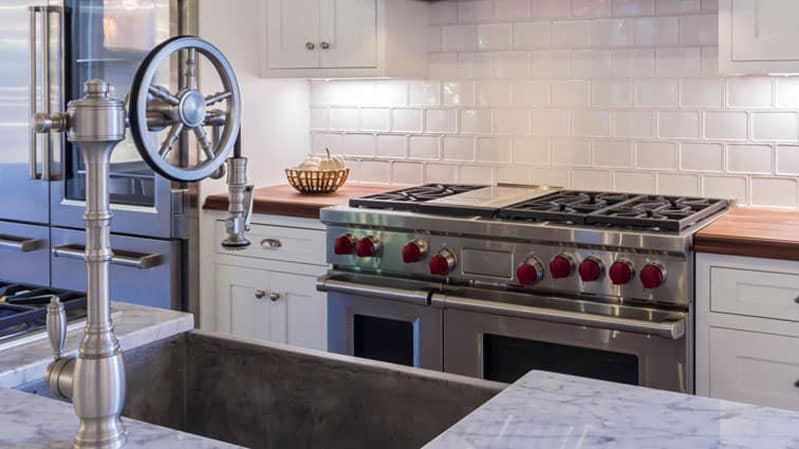 Wolf 48-Inch Pro Dual Fuel Range at Yale Appliance in Boston
Wolf was an independent commercial range manufacturer until their purchase by Sub-Zero 20 years ago.
Sub-Zero and Wolf is the largest family-owned American manufacturer and produces Wolf appliances in Wisconsin and Arizona.
From a marketing perspective, Sub-Zero has always been popular with homeowners, architects, and designers.
Only recently, we've started seeing Wolf appliances in larger developments.
Read More: Should You Buy a Wolf Dual Fuel Pro Range?
Monogram Professional Dual Fuel Ranges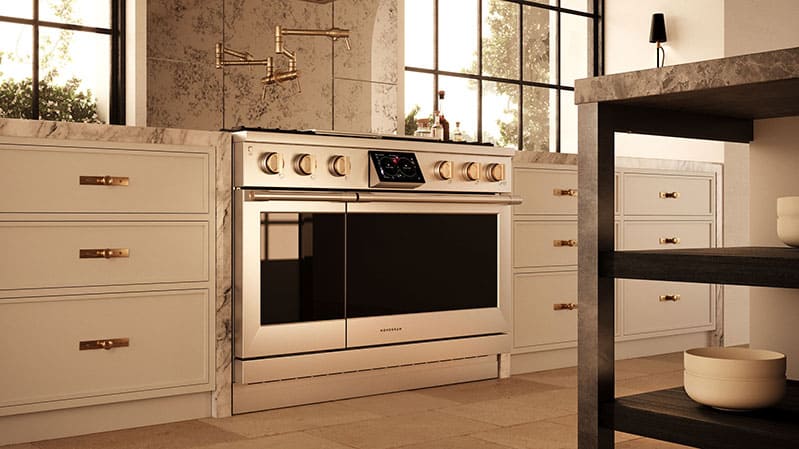 Monogram is now a division of Haier, a Chinese manufacturing company.
After years of being stuck in the GE conglomerate, Haier has improved every product line in its appliance portfolio.
Monogram is still made in the US.
Their positioning has always been with the builder first. Most of the larger builders have accounts from their long-term GE connections.
Monogram is also a less expensive option, so builders can offer a professional range and save $7,000-$10,000 per unit.
To be transparent, we do not sell Monogram.
Most of our company structure is service. We cannot sell every brand because it is impossible to provide good service with a large portfolio.
Monogram's pro dual fuel range is a good range, or I would not compare it to what is considered one of the best brands in the industry.
Wolf vs. Monogram Professional Dual Fuel Ranges
Aesthetics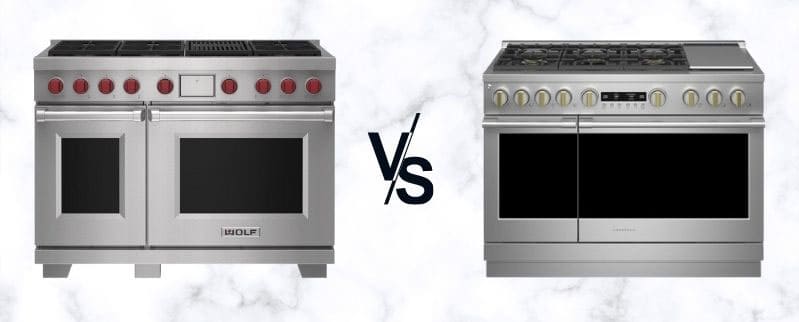 I was watching a 20-minute video on Monogram to prepare for this post. It was from a retailer who spent 11 minutes talking about brass accents.
Monogram has brass accents, while Wolf is known for its signature red knobs.
Aesthetics are only attractive if you like brass or red. It's up to you.
It's important to understand the functions and then look at the aesthetics, especially in this case.
Both are stainless only, like JennAir, Miele, and Dacor.
La Cornue, Viking, Hestan, and especially BlueStar have more custom color options if you are looking for a departure from stainless steel.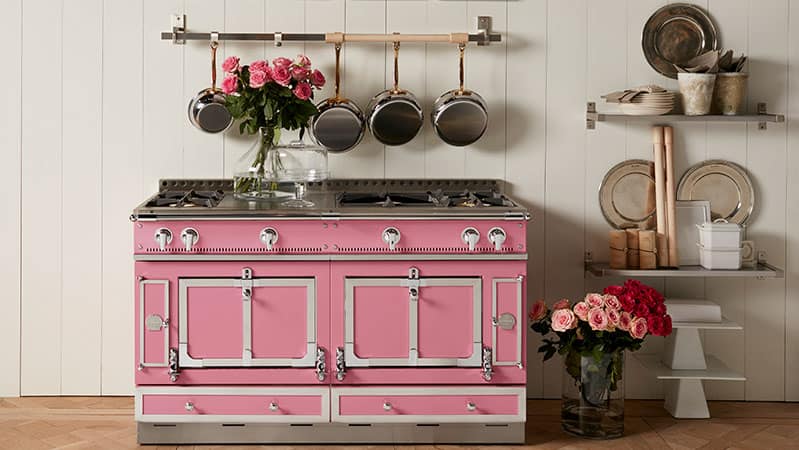 La Cornue Professional Range in Pink
BlueStar has 1000 colors and ten trims. Both La Cornue and BlueStar will allow you to customize your appliance finish.
However, for both Monogram and Wolf, you only have one choice: stainless steel.
Sizes
Both Wolf and Monogram are available in 30, 36, and 48-inch sizes.
However, Wolf has a wider selection with three 60-inch ranges, six 48-inch ranges, three 36-inch ranges, and one 30-inch range.
Monogram has two ranges for 48 and 36 inches and only one 30-inch.
Cooktop
Wolf and Monogram have a variety of stovetop options such as grills, griddles, and all burner models. Wolf has a select few more options such as a French top.
Wolf Dual Fuel Range Stovetop Options: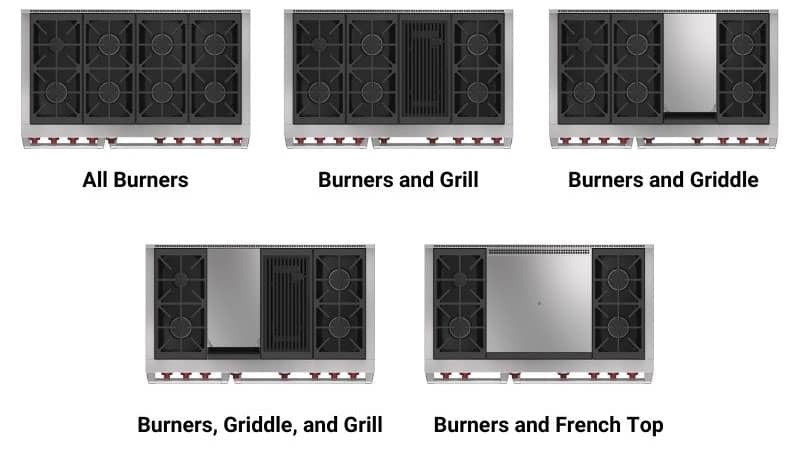 Monogram Dual Fuel Pro Range Stovetop Options: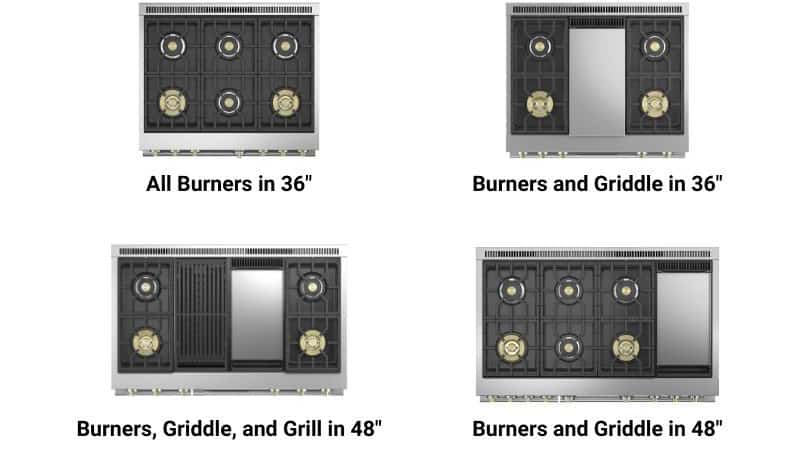 Wolf vs. Monogram
Pro Range Grills
Both use an infrared burner. Infrared is a directed heat and much better for quick grilling and searing. It also burns the drippings for easier cleaning.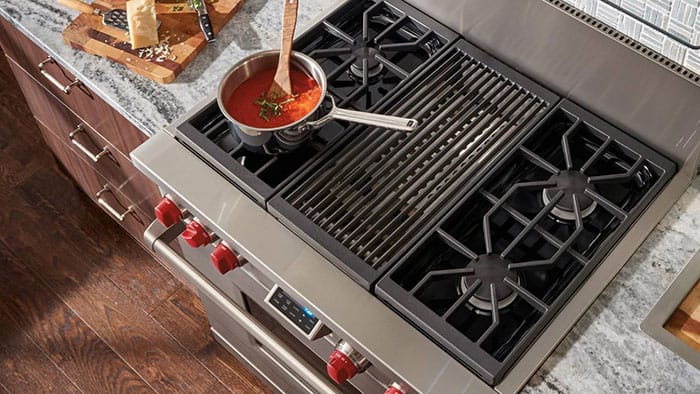 Wolf Pro Dual Fuel Range with a Grill
Wolf has a better output at 16,000 versus 14,000 for the Monogram.
If you have a Lynx or Hestan outdoor BBQ grill, that "sear" burner is just an infrared burner.
Wolf vs. Monogram Pro Range Griddles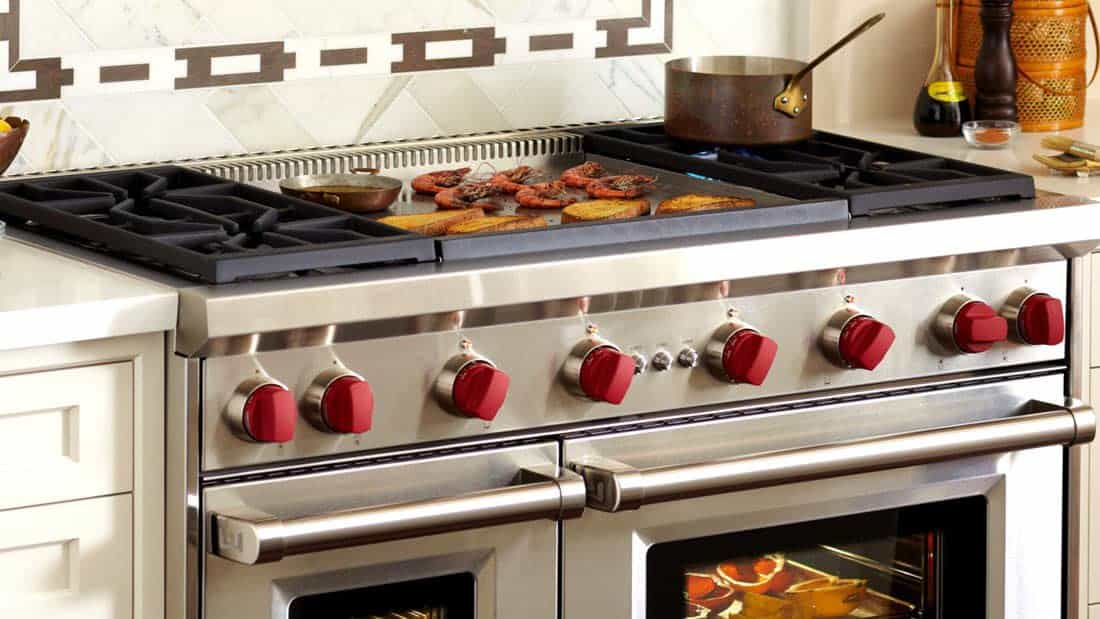 Wolf Pro Range Griddle
Wolf has the infrared versus a U-shaped gas burner for the Monogram. Infrared is more important on the grill, but it will heat the griddle faster with its intense, more directed heat.
Wolf Pro Range French Top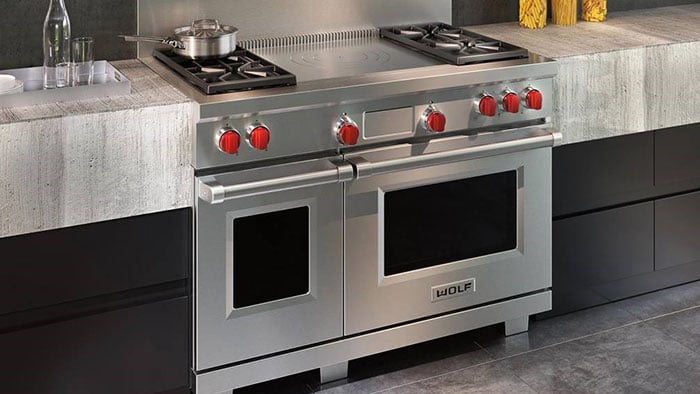 Wolf has a French top (shown above). It looks like a griddle but is used completely differently.
The griddle allows for consistent heat throughout the unit.
A French top has heat in the middle, with varying, cooler temperatures from the center.
You can cook many foods at different temperatures on a French top versus the one consistent temperature of a griddle.
Lastly, you leave the food in the pots on a French top.
On a griddle, the food is placed directly on the griddle.
Burners
Monogram has excellent output with a 23,000 and 21,000 BTU burner as well as two 18,000 and two 15,000 BTU burners.
Wolf will have one 20,000 BTU burner, two 18,000BTU burners, two 15,000 BTU burners, and one 9,200 BTU burner.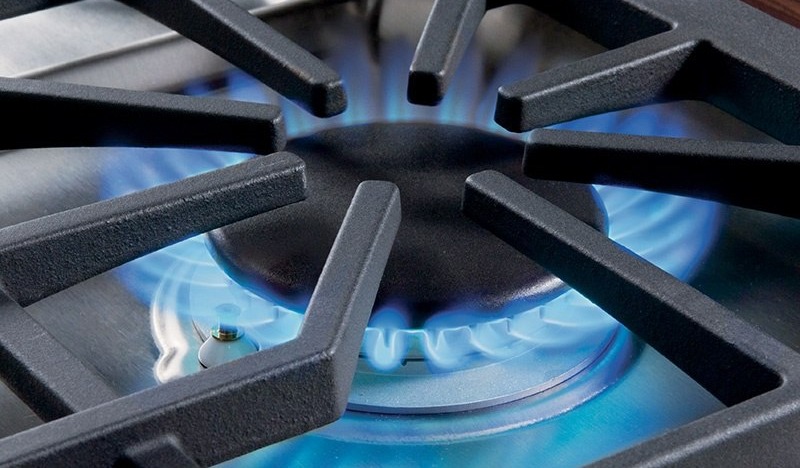 Wolf Pro Range Burner
Wolf has an excellent simmer with its three-stage burner. You have low temperatures of 300 BTU.
Monogram doesn't rate their burners with a BTU. Like BlueStar, DCS, and others, they rate their burner at 140 degrees.
Oven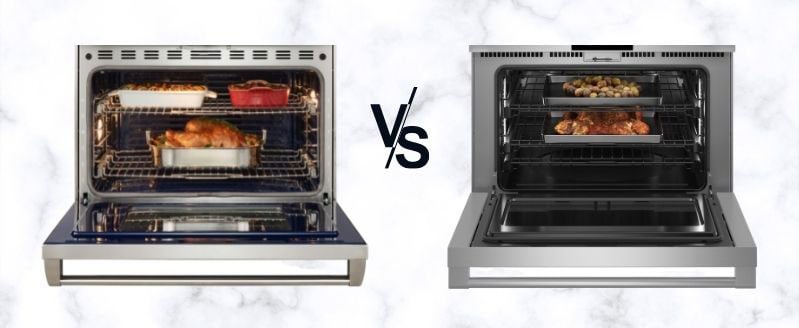 Wolf 36-Inch Dual Fuel Range Oven | Monogram 36-Inch Dual Fuel Range Oven
Monogram has straight single convection or one fan circulating the heat.
Many brands have evolved into twin convection or two fans to spread the heat.
Wolf started the two-fan trend but now uses blowers instead of fans to spread a higher air volume faster with their VertiCross Convection System.
Controls
Both have LCD screens. Monogram articulates or protrudes outward slightly.
Wi-Fi and Smart Functionality
You are finally starting to see the evolution of Smart functionality with better features and usability.
Monogram has been a pioneer with Wi-Fi. They were one of the first companies.
Haier was smart, combining all the websites and brands like Café Appliances, Monogram, and Fisher & Paykel into one platform called Smart HQ.
The Smart HQ allows you to monitor and control your appliances remotely, use voice integrations for hands-free commands as well as receive notifications, service alerts, and software updates.
With remote control, you can do things like turning your oven on while at the grocery store.
With the notifications feature, you can receive alerts when your oven is done preheating or if you left a door open.
Service and software alerts help to keep your appliances running smoothly.
3 Main Benefits to Smart HQ: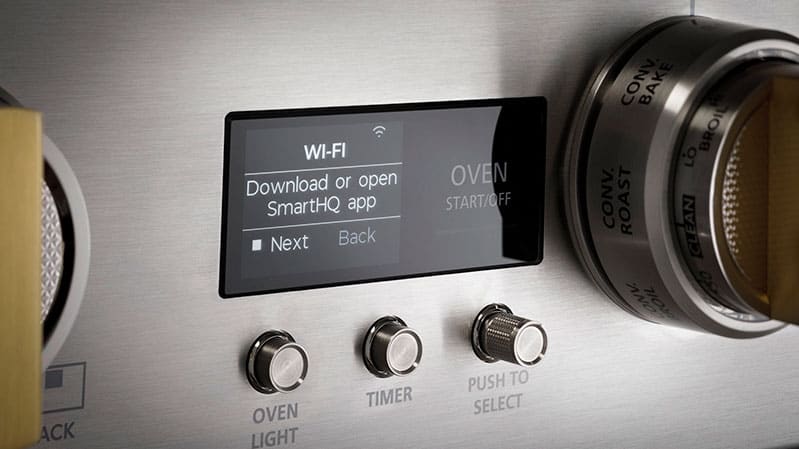 Monogram SmartHQ Controls on a Professional Dual Fuel Range
A few more advanced features are the software updates, so GE will download special cycles remotely like Air Fry.
The service aspect has potential as well. In theory, Smart HQ will sense the problem in your stove and send the part and technician to your home before you know of the problem.
It would certainly make our life easier as a servicing dealers. It won't happen now but certainly within five years.
The recipe section will also enhance your cooking. You can download the recipe into the range, and the range will cook the food.
Wolf Gourmet Mode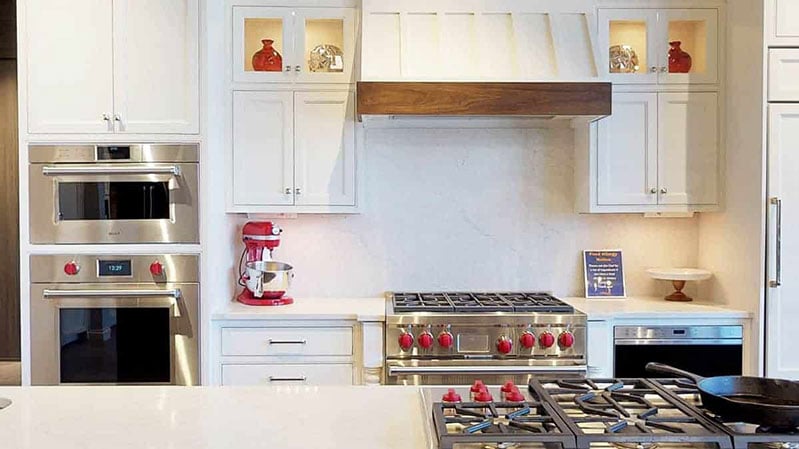 Wolf Professional Dual Fuel Range and Wall Ovens at Yale Appliance in Framingham
Wolf has a new Wi-Fi system along with their Wolf Gourmet settings.
With Wolf Gourmet, you input the food and how you want it cooked. The oven sets the time, temperature, and even rack position.
You even have 50 pre-programmed recipes in the Wolf Gourmet as well.
So much of Monogram's functionality is already in the Wolf range.
The Wolf Gourmet auto cooking feature is more intuitive and shows the rack position, which the Smart HQ does not (yet).
Like Monogram, Sub-Zero combined Wolf, Cove (their dishwasher line), and Sub-Zero.
From the App store:
"Enhance your Sub-Zero, Wolf, and Cove experience. The Sub-Zero Group Owner's App enables users to connect to select Sub-Zero refrigerators, Wolf wall ovens, and Cove dishwashers. Select cooking modes, monitor meals remotely set dishwasher cycles, receive timely notifications, and more."
It doesn't have the recipes, service bulletins, or the ability to download more customized cooking modes of the Monogram.
Sub-Zero and Wolf is new to Wi-Fi and app functionality.
Price
The 48-inch dual GE monogram is $14,000 plus a rebate of $1,500 versus Wolf at an average of about $15,600.
The price is significantly more for a Wolf by roughly $3,000.
Reliability
We do not sell Monogram and do not have any history with the company.
Wolf is one of the most reliable premium appliance manufacturers in the industry based on our internal service numbers.
Both are excellent with parts and even service techs after the sale.
They are the two best in service for premium brands, at least in the Boston area.
You should check in your area for service before you buy Wolf, Monogram, or any appliance.
Read More: Most Reliable Appliance Brands
Wolf vs. Monogram Professional Dual Fuel Ranges: Key Takeaways
Both are good.
Monogram is decent with good output, excellent Smart functionality, and a reasonable price.
You should consider Monogram if you are using mostly just the burners.
They don't have as many models, and the oven is only single convection as a downside.
Wolf is an excellent range with a good simmer and the best burner, grill, griddle, and French top assortment.
The oven is the best with blower-style convection along with their Wolf Gourmet to make your life easier.
Wolf should be considered if you like using the grill, griddle, or French top. Its oven will bake the best.
The only downside is the price.
So do you buy a good range at a better price or the best range at a higher price?
Additional Resources
Get our free Pro Cooking Buying Guide for tips, trends, and reviews of all the best brands. Over 1 million people have already found answers in a Yale guide.
Related Articles:
Why Should You Trust Us?
It seems that every appliance review has nothing but glowing comments about almost every product, yet you read customer reviews and they are almost universally bad.
We are here to fill in the disconnect. We'll give you the best features, and the drawbacks as well, including reliability based on over 37,000 calls performed by our service team just last year. Our goal is to give you ALL the information so you know what's right for you.
Please consider subscribing or adding to the conversation in the comments below. We appreciate you stopping by.
A Note About Pricing
Pricing on this blog is for reference only and may include time sensitive rebates. We make every attempt to provide accurate pricing at time of publishing. Please call the stores for most accurate price.