Best 36-Inch Professional Ranges (2023 Update)
March 31st, 2023 | 13 min. read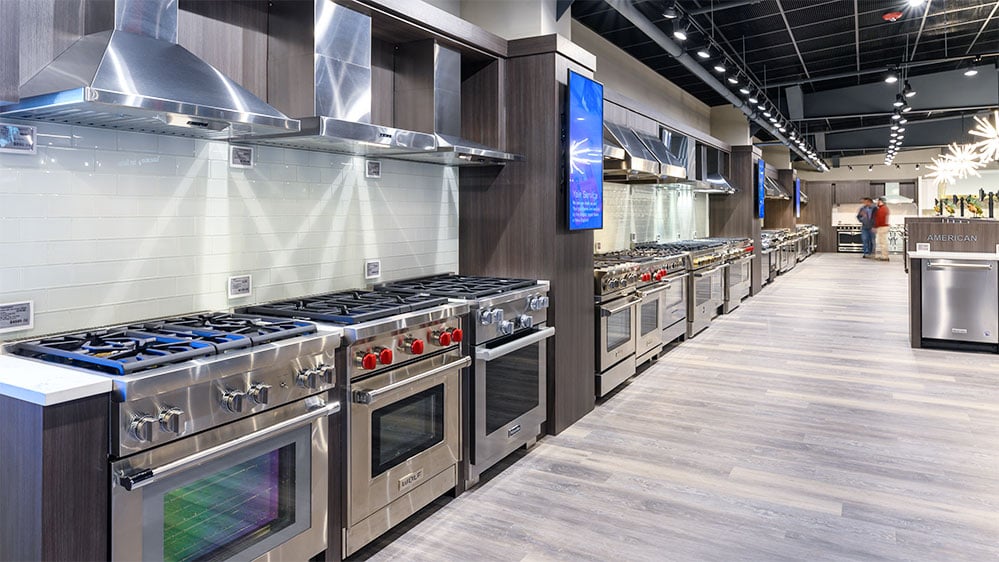 Our top picks for 2023:
Your key takeaway: No brand dominates every feature.
Why it matters: The best brand for you is determined by how you cook.
Finding the right 36-inch pro range can be overwhelming.
With so many options to choose from, it's no surprise that many people end up regretting their purchase. When I was a salesperson 25 years ago, I could often sense people's anxiety about not wanting to buy the wrong range.
Contrary to what manufacturers and other websites may claim, there is no one-size-fits-all solution when it comes to pro ranges.
The best range for you and your family will depend on your unique cooking habits and needs.
In this article, you'll learn about the differences between gas and dual fuel ranges, the importance of reliability and features, and the best brands to consider.
By the end, you'll have a clear understanding of what type of range will suit you best.
Let's get started.
Best 36-Inch Professional Ranges for 2023
In this section, we'll look at the best professional gas and dual fuel ranges from Wolf, Thermador, Miele, SKS, BlueStar, La Cornue, and Fisher & Paykel. We'll cover each brand's most notable features and several problems.
Whether you're a home cook or a professional chef, our analysis of these top-rated ranges will help you choose the right range for your kitchen.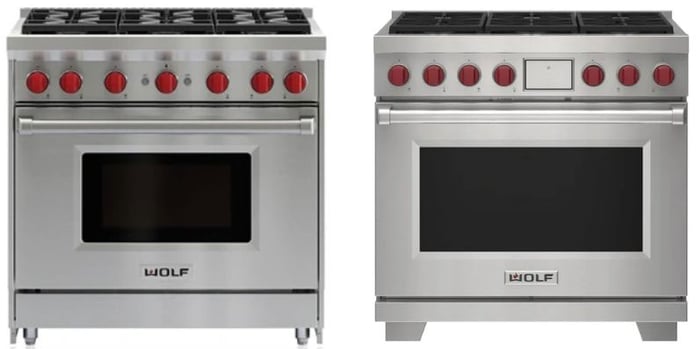 Wolf is a premium appliance brand, owned by Sub-Zero. Wolf is most well-known for its red knobs and dual-stack burners.
Wolf's professional gas and dual fuel ranges are reliable, and they have one of the best service networks available.
Let's look at Wolf's best features.
Burners and Cooking Capabilities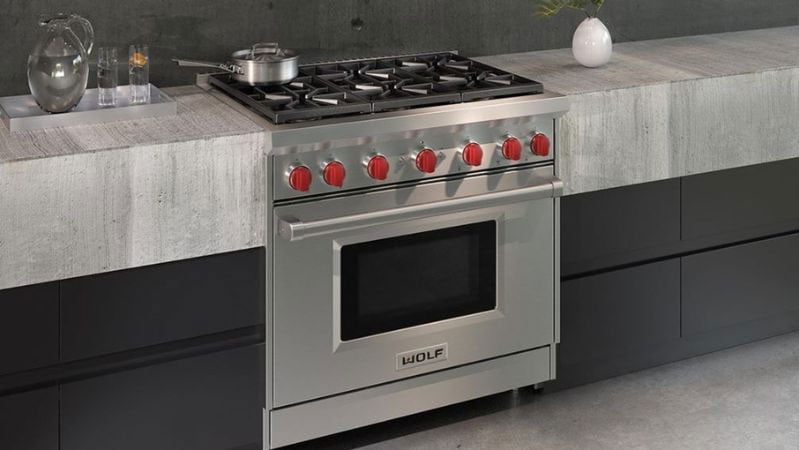 Every burner on Wolf's ranges can simmer exceptionally well. Wolf's infrared broiler, griddle, and grill are the best on this list.
In terms of burners, Wolf's dual fuel range has 20,000 and 18,000 BTU burners, while the all-gas GR series features 15,000 BTU burners.
Wolf Dual Fuel vs. All Gas Ranges
Wolf's ranges differ beyond just the grill and griddle. The dual fuel range features a 7-inch control screen, Wi-Fi technology, and a higher-level convection system known as "VertiCross."
Wolf's VertiCross convection system, first featured in Wolf's wall ovens, moves air faster and more evenly than fans for more even heat distribution.
The all-gas range, on the other hand, only has single convection and no control screen.
Wolf Gourmet
The Wolf Gourmet feature allows you to input the food and weight, and the oven will calculate the necessary time, temperature, and rack position for the best cooking results.
Wolf Pro Range Problems
While Wolf's dual fuel range offers a great combination of features, including high output, a grill and griddle option, and the best convection system, the all-gas range's output at 15,000 BTU per burner is slightly less than other pro ranges.
Additionally, Wolf's ranges are only available in stainless steel and have a lead time of 10-16 months.
Read More: Are Wolf Professional Ranges Worth the Money?

Thermador, a premium appliance brand owned by Bosch, offers two styles of gas ranges: the Pro Grand Series and the Harmony Series.
They are best known for their star-shaped burners, which provide better pan coverage, and for offering great packages with free dishwashers and hoods with qualifying purchases.
Unlike other brands, there isn't much difference between Thermador's all gas and dual fuel ranges, except for the fact that gas is better for roasting and broiling, while electric is better for baking.
Pro Harmony vs. Pro Grand Series Ranges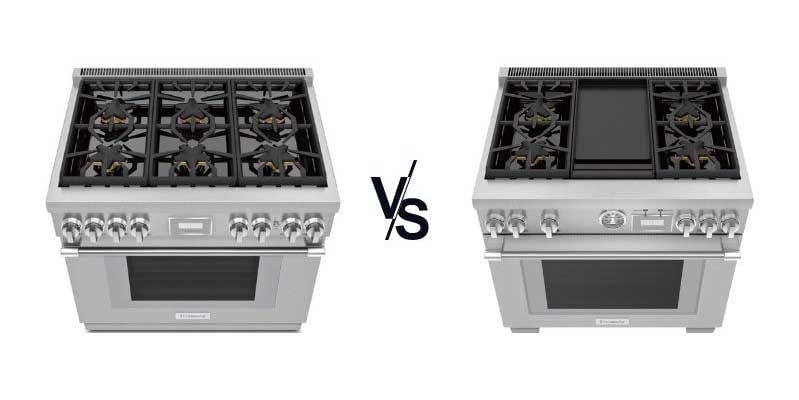 The Pro Grand series has several additional features compared to the Harmony series. It includes a clock, a 22,000 BTU burner (compared to 18,000 in the Harmony), a proof (low temperature) mode for baking bread, and a bigger oven based on depth.
You can choose to add an induction set of burners to the Pro Grand, which is the best option for simmering and speed.
Induction is also easier to vent and clean, especially for Massachusetts residents.
The Thermador Pro Grand gas range is self-cleaning, but it is also more expensive, costing about $1,500-$2,000 more than the Pro Harmony.
The Pro Grand protrudes by 3 inches, which is why the Harmony series is more popular as it sits flush in the cabinet.
Star Burners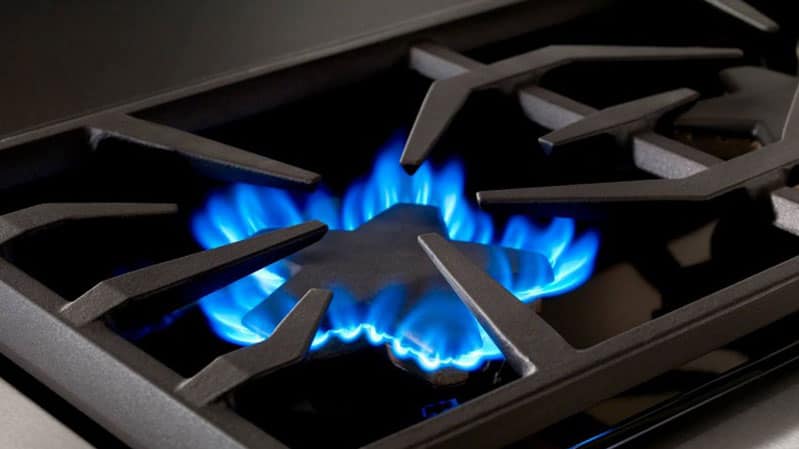 Thermador's signature Star Burner is designed with a unique shape that offers better pan coverage and easier cleaning.
The simmer burner on the gas range delivers 100 BTUs, but it's only available on two burners and has an on/off setting. In comparison, Wolf's simmer burner is continuous and hotter.
Wi-Fi
Thermador's range comes equipped with Wi-Fi capabilities. You can control your range from an app on your phone, which also allows you to access recipes and adjust the temperature remotely.
Thermador Pro Range Problems
Thermador Pro Ranges have some limitations to be aware of before making a purchase despite being the most affordable on this list.
The electric griddle takes some time to reach temperature, but once it does, it functions decently.
However, the electric grill doesn't have the output to sear like an infrared, and it can be challenging to clean.
The Pro Grand model comes with a basic clock, but the Harmony model has no clock or timer function.
Additionally, Thermador uses an older single convection system, while competitors like Miele offer a twin convection system and BlueStar has a pure convection system in their Platinum series.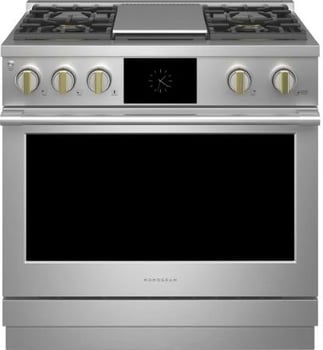 The Monogram professional ranges are an intriguing option if you're looking for a high-quality range.
Monogram's SmartHQ app has the best functionality and incorporates Hestan Cue technology to guide you through cooking new recipes step-by-step.
These ranges come in two models: all burners and four burners with griddle, both designed to cater to your specific cooking needs.
Burner Output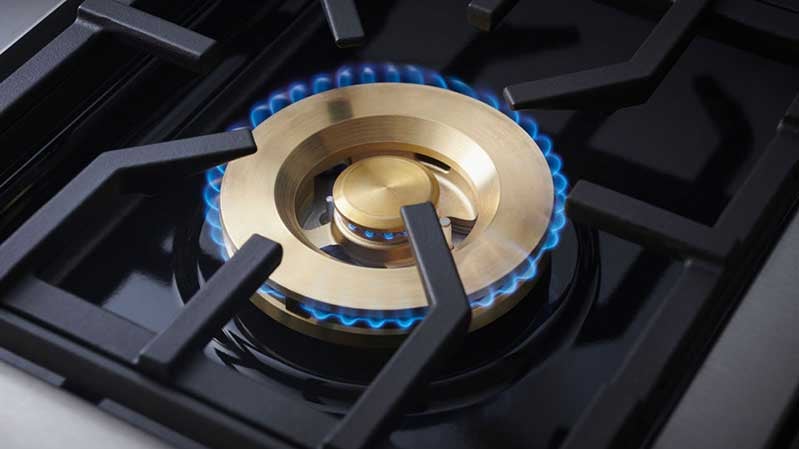 Brass burners are a guarantee of longevity, and only La Cornue offers them at a steep price of $40,000 and above.
This range's burners produce a high output, ranging from 23,000 BTU to 15,000 BTU.
One option to consider is the ZGP366NTSS, which provides a slightly lower burner output at 18,000 BTU but is still a powerful and more affordable option compared to other models.
Griddle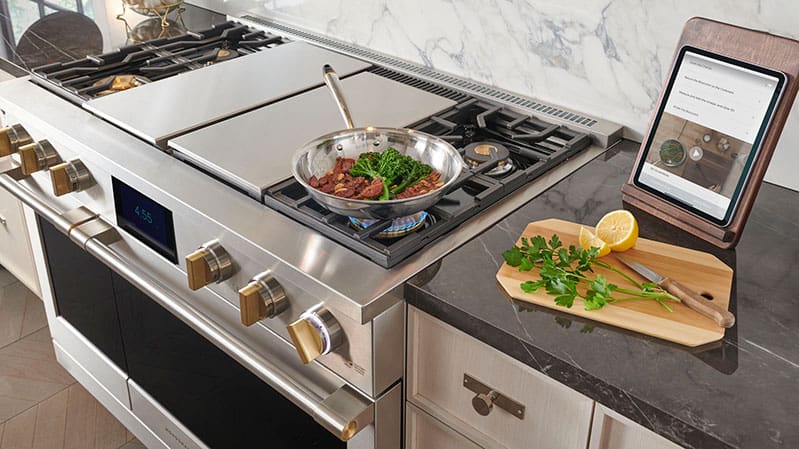 In addition to its high burner output, this range also has a powerful griddle with an output of 18,000 BTU.
Monogram Problems
Unfortunately, this range lacks the option for a grill and comes in a single convection oven without any color variations.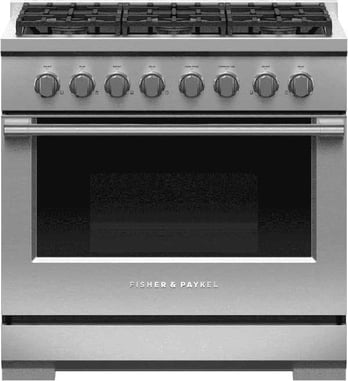 Fisher & Paykel is a division of Haier, known for turning around GE in recent years. The company's 36-inch ranges have also undergone updates to keep pace with changing consumer preferences.
Powerful Burner Output
The best feature of Fisher & Paykel ranges is their burner output. This range includes two 23,500 BTU sealed burners and four 18,500 BTU burners, providing ample heat for all cooking needs.
Dual Fuel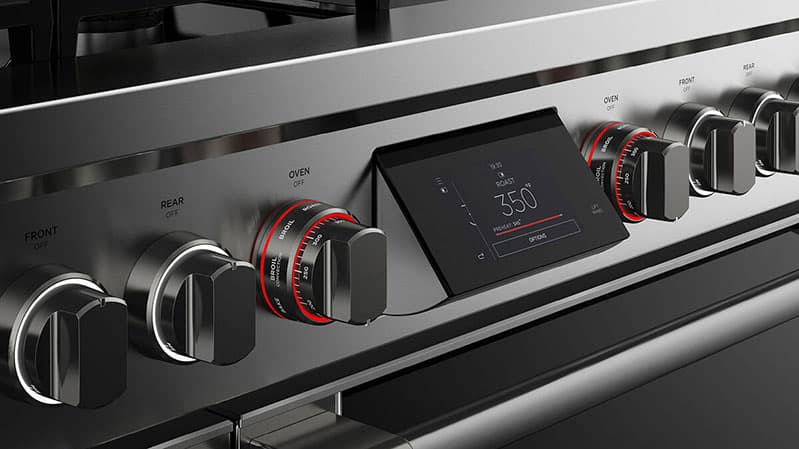 The dual fuel model includes a clock and Wi-Fi capabilities, allowing users to monitor and control the range remotely.
Fisher & Paykel Pro Range Problems
If you're someone who loves to cook large meals and frequently entertain guests, Fisher & Paykel's range with a smaller oven capacity of 5.3 cubic feet may not be the best fit for you.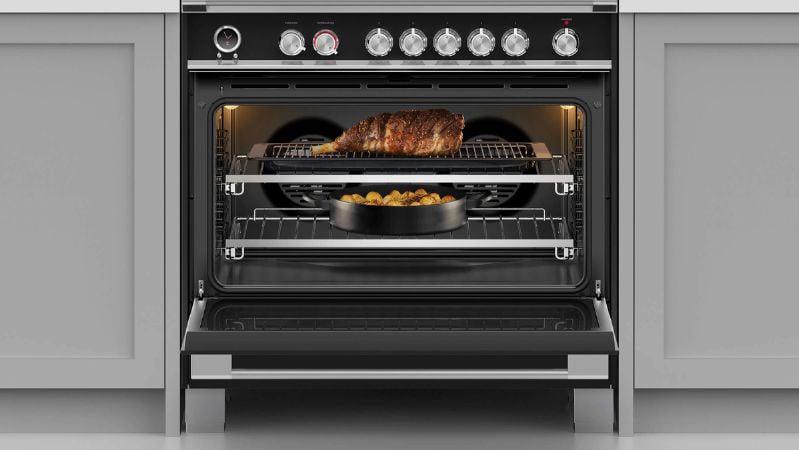 Another disadvantage of Fisher & Paykel ranges is the lack of grill or griddle capability. This may be a deal breaker if you like the unique flavors and textures achieved through grilling.
The controls on Fisher & Paykel gas ranges are relatively basic, lacking the advanced features found in other high-end ranges.
This may not be an issue for those who prefer a more straightforward cooking experience, but it may be a drawback for those who demand more control over their cooking.
Signature Kitchen Suite (SKS) SKSDR360SIS
SKS (Signature Kitchen Suite) is the premium division of LG, offering five 36-inch pro ranges, including three dual fuel and one gas range.
Burner Output and Stovetop Options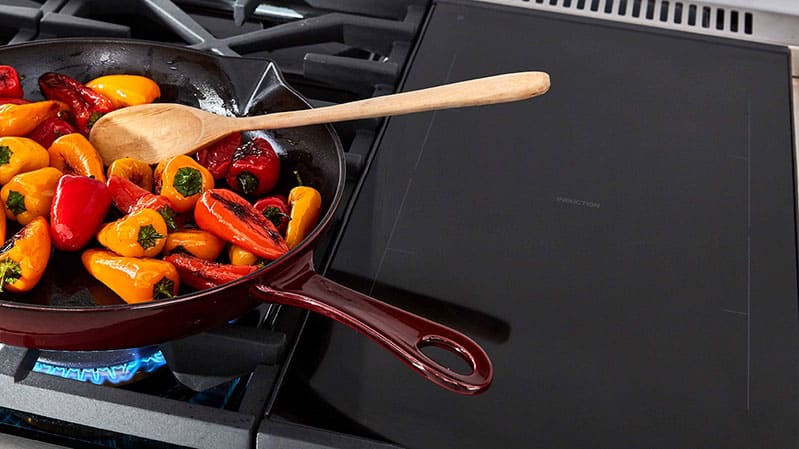 The SKSDR360SIS is an excellent range to consider, especially if you live in Massachusetts. It features burners with 18,000 BTU output and a low of 100 BTU. For non-sous vide ranges, the maximum output is 23,000 BTU.
It also has a two-zone induction burner on the other side, providing faster boiling and even better simmering. The range includes sous vide, a precision boiling technique through water immersion.
Make-Up Air Compatible
The range is also make-up air compatible, so you don't have to plan for a make-up air vent through your HVAC system.
Griddle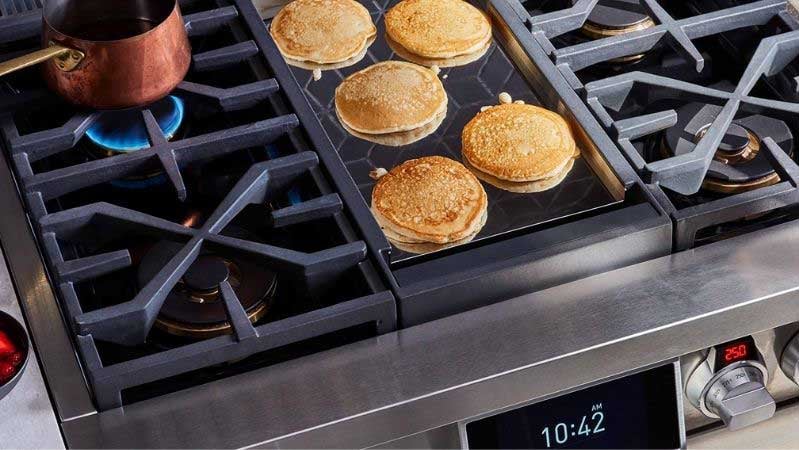 The griddle is the easiest to clean, and the oven has a capacity of 6.3 cubic feet with a 23,000 BTU pure convection element.
Combi Steam Oven
The oven also features a Combi Steam function that allows you to cook by convection steam, which is a healthier way to cook by adding moisture.
Build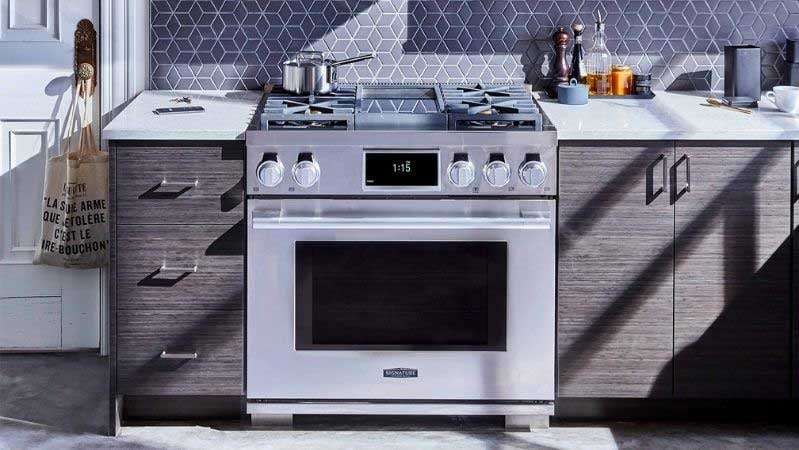 SKS markets itself as the range for the "Technician," with an advanced clock and timer and LG's ThinQ Wi-Fi package.
The SKS pro range is an excellent combination of output with 23,000 BTU burners and a good simmer, along with the largest oven capacity.
Warranty
SKS also provides the best warranty of three years, with no longer than a five-day wait for service.
SKS Pro Range Problems
However, the SKS range does have some drawbacks. For instance, you cannot buy a grill for your stovetop with the SKS, and the sous vide feature may not be useful to everyone.
Additionally, it might be challenging for SKS to fulfill its service claims.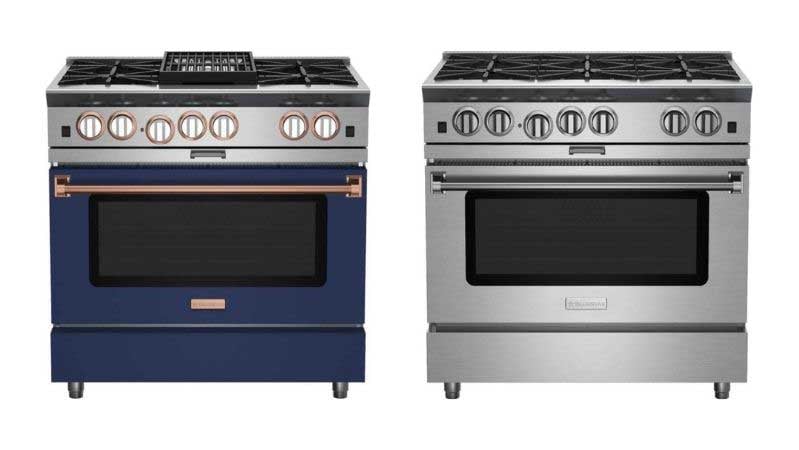 BlueStar is a rapidly growing luxury appliance brand that offers a wide range of 36-inch ranges. Their top two gas ranges, the Platinum and RNB series, are the most popular options, and they share a similar appearance.
However, their new dual fuel range is the most intriguing.
Burners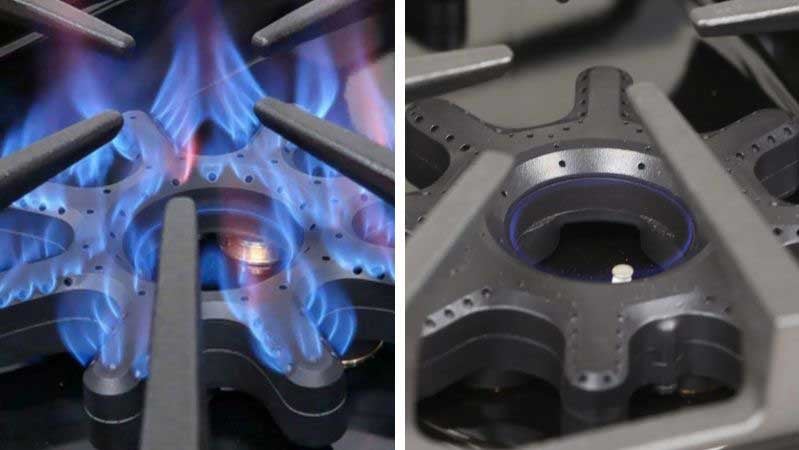 The new range features three sealed 25,000 BTU gas burners, and the back burners are still impressive at 18,000 BTU.
The X8 burner spreads out 20 inches with 152 ports, providing superior heat distribution compared to other gas ranges.
Controls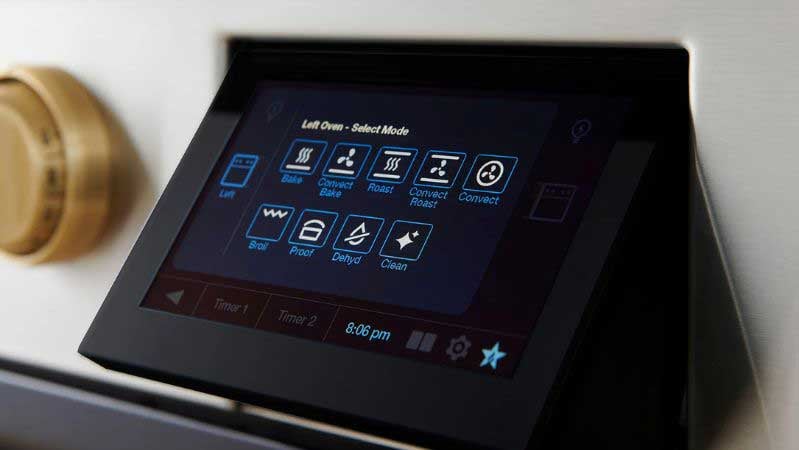 BlueStar now offers controls with a 7-inch touchscreen and eight different cooking modes.
Customization
With over 1,000 colors and ten trim options, BlueStar's ranges can be customized to fit any kitchen decor.
Customers who do not like the available color options can create a unique range to match their preferences.
Oven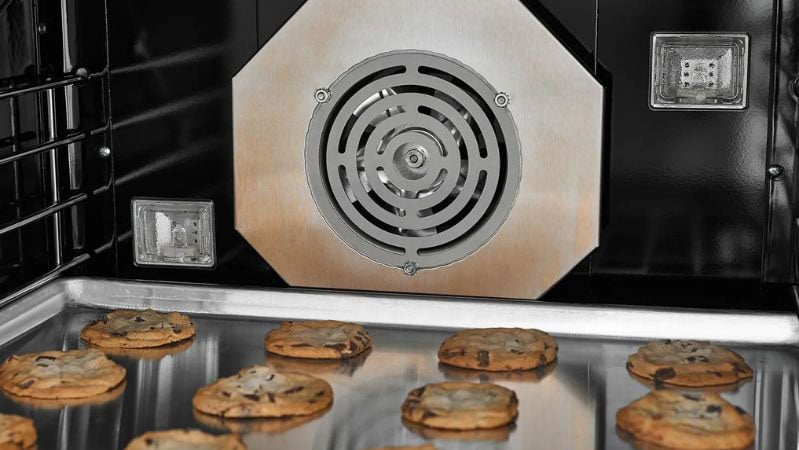 The ovens in BlueStar ranges are pure convection gas and dual fuel, ensuring even temperature distribution with air blown in from the rear. Only SKS and BlueStar offer pure gas options.
All BlueStar ovens can fit an 18-26-inch sheet pan, providing ample space for cooking large meals.
BlueStar Platinum vs. RNB Series Ranges
The all-gas models in these series feature regular open burners. The BlueStar Platinum is more powerful, with a maximum output of 25,000 BTU compared to 22,000 BTU for the RNB.
The RNB includes an integrated grill and griddle, while the Platinum offers a freestanding option. Built-in grills and griddles generally offer more even temperatures than portable options.
BlueStar Pro Range Problems
While their dual fuel range offers impressive output, it is only available in all burners or four burners and a griddle. The grill and griddle use regular gas instead of infrared, resulting in less direct and intense heat.
The broiler is advertised as reaching 1850 degrees, but its actual BTU is only 15,000 BTU.
In comparison, other brands average around 20,000 BTU, with Miele offering the highest at 23,000 BTU. BlueStar ranges also do not offer Wi-Fi technology.
Read More: Best BlueStar Professional Ranges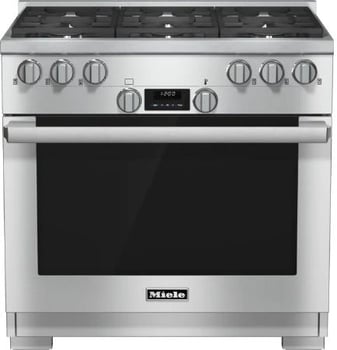 Miele is a well-respected, family-owned appliance company from Germany.
Control System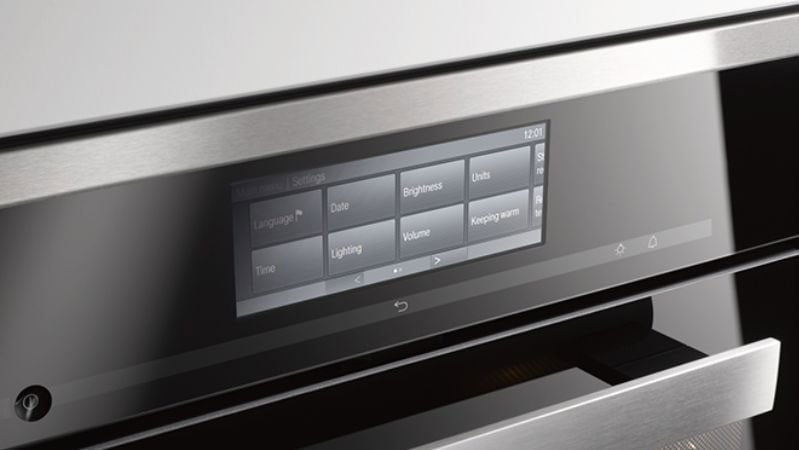 The M touch control system, available in their dual fuel range, is the most advanced on this list.
Like Wolf, the system calculates time and temperature based on the food type and cooking preference, making meal prep a breeze.
Steam Assist
The range also features a useful Steam Assist feature, which includes up to three bursts of steam and 17 automatic bread recipes on the controls.
Oven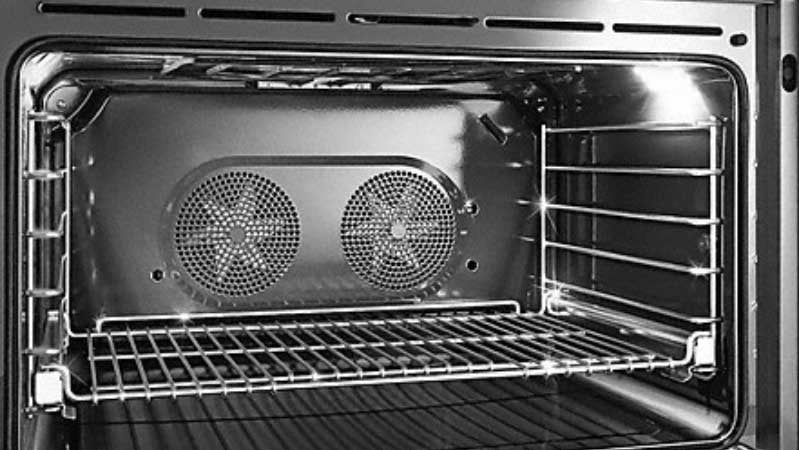 In addition, both dual fuel and all gas models have twin convection. Miele's gas range also has the hottest infrared broiler at 23,000 BTU.
Cleanability
Cleaning Miele's range is hassle-free, as the grates and racks are designed to be easily washable. You can even put them in your dishwasher, and the racks can remain in the oven during the self-cleaning cycle, saving you time and effort.
Burners and Stovetop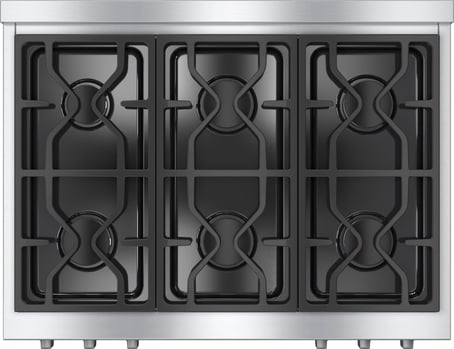 The stovetop features burners that provide up to 19,500 BTU of heat output. Miele also offers the option of having a high-output infrared grill and griddle.
Miele Pro Range Problems
While the 19,500 BTU burner is impressive, some of Miele's other burners are less powerful, with outputs of 9,000 and 8,000 BTU. Additionally, Miele's range is not available in color.
La Cornue Le Château 90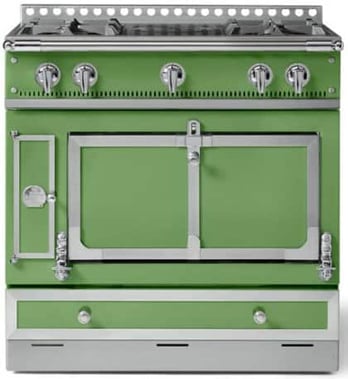 If you equate the best professional range with the best range, then La Cornue could be a consideration. La Cornue is French-made but American-owned.
Customizable Stovetop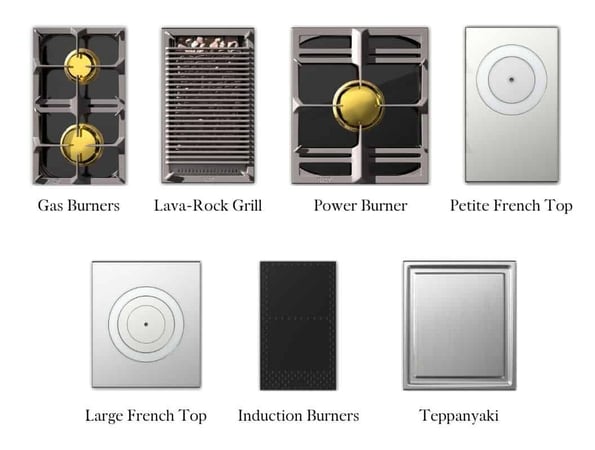 With La Cornue, you can customize your range to fit your cooking preferences.
You can choose from several stovetop configurations, including a grill, griddle, French top, or induction burners.
Oven
The oven is exceptional and features natural convection. The air is introduced at the bottom of the range and keeps a consistent temperature without fans. The arched top better distributes the air.
You can choose between electric or gas, and larger La Cornue ranges offer both options.
Colors
La Cornue offers a vast range of colors and trims, totaling 56 colors and eight trims, so the range is like an heirloom that is as beautiful as it is functional.
La Cornue Pro Range Problems
While La Cornue's range is one of the best on the market, it comes with a steep price tag of over $40,000 plus shipping from France.
It also doesn't offer any technology, not even clocks or timers.
Which 36-Inch Professional Range Should You Buy?
Now that we've explored the pros and cons of various professional ranges, let's look at which range best fits your specific cooking style and preferences.
Let's dive in.
Best for Style and Color: BlueStar and La Cornue
BlueStar is the clear winner due to the endless custom color and trim combinations you can choose. You can design your range to be truly yours to match your style and preference.
Want orange with brass trim? You can do that only with BlueStar.
La Cornue also offers a beautiful range of color choices and customization options, though with 56 options, it falls behind BlueStar in terms of variety.
Most Powerful: BlueStar
While most ranges are hot enough for cooking, BlueStar stands out with the hottest burners at 25,000 BTU and their least powerful burners still coming in at a strong 18,000 BTU.
However, Monogram, SKS, and Fisher & Paykel all have at least one 23,000 BTU burner, making them a close second in terms of power.
Best Simmer Performance: Wolf, SKS, and Thermador
If you value having a low simmer for delicate tasks like melting chocolate, Wolf, SKS, and Thermador are the best options.
Wolf uses a dual-stack burner with two gas ports to every burner, which allows for many variations in simmer performance.
Thermador and SKS's simmer performance is intermittent but still performs well, with the induction burner on the Thermador Pro Grand and SKS offering the best simmer and never blowing out at the lowest temperature.
Best Grill: Miele and Wolf
Wolf and Miele use an infrared grill and griddle for faster, more intense heat. Infrared is better than regular gas for cleaning because it evaporates drippings.
While BlueStar also has a grill option, it uses straight gas and diffuses heat, which is not ideal for grilling or cleaning.
Best Griddle: SKS
The SKS griddles are chromium-infused, making them the easiest to clean with food easily sliding off the surface.
Best for Oven Performance: BlueStar, La Cornue, and Wolf
BlueStar's Power Oven is the best gas oven on the market, pro or regular. It is known for speedy preheating, quick cooking, and even oven temperature due to the air being blown from the back.
La Cornue's natural convection is also highly praised, as it doesn't dry out food with fans.
Wolf's dual-fuel option uses blowers to keep an even heat.
Miele also gets an honorable mention, as both models have twin convection for even more heat distribution.
Best Gas Broiler: Miele
An infrared broiler on a gas range is the best broiler type for intense and directed high heat. Many ranges have infrared broilers, but Miele's broiler is the hottest at 23,000 BTU.
Best for Value: Thermador and Monogram
Thermador is a reliable and reasonably priced option that offers free dishwashers and hoods with qualifying purchases.
Monogram also offers a $3,500 credit with other Monogram purchases, making it a great value option for those looking to buy multiple appliances.
Professional Ranges 101
In this section, we'll cover the key elements that make a range "professional" and explain the differences between gas and dual fuel ranges.
What Is Not a Professional Range
If you were to Google "best pro ranges", the number one response was a site with this range as its best, the Forte freestanding professional gas range FGR366BSS. It's a private Italian brand like Smeg, Bertazzoni, Verona, or Ilve.
These ranges are beautifully styled and priced well at $2,099 or about 1/4 of the price of a professional range. However, pro-syle ranges lack high output and performance.
The burners are 20,000, 15,000, 12,000, 6,000, and two burners at 9,000 BTU, so you only have two higher output burners. The broiler is 10,000 BTU, or less than half of the Miele 23,000 BTU infrared broiler. Also, infrared is a directed heat versus the more diffused types.
With a pro-style range, you do not have a grill or griddle option. The oven size at 4.5 cubic feet is much smaller than the average professional oven at 5.7 cubic feet.
Additionally, controls are minimal like some on this list, and reliability is a concern. Who will fix your pro-style range if something goes wrong? However, if you are looking for a basic 36-inch range, then any pro-style range will suffice.
Read More: Best Gas Slide-In Ranges
Gas or Dual Fuel: Which Is Better for a 36-Inch Pro Range?
If you're trying to decide between a dual fuel or all gas range, it's important to consider your cooking needs.
Dual fuel ranges tend to be better for baking due to their more precise heat, while gas ranges are great for roasting and broiling. Let's take a look how each fuel type differs.
Baking
Dual fuel is a more precise heat. It is better for baking. Straight gas is better for roasting and broiling.
Broiling
There is an enormous difference in broiling with gas or dual fuel. Most of the gas pro ranges have an infrared broiler. It's a more concentrated, direct heat than a regular gas broiler.
Many commercial-style broilers are infrared, as are the sear elements in professional grills. Here is a video explaining how it works in a grill.
The differences between an infrared broiler and an electric broiler are substantial, with infrared being way better.
Roasting
Gas with its moister heat is technically better than the drier heat of an electric oven.
Self-Cleaning Oven
Every dual fuel range is self-cleaning, but less than half of all gas ranges have a self-cleaning option.
Cooking Programs
Wolf, SKS, and Miele upgraded their dual fuel ranges. Miele has its MasterChef guided cooking program with push-button control. They also added steam and 17 bread-baking programs. If you like California sourdough, there is an option to bake it automatically.
Read More: Best 36-Inch Dual Fuel Professional Ranges
Key Takeaways
First, there is no one best range. It would have been a much simpler article to write. I don't expect you to spend $40,000+ on La Cornue. However, there is one range that suits your cooking style best.
Before going online or going to your local appliance store, take some time and understand how you currently cook:
Do you bake or broil?
Do you want a more powerful burner or an easier-to-clean range?
Do you want self-cleaning?
Do you want more controls and smart functionality?
Do you often use a grill, griddle, or burners?
Answering these questions will help you choose the best range for you.
Make sure you tell your dealer what you want instead of them showing you what they consider "the best." Often, you will be unhappy with their choice because it won't match how you use it.
You have some good options in the more familiar brands. The newer ones like SKS and Fisher & Paykel are also worth considering.
Also, service can be a problem with more specialized products like pro ranges. Inquire about service before you purchase any range or at least way before your next Thanksgiving dinner.
Additional Resources
Looking for more information on pro ranges? Get the Yale Pro Cooking Buying Guide with features, specs, BTU Outputs, and detailed profiles of the major brands. Well over 1 million people have read a Yale Guide.
Related Articles:
Why Should You Trust Us?
It seems that every appliance review has nothing but glowing comments about almost every product, yet you read customer reviews and they are almost universally bad.
We are here to fill in the disconnect. We'll give you the best features, and the drawbacks as well, including reliability based on over 37,000 calls performed by our service team just last year. Our goal is to give you ALL the information so you know what's right for you.
Please consider subscribing or adding to the conversation in the comments below. We appreciate you stopping by.
Steve Sheinkopf is the third-generation CEO of Yale Appliance and a lifelong Bostonian. He has over 38 years of experience in the appliance industry, and he is a trusted source of information for consumers on how to buy and repair appliances.

Steve has also been featured in numerous publications, including the New York Times, Consumer Reports, The Boston Globe, Bloomberg Radio, the New York Post, The Wall Street Journal, and Entrepreneur, for his knowledge of how to buy appliances and appliance repair.

Steve is passionate about helping consumers find the best appliances for their needs, and he is always happy to answer questions and provide advice. He is a valuable resource for consumers who are looking for information on appliance buying, repair, and maintenance.

Despite being the worst goalie in history, Steve is a fan of the Bruins and college hockey, loves to read, and is a Peloton biker. The love of his life is his daughter, Sophie.
A Note About Pricing
Pricing on this blog is for reference only and may include time sensitive rebates. We make every attempt to provide accurate pricing at time of publishing. Please call the stores for most accurate price.