Best 36-Inch Professional Gas Ranges for 2021 (Reviews / Ratings / Prices)
You have tons of choices for a 36-inch professional range.
You can choose a very simple yet powerful range like a BlueStar, Wolf, or Thermador.
You can also consider Miele and JennAir with more residential features such as sealed burners, self-cleaning, and timer functions.
Then you might find intriguing the newer 36-inch pro ranges like Hestan and SKS.
It's a decision that seems to paralyze people before they visit us.
Back when I was selling these (yes, they had ranges even back then), I could often sense people's anxiety not wanting to buy the wrong expensive range.
Let me help you out. There is no single best range for every feature contrary to many manufacturers' marketing departments and other websites saying every range is great.
That's not true. You can easily make a mistake.
Here are our top picks for 36-inch pro ranges:
However, the best pro range for you and your family depends on how you cook.
Understanding how you cook or how you'll use the range is the only way to pick out the best range and be happy with your purchase.
Here are some questions to ask yourself:
Do you like to bake or broil?
Do you like a powerful burner or a more cleanable one?
Are you buying this for the griddle or grill?
Do you need self-cleaning?
How about clocks and timer mechanisms?
If you don't know, it's ok.
You will learn the differences between all the best pro ranges like JennAir, Thermador, Wolf, BlueStar, and Miele and new ranges like Hestan and SKS.
Reliability will also be a part of this analysis. You won't find reliability information anywhere else because most companies don't service what they sell.
We logged 37,061 service calls just last year and well over 100,000 over the past three years.
We will explain the difference between all gas and dual fuel ranges at the end, just in case you might be interested.
They are not only different ovens, but manufacturers have a different approach to both as well.
This is a thorough article with almost 3,200 words. You can read each section or flip to the parts of interest.
Short on time? Get our free Pro Cooking Buying Guide
Let's start with the best all gas ranges to consider for 2021.
Best 36-Inch Professional Gas Ranges for 2021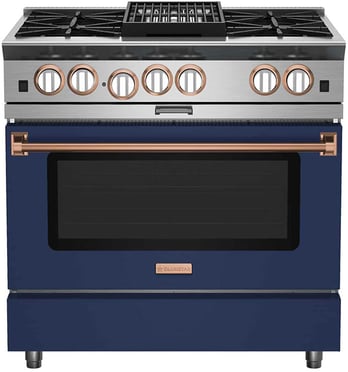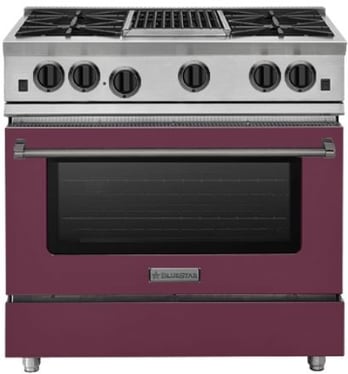 BlueStar specializes in all-gas ranges. They only manufacture all gas ranges in five different series.
The top two - the Platinum and RNB series - are their most popular ranges by far - and look almost identical.
The BlueStar Platinum is more powerful with a 25,000 BTU max output versus a still extremely hot 22,000 for the RNB.
It also has pure convection or heat blown in from the rear for a more even heat, whereas the BlueStar RNB is regular convection.
On the other hand, the RNB has an integrated Charbroiler (shown above), whereas the Platinum has six burners with an add-on reversible grill and griddle.
Between the two, if you want the grill or griddle, then opt for the RNB series because the grill or griddle will be integrated.
Best Features of a BlueStar Pro Range:
Open burners could be good or bad, depending on personal preference. Open allows for better heat output, which is good.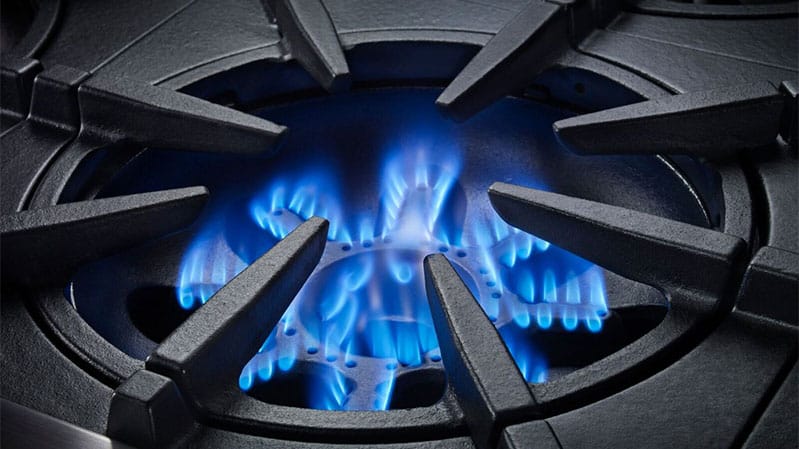 The cleanability is mixed. If you spill a lot, you have to clean both the top and underneath. On a sealed burner, it stays on the top.
However, you can remove all its stovetop parts and clean them at the sink instead of scouring them in the range.
BlueStar has 1000 colors and 10 trim options.
In terms of having a unique range, BlueStar's ranges can be any color imaginable.
You can also customize your range based on a high-quality photo with BlueStar By Design. It adds tons of design opportunities like wallpaper, flooring, or even a family photo.
BlueStar Pro Range Problems
You don't buy BlueStar for any modern amenities like a clock or timer. It emulates a commercial range.
BlueStar is not self-cleaning in any of the five series.
The grill and griddle are regular gas, not infrared. The heat is less direct and intense. For the grill, it is also tougher to clean. Infrared evaporates most of the drippings.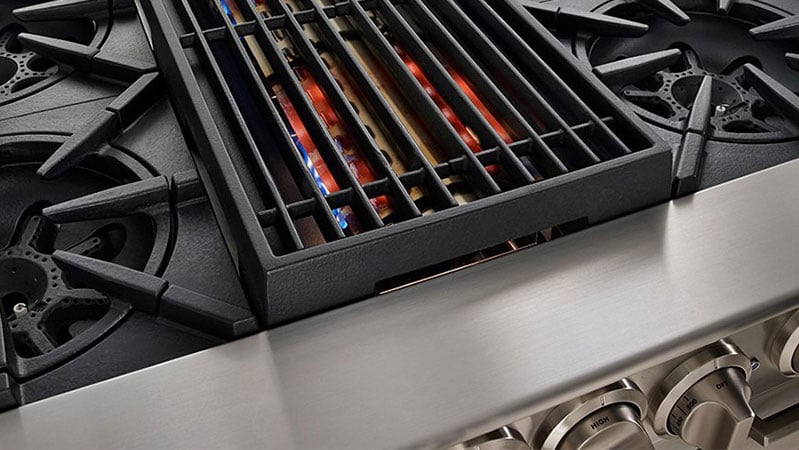 BlueStar advertises their broiler as 1850 degrees. However, the actual BTU is only 15,000 for the broiler, whereas the average for the other brands is 20,000. Miele is the highest at 23,000 BTU.
Most professional ranges don't have Wi-Fi, including BlueStar. Only Thermador, SKS, and JennAir have Wi-Fi functionality.
Read More: Best BlueStar Professional Ranges
Hestan KRG Series 36-Inch Pro Range with Griddle KRG364GDNG - $8,349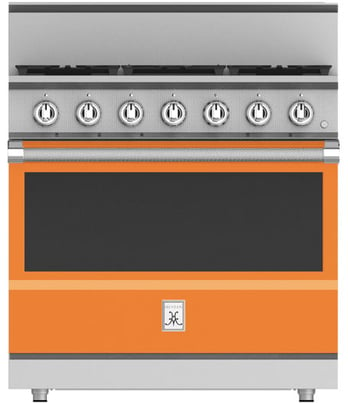 Now for a different range.
Hestan now manufactures a pro range after years of being just commercial for restaurants.
Their five-burner range features the now most powerful 30,000 BTU burner perfect for woks and other high-temperature cooking.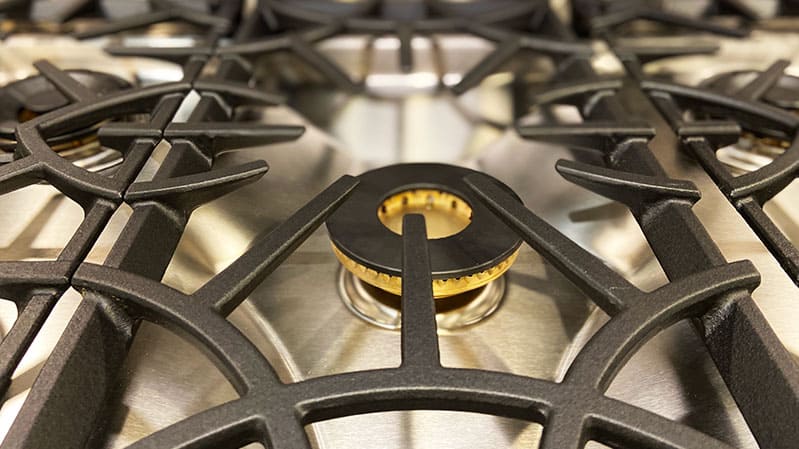 The other burners are 23,000 and 15,000 BTU to round out the most powerful top you can now buy.
Unlike the other brands, their griddle is powered by an infrared burner and can be controlled by temperature.
The range is single convection. However, Hestan adapts to time and temperature to maintain an even heat.
As I said in previous articles, Hestan has solid brass burners, heavy grates, and die-cast knobs. Better components do not necessarily mean less service, but it's still impressive.
Hestan has 12 colors with groovy names like Steele to (get it?), Matador, Sol, and Citra. They have 11 more colors than every other brand, but 988 less than BlueStar.
Hestan Pro Range Problems
You have an infrared griddle yet no grill.
Like BlueStar, Wolf, and Thermador Harmony, Hestan has no clock or timer.
Hestan has no Wi-Fi functionality.
Their convection system is called "PureVection." It adjusts time and temperature. However, it's still single convection.
Before you buy a Hestan, you have to inquire about local service. Often, new companies are slower to set up service networks because they see it as a cost center.
Read More: Are Hestan Professional Ranges Any Good?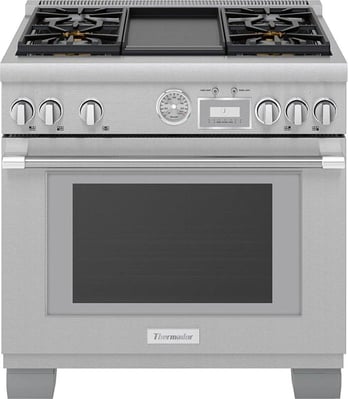 Thermador is a premium appliance brand presently owned by Bosch.
They are best known for their star-shaped burner ( for better pan coverage) and great packages with free dishwashers and hoods with qualifying purchases.
Pro Grand Vs. Harmony Professional Ranges
Thermador manufacturers two styles of gas ranges, their Pro Grand Series and their Harmony Series. The Thermador Pro Grand Series is Thermador's premium all-gas range.
The Pro Grand series adds a clock and a 22,000 BTU burner vs. 18,000 in the Harmony, a proof (low temperature) mode for baking bread, and a bigger oven based on depth.
You can also buy an induction set of burners on the Pro Grand.
Induction is by far the best for simmering and speed.
The Thermador Pro Grand gas range is also self-cleaning and about $1500-2000 more expensive.
However, the Harmony is more popular because it sits flush in the cabinet, whereas the ProGrand protrudes by 3 inches.
Best Features of a Thermador Pro Range:
Their Star Burner is raised, so it's the easiest to clean. Their simmer is the best for gas at 100 BTU.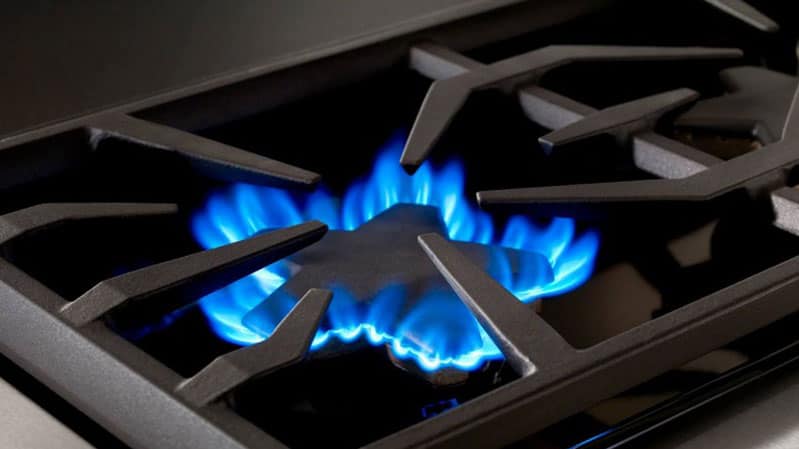 Thermador's range has Wi-Fi functionality. You can control your range through an app on your phone.
Thermador also integrates recipes and your ability to change temperature and turn your range on or off remotely.
Thermador is one of the least expensive pro ranges and adds a free dishwasher as well.
Thermador Pro Range Problems
An electric griddle is not terrible once it reaches temperature. The electric grill does not have the output to sear like an infrared.
The Pro Grand has a basic clock, but the Harmony has no clock and timer function.
JennAir and Miele have twin convection. BlueStar has pure convection in their Platinum while Thermador has an older single convection system.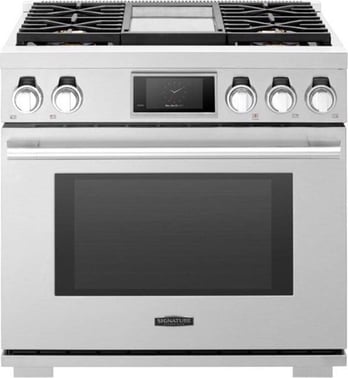 SKS bills itself as the range for the "Technicurian."
It is a pretty technical range complete with LG's ThinQ Wi-Fi package along with a pretty advanced clock and timer.
The burners are a combination of 23 and 15,000 BTU with a simmer burner at 10,000 BTU.
Two burners simmer at 100 BTU. Ironically, 100 degrees is the same temperature as Thermador.
The griddle is the easiest to clean chromium. Ironically, it's the same material as the JennAir.
SKS has the largest interior capacity at 6.3 cubic feet, along with a 23,000 BTU pure convection element
You have a good combination of output with 23,000 BTU burners along with a good simmer and the largest oven capacity.
SKS has the best warranty at three years with a guarantee of no longer than a five-day wait for service.
SKS Gas Range Problems
You can't buy a grill with the SKS.
SKS promises a 5-day guarantee for service. Let me just say I am more than skeptical. LG may have one of the best service managers, but five-day service is a pretty bold claim.
They also didn't say guaranteed repair.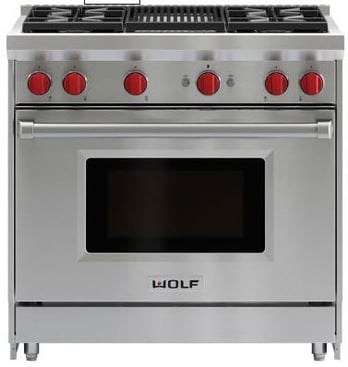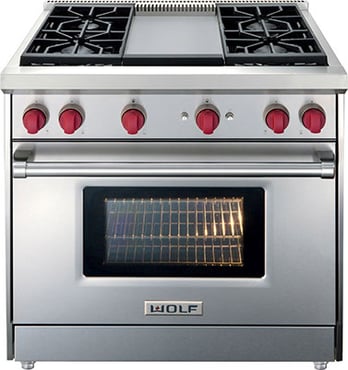 Wolf is a premium appliance brand owned by Sub-Zero.
Wolf is traditionally known for red knobs and their dual-stack burners.
Their gas range is reliable and has the best service network on this list.
However, Wolf is intent on upgrading their dual fuels. They will again later this year, but they haven't redesigned their gas range in a long time.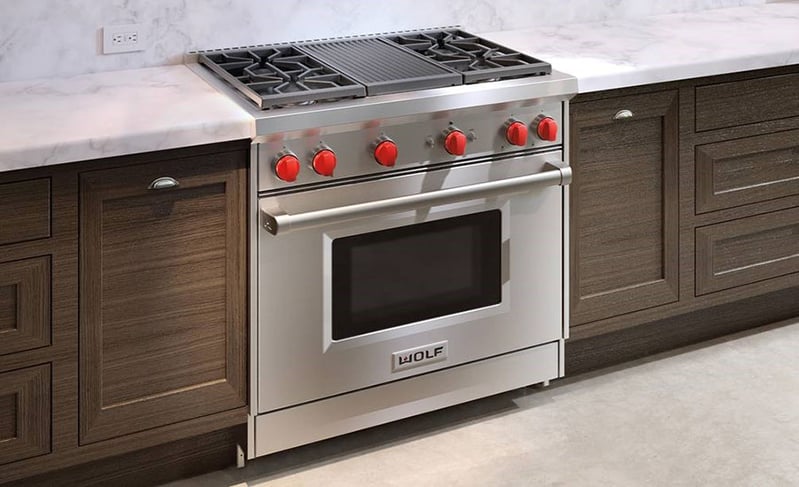 Wolf has one of the hottest infrared broilers, along with an excellent infrared grill and griddle.
Their simmer is also one of the best. Thermador has an intermittent simmer on two burners. Wolf simmers a bit higher at 500 BTU on all burners.
Wolf Gas Range Problems
Their output at 15,000 BTU per burner is slightly less than the other pro ranges on the list.
Wolf does not have any clock and timer controls or Wi-Fi.
You have 30,000 BTU on the Hestan, but Wolf's max is 15,000.
Similar to Thermador, Wolf has a single convection system.
Read More: Are Wolf Professional Ranges Worth the Money?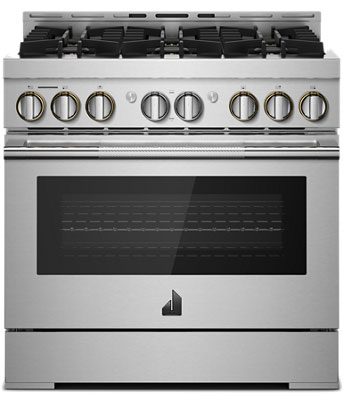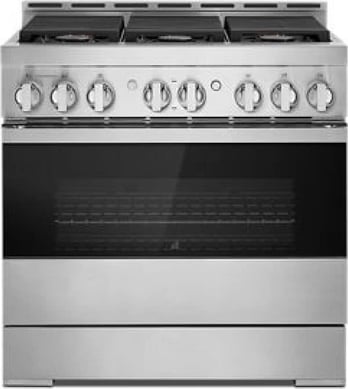 JennAir is the premium appliance brand owned by the Whirlpool Corporation. In 2018, JennAir updated their whole line with two designs - the Rise and the Noir.
It's styled well.
On the top, it is powerful for a pro range with three 20,000 BTU burners, two 18 000, and a 9,000 BTU. The grill is now infrared at 16,000, the same as Wolf.
For the oven, there is twin convection for more even heat.
Their whole Wi-Fi experience is the best, at least with functionality. It has tie-in recipes designed to enhance your cooking experience.
Also, JennAir will give you $1000 towards any second item with the purchase of their range.
JennAir Pro Range Problems
The main problem with JennAir is finding one. They have had availability issues since their inception.
Their app is functional but not highly rated.
This is a competitive range. However, their App experience is not rated well. Then again, it is new.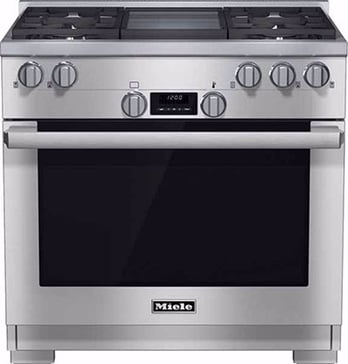 Miele is a family-owned appliance company out of Germany. They are known for their attention to detail and meticulous quality control.
To achieve this, they produce almost every part of their appliances, whereas most will outsource to other companies.
Miele is best known for its cleaning products (dishwashers, laundry, and vacuum cleaners). However, they are a tough competitor in the cooking category as well.
Miele has a self-cleaning dual convection oven like JennAir and an infrared grill and griddle like Wolf with decent controls.
The grates and racks are the simplest to clean.
You can even place them in your dishwasher while the racks can stay in the oven during the self-clean cycle.
Miele's burners are half powerful at 19,500 and half not powerful at 9,000 and 8000 BTU.
Miele's infrared broiler is the hottest at 23,000 BTU.
Miele Pro Range Problems
Miele's downside is no Wi-Fi. It's odd for such a progressive company. Then again, neither is Wolf. BlueStar will probably never be.
The 19,000 BTU burner is good but Miele's other burners are underpowered at 9,000 and 8000 BTU is not.
Which Professional Range Is the Most Reliable?
Professional Gas Range Reliability December 2019 - November 2020
| | |
| --- | --- |
| | Service Ratio |
| Thermador | 13.41% |
| Wolf | 13.67% |
| JennAir | 13.08% |
| BlueStar | 16.33% |
| Miele | 9.38% |
| Grand Total | 13.46% |
The figures above are based on a minimum of 20 products sold and over 1000 total pieces.
The most reliable pro range is Thermador, followed closely by JennAir and Wolf. Miele and BlueStar had more service, but it is a minor burner repair.
Wolf may be the most impressive. Most of their range sales are larger 36, 48, and 60-inch sizes, yet the repair percentage is comparable to Thermador's more widely sold 30 and 36-inch units.
Read More: Most Reliable Professional Ranges
Which 36-Inch Professional Gas Range Should You Buy?
| | | | | | | | | |
| --- | --- | --- | --- | --- | --- | --- | --- | --- |
| | Max Output | Simmer | Self Cleaning | Clock /Timer | Wi-Fi | Grill BTU | Griddle BTU | Convection Type |
| SKS | 76,000 | 310 BTU's | speed clean | Yes | Yes | N/A | 18,000 | ProHeat |
| Hestan | 142,000 | 500 BTU's | No | No | No | N/A | 15,000 | PureVection |
| Wolf | 84,200 | 500 BTU's | No | No | No | 16,000 | 15,000 | Convection |
| BlueStar Platinum | 111,000 | 130 degree | No | No | No | Interchangeable | Interchangeable | True European |
| BlueStar RNB | 98,000 | 130 degree | No | No | No | 15,000 | 15,000 | Convection |
| Miele | 84,500 | 650 BTU's | Yes | Yes | No | 19,000 | 13,000 | Twin Convection |
| JennAir | 124,000 | 500 BTU's | Yes | No | Yes | 16,000 | N/A | True Convection |
| Thermador Pro Grand | 111,200 | 100 degree/375 BTU's | Yes | Yes | Yes | 1,630 Watts | 1,630 Watts | True Convection |
| Thermador Harmony | 104,000 | 100 degree/375 BTU's | DF only | Yes | Yes | 1,630 Watts | 1,630 Watts | Convection |
You don't have a clear winner for every facet of cooking.
So let's break it down by feature.
Best for Style & Color: BlueStar and JennAir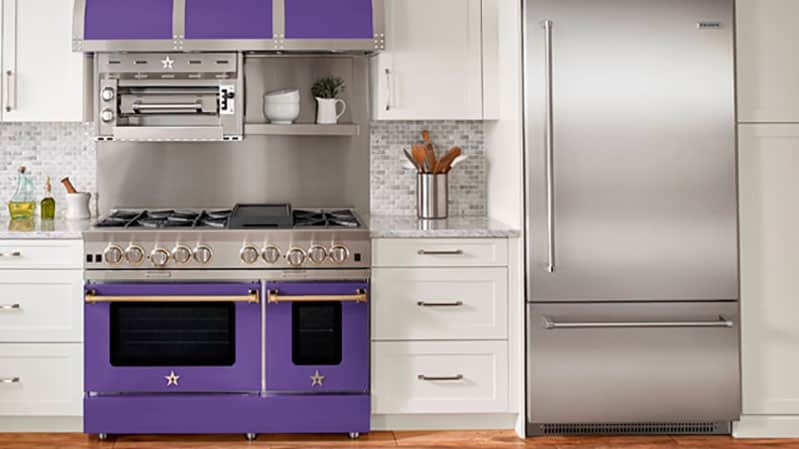 Bluestar is the clear winner just due to the endless custom color and trim combinations you can choose.
You can design your range to be truly yours to match your style and preference. Want orange with brass trim? You can do that only with BlueStar.
JennAir is a beautiful range. Then again, that is just an opinion.
Hestan has 12 groovy colors to consider as well.
Most Powerful: Hestan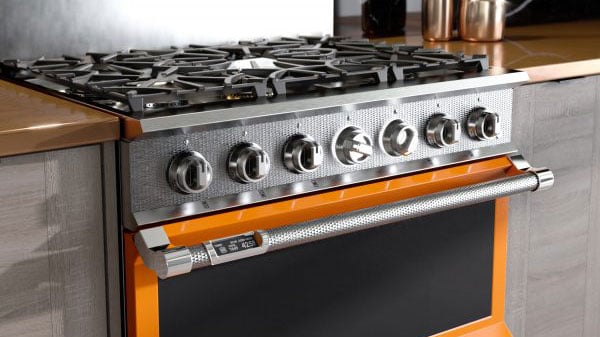 Hestan 36-Inch All Gas Professional Range
Thirty thousand BTU is incredibly hot and is probably 2.5 times hotter than your current stove. Hestan and SKS also have 23,000 BTU burners.
BlueStar has the total output in their Platinum series in an open burner.
Best Simmer Performance: Wolf and Thermador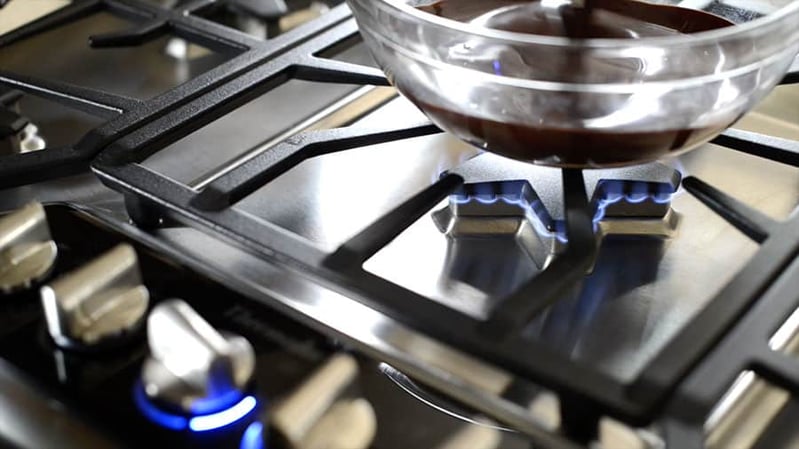 Thermador Star Burner Melting Chocolate
If you value having a low simmer to melt chocolate, Wolf and Thermador have the best burners for simmering. Wolf has a dual-stack burner or two gas ports to every Wolf burner.
When you want to simmer, you ignite a simmer port completely independent of that burner's high heat capability. This creates a lot of variation in Wolf's simmer performance on any burner.
Thermador's simmer performance is intermittent and technically the lowest. At Thermador's lowest setting, the flame will ignite and then go out and ignite again.
Thermador Pro Grand with the induction burner is probably the best, but it isn't popular. Induction doesn't have a flame extinguishing at a low temperature and can't simmer the lowest of any type.
Best Grill: Miele, JennAir, and Wolf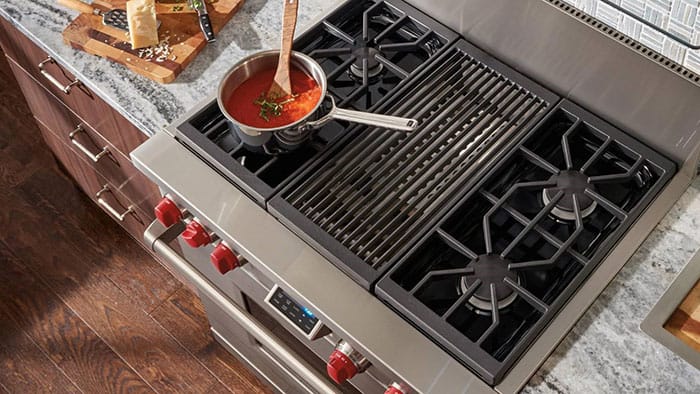 Wolf 36-Inch Pro Range with an Infrared Grill
All use an infrared gas grill and griddle for faster, more intense heat. Infrared is better than regular gas for cleaning as well because it evaporates the drippings.
Why not BlueStar? Because it is straight gas, so it diffuses heat. That's not great for grilling or cleaning.
Best Griddle: Hestan
Hestan is infrared and allows you to adjust for temperature.
The JennAir and SKS griddles are chromium and the easiest to clean.
Best for Self-Cleaning: Thermador, JennAir, Miele, and SKS
These ranges have self-cleaning modes. The others do not.
Best for Oven Performance: BlueStar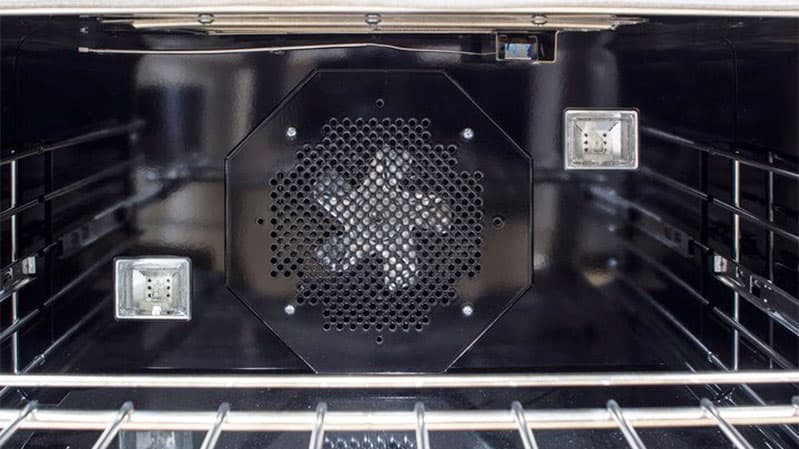 BlueStar Convection Oven
BlueStar's Power Oven is arguably the best gas oven on the market, pro or regular. It is known for speedy preheat time, quick cook time, and even oven temperature due to the air being blown from the back.
Honorable Mention: Miele and JennAir
Both have twin convection for even more heat distribution.
Best Broiler: Miele
An infrared broiler on a gas range is the best broiler type for intense high heat. Many have infrared, but Miele is the hottest at 23,000 BTU.
Best for Value: JennAir
JennAir has some of the best package options in the industry. JennAir offers two 20,000 BTU burners, self-cleaning, and a built-in timer for a relatively low price. They also have Wi-Fi and the latest styling.
Key Takeaways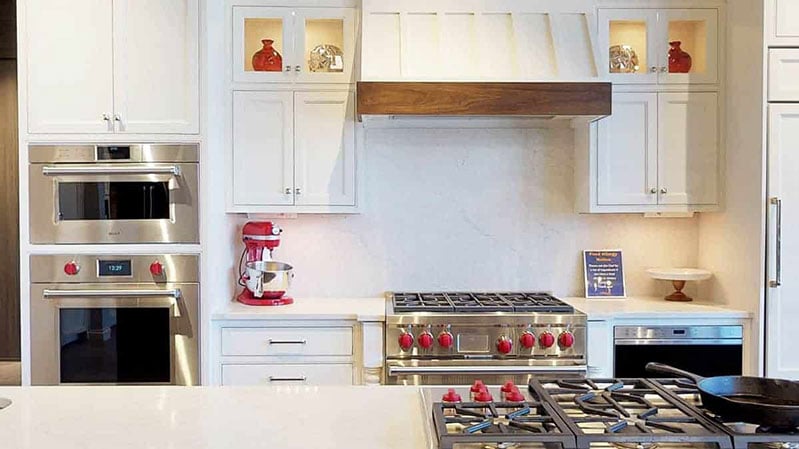 Wolf 36-Inch Professional Range at Yale Appliance in Framingham
First, there is no one best range.
However, there is one probably best for you and your particular style of cooking.
Before you go online or go to your local appliance store, take some time and understand how you currently cook.
Do you bake or broil?
Do you want a more powerful burner or an easier-to-clean range?
Answering these questions will help you choose the best range for you.
Also, service can be a problem with more specialized products like pro ranges. Inquire about service before you buy any range or at least way before your next Thanksgiving dinner.
Dual Fuel vs. All Gas Professional Ranges
Baking
Dual fuel is a dryer, more precise heat. It is better for baking. Straight gas is moister and better for roasting and broiling.
Broiling
There is a huge difference in broiling with gas or dual fuel. Most of the gas pro ranges have an infrared broiler. It's a more concentrated, direct heat than a regular gas broiler.
Many commercial-style broilers are infrared, as are the sear elements in professional grills. Here is a video explaining how it works in a grill.
So the differences between an infrared broiler and an electric broiler are substantial, with infrared being way better.
Self-Cleaning Oven
Every dual fuel range is self-cleaning, but less than half of all gas ranges have a self-cleaning option.
Cooking Programs
Wolf, Hestan, SKS, and Miele also upgraded their dual fuel ranges. Miele has its MasterChef guided cooking program with push-button control.
They also added steam to assist in baking bread and caramelized foods.
You have 17 automatic programs to bake bread. If you like California sourdough, for example, there is an option to bake it automatically.
Wolf Dual Fuel
Wolf will have their verticross convection system using blowers. The BTU output on the burners is higher in dual-fuel than all gas at 20,000 BTU vs. 15,000 BTU output.
They will also add Wi-Fi with a computer touchscreen.
SKS Dual Fuel
SKS has their steam and steam assist models in their dual fuel and Sous Vide and induction on the top.
Additional Resources
Looking for more information on pro ranges? Get the Yale Pro Cooking Buying Guide with features, specs, BTU Outputs, and detailed profiles of the major brands. Well over 900,000 people have read a Yale Guide.
Related Articles:
Why Should You Trust Us?
It seems that every appliance review has nothing but glowing comments about almost every product, yet you read customer reviews and they are almost universally bad.
We are here to fill in the disconnect. We'll give you the best features, and the drawbacks as well, including reliability based on over 37,000 calls performed by our service team just last year. Our goal is to give you ALL the information so you know what's right for you.
Please consider subscribing or adding to the conversation in the comments below. We appreciate you stopping by.
A Note About Pricing
Pricing on this blog is for reference only and may include time sensitive rebates. We make every attempt to provide accurate pricing at time of publishing. Please call the stores for most accurate price.