La Cornue Château vs. La Cornue CornuFé vs. Lacanche French Ranges: Which Is Best?
March 3rd, 2023 | 16 min. read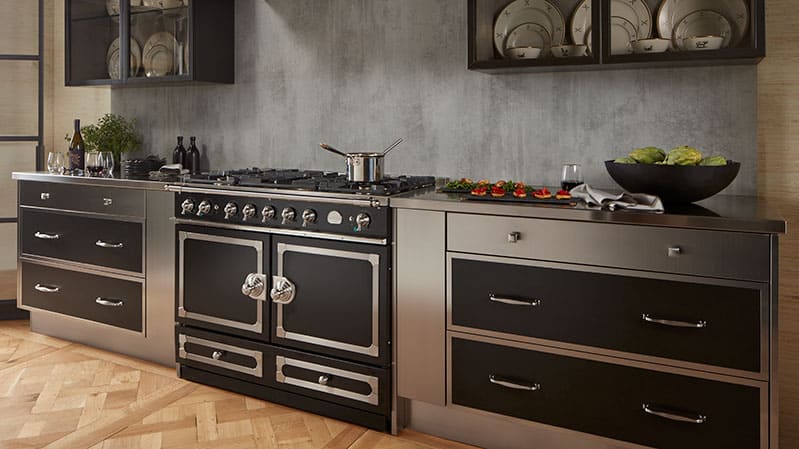 Perhaps you are looking for a La Cornue, Lacanche, or CornuFé range for a particular cooking style or for adding a unique style to your kitchen.
You should have two main takeaways from this very long article:
These ranges have very little in common.
Before buying one, you should understand how to use the range and your cooking style.
You will see the differences between all three, their best features, and a few problems. I will also break down each and how to buy them.
In the end, I will also provide links to popular lifestyle bloggers. One uses the CornuFé, while the other uses the Lacanche.
This article is long and detailed. It's the longest article I have ever written.
You can decide which and if a French range is right for you.
Let's dive in.
Who Is La Cornue and Lacanche?
La Cornue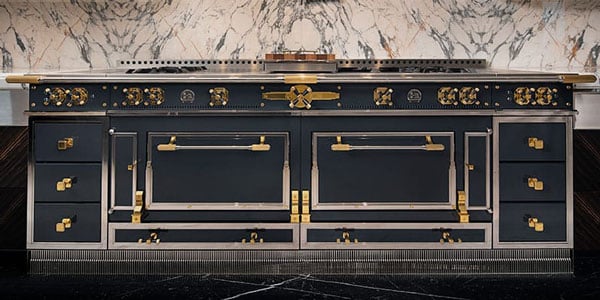 La Cornue Château Suprême Range
La Cornue is a French range dating back to 1908. They pioneered the first convection oven.
Their founder followed the new gas lines in Paris at that time. Before then, people cooked their meals over a flame.
Recently La Cornue was bought by the Middleby Corporation in Illinois as part of their residential luxury brand portfolio. The Middleby Corporation also manufactures Viking.
Middleby has left La Cornue alone, keeping the heritage while adding some capital.
La Cornue is still manufactured in Saint-Ouen-l'Aumône, France.
Lacanche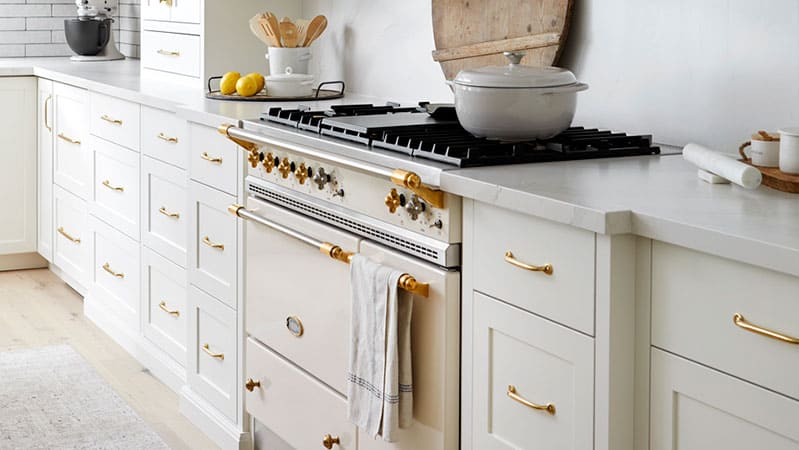 Lacanche Classique Series Range
Lacanche dates to the 18th century. Lacanche was an ironworks company originally. The same family owned it for almost 200 years.
Like La Cornue, they were bought by a conglomerate. Yet ten years later, the company stopped manufacturing the ranges and idled the plant.
However, a former worker saved the site and resurrected the Lacanche stove in the heart of Burgundy, France.
Let's look at how to order and customize each range.
La Cornue French Ranges
Ordering a La Cornue Château Range
Nowadays, La Cornue is known for incorporating the best materials into its ranges.
For example, La Cornue sources their metal from Finland for its strength.
Each unit is individually hand-made and customized based on your requests and specifications.
You are assigned a project manager for your Château range. We have mandatory paperwork to sign as well.
It is a detailed process only offered by La Cornue, guaranteeing the dealer delivers the right range to your home.
It's pretty amazing since the Château has 8,000 different configurations in size, colors, configuration, and trims.
La Cornue Manufacturing
Sixty master craftspeople build nearly every range component. La Cornue has spent generations building and refining their ranges.
La Cornue recently started using machinery to aid in building their ranges.
One of their master artisans discusses manufacturing a La Cornue stove on their YouTube channel.
You get a real sense of his passion for manufacturing cooking ranges for people. It's impressive as he talks about his art and craft.
It's unusual in a world of automated mass manufacturing.
La Cornue Château Series Ranges
La Cornue is a completely different range with the ability to customize colors, trims, and even the configuration of the stovetop.
It is the finest range you can buy but only for some.
In the video below, you will learn about La Cornue's Château Series range, its best features, and a few drawbacks to consider.
Best Features of La Cornue Château Ranges
Ability to Customize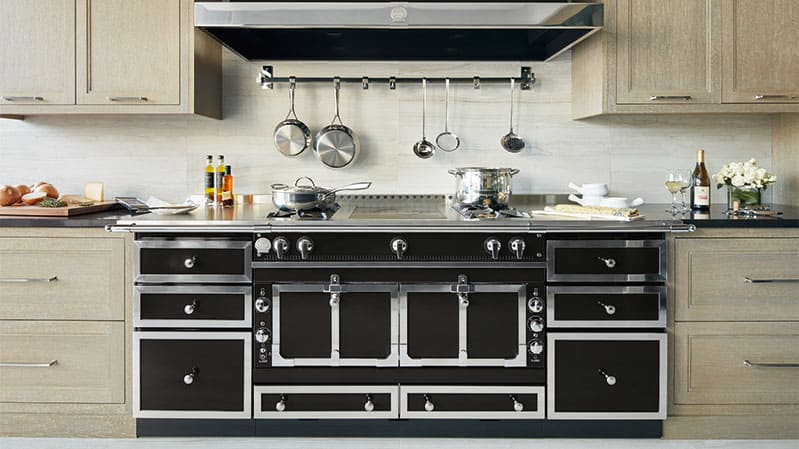 La Cornue Château Range in Black with a Custom Stovetop
You will learn about color later in the article, but you can design anything with La Cornue.
An unnamed F1 race car driver wanted his range in a resin finish, and La Cornue made it happen.
Colors are bold in La Cornue, but you can personalize this range in your finish of choice.
La Cornue Château Range Colors
Many companies like Viking, BlueStar, Capital, and Bertazzoni offer cheaper colors.
However, La Cornue executes color better than any other brand.
You can choose between 56 colors and eight trims. A La Cornue range is an heirloom and focal piece for your kitchen.
You can also request any other color for a custom look. People have sent in paint samples.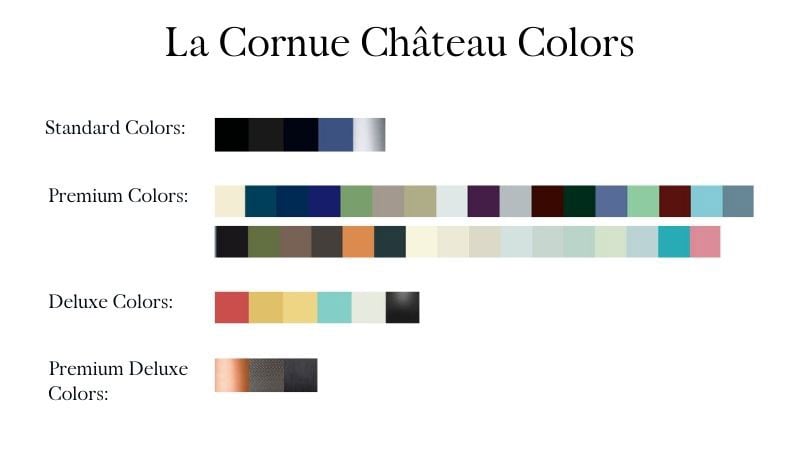 Oven Design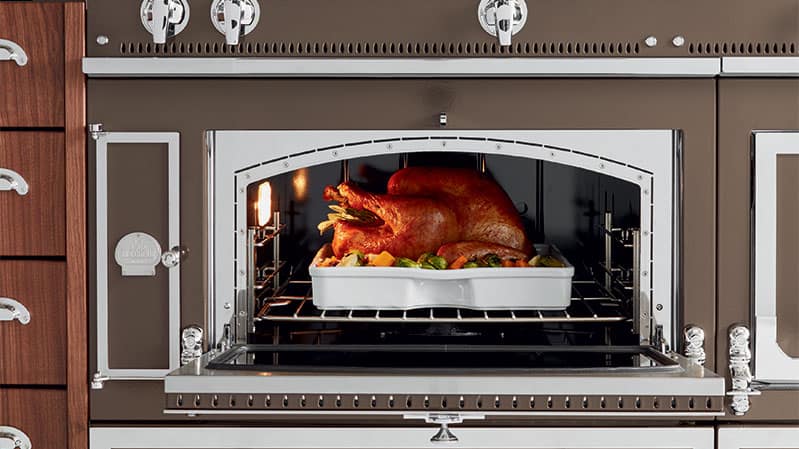 La Cornue Château Gas Oven
Most upscale ovens and brands are convection, but La Cornue is unique.
The air flows from the bottom under the oven, not from a fan in the back. Fans can dry out your food.
La Cornue has a patented concave arched top to provide a natural convection effect to cook evenly without drying your food.
The larger sizes from 47.5" and up have one gas oven and moister heat for roasting and broiling.
You also have an electric oven. Electric has drier heat and is better for baking.
Then again, you can choose both ovens to be electric and gas.
You can choose electric or gas for the smaller ones, like 35.4" or less.
La Cornue Château Range Cooking Modes
I had our former chef describe how you would use each mode. Read the following section if you love to cook:
Conventional Heat Mode
The Conventional Heat Mode is like old-fashioned (thermal) ovens without convection. This mode would work as a finishing mode to crisp the bottom of pastries or cakes. You could also make pizzas in this mode.
Floor Vault Combination Function
The Floor Vault Combination Function operates with top and bottom heat only. Food will brown more quickly in the top part of the oven in this mode.
This mode also claims to offer a temperature variance from top to bottom, the top being hotter and cooling down as you find the underlying cause of the oven.
You would also bake delicate pastries, cakes, or soufflés that need to rise in the oven.
Forced Air Convection Mode
The Forced Air Convection Mode is also known as True European Convection. It's the fan and the heating element behind it. There is no top or bottom heat in this mode.
It's great for multi-rack cooking, like three trays of cookies or items that cook at similar temperatures.
Convection-Assisted Oven Mode
The Convection Assisted Oven Mode offers heat from all three sources. Top heat, bottom heat, the convection fan, and the third heating element keep the most even heat.
It's fast, intensive, and great for oversized items like roasts. Still, you must adjust the time and temperature accordingly.
Defrosting Mode
The Defrosting Mode circulates cold air through the oven cavity, ideal for thawing out smaller meat cuts like fish filets and chicken. You could also defrost desserts and frozen cakes in this mode. You can't defrost larger cuts of meat in this mode.
Broiling Function
The Broiling Function uses intensive direct heat from the top of the oven. It's used as a finishing mode to melt cheese or brown the tops of casseroles and lasagnas.
Convection Broiling Mode
The Convection Broiling Mode is direct heat from the top of the oven, along with a convection fan circulating the heat, which will make the broiler less intense. You could also cook denser or thicker cuts of meat like steaks or whole fish.
Rangetop Configuration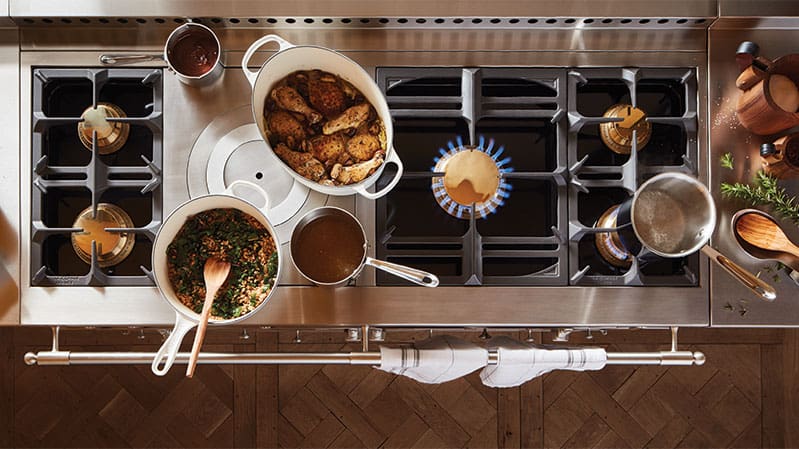 La Cornue Château Range Stovetop
Unlike every other manufacturer, the rangetop is fully customizable with every type of burner, from electric to gas to pro-gas to a French top.
Gas Burners: 17,000 BTU (British Thermal Unit) & One 7,500 BTU. The burners are sealed and are brass, not stainless, for more evenly distributed heat.
Lava-Rock Grill: The Lava-Rock Grill has a linear 14,500 BTU gas burner running front to back, set beneath a bed of natural lava rocks to disperse the flame more evenly.
Power Burner: The Power Burner at 22,000 BTU is great for sautéing, stir-frying, and wok cooking.
French Top: A French top is a gas burner beneath a solid cast iron top that radiates heat outward so you can cook multiple items at different temperatures.
Induction Burners: Induction is the fastest to heat but has the lowest simmer due to its infinite control.
Teppanyaki: The La Cornue allows cooking throughout the surface. For easy cleanup, the Teppanyaki accessory has a chromium coating.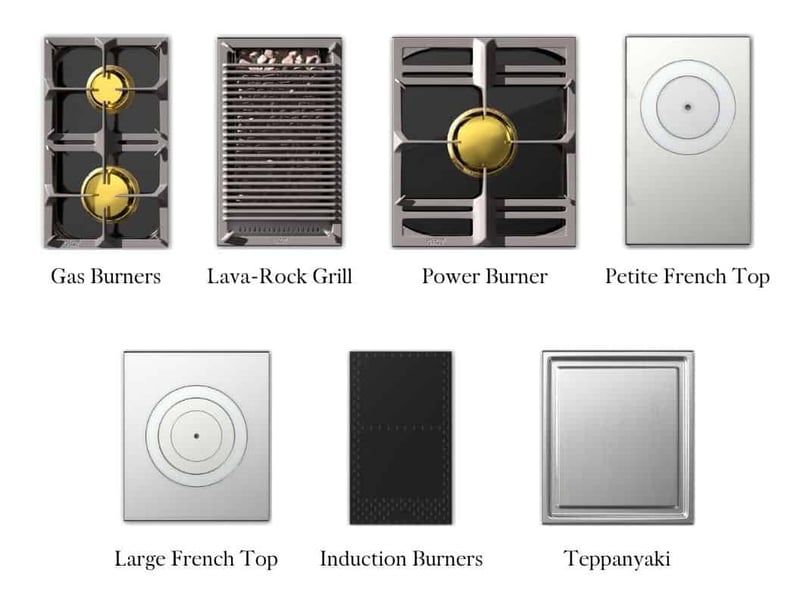 What's the Difference Between a Teppanyaki and French Top?
You cook directly on the Teppanyaki. It has the same heat throughout, whereas you leave the pots on the French top.
The French top has different temperatures for cooking many items at different temperatures versus one temperature for the Teppanyaki.
La Cornue Château Sizes and Prices
When we teach classes in design, we always talk about how appliances fit in standard openings. It is true for every brand.
Except for La Cornue, the dimensions are similar but not the same.
American cabinet specifications for ranges are 20, 24, 30, 36, 48, and 60 inches wide.
La Cornue Château Sizes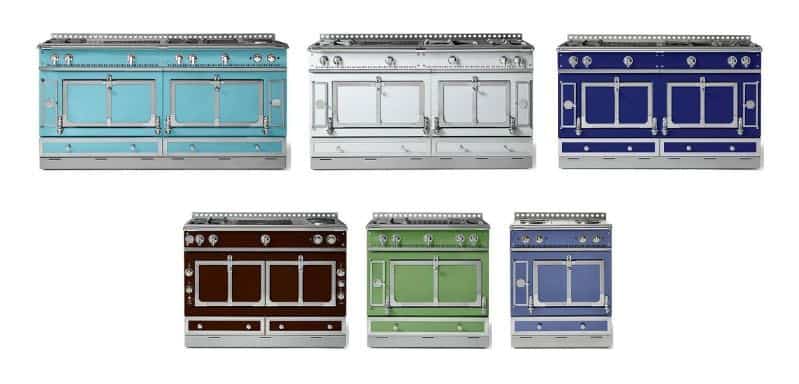 La Cornue Château Sizes
Grand Palais 180:

70 inches starting from $60,300

Le Château 165:

65 inches starting from $56,000

Le Château 150:

59.1 inches starting from $52,300

Le Château 120:

47.2 inches starting from $49,275

Le Château 90:

35.4 inches starting from $34,700

Le Château 75:

29.5 inches starting from $27,500
Read More: Should You Buy a La Cornue Château Professional Range?
La Cornue CornuFé Ranges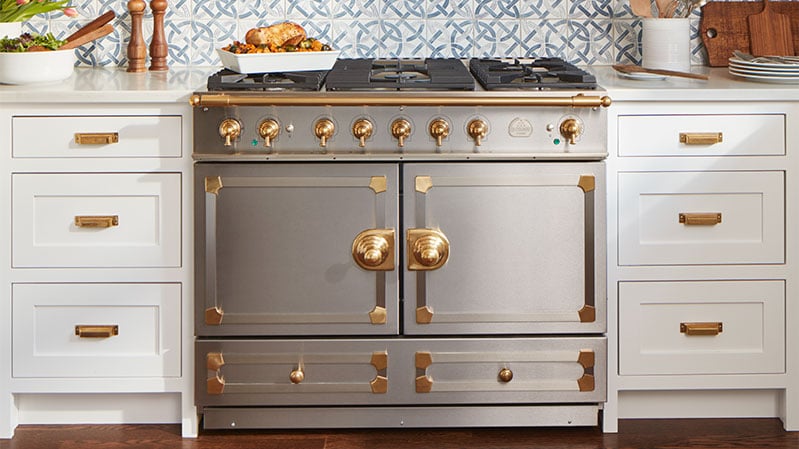 La Cornue CornuFé Ranges
The CornuFé is a unique range. It differs from other range manufacturers and has a more expensive Château series.
The CornuFé has fewer options and sizes than the larger Château. You still have colors and a unique look for far less money.
First, it is built in more of a factory rather than the artisanal "workshop" of the Château and Lacanche.
The CornuFé is French-engineered but manufactured in England in an AGA Rangemaster factory.
The Château is manufactured in France.
La Cornue CornuFé Color Customizations, Sizes, and Prices
The CornuFé offers 12 colors and your choice of three trims instead of the 48 colors and six trim options of the Château.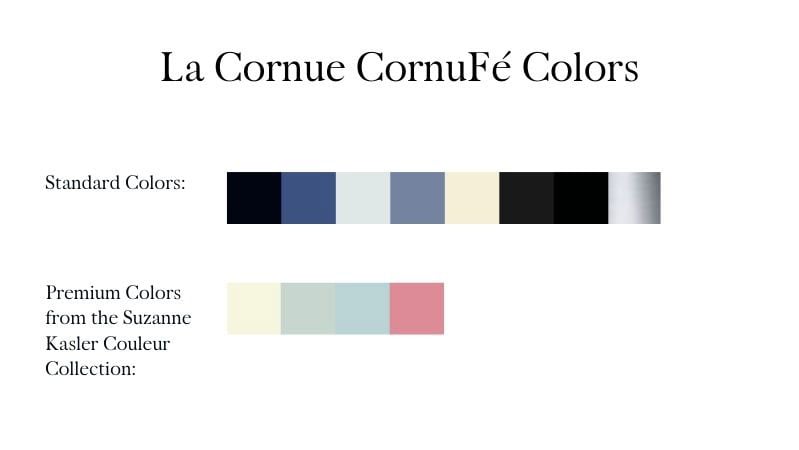 However, you can now customize the CornuFé in the Château colors as a special order.
There are only two sizes: 35.4" and 43".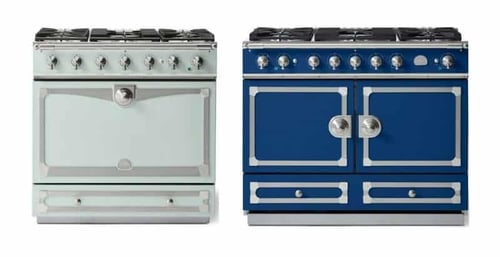 The CornuFé 90 Albertine is 35.4 inches wide and starts at $8,475 in dual fuel and $9,500 in induction versus $34,000 plus for the similar-sized Château.
The CornuFé 110 is 43 inches at $10,450 in gas and $11,700 in induction. The Château only has 36- and 47-inch ranges between $34,000 and $47,000.
Both ranges have the same top: five gas burners with a 17,000 BTU max burner or a five-zone induction top.
The 43-inch is a double oven, whereas the 35.4 is single. Forty-three inches is an odd dimension, especially in the US.
However, it is the most popular single range. What people do is customize the kitchen around the range.
Internal Dimensions
I measured with tape from the bottom rack to the broiler. The fan measured the depth as a true measure of usable capacity.
CornuFé 90 Albertine:

30" wide x 14" high x 14" deep

CornuFé 110:

17" wide x 12" high x 14" deep
Both have storage drawers at the bottom of the range.
CornuFé Oven and Cooking Modes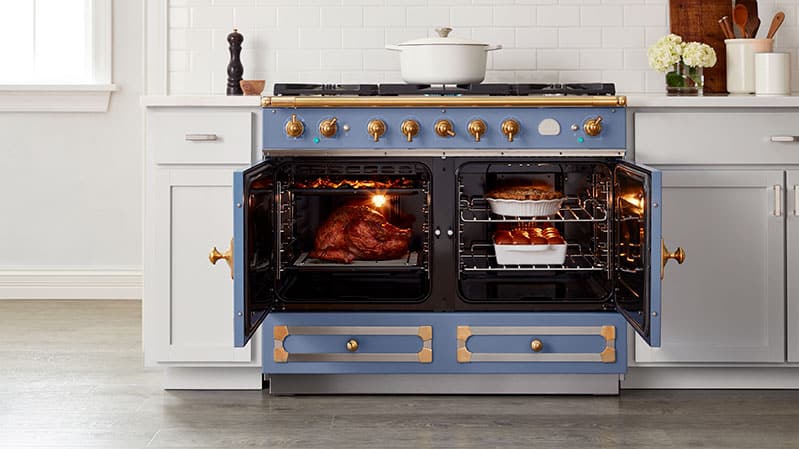 La Cornue CornuFé Ovens
Both ovens are electric convection with seven different cooking modes designed for any type of cooking.
The seven cooking modes are Thaw and Serve, Convection, Convection Broiling, Convection Assist, Conventional, Browning, and Warming.
The following describes each cooking mode and how you would use it.
Thaw and Serve
Thaw and Service modes circulate cold air into the oven to speed up defrosting. It's ideal for defrosting desserts, cakes, and smaller cuts of meat and poultry.
Chef's Tip: You want to avoid defrosting your food with heat because it induces bacteria growth.
Convection
Convection mode uses fan-forced heat for even more baking and multi-rack cooking. La Cornue uses pure convection with the heating element behind the fan.
Chef's Tip: When converting a recipe to convection, always use the 25/25 rule. Set convection at 25 fewer degrees for 25% less cooking time.
Convection Broil
Convection Broil utilizes the fan and the broiling element great for denser meats and larger cuts of fish. Convection Broil distributes heat better and caramelizes your food without the intense heat.
Chef's Tip: Using any broiling mode, use a grill pan to eliminate flare-ups and place your food on the bottom rack.
Convection Assist
Convection Assist uses top and bottom heat with a fan disbursing it. This mode is not true convection with the element behind the fan. It's a cycle to use with longer cooking times because it does not dry out the food.
Chef's Tip: Ideally, placing your food on the middle rack would be the best for this mode.
Conventional Oven
Conventional is a traditional thermal oven without a fan. It works with bread and other foods needing to rise like a soufflé.
Browning
The Browning mode is less intense than broiling for melting cheese or toasting coconut flakes or nuts.
Warming
You can keep food at a lower temperature because only the lower element is activated.
Chef's Tip: Want to crisp the bottom of a pizza? Try the warming mode.
CornuFé Range Accessories
There are three accessories.
The French Plaque or French Top spreads the heat out so you can cook different items at different temperatures.
La Cornue CornuFé French Top Accessory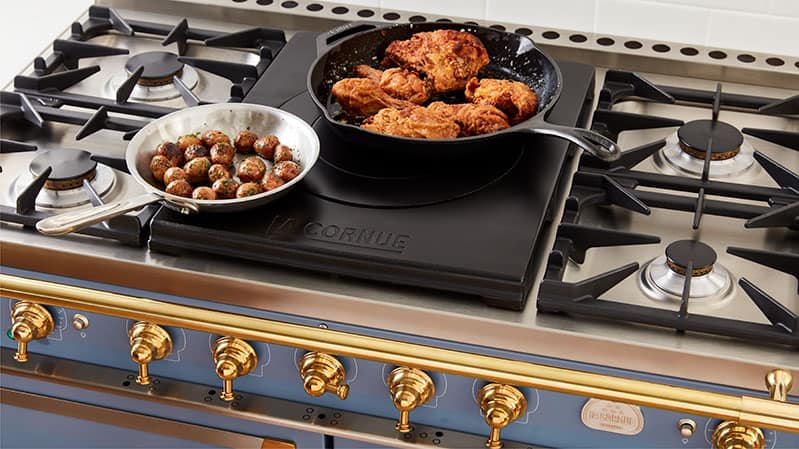 It provides a large, flat surface for indirect heat – perfect for simmering and slow cooking.
The cast aluminum accessory holds up to five pots and radiates heat from the center resulting in multiple heat zones.
You are most likely familiar with a griddle. It's consistent heat or the opposite of a diffused French Plaque.
La Cornue CornuFé Griddle Accessory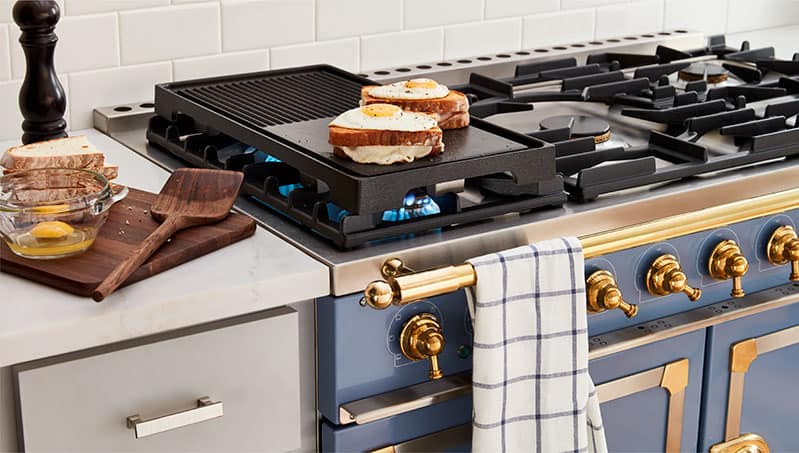 The reversible grill and griddle accessory is made of coated cast aluminum and features a half grill and half griddle.
It's perfect for quick indoor grilling and fits snugly over the two left burners of the CornuFé 110 and 90 Albertine dual fuel ranges.
The Château has several griddle and French top options.
La Cornue CornuFé Wok Accessory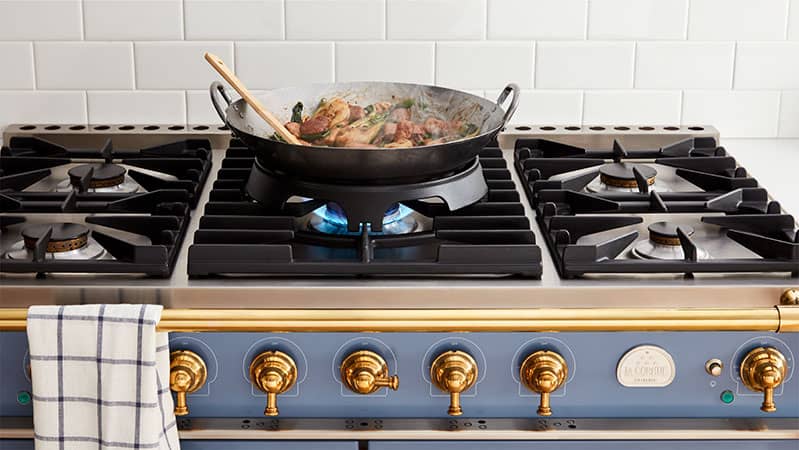 You also have a Wok ring accessory for holding a wok.
Read More: What's the Difference Between the La Cornue Château and the CornuFé Series Ranges?
Lacanche Ranges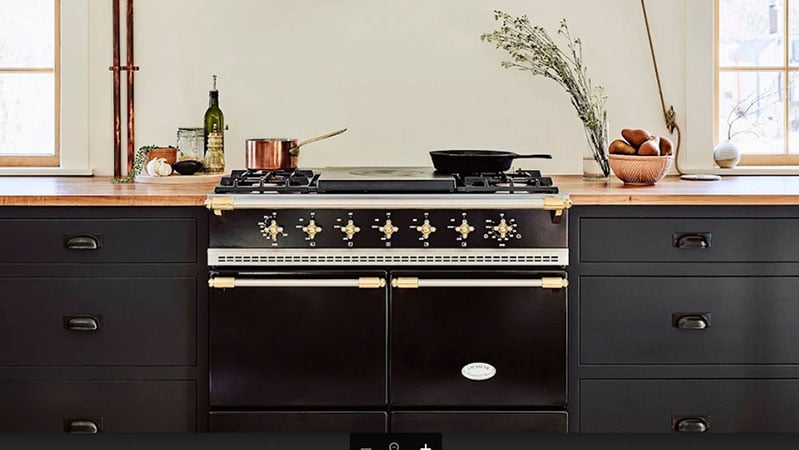 Lacanche Range Classique Line
Ordering a Lacanche
Lacanche is like a mix between the Château and the CornuFé, offering more colors than the CornuFé and some stovetop customization.
The ovens, however, are different than either the Château or CornuFé.
You have fewer modes but more choices of specialized warming, vertical convection, and broiling ovens.
Lacanche Series Ranges
Styles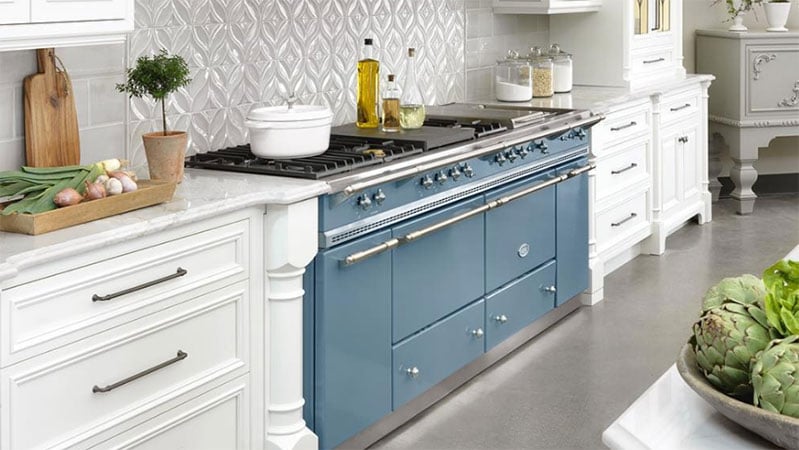 Sully 2200 Range by Lacanche
You have two lines: The more traditional Classique line and the sleek Moderne line.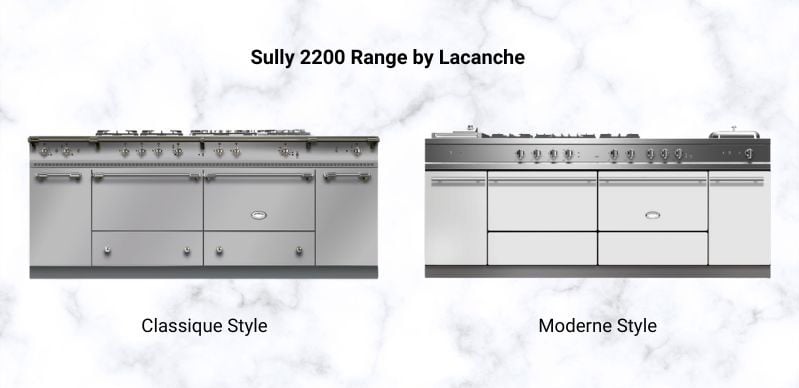 In this 86-inch range, you choose whether you want a warming cupboard, gas oven, or electric oven without a broiler while the storage cupboard is standard.
On the top, you have three choices to customize your stovetop.
The range is standard with two 15,000 BTU burners, two 11 000 BTU burners, one 15,000 BTU burner, and one 5,000 BTU burner.
Then you have the following choices for the stovetop:
Simmer Plate
Cast iron simmer plate over an 18,000 BTU burner
18,000 BTU burner
Two 11,000 BTU burners
Two 15,000 BTU burners
Electric "Pancha" griddle
Gas grill
Multicooker cool, steam immersion
Induction
Then you choose from 31 colors and four trim styles for the Classique or the Moderne.
That's how you order a Lacanche. Style, size, oven features, and then color and trim.
Sizes
Up to 5 Burner Ranges

29 9/16s Cormatin or the Rully: The difference is that the Rully has a separate gas broiler on the top starting at $8,500.
35 7/16s Beune or Bussy: At 36 inches, it adds a separate electric oven, either right or left, with your choice of electric or gas ovens starting at $10,500.
39 1/2 Cluny and Chagney: The difference between these two models is the Petite broiler with the electric oven or two ovens without broilers starting at $12,250.
39 ½ Volna and Vougeot: Both ranges offer an oven and a warmer. Low temperatures are good for proofing and dehydrating. (It could even replace my crock pot). You have two choices for the cooktop, burners, or a Frenchtop with burners.
43 1/2 Chambertin or Chassagne: At 43 inches, you can customize the top with one option. You can choose a larger oven and the vertical warmer, whether left or right, starting at $12,000.
43 1/2 Savigney and Saulieu: Instead of a warmer, that side oven is convection. These two ranges have a starting price of $13,000.
Up to 8 Burner Ranges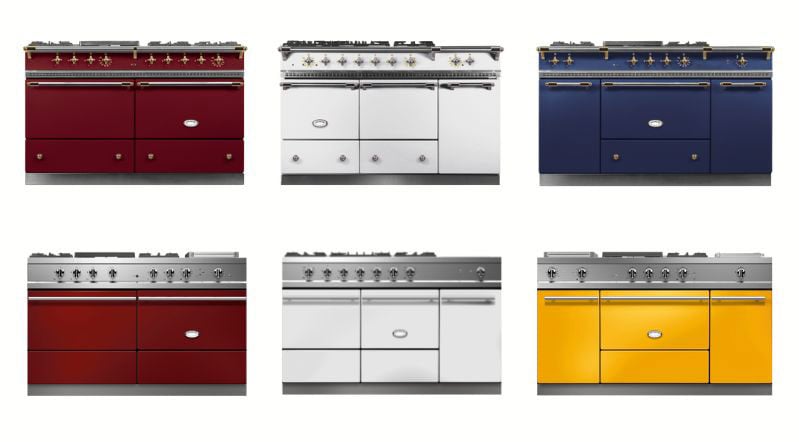 55 9/16ths Sully: You can choose two larger ovens and one customizable burner. This range starts at $17,000.
Clunny 1400: You have two smaller ovens and the vertical low-temperature oven starting at $14,250.
Chagney 1400: It's like the Cluny but adds the broiler at $15,750.
59 ½ Fonteney: You can choose the larger oven with two vertical warming cupboards starting at $15,750.
59 1/2 Citeaux: It's like the Fonteney, with an electric convection side oven instead of the warmer starting at $16,750.
9+ Burner Ranges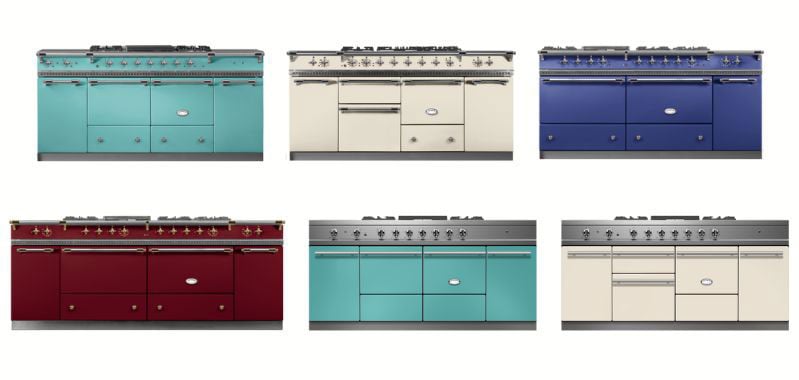 71 1/16th Cluny 1800:

At this size, you have two ovens and two vertical warming cupboards. You have two rangetop options as well

Chagny 1800:

The Chagny adds the broiler as well. $19,850

Sully 1800:

You have two extra-large ovens and a warming cupboard, $21,100.
By the way, all these prices are for the base colors and features. Shipping is an additional cost.
Dimensions
Smaller Cluny-sized ovens: 16"w x 12"h x 18"d
Larger Sully-sized ovens: 21"w x 12"h x 18"d (16"d if you opt for an
electric/convection oven)
Vertical Convection ovens on the Beaune & Bussy: 12 ¾"w x 17 ⅝"h x 16 ⅛"d
Vertical Convection ovens (Citeaux, Saulieu, Savigny): 12 ¾"w x 17 ⅝"h x 16 ⅛"d
Warming Cupboards: 13"w x 20"h x 21"d
Petite Broiler Oven (Chagny models): 16"w x 6"h x 17"d
Grande Broiler Oven (Rully): 21"w x 6"h x 18"d
What La Cornue and Lacanche Ranges Are Not
French ranges are personalized and beautiful cooking products. However, they need to be more technical and have some of the updated conveniences of other brands.
They don't have a clock and timer, although many professional ranges, like BlueStar, Wolf all gas, and Thermador Harmony, do not either.
They do not have steam like Miele in their steam assists ovens or Thermador with their full steam oven in their larger 48- and 60-inch ovens.
Both are not Wi-Fi enabled to be controlled by an app on your phone with recipe tie-ins like JennAir, Thermador, and Wolf.
La Cornue Château vs. La Cornue CornuFé vs. Lacanche French Ranges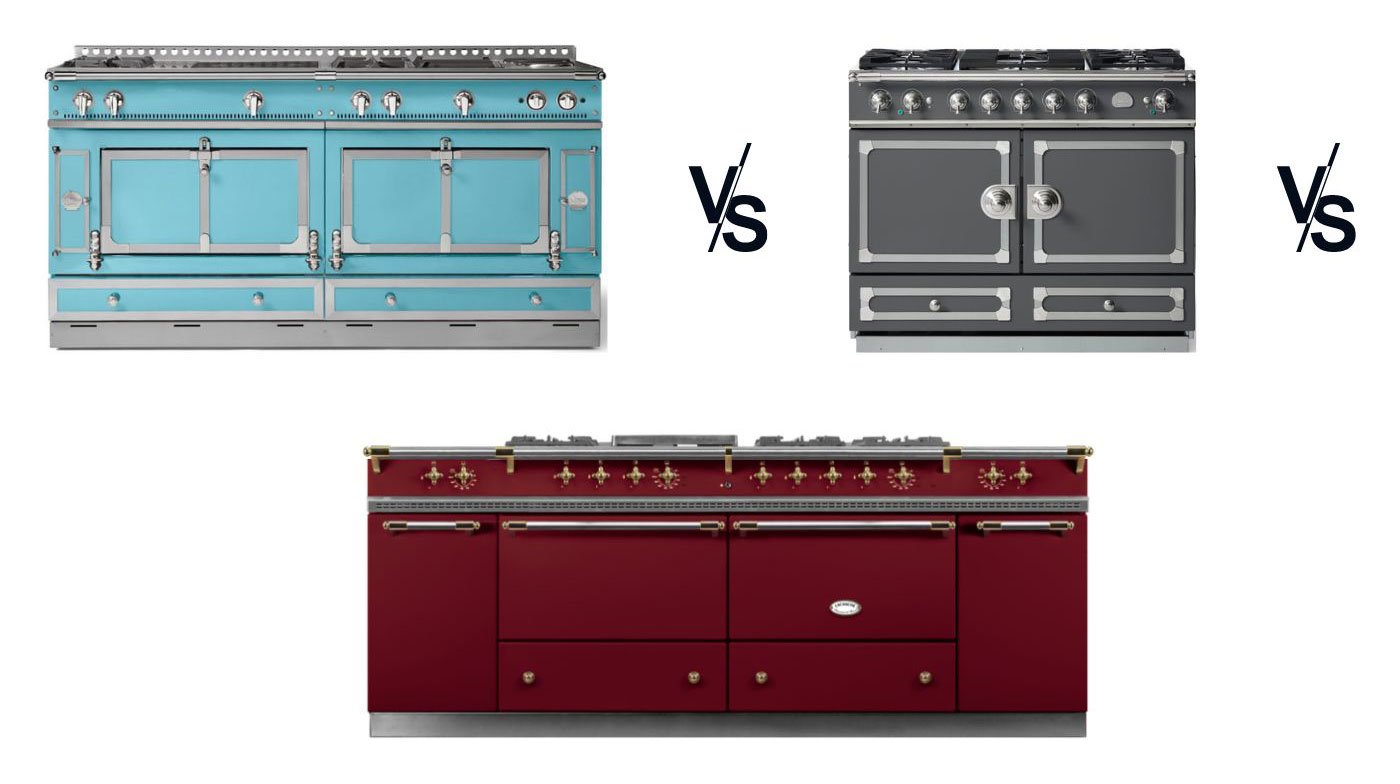 Sizes
The Château has six sizes from 29.5-71 inches, whereas the CornuFé has two at 35.4 and 43 inches.
Lacanche has seven sizes from 27 9/16" to 86 13/16".
Composition
La Cornue is built to a higher standard using Finnish metal versus regular stainless for the other two. (I didn't know Finland had the best metal).
However, looking at the range and opening the door is noticeable.
The La Cornue Château ranges also are equipped with solid brass burners for longevity compared to brass and metal for the other two.
It's manufactured to a higher standard than any other appliance. However, you should expect a much better range at $36,000 and up for a 36-inch range.
Both La Cornue and Lacanche refined their process with wet enamel and a dipping process to maximize the depth of color.
Most La Cornue ranges are still built by hand, while the CornuFé is built in a factory. Lacanche is a combination of both.
Colors
The La Cornue Château has 56 colors and eight trim packages. You can also customize the Château with any custom color.
Lacanche has 31 colors with four trim styles. You also have the Classique or Moderne lines.
The La Cornue CornuFé ranges offer 12 colors and three decorative trims.
La Cornue vs. Lacanche French Range Stovetops
La Cornue Château
You have six choices on the La Cornue.
You can buy almost any combination from all induction, Teppanyaki (griddle), French top, burners, and power burners rated at 22,000 BTU.
The CornuFé uses a fan-driven electric convection oven. Fans can dry the food a bit more than a natural convection oven.
CornuFé
You have two rangetops, all gas with the center 17,000 BTU burner, or all induction. The French Plaque covers the power burner.
French tops allow you to cook many items simultaneously because the heat starts in the middle and radiates outward.
You also leave the food in the pots. Think of it as a reverse griddle.
If you want to learn more, click here for the blog article about French tops.
Lacanche
On the smaller models, until 36 inches, you only have six burners with the power burner at 15,000 BTU.
At 39 inches, you have two choices of power burner of 18,000 BTU or French Plaque.
At 43 inches, you have one choice, along with the standard burners. Then you have two at the larger sizes
Midsize La Cornue vs. Lacanche Ranges

Château
The Château is either electric or gas.
The oven is concave with the air emanating from the bottom for natural convection.
Fans can dry out the food, especially in the back. (They do on my Kenmore Elite in my rental).
Natural convection provides a steady flow of air at an even temperature. Beneath is a storage drawer.
Interestingly, you have an electric broiler with gas or electric ranges.
Oven Dimensions
Gas: 22.6" W x 19.8" D x 11.8" H with a 3.1 cubic foot oven
Electric: 22.6" W x 19.8" D x 11.8" H with a 3.1 cubic foot oven
CornuFé
CornuFé, despite being French inspired while being built in an English factory, is American electric convection only.
Oven Dimensions:
28.1" W x 15.3" D x 15" H
Lacanche
35 7/16s Beune or Bussy
At 36 inches, Lacanche has your choice of electric or gas ovens with a vertical electric convection oven on the side.
Lacanche features "French" convection. It's similar to American convection, with air recirculated from the back.
On the vertical ovens, you must rotate your cookies according to users.
You also have no broiling capability in this size. Petite broilers start at their next size, 39.5 inches.
Oven Dimensions:
A vertical oven is 12 3/4" W x 17 5/8" H x 16 1/8" D.
The small oven is 16 "W x 12 "H x 18" D.
Modes vs. Ovens
In the Château and, to a lesser extent, the CornuFé, you have tons of specific modes for the most specialized cooking experience.
For the Lacanche, you have limited options, including a vertical warming cabinet or low-temperature ovens in larger sizes.
You have that option in La Cornue simply by picking the mode.
Distribution and Service
Both are customized and sent from France for Lacanche and the Château or England for the CornuFé.
Their philosophies diverge for delivery.
One company, Art Culinaire, distributes Lacanche with four showrooms but has no local support for installation and service.
La Cornue follows the traditional appliance dealer model. Dealers are a better strategy because you have someone to call to deliver, install, and fix a unique range.
However, many dealers do not offer that level of support, so check first.
What happens in delivery, installation, and service is as important as the purchase.
French Ranges vs. Professional Ranges
When comparing French ranges to a traditional professional (pro) range, you have two different types of ranges.
Stovetops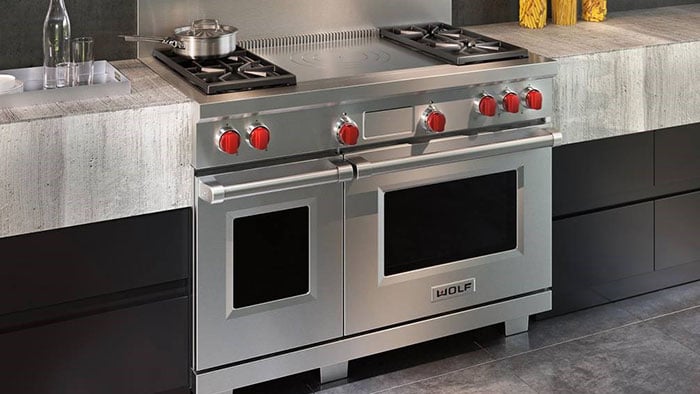 Wolf Professional Range with a French Top
You have customization on the La Cornue and Lacanche but less on a pro range.
Wolf and BlueStar will offer grill, griddle, and French top combinations starting at 36 inches.
Other companies like Thermador have some features, including induction, but you can't fully choose like you can in a French range.
Output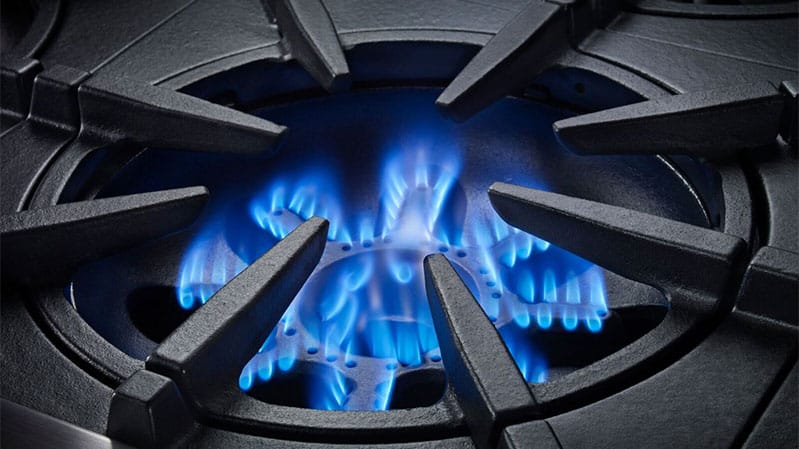 BlueStar Professional Range Burner
Without question, pro ranges have more output. BlueStar leads with multiple 25,000 BTU burners, but most will offer multiple burners over 18,000 BTU.
Ovens
With La Cornue and Lacanche, you have an electric and gas oven for roasting and baking.
You do not have that option in a traditional pro range. It's either electric or gas.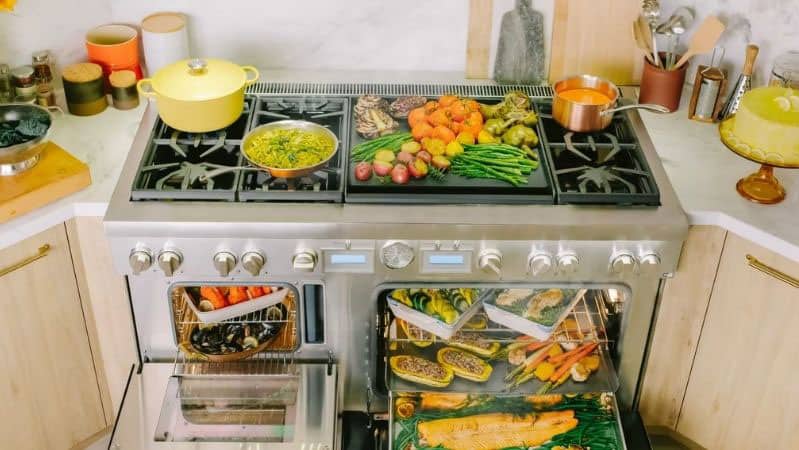 Thermador Professional Range with a Steam Oven and Convection Oven
However, brands like Thermador and Miele offer steam and speed ovens in their larger units.
Also, in gas, you have the most effective gas infrared broiler.
User Reviews
I don't normally link to other sites, but you should know what using them is like.
These users have millions of followers and talk about the CornuFé and the Lacanche.
I encourage you to find other reviews as well.
Which French Range Should You Buy?
First, they are different ranges, and all are a welcome departure from stainless steel with rich color and trim options.
The La Cornue Château is the best in all aspects, from customization to materials to how it cooks with arched ovens and natural convection.
Lacanche is a lower-priced consideration, especially in the larger units where you will save money.
However, the ovens are a bit different.
I would check their capabilities, especially broiling on the smaller sizes and smaller ovens.
You will have to rotate the food in their convection oven.
CornuFé is a lower-priced, French-inspired range but is more Americanized with regular convection and standard ovens.
Before buying unique appliances like French ranges, ensure you have proper support.
Frequently Asked Questions About La Cornue and Lacanche French Ranges
French Ranges
FAQs
Learn answers to the most common questions about French-style ranges.
Do They Have a Clock and Timer?
Are the 110 Ovens Too Small?
Do They Have Self Cleaning?
Additional Resources
Get our free Pro Cooking Buying Guide with tips, trends, and reviews of all the best brands. Over 820,000 people have already found answers in a Yale guide.
Related Articles
Why Should You Trust Us?
It seems that every appliance review has nothing but glowing comments about almost every product, yet you read customer reviews and they are almost universally bad.
We are here to fill in the disconnect. We'll give you the best features, and the drawbacks as well, including reliability based on over 37,000 calls performed by our service team just last year. Our goal is to give you ALL the information so you know what's right for you.
Please consider subscribing or adding to the conversation in the comments below. We appreciate you stopping by.
Steve Sheinkopf is the third-generation CEO of Yale Appliance and a lifelong Bostonian. He has over 38 years of experience in the appliance industry, and he is a trusted source of information for consumers on how to buy and repair appliances.

Steve has also been featured in numerous publications, including the New York Times, Consumer Reports, The Boston Globe, Bloomberg Radio, the New York Post, The Wall Street Journal, and Entrepreneur, for his knowledge of how to buy appliances and appliance repair.

Steve is passionate about helping consumers find the best appliances for their needs, and he is always happy to answer questions and provide advice. He is a valuable resource for consumers who are looking for information on appliance buying, repair, and maintenance.

Despite being the worst goalie in history, Steve is a fan of the Bruins and college hockey, loves to read, and is a Peloton biker. The love of his life is his daughter, Sophie.
A Note About Pricing
Pricing on this blog is for reference only and may include time sensitive rebates. We make every attempt to provide accurate pricing at time of publishing. Please call the stores for most accurate price.