BlueStar Dual Fuel Range Review: Are BlueStar's Dual Fuel Ranges the Best?
After years of producing only all gas ranges, BlueStar has unveiled its new dual-fuel professional range.
In this article, you will learn all about BlueStar's dual fuel ranges including their best features, prices, and what BlueStar could have done differently.
We will also compare the new BlueStar dual fuel ranges against Wolf, Miele, Thermador, Monogram, and.
Let's get started.
Short on time? Get our free Pro Cooking Buying Guide
BlueStar Dual Fuel Range Review: Are BlueStar's Dual Fuel Ranges the Best?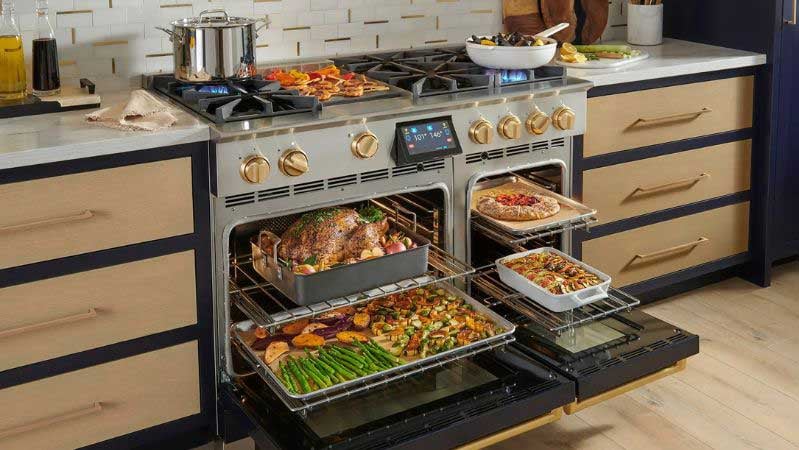 Let's start by reviewing the stovetop.
Stovetop
The X8 burner system is based on the eight points of flame from the burner. Unlike their current gas unit, the burner is sealed rather than opened.
Their eight-point design has a 20-inch circumference to cover most pans and 152 heat ports for more distribution than any other cooktop. It's the same logic behind the Thermador Star burner.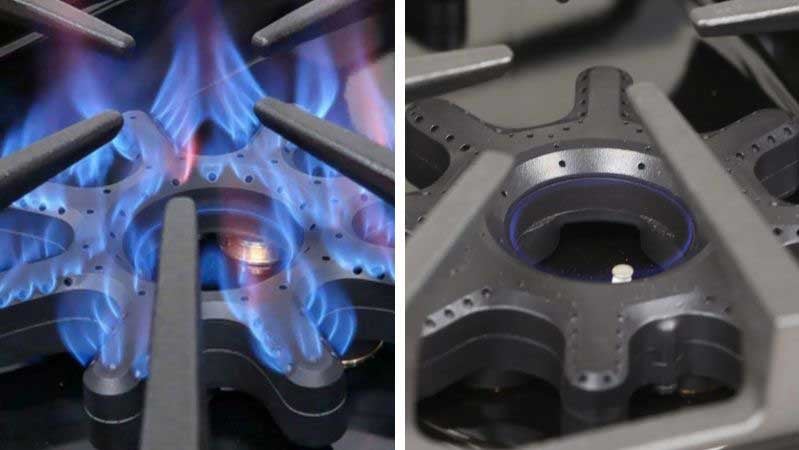 BlueStar Professional Range Burners
However, more heat from more places doesn't necessarily translate into more evenly cooked food.
That said, the burner excels for other reasons. The X8 delivers the same 25,000 BTU (British Thermal Units) output as the open burner on their gas stoves.
For years, open burners were marketed to have greater burner output because of the better flow of oxygen.
However, Hestan has a sealed 30,000 BTU burner, and Wolf has a sealed 35,000 BTU burner, so BlueStar changing to a sealed burner was inevitable.
Burner Output
This range is hot, really hot. BlueStar's dual fuel range has 25,000 BTU burners in the front and 18,000 BTU in the back.
The next hottest is the SKS at 23,000 and 15,000 BTU. Thermador is 18,000and 15,000 BTU with 22,000 BTU on the Pro Grand models.
Wolf combines 20,000, 18,000, and 15,000 BTU, while Miele is 19,500 BTU with 7,000 and 8,000 BTU burners in the back.
Compared to other brands' ranges, BlueStar is one hot range.
Simmering Capability
Each burner simmers at 500 BTU on all burners. SKS and Thermador can reach as low as 100 degrees on their simmer burners, but only on two burners. All of Wolf's burners can reach lower than 300 BTU.
Five hundred BTU is decent, especially with their high-output burner.
Griddle
Their gas griddle can reach up to 15,000 BTU of output. Gas is quick to heat and better than Thermador's electric grill.
Miele and Wolf ranges use directed infrared heat for their griddles with a better output at 16,000 and 17,000 BTU. Monogram's range is 18,000 BTU.
The BlueStar griddle is made of commercial steel. The chromium JennAir griddle will be easier to clean.
Stovetop Configurations
There are four stovetop options to choose from: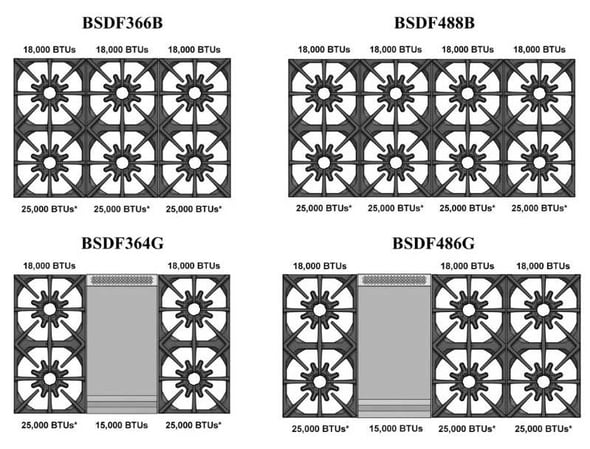 Oven Features
Capacity
BlueStar has a decent capacity of 5.1 cubic feet for the main oven and 2.7 cubic feet for the smaller oven. Like all their appliances, the ovens are made to hold a commercial cookie sheet.
Convection System
Both ovens are single-fan European convection. Some brands like JennAir and Miele offer twin convection for even heat distribution in their larger oven.
Wolf switched to their high-speed blower convection system, VertiCross, in their dual fuel range in 2021.
Passive Self Cleaning
You are starting to see many manufacturers offer different self-cleaning options.
Steam cleaning and shorter cycles use less energy and don't subject the oven to the stress of the traditional three-hour high heat cycles.
BlueStar offers a 90-minute express cleaning mode plus a catalytic element to reduce smoke and odors.
Pro Tip: Clean your oven right after you are finished before the residual food becomes baked on.
Touchscreen Controls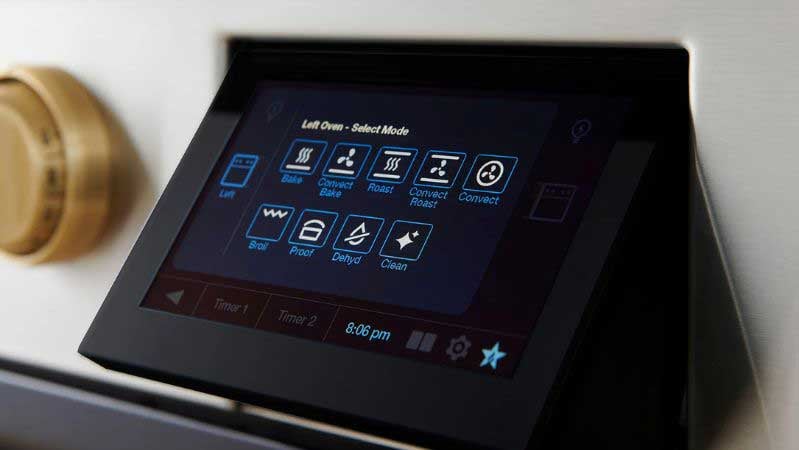 BlueStar gas ranges offer no controls, not even clocks and timers. If you are surprised, neither does Thermador in their Harmony series, Wolf in all gas, and La Cornue.
The new BlueStar dual fuel range offers a seven-inch touch screen. The screen even tilts like the Monogram to be viewed easier.
The controls are excellent, yet Monogram, Wolf, and Miele may have better functionality. We will explain why in the problems section.
Summary of Oven Features:
Powerful 8-pass Broiler with intense 5000-watt element
Unique Glass Bottom Oven for optimal heat in oven and easy clean up after each use
(2) Full-extension Glide Racks for easy access
2-year full parts & labor warranty
Custom Finishes and Color Options
While many brands like Wolf, Miele, Monogram, SKS, JennAir, and Thermador offer stainless as your only option, BlueStar offers 1000 colors and ten trim styles.
You can even customize your appliance finish. Seventy-five percent of all BlueStar ranges purchased by customers at Yale are in a custom color.
Pro Tip: The range is a perfect place to add color, even in a white kitchen, because it's often centralized and is the primary focal point of your kitchen.
Pricing
The following are the prices for stainless steel. Choosing a custom color is an additional cost.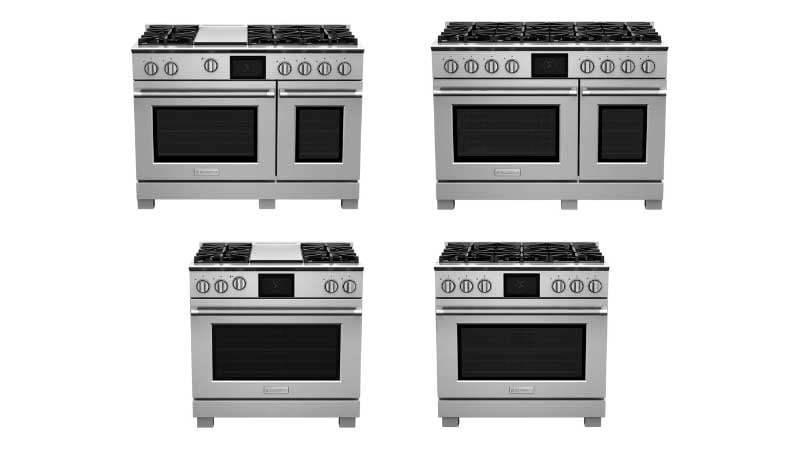 New BlueStar Professional Dual Fuel Range Models:
BlueStar 48-Inch Dual Fuel Range with a Griddle BSDF486G - Starting at $16,995
BlueStar 48-Inch Dual Fuel Range BSDF488B - Starting at $15,995
BlueStar 36-Inch Dual Fuel Range with a Griddle BSDF364G - Starting at $12,995
BlueStar 36-Inch Dual Fuel Range BSDF366B - Starting at $11,995
Review Summary
The new BlueStar dual fuel range is certainly an improvement. It has the highest output and a good simmer on every burner.
The capacity and controls are decent, plus the ability to customize with color is unmatched in the industry.
Your choices are limited, but the configurations with burners and griddles are the most popular. Yet, several important features are missing.
Summary of Features:
Exclusive X8 star-shaped burners
Extra-high sear – up to 25,000 BTUs

All Front Burners – 25K
Rear Burners – 18K

Ultra-low constant warm of 500 BTUs on all burners
Dual valves on every burner for seamless transition from high to simmer to warm –precise control
5 positions: OFF, HIGH, LOW, SIM, WARM
Automatic re-ignition
Burner indicator lights on control panel
Heavy-duty, continuous platform cast-iron grates
Seamless, one-piece easy to clean porcelain spill tray
Commercial grade steel griddle with precise temperature control – 15,000 BTUs
What BlueStar Dual Fuel Ranges Lack
That said, the following features are missing:
Grill and French Top Options for the Stovetop

Induction Burners

Twin Convection System

Steam Functionality

Guided Cooking System

Wi-Fi Connectivity and Smart Features
Grill and French Top Options for the Stovetop
They have both in their all-gas series. French tops can cook many items at different temperatures.
They aren't that popular, but BlueStar already produces the option in their larger 48 and 60-inch ranges. Wolf and La Cornue are the only others with the French top option.
Grills are not as widely sold as griddles. But BlueStar has it in their RNB series gas ranges, so why not in their dual fuel range?
Induction Burners
Induction has become a more popular option. Fisher Paykel, Thermador, and SKS now offer induction in their pro ranges, mostly because induction doesn't need as much venting as gas.
Twin Convection System
There have been more advances in convection technology, with Wolf being the best with their VertiCross blowers. BlueStar has the standard single convection oven.
Steam Functionality
Thermador and SKS offer a steam oven option in their ranges. You can cook a whole meal in steam for tastier food because steam doesn't bake out the taste and nutrients.
Miele has steam assistance adding up to three bursts of steam to bake bread or any dish that requires a humid oven.
Guided Cooking System
The BlueStar controls are decent, but the Miele MasterChef and Wolf Gourmet are more robust.
With both Miele's and Wolf's guided cooking systems, you can select the food type you're baking and how you want it cooked. Then the range will calculate the correct time and temperature for you.
Wolf will recommend the rack position as well, while Miele will recommend using Steam Assist.
Wi-Fi Connectivity and Smart Features
Smart features have been slow to evolve. The original smart ranges offered the basics. You can turn the range on or off remotely and set the temperature all through an app on your phone.
The more recent smart ranges will also add recipe tie-ins to Innit, SideChef, and Hestan.
Monogram updates cooking modes wirelessly, like how they've added a Turkey and Steakhouse mode in the past.
30 Inch and 60 Inch Range Sizes
Thirty inches is still the most popular size sold, even in pro. Their dual fuel is not offered in 30 inches. Sixty inches is not widely sold, but BlueStar already produces a 60-inch range in their all-gas series
How BlueStar's Dual Fuel Ranges Compare to Other Brands
Below are brief comparisons between BlueStar and other popular brands for dual fuel ranges. I will go into greater detail in subsequent posts. Make sure to subscribe to our blog for updates.
BlueStar vs. Wolf Dual Fuel Ranges

Stovetop
BlueStar has a better output at 25,000 BTU max and 18,000 BTU burners compared to 20,000, 18,000, 15,000, and 9,200 BTU for the Wolf. However, Wolf will simmer better reaching lower than 300 degrees.
Wolf also has infrared grill, griddle, and French top options for the stovetop.
Oven
They have identical capacities, but Wolf has a newer convection system, smart functionality, and the Wolf Gourmet guided cooking program.
Customization
BlueStar has 1,000 colors versus just stainless for Wolf.
Sizes
Wolf is available in 30 and 60-inch sizes as well as 36 and 48 inches. BlueStar is only available in 36 and 48 inches.
BlueStar vs. Thermador Dual Fuel Ranges

Stovetop
BlueStar is more powerful at 25,000 and 18,000 BTU compared to Thermador's 22,000, 18,000, and 15,000 BTU burners.
Simmering is better on the Thermador. Thermador has two burners reaching as low as 100 degrees, while BlueStar can reach a consistent 500 BTU on all their burners.
Thermador has an electric grill, griddle, and induction option. BlueStar does have a gas griddle.
Oven
BlueStar is larger, but Thermador has the steam option and a single oven.
Customization
BlueStar has 1000 color and trim options to choose from, while Thermador is only available in stainless steel.
Controls
BlueStar has the better seven-inch screen while Thermador has smart functionality.
Sizes
Thermador is available in 30 and 60-inch sizes.
BlueStar vs. Monogram Dual Fuel Ranges
BlueStar has better burners versus Monogram's at 23,000 and 15,000 BTU. Monogram's griddle has a better output at 18,000 BTU compared to 15,000 BTU for the BlueStar.
Monogram also features a 14,000 BTU grill.
Oven
Monogram has a slightly larger capacity at 5.75 cubic feet compared to 5.1 cubic feet for the BlueStar.
Controls
They both have seven-inch control centers, yet GE may have the best smart functionality with their SmartHQ platform.
Sizes
Monogram has a 30-inch range as well.
BlueStar vs. Miele Dual Fuel Ranges

Stovetop
BlueStar is far hotter at 25,000 BTU compared to 19,500 BTU for Miele with a better simmer. Miele has a hotter grill and griddle.
Oven
Miele's range is brand new with steam and a new moisture sensor. Miele's 48-inch range has a speed oven with a warming drawer as well.
Controls
The Miele M-Touch display is more intuitive than BlueStar with smart functionality.
Size
Miele is also offered at 30 inches unlike BlueStar.
Should You Buy a BlueStar Dual Fuel Range?
As I said before, this range is certainly worth considering. That said, no one brand or model is right for everyone.
You should consider other ranges if you want to grill or want smart functionality. BlueStar doesn't have any options like steam functionality in the oven.
However, if you want a solid high output range with the ability to customize the design, BlueStar may be your best option.
Additional Resources
Looking for more information on pro ranges? Get the Yale Pro Cooking Buying Guide with features, specs, BTU Outputs, and detailed profiles of the major brands. Well over 900,000 people have read a Yale Guide.
Related Articles:
Why Should You Trust Us?
It seems that every appliance review has nothing but glowing comments about almost every product, yet you read customer reviews and they are almost universally bad.
We are here to fill in the disconnect. We'll give you the best features, and the drawbacks as well, including reliability based on over 37,000 calls performed by our service team just last year. Our goal is to give you ALL the information so you know what's right for you.
Please consider subscribing or adding to the conversation in the comments below. We appreciate you stopping by.
A Note About Pricing
Pricing on this blog is for reference only and may include time sensitive rebates. We make every attempt to provide accurate pricing at time of publishing. Please call the stores for most accurate price.