Best Ventilation Hoods for Professional Ranges (2022 Update)
It's important to vent your professional range correctly.
Many people do not, and the air inside their homes is far more polluted than outdoors.
According to the Environmental Protection Agency, indoor air is two to five times worse than outdoor air.
In this article, you will learn all about the best ventilation hoods for your professional (pro) range.
I will also show you how to vent your range the right way and, more importantly, why many hoods do not work with a pro range or most high output gas ranges.
You will also see a redesigned hood line with brand new features (it's been in design for about four years).
Let's get started.
Short on time? Get our free Ventilation Buying Guide
Best Ventilation Hoods for Professional Ranges
Below are the best ventilation hoods for a professional range.
Best Undercabinet Hood: Yale PUCCM630SS ($1,199) and PUCCM636SS ($1,299) for up to 1200 CFM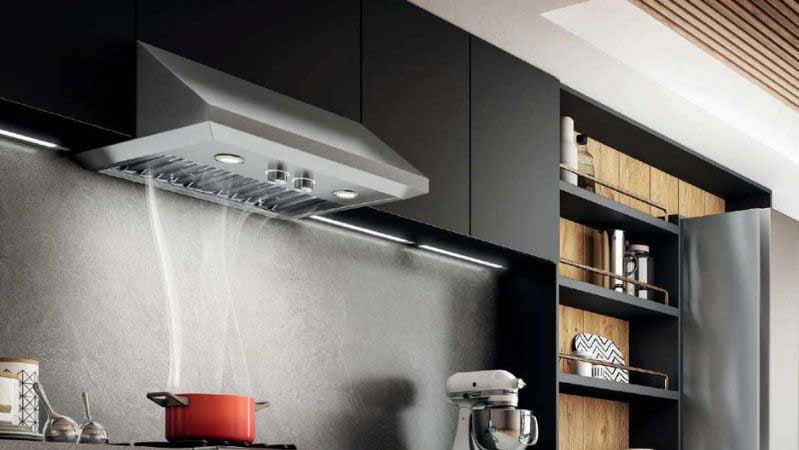 Every undercabinet hood will have problems exhausting pro range. Undercabinet hoods are not deep enough to ventilate a pro range properly.
The powerful front burners are about 21-23 inches, so some smoke and grease will billow past - except for the Yale PUCCM630SS and PUCCM636SS.
Both of these hoods are 23 inches with a decent CFM of up to 1200 CFM and are designed to handle a pro-range burner.
However, you would want a deeper, more powerful hood with a grill or griddle.
Unlike most other undercabinet hoods, you have less noise with these models. Both hoods come with a five-year warranty. In addition, the baffle filters are included.
Best DIY Option: Yale PINTR146SS for up to 1200 CFM - $1,499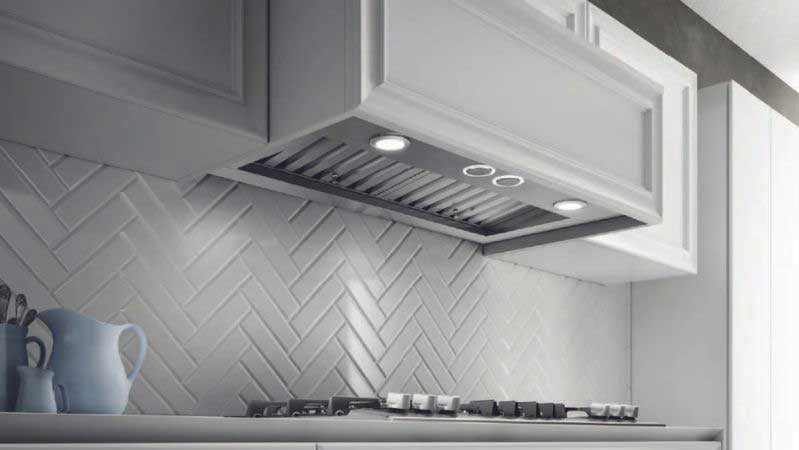 If you don't like stainless or color, then do it yourself. The only components you need are the mechanical parts, a stainless liner for the inside of the hood, the light, filter, control unit, and then the blower.
Always ensure the hood is 24-27 inches deep with the appropriate CFM.
Most manufacturers will have a hood insert. The Yale PINAR146SS will offer whatever blower position inside, outside, or in line, along with better lighting, filters, and a warranty.
Best for Versatility: Yale PCHLV136SS for up to 1200 CFM - $1,699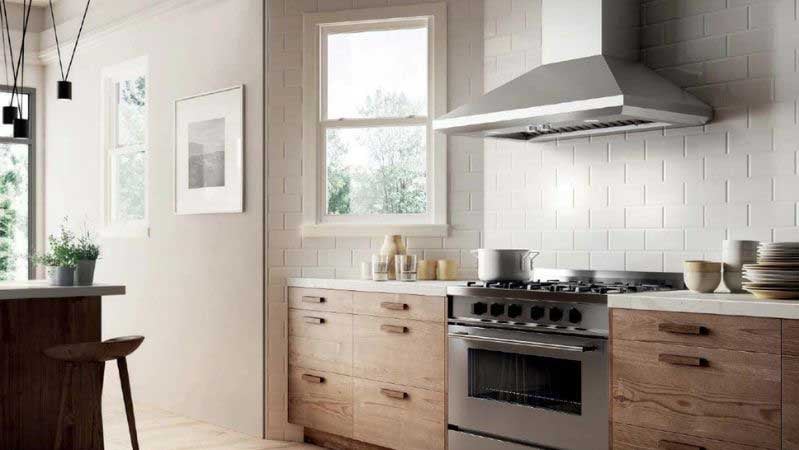 The Yale hood in a triangular shape is brand new. Like the Thermador, it is 24 inches deep and designed to be placed over a pro range.
It will be quieter with better lighting and the ability to choose whatever location you want the blower, either inside, outside, or inline, along with the heat sensing and other advantages outlines above.
Like all Yale hoods, the warranty is five years.
Best Value: Yale PWLCL148SS for up to 1200 CFM - $1,999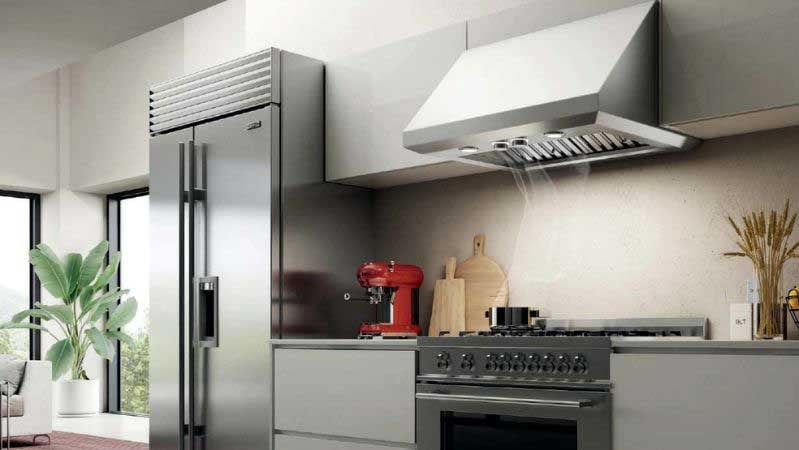 The Yale 48-inch Canopy hood PWLCL148SS has been redesigned after about four years.
It has brand new features all designed to better ventilate your space.
This hood can be exhausted as inline, outside, or internal with the same blower. You don't have to worry about buying the right blower or have to change blowers with any problems in your kitchen design.
Like all Yale hoods, it has "S-Shaped" baffle filters to capture the most grease and smoke. The S Shape of the stainless-steel baffles will trap high volumes of grease.
In addition, the depth is 25 inches, so it covers more of the range than the standard recommended 24-inch styles.
Heat Guard senses extreme temperatures and automatically adjusts the blower to high.
The Yale hoods now feature HUSH sound suppression for 35% less noise. The lighting is 3000-degree Kelvin with up to 1580 lumens on the larger size.
Why is 3000 degrees important? On the Kelvin scale, 3000 is soft, flattering, light, and perfect for kitchens.
When we sold lighting, the best-recessed lights were between 2500-3000 degrees, Kelvin. This hood will shine a ton of good quality light.
Lastly, Yale hoods include an industry-best five-year warranty.
Best Capture and CFM: Wolf PW362718 for up to 1500 CFM - $2,460 + Blower

Wolf's hood has the best capture area at 27 inches deep. You have choices for blowers inside, inline, or outside with up to 1500 CFM.
Like the Yale hood featured above, Wolf has a heat sensor activating the hood at 200 degrees.
Best Looking: Thermador HPCN36WS for up to 1000 CFM - $2,999 + Blower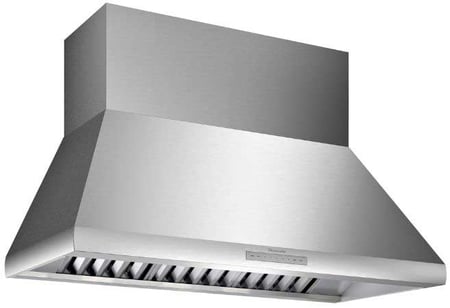 The Europeans popularized the triangular hood vent. It's a decent look with tapered sides.
However, most triangular hoods are not designed for a pro range because they are only 21 inches deep.
Thermador is one of the only hoods in this shape at 24 inches. The CFM is 1000 maximum, so I would only use the Thermador up to 36 inches.
Thermador hoods are part of the One, Two, Free program for a $1,399 credit with qualifying purchases.
Best Color option: BlueStar SC048MLPLTDCF for up to 1400 CFM - $11,645 + Blower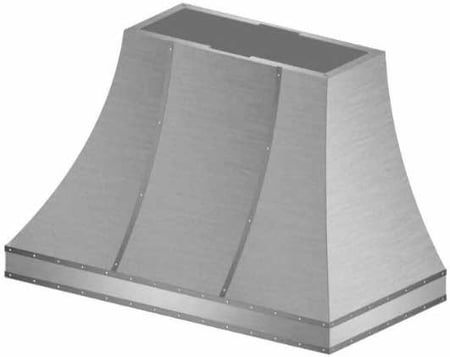 BlueStar offers customization with over 1000 colors and ten trims to choose from.
It's perfect if you're interested in a customized range and range hood. They can even match a nail polish color to a hood.
However, you're paying $10,000 more than you would for a Yale Hood just for a custom color.
How to Choose a Ventilation Hood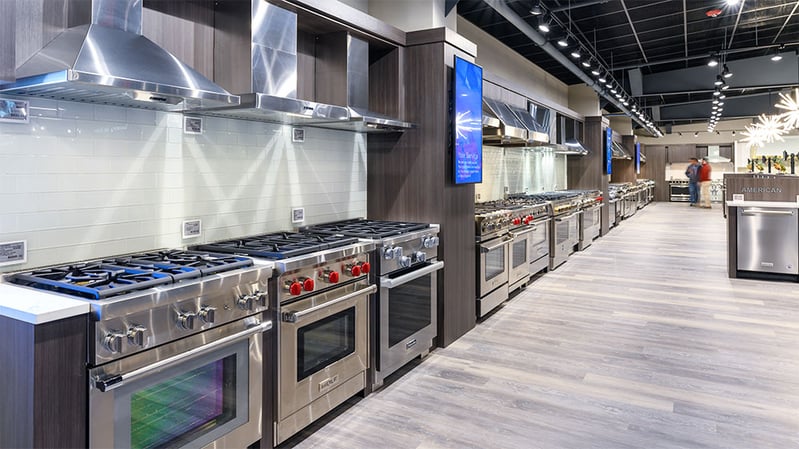 Range Hoods and Professional Ranges at Yale Appliance in Hanover
If you are following the rules, choosing a range hood is easy. You want an 18-inch tall, 24-27-inch-deep hood with the same width as your range.
You also want a reliable option. It is a harder task with many no-name brands on the market. Just make sure the components are good.
Always look at all the components before you buy a range hood, especially the blower. A hood can be purchased with the blower inside, usually up to 1200 CFM.
You can also buy the hood as a shell and buy the blower separately from 600 to 1500 CFM.
Blowers can be placed inside the hood, outside your home, or in the duct. I like the blower inside because it's easier to fix. You must allow access to an inline blower in case of repair.
Outside it is quieter, but you still hear the rush of air. It's not that good-looking and harder to repair in the winter.
Of course, you can install a blower all three ways with the new Yale hood we mentioned at the top of this article.
What CFM Should You Buy?
That depends on how you cook. You want a higher CFM hood if you like to grill, griddle, wok, or stir fry.
Look for a minimum of 900-1200 CFM for a 36-inch range and 1200-1500 CFM for a 48 or 60-inch range.
The Importance of Ventilation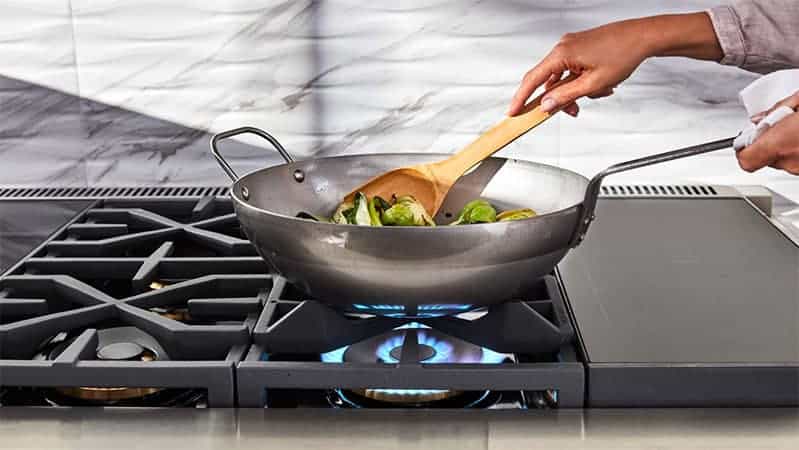 SKS Professional Range Burners
Since you last purchased a professional range, burners have steadily increased from a maximum of 15,000 BTU (British Thermal Units) in 1990 to 30,000 BTU today.
Hestan has a 30,000 BTU burner, BlueStar has multiple 25,000 BTU burners, and SKS (Signature Kitchen Suite) has multiple 23,000 BTU burners. Wolf and JennAir have multiple 20,000 BTU burners.
You want to vent all that heat, smoke, and grease outside correctly. You don't want your house perpetually smelling like your last dinner.
But there are other problems.
In researching this topic for our webinars, podcasts, and articles, we began to see some strange acronyms associated with the air you breathe in your home.
Do a quick Google search on whether gas ranges are harmful, and you will find a series of articles on why they might kill you.
Gas ranges emit carbon dioxide, carbon monoxide, nitrous oxide, formaldehyde, and particulate matter.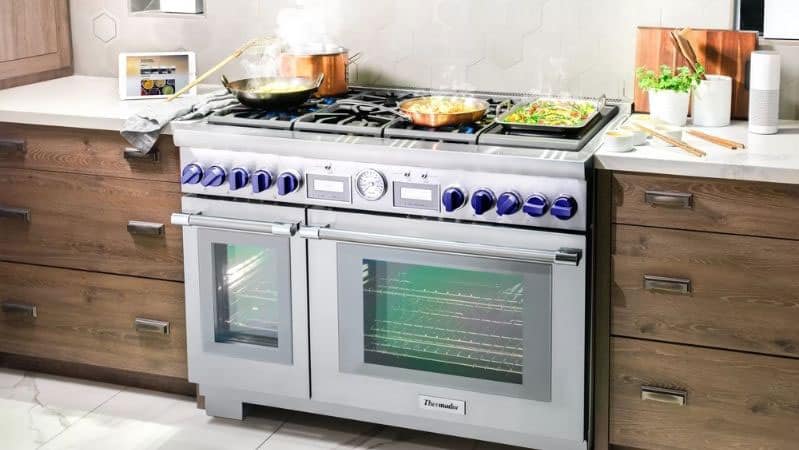 Professional Gas Range with Wok and Multiple Items Cooking on Stovetop
We now have several acronyms, namely IAP, IAQ, and SBS.
Indoor Air Quality (IAQ) refers to the quality of air inside your home and measures how safe it is for breathing. Indoor Air Pollution (IAP) is the excess of indoor pollutants.
Exposure to indoor air pollutants, whether repeatedly or once, can directly affect your overall health.
In cases where a home or building is linked to occupants experiencing "acute health and comfort effects," this appears to be linked to time spent in a building, "which is known as Sick Building Syndrome (SBS), as reported by the EPA.
All these problems tie back to inadequate ventilation. Unfortunately, you can still pick the right ventilation hood yet have inadequate ventilation.
How to Ventilate Your Professional Range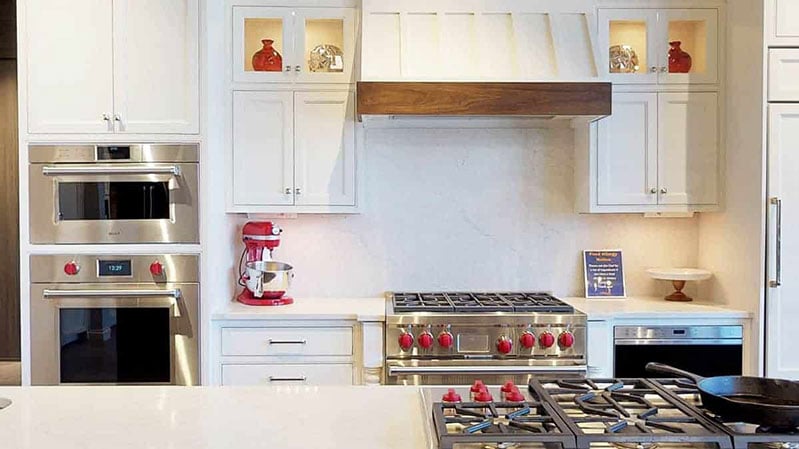 Wolf Ventilation Professional Range Hood at Yale Appliance in Hanover
Ventilation is divided into equal parts, CFM, capture area, duct run and duct size.
CFM
CFM stands for cubic feet per minute. How many cubes of airflow through the vent in one minute?
CFM in-range hoods can range from 250 to 1500. One thousand five hundred cubes of air are typically in a small room.
Whether you buy a grill, griddle, or wok, the CFMs should be 600 for a 30-inch to 1500 for a 48-inch or 60-inch range.
That motor can be located inside your house.
Capture Area
Smoke is not expelled immediately after reaching your vent. Capture area is where people tend to make mistakes.
A 1500 CFM 21-inch depth hood will still not work on the front burners because the smoke will bypass the hood.
Smoke, heat, and grease are captured, then vented. It's why you see huge hoods in the middle of restaurant kitchens.
So, you want a hood at least 24-27 inches deep, 18 tall, and the width of your stove.
If on an island, add 6 inches so smoke can be effectively chambered.
Duct Run
You want your duct run simply. Straight up is good because it follows gravity. Smoke is going up anyway. Straight back on a wall works as well.
Please resist the urge to add long runs and transitions as they cut effectiveness.
Duct Size
Duct size was more of an issue years ago when contractors were using dryer ducting. Typically, 8-10 rounds are adequate for any vent.
Read More: How to Vent Your Kitchen Range
How to Not Vent Your Professional Range
Unfortunately, many people are choosing aesthetics over functionality unwittingly. Many beautiful kitchens will only look good until you turn on your range.
Here are three common mistakes:
No Ventilation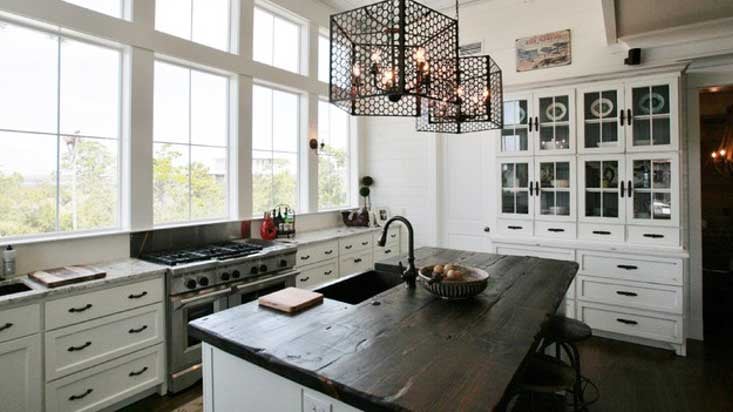 Professional 48-inch Range with No Ventilation
There are no laws against not having a range hood. Oddly enough, make-up air laws were enacted when you have a vent.
But in the picture above, you have roughly 130,000 BTUs with no ventilation, so all that heat, smoke, and gas stays inside your home.
Remember, houses are built much tighter and more efficiently so that gas does not escape through drafty windows like in years past.
Ceiling Blowers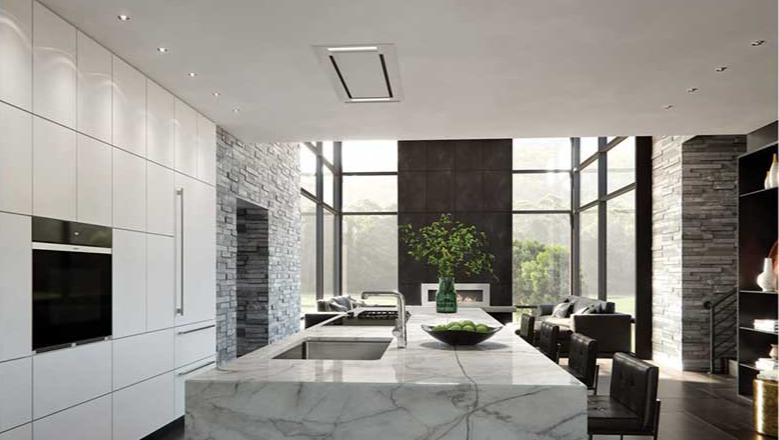 Ceiling Blower Over a Gas Range
Ceiling blowers have plenty of CFM but no capture area. You can only install a ceiling blower 4-7 feet above the cooking surface, assuming the design does work.
Downdrafts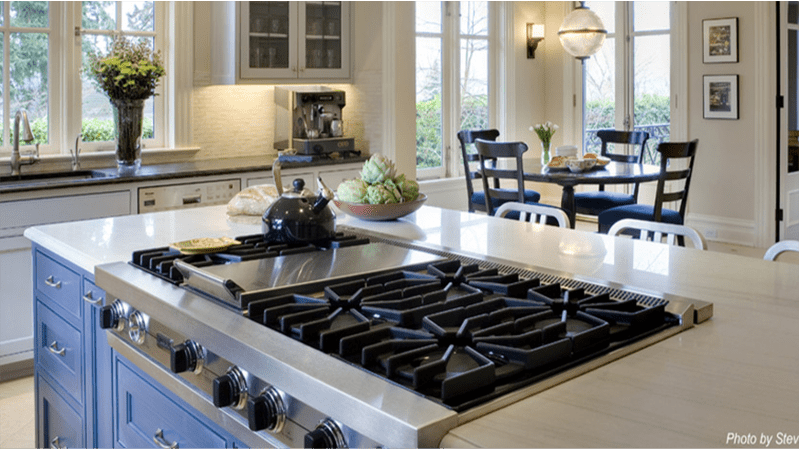 Downdraft with a Rangetop
It's hard to believe people still use downdrafts. Let's say you use your professional range.
The smoke would be pulled into a two-inch aperture, then reversed into a duct, then redirected with an elbow through a long duct run to the outside. It won't work.
Key Takeaways
Buying the right ventilation will improve the indoor quality of your home. Just remember to buy the right capture and CFM, and plan your duct accordingly.
Yale, Wolf, and Thermador are all decent options and will evacuate the smoke, heat, and gases from your home efficiently.
You can also choose BlueStar for a custom color or do it yourself with your custom cabinetry.
Additional Resources
Get The Yale Ventilation Buying Guide with features, specs, and inside tips for every brand and hood type. Well over 1 million people have read a Yale Guide.
Related Articles:
Why Should You Trust Us?
It seems that every appliance review has nothing but glowing comments about almost every product, yet you read customer reviews and they are almost universally bad.
We are here to fill in the disconnect. We'll give you the best features, and the drawbacks as well, including reliability based on over 37,000 calls performed by our service team just last year. Our goal is to give you ALL the information so you know what's right for you.
Please consider subscribing or adding to the conversation in the comments below. We appreciate you stopping by.
A Note About Pricing
Pricing on this blog is for reference only and may include time sensitive rebates. We make every attempt to provide accurate pricing at time of publishing. Please call the stores for most accurate price.