Should You Buy a Griddle for a Professional Range? (Reviews / Ratings)
Editor's Note: When I was kid, Yale used to be on Canal street in Boston. There was a diner across the street called Demos. The owner used to cook everything on a griddle from omelets to hot dogs to burgers and hash browns on a small griddle about 30 inches wide.
Should You Buy a Griddle on a Professional Range?
Before you buy a 6-burner range, consider a griddle because you can cook almost every food differently than a burner. This post was written by Saba one of our two staff chefs who cook 5 days a week at Yale.
Do you wish you could just throw eggs and bacon on a griddle for a tasty Sunday breakfast?
In this video, you'll learn all the benefits of having a griddle on your new pro range as well as the best brands and griddles to consider.
And at the end of the video, you will learn an easy trick to clean your griddle after every use.
Is a Pro Range Griddle Right for You?
Benefits of a Professional Range Griddle
You may know of the portable electric griddles you can place on top of your counter, but professional (pro) griddles are integrated into pro ranges and rangetops for far faster, more consistent temperatures.
Of course, you can cook much more than just breakfast food. In fact, you can make sliders, quesadillas, and of course, pancakes, bacon, and eggs.
Narrow down Pro Range options with our free tool
You can actually get the temperature high enough to sear a variety of different proteins as well, like steak, salmon and chicken.
Different Types of Pro Range Griddles
Wolf / Miele Griddles
The most common type of griddle is rolled steel, which can be powered by infrared gas heat, like in the Wolf and Miele.
Infrared is a direct, intense heat and is faster than an electric griddle. Infrared is similar to the sear units on high powered outside grills.
The Wolf rolled steel griddle is bead-blasted for a duller, professional look. It is also more durable.
Thermador Griddle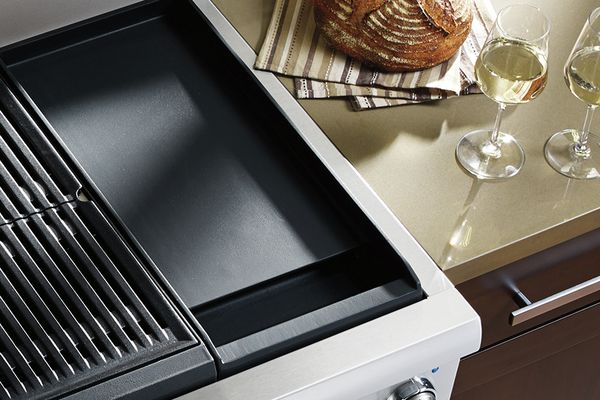 The cast aluminum Thermador is powered by an electric heating element. The surface is non-stick and dishwasher-safe, but doesn't get as hot and has less consistent heat distribution than the gas Miele and Wolf.
Jenn-Air Griddle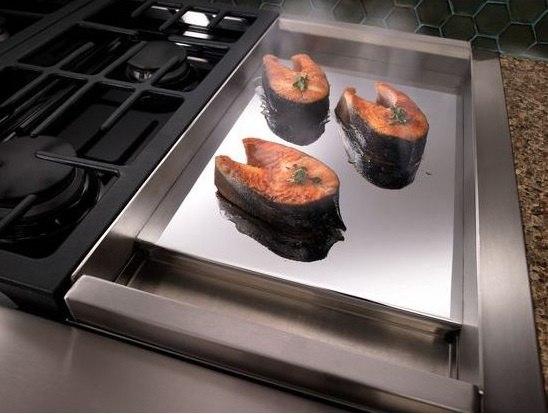 The Jenn-Air stands apart for cleaning. Their electric griddle has a durable chromium surface for easy cleaning and non-stick cooking. Its by far the easiest, but like the electric Thermador it will be slower to heat.
How to Clean a Pro Griddle
Cleaning is simple using this technique. After normal day-to-day use you can use this damp towel method at home.
First you want to keep the griddle on, but at a low temperature.
Wet a regular dish towel, preferably in a darker color because it will stain.
Place the towel over the length of the griddle - the heat from the griddle and moisture from the towel will create steam which will help dislodge any food particles or residue that get left behind.
Then take a sturdy spatula and start to scrape the top of the griddle through the towel.
Wipe down the length of the griddle toward the drip tray and rinse it out.
That's it! Yale also offers a full griddle-cleaning kit for a nice deep clean every few months.
[For the Jenn-Air, all you have to do is pour water on top and use a long set of tongs and a light scouring pad to scrub the surface.]
Conclusion
You really can cook anything on a griddle from omelettes to burgers. And using and maintaining a griddle is not as intimidating as you might think.
It has greater flexibility than burners and is simpler to maintain than a grill. So before you buy that 6 burner pro, consider a griddle as a worthwhile option.
Additional Resources
Want to learn more about the latest gas ranges and technology? Read the Yale Pro Cooking Buying Guide with features, specs and detailed profiles of every major brand. Well over 350,000 people have downloaded a Yale Guide.

Related Articles
Saba Wahid
Saba is the resident chef for our Dorchester (Boston) location. She has been in the culinary industry for many years working in various aspects of the business. She began her career in New York City and then made strides in the Dubai culinary media market while doing a live TV show along with hosting food-based events all over the Emirates. From recipe development with several international brands to teaching cooking classes here in Boston, Saba's experience and resume has evolved incredibly over the years.
A Note About Pricing
Pricing on this blog is for reference only and may include time sensitive rebates. We make every attempt to provide accurate pricing at time of publishing. Please call the stores for most accurate price.