What Are the Best High-End Professional Ranges?
It's incredible how you can choose the best professional range for your home with so much conflicting information on the internet.
Some of these raving reviews will assist you in buying the wrong range.
A mistake that could cost $20,000 plus time is changing the vent and other associated labor costs.
Let me help you out a bit.
There is no single best professional range. However, one brand or model may be better for the way you cook.
In other words, if a salesperson shows you a range without asking you how you cook, you have a 50% chance of making a mistake.
To illustrate that, you will see a comparison of the top articles for "Best Pro Ranges" from The Wirecutter, a division of the New York Times, and AJ Madison, a New York online retailer, against ours.
As a bonus, you will have access to videos about each brand to help you make a decision right for you and your family.
At the end of this article, you will be able to narrow your choices to one or two brands.
Short on time? Get our free Pro Cooking Buying Guide
What Are the Best High-End Professional Ranges?
The Wirecutter's Top Choices
The Wirecutter does a nice job writing, as you would expect being part of the New York Times. They have a "Why Should You Trust Us" in the beginning citing years of experience and research.
Their reliability reports are our service reports. You can read the full report on pro-range reliability here.
They talk about brand reputation. Then they explain why they chose only dual fuel. That's a mistake.
Dual fuel is gas over electric, but gas is a moist heat and better broiling.
If you like to broil and roast, dual fuel is not as good of an option.
All gas is especially good for broiling with the infrared. Miele at 23,000 BTU is the same as Lynx's $8000 professional outdoor grill with their Pro Sear feature.
They talk about sizes, aesthetics, and basic performance for criteria. It's interesting. So are the choices. Let's look at each.
Wolf 36-Inch Pro Dual Fuel Range DF366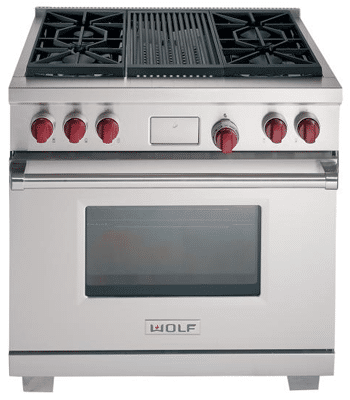 Correct Information
Wolf is one of the best all-around ranges you can buy.
Their service rates were correct mostly because they were ours.
Their power and simmer rates were accurate as well. Wolf's all gas with only single convection, and 15,000 BTU output is not as good as their dual fuel with higher 20,000 max output, convection, clock, and timer.
What They Missed
First, they only mentioned the griddle and grill, yet all their choices are all burners.
Wolf uses an infrared grill and griddle, so it's fast and hot. It burns most of the drippings off the grill with its intense, directed heat.
They mentioned induction briefly in their article. You will see a Wolf induction later in the article. If you are looking for speed and electric cooking, then the Wolf 36-inch induction is a better choice.
Induction is faster than pro gas with a far better simmer.
The reason to buy this range is for the grill and griddle.
Wolf updated their dual fuel and induction range in June of 2021 with Wi-Fi, an LCD screen, Wolf Gourmet, and their Verticross blower convection system.
Why You Should Buy a Wolf Pro Range
Wolf is a good all-around range. The burners are above average, but their grill is, and griddle is excellent.
Their new convection system is the best as well as the Wolf Gourmet.
You input the food, and it will calculate the time and temperature along with 50 preset recipes.
Why You Shouldn't Buy a Wolf Pro Range
Its output is good, but a few brands offer more output, namely Hestan at 30,000 BTU, BlueStar at 25,000, and SKS at 23,000.
The stove is oven only. It doesn't have steam functionality of any type, whether steam assist or a steam oven.
Dual fuel is for baking. All gas is better for roasting and broiling. Be careful, though. Wolf in all gas lacks the output, clock, Wi-Fi, Gourmet, and convection system of the dual fuel.
Wolf is only available in stainless. Then again, most brands like Miele, Thermador, JennAir, and SKS are stainless only.
BlueStar and Hestan offer colors, as do Viking and La Cornue.
Miele 48-Inch Pro Dual Fuel Range HR1954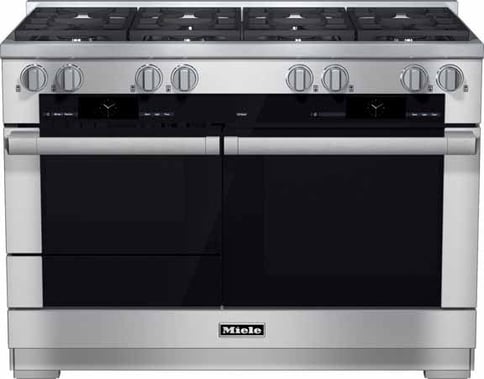 Correct Information
They have the basics covered. They talk about the M-Touch panel and navigation. The steam functionality is also mentioned, and its bread baking capability.
The range of burners is right from output to simmer. You will see that in the next section.
What They Missed
Once again, the grill and griddle are excellent in a Miele. They copied the Wolf infrared and added some BTU output.
What's missing in their critique is ease of use.
You should buy Miele because it is simple to use. Touch a button, and the range can calculate the time and temperature.
Baking bread is simple. Hit a button, and it adds the proper amount of steam to harden the crust.
They mentioned output, but the back burners on a Miele are the lowest in the category, so be careful.
Also, the service numbers are wrong. Miele is the most serviced dual fuel range, not the least. They also didn't mention the Miele all professional gas range.
It doesn't have the steam or M-Touch but is self-cleaning with the best 23,000 BTU broiler.
Miele is also cleanable as the racks can be left in the oven during self-cleaning. The grates can be placed in your dishwasher.
Why You Should Buy a Miele Pro Range
MasterChef is incredibly simple and takes the guesswork out of cooking. Like Wolf, you have preprogrammed recipes. Miele has 100 and more for steam functionality.
It's intuitive and not intimidating to use.
Miele has twin convection as well.
The grill and griddle are excellent, with higher output infrared for direct heat.
Why You Shouldn't Buy a Miele Pro Range
The back burners are underpowered at 13,000 and 12,000 BTU. Service is a bit higher than average in their dual fuel ranges.
Miele has no Wi-Fi functionality. Most of the benefits are basic, but it should evolve to be a time saver. Miele will have to address it in the future.
Monogram 36-Inch Dual Fuel Pro Range ZPD366NPSS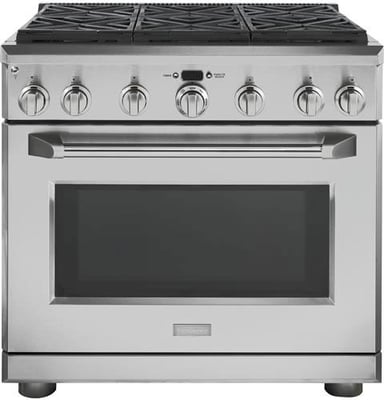 Surprising choice because Monogram is not widely sold. They didn't mention why they liked it so much other than the price. The output is good at 18,000 BTU per burner. It simmers well. They have improved the unit with Wi-Fi so you can control your range remotely.
The clock has changed, and two of the burners have been upgraded as well.
What They Missed
The oven uses single convection or a single fan. Twin convection has two fans.
VertiCross convection uses blowers for fans for better movement of air.
Some can be "pure," meaning the air is blown from the rear versus the bottom.
Pure, true, and European convection are all the same terms for heat blown from the back.
Also, Monogram was a price alternative yet is most expensive than Miele.
Why You Should Buy a Monogram Pro Range
It's the same price as the others with single convection. It doesn't have steam functionality, but then again, it's a cool feature, but not the primary.
Overall, not a bad critique, except not considering all gas or induction types as alternatives.
If you like to broil and roast, dual fuels are not your best option. All gas will be better, and you may want to consider a grill and griddle.
AJ Madison's Top Choices
The author does a nice job of explaining when not to buy a pro range. Venting limitations are number one. I agree you should know your ventilation requirements and what you can have before you buy a range.
You may want to download our Ventilation Buying Guide before you start your project.
The author is also right about induction because it requires less venting. Space and budget are also mentioned.
Price after rebates, however, is not as wide as in the past. The difference between a 30-inch Cafe Appliance slide-in range and a 30-inch JennAir pro range is less than $500.
Why You Should Buy a Pro Range is the next section of their article.
Size is mentioned. High-quality parts are as well.
That's tricky because it doesn't translate into fewer service calls. Then again, AJ Madison, like most dealers, does not service what they sell.
You do have extra modes to their point.
Thermador 60-Inch Dual Fuel Pro Range PRD606RCSG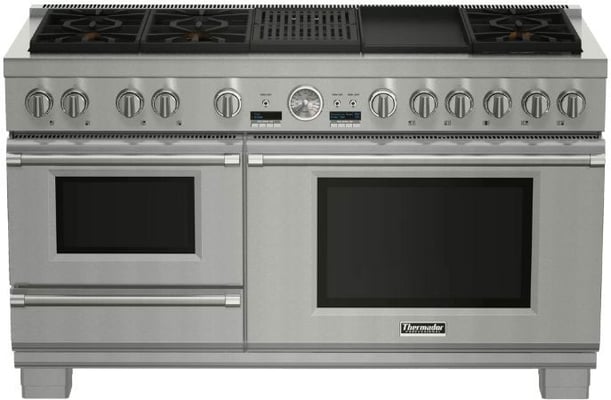 Correct Information
Thermador's 60-inch professional range features a full steam oven instead of a side oven, along with Signature Kitchen Suite's professional range.
Steam will allow you to cook healthier without cooking out the nutrients. The warming drawer mentioned will keep food warm for up to three hours.
What Was Missed
One of Thermador's best features is their XLO intermittent simmer. It keeps the lowest temperature at 100 degrees. You also have induction capability in their Thermador Pro Grand models.
HomeConnect, Thermador's app, is the most highly rated with access to many recipes. Thermador's "industry-leading" 22,000 BTU burner, but that's not even close on their list.
Their number two and three selections have considerably more at 23,000 and 25,000 BTU. SKS also has 23,000. Hestan has a 30,000 BTU burner. Like Monogram, Thermador has a single convection oven. They also have a basic radial clock.
The grill and griddle are electric, not gas, so they take a while to heat and are a bit harder to clean. Lastly, Thermador is affordable for a professional range with their 1, 2, FREE program. You can receive a free dishwasher with qualifying Thermador purchases.
Why You Shouldn't Buy a Thermador Pro Grand Range
The output is good, but you have others with far greater up to 30,000 BTU. You only have a clock on the Pro Grand compared to more advanced controls of the Wolf, Miele, SKS, and Hestan.
It's single convection, not as advanced as the others. The grill and griddle are not as hot and responsive as the others. Their selection is the Pro Grand, but their Harmony series is more popular. It's not available in a 60-inch but is offered in 30, 36, and 48 inches.
Fisher & Paykel Series 9 RHV3484N 48-Inch Pro Range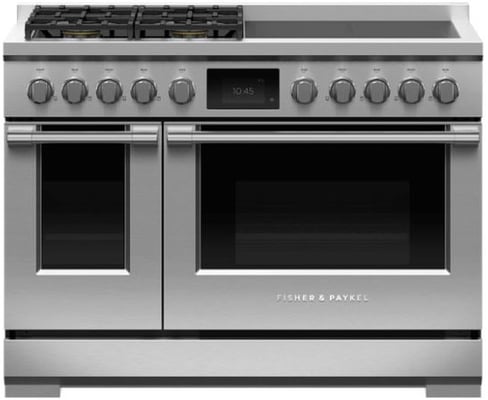 Correct Information
The Fisher & Paykel Series 9 range has four burners with one high output burner at 23,000 BTU. The other three burners are 18,500 BTU for a good amount of power. You also have the option of four induction zones.
Which do you think is faster with a better simmer?
Induction is much faster, has a better simmer, is easier to vent, and is more child-safe.
What Was Missed
This unit only has four burners and not five. The fifth burner is available with a griddle on the side. The touchscreen interface is more robust than most on this list, but this unit uses single convection.
Why You Should Buy the Fisher & Paykel Range
Induction is an excellent option. More companies are starting to include induction in their professional ranges like SKS and Thermador.
Having four induction burners is exclusive to Fisher & Paykel. They also offer a griddle with five burners.
Why You Shouldn't Buy a Fisher and Paykel Range
However, Fisher Paykel is a new range of the old DCS platform. Let's see if it works before we put it in the top three of any list.
Lastly, you can't buy a grill with this brand and its single convection.
BlueStar BSP366B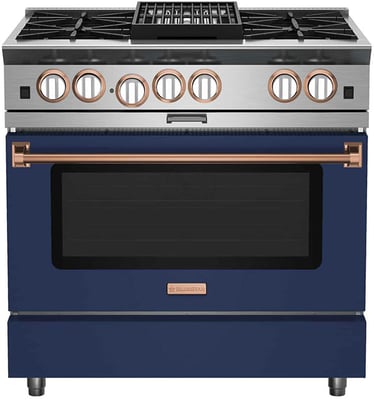 Correct Information
Finally, an all-gas range on this list!
BlueStar's POWR oven is one of the only pure convection gas types. Their PrimaNova burner is one of the highest output burners, along with a few other high outputs.
BlueStar now has 1000 colors and ten trim options. That's 988 more than the others on this list.
What Was Missed
Does nobody like having a grill or griddle? The Platinum series is all burner only. Their RNB series has a built-in grill and griddle, but they are not infrared.
The interchangeable grill and griddle on the Platinum are freestanding, meaning you place it over the burners. The griddle will work when heated, but the grill?
No way. BlueStar now has 1000 colors and ten trim styles along with their "By Design" customization feature.
You can upload an image in a JPEG format to be the front of your range like this one I made with my favorite photos of my daughter: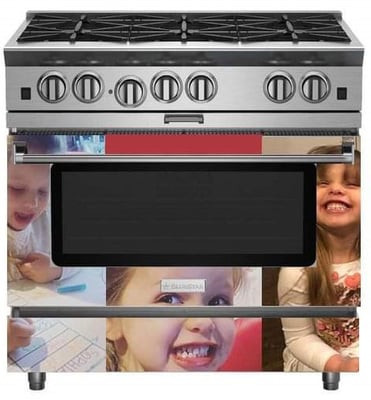 All gas means you broil and roast better, but baking is no as good as dual fuel.
Seventy-five percent of BlueStar's ranges purchased at Yale are purchased with a custom color and trim. BlueStar allows you to customize, unlike all the others on this list.
You have incredible output with BlueStar at 25,000 BTU and 22,000 BTU burners on the Platinum.
Open burners don't stop spills from flowing through to the top of the range, but you can disassemble and open the burner to clean it at your sink.
Why You Shouldn't Consider a BlueStar Pro Range
BlueStar prides itself on no technology. Forget about steam and Wi-Fi. You don't even have clocks, timers, or self-cleaning.
The grill and griddle on their Nova series are not infrared or as hot and easily cleanable as Wolf or Miele.
Once again, not bad for AJ Madison.
However, both AJ Madison and Wirecutter didn't ask how you will use your range. With that in mind, let's look at our top three choices.
Our Top Choices for Pro Ranges
I don't have a "best" range. The best is the combination of features you will use the most.
The key is identifying those features.
Reliability is another factor especially important to us.
We will fix your appliances for free if it's within the warranty at a loss for us, so we want a more reliable range.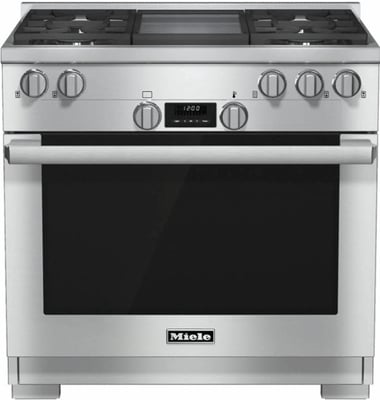 The all-gas Miele pro range does not have the M-Touch of the dual-fuel, but it's still twin convection and self-cleaning even in gas.
Miele is also the most cleanable with the racks and grates as outlined above.
The infrared grill and griddle could be the best in the industry with the highest output.
At 23,000 BTU, Miele has the hottest broiler. You can sear at 23,000 BTU like a Lynx outdoor grill.
So you should consider a Miele in all gas if you like to roast or broil.
Why You Shouldn't Buy a Miele All Gas Range
Half the burners are not up to professional caliber at 13,000 and 12,000 BTU. The all-gas range is not available in 48 inches either.
It does not have M-Touch controls like the dual fuel. Then again, neither do the other ranges.
Remember, the inverse is true in all gas. You don't bake as well because of the moist heat.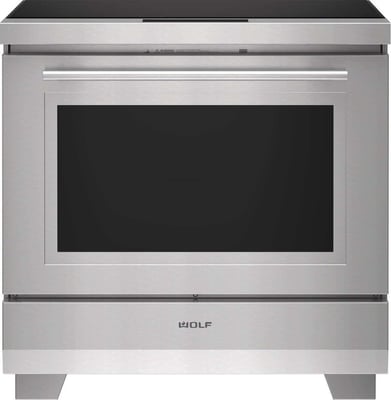 Yes, an induction range. Why not? Dual fuel has electric too.
The new Wolf has just about every feature. Plus, induction is faster than gas with a better simmer.
This induction range requires less ventilation. It's easier to clean, and your toddler can't turn it on because induction needs to sense metal.
You also have Wolf's Gourmet guided cooking feature with 50 preprogrammed recipes.
With the Gourmet feature, you can input the food you're making and how you like it cooked, while the range adjusts the time, temperature, and rack position automatically.
Lastly, Wolf's new convection system uses vertical blowers for better airflow and even cooking.
Why You Shouldn't Buy a Wolf Induction Range
It doesn't have a grill or griddle. You can't buy their induction range in large sizes like 48 inches.
Wolf is a bit pricey as well. Because it is an electric oven, you can not broil and roast to perfection as you would in all gas.
But this unit can do pretty much everything else.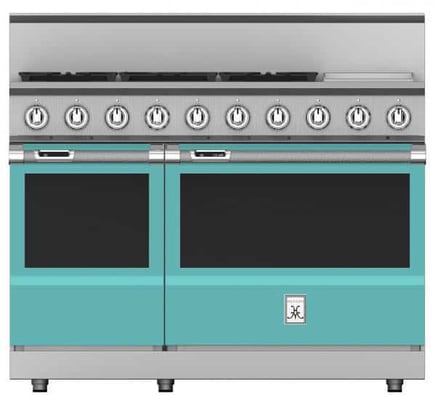 Hestan is the same in all gas and dual fuel except for self-cleaning and a swipe style clock in dual fuel.
You have a 30,000 BTU center burner. So if you like to use a wok, you will love that burner.
The range features 23,000 and 15,000 BTU burners as well as a range designed for heat.
Hestan is also solid. Their ignitors and burner tops are solid brass.
Their griddle is controlled by temperature instead of one or two settings like the others to cook by recipe.
Their PureVection oven is single convection but performed as well as BlueStar's PowR oven.
Hestan is also available in 12 colors.
Why You Shouldn't Consider a Hestan Pro Range
It's new. So you have to check the service before you buy.
It has no grill option either.
Steam and Wi-Fi are not available in Hestan yet.
Other Ranges to Consider
AJ Madison has a top 5, and Wirecutter considers briefly 6 or 7 ranges, so let's briefly review some other brands.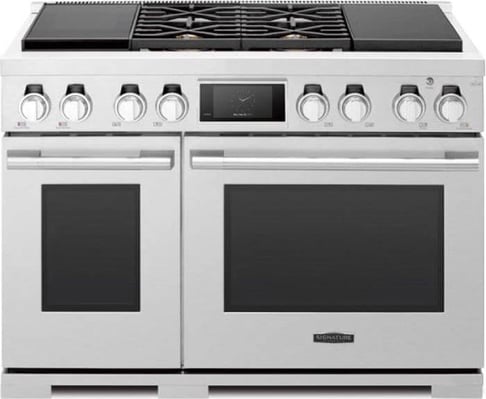 This range has pretty much every future steam, induction, 23,000 BTU burners, 100 BTU simmer, Wi-Fi, and chromium griddle.
They even add Sous Vide, precision boiling in a bag.
It could be the most complete range on the list for dual fuel.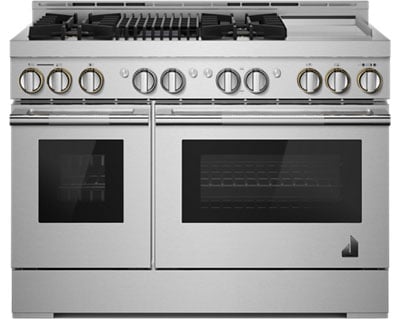 For affordability, you should consider a JennAir, especially with their $1,399 rebate.
They have a nicely styled range, 20,000 BTU output, infrared grill, twin convection, along the most featured Wi-Fi system.
Like Miele, you have good features even in gas.
Key Takeaways
So you have 11 ranges to consider from all gas to dual-fuel in different styles and brands.
At face value, it's pretty confusing, so step back a bit and realize:
There is no one best pro range for everyone.
Before you buy a $9-20,000 dollar range, figure out what features you use the most right now.
Is it output? Do you cook for a lot of people?
Is it simmering like chocolate or soups?
Do you grill or griddle?
Do you bake?
Do you broil?
Would you use a steam oven? Do you want Steam Assist in baking bread?
How much tech do you want? No clock, basic? Wi-Fi?
Do you want a custom color for a unique look in your kitchen?
Buy the right combination of features for the way you cook.
Don't buy a blogger's, newspaper's, or any other critic's critique of the best.
Buy yours.
Additional Resources
Get our free Pro Cooking Buying Guide with tips, trends, and reviews of all the best brands. Over 900,000 people have already found answers in a Yale guide.
Related Articles:
Why Should You Trust Us?
It seems that every appliance review has nothing but glowing comments about almost every product, yet you read customer reviews and they are almost universally bad.
We are here to fill in the disconnect. We'll give you the best features, and the drawbacks as well, including reliability based on over 37,000 calls performed by our service team just last year. Our goal is to give you ALL the information so you know what's right for you.
Please consider subscribing or adding to the conversation in the comments below. We appreciate you stopping by.
A Note About Pricing
Pricing on this blog is for reference only and may include time sensitive rebates. We make every attempt to provide accurate pricing at time of publishing. Please call the stores for most accurate price.