What Are the Best Professional Ranges for How You Cook?
May 25th, 2023 | 7 min. read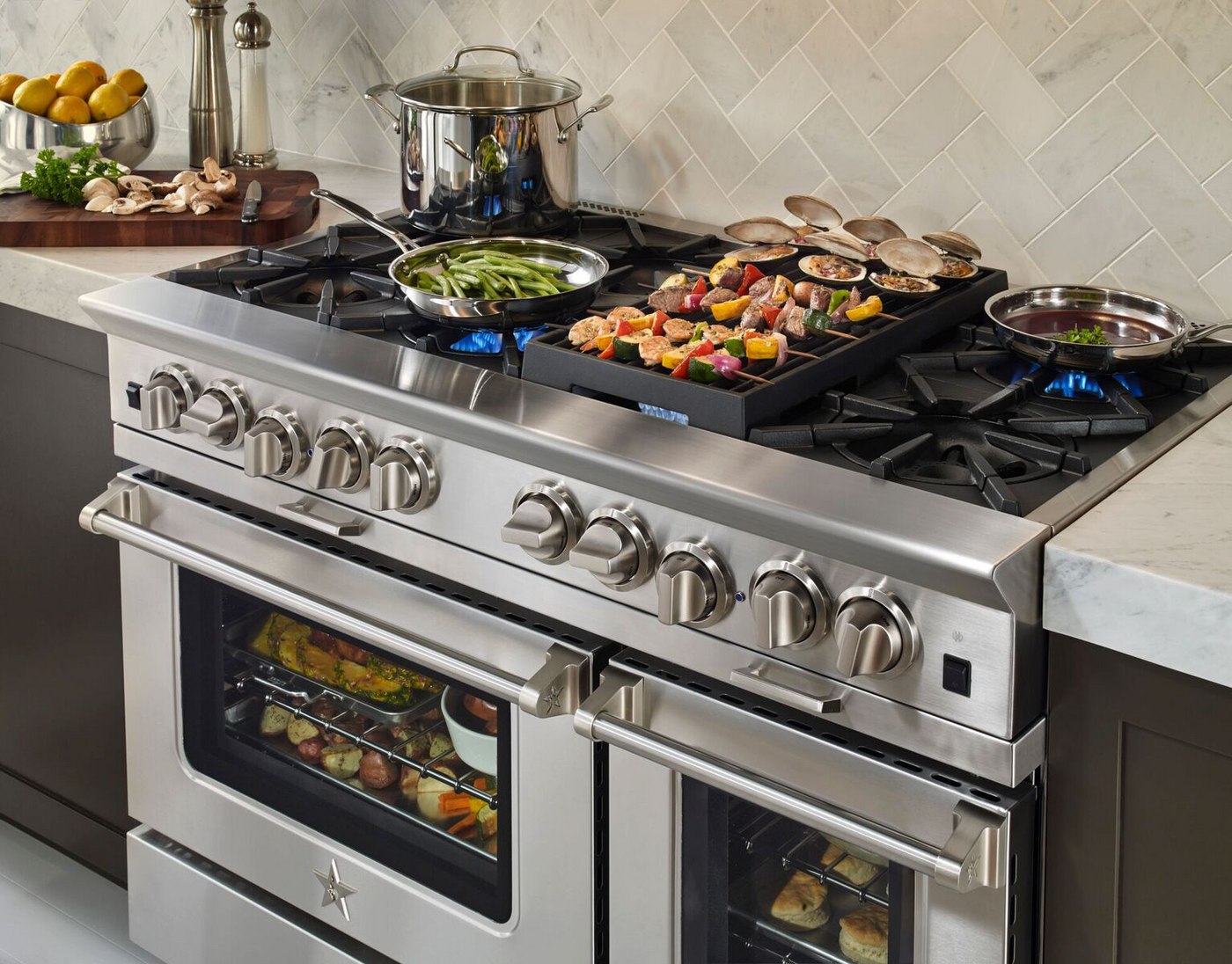 A few months ago, we published an article titled "How to Buy a Professional Range: The Definitive Guide."
The guide comprehensively evaluated various features, including griddles, grills, French tops, and induction options.
We also discussed the different types of convection and compared gas versus dual fuel ranges. Furthermore, we examined popular brands and sizes ranging from 24 to 60 inches.
However, what we didn't do was say which was the best, as no single brand can excel in every cooking category.
It simply isn't possible.
Nevertheless, we can share which brands and models will be better for how you cook.
Most appliance salespeople, blogs, and websites across the country aren't trained to help you choose the best option based on how you cook.
Given I can't directly ask you about your cooking preferences, you will see the best brands for each type of cooking and the reasons behind them.
Let's get started.
If you have any questions or comments, feel free to leave them below, and I'll provide a more detailed response.
[inlineCTA]
What Are the Best Professional Ranges for How You Cook?
Best Burner Output for a Pro Range: BlueStar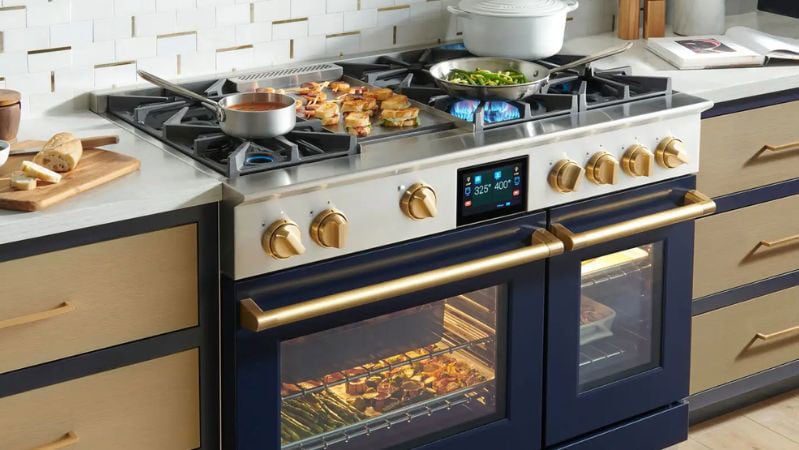 BlueStar Professional 48-Inch Dual Fuel Range
BlueStar has the highest burner output in dual fuel and all-gas cooking. Their dual fuel ranges feature 25,000 BTU (British Thermal Unit) and 18,000 BTU burners, while their all-gas units combine 25,000 BTU, 18,000 BTU, and 15,000 BTU burners.
Honorable Mention: Hestan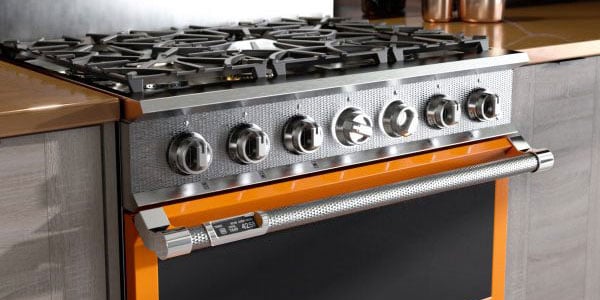 Hestan 36-Inch Professional Range
Hestan offers a notable 30,000 BTU burner on their ranges, and Wolf impresses with a 35,000 BTU burner on their wok cooktop. However, both brands sacrifice a burner in the back to accommodate the central volcano design.
Other ranges with better-than-average output: SKS (Signature Kitchen Suite), Fisher & Paykel, Monogram, and the Viking Brigade feature 23,000 BTU burners.
Best Low Simmering Pro Ranges: Thermador, SKS, and Wolf
Thermador's XLO and SKS's UltraLow offer a precise simmer at 100 BTU, allowing you to melt chocolate without compromising its texture.
Wolf stands out with a 350-degree simmer capability on all their burners, surpassing SKS and Thermador's two simmer burners.
Pro Tip: If you want a range with a good simmer: Induction is the best. You can find induction and gas options in the SKS, Fisher Paykel, and Thermador Pro ranges. Many brands also offer 36-inch induction pro-looking ranges, such as Wolf, Fisher Paykel, and Dacor.
Best Pro Ranges with Induction Cooking: Fisher & Paykel, SKS, and Thermador
Fisher & Paykel offers four induction burners in their 48-inch range, while SKS and Thermador provide a set of two induction burners on their 36 and 48-inch pro ranges.
Besides providing excellent simmering, why should you consider having induction in your pro range? Induction burners are the easiest to clean and vent, offering the highest level of child safety. An induction burner will also boil faster than even a 25,000 BTU BlueStar gas burner.
Residents of Massachusetts, you don't need to purchase a large vent. You can comply with the Mass Make-Up Air regulations using a 400 CFM (Cubic Feet Per Minute) induction cooktop.
Best Pro Ranges with Grill and Griddle Options: Miele, Monogram, and Wolf
The top choices for superior infrared output are Miele, Monogram, and Wolf, while JennAir excels in cleanability.
Interestingly, griddles have become a popular trend for outdoor cooking, with Traeger, Blackstone, and Weber all promoting flat top grills.
These gas-powered griddles run on propane. However, if you want a better griddle experience, opt for Wolf, Monogram, or Miele, thanks to their hotter and more focused infrared burners.
On the other hand, JennAir and Viking offer griddles that are easier to clean due to their chromium coating. The infrared burners on these models efficiently burn off any residue, simplifying the cleaning process.
Best Pro Ranges with French Tops: BlueStar and Wolf
BlueStar and Wolf are the leading brands offering French tops for professional ranges.
French tops, like griddles, have gained attention in recent times. Think of them as the opposite of griddles.
While griddles provide consistent heat across the entire cooking surface, French tops are designed to deliver varying temperatures across the heating surface.
This allows you to cook various foods at different temperatures as the power burner heats the middle, resulting in varying heat levels along the surface.
French tops are typically available in larger sizes, such as 48 and 60 inches wide, and also in European and French-style ranges.
Best Pro Range with Built-In Sous Vide Option: SKS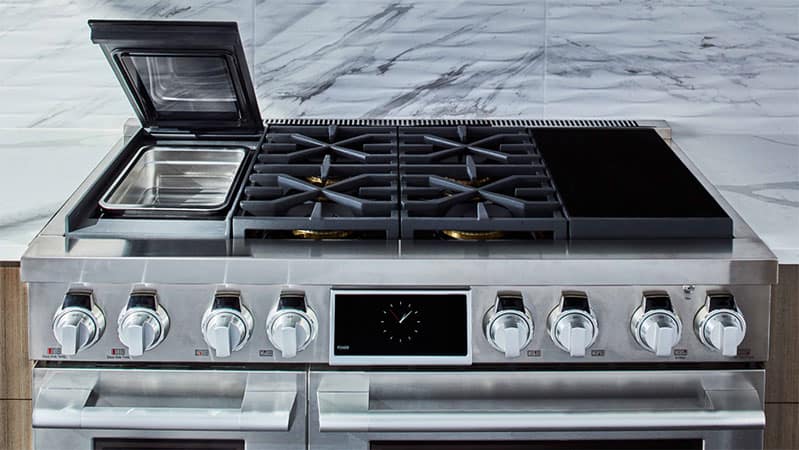 SKS Professional Range with Sous Vide Stovetop Water Bath
SKS is the only brand offering a sous vide stovetop option in their 36- and 48-inch pro ranges.
Sous vide cooking is a culinary technique that involves placing food in a sealed bag or container and immersing it in a precisely controlled water bath.
By maintaining a constant temperature, this method aims to preserve the flavor, moisture, and nutrients of the ingredients. To prepare a dish, just season the protein or other ingredients, seal them in a bag, and then submerge the bag in the water bath.
The food is cooked until it reaches the desired internal temperature, resulting in consistently tender and flavorful results.
Ventilation
Now, let's pause for a minute to talk about the importance of proper ventilation. Ventilation is the most crucial feature in your kitchen.
Without adequate ventilation, harmful substances such as Carbon Dioxide, Monoxide, Nitrous Dioxide, and Formaldehyde can be emitted into your kitchen and home.
We have extensively covered ventilation in our blog, but you can download our free Ventilation Buying Guide for more information.
However, it's worth noting that if your ventilation system exceeds 400 CFM, you must incorporate a fresh air return. This can be done either through your HVAC system or by creating a hole on the opposite side of the stove, at least ten feet away from your kitchen.
But what if you cannot plan for a make-up air return yet still want a professional range without worrying about emissions?
Best Pro Range for Minimum Ventilation and Make-Up Air Compliance: SKS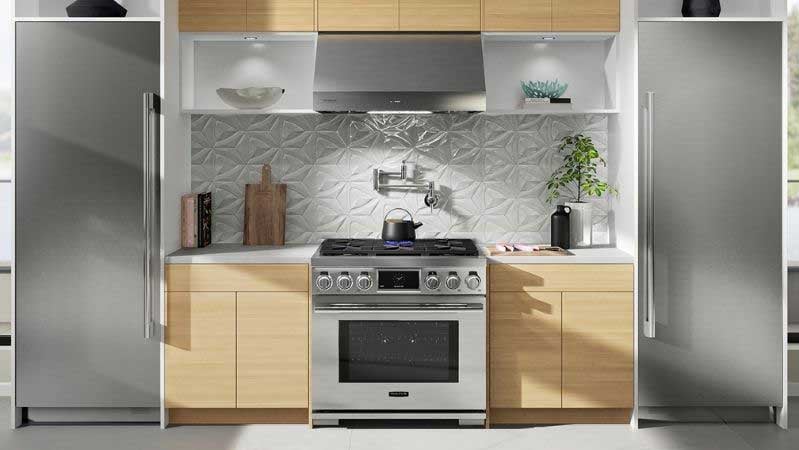 SKS Professional Range
The SKS range is my only recommendation if you're looking to meet minimal ventilation requirements.
With only one set of professional gas burners, this range reduces the need for extensive ventilation. Additionally, induction and sous vide cooking methods require less ventilation.
However, if you frequently cook, you should consider additional ventilation.
Best Baking Ovens: Miele and Wolf
For the best baking results, the top choices are Miele and Wolf Dual Fuel. Dual fuel ranges, featuring a gas cooktop and an electric oven, provide drier and more precise heat, ideal for baking.
Wolf has a new blower-style "verticross" convection system, delivering superior airflow compared to standard fans. Miele, on the other hand, offers MasterChef functionality, allowing bursts of steam to harden crusts and enhance the browning of food, such as bread.
Best Roasting Ovens: BlueStar and SKS
When it comes to roasting, a gas oven offers moister heat, making it the preferred option. BlueStar and SKS provide pure convection, where heat is blown in from the rear instead of below and then recirculated like in other brands.
Most Cleanable Pro Ranges: Miele and Thermador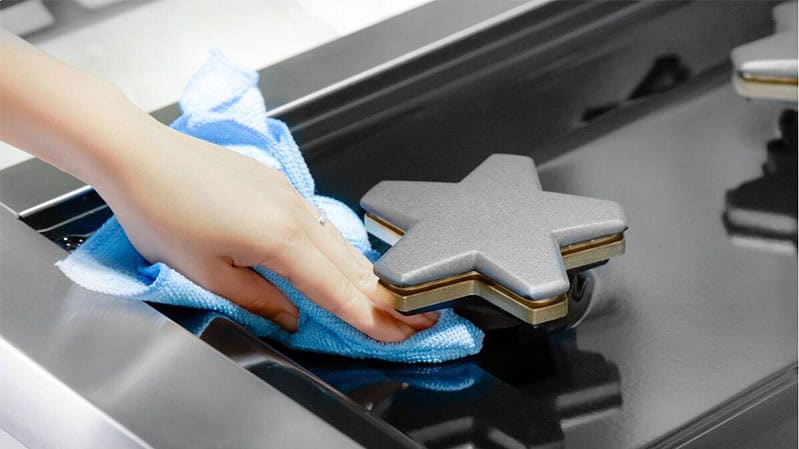 Thermador Professional Range Star Burner
Miele and Thermador are the easiest pro ranges to clean. You can place Miele's oven grates in the dishwasher and conveniently leave the racks in the oven during the self-cleaning process. As for Thermador, their Star burners are raised, allowing for easy cleaning underneath, unlike other sealed burners.
Best Color Choices for a Pro Range: BlueStar, La Cornue, and Viking
BlueStar has 1000 colors with ten trim choices for a pro range, by far the most for a pro range.
La Cornue offers 52 colors and six trim choices, with their Finnish metal and color application process giving their ranges a furniture-like appearance.
Viking, in collaboration with Benjamin Moore, offers 17 finishes.
Wolf, Monogram, JennAir, Miele, and Thermador are currently available only in stainless steel.
Best User-Friendly Pro Ranges: Miele and Wolf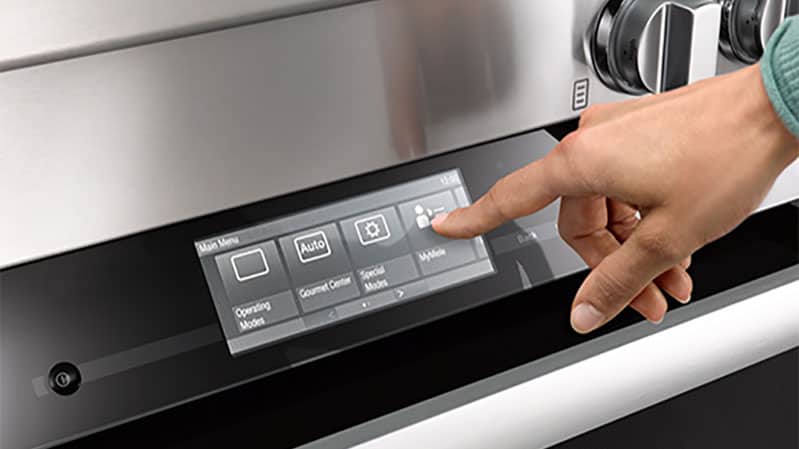 Miele Professional Range Controls
Miele's MasterChef and Wolf's Gourmet guided cooking systems are the best in intuitive controls.
Miele's MasterChef simplifies the cooking process, allowing you to select the food, specify the weight, and choose the desired cooking method while the oven takes care of the rest.
The steam functionality in Miele's range enables easy bread baking with the touch of a button.
The Wolf Gourmet guided cooking system operates similarly to Miele's MasterChef system but goes the extra mile by recommending the best rack position.
Honorable Mentions: Monogram and Hestan
Monogram integrates the Hestan Cue system with their ranges, incorporating step-by-step recipes for cooking. SKS and Thermador offer robust apps with ThinQ and HomeConnect functionalities, enhancing the cooking experience.
Best Pro Range for Value: Monogram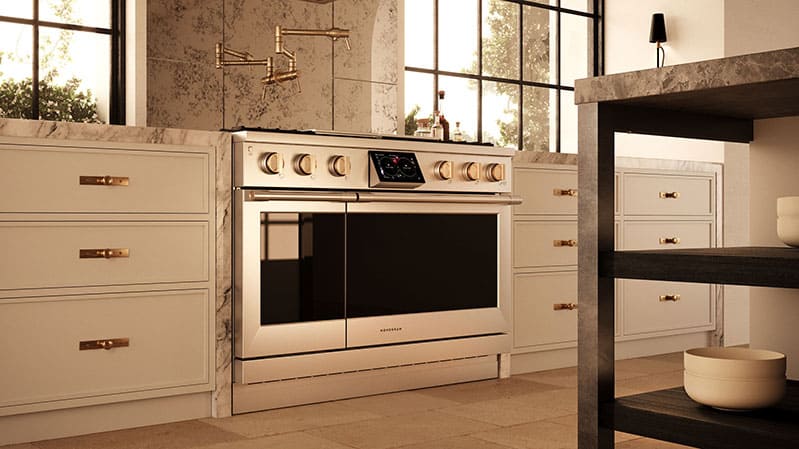 Monogram Professional Range
Monogram has the most generous rebate program on top of its reasonable prices.
Honorable Mention: Thermador
Thermador deserves an honorable mention for its rebate program. Their "One-Two-Free" promotion allows you to receive a free dishwasher when you purchase a range.
Additionally, if you add a refrigerator to your range, Thermador offers a free hood.
However, remember that the hood may take some time to arrive, so consider applying the rebate to another Thermador appliance.
Read More: Monogram vs. Thermador Professional Ranges
Best Pro Ranges for Special Oven Features: SKS, Thermador, and Miele
Thermador and SKS offer steam ovens in their larger ranges, utilizing steam as a cooking method that adds moisture and preserves nutrients.
Thermador's warming drawer keeps food warm for up to three hours without dehydrating it, making it ideal for households with different mealtimes.
Miele features a speed oven on their 48-inch dual fuel ranges, allowing you to cook using it as a microwave or an oven.
The combination of speed settings ensures better-tasting food by primarily using convection with a partial microwave boost.
Best All-Around Pro Range: La Cornue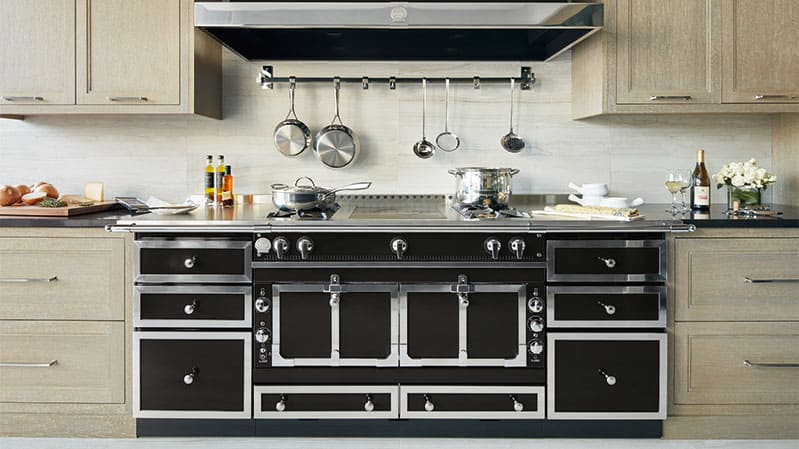 La Cornue Château Range
Remember when I said you could not buy the best for every feature?
Well, I was mostly right.
Every feature is available on La Cornue. You can even customize it to your specific requirements.
Their larger ranges provide gas and electric ovens, and the arched tops offer natural convection without drying out your food with a rear fan. You can choose from various cooktop options, including induction, wok, grill, griddle, and French top.
However, it's worth noting that La Cornue ranges are significantly more expensive than others on the market.
Best Pro Ranges for Service and Repair: Wolf and Monogram
We service what we sell, so we do not have any contact with any outside agencies.
Wolf takes service seriously and invests more in the service and support side of their business compared to other premium appliance manufacturers.
Their dedication to customer service is evident in how they handle complaints and prioritize customer satisfaction.
Haier, the parent company of GE, also understands the importance of service and has built a strong service network.
As a result, Monogram has become the best service company among major appliance brands.
Key Takeaways
Now that you have a general idea of each category's best options consider how they align with your cooking needs and preferences.
Additionally, don't underestimate the importance of repair and maintenance.
Issues such as burner igniter problems may arise, so factor in the reliability and availability of repair services when deciding.
Additional Resources
Get our free Pro Cooking Buying Guide with tips, trends, and reviews of all the best brands. Over 1.2 million people have already found answers in a Yale guide.
Related Articles:
Why Should You Trust Us?
It seems that every appliance review has nothing but glowing comments about almost every product, yet you read customer reviews and they are almost universally bad.
We are here to fill in the disconnect. We'll give you the best features, and the drawbacks as well, including reliability based on over 37,000 calls performed by our service team just last year. Our goal is to give you ALL the information so you know what's right for you.
Please consider subscribing or adding to the conversation in the comments below. We appreciate you stopping by.
Steve Sheinkopf is the third-generation CEO of Yale Appliance and a lifelong Bostonian. He has over 38 years of experience in the appliance industry, and he is a trusted source of information for consumers on how to buy and repair appliances.

Steve has also been featured in numerous publications, including the New York Times, Consumer Reports, The Boston Globe, Bloomberg Radio, the New York Post, The Wall Street Journal, and Entrepreneur, for his knowledge of how to buy appliances and appliance repair.

Steve is passionate about helping consumers find the best appliances for their needs, and he is always happy to answer questions and provide advice. He is a valuable resource for consumers who are looking for information on appliance buying, repair, and maintenance.

Despite being the worst goalie in history, Steve is a fan of the Bruins and college hockey, loves to read, and is a Peloton biker. The love of his life is his daughter, Sophie.
A Note About Pricing
Pricing on this blog is for reference only and may include time sensitive rebates. We make every attempt to provide accurate pricing at time of publishing. Please call the stores for most accurate price.