Most Reliable Professional Ranges for 2020 (Reviews / Ratings)
So, you are buying a professional range.
You are probably comparing features like grills, griddles, and convection profiles for each product.
Maybe some special features like a French top of sous vide cooking as well. How about comparing steam vs. steam assist ovens.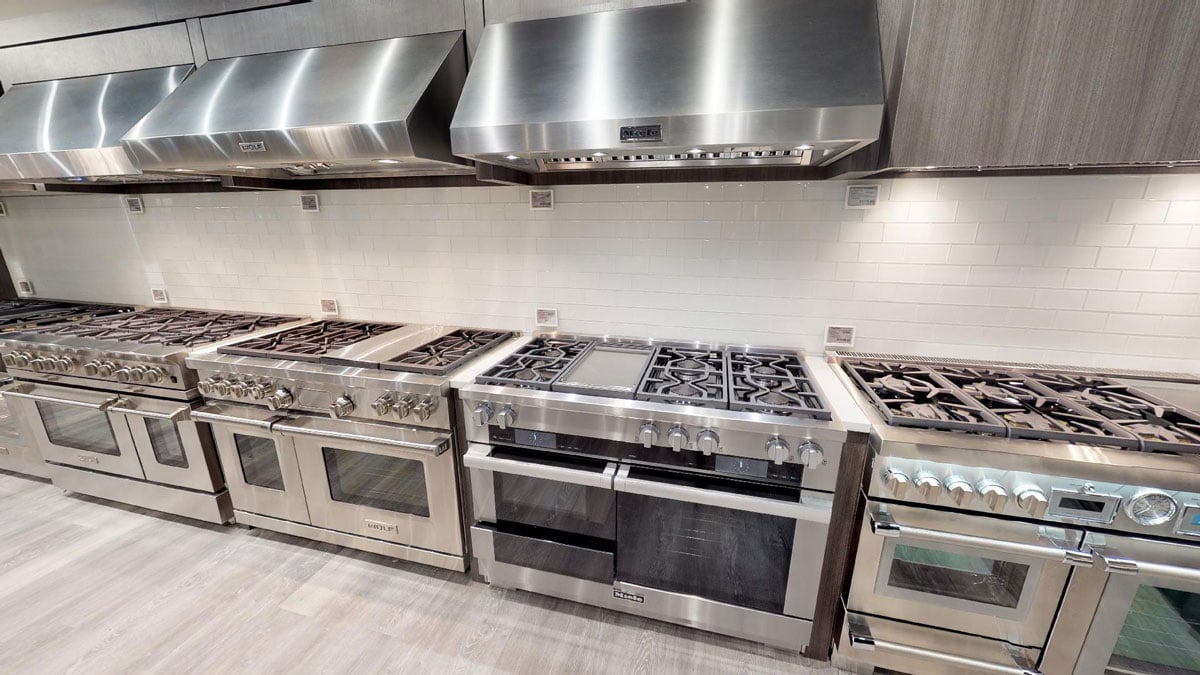 You may have compared price and rebates too as many of these brands offer free dishwashers or ventilation hoods with purchase.
Then you check Google Reviews and the Better Business Bureau to decide which store would be the best to purchase from.
All these steps are expected (and encouraged, by the way).
But how about reliability? How often does this $5,000 to $18,000 stove break down before Thanksgiving?
In this article you'll learn about the reliability of the most popular brands on the market like Thermador, Miele, Wolf, BlueStar, and JennAir.
This blog is the only place with reliability stats because we actually service what we sell.
35,256 service calls logged last year alone and over 100,000 logged in less than 3 years.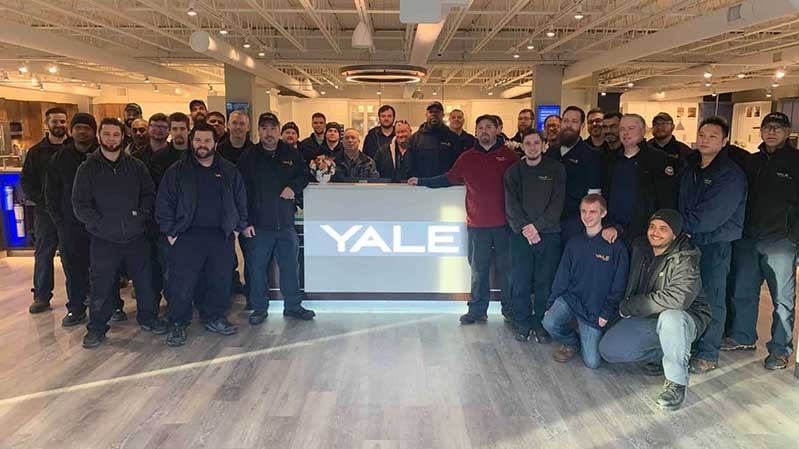 In the end, we will add a bit about extended warranties (if you want to leave now, then don't buy one).
The article ends with a short comparison of dual fuel and gas versus gas ranges. You are probably told that dual fuel is way better. If you like to broil, that would be a bad bit of advice.
Short on time? Get our free Pro Cooking Buying Guide
How Professional Range Reliability is Tracked
We now have 30 service technicians performing 8-10 service calls per day, Monday through Friday, with 110 calls on Saturday. We simply tabulate service percentages by service calls divided by sales.
In 2019, our service department logged 35,256 service calls. Over 900 were just for professional ranges (gas and dual fuel) or almost 3 per day last year.
For our statistics, a service call is recorded for any reason we are called to your house. We do not count damage or problems solved over the phone.
That said, we only count the first year because we offer free warranty service in the first year. After that, it's harder to track.
How Other Appliance Companies Track Reliability
That's easy. They don't.
Service seems to be someone else's problem.
Many bloggers are simply affiliates. They are paid a commission to send you to a box store or online retailer.
Other appliance store bloggers don't calculate reliability. It's interesting when they include reliability in their posts because they are trying to benefit from Google search rankings.
For you, that opinion is not credible.
They will say something like it's reliable because the product has factory service behind it. Factory service is a mixed bag of some good and often mediocre technicians at best.
Factories are good at manufacturing products, not correcting service problems.
Consumer Reports
I like Consumer Reports and I am a member. They operate on lab tests and surveys to predict reliability over a 10-year period.
Many times they do have the right percentages when products are unreliable.
However, surveying over a 10-year period is flawed. You want fresh data because products and their parts change so frequently.
A reliable product with more recent problems scores the same as a product 10 years ago.
The data and advice can have tragic consequences because you are buying now.
For example, their best-rated laundry brand was our most serviced single product of 2019.
They need to shorten the window or weight recent problems more heavily.
Most Reliable Professional Ranges for 2020
Let's look at the most reliable professional gas ranges.
The average service rate for appliances is 13.4%, and the average service rate for professional gas ranges is 18.4%.
| | | | |
| --- | --- | --- | --- |
| | Service Qty | Shipped Qty | Service Ratio |
| Miele | 15 | 21 | 71.4% |
| BlueStar | 30 | 42 | 71.4% |
| Wolf | 50 | 307 | 16.3% |
| JennAir | 15 | 103 | 14.6% |
| Thermador | 53 | 430 | 12.3% |
| Grand Total | 163 | 903 | 18.1% |
Learn how to find the perfect pro range for your home in our free Pro Range Configurator
Common Pro Range Issues
Gas Ranges
You will be paying $5,000 - $18,000 for a professional style range, so you will call for assistance on problems you might not for a $500 range.
Many of the calls are customer education-based, meaning there are no actual issues, just questions. It still counts as a service call.
The 36-inch and 48-inch ranges also have more burners, larger ovens, and other features. In other words, there is more to actually break.
However, many of these problems are in relation to the cooktop's igniters.
It is an easy and relatively minor repair, but for some reason, you will need to replace it within the first couple of years.
BlueStar is the only range using hard, not flexible pipe, so it is easy to break during installation. It is another minor repair.
They have some burner issues as well. Then again, their burners are the hottest at 25,000 BTU.
Miele was high but with relatively minor hinge problems on the ranges.
Duel fuel and all-gas are pretty similar in terms of service and repair percentages. All-gas is a bit better.
Pro Range Problems: Service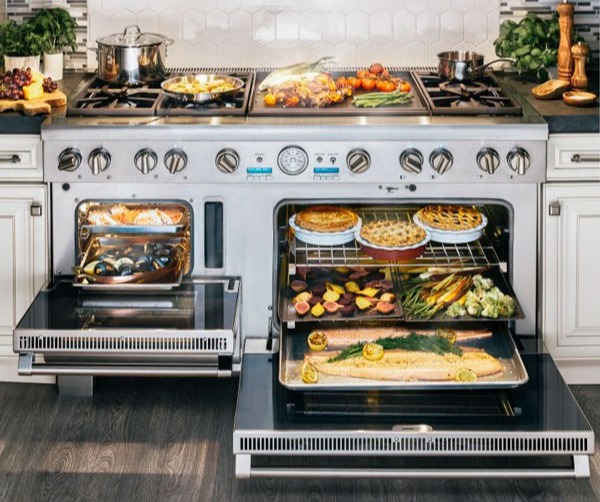 Before you buy that Thermador 48-inch Pro Grand Steam, you have to consider who will (and can) fix it.
The service part of the appliance industry has been in peril for a long time.
In 2003, I went to a service conference. At that time, it was revealed the average age of a service tech was 56, nearing retirement.
That was almost 20 years ago.
As that group retired, many appliances including pro ranges have become more intricate and harder to fix, not including the next wave of Smart Appliances.
What is as important as features is finding who can fix a pro range.
That answer is relatively easy. You have to do your homework and ready reviews.
Google (good score is 4.6 and above), Yelp (4-star and up is decent), and check your local BBB for complaints, not the grade. Every member seems to have an inflated grade.
Look at the complaints about these dealers, but also look at the responses from the companies.
Shop service like features and price. It will give you an idea of how you will be treated after the sale.
Your future self will appreciate it.
Should You Buy an Extended Warranty?
In most cases, absolutely not. Do not buy a warranty.
Even now, where it makes sense on some products to buy a warranty for pro ranges and especially refrigerators.
Here is how a typical warranty works.
The dealer sells it to you for $199-$299. It costs about $50-$70 for that warranty from warranty provider.
You have a problem. Your dealer does not handle it. You are given a 1-800 number and routed to a call center when they find your service.
It's not geared to fix anything quickly and certainly doesn't take your satisfaction into consideration.
The only way to buy an extended warranty is if the dealer performs service themselves.
Still, you have to ask another important question. Do I call you or a 1-800 number? If you call him, he is self-insuring (hopefully properly).
if not, he is buying the warranty like everyone else. The warranty agent still controls the service experience.
That should be your take on service and extended warranties.
Maybe it's because I know how difficult service is. There are so few good service companies.
However, they are out there, so make an attempt to find them.
All-Gas vs. Dual Fuel Pro Ranges
I am including a short version. We have many more articles comparing these two more extensively.
However, many people are misled into thinking dual fuel is way better. In some cases, it's not.
Here is the basic differences between all-gas and dual fuel ranges:
Dual Fuel
Gas top with an electric oven. Electric is a drier, more precise heat. It is better for baking. In some models, most notably Wolf and Miele, the output is better with some feature upgrades.
You also have a few added features like steam in the Miele and twin convection in the Wolf.
Electric ovens are also self-cleaning, whereas only half are self-cleaning in all-gas ovens.
Click here to learn all the differences between all-gas and dual fuel ranges
All-Gas
Gas is a moister heat, so it is better for roasting. It's also better for broiling, especially with an infrared burner.
So buy one depending on how you cook whether it's baking, roasting or broiling.
Additional Resources
Get our free Pro Cooking Buying Guide with tips, trends and reviews of all the best brands. Over 600,000 people have already found answers in a Yale guide.
Related Articles
Why Should You Trust Us?
It seems that every appliance review has nothing but glowing comments about almost every product, yet you read customer reviews and they are almost universally bad.
We are here to fill in the disconnect. We'll give you the best features, and the drawbacks as well, including reliability based on over 37,000 calls performed by our service team just last year. Our goal is to give you ALL the information so you know what's right for you.
Please consider subscribing or adding to the conversation in the comments below. We appreciate you stopping by.
A Note About Pricing
Pricing on this blog is for reference only and may include time sensitive rebates. We make every attempt to provide accurate pricing at time of publishing. Please call the stores for most accurate price.