What Is a French Top Range and Should You Buy One? (Reviews / Ratings)
The French top.
You look at one of these, and you think it's a griddle. It does look like a griddle but performs precisely the opposite.
Depending on how you cook, a French top could be an excellent addition to your kitchen or a waste of useful space.
In this article, you will learn what a French top is, how it compares to a griddle, and the best brands to consider.
In the end, you will be able to determine whether a French top is right for you.
What Is a French Top?
The French top is a flat cooking surface, typically made from rolled steel or cast iron.
A typical French top is approximately 24"x24," and the top's center typically has an 8 to 9-inch removable ring. Surrounding the center ring are other removable rings.
It's a graduated cooking surface powered by gas with the highest temperature under the center plate.
The temperatures are lower as you move away from the center ring.
For higher cooking heat, place cookware closer to the center and closer to the edges for lower heat.
The center ring is ideal for searing and other high-temperature cooking.
You can remove the center ring allowing a wok to sit right above the exposed flame.
The outer ring area is excellent for simmering soups or making a risotto. As you move to the outer edges, this area is great for melting butter and chocolates.
How Does a French Top Compare to a Griddle?
French tops and griddles are usually made of different materials. The heat distribution for both varies as well because of the placement of the heat source. They are both great culinary tools, but it depends on how you cook.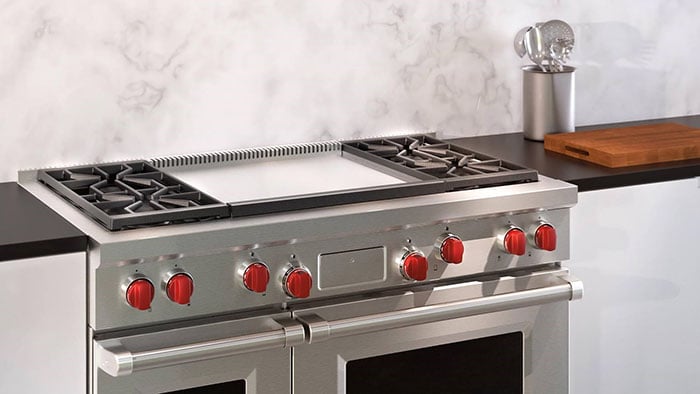 Wolf Pro Range With Griddle
A griddle is a surface you can cook directly on instead of a French top requiring a pot or pan.
Additionally, you won't be able to put your pans directly on a griddle for high-temperature cooking because a griddle has a much lower heat capacity.
Key Differences Between French Tops and Griddles
Because they are made with different materials, the heat capacity varies from one to the other.
A griddle has better heat distribution for cooking items at a consistent temperature directly on the surface.
You can cook many different items at varying temperatures with a French top, like using a wok on the inner rings and melting chocolate on the outer edges.
Read More: Should You Buy a Griddle for a Professional Range?
Short on time? Get our free Pro Cooking Buying Guide
Benefits of French Tops
You can use it to keep many things warm without drying out your food. It's ideal for food that you want to develop flavor without evaporating the liquids.
The indirect transfer of heat from the French top to your pan is gentler on your food and better to hold sauces and food for longer periods.
There is only one temperature knob to control the area, but you still have a range of temperatures to cook.
It's easier to clean the surface because you're not cooking directly on it like a griddle.
Best French Top Ranges for 2020
There are three French top ranges that come to mind when considering the best on the market. BlueStar, Wolf, and La Cornue.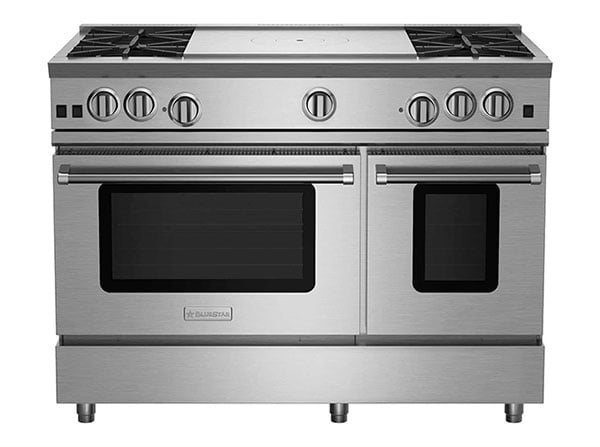 Features:
22,000 BTU UltraNova™ open burners: One of the highest BTU burners on the market, comparable to restaurant-style.
18,000 BTU integrated French top: Higher BTU French top for more versatility with the ability to wok cook, sear, plus simmer and melt and lower temperatures.
Precise 130° simmer burner: extra low simmer feature
Choose from all burners or add integrated griddle, charbroiler, or French top
Integrated wok cooking: The grates are removable for wok cooking
Extra-large convection oven - fits 18" x 26" commercial baking sheet
1850° infrared broiler
Available in 1,000+ colors & finishes plus swing doors
An 18000 BTU gas burner powers this French top. BlueStar is the most powerful French top of the three.
Wolf Dual Fuel Range With A French Top DF484F - $15,140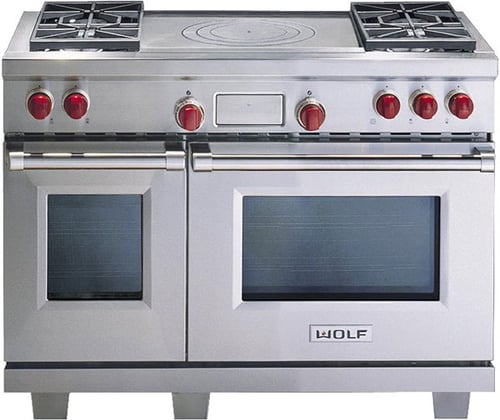 Features:
Four dual-stacked, sealed burners that produce up to 20,000 Btu and deliver as low as 300 BTU

1 - 9,200 Btu burner
1 - 20,000 Btu burner
1 - 15,000 Btu burner
1 - 18,000 Btu burner
1 - 15,000 Btu French top

Slide pots and pans on a French top easily for a range of temperatures
Clean up spills and splatter easily with sealed, black porcelain-coated burner pans
The oven offers various modes including Convection Roast, Proof, and Dehydrate plus more
The dual convection system circulates and the air evenly and efficiently
Temperature probe ensures perfect results for your roasted proteins
Dual stacked burners give you high highs and low lows for searing and boiling water to simmer and holding on all burners
At 15,000 BTU, Wolf is the second most powerful. Wolf is dual fuel, whereas BlueStar is all gas. Wolf is better for baking, whereas BlueStar is better for roasting and broiling.
Read More: Are Wolf Professional Ranges Worth the Money?
La Cornue
Château 120 Range

- $44,500 - $48,100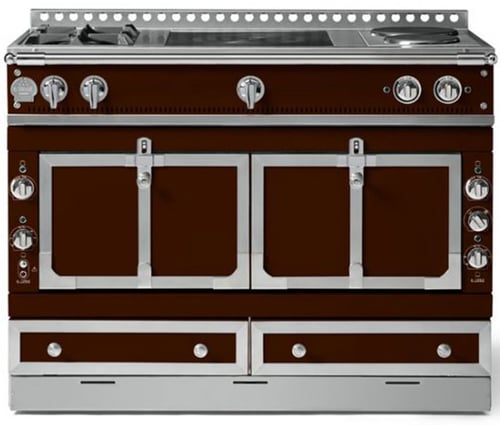 Features:
One gas burner is installed beneath a solid cast iron top, serving as the entire cast-iron surface's heat source.
The cast-iron plaque becomes the cooking center and offers variable heat zones with the strongest heat in the center, directly above the burner, and diffusing outwards.
Allows for multiple saucepans above a single indirect heat source.
Natural Gas 7,500 BTU / Propane Gas up to 7,500 BTU
1 Vaulted Gas Oven with Electric Broiler 16.8W x 19.8D x 11.8H – 2.3 cubic feet (left)
1 Vaulted Electric Oven with Electric Broiler 16.8W x 17.5D x 11.8H – 2.0 cubic feet (right)
This is the lowest powered French top at 7,500 BTU. I found the temperature was ok for searing, although it could've been hotter. If you like to cook with a wok, you need more BTU burner output.
Learn More: Pro Cooking Buying Guide
French Top Problems
French tops are not intended for quick meals because they take about 10-25 minutes to heat. Most French tops only come with one heat setting, except for the under-powered La Cornue. La Cornue has two heat settings.
If you are using the French top to keep food warm, you may have to turn the dish from time to time to prevent developing a hot spot in one part of the pan.
You will also have to season the French top soon after purchase and occasionally from time to time to prevent rusting or an uneven cooking surface.
French tops need to be kept free of moisture and lightly seasoned with a neutral oil after every use.
Should You Buy a Range With a French Top?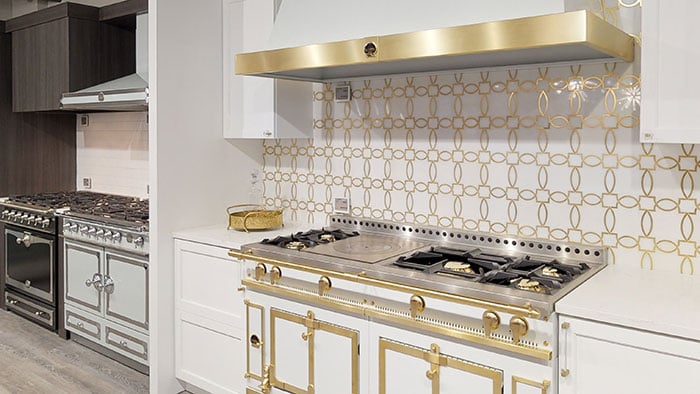 La Cornue Range with a French Top at Yale Appliance in Hanover
I would recommend this appliance if you are incredibly passionate about entertaining or cook large meals for your family. It does an excellent job of maintaining food temperature.
If you are cooking multiple items requiring similar temperatures like pancakes or other breakfast foods, opt for a griddle.
Ultimately, if you most often cook many items at varying temperatures, you should consider a French top range.
Frequently Asked Questions
1. How Do You Clean a French Top?
A French top has to be wiped down after every use and needs to be lightly seasoned. You can use vinegar for deep cleaning if oil spots start to develop.
2. How Do You Use a French Top?
A French top has different heat gradients, with the highest concentration of heat being in the middle. This area would be used for searing and Wok cooking.
Once you start moving away from the center ring, the heat gradually begins to go down, making the outer ring a medium heat level. The French top's perimeter has the lightest heat, which is great for melting chocolate and butter.
Additional Resources
Read the Yale Pro Cooking Buying Guide with features, specs and inside tips to all the brands over 800,000 people have read a Yale Guide.
Related Articles
Why Should You Trust Us?
It seems that every appliance review has nothing but glowing comments about almost every product, yet you read customer reviews and they are almost universally bad.
We are here to fill in the disconnect. We'll give you the best features, and the drawbacks as well, including reliability based on over 37,000 calls performed by our service team just last year. Our goal is to give you ALL the information so you know what's right for you.
Please consider subscribing or adding to the conversation in the comments below. We appreciate you stopping by.
Saba Wahid
Saba is the resident Chef at Yale. She will teach you how to use your new oven, cooktop, or range. She is skilled in every new feature, including steam, induction, convection of all types, air frying, and sous vide. Saba is also the reigning Chopped Grand Champion crowned by Martha Stewart herself. Saba is incredibly versatile with all different types of cuisine. After just one session with her, you will be a better chef.

Saba has also been featured in numerous publications such as Mashed, Eater Boston, the Boston Herald, and the Framingham SOURCE.
A Note About Pricing
Pricing on this blog is for reference only and may include time sensitive rebates. We make every attempt to provide accurate pricing at time of publishing. Please call the stores for most accurate price.