10 Best Kitchen Appliance Brands for Color in 2023
You now have more good choices for color in your kitchen.
In this article, you will learn about the best companies for adding custom colors to your kitchen appliances.
You will also learn how to apply the most popular colors and a few cautionary tales about the wrong way to place color in your kitchen.
Take heart: 73% of all BlueStar ranges purchased at Yale are in a custom color.
You can do it too. Let's get started.
Short on time? Get our free Appliance Buying Guide
10 Best Kitchen Appliance Brands for Color in 2023
Café Appliances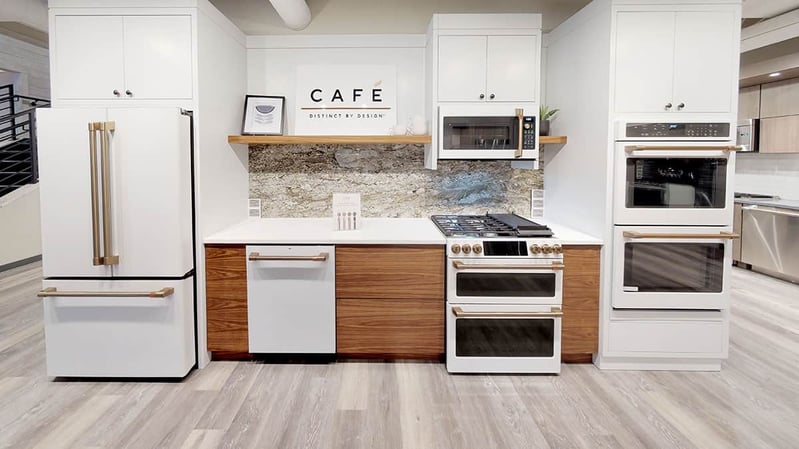 Café Appliances Kitchen Appliances in Matte White at Yale Appliance in Hanover
Café Appliances only have four colors: white, black, stainless, and mirrored. They will be adding green and gray later this year.
However, Café Appliances allows some customization with stainless, black, copper, and brass handles for a unique look.
Why You Should Consider Café Appliances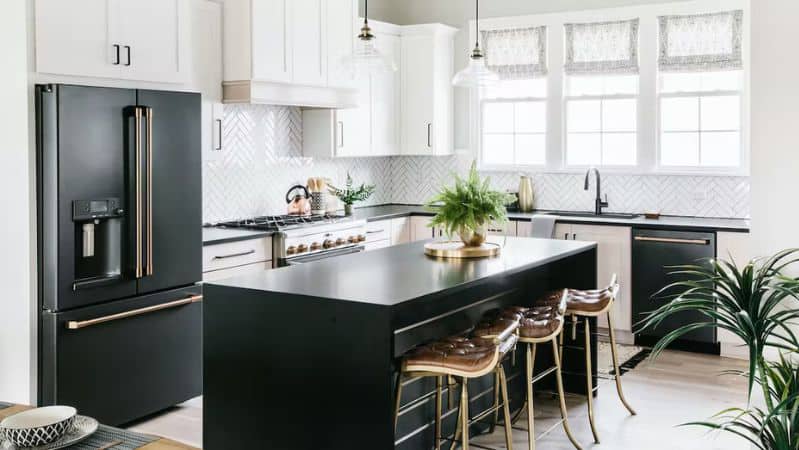 Café Appliances in Matte Black with Copper Hardware
The Café collection has primary colors with some customization. They also manufacture good, functional appliances.
Their double oven 30-inch ranges, French door refrigerators, and matching dishwashers perform well.
Unfortunately, many companies place style ahead of performance.
Speaking of which, let's look at Bertazzoni, SMEG, and ILVE appliances next. We don't sell any of these Italian brands. However, this article is about color, not performance. Also, the colors are attractive.
Bertazzoni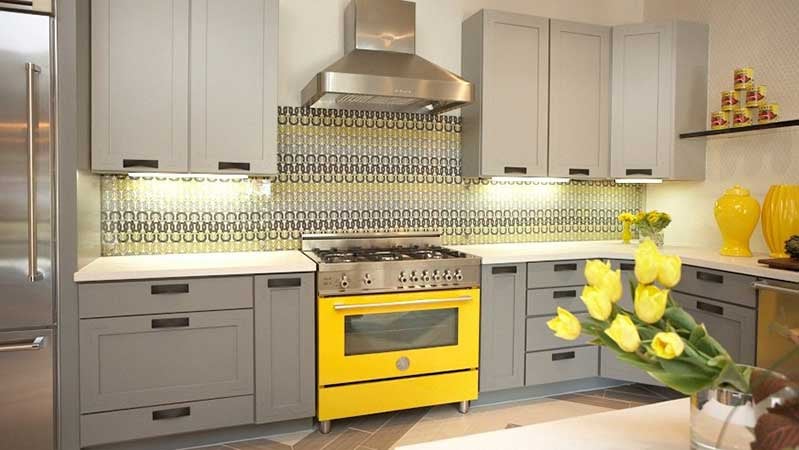 Bertazzoni Pro-Style Gas Range in Yellow
Bertazzoni is the most well-known of these three Italian companies. They manufacture five colors: black, white, yellow, orange, and red.
SMEG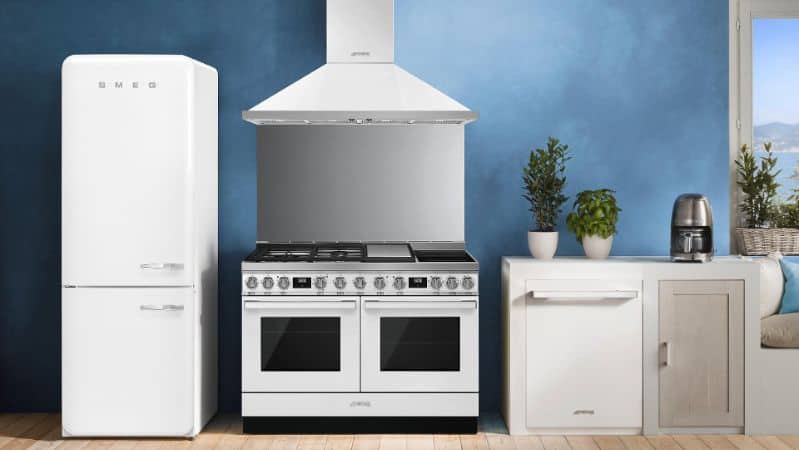 SMEG Range and Kitchen Appliances in White
SMEG offers gray, black, cream, green, orange, yellow, and red in their Portofino series.
However, they have a few collections with the following partners:
Dolce&Gabbana, an Italian luxury fashion house founded in 1985 by designers Domenico Dolce and Stefano Gabbana
Veuve Clicquot, one of the largest champagne houses originally founded in 1772 in Reims, France, by Philippe Clicquot-Muiron
Peanuts, an American comic strip written and illustrated by Charles M. Schulz that ran from 1950 - 2000
You can also buy a British flag-themed refrigerator.
ILVE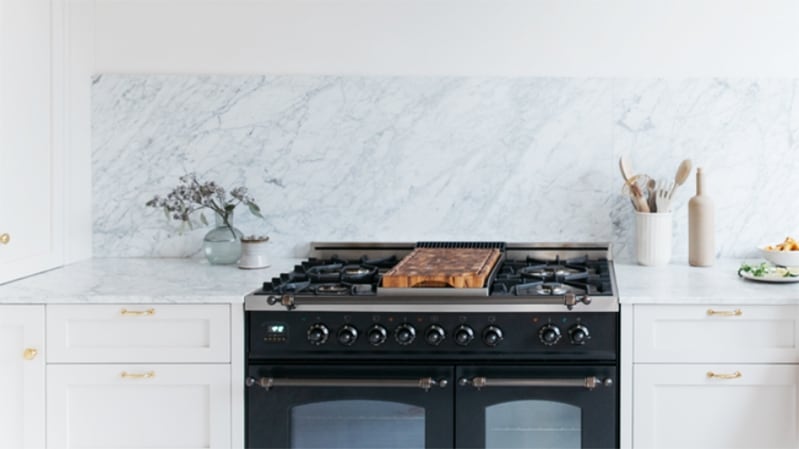 ILVE Nostalgie Series Range
ILVE is like Café Appliances with 23 colors, including white, blue, burgundy, emerald, black, stainless, matte graphite, and antique white.
You also have trim possibilities of copper, brass, bronze, and stainless.
Why You Should Consider Bertazzoni, SMEG, or ILVE
First, the Italian-made ranges are inexpensive and look good in color. Consider all three if you don't cook or want to flip your house with a unique look.
Their performance and serviceability, however, are a concern.
La Cornue CornuFé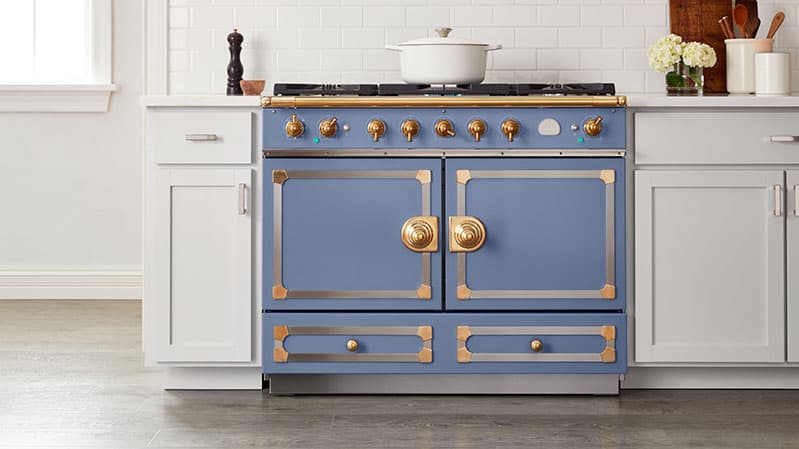 La Cornue CornuFé 110 Range in Provence Blue
CornuFé is the less expensive, less customizable French-looking range available in only two sizes, 36 and 43 inches.
They feature eight colors and three trims matte black, gloss black, pure white, stainless, blue, gray, green, and cream.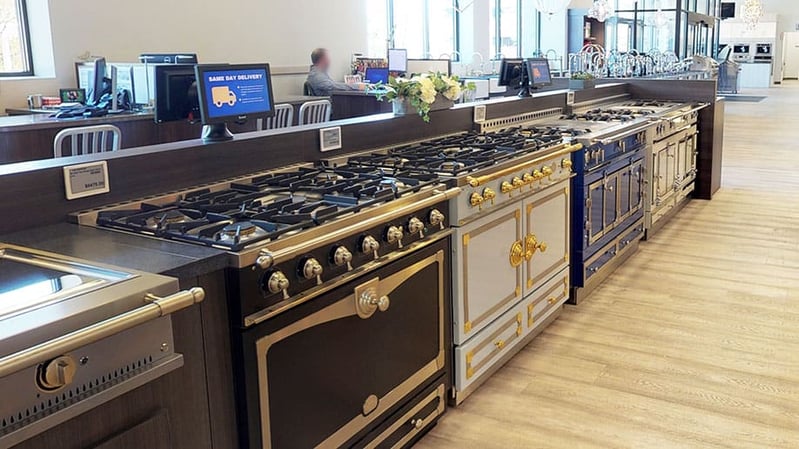 La Cornue CornuFé Ranges at Yale Appliance in Framingham
Trims include polished brass and matte chrome.
Why You Should Consider CornuFé
CornuFé is a good option for a French-looking range without the price tag of a La Cornue or the complexity of a Lacanche French range.
Viking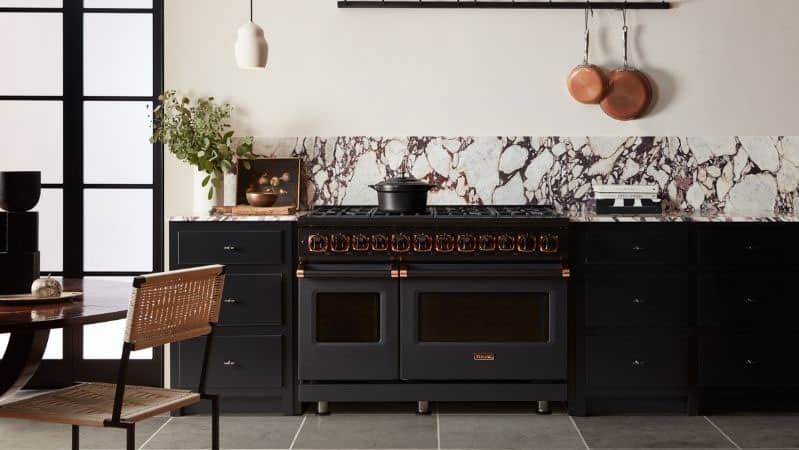 Viking Professional Range in Black and Rose Gold
Viking was the original company to introduce color back in the late 1980s. They have added new looks with Tuscany for more of an old-world look.
They also partnered with Sherwin Williams for 14 updated colors, including white and black.
Why You Should Consider Viking
You have many choices for a high output range. The colors are new and bold.
True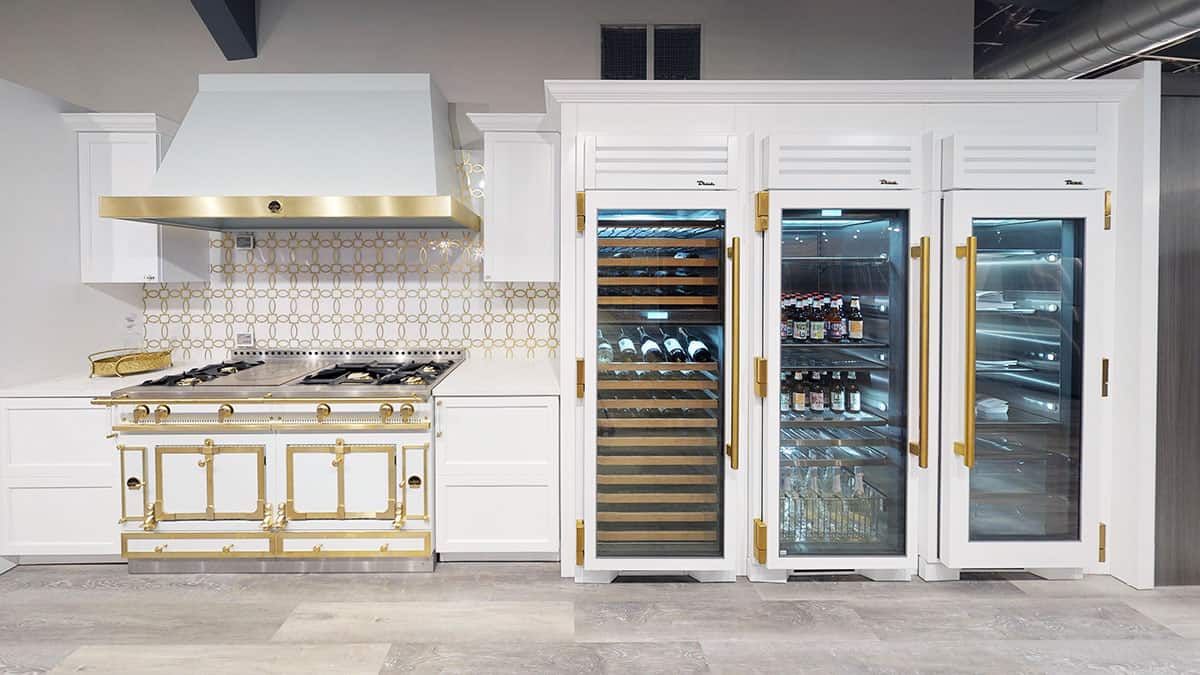 True Refrigeration (Right) in White at Yale Appliance in Hanover
Want to have some fun? Go to True's website and play with their "Build Your True" refrigeration design system.
True refrigerators feature 12 colors and six hinge options.

Want a white refrigerator with black or copper hinges? How about blue and brass?
Later this year, True will introduce a new race car finish with shiny surfaces.
Why You Should Consider True
True builds the most unique refrigeration on the market. True is all stainless and incredibly solid.
Lacanche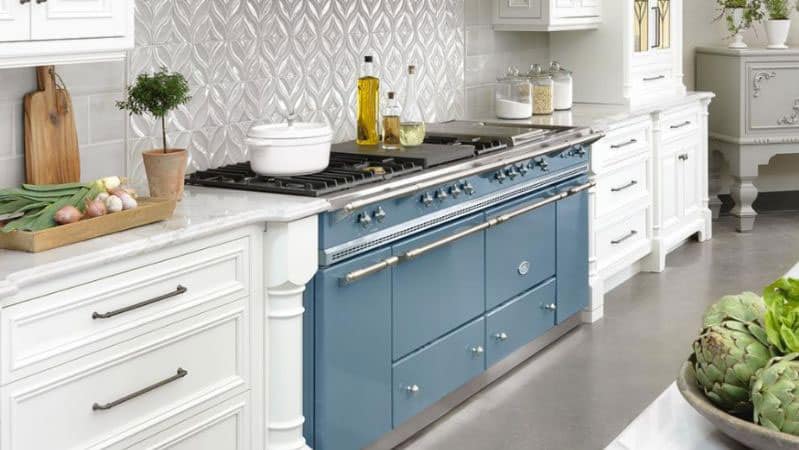 Lacanche Range
What a stunning range.
If you are looking for a French country look, then Lacanche is a consideration.
You have 31 colors and four trims in 8-to 71-inch widths.
Lacanche also offers the option to have ovens, broilers, and warming drawers.
We compared La Cornue, CornuFé, and Lacanche in our recent article. Read it before you buy a French range.
Why You Should Consider Lacanche
Lacanche has rich colors and allows for customization.
BlueStar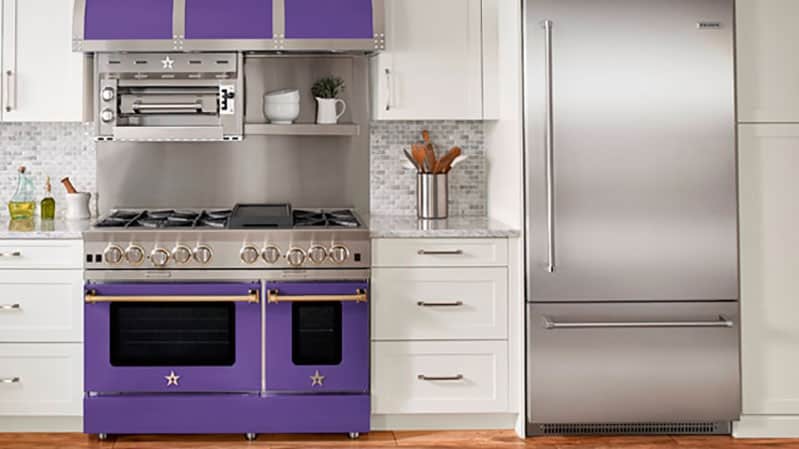 BlueStar Professional Range
BlueStar is one of the fastest-growing premium appliance companies.
They have 1,000 colors and ten trim packages to choose from.
You can custom order another finish if the other thousand don't work.
Why You Should Consider Bluestar
BlueStar has the industry's highest output range. Their refrigerators and ovens are large enough to handle full-size commercial cookie sheets.
La Cornue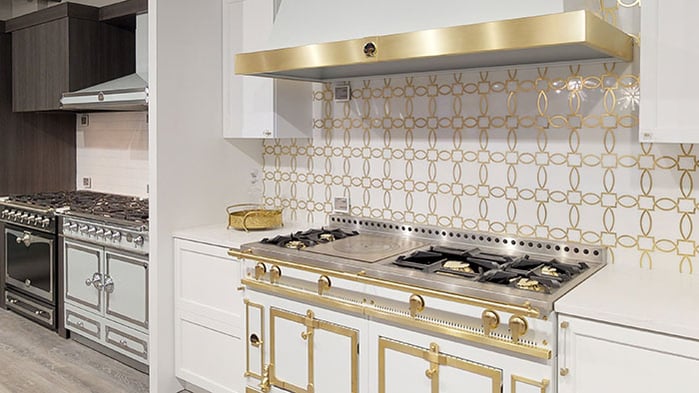 La Cornue Range ay Yale Appliance in Hanover
La Cornue "only" has 56 colors and eight trims. However, you can completely customize the range.
Their ranges are also the best looking, from their refined style to the richness of the color.
La Cornue uses the best process to add color to a range and uses metal for strength and longevity.
Why You Should Consider La Cornue
The world's only fully customizable range and looks the best in color.
How to Apply Color
Now that you've learned about the best appliance brands with custom colors let's go over how to successfully add color to your kitchen.
You only need a pop of color, although you can buy all your appliances in color.
In what I feel is the best kitchen design of centralizing the sink, stove, and dishwasher, your stove is the best place for color.
You can also add color to the hood for an additional accent.
So, this: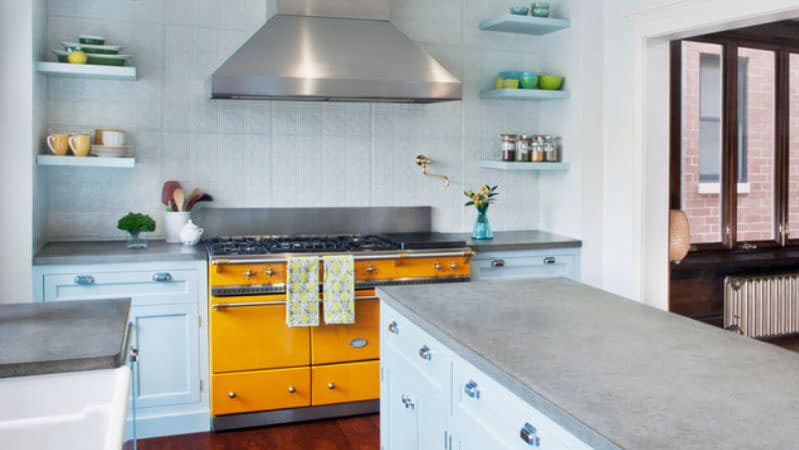 Eclectic Chic, Transitional Kitchen by Randall Architects
Instead of this: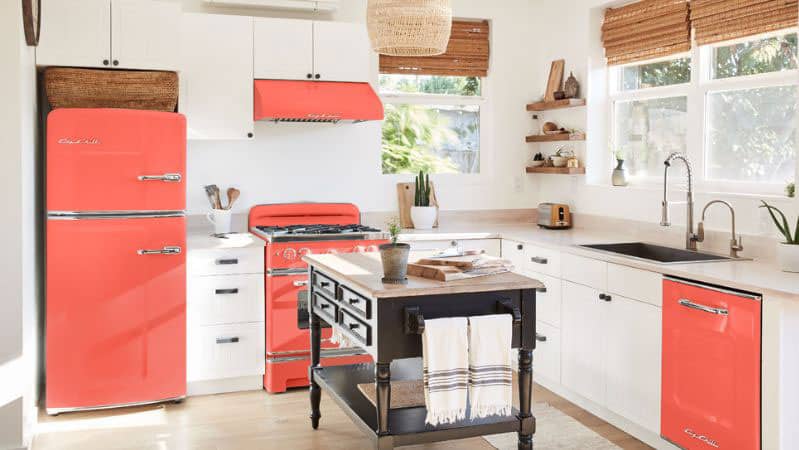 Big Chill Studio Size Refrigerator Scandinavian Kitchen
Another way to apply color is by adding a custom panel.
For a brand like True, the refrigerator is a focal point. I am more of a purist and believe you centralize color.
However, the refrigerator's color with a glass front is also attractive.
Most Popular Colors
You probably thought red, orange, and grey were the most popular appliance colors, but natural colors are back.
Black
Both matte and gloss black are popular now.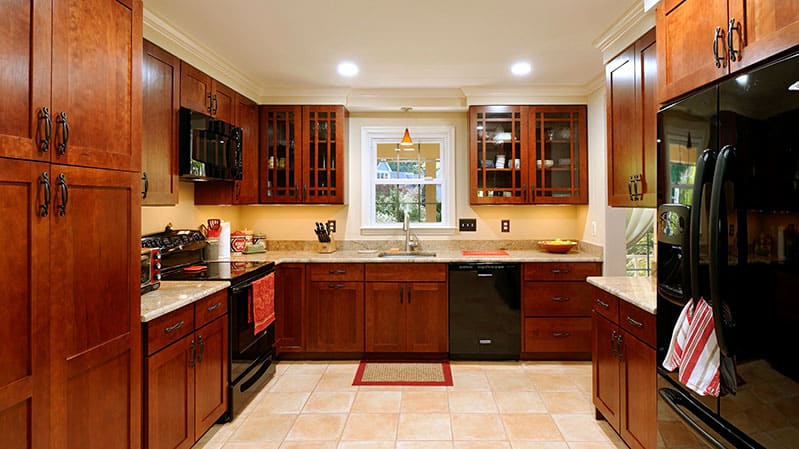 Traditional Kitchen by Daniels Design & Remodeling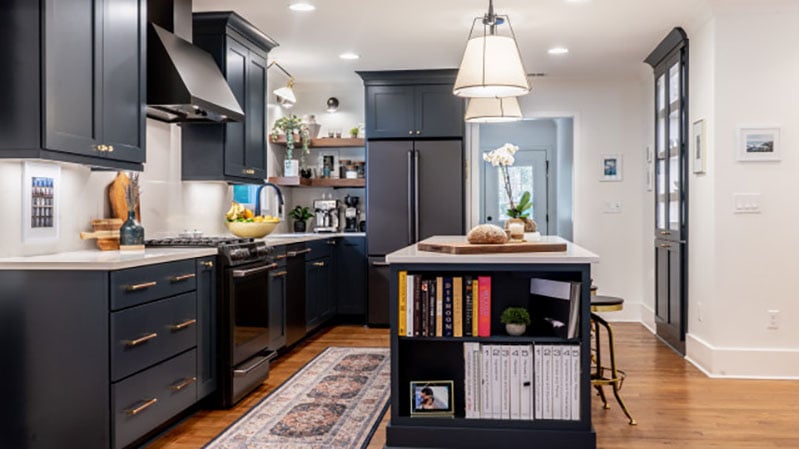 GLENWOOD Blue and White Kitchen by Rosa Moreno Kitchens
White
White will always be popular in New England, especially with brass and copper accents. Polished is more of a New England thing.
If you live in Florida or the Southwest, polished is probably not part of your thinking,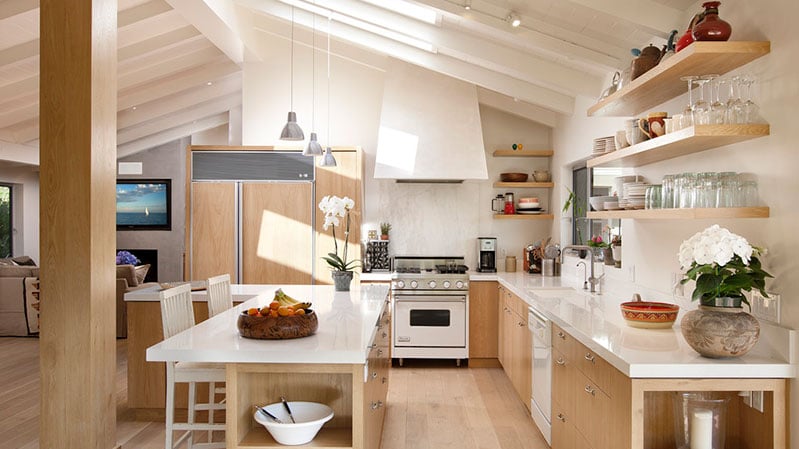 Las Canoas Remodel Kitchen by Allen Construction
Green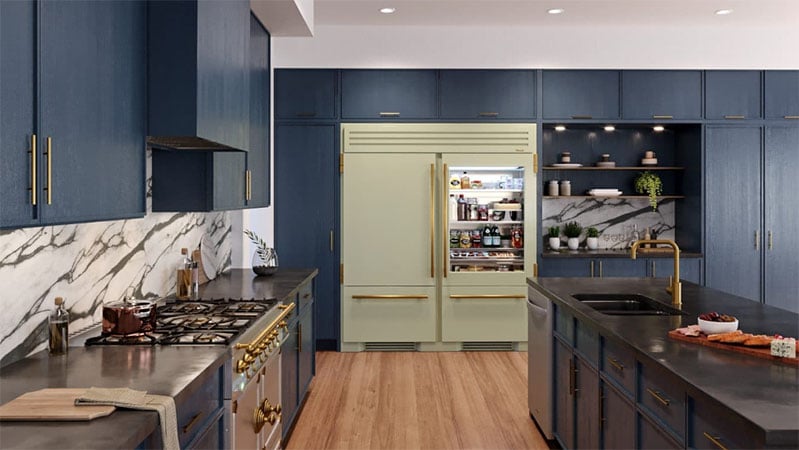 Refrigeration in Green with a Glass Panel
Green is the new trendy color. However, green was always the least popular when we sold lighting, so be careful.
Colors to Avoid
Black Steel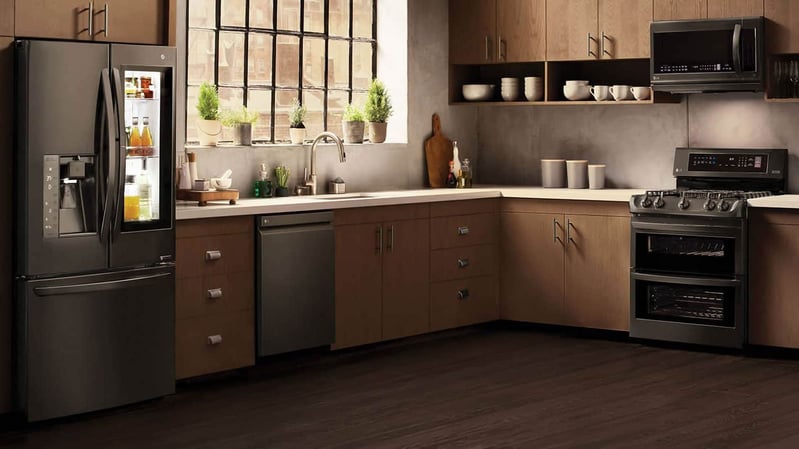 Black Stainless Steel Kitchen Appliances
Black steel is an oxide coating. It's simple to scratch, as shown in the video below. Once marked, you will see dots of stainless forever.
The scratches are not repairable or covered under warranty.
Brown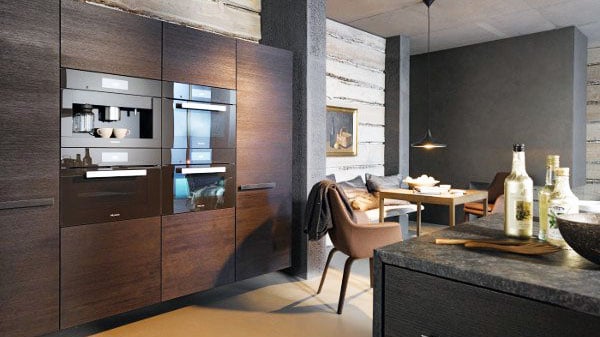 Brown Kitchen Appliances
Oil-rubbed bronze, toast, Cappuccino, coffee, and truffle all have one commonality: they never last and are often discontinued shortly after the grand introduction.
Brown never matches cabinets and doesn't fit with the popular white and gray kitchens.
Cautionary Tale One
Let's have another look at the stylish Dolce&Gabbana appliances from SMEG. Look at the stove closer.
The word "retiring" means discontinued. But what happens if you need it replaced?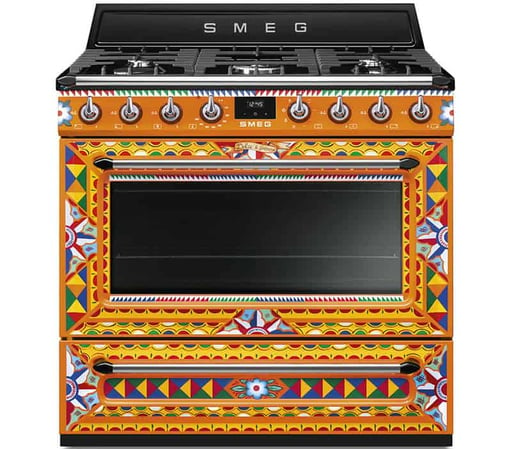 SMEG Range featuring the Dolce&Gabbana Design
Many companies will discontinue colors leaving you with a mismatched kitchen in the future.
Cautionary Tale Two
My best friend's family moved out of their home and into a new place on the other side of Needham.
They had Gaggenau appliances and did an excellent job with the finishes and the overall layout.
In the master bath, they had salmon Villeroy & Boch toilets and sinks.
Flash forward ten years, my friend buys the house, and those expensive toilets look pink.
You can be trendy but risk looking dated over the years.
Key Takeaways
You now have more choices for color in brands and appliances. Be careful not to choose the brand just by color.
A pop of color is a great way to distinguish your kitchen from your neighbors.
Start with one appliance, look at magazines, or visit Yale for inspiration.
Additional Resources
Get the free Yale Appliance Buying Guide. It has features, specs, and inside tips for all the brands like Sub-Zero, Thermador, Bosch, and Miele. It covers built-ins, counter depth, freestanding vs. slide-in, and much more (plus a ton of good product shots as well). Well over 1 million people have read a Yale Guide.
Related Articles:
Why Should You Trust Us?
It seems that every appliance review has nothing but glowing comments about almost every product, yet you read customer reviews and they are almost universally bad.
We are here to fill in the disconnect. We'll give you the best features, and the drawbacks as well, including reliability based on over 37,000 calls performed by our service team just last year. Our goal is to give you ALL the information so you know what's right for you.
Please consider subscribing or adding to the conversation in the comments below. We appreciate you stopping by.
A Note About Pricing
Pricing on this blog is for reference only and may include time sensitive rebates. We make every attempt to provide accurate pricing at time of publishing. Please call the stores for most accurate price.