Best 60-Inch Professional Ranges for 2021 (Reviews / Ratings / Prices)
You will have a hard time shopping for a 60 inch range.
I understand the dilemma. You walk into a store and see perhaps one if you are lucky.
Not to slander myself, but we only have three on display per store.
It's also a confusing product to buy. You do have plenty of choices, yet limited brands.
Miele, Jenn-Air, SKS, and even the commercially inspired Hestan do not produce a 60-inch pro range.
Unfortunately, no one company dominates every feature, so you want to visualize how you cook and buy the range with the best corresponding features.
The best brands to consider are La Cornue, Wolf, BlueStar, Viking, and Thermador.
The best 60-Inch Professional Ranges for 2021 are:
As always, feel free to leave questions and comments below.
You can also download our free Pro Cooking Buying Guide for more detailed information on all the major brands.
Let's dive into features and look at the highlights and problems of the best brands.
Key Feature Differences of Professional Ranges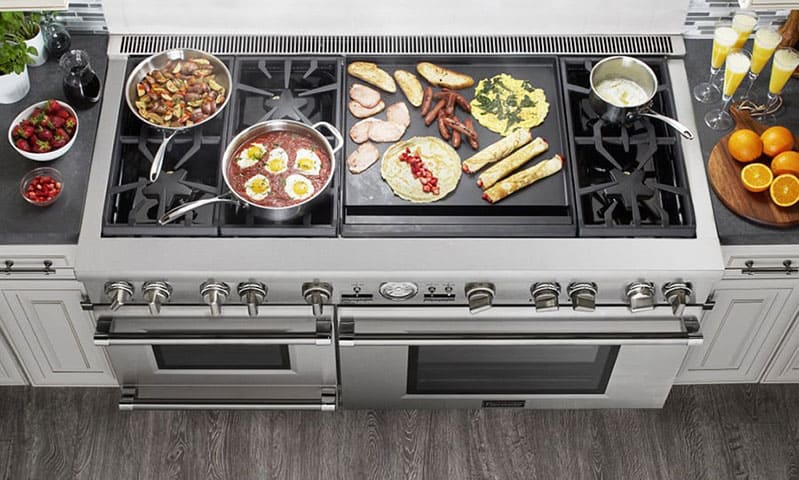 Thermador 60-Inch Pro Range
The key differences between professional ranges are:
Open vs. Sealed Burners
BTU Output
Dual Fuel vs. All Gas
Having a griddle, grill, or French top
Single vs. Twin Convection fans
Wi-Fi and Home Connectivity
Steam Capabilities
Warming Drawers
Custom Finishes
Open Burner vs. Sealed Burner
Sealed burners are what you probably have currently where only the cap is removable. It's easier to clean.
The open burners have a higher heat output and are more common in a commercial setting.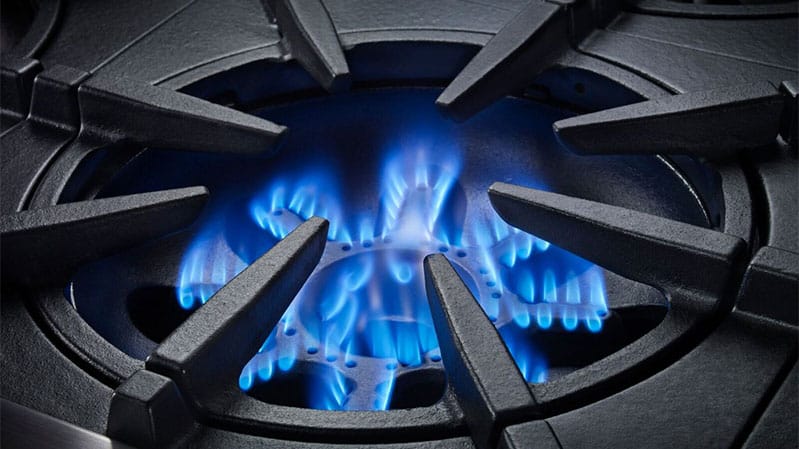 BlueStar Open Burner
Open burner ranges can be disassembled and cleaned in the sink.
BlueStar and Capital ranges are open. Viking, Thermador, La Cornue, and Wolf, along with most others, are sealed.
BTU (British Thermal Units)
The performance will vary per brand. BTUs are used to rate the power output of your burners or oven.
Open burners typically offer a higher BTU rating and are going to be the closest match to a commercial or restaurant application.
Typically, open burners are bigger with better oxygen flowing around the burner itself.
That was the thinking pre-2020 when Hestan cracked the code and manufactured a 30,000 BTU sealed burner.
The drawback to an open burner is the cleaning. Any overflow could potentially find its way down below the rangetop surface.
Burners are typically rated from 15,000 to 25,000 BTUs.
BlueStar, with its open burner, has a 25,000 and 22,000 BTU burner.
Thermador and Wolf in dual fuel is 22,000 and 20,000, respectively, with Viking at 18,000 BTU.
Dual Fuel vs. All Gas
Dual fuel is a gas rangetop and an electric oven. An all-gas range is a gas rangetop and a gas oven.
Before you automatically buy dual fuel, you should also consider all gas.
Dual fuel ranges have drier, more precise heat for better baking.
However, gas is a moister heat better for roasting meats. With its direct, intense heat, the infrared broiler is also far better than an electric broiler in an all-gas range.
Dual fuel is usually 10%-25% more expensive than its all-gas counterpart. Electric is also self-cleaning. Gas professional ovens can be either depending on the brand.
In some brands like Wolf for a 60 inch and Hestan, SKS, Thermador Harmony, and Miele, dual fuel has added features, so it's not always an exact comparison.
Griddle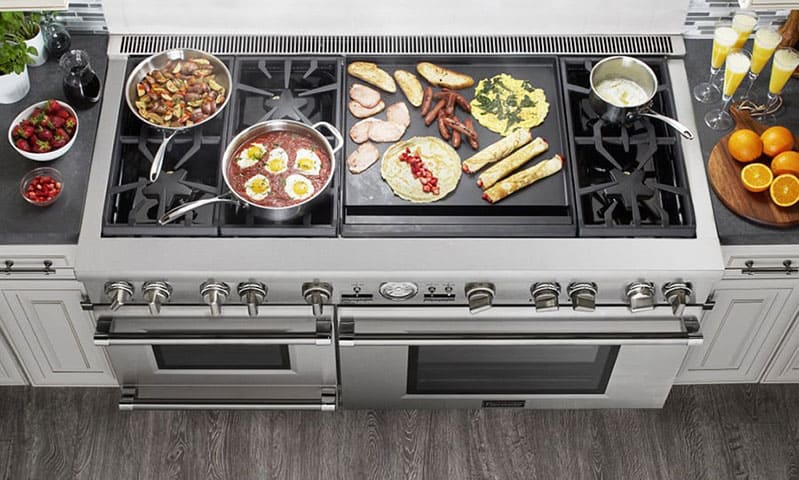 Thermador Pro Grand 60-Inch Pro Range with Griddle
Thermador Pro Grand 60-Inch Pro Range with Griddle
Griddle options are available with all brands. In a 60" range, they would be available in a 12" wide or a 24" double griddle.
There are three different sources of energy for a griddle, gas, gas infrared, or electric.
For example, in the Wolf pro-range, the griddle has an infrared gas burner component beneath it, offering 15,000 BTUs of power.
The benefit to infrared is its intense direct heat, whereas straight gas spreads the heat more evenly.
On the other hand, Thermador's 60-inch pro range will offer an electric griddle. It works off a "6-pass electric element" of 1,630 watts.
The electric-pass-element is not as consistent in comparison to that of the infrared Wolf.
Griddles can cook almost anything well. Most diners still use them as the only cooking appliance.
You can always buy a griddle to cover the burners like BlueStar Platinum, but it's not thermostatically controlled and consistent.
Grill
BlueStar Professional Range Griddle at Yale Appliance
Grill options are also available with all the brands that offer a 60" range. Wolf offers a powerful infrared 16,000 BTU output.
Some may perceive the grill to be a challenge to keep clean, but the benefit to the infrared is that anything that falls into it will burn off.
Straight gas spreads the heat more, is not as hot, but you can control the temperature better than infrared.
The cleaning is more manageable and isolated to the grates, and the stainless sides surround the gas-fed infrared plate.
Both the Viking and BlueStar pro-ranges also offer gas-fed grill options. Because they are not infrared, they are harder to clean.
Thermador has an electric grill with briquettes at the bottom to increase heat.
Twin vs. Single Convection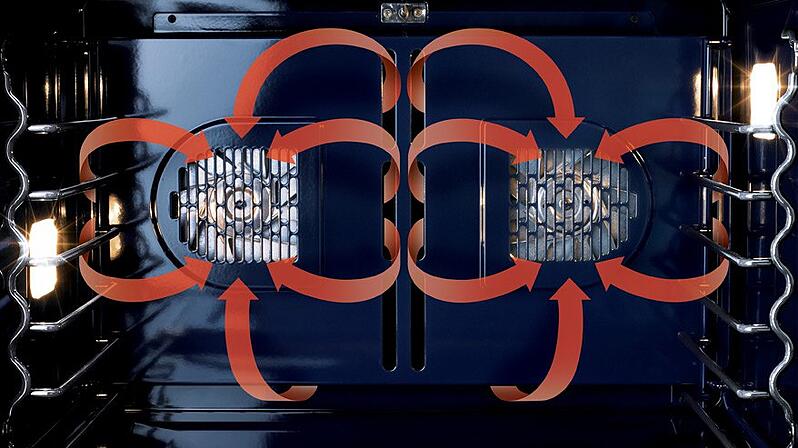 Dual Convection in a Pro Range
In their dual-fuel range, Wolf will offer dual convection in their ovens.
In the convection mode, these two fans will work off one another or at different times to maximize airflow and circulation in the cavity itself.
This will help ensure true even baking results at all times.
Viking's dual-fuel will offer a Vari-Speed Dual Flow convection system, which happens to be the largest convection fan in the industry.
The 8-1/2" fan works bi-directionally.
In their Platinum all gas models, BlueStar offers the only third convection element behind the fan.
(Small Note: Our Chef had a decided advantage in winning Chopped because she knew BlueStar's pure convection system).
The best convection system is La Cornue.
The air is blown in from the bottom and provides natural convection with the arched top of the oven.
This system does not dry out the food like fan-blown heat.
Narrow down Pro Range options with our free tool
Special Features of Professional Ranges
Steam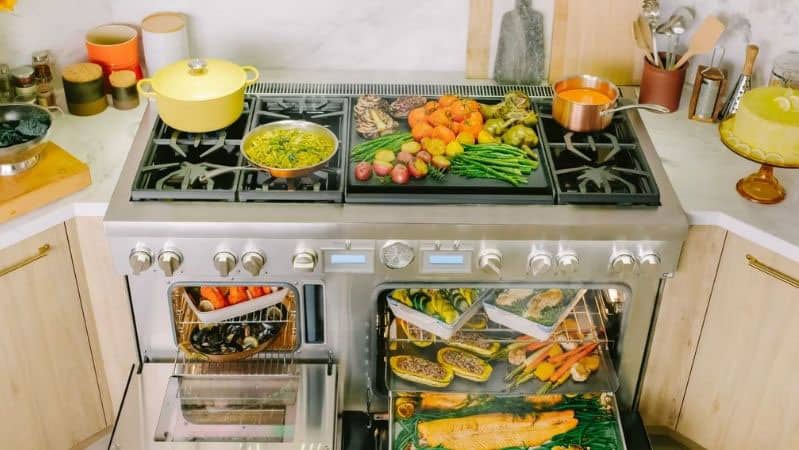 Thermador 60-Inch Pro Range with Steam
Steam is an amazing feature. Steam adds moisture rather than baking out nutrients and flavor like any traditional range.
Thermador will have a steam oven in its 60-inch range.
Warming Drawer
You can keep food warm for up to three hours in a warming drawer. Food can be prepared, kept warm in a drawer, and then served to friends and family later.
Thermador will have a warming drawer.
Wi-Fi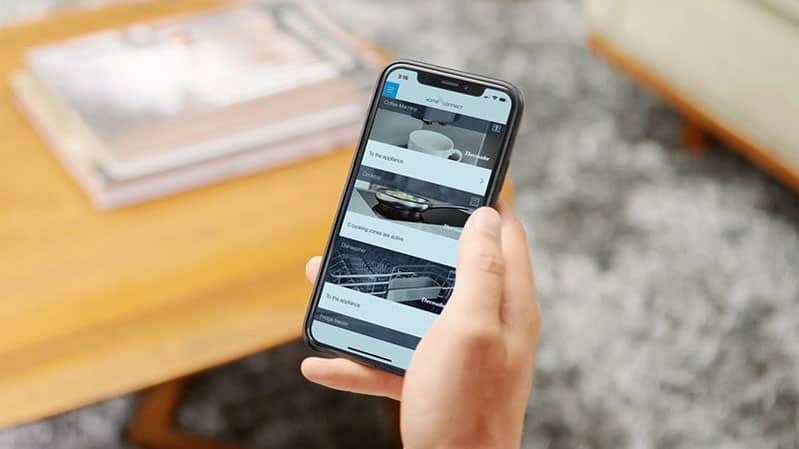 Thermador Home Connect
As you are reading this, most appliance companies have a Wi-Fi experience. Yet, only Thermador has invested in Wi-Fi to date among the 60-inch ranges.
Wi-Fi, in general, is somewhat mediocre. Either the functionality or connectivity is lacking.
Thermador's "HomeConnect" allows you to not only control the range remotely but also to download recipes and other culinary experiences directly from your phone.
Wolf have their Wi-Fi system by the end of 2021.
Wi-Fi and Smart functionality is the future when you tell the range you want lasagna and it is cooked automatically.
For 2021-2022, the functionality is not yet there.
French Top
La Cornue Château French Top
French Tops are the opposite of a consistent, thermostatically controlled griddle.
The burner is located on the inside with the eat radiating out, so you can cook effectively at different temperatures rather than at the same temperature of a griddle.
You place your food directly on a griddle but leave them in the pans on a French top.
BlueStar, La Cornue, and Wolf offer a French Top.
Salamander Broiler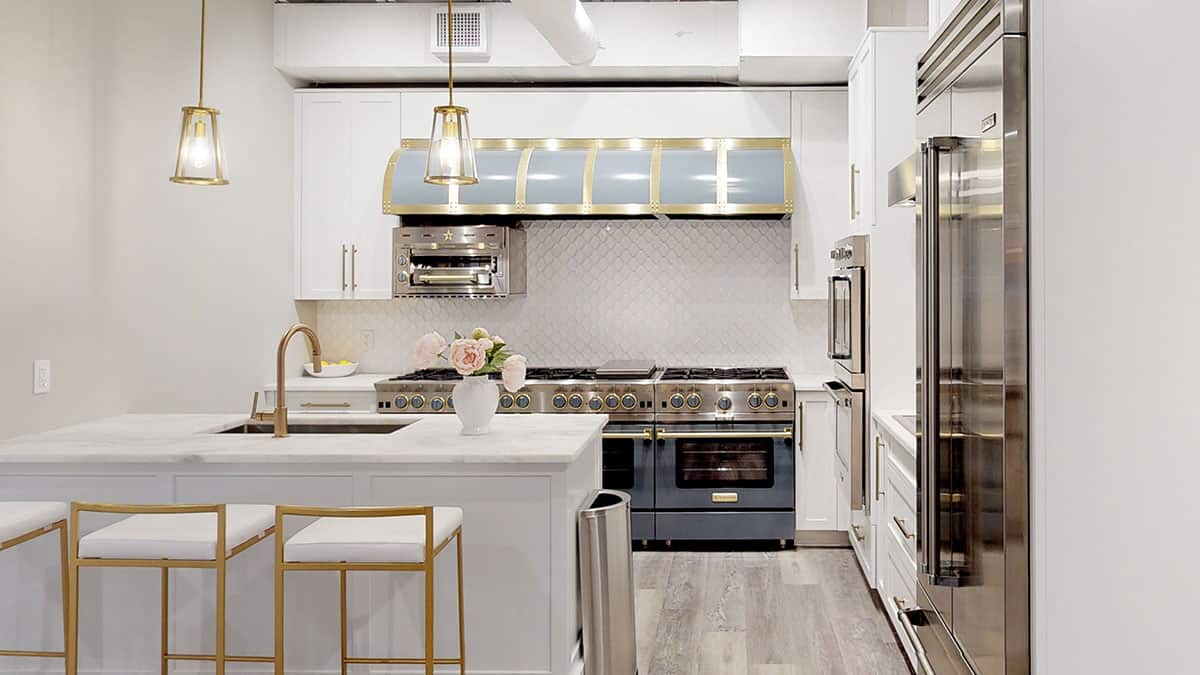 BlueStar Professional Range with a Salamander Broiler (Left)
A salamander broiler is a four-position grilling rack, and adjustable burners allow you to cook with heat.
From rare steaks to crispy chicken to delicately broiled crab cakes, you will get perfect results in virtually half the time.
The flan dessert you order in a high-end restaurant is caramelized in a salamander broiler.
At this time, only BlueStar offers a salamander broiler.
Custom Finishes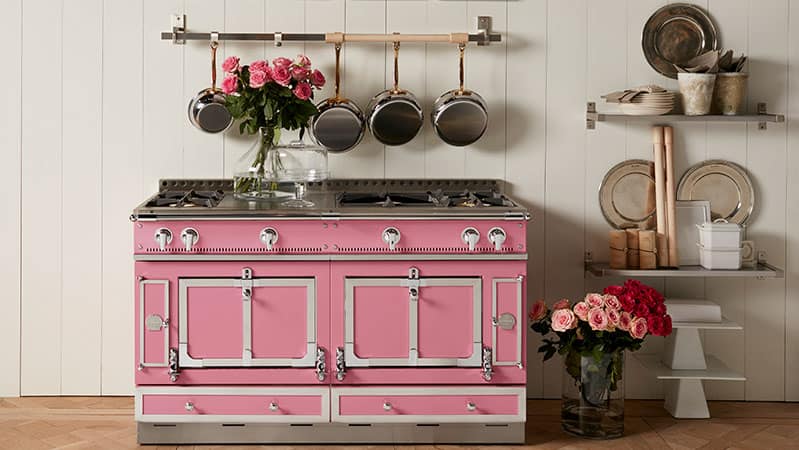 La Cornue Château Range in Pink
Viking has 17 colors with a few trim options. La Cornue has 50 colors and eight trims.
BlueStar has 1000 color options and ten trim options. You can also customize BlueStar and La Cornue with your own colors.
Soon, you will be able to upload a GIF to be your BlueStar range front.
Now, let's take a look at the best 60-inch pro ranges.
Best 60-Inch Professional Ranges
1. La Cornue Château 150 - $59,000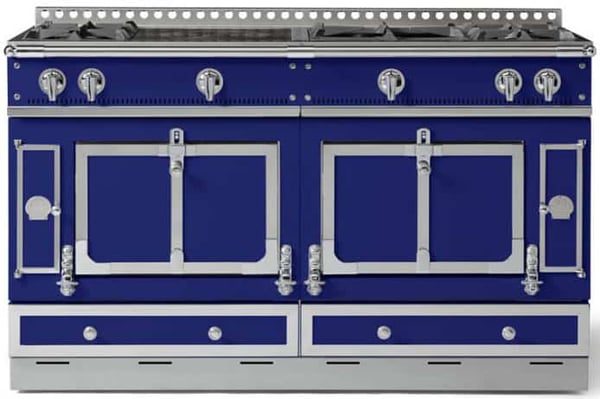 In the beginning, you learned about companies specializing in different features and to buy based on what you use.
La Cornue is the exception.
The Château is almost completely customizable and still hand-made in their French factory.
You have a choice of 9 different cooktops encompassing French top, griddle, grill, wok burner, Teppanyaki, induction module, or all induction cooktop.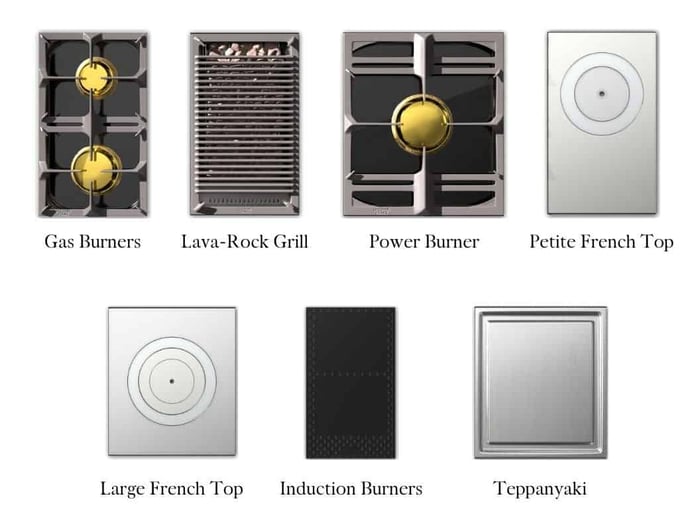 So you have every conceivable cooking option.
In every other range, you will have to choose between gas or dual fuel.
Except, La Cornue. You will have both electric and gas in a Château range.
You will use gas with its moister heat for roasting. The electric oven is designed for baking with its drier heat.
As described, the natural convection with the arched top is the best for baking or roasting while leaving moisture in your food.
In terms of color, the Château is the most elegant range available. You are buying a piece of furniture as well as a stove.
La Cornue Range Problems
However, there are two problems with a Château range.
First, the price is roughly three times the other ranges of the list. Second, availability has been poor, with six-month lead times.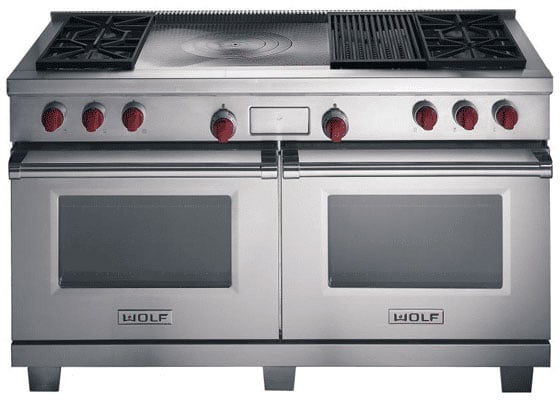 Wolf is an American-made brand with over 80 years of experience in manufacturing high-end cooking products.
The brand was purchased about 20 years ago by Sub-Zero and moved to Wisconsin.
Wolf is well known for its professional look, cooking precision, and a consistent 500 BTU simmer with its dual-stacked burners.
You have a total of eight 60" range choices in their line-up, five in dual-fuel and three in all gas.
Wolf has good power and the only twin convection range at 60" range.
The griddle, grill, and French Top are all infrared gas, not electric, for better response and easier cleaning.
Differences Between All Gas and Dual Fuel Wolf Professional Ranges
The cooking surface will be the same in the griddle and grill. However, the burners are more powerful in dual fuel at 20,000 Max versus 15,000 in all gas.
Dual Fuel: 9,200 BTU (1) / 15,000 BTU's (2) / 18,000 BTU's (2) and a 20,000 BTU power burner.
All Gas: 60-inch all 15,000 BTU, 9,100 BTU
If you choose a grill or griddle:

The grill is 16,000 BTU
The griddle is 15,000 BTU
The oven and controls are different. You have light-up oven knobs plus a clock and timer in dual fuel for controls.
Dual fuel is also self-cleaning twin convection in the oven versus non-convection single convection in the gas.
The broiler in the all-gas model is better with infrared versus electric in the dual fuel.
Later this year, Wolf will offer their Verticross blower convection, WIFI Smart functionality, and a new touch screen.
Wolf Range Problems
Their dual fuel may be the most versatile oven on this list with good output, options like French tops, and a better convection system.
Their gas is a bit underpowered is only single convection nonself cleaning.
They are improving their dual fuel, but the gas range will stay the same.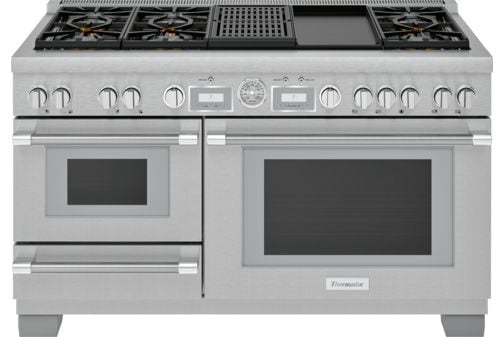 Thermador is a Germany-based company and is part of BSH Home Appliances Corporation, a fully-owned subsidiary of Bosch and Siemens Home Appliance Group, the third-largest appliance manufacturer globally.
Thermador will offer four 60" ranges in their line-up, all of which are dual-fuel.
Thermador provides a bit more elegance in their aesthetic, with softer lines and star-shaped burners.
Their precision simmer is intermittent, which means it will cycle on and off to maintain a very low temperature of 100°F (375 BTU).
These ranges will provide decent output, listing with the following BTU outputs on their burners: 12,500 BTU's (2) / 15,000 BTU (1) / 18,000 BTU's (2) and a 22,000 BTU power burner.
Induction is a great option as it's the fastest to boil and simmer. You have a two-burner induction option.
You have a full steam oven instead of a second oven so that you can cook a meal in steam.
Steam adds moisture and doesn't bake out the nutrients
The warming drawer below will keep food warm for up to 3 hours. It's a good feature if you cook and your family eats at another time.
Differences Between the Thermador 60-Inch Pro Ranges
Differences Between the Thermador 60-Inch Pro Ranges
Thermador is only dual fuel in 60 inches.
Usually, Thermador has two series, their Harmony or 24 inches deep or the deeper 27 inches Pro Grande.
Their 60-inch range is in the deeper Pro Grand series.
Like the others, they have different grill and griddle configurations. The biggest difference is if you want a steam oven with a warming drawer below or straight double ovens.
Thermador Range Problems
The grill and griddle are electric, so they are a bit slower than gas. The ovens are single convection as well.
The steam oven is a decent consideration, but you lose capacity from the regular four cubic foot oven.
You do not have a gas option in a Thermador 60-inch range.
Narrow down Pro Range options with our free tool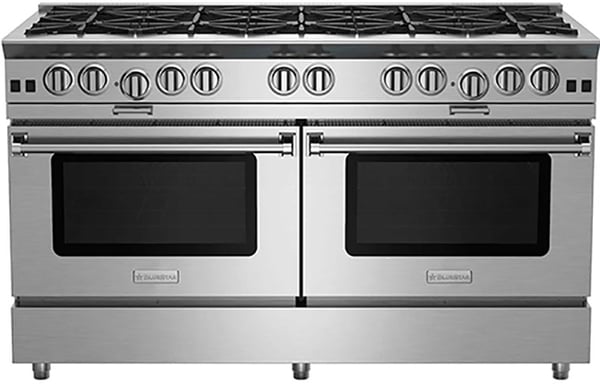 BlueStar ranges originated in Reading, PA, in 1880 from Prizer-Painter Stove Works, a manufacturing company of residential and commercial ranges, water heaters, furnaces, and heating stoves. Prizer-painter Stove Works continued to manufacture high-end cooking products for over a century.
In 2002, Prizer introduced the BlueStar line, restaurant-quality ranges designed for the residential market.
All 60" BlueStar ranges can be customized with 1000 colors for knob and range finishes plus (10) different trim options.
Customized ranges are made to order and typically have an 8-12 week lead time.
BlueStar offers tremendous quality and variety within their 60" range line-up, offering (9) different 60" range options in two different series, the Platinum and the RNB.
BlueStar has double grills, double griddles, and French tops as well.
They are also very flexible with the open burner configurations as they can be customized to suit your cooking needs with a variety of griddle, grill, and French top sizes.
BlueStar has the only third element convection gas range for even baking.
They also feature a salamander, restaurant broiler on the top for caramelizing and searing.
Differences Between the Platinum and RNB 60-Inch Pro Ranges Ranges
BlueStar has two series of pro ranges.
Their Platinum is their most powerful, with 2 25,000, 3 22,000, 218 BTU, and 2 15,000 BTU burners.
It also has the third element, convection, for the only Pure convection gas range.
The RNB is a bit less powerful, maxing at 2 22,000 and 15,000 BTU burners. The RNB has an integrated grill and griddle for a more consistent temperature.
The Platinum is an all-burner range available with an enhanced portable, reversible grill/griddle.
The RNB is also straight convection versus the third element convection of the BlueStar.
BlueStar Range Problems
It's not available in dual fuel and will never have a self-cleaning clock and timer, much less Smart functionality.
The grill and griddle of the RNB are not infrared, so the grill will not evaporate the drippings.
Viking Dual Fuel Pro Range VDR5606GQSS - $18,529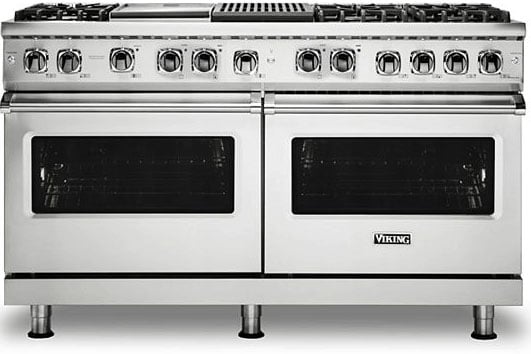 Viking has experienced many recent changes. They are credited for developing the first pro ranges but now are a subsidiary of Middleby company. It's tough to talk about Viking without mentioning past service issues.
To be transparent, we like Viking, but we do not carry the line.
Viking is another brand with the option of selecting custom color finishes.
Viking will offer two 60" ranges in their line-up, one in dual-fuel and one in all gas. They're also specific to either Natural Gas or Liquid Propane.
Viking's BTU outputs on the burners are five at 15,000 BTUs and one burner at 18,500 BTUs.
Viking does offer a total of 17 finishes (colors and stainless).
The Tuscany is a lower-priced option of a La Cornue.
Differences Between Viking 60-Inch Pro Ranges
Viking has two 60-inch pro range series in dual fuel and all gas. Unlike Wolf, they have the same general specs. You would just choose which type is better.
Are Professional Ranges Reliable?
Sixty-inch professional ranges require more maintenance than any other appliance.
Then again, a 60-inch range is two regular ranges with more power and more combinations on the top.
Pro ranges in gas require service 13.46% of the time, while dual fuel requires service at 23.12% just in the first year.
As you are reading this, just know you will need service statistically twice while you own your range.
Along with looking at features, figure out the best repair agents in your area.
Unfortunately, it will differ by brand and by region.
Our most repaired item is an ignitor. The good news is this is an easy repair on one burner. With 6-10 burners available, it should not be an issue unless it's Thanksgiving or another holiday.
Which 60-Inch Professional Range Should You Buy?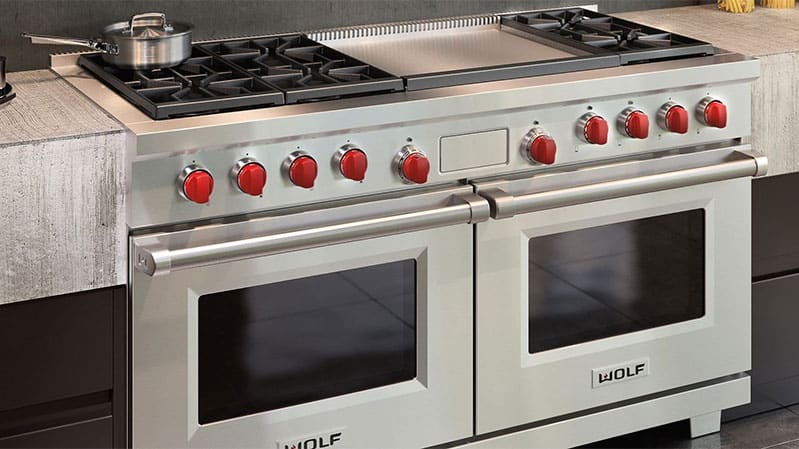 Wolf 60-Inch Dual Fuel Pro Range
Three thousand five hundred words into this article, I still don't know. It depends on how you will use it. La Cornue allows you to customize every possible option for three times the price.
If you tend to bake, then Wolf and Thermador should be your consideration.
For roasting BlueStar, Viking, and all gas Wolf are better.
After that, it depends on what you value. Do you want better power, simmering capability, or broiling? Would you use steam? How important is having a grill, griddle, or French top?
As I said in the beginning, there are a ton of choices without one definite answer. Let's compare some basic features.
Best for BTU Output
BlueStar offers 25,000, 20,000, and 18,000 BTU burners in their Platinum series of ranges in terms of sheer output. Wolf has 20,000, and Thermador does have a max of 22,000.
For simmering, Thermador has the lowest at 100°F on a few burners with an on/off simmer, while BlueStar offers a 130°F precise simmer.
Wolf's dual-stacked burners offer 500 BTU on all burners with a consistent simmer.
However, the all induction La Cornue 150 will have the fastest boil and lowest simmer, as will the Thermador two-burner module.
Best Grill
Wolf has the best grill because infrared is hot and simple to clean. Their griddle is better, but Thermador is easier to clean.
BlueStar and Viking offer gas grills and griddles. It's not as powerful as infrared, but you can control the temperature.
Best Timer and Control Functions
BlueStar, La Cornue, and Viking, like true commercial ranges, do not have any controls. Wolf has some with light-up knobs and a clock with a timer.
Thermador has a TFT digital display with the Wi-Fi HomeConnect to help you cook. You can also turn your oven on/off or change the temperature remotely.
Best Ovens
First, you have to determine whether you buy all gas or dual fuel. For dual fuel, Wolf has the best twin convection system with two independent fans.
In all gas, Viking and BlueStar have the third element convection for more even cooking.
Of course, La Cornue will have both with the best convection system.
Best for Special Features
Thermador has steam in its side oven with a drawer. Cooking with steam is the best if you learn.
Best for Custom Finishes
BlueStar, La Cornue, and Viking allow for customization so your range can look different from your neighbors.
Additional Resources
Get our free Pro Cooking Buying Guide with tips, trends, and reviews of all the best brands. Over 900,000 people have already found answers in a Yale guide.
Related Articles
Why Should You Trust Us?
It seems that every appliance review has nothing but glowing comments about almost every product, yet you read customer reviews and they are almost universally bad.
We are here to fill in the disconnect. We'll give you the best features, and the drawbacks as well, including reliability based on over 37,000 calls performed by our service team just last year. Our goal is to give you ALL the information so you know what's right for you.
Please consider subscribing or adding to the conversation in the comments below. We appreciate you stopping by.
A Note About Pricing
Pricing on this blog is for reference only and may include time sensitive rebates. We make every attempt to provide accurate pricing at time of publishing. Please call the stores for most accurate price.