Professional Range Built-In Griddles vs. Grills: Which is Better?
We are spoiled by the many choices we have when it comes to selecting a professional range.
There are various sizes to choose from for gas, electric, and induction pro ranges. You can choose to have convection, powerful burners, and more.
After making these decisions, you still have several options to choose from.
Two of the most common options are having a built-in griddle or grill for your new pro range.
How do you choose between the two? This is a question I am frequently asked.
Choosing between a built-in griddle or grill comes down to your cooking style.
In this article, I will help you decide which customizable option, a grill or griddle, is best for you.
Let's dive in.
Professional Range Built-In Griddles vs. Grills: Which is Better?
When choosing between a built-in grill or griddle for your pro range, a griddle is your best choice.
Griddles are more versatile. You can control the temperature with more accuracy. Not only can you cook your food right on the surface of the griddle, but it can be used as a warming plate as well.
Many associate griddles with breakfast, but you can cook anything on a griddle that you can cook in a pan. Griddles can even get hot enough to sear.
If you have a large piece of steak or a whole side of ribs that are too big for a pan, the griddle is an excellent solution.
Besides searing, you can easily do party or holiday prep on the griddle too. I've made everything from quesadillas, grilled cheese, scallion pancakes, and burgers on the griddle.
If you expect a big crowd and need to free up some space on the range, use the griddle to hold your soups, stock, and sauces. The surface is large enough to fit at least three medium-sized pans or two large pans that aren't too wide.
If you had your heart set on an indoor grill, there are some benefits, depending on the brand. However, indoor grills will produce a lot of smoke. Having strong ventilation is vital.
Another point to factor in is the variable temperature. Some brands, like Wolf, offer a charbroiler. A charbroiler is infrared powered and can only operate at a high setting. Charbroilers are not ideal for delicate things like bread and vegetables.
Like Thermador, other brands have griddles powered by electric coils. Lava stones or rocks line the electric-powered griddles to help distribute the heat.
There is an option to control the temperature in two different zones. There is a significant amount of cleaning to do after.
Short on time? Get our free Pro Cooking Buying Guide
Why You Should Consider a Built-In Grill for Your Pro Range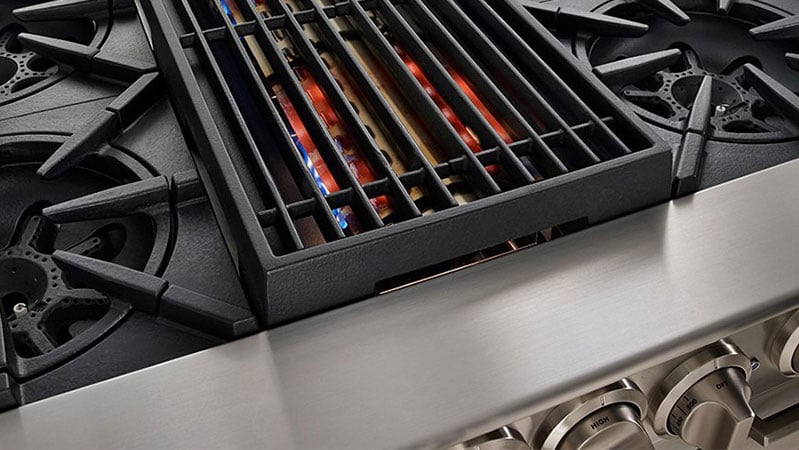 BlueStar Platinum Pro Range Grill
You can grill indoors year-round, regardless of the weather. Living in New England may keep our grilling season to a minimum. But, there are more stovetop options to grill all year round.
You have everything you need in one place to make the process of grilling and cooking quicker. Cleaning is more centralized, and built-in indoor grills limit you from repeatedly going in and out of the house.
When you have a range with a built-in grill, there are more options for cooking different types of foods. It offers a variety of methods and flavor development.
Why You Shouldn't Buy a Built-in Grill for Your Pro Range
Grills produce a significant amount of smoke. Ventilation needs to be high-powered and turned on 15-20 minutes before you start grilling.
Grills will get messy too. There is a lot more to clean, such as the grates and plates underneath.
Best Pro Range Built-In Grills
Thermador Pro Range Built-In Grills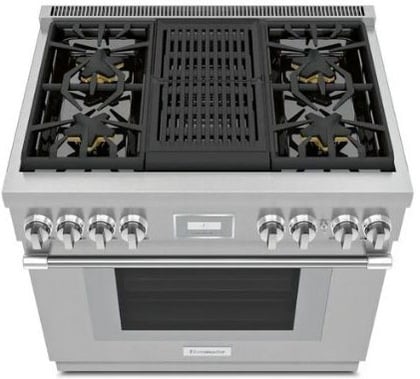 Thermador PRG364WLH 36-Inch Pro Range
I have used Thermador's built-in grill and found there is heat variance. They are controlled by two electric elements with two temperature zones to cook in.
You also have the option to use only one section for smaller items if needed. The grates are dishwasher safe as well.
The ceramic briquettes can be cleaned and turned over for elongated use, but they will have to be replaced once they turn black. It is also interchangeable with a griddle plate.
Wolf Pro Range Built-In Grills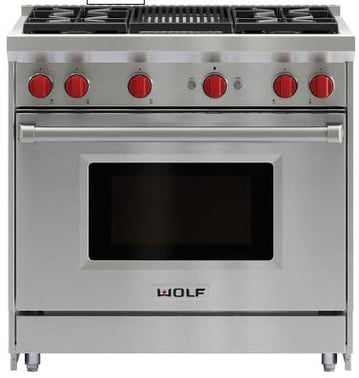 Wolf GR364C-LP 36-Inch Pro Range
I have used Wolf's built-in grill. I have found there is only one temperature, high. This is referred to as an infrared Charbroiler, operating at 16K BTU.
There are three cooking "zones" built into the design of this charbroiler. There is a concentration of heat in the center of the grill for food items that may require higher heat or searing.
The heat tapers off towards the top and bottom of the grill. You can use the grill's bottom for a medium temperature to finish off your chicken or steak.
The grill's top is for the lowest temperature you can use for things like vegetables or bread.
BlueStar (Platinum) Pro Range Built-In Grills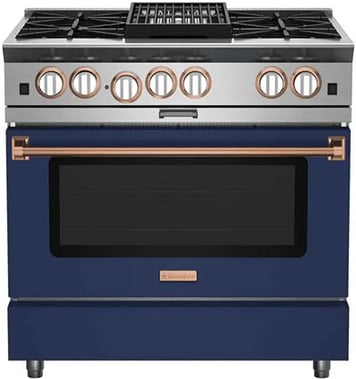 BlueStar BSP366B Platinum 36-Inch Pro Range
Bluestar has made a built-in grill option accessible on all the platinum ranges. They offer a large cast-iron accessory that sits on top of the burner.
Miele Pro Range Built-In Grills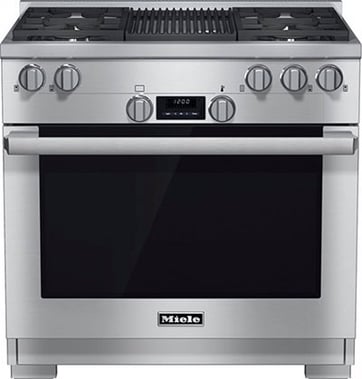 Miele HR1135GR 36-Inch Pro Range
I have used this one a while back. Miele's grill is available with 15,500 BTU (LP) or 19,000 BTU (Gas) infrared power. It's thermostatically controlled with a ceramic deflector plate and a dishwasher-safe grate.
The heat is transferred through the ceramic plate, and there is a full temperature range from "Low" to "High."
JennAir Pro Range Built-In Grills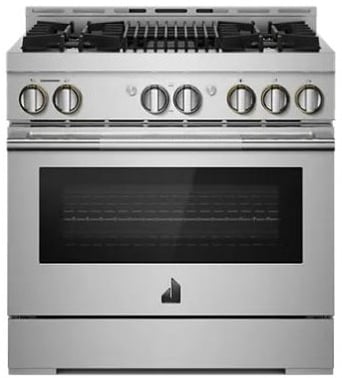 JennAir JGRP636HL 36-Inch Pro Range
JennAir's 16000 BTU infrared grill has a deflector plate for searing evenly beneath cast-iron grates. This infrared grill has a small drip tray inside the grill.
Why You Should Consider a Griddle for Your Pro Range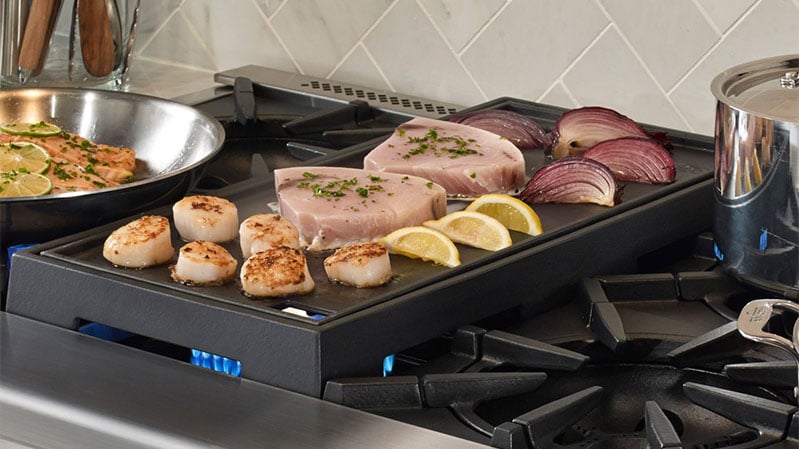 BlueStar Platinum Range Griddle
There is a lot of variety in terms of what you can make on a griddle. I have cooked everything from breakfast items to searing proteins and making sandwiches for large groups.
You can get creative, especially with the range of temperatures available, unlike with some grills.
The griddle can also be used as a hot plate to keep your foods warm to free up space on the range during the holidays or for large dinner parties.
Griddles tend to be easier to clean than grills because the grease is contained on one surface. Grills tend to have multiple surfaces and open areas where grease can drip and splatter, making it cleaner. Some griddles even come with griddle cleaning kits to make the process of cleaning even easier.
Why You Shouldn't Buy a Griddle for Your Pro Range
If you are in a hurry, this is not the way to go. Griddles take a few minutes to heat up, but the food will cook quickly and efficiently once it gets going. Then there is the clean up after, which isn't a very long process but should be done soon after cooking, while the griddle is still hot.
After normal wear and tear, the griddle does start to look less shiny and more "used." This is normal, so many manufacturers provide griddle covers to keep the appliance looking shiny and new when not in use.
When you cook on the range, splatter or residue could collect on the griddle plate's surface. This will have to be frequently cleaned.
Best Professional Range Griddles
JennAir Pro Range Griddles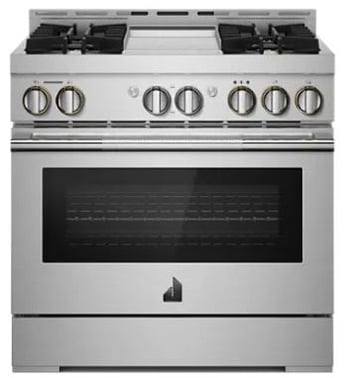 JennAir JGRP536HL 36-Inch Pro Range
JennAir is the only brand that makes a chrome-infused griddle. This is an excellent heat conductor and can retain its original shine and color even after multiple uses.
The griddle is completely sealed, which means there is less cleaning. There are no hidden nooks and crannies where food particles can hide.
Wolf Pro Range Griddles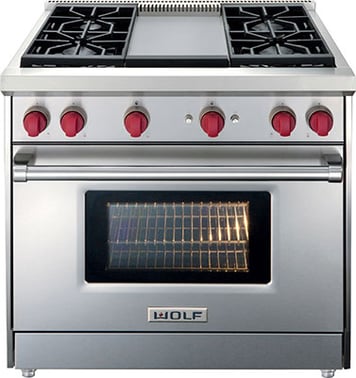 Wolf GR364G 36-Inch Pro Range
This is a standard rolled steel griddle powered by a 15K BTU infrared burner with a removable drip tray. Thermostatically controlled, heat will cycle on and off to hold temperature. There is also an optional wood cutting board accessory that can fit on top of the griddle when it's not in use.
Miele Pro Range Griddles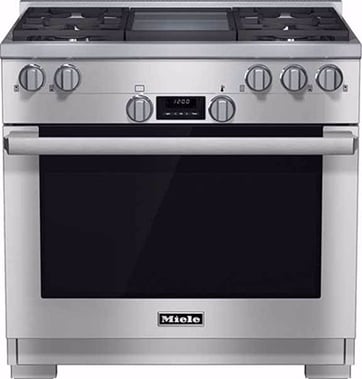 Miele R1136GD 36-Inch Pro Range
Miele's stainless steel 14,300 BTU infrared griddle is thermostatically controlled with a removable drip tray.
Thermador Pro Range Griddles
Thermador PRG364WDG Pro Grand 36-Inch Range
Thermador comes with a non-stick cast-aluminum removable griddle that is dishwasher safe. It's thermostatically controlled with an electric element underneath.
You can easily adjust from low to high-temperatures. I've found this does not conduct heat and stainless steel, rolled steel, or chrome-infused griddles.
BlueStar Pro Range Griddles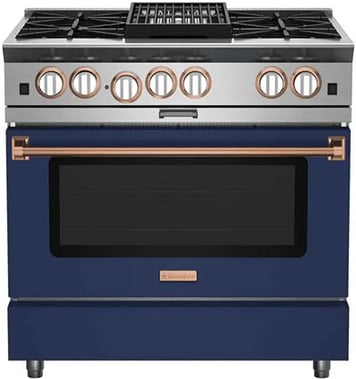 BlueStar BSP366B Platinum 36-Inch Pro Range
Bluestar has made their grill and griddle option accessible on all the platinum ranges. They offer a large cast-iron accessory to sit on top of the burner.
It can interchange between a grill or griddle, so you get the best of both worlds. The BTU output depends on where you place the accessory so that it can go up to 25K BTU.
Key Takeaways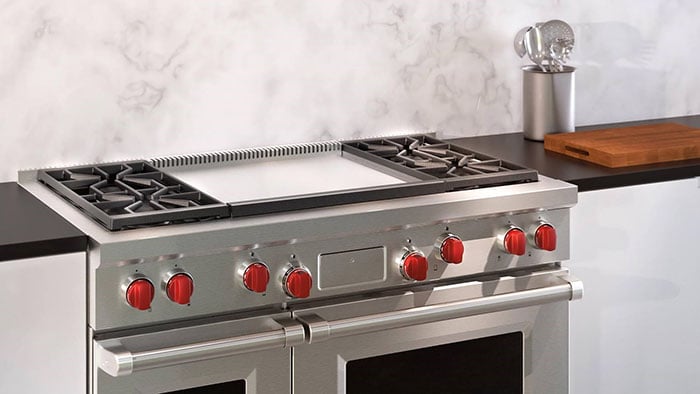 Wolf 48-Inch Pro Range With a Built-In Griddle
Deciding between a professional range with a built-in grill or griddle comes down to your cooking style.
Some professional ranges offer both, but you compromise the burners on your cooktop for that space.
Indoor grills are handy in the colder winter months. As we mentioned earlier, it offers variety in terms of cooking techniques and added depth of flavor for your food. There is also ventilation to consider if you decide to go in this direction.
Griddles are extremely versatile. You cannot only cook your food directly on the surface but also use it as a hot plate to keep finished foods warm.
Griddles often get pigeonholed into being only used for breakfast, but they can do so much more. From searing meat, sautéing batches of vegetables, to making quesadillas, your griddle can cook anything.
There are no limits to what a griddle can do. You can cook anything on a griddle that you can cook in a pan.
Some professional range brands offer interchangeable or removable grill and griddle accessories. This could be another option if you really can't sacrifice the space on your stove.
BlueStar's cast iron grill has great heat conductivity, as well as high-powered BTU output. However, it's heavy and will require storage when it's not in use.
Just keep in mind there is a good amount of cleanup after.
Additional Resources
Looking for more information on pro ranges? Get the Yale Pro Cooking Buying Guide with features, specs, BTU Outputs and detailed profiles of the major brands. Well over 820,000 people have read a Yale Guide.
Related Articles:
Why Should You Trust Us?
It seems that every appliance review has nothing but glowing comments about almost every product, yet you read customer reviews and they are almost universally bad.
We are here to fill in the disconnect. We'll give you the best features, and the drawbacks as well, including reliability based on over 37,000 calls performed by our service team just last year. Our goal is to give you ALL the information so you know what's right for you.
Please consider subscribing or adding to the conversation in the comments below. We appreciate you stopping by.
Saba Wahid
Saba is the Resident Chef for Yale Appliance. Using her culinary expertise, Saba teaches Yale's sales team and clients how to use the latest appliances from steam ovens to induction cooktops. She has been in the culinary industry for many years working in various aspects of the business. She began her career in New York City and then made strides in the Dubai culinary media market while doing a live TV show and hosting food-based events all over the Emirates. From recipe development with several international brands to teaching cooking classes here at Yale, Saba's experience has evolved incredibly over the years.
A Note About Pricing
Pricing on this blog is for reference only and may include time sensitive rebates. We make every attempt to provide accurate pricing at time of publishing. Please call the stores for most accurate price.