Gaggenau vs. Miele Steam Ovens (Reviews/Ratings/Prices)
Gaggenau and Miele produce the best steam ovens in the world.
They are both German brands with the highest end of technology you will find in the cooking appliance world.
Miele and Gaggenau steam ovens differ in their design, interface, and overall aesthetic.
In terms of performance, they both have their strengths and weaknesses.
However, how you cook and your familiarity with steam cooking will determine whether you should consider Gaggenau or Miele.
Gaggenau is designed for the chef, while Miele is more user-friendly, especially if you are not adept at steam cooking.
In this article, you will learn about both companies and their steam ovens. I will guide you a bit more by explaining how you would use each mode.
Let's take a look at both.
Gaggenau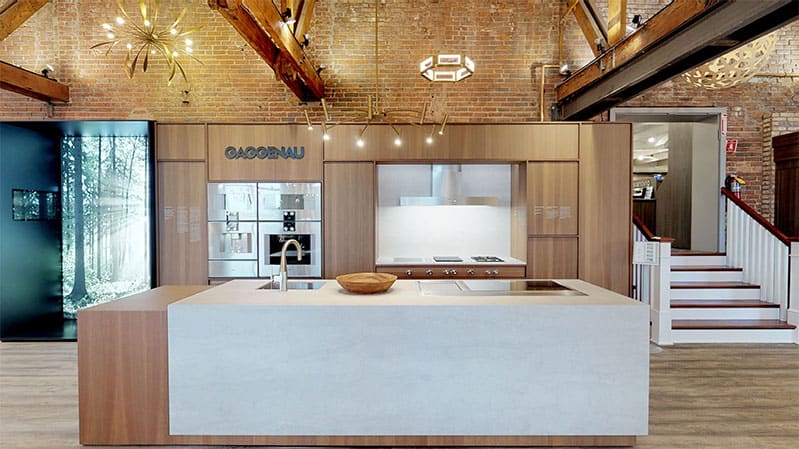 Gaggenau is a premium brand in the appliance industry, owned by the BSH Corporation.
Gaggenau ovens always have a side-swing door for easy access. They are all available as plumbed or non-plumbed units.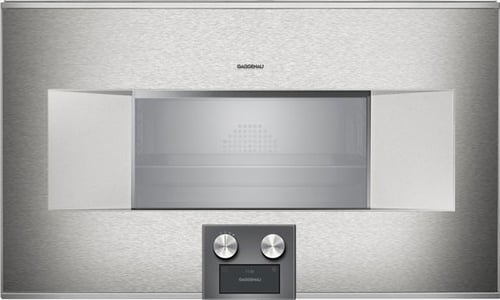 What We Like About It:
Ability to cook with a variety of different modes
Self-clean cycle
Broiler
Stunning aesthetic
What We Don't Like About It:
Expensive
Learning how to use all its modes and features may be daunting for some
This Gaggenau steam oven has a side swing door, which allows easier access to place things in and out of the oven.
The self-clean mode is also extremely efficient and effortless.
The broiler with humidity offers more variety with several cooking modes.
You'll love this steam oven if you're a culinary enthusiast who has a good understanding of cooking methods and techniques.
Gaggenau Steam Oven Features
Convection + 100% humidity - This mode is great for cooking at lower temperatures.
Convection + 80% humidity - This mode is excellent for braised meats (300F-340F)
Convection + 60% humidity - This mode is great for roasting (300 F-350F)
Convection + 30% humidity -This mode is ideal for baking.
Convection + 0% humidity - This is considered more of a finishing mode to achieve that color or Maillard reaction in the final stage of cooking a whole chicken or roast.
Full surface grill + convection - Ideal for cooking a large piece or multiple pieces of salmon/steak or chicken
Full surface grill - This would also be considered a finishing mode to melt some cheese or put a bit of color on your flatter proteins or casseroles.
Full surface grill level 1 + humidity - This mode is great for leaner proteins that may dry out under the broiler heat.
Full surface grill level 2 + humidity - This mode is ideal for smaller vegetables that you want to tenderize but also achieve some color.
Proofing - Good for bread, dough, leavened products helps to activate the yeast.
Short on time? Get our free Speed + Steam Oven Buying Guide
Miele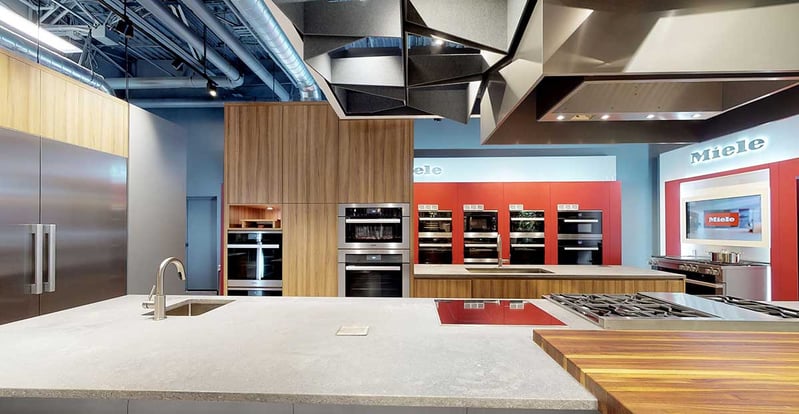 Like Gaggenau, Miele is also a German company and is the largest family-owned appliance business globally.
They are one of the most well-known luxury appliance brands in the US market.
Known for their quality control, Miele inspects and tests every product before shipping, with almost every part produced and designed in their own factory.
Miele specializes in technology-driven appliances with their combi-steam ovens available in either the PureLine or Contour Line and two different tech styles (M-Touch and Sensor Tronic).
You can choose to have your appliance plumbed or non-plumbed in various colors, such as black, white, stainless steel, or grey.
Miele offers the most variety in terms of style, color, design, size, and the most cooking modes and features.
Most Popular Miele Steam Oven: Miele Combination Steam Oven DGC67051XL - $4,999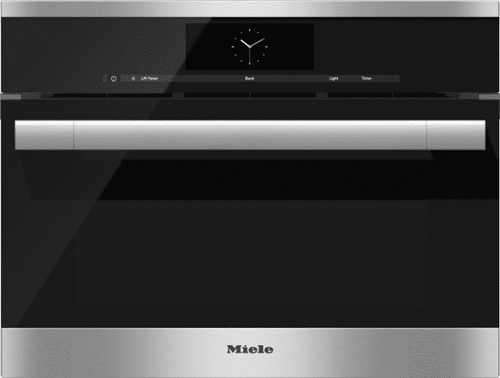 What We Like About It:
Variety of features and modes
Design and Color Options
Draining
Option to have it plumbed or not plumbed
What We Don't Like About It:
The timer only begins when the oven reaches full temperature
Miele's combi-steam oven has a high-tech interface, which allows you to scroll through the menu seamlessly.
This also comes with a broiler and drain and a "perfectly clean" interior, which makes clean-up a breeze.
If you need a little guidance when cooking, this steam oven is the best choice for you.
As for style, it's very clean and sleek, perfect for a modern kitchen.
The only issue you may find is with Miele's timer. The timer won't start until the steam oven has come to full temperature.
Place your food in the steam oven once it's up to full temperature like you would with a regular oven.
Miele Steam Oven Features:
M-touch control panel includes:

Steam Cooking - Ideal for vegetables, grains, seafood, poultry, custards
Combi Steam with Convection Bake - ideal for bread, rolls, meats, etc.
Combi Steam with Surround - Ideal for baking bread
Combi Steam with Broil - Ideal for fish and meat with a high-fat content
Convection Bake - Ideal for gentle baking and roasting on up to 3 levels
Sous Vide - Temperature controlled environment Ideal for meat, seafood, poultry, vegetables, and more cooked in a vacuum-sealed bag.
Surround - Classic function: Multi-purpose for perfect results on all traditional baking and roasting dishes
Intensive - Ideal for crispy bases with toppings, like pizza, quiche, or open-face pies
Gentle Bake - Ideal for gratins, glazing, and browning
Bake - Ideal for anything that needs to get browned from below
Convection Broil - ideal for a crispy exterior, juicy interior like a chicken, duck, rolled meats, and more
Humidity Plus - Ideal for specialty baking like a choux pastry, pretzels, and sponge cakes

Special Modes: Many options included such as dehydrating, yogurt making, melting chocolate, decrystallizing honey, canning, proofing, and many more.
Sabbath Mode: Food/Cooking can be programmed up to 72 hours in advance for long-term planning.
Special features include Combination cooking, Automatic Menu Cooking, Electronic Climate Control, Multi-Steam Technology, Steam Oven with Fully-Fledged Oven Function, Quantity independent cooking, Roast Probe, and Multi-Level cooking
MasterChef Guided Cooking: You can pick from over 100 recipes that take the guesswork out of cooking.
Read More: Should You Buy A Miele Steam Oven?
Gaggenau vs. Miele Steam Ovens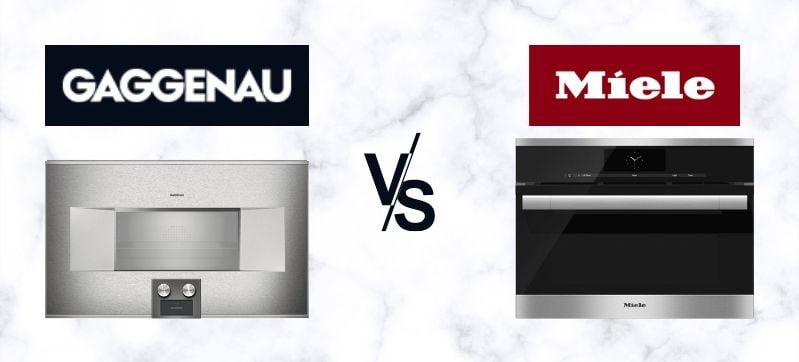 What They Have in Common
Both the Miele and Gaggenau are German-made.
They have a wide variety of modes, features, and control.
They are both available as plumbed and non-plumbed units with a broiler and a drain.
How They Differ
The key differences are in how the interface of each is set up.
The Miele is created as a user-friendly device. Even if you don't know how to cook, Miele has modes to guide you along the way.
Gaggenau is set up well if you how to cook and want to customize your cooking experience.
Gaggenau is also the only steam oven with a self-clean mode.
Gaggenau vs. Miele Steam Cooking Performance
They both perform exceptionally well. Whether you are using straight steam, combi-steam, or straight convection, the results have been consistent for both.
Miele steam ovens offer a range of features, including their exclusive MasterChef feature. This is one of the most extensive guided cooking programs.
Which Steam Oven Should You buy?
Both Miele and Gaggenau have the best steam ovens.
If you are trying to decide between the two, the best way is to figure out your cooking style, then pick and choose which modes and features are important to you.
Because they both offer special features like the plumbed and non-plumbed options, along with a broiler and drain, the interface becomes one of the key points to consider.
You also want to look at their ease of use.
Miele has created a user-friendly interface for anyone to quickly pick up on, while the Gaggenau is geared for the more advanced home cook.
Frequently Asked Questions
1. How Much Does A Steam Oven Cost?
Steam ovens range in cost from $3000-$8000.
Are Miele Steam Ovens Worth The Money? Miele steam ovens are the most extensive modes and features and can justify the price tag with their consistent performance.
2. What Are the Best Steam Oven Brands?
The best steam oven brands include Miele, Wolf, Gaggenau, Thermador.
3. What Are the Most Reliable Steam Oven Brands?
The most reliable steam oven brands include the Miele, Wolf, Gaggenau, and Thermador.
4. Does a Steam Oven Need a Water Supply?
There are options for a plumbed (water supply required) and non plumbed (operates with a water reservoir).
Additional Resources
Get the Yale Speed and Steam Oven Guide with features, specs, and inside tips to all the steam and speed ovens like Wolf, JennAir, Thermador, Gaggenau, and more. Well over 900,000 people have read a Yale Guide.
Related Articles
Why Should You Trust Us?
It seems that every appliance review has nothing but glowing comments about almost every product, yet you read customer reviews and they are almost universally bad.
We are here to fill in the disconnect. We'll give you the best features, and the drawbacks as well, including reliability based on over 37,000 calls performed by our service team just last year. Our goal is to give you ALL the information so you know what's right for you.
Please consider subscribing or adding to the conversation in the comments below. We appreciate you stopping by.
Saba Wahid
Saba is the resident Chef at Yale. She will teach you how to use your new oven, cooktop, or range. She is skilled in every new feature, including steam, induction, convection of all types, air frying, and sous vide. Saba is also the reigning Chopped Grand Champion crowned by Martha Stewart herself. Saba is incredibly versatile with all different types of cuisine. After just one session with her, you will be a better chef.

Saba has also been featured in numerous publications such as Mashed, Eater Boston, the Boston Herald, and the Framingham SOURCE.
A Note About Pricing
Pricing on this blog is for reference only and may include time sensitive rebates. We make every attempt to provide accurate pricing at time of publishing. Please call the stores for most accurate price.