10 Best Appliances to Buy for Your Luxury Dream Kitchen
July 29th, 2022 | 6 min. read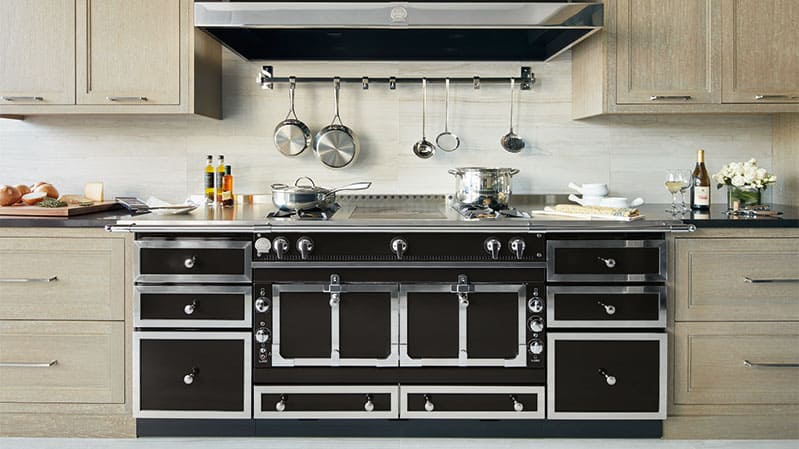 This article will teach you all about the ten best appliances you can buy for your kitchen.
It's probably not the best article for you to read without asking yourself a few questions first:
How much space do I have?
What will be the layout?
How do I use my cooking appliances?
What appliances do I most frequently use?
Asking these questions helps you assess your space, how you will design it, and what's important to you.
But in this article, you will learn what is considered the best in our industry and some alternatives.
Let's get started.
10 Best Appliances to Buy for Your Luxury Dream Kitchen
1. La Cornue Château Suprême Professional Range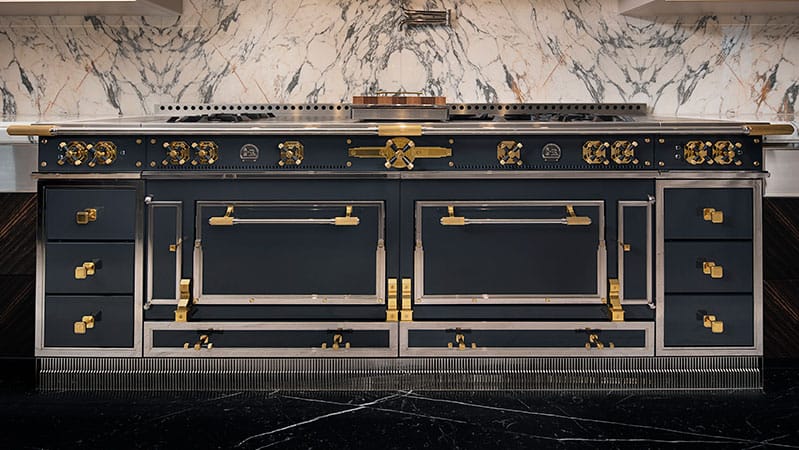 La Cornue Château Suprême Pro Range
La Cornue is the only appliance you can completely customize.
Do you want induction, gas, a griddle, and a grill on the same top? La Cornue can arrange that.
How about gas and electric ovens so you can roast (gas) and bake (electric) in a natural convection arched oven to bake evenly?
They will even match a specific color for you.
I picked the Château Suprême for its detail and special finish work. Drake (the rapper) has one in this magnificent kitchen.
La Cornue is still handmade, but the price is steep. The cost of the Château Suprême is approximately $130,000, so it isn't exactly cheap.
Read More: Should You Buy a La Cornue Château Professional Range?
Best Alternatives:
Wolf Dual Fuel Professional Ranges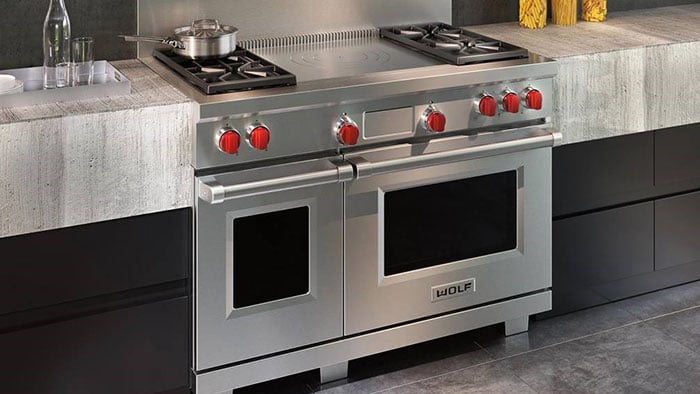 Wolf 48-Inch Dual Fuel Range DF484 with a French Top
Wolf is still family-owned and American-made.
Their dual fuel ranges have new blower-style convection, an infrared grill, and a griddle for precise, directed heat.
The range is w-fi-enabled and has the Gourmet setting allowing you to set the time and temperature.
Read More: Are Wolf Professional Ranges Worth It?
BlueStar Platinum Professional Ranges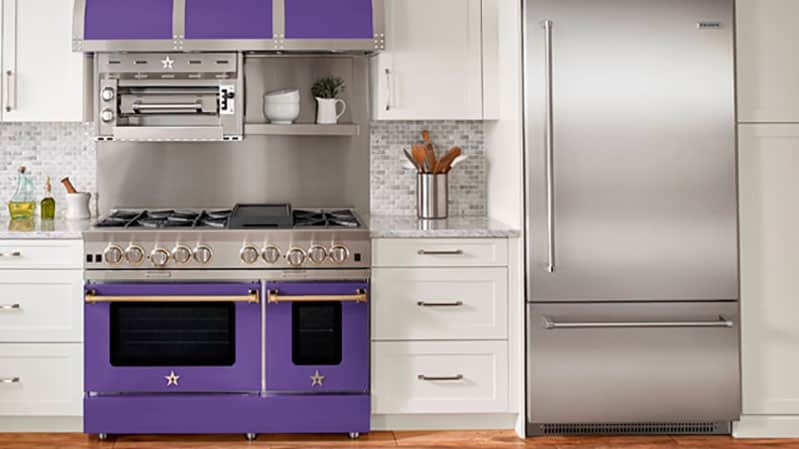 BlueStar 48-Inch Pro Range in Purple
BlueStar is another family-owned, American-made manufacturer.
Their ranges are powerful, with multiple 25,000 BTU burners.
It is also the only gas pro range with pure convection meaning the air is blown from the back for more even heat.
You have 1000 color choices with ten trim packages for a unique look.
Read More: Best BlueStar Professional Ranges
2. Luxury Ventilation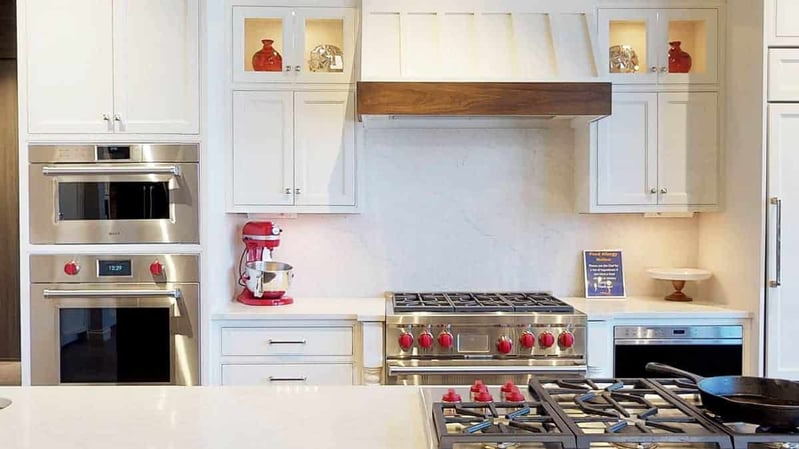 Wolf Custom Range Hood at Yale Appliance in Framingham
Ventilation is incredibly important, especially with the high output ranges above.
Sometimes, your best option is to customize your range using your custom cabinet.
For custom metallic hoods look at La Cornue, BlueStar, and Yale:
La Cornue Pro Range Hoods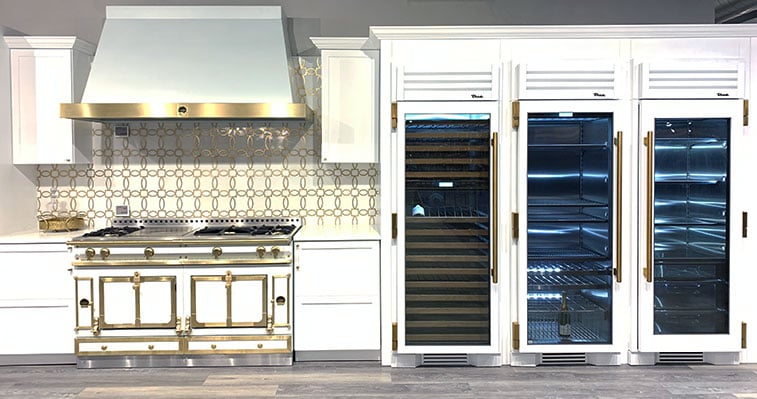 La Cornue Custom Range Hood at Yale Appliance in Hanover
La Cornue has elegant yet pricey ventilation hoods starting at $25,000.
BlueStar Pro Range Hoods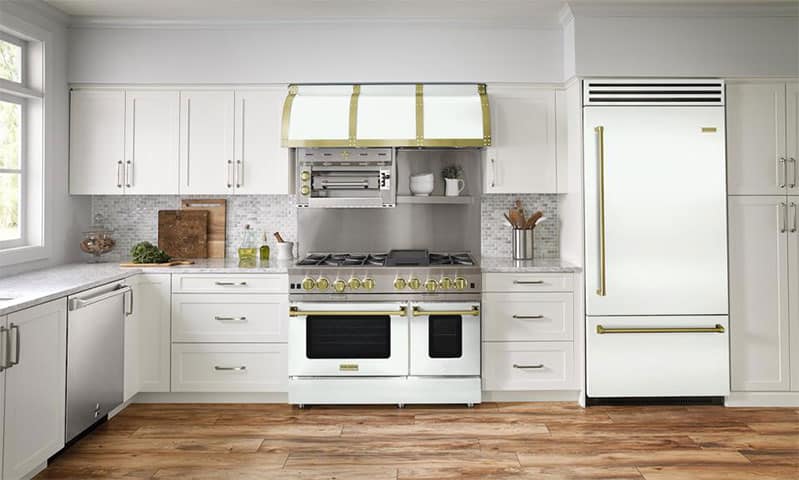 BlueStar Custom Range Hood
BlueStar has invested quite a bit in ventilation lately with a ton of custom options as well.
To learn how to vent properly, download our free ventilation buying guide by clicking here.
Read More: How to Vent Your Kitchen Range
3. Sub-Zero Professional Refrigeration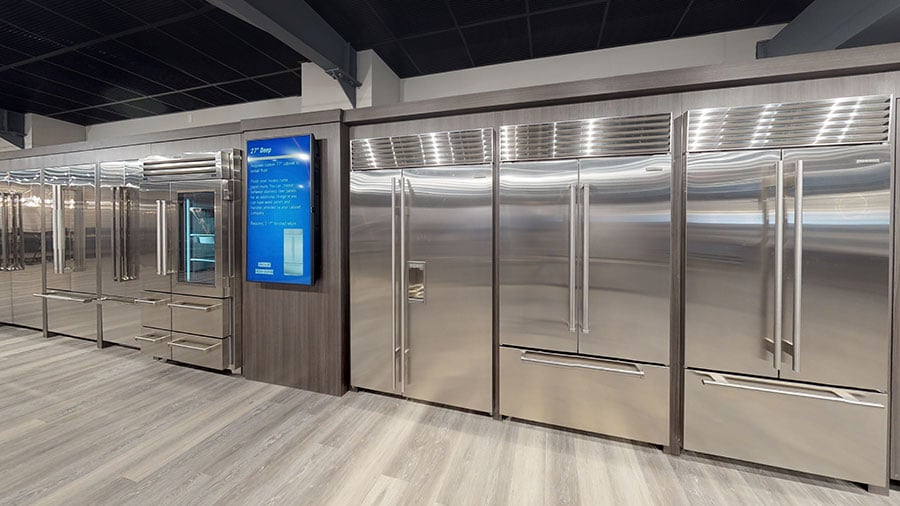 Sub-Zero Professional Refrigerators at Yale Appliance in Hanover
Sub-Zero is the leader in luxury refrigeration, pioneering the two-compressor system.
They added air scrubbing, their vacuum seal, and magnetic crispers to keep food fresh for a longer period.
You can buy Sub-Zero in their Pro line shown above, Classic line, or the Design line of integrated refrigerators.
Read More: Is a Sub-Zero Refrigerator Worth the Money?
Interesting Alternatives:
True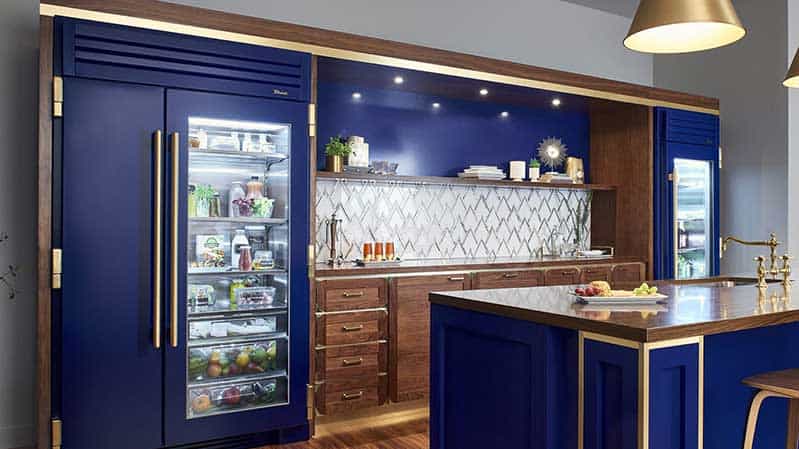 True Professional Refrigeration with Custom Cabinet Panel in Blue and Yellow Hinges
True is another solid American-made, family-owned company. They are the largest commercial refrigeration manufacturer in the world.
They only manufacture solid, pro types. However, they offer a choice of 11 colors with six different hinges for a unique look.
They make green look good. The website makes creating refrigerators fun (then again, this is my job).
Read More: Should You Buy a True Refrigerator?
Integrated Refrigerators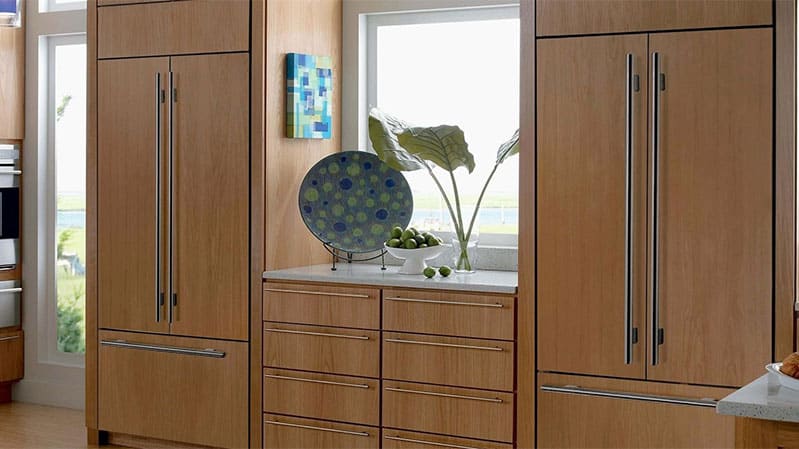 Sub-Zero Integrated Refrigerators with Custom Cabinet Panels
Integrated refrigerators are less than 24 inches deep and hidden by the cabinet.
Sub-Zero is an excellent option, but Thermador is another good brand.
It is wi-fi enabled and can be controlled on your phone. The interior is stainless for easier clean-up and better absorption of cold air.
Read More: Best Integrated Refrigerators
Column Refrigeration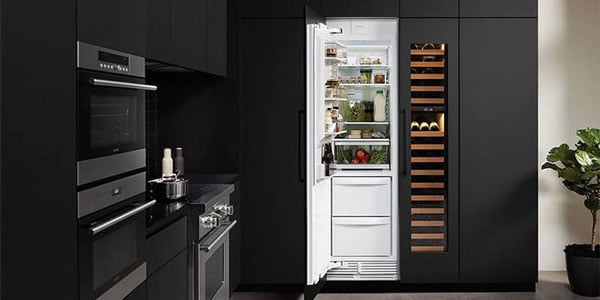 Sub-Zero Integrated Column Refrigeration with Custom Cabinet Panels
Then you can buy columns with colors by True. They manufacture a beverage column for wine, cans, and bottles.
4. Steam Ovens
Gaggenau Steam Oven (The model I would buy if I knew what I was doing)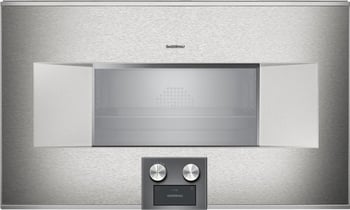 Gaggenau BS485612 400 Series Steam Oven
Gaggenau has more modes to do whatever you want and is the most precisely controlled steam oven you can buy for any type of food.
The style is distinctive as well. The only problem is the controls are harder to use.
Miele (The I would buy because I don't know what I'm doing)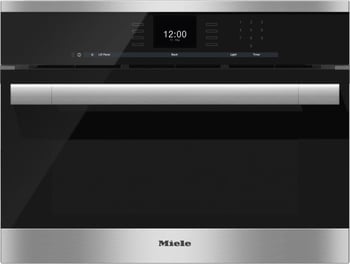 Miele DGC6500XL Combination Steam Oven
The Miele MasterChef is simple to use. You just touch buttons after prompts. It may not have the overall functionality of a Gaggenau, but you don't have to worry about learning steam cooking.
Read More: Best Steam Ovens
5. Miele Built-In Coffee System
Miele Built-In Coffee System
My sister brews an unbelievable blueberry latte. She never worked at Starbucks or Peets or a fancy coffee house.
It's so good. I will drive out of my way for a cup.
Miele is all programmed to help you brew that perfect cup of coffee without the guesswork.
Read More: Best Built-In Coffee Makers
6. Microwave Drawers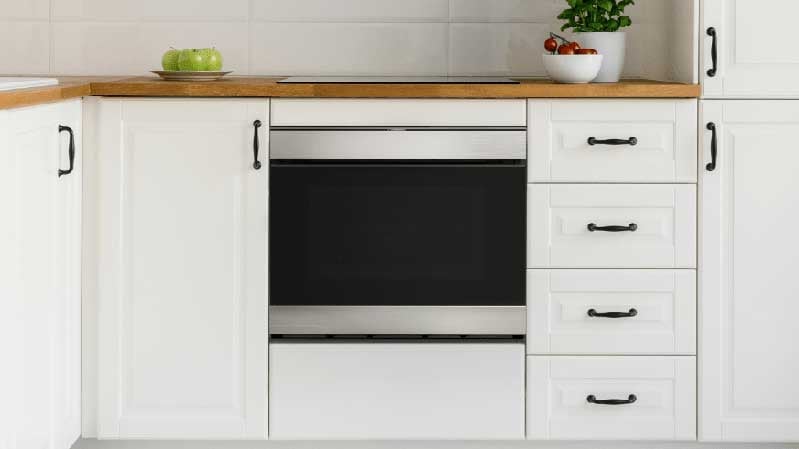 Sharp 24-Inch Built-In Microwave Installed
I could have used a speed oven, but I am not much of a microwave person. The drawers are installed under the counter, making them easy to incorporate into a kitchen.
Sharp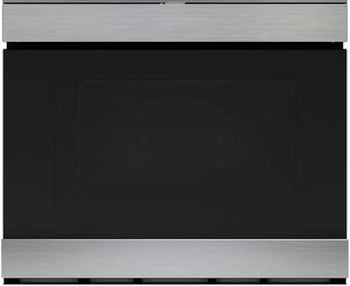 Sharp SMD2499FS Microwave Drawer
Sharp manufactures all the drawers for every manufacturer. Their best is convection, so you can use it as a separate oven.
Beko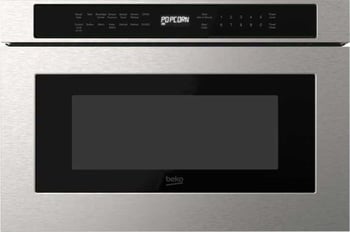 Beko MWDR24100SS Microwave Drawers
If you don't need convection, then you don't have to spend more money on a premium brand.
They are all the same, so buy the least expensive.
Right now, that's Beko. They were also smart to limit the logo and keep it minimalist to match any appliance.
Quick Tip: Many premium manufacturers have rebate programs. You can use the rebate towards their microwave drawer and buy it for under $300.
Read More: Best Microwave Drawers
7. Miele ProLine Dishwasher ($4,250)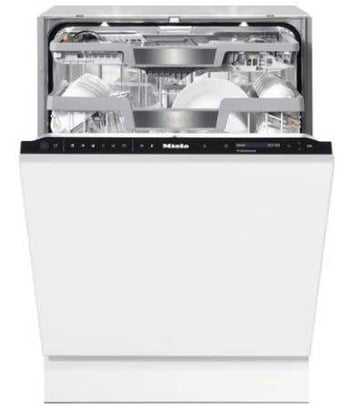 The Miele ProLine is the only dishwasher to sanitize to NSF standards like a commercial dishwasher.
The ProLine has Miele's Clean Air drying system, directing cooler air into the dishwasher, so the warmer, steamier air dissipates as water.
You also have their three-level wash system and flexible racks.
Read More: Should You Spend $4,250 to Buy the Miele ProLine PFD 104 SCVi Dishwasher?
Alternative:
The Best Dishwasher You Can Buy Now: Beko DDT39434 - $1,399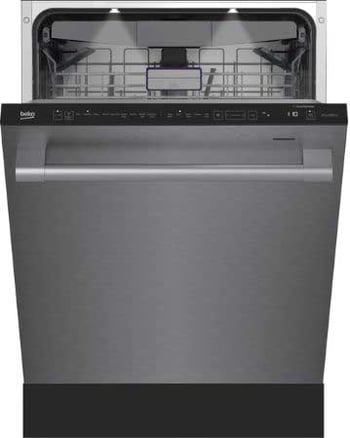 Beko DDT39434X Dishwasher
Miele has been out of stock on most dishwashers for almost a year. Bosch won't have dishwashers until next April.
It's late July as I write this.
But life without Bosch and Miele hasn't been a catastrophe. LG, Profile and Beko have competitive dishwashers.
The best and most available dishwasher may be the Beko DDT39434.
The Beko DDT39434 is not on a fixed axis like most other dishwashers. It sprays in a square pattern.
They call it "CornerIntense" because more wash is directed in the corners, unlike other dishwashers.
You also have three racks, smart operation, and better drying with the door opening at the end of the cycle to release steam and heat.
Beko is far below the quiet standard of 44 decibels at 39 decibels.
It even has an ion generator to pulse negative ions contracting the positive ions of odors for a fresher-smelling dishwasher.
Read More: Best Dishwashers
8. Sub-Zero Wine Storage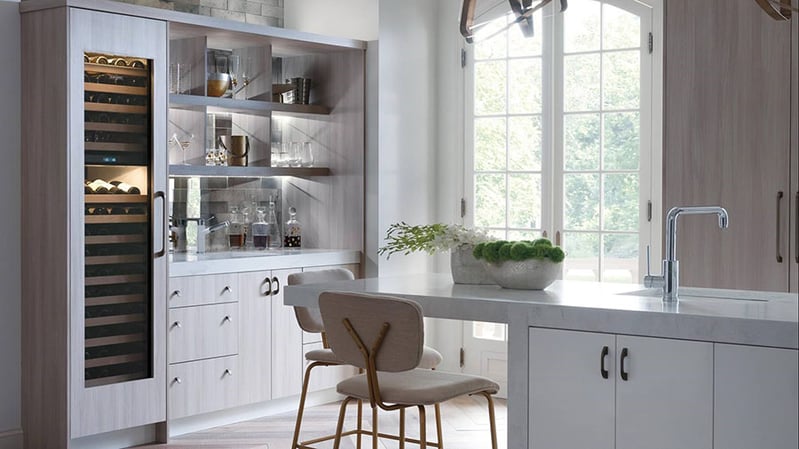 Sub-Zero Wine Refrigerator
Most brands started manufacturing wine refrigerators by installing wine shelving into preexisting refrigerators.
Only Sub-Zero designed a wine refrigerator addressing the needs of storing wine.
Wine is still a living grape. It's affected by humidity, vibration, light, and temperature changes.
A Sub-Zero wine cabinet has slide-out shelves with compressors installed on rubber grommets to dampen vibration.
You have a UV-resistant door to prevent light from damaging your wine.
You also have two separate evaporators to create two distinct temperature zones. This ensures the storage of your wine.
Read More: Should You Buy A Sub-Zero Wine Cooler?
9. Galley Sink and Workstation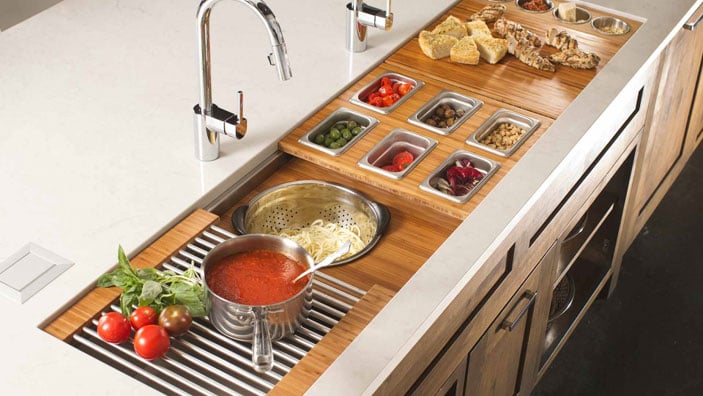 Galley Sink and Workstation
Don't be surprised.
You spend more time at your sink than any other appliance. The Galley is like the Swiss army knife of sinks.
You have tons of accessories to truly entertain with your sink.
10. Luxury Faucets
Waterstone and Galley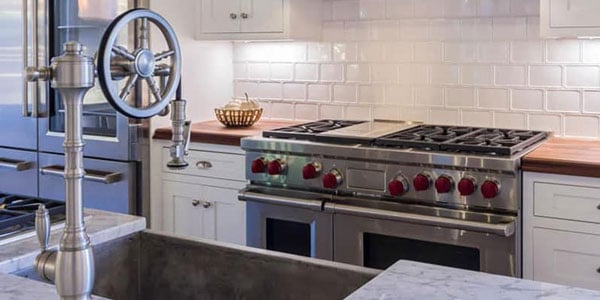 Waterstone Wheel Faucet at Yale Appliance in Boston
Both brands have beautiful faucets, handcrafted in the US. Shown above is the Waterstone Traditional Wheel faucet in our Boston showroom.
Bonus Section: Good Ideas
Pot Fillers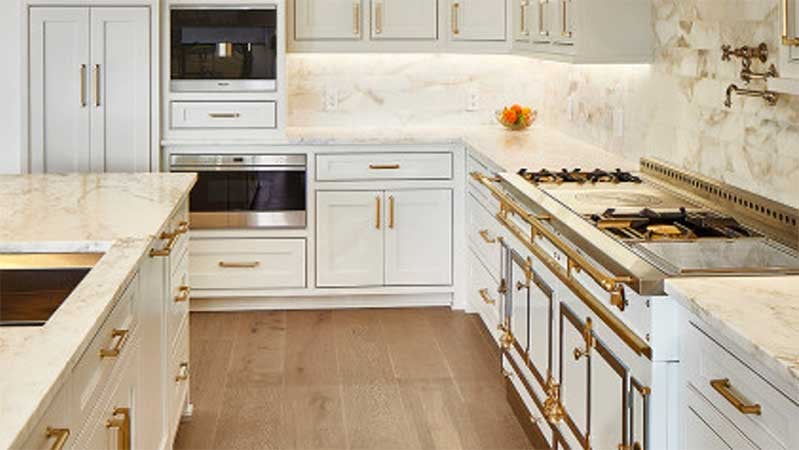 La Cornue Kitchen with Pot Filler Above Range
Cook a lot of pasta or lobsters, then why drag the big pot from your sink to your stove? You can water from on top of your stove with a pot filler.
Air Switches (for Your Disposer)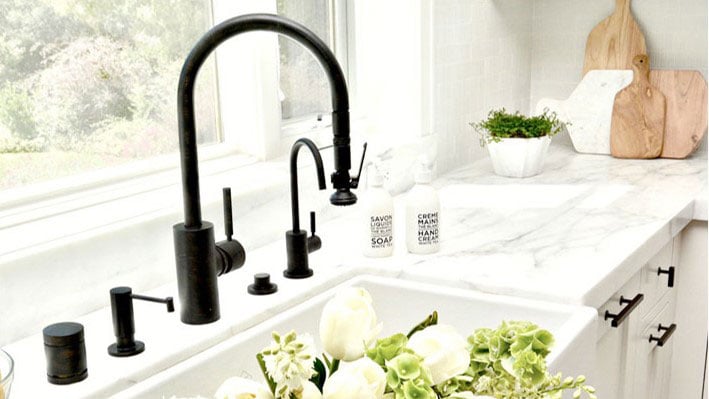 Waterstone Faucets, Dispenser, and Air Switch Collection
My mom used to walk across her kitchen to turn on her disposer. Some people still place the switch underneath the cabinet.
The air switch activates your disposer and is located next to your faucet.
Sorry, Mom.
Point of Use Refrigeration
Sub-Zero Refrigerator Drawers
In any good kitchen design, the refrigeration should be on the outside. It's not crucial to be in your refrigerator like your stovetop, sink, and dishwasher.
However, point-of-use refrigerators allow you to have refrigeration closer to the middle without sacrificing tons of room.
Read More: 12 Unique Kitchen Appliances to Consider
Key Takeaways
So, what did you think?
These appliances are considered the best, but are they the best for you?
That's the most important question.
Once again, that depends on your layout and how you use your kitchen and appliances.
Feel free to share your thoughts in the comments below.
Additional Resources
With in-depth profiles of brands, answers to the ten most asked appliance questions, and a section on how to buy appliances at the right price, the Yale Appliance Buying Guide will help you in every stage of the buying process. Over 1 million people have downloaded a Yale buying guide.
Related Articles:
Why Should You Trust Us?
It seems that every appliance review has nothing but glowing comments about almost every product, yet you read customer reviews and they are almost universally bad.
We are here to fill in the disconnect. We'll give you the best features, and the drawbacks as well, including reliability based on over 37,000 calls performed by our service team just last year. Our goal is to give you ALL the information so you know what's right for you.
Please consider subscribing or adding to the conversation in the comments below. We appreciate you stopping by.
Steve Sheinkopf is the third-generation CEO of Yale Appliance and a lifelong Bostonian. He has over 38 years of experience in the appliance industry, and he is a trusted source of information for consumers on how to buy and repair appliances.

Steve has also been featured in numerous publications, including the New York Times, Consumer Reports, The Boston Globe, Bloomberg Radio, the New York Post, The Wall Street Journal, and Entrepreneur, for his knowledge of how to buy appliances and appliance repair.

Steve is passionate about helping consumers find the best appliances for their needs, and he is always happy to answer questions and provide advice. He is a valuable resource for consumers who are looking for information on appliance buying, repair, and maintenance.

Despite being the worst goalie in history, Steve is a fan of the Bruins and college hockey, loves to read, and is a Peloton biker. The love of his life is his daughter, Sophie.
A Note About Pricing
Pricing on this blog is for reference only and may include time sensitive rebates. We make every attempt to provide accurate pricing at time of publishing. Please call the stores for most accurate price.