Best Built-In Coffee Machines For 2020 (Reviews / Ratings / Prices)
In this article, you will learn the best options in the luxury category of coffee makers - built-in coffee machines by Miele, Wolf, and the BSH line.
I don't know about you, but I can't do a THING in the morning without having coffee first.
K-Cups or Nespresso are quick and convenient compared to ordering coffee at your local coffee shop.
Kind of like hot dogs, but are we thrilled with the hot dog level of coffee?
There are better experiences out there. Not to mention that you are paying double, or sometimes MORE than double what a drip coffee maker would cost per cup.
This article breaks down the advantages and disadvantages of the best built-in coffee machines from Miele, Wolf, Gaggenau, Thermador, and Bosch.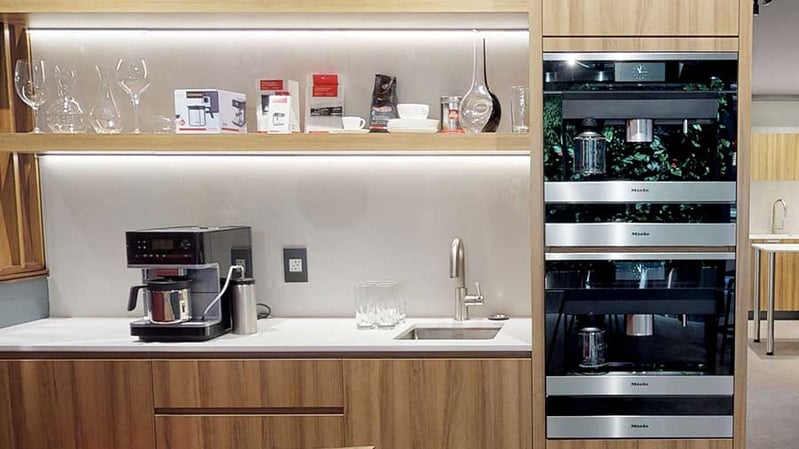 Miele Built-In Coffee Machines at Yale Appliance in Framingham
You will see a detailed comparison as well. In the end, you will also see some cool accessories like warming drawers and vacuum seals.
But first, some math.
How much does it add up to you may be wondering? Well, let's start by looking at some data.
According to the investment company Acorns, "the average American spends $1,100/year on coffee".
Their data also showed 34% of Americans spend more on coffee than investing in stocks or bonds. The math is pretty straightforward.
If you spend $5 a day on coffee, seven days a week, for a whole year, you will have paid $1800+/year.
Keep in mind these figures are for just one person. Imagine the spending for a coffee-drinking household.
If you are like me and crave a high-quality cup of coffee or handcrafted beverage, then consider purchasing a built-in coffee machine.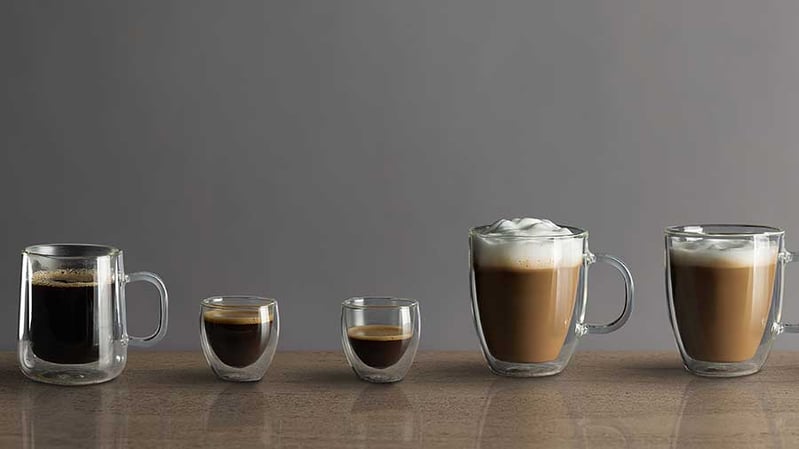 Coffee, lattes, cappuccinos, and espresso made by the Wolf-Built-In Coffee Machine
If you can overcome the upfront cost, you will actually start to save money using it over the long term.
A built-in coffee machine is an investment. The good news is, there aren't a ton of options, and they all do basically the same thing. Miele, Bosch, Thermador, Gaggenau, and Wolf are the most popular options.
If you are considering Fisher & Paykel and Jenn-Air built-in coffee machines, then look closely at the Wolf. It's made by the same manufacturer.
Let's get started by looking at the best built-in coffee makers for 2020.
Short on time? Get our free Appliance Buying Guide
Best Built-In Coffee machines for 2020
Miele Coffee Machines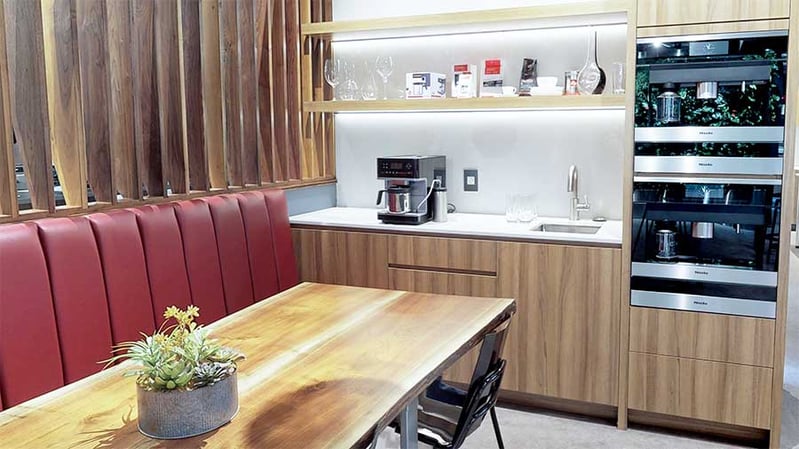 Miele Built-In Coffee Machines at Yale Appliance in Framingham
To start with, let's talk about Miele. Miele has been manufacturing built-in coffee machines for over a decade. Miele may be the best coffee machine on the market.
Miele is the simplest to use because it's a touch screen. It even prompts you for specific types of coffee.
Miele is a German-based, family-owned company that prides itself on quality control. They produce more of their own components in-house than any other appliance manufacturer.
This is crucially important when it comes to user interfaces, as well as coming up with creative new features that no one else is doing.
I will be strictly talking about Miele's coffee machines with M-Touch, as they do have another control interface called Sensortronic, which does basically the same thing as the M touch but with a much more basic (and frustrating) screen.
At its core, Miele can dispense any kind of coffee:
Freshly grind and brew coffee and espresso-based beverages with customized strength, serving size, and temperature settings. You get the best cup of coffee every time. This includes everything from a Cappuccino to a Macchiato. You can brew up to two drinks at a time.
Do all of the above, but with pre-ground coffee. (Only one drink at a time for pre-ground).
Dispense hot water on demand.
Dispense frothed or steamed milk on demand.
Remember user-created drink preferences/profiles for quick selection.
These core functions work great on any built-in coffee machine. Where do the differences come in against other brands? Let's take a closer look.
Miele Built-In Coffee Machine Advantages
Made In-House - You can feel the difference when a product is made in house vs. using outsourced parts. The user experience is usually much better, and the quality feels more substantial. Miele has been manufacturing products since 1899.
M Touch Controls - This is an exclusive touch screen user interface that Miele has created on all of its built-in cooking product categories. It works amazingly, it's fluid and responsive, and it feels just like an iPhone. It's super easy to use, even for non-techie people.
Available Plumbed & Non-Plumbed - Some other brands now have this option too. Which is better? Well, it really depends on your installation requirements. The non plumbed version can install anywhere you have an outlet. However, you have to empty the drip tray and refill the water reservoir manually.
Coffee Pot Accessory - Great if you entertain a lot, or want to make more than two cups of coffee at once. This is exclusive to Miele and holds up to 8 cups. The machine makes 8 cups of freshly ground coffee in a row and dispenses it into a beautiful stainless carafe.
Coordinating Warming & Vacuum Drawer Accessories - I will touch on this more in the accessories section further below.
Reasonably Easy To Clean - BSH brands are way more complicated internally with how many pieces you need to clean and maintain.
1 Lb Bean Storage Container - Wolf is the only one in this category with a smaller (1/2lb container)
Miele Built-In Coffee Machine Disadvantages
"Bossy" - The biggest complaint that I have heard and read online is that this coffee machine is super bossy. It will become like a toddler throwing a tantrum unless you descale it, refill, or empty whatever it is asking you to do. Every other brand tells you to do this with their machines, but somehow Miele has a tendency to get on some people's nerves with constant reminders.
Pro Tip: Always follow your machines reminders for routine cleanings. Built-in coffee machines are notoriously prone to service calls, mostly due to neglect.
Lower Power Bar Pressure - Bar pressure is important when making espresso, with a higher pressure meaning better coffee extraction. You need at least 9 bars to get a proper espresso, Miele reaches 15 bars. It has a slightly lower performance than that of BSH products at 19 bars. This shouldn't be a dealbreaker for anyone.
No Water Filter Accessory - You could get around this by filtering your plumbed water connection.
Burr Grinder Is Stainless - The generally accepted rule for the best coffee grinder is that it should be a burr grinder and made of ceramic. Stainless burrs can produce heat from grinding, starting the brewing process too early and losing some flavor.
No Wi-Fi - At face value, this may be seen as a drawback, but I don't see it that way. I will go in-depth about that more when I go over the BSH line.
Coffee Storage Does Not Have An Airtight Seal - If you store your beans in the hopper for longer than a few days, consider removing them and keeping them in an airtight container for optimal freshness.
1-Year Warranty - Coffee machines are high maintenance, and if you don't do the bare minimum, they will break early.
BSH Home Appliance Corp. Coffee Machines - Thermador, Gaggenau, and Bosch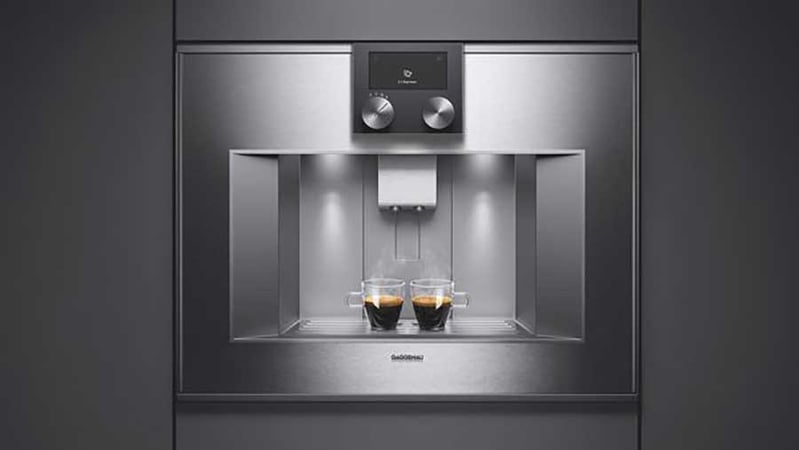 Gaggenau Built-In Coffee Maker
BSH is a giant company and is also German-based.
They have three major appliance brands; Bosch, Thermador, and Gaggenau. I am going to lump all three into one category as their coffee machines do not vary much.
They manufacture many components in-house like Miele, and this translates really well in their user interfaces (sometimes).
I have found myself lost in the menus of the BSH machines way more than on the Miele, so it is harder to navigate at least initially.
If you are wondering what the differences are between the 3 BSH products, really, the differences are simple:
You add lighting on the

Thermador and Gaggenau

, with the ability to plumb your unit.

You also have a self-adjusting dispensing spout only on the Gaggenau 400 series, and you can flush mount the Gaggenau 200 series. That's literally it. Everything else is just cosmetic and warranty length.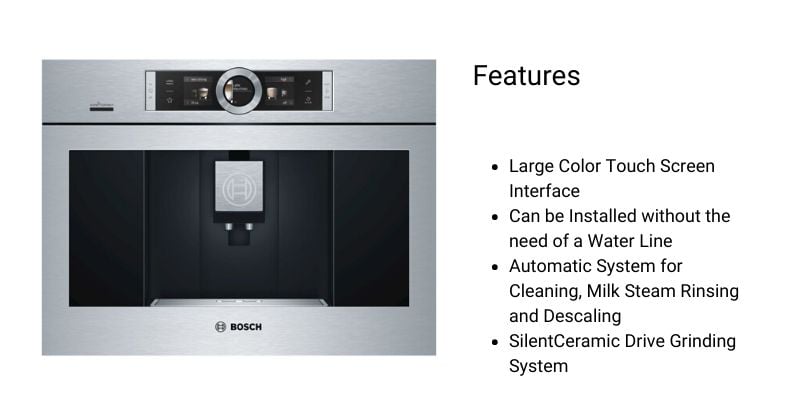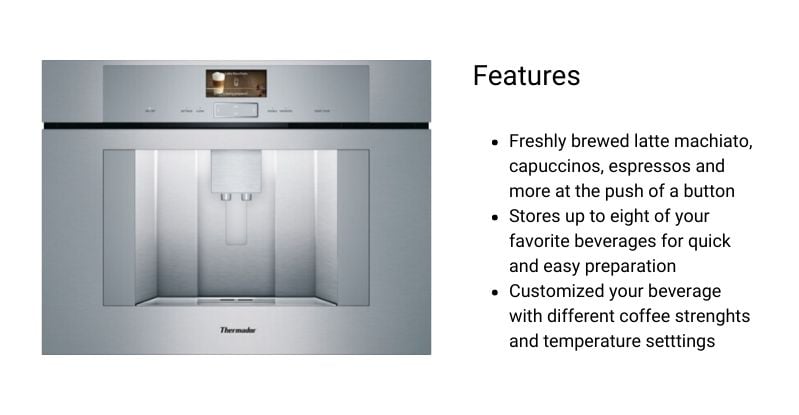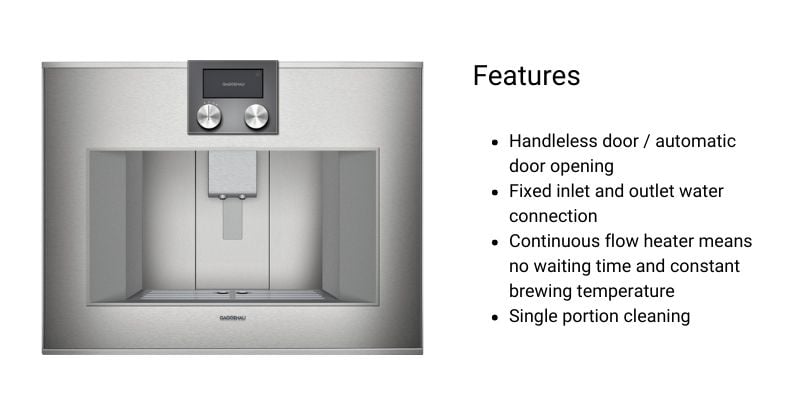 BSH Built-In Coffee Machines Advantages
Made In-House - You can feel the difference when a product is made in house vs. using outsourced parts. The user experience is usually much better as well. BSH is a global conglomerate and owns numerous brands. Gaggenau being one of them is their oldest manufacturer dating back to 1683.
Wi-Fi - The world is now becoming more connected with smart gadgets, and appliances are no different. I mentioned earlier that I thought the Wifi feature in BSH line coffee machines was not a game-changer.
Here is what you can do with it:

Access guided recipes through an app that sends commands to your coffee machine.
Use voice commands with smart assistants like Alexa or Google, to make coffee.

However, your coffee machine rinses itself out every single time you turn it on, so no old residue or bacteria are in your fresh cup of coffee. What that means is that you can't wake up and scream at Alexa for a cup of coffee because instead, you will have a coffee and rinse combination - gross.
Ceramic Grinder - As mentioned earlier, coffee aficionados swear up and down that ceramic is the holy grail of grinders. The evidence may be anecdotal on whether it makes a difference in flavor quality. I will say that it seems like the ceramic grinder is quieter than stainless. Specifically, the Wolf had seemed much louder to me than the BSH models. Bosch, Thermador, and Gaggenau all have a ceramic grinder.
Non-Plumbed, Plumbed, and Drain Compatible (Excluding Bosch) - I explained the advantages earlier of one versus the other. Gaggenau and Thermador now have the option to not only plumb the waterline but also hook up a drain line. Bosch sadly is a non plumbed manual fill only.
Double Shot Into Any Beverage - I LOVE STRONG COFFEE. In fact, my preferred method is black. No cream, no sugar. But for other people like me needing a kick early, this is my favorite feature that the BSH units have. You can select any beverage to get a double shot of espresso added to it.
Water Filter Accessory - Nice for units that are non plumbed, you can get fresh water every time. But, just like any other filter, it needs to be replaced. For plumbed units, this is a non-issue as you can always add a 3rd party water filter to your water line.
19 Bar Pressure - As mentioned previously, you need at least 9 bars for espresso, and the higher the number, the better it will extract flavor from your coffee.
Rubber Sealed 1 Lb Bean Container - You can leave your beans in for longer, and they will stay fresh in the sealed container. One of the product reps once suggested to me that you could buy multiple containers to swap different beans out.

Clean Grinder Mode

- If you are using different kinds of beans and don't want to overlap flavors, there is a new setting on Gaggenau only that can clean out any old grounds in the grinder machine.
2-Year Warranty - The unfortunate exception is the Bosch model with just a 1-year warranty.
BSH Built-In Coffee Machines Disadvantages
Confusing To Navigate Menus - Pretty self-explanatory, once you demo the Miele M Touch and go to BSH, the difference is clear. The Gaggenau is probably the easiest to figure out. However, it is the most expensive.
Challenging To Take Apart And Clean - We tasked our sales trainees with taking apart every coffee machine and putting them back together. The Miele and Wolf were super simple and took all of 30 seconds. We were scratching our heads with the BSH products. You will have a lot of small parts that are a pain to take apart to clean and put back.
No Coffee Pot Accessory - If you have a party, everyone will be standing in line for their turn to get a cup.
Wolf Built-In Coffee Machines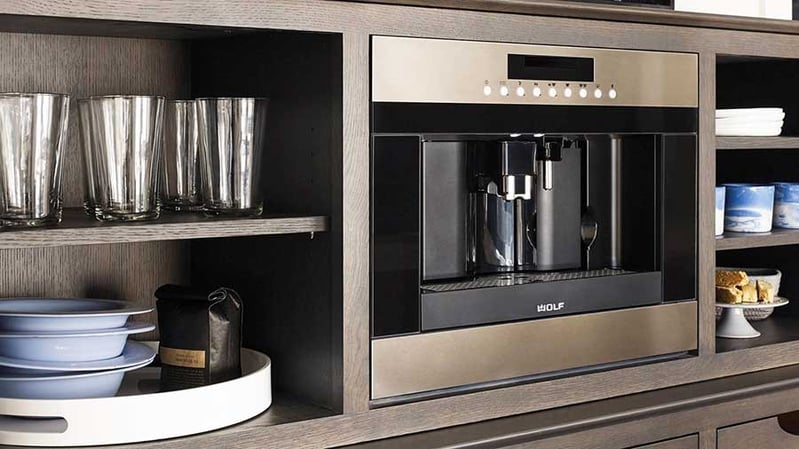 Wolf Built-In Coffee Maker
Wolf is an American company, first started in 1934 and specializing in commercial cooking equipment. Sub-Zero, another American company, first pioneered the built-in refrigerator, purchased Wolf in 2000 to bolster their appliance offerings.
Sub-Zero, Wolf, and Cove is well known today as a reliable luxury appliance company that makes its appliances in the U.S.
In this case, however, Wolf has outsourced its coffee maker to Delonghi. They are an enormous Italian company producing appliances from slow cookers and air conditioners to espresso machines.
Their coffee machine is a solid product with nearly all of the built-in core features as well.
Unfortunately, it doesn't really go above and beyond in any category.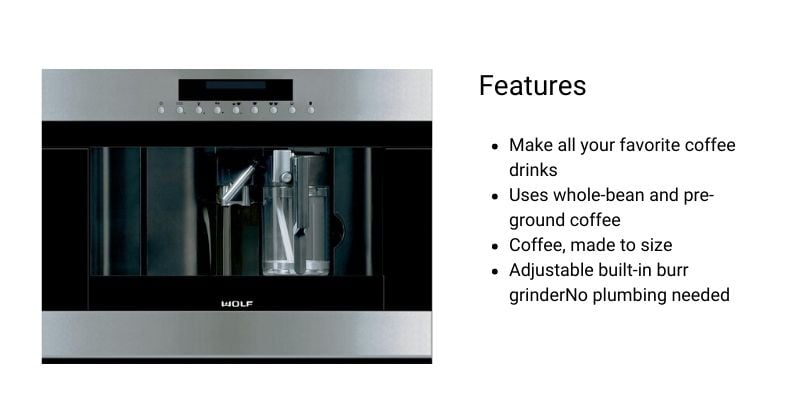 Wolf Built-In Coffee Machines Advantages
Push-Button Controls

- Wolf's philosophy has always been about simplicity, and Wolf's coffee machine is no different.
Easy Menu Navigation - This may be more suited for users who are not comfortable with fancy digital displays or touch screens.
2-Year Warranty - Again, nice to have a longer warranty on a highly serviced product.
Wolf Built-In Coffee Machine Disadvantages
Outsourced - When you outsource products, you are limited to those companies' original designs.
On A Drawer, Rail Pull-Out Machine - Every other coffee machine swings out for maintenance. Wolf is different because the whole unit slides out of the cabinet. You do not want to install it too high, lest you will not be able to refill anything without a stepstool.
Water Spout & Milk Container Share A Port - When you want hot water, you will have to remove the milk container and vice versa. A minor inconvenience and something to possibly lose.
Non-Plumbed Only - Limiting your convenience options, and you have to refill continuously.
No Coffee Pot Accessory - If you have a party, everyone will be standing in line for their turn to get a cup.
No Water Filter Accessory - You do not have an option to plumb a water line and add a filter.
Burr Grinder Is Stainless - Again, ceramic is the best. The grinder does seem louder than BSH or Miele. The coffee still tastes great. You will traditionally see commercial style coffee grinders made of stainless.
No Wi-Fi - At face value, this may be seen as a drawback, but I don't see it that way, as explained in the BSH section.
Coffee Storage Does Not Have An Airtight Seal - If you store your beans in the hopper for longer than a few days, consider keeping them in an airtight container instead of optimal freshness. Also, the capacity is only ½ a pound. Coffee usually comes in a 10oz to 16oz container.
Best Built-In Coffee Machine Accessories
There are a few neat accessories available to compliment your coffee machine
Warming Drawers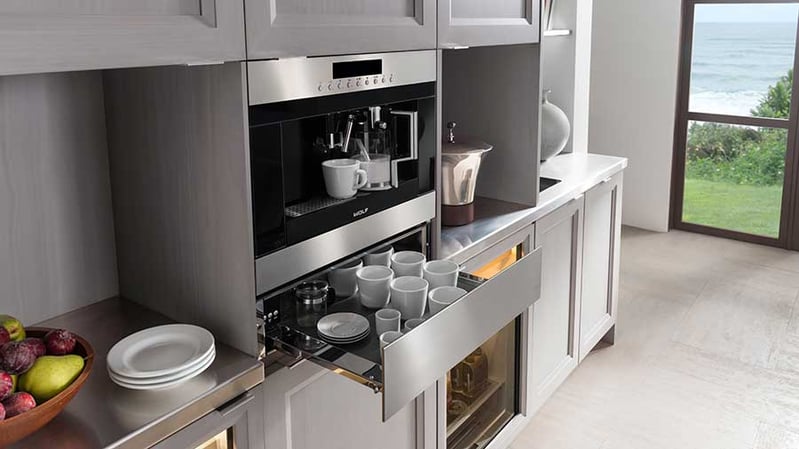 Wolf Built-in Coffee Machine with Warming Drawer Accessory
Warming drawers are great if you want to drink your craft beverage from a pre-warmed mug.
They also work amazingly as towel warmers, or when you need to keep food warm before serving. There are some variations between brands.
Miele - 24" / 30" Miele's warming drawer can actually plug into their coffee machine to link up. You can set a timer for the coffee machine to turn on, and the warming drawer will preheat 30 minutes before the set timer. There is also a rubber mat to prevent slippage and also have handleless and panel ready options.
Thermador / Gaggenau / Bosch - 24" / 30" They have handleless and panel ready options.
Wolf - 24" / 30" The 24" option has a rubber mat, and you could get a buffet container set accessory. There are also handleless and panel ready options.
Vacuum Seal Drawers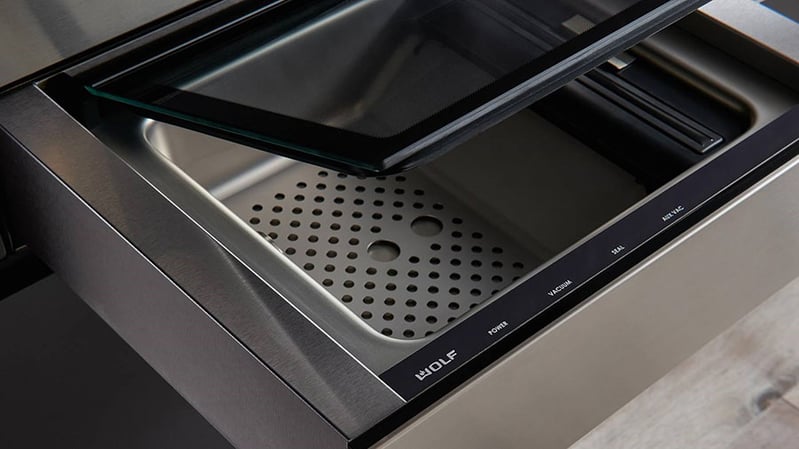 Wolf Vacuum Seal Drawer
Vacuum drawers are an amazing accessory that serves multiple purposes. If you have a steam oven, you can sous vide cook and precision boil in a bag.
You can quickly marinade meats. Obviously, you can preserve food or coffee beans. These do not really vary between brands, other than warranty. None of the options are panel ready, and they are all handleless.
Miele - 24" only.
Wolf - 24" only.
Gaggenau - 24" only. NO BOSCH OR THERMADOR.
Trim Kits
Wolf, Miele, Thermador, and Bosch have compatible trim kits. Not Gaggenau. Every coffee machine is 24" wide, and trim kits are a nice option to pair with 30" warming drawers or ovens. You would not want to put a 30" warming drawer under a 24" coffee machine.
Which Built-in Coffee Machine Should You Buy?
Miele Built-In Coffee Machine
Miele narrowly edges out its competitors due to its more straightforward to use interface, but there may be some features you like more about the BSH products, and that's fine.
The biggest differences are going to be a user interface, installation type, and accessory options.
Remember, a coffee machine is an investment. Be prepared to maintain to enjoy coffee for years.
Best Built-In Coffee Machine Maintenance Tips
For those of you who already have a built-in coffee machine, here are some tips on how to get the best out of your machine and how to extend the life of it.
Very cold 2% milk will give you the best results for your milk beverages. Oat milk is the recommended non-dairy alternative due to its creamy consistency.
Never put oily beans in your machine; it will clog the grinder. If you absolutely must, spread them out on a baking sheet and pat them dry with paper towels.
Make sure you descale whenever your machine tells you to.
If your coffee has too little crema or isn't strong enough, dial-in the grinder for desired results. Another solution may be to change settings on bean consumption per cup. Consult your user manual for directions.
Yale now offers a cleaning and maintenance service for any built-in coffee machine. (We also just started servicing coffee machines too so let us know if you are having an issue). We will descale, test water hardness, disassemble, and clean all milk pipework, and clean the brewing/grinding unit. Our technician may spend up to 2 hours deep cleaning your appliance.
Additional Resources
Looking for more help on appliances? Get the free Yale Appliance Buying Guide with the 10 most frequently asked questions, their answers, features on the major brands, and lastly, advice for the best buying strategies. Well over 580,000 people have read a Yale Guide.
Related Articles
Why Should You Trust Us?
It seems that every appliance review has nothing but glowing comments about almost every product, yet you read customer reviews and they are almost universally bad.
We are here to fill in the disconnect. We'll give you the best features, and the drawbacks as well, including reliability based on over 37,000 calls performed by our service team just last year. Our goal is to give you ALL the information so you know what's right for you.
Please consider subscribing or adding to the conversation in the comments below. We appreciate you stopping by.
Anthony DiNatale
Originally from Chicago, Illinois, he has been in the appliance industry for over seven years. He is incredibly patient and strives to help people achieve what they envision for their homes. Anthony considers himself a "nerd," loving all things Star Wars, and would choose a night gaming and hanging out with his lovely wife (and his pets, Moose the basset, Timber the cat, and Marvel, the parrot) over a night out any day.
A Note About Pricing
Pricing on this blog is for reference only and may include time sensitive rebates. We make every attempt to provide accurate pricing at time of publishing. Please call the stores for most accurate price.