Should You Buy a True Refrigerator for Your Home? 2022 Review
With the ability to customize and solid commercial construction, True has become a leader in refrigeration design.
In this article, you will learn about True's best features, a few problems, and a comparison to their main rival Sub-Zero and other brands.
In the end, you will learn whether a True refrigerator is right for you and your family, including one attribute nobody else is discussing.
Let's get started.
True Refrigeration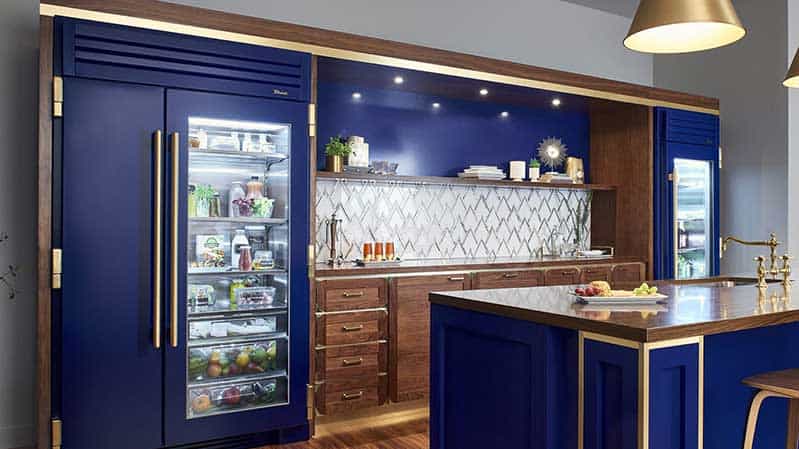 True Professional Side-By-Side Refrigeration in Cobalt Blue
True was established in 1945 in St. Louis, Missouri as a commercial refrigeration specialist. The idea was formed by four guys at a bar one night (true story), and thus True started from humble beginnings.
You can hear the story from their CEO, who we interviewed in our Behind the Brand podcast. Be forewarned, New Englanders, he is a St. Louis Blues fan.
You may not know True as a brand. However, if you have been to Wegmans or Whole Foods, your ice cream or frozen dinner was stored in a True freezer. That commercial quality is built into their residential kitchen equipment.
True manufactures seven different residential full-size refrigerators, their Pro 48 and 42 inches, plus four columns in all refrigerators, freezer, beverage, and wine storage in 30 and 36-inch sizes. Their 36-inch refrigerator freezer unit is due out this year.
True Professional Refrigerators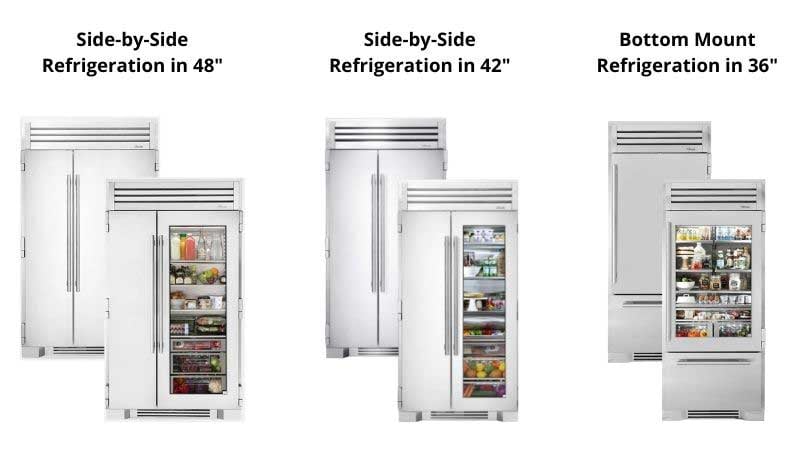 The 48- and 42-inch Pro units are side by side or refrigerator and freezer.
Sub-Zero is similar but has a French door configuration with refrigerator and freezer doors. The Sub-Zero Pro refrigerator is bigger by one cubic, but True is two cubic feet bigger in the refrigerator.
Like their commercial units, these units are all stainless steel. The only pieces not stainless are the bins. Stainless is a better interior surface because it absorbs cold better than enamel or painted metals.
It is also much easier to clean because stainless is non-porous. There are no crevices for germs to hide in stainless. That is why all surfaces in commercial kitchens are stainless steel by code.
From the outside in, True has solid handles and hinges. The door can hold itself open at a 120 angle.
Fun Fact: Of all the refrigerators on the market, only True manufactures side panels, so you place them at the end of your kitchen or even have a truly freestanding application without a cabinet enclosure
Colors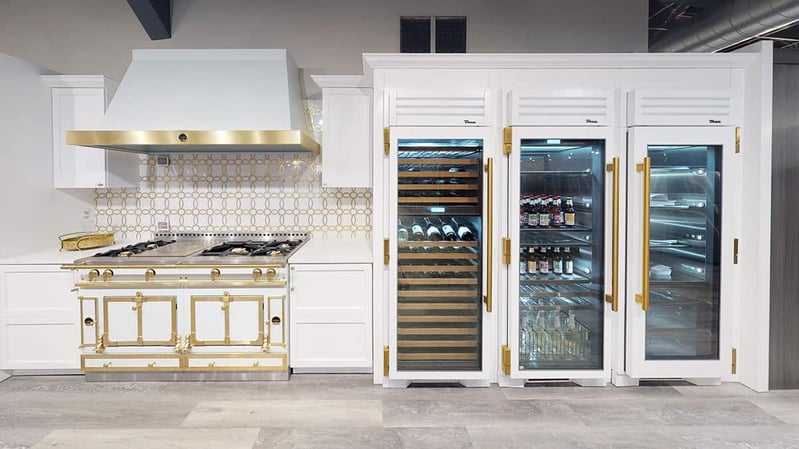 True Refrigeration in Antique White with Gold Hardware and Glass Windows at Yale Appliance in Hanover
The refrigerator has ten optional colors, and six hinge designs, so True has that option if you want an orange refrigerator with pewter hinges.
It is fun playing around with the color options on True's website. The combinations are interesting.
Here are a few of my favorite combinations: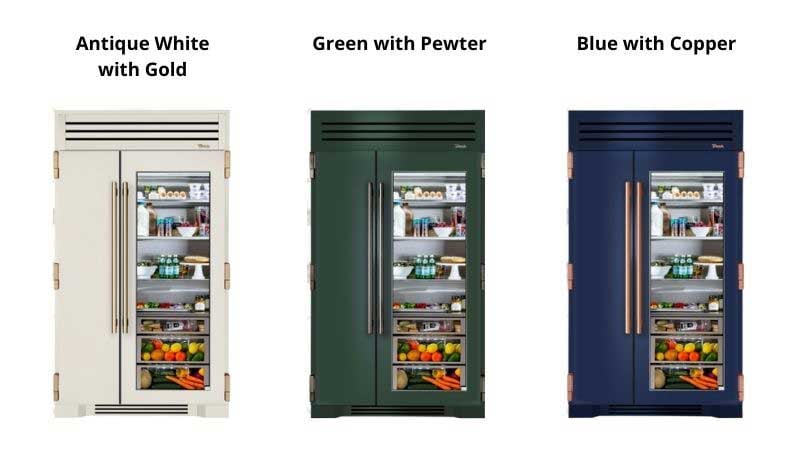 You can also buy it with a glass window to look into the refrigerator like in restaurants or with a stainless-steel door.
Interior Colors
In many of their units, you can choose between 14 distinct colors.
Two Compressors
True has two compressors and two evaporators to keep the moister, warmer air of the refrigerator separate from the drier, colder air of the freezer. Two compressors eliminate taste and odor crossover from your refrigerator to the freezer.
In other words, that cheese flavor and odor in your refrigerator will not end up in your ice cream. True also has a fan in the back to cascade airflow for more even temperatures top to bottom.
Controls
The controls are on the front and easily changeable by 1-degree increments.
Shelving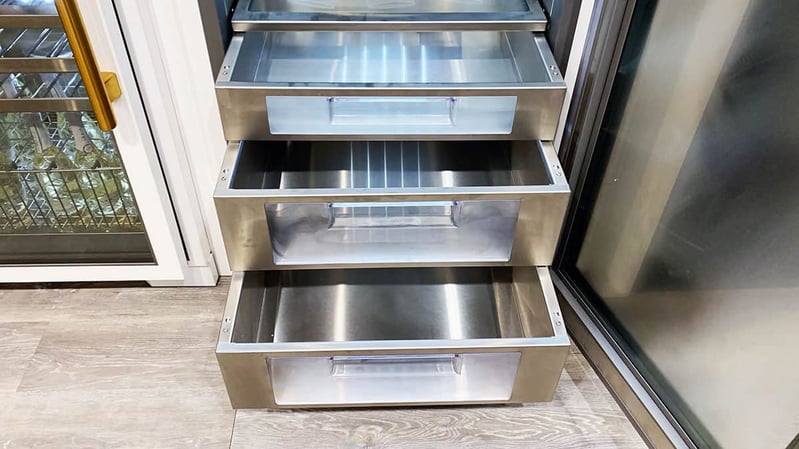 True Professional Refrigeration Stainless Steel Bins and Crisper Drawers
The shelving is solid glass, with the bins being stainless steel with hard plastic, all illuminated by beautiful ramp-up LED lights.
Before we get into problems, let's cover the columns. They are interesting.
True Column Refrigeration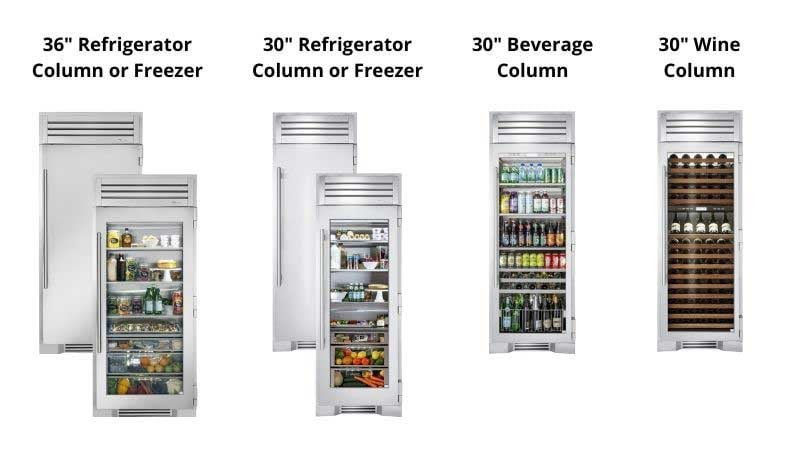 True refrigerator and freezer columns are available with glass or stainless fronts, ten finishes, and six accents. Their columns are the largest and hold more than any other brand.
Their refrigerator column is 19.7 cubic for a 30 inch and 24.7 cubic feet for a 36-inch column, larger than any comparable product.
Sub-Zero's 36-inch classic refrigerator column is the closest at 23.5 cubic feet. The BSH brands, Thermador and Gaggenau are 20.6 cubic feet. Their freezer is larger, plus it can reach temperatures as low as negative 4 degrees.
True Wine Columns
True wine columns have all the best aspects of wine storage with a lower door to keep UV light from bleaching the tannins in your wine.
Like Sub-Zero, it has two distinct temperature zones. from 40-65 degrees so you can effectively store wine at different temperatures. Their wine column can hold the most with 150 bottles of the 30-inch size.
True Beverage Columns
True Beverage Columns are designed to hold all different beverages, from wine bottles to soda cans, available in a 30-inch size.
True Freezer Columns
True offers two freezers at 15.1 and 19 cubic feet. Their freezers have the same features as the refrigerators, with ramp-up LED lighting and all stainless interiors. Most manufacturers have fewer features on freezers or aesthetics, but True is like the refrigerator.
Short on time? Get our free Refrigerator Buying Guide
Problems with True Refrigeration
True is a solid unit. However, there are important and common features that Truly does not include in their products.
1. Icemaker
True has correctly identified the maintenance problems of an icemaker built into the refrigerator, so no icemakers are available on the 42- and 48-inch True residential refrigerators.
Their new 36-inch units will have an icemaker. You can also buy their separate icemakers.
2. Water Dispenser
Unlike JennAir, Sub-Zero, and Thermador, True does not have a built-in water dispenser option.
3. Sizes
The most common sizes for refrigerators/freezers are 30 and 36 inches. True professional refrigerators are 42 and 48 inches.
They now have 36 inches, but they still will not have a 30-inch refrigerator and freezer. For columns, its 30-inch refrigerators with 18-inch freezers for a 48-inch refrigerator.
True does not have that 48-inch combination available as it is missing the 24 and 18-inch sizes.
4. Panels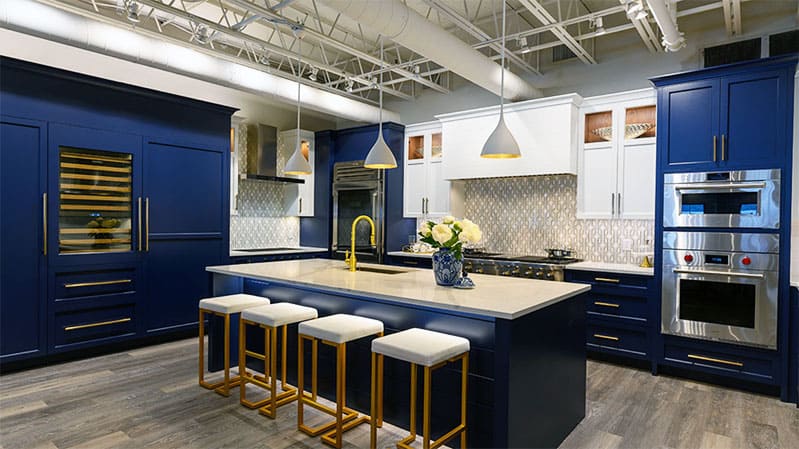 Sub-Zero Kitchen with Custom Cabinet Refrigeration
Unlike every other brand, you cannot place a panel on any True refrigerators.
I guess they do not place panels on refrigerators in restaurants. However, you do not have that integrated look of having your refrigerator or freezer seamless to the cabinets. True is a counter depth, not an integrated refrigerator, so the door protrudes.
5. Nanotechnology Shelving
True uses regular glass on their shelves, unlike JennAir and Sub-Zero's nanotechnology coating that helps control spills.
6. Wi-Fi
Wi-Fi is a nicety for a refrigerator. Sub-Zero sends you notifications to replace the filters or when you leave the door open or need service. True is not Wi-Fi enabled yet.
7. Air Purification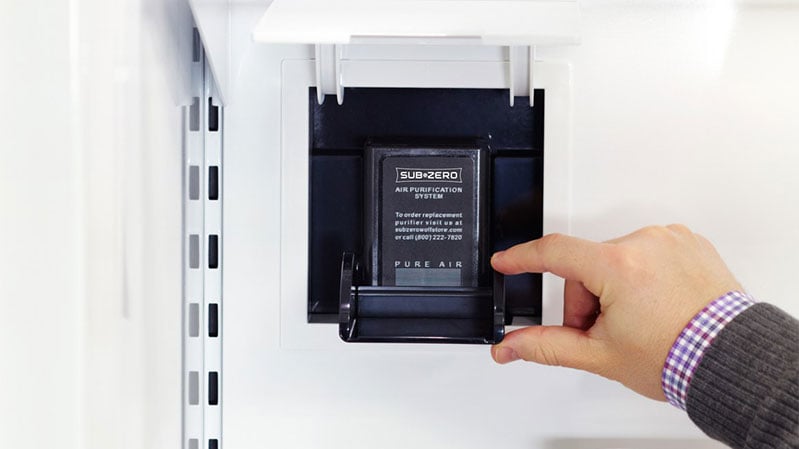 Sub-Zero Air Purification System
When fruit or vegetables spoil, they emit ethylene gas. Sub-Zero has an ethylene scrubber to scrub the gas, leaving food fresher longer in their regular units. However, stainless does not absorb odors like plastic and other metal. The Sub-Zero Pro does not have an air scrubber either.
8. Price
True is the only refrigerator brand more expensive than Sub-Zero. It is the most expensive refrigerator you can buy.
9. Service
As with any upscale appliance, you must be sure that True has a local residential service. Of course, they have a vast network of commercial technicians, but that could be an issue with their new residential products.
Always inquire about service before you buy any brand.
The One Big Attribute: Availability
Hopefully, as you read this, you will allow yourself eight months to 1 year for delivery of your appliances. Or longer.
In my conversation, I asked the CEO what his lead time was. Because they are privately owned and actively stock parts, their lead time was still only two months. In 2019, that was a disadvantage.
Today, True can deliver faster than any other built-in brand, sometimes by a year.
Should You Buy a True Refrigerator?
True should be considered if you are planning a stainless kitchen or need a unique look. It has solid stainless construction and excellent capacity. That beverage column would look great in a bar.
For a professional look, True is the only brand comparable to a Sub-Zero. The quality is excellent as most grocery stores depend on True.
However, Sub-Zero, Thermador, JennAir, and Miele all manufacture decent competitive refrigerators with water, ice, and better sizes for residential applications. You can also place a custom cabinet panel on every refrigerator except for True.
Overall, True should be considered, but you have a range of options.
Additional Resources
Want to learn more about Sub-Zero and Counter Depth Refrigerators? Get our FREE Yale Counter Depth Buying Guide with features, specs, and complete breakdowns of integrated and professional counter depth refrigerators from Sub-Zero, Thermador, Viking, JennAir, and more. Over 1 million people have read a Yale Guide.
Related Articles:
Why Should You Trust Us?
It seems that every appliance review has nothing but glowing comments about almost every product, yet you read customer reviews and they are almost universally bad.
We are here to fill in the disconnect. We'll give you the best features, and the drawbacks as well, including reliability based on over 37,000 calls performed by our service team just last year. Our goal is to give you ALL the information so you know what's right for you.
Please consider subscribing or adding to the conversation in the comments below. We appreciate you stopping by.
A Note About Pricing
Pricing on this blog is for reference only and may include time sensitive rebates. We make every attempt to provide accurate pricing at time of publishing. Please call the stores for most accurate price.