Best Kitchen Appliances Made in America (2023 Update)
In this article, you will learn all about home appliance brands manufactured in the United States.
In addition, we'll cover the difference between foreign companies that produce their products in the US and those that import them.
Your key takeaway: Many of the best appliances are still manufactured in the USA.
We'll also provide insight into the impact of popular foreign brands like Samsung, LG, and Haier (which owns GE and Fisher & Paykel) on American manufacturing.
We've also updated the article with additional manufacturers. By the end of this article, you'll better understand the appliance industry and the options available to you.
Let's get started.
Short on time? Get our free Appliance Buying Guide
Why Appliances Are Still Made in the USA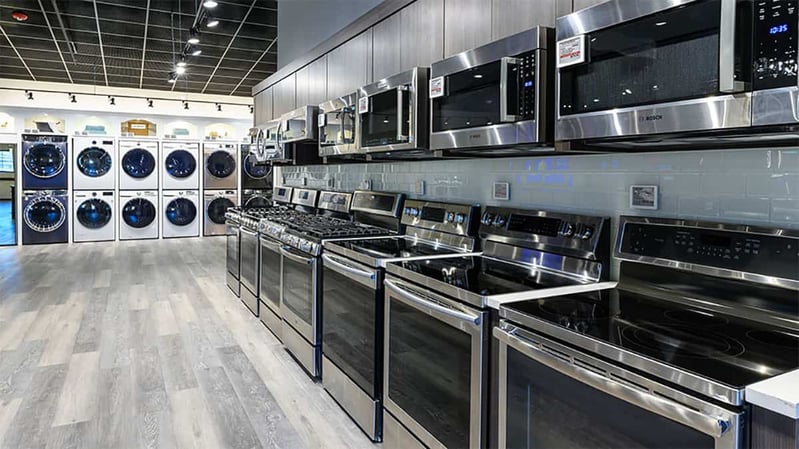 Freestanding Ranges and Laundry Units at Yale Appliance in Hanover
The unique characteristics of American kitchens drive appliance manufacturing in the USA. We typically have larger refrigerators, stoves, washers, and dryers than in Europe.
For example, washers and dryers in European countries are typically 24 inches wide and have a capacity of about 2.5 cubic feet. In contrast, washers and dryers in the US are much larger, with twice the capacity.
Similarly, refrigerators in the US are larger to accommodate the larger quantities of food that Americans tend to store, while the rest of the world tends to shop more frequently for their groceries.
These differences in kitchen habits and needs between the US and other parts of the world make the appliance industry in the US unique. This also helps to explain why consumers have many different options to choose from when purchasing appliances.
Appliances in 2023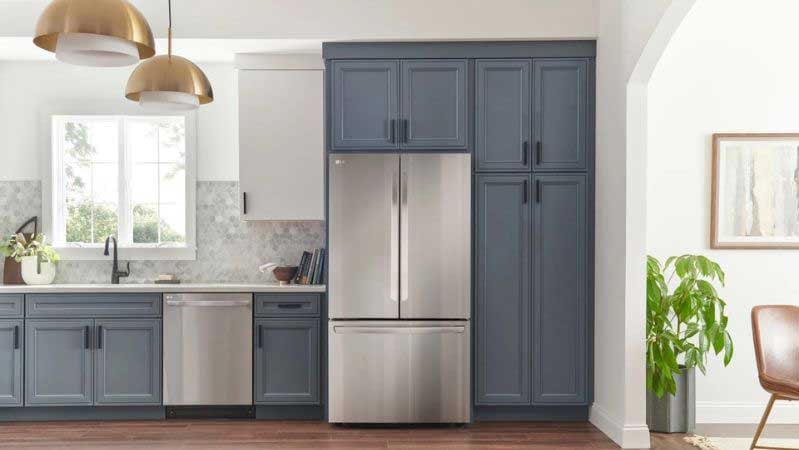 LG Kitchen Appliances
Many foreign brands like SKS (Signature Kitchen Suite), Miele, LG, and Samsung have produced appliances specifically for the US.
LG and Samsung have introduced larger laundry units that have sold well in the US market. Miele and SKS manufacture professional ranges, despite little demand for them in their home countries.
Appliance Costs
The 2016 tariffs on washers may have accelerated LG's and Samsung's production of washers and dryers in the US, an unexpected outcome.
However, shipping costs have risen significantly over time, making domestic production more economically viable.
Manufacturing in the US eliminates the need for shipping, reduces port and trucking costs, and makes it easier for companies to respond quickly to changes in demand.
Fun Fact: The cost of a 40-foot storage container from China to the US was $1,500 in January 2020 to $20,000 in September 2021. $10,500 is the price you will pay in 2023 from China to Boston.
So, many companies have kept or increased production in the US.
Best Kitchen Appliances Made in America
International Companies Importing into the USA
AGA Range: Made in Telford, England, home of the industrial revolution.
Asko: Asko is owned by the Slovenian Gorenje Group.
Beko/Blomberg: Beko is a division of Arcelok manufacturing in Turkey.
Bertazzoni: These trendy ranges are exclusively Italian-made.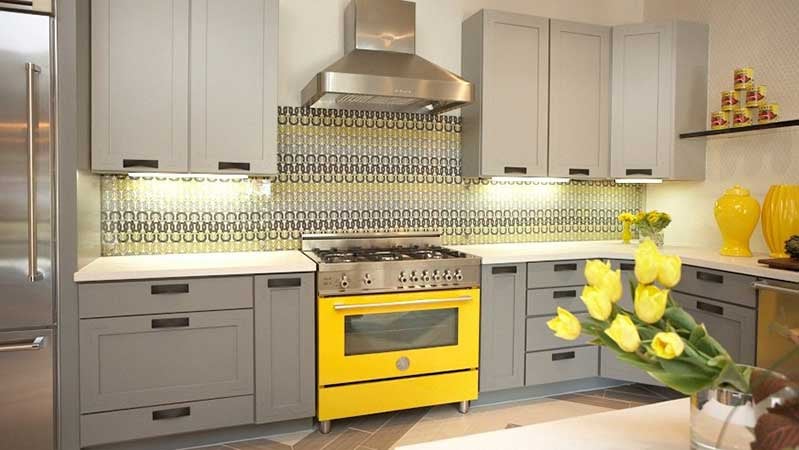 Bertazzoni Pro-Style Range
Fisher & Paykel: Originally from New Zealand, Fisher & Paykel is now owned by Haier.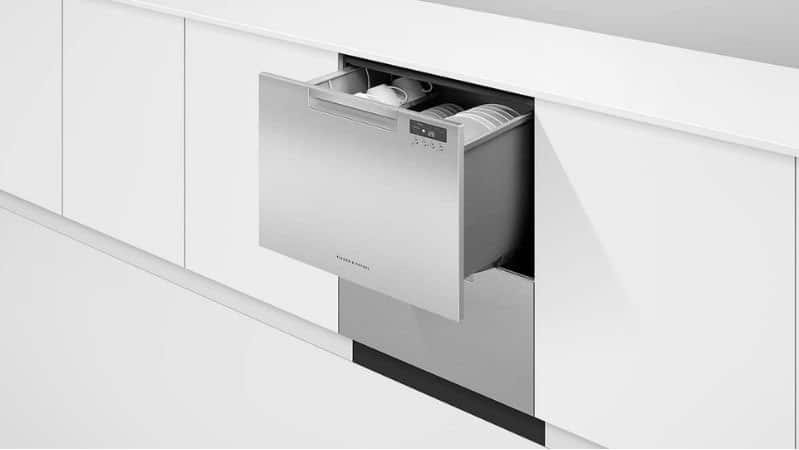 Fisher & Paykel DishDrawer
Haier: Haier is Chinese and the next big appliance manufacturer to be imported into this country. Haier recently bought GE (more about that later).
Hallman: Designed and built in Italy.
ILVE: Like Bertazzoni, these ranges are made in Italy.
Gaggenau: German brand owned by Bosch. Most of the line is manufactured in France.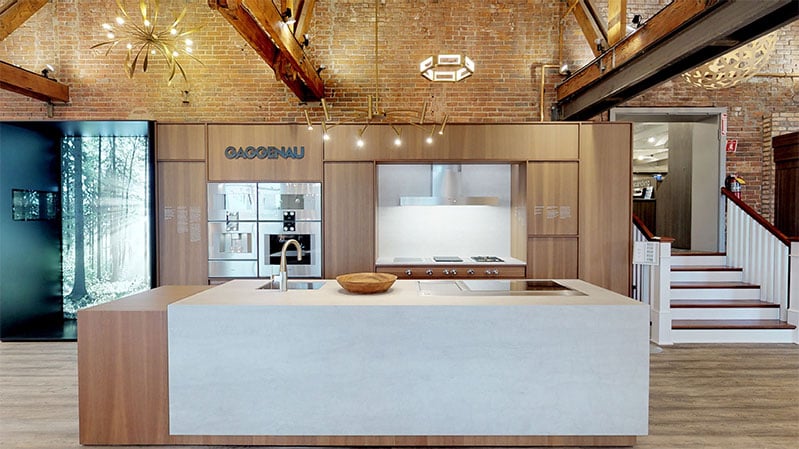 Gaggenau Kitchen Appliances at Yale Appliance in Boston
La Cornue: La Cornue is French manufactured but owned by US-based Middleby Residential in Illinois.
La Cornue CornuFé: French-inspired, but the ranges are produced in England.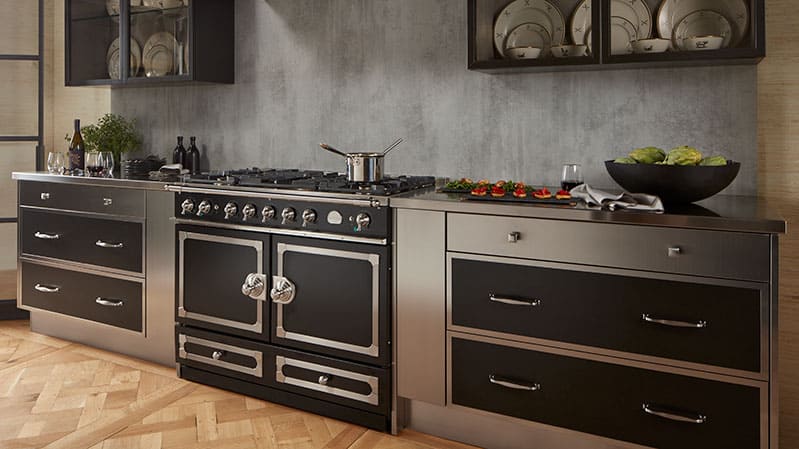 La Cornue CornuFé Range
LG, LG Studio, and Signature Kitchen Suite: LG has a new plant in Tennessee, building full-size laundry units and 30% of their electric ranges.
Their factories in Korea produce refrigerators, ranges, and dishwashers. Microwaves are produced in China.
Liebherr: Another German company manufacturing built-in refrigerators. Here's a fun fact: They also manufacture cranes.
Miele: Miele has great products and is the largest family-owned appliance company in the world. Their quality control is legendary because their appliances are produced in one factory outside Cologne, Germany.
Samsung: Another giant South Korean brand similar to LG with an industrial portfolio. Samsung produces full-size laundry in South Carolina.
The rest of their appliances are produced in Korea.
Traeger: American company but exclusively imports from China.
Verona: Trendy Italian ranges are also produced in Italy.
Weber: The dominant American grill company now imports more than most of its products from China. Their Summit line is made in the US.
ZLIINE: Newer appliance company manufactures in China.
International Companies with American Production
These companies are invested in the US with American factories and workers. That's the good news.
The profits, however, typically go back to their home country.
Once again, most microwaves, speed, and steam ovens are all produced outside the US.
Bosch: The largest dishwasher manufacturing facility in the world is owned by Bosch in North Carolina. Their freestanding refrigerators are Chinese with Turkish built-ins.
For 2023, their CrystalDry dishwashers will be manufactured in Germany.
Dacor: Dacor is a company based out of California, now owned by Samsung.
Electrolux: Their washers and dryers are done in Juarez, Mexico. Their cooking and refrigerators are made in the US. Their compact washer is Italian-made, yet the dryer is Polish.
Frigidaire: Almost all the products are made in the US, with Swedish owner Electrolux as its parent since the 1990s.
GE: GE is American made except for compact laundry, washers, and smaller appliances from their Chinese parent, Haier.
Haier has increased US production since acquiring GE.
Sharp: Japanese company with US factories in Memphis as well as imports.
Thermador: Made in the US except for Turkish refrigerators and speed ovens made in China, owned by the German Bosch company, also known as the BSH Corporation.
American-Owned Companies with American Production
The best-case scenario is a US-owned company with US production.
Profits are reinvested back in the country. As another reminder, many products, like microwaves, are still sourced overseas.
BlueStar: BlueStar is the oldest company next to Gaggenau, founded in the 1880s. They manufacture cooking products, refrigerators, and hoods in Pennsylvania and Iowa.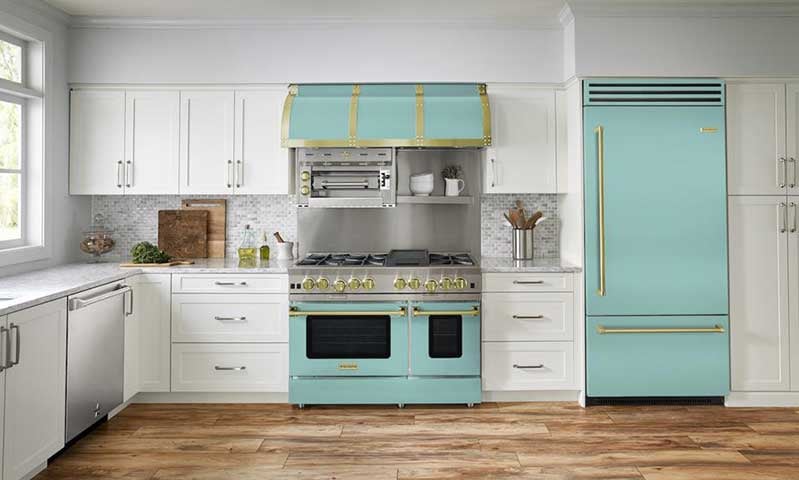 BlueStar Professional Range and Refrigerator
Hestan: Hestan is the premium grill of the giant, US-based Meyer company made in California.
Kalamazoo Outdoor Gourmet: Want the best outdoor grill in the world? Kalamazoo in Michigan makes it.
Speed Queen: Manufacturer of high-end commercial and residential washers and dryers based in Wisconsin.
Sub-Zero, Wolf, and Cove: The second largest family-owned company, Sub-Zero, is based in Wisconsin and Arizona. Sub-Zero purchased Wolf in early 2000. In 2019, Sub-Zero produced their new Cove dishwasher in Tennessee.
Like most companies on this list, Sub-Zero does not manufacture microwaves or coffee systems. They have an exclusive agreement with a Swiss company for their steam ovens.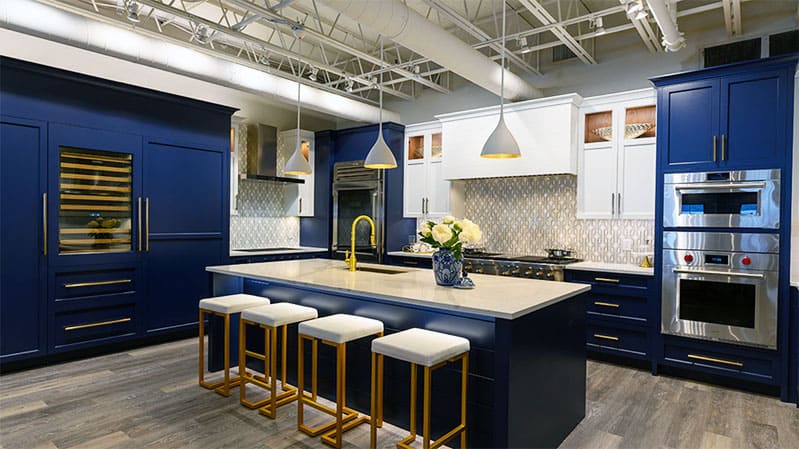 Sub-Zero and Wolf Kitchen at Yale Appliance in Hanover
True: True is an enormous commercial and now residential refrigerator manufacturer based in St Louis.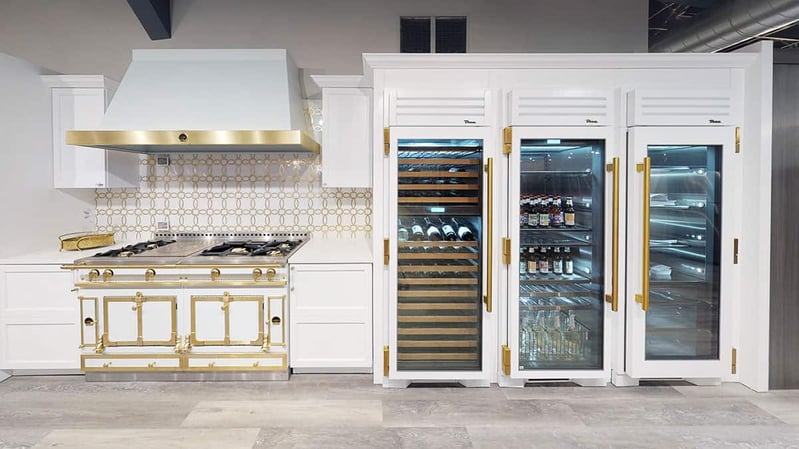 True Refrigeration at Yale Appliance in Hanover
Viking: Owned by Middleby of Ohio, Viking is produced in the US except for their freestanding refrigerators produced by Electrolux. Beko builds their dishwashers.
Viking also owns Marvel, U-line, and Lynx grill, all US-based factories (except for the Lynx Sonoma grill).
Whirlpool: The largest American company based out of Michigan with plants across Northern America. They have reliable washers under the Whirlpool and Maytag names.
The brand portfolio consists of Amana, Whirlpool, and Maytag. On the high end, Jenn-Air and KitchenAid are Whirlpool subsidiaries as well.
Whirlpool does not manufacture microwaves, steam ovens, or coffee systems.
Key Takeaways
You can still outfit a kitchen with appliances made in the US
Some of the most exclusive appliance brands, such as True, Sub-Zero, Kalamazoo, and Wolf, are still family-owned and manufactured in the US
In addition, BlueStar is one of the fastest-growing premium brands, while JennAir, Whirlpool, and KitchenAid offer reliable and high-quality appliances.
Overall, you have a range of options when it comes to American-made and American-owned appliances. If you have any questions or if we missed any brands, please feel free to leave a comment below.
Additional Resources
Want to learn more about the latest gas ranges and technology? Read the Yale Appliance Buying Guide with features, specifications, and detailed profiles of every major brand. Well over 750,000 people have downloaded a Yale Guide.
Related Articles:
Why Should You Trust Us?
It seems that every appliance review has nothing but glowing comments about almost every product, yet you read customer reviews and they are almost universally bad.
We are here to fill in the disconnect. We'll give you the best features, and the drawbacks as well, including reliability based on over 37,000 calls performed by our service team just last year. Our goal is to give you ALL the information so you know what's right for you.
Please consider subscribing or adding to the conversation in the comments below. We appreciate you stopping by.
A Note About Pricing
Pricing on this blog is for reference only and may include time sensitive rebates. We make every attempt to provide accurate pricing at time of publishing. Please call the stores for most accurate price.