The Best Microwave Drawers for 2022 (Ratings / Reviews / Prices)
In this article, you will learn about the best microwave drawers, including their reliability.
There are tons of microwave drawers on the market.
You've probably read online reviews about Sharp, Dacor, Viking, Bosch, Thermador, and Wolf and analyzed all their features.
Hard to find the differences behind those flowery descriptions, isn't it?
However, you will be surprised at how simple buying a microwave drawer is.
You will finish this article with four definite choices, including a few you can buy under $1,500.
You should know people have reported all sorts of problems with drawers in the comments below.
I wanted to address that specifically with real numbers based on our internal service figures.
Let's do that first. The rest will be straightforward. Seriously, when have I ever said that on this blog?
First, let's start with safety.
Are Microwave Drawers Safe?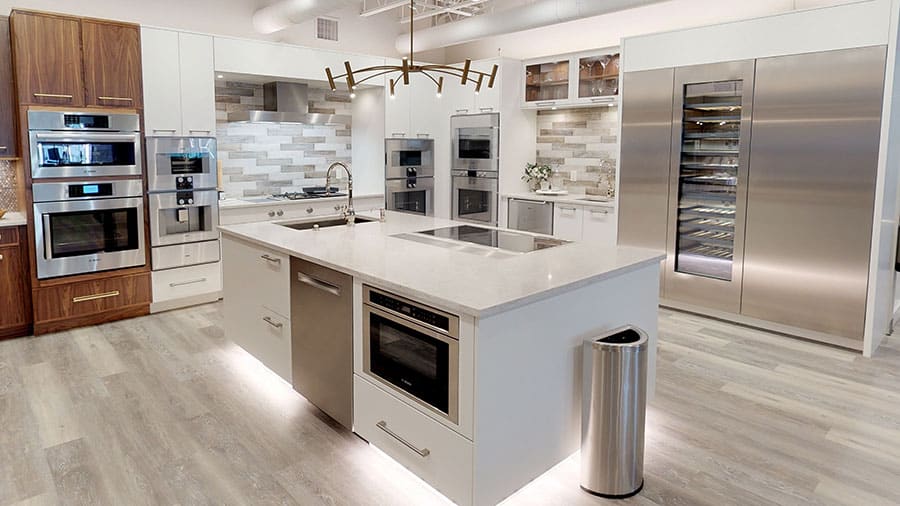 Bosch Microwave Drawer Installed at Yale Appliance in Hanover
Some are pretty serious, including fires and other major service problems if you read the comments below.
First, let me put your mind at ease.
We don't see the issues, and we service what we sell.
We do our best to avoid heavily serviced items because we cannot afford the service expense.
You should also know I have a microwave drawer and have a small child at home.
If I weren't confident of the reliability of a drawer or any other product, we wouldn't sell it.
I also wouldn't put it in my home.
They do have to be installed properly, which may be an issue, but a microwave is one of the most reliable appliances in your home.
Below you will find our service statistics for microwave drawers.
Microwave Drawer Reliability December 2019 - November 2020
| | |
| --- | --- |
| | Service Ratio |
| Bosch Appliances | 3.20% |
| Thermador | 7.82% |
| Sharp | 1.65% |
| JennAir | 1.71% |
| Average | 4.04% |
These figures are based on a minimum of 100 units sold for a total of 1,321 products.
Microwave drawers are safe with less than 4% repair in the first year based on our internal service stats, easily one of the lowest for appliances with an average of about 9.97% as a group.
Short on time? Get our free Appliance Buying Guide
Why Buy a Microwave Drawer
Microwave drawers are somewhat new.
As people have placed the point of use appliances in larger kitchens, drawers have become popular options.
You hit a button, and the drawer pops out at you.
Microwave drawers also look much better than a microwave and built-in trim kit.
Typically, a microwave uses a valuable countertop workspace or higher cabinet space (especially in built-ins).
Additionally, as stoves become more powerful, over-the-range microwave vents are not strong or deep enough to exhaust.
If you cook high volume or fry, wok, or use a griddle, an over-the-range microwave will not be able to vent that kind of volume.
But when not having a microwave is out of the question, many clients turn to microwave drawers.
They work especially well in lower spaces and islands as well.
With a drawer, you can place a microwave anywhere.
How to Buy a Microwave Drawer
First, microwave drawers are available in two sizes, 30 inches, and the more common 24 inches. The interior capacity is similar.
Second, all microwave drawers are produced by the same manufacturer.
Sharp produces every microwave drawer, whether Wolf, KitchenAid, Bosch, Beko, Thermador, or any other name.
Thus, there is no one best microwave drawer. How could there be? There are all manufactured by the same company.
That said, you should try to buy a microwave drawer at a reduced price by taking advantage of manufacturer rebates and offers.
Now, let's take a look at the best microwave drawers.
Best Microwave Drawers for 2022
Sharp Built-In Microwave Drawer SMD2499FS - $1,999

Sharp does have a few interesting models. The SMD2499FS is microwave convection, meaning you can use this as a microwave.
You can also their combination setting for baking and roasting, saving half the time without the microwave texture.
It even has an air fry setting which might work because of its small size.
This unit has all the cool features, Wi-Fi, and App functionality, so you can either ask it to cook with Alexa. You can even set it remotely from your office as well.
You can wave at it to open automatically. Not sure why that's important, maybe if you have your hands full.
Then again, you can always put it on the counter and then press the button.
Sharp Built-In Microwave Drawer SMD2489ES - $1,499

The SMD2489ES has all the functionality of the SMD2489ES, just without the convection feature.
Having your microwave respond to Alexa is interesting. You also have that wave function described above.
Maybe it will impress your friends.
Now, this is where buying a drawer becomes interesting.
The majority of drawers are sold as simple microwaves. The ability to mount the microwave flush to your cabinet is the most popular feature.
That's said, you should look into installing your appliances seamlessly with your cabinets, like your wall oven and dishwasher. It looks much better than seeing an appliance protrude into your kitchen.

Beko can be flush mounted. It's also relatively inexpensive at $1,349. KitchenAid has an almost identical unit over $1,700.
Beko also has a five-year warranty.
They were smart enough to design it with no logos or trim that might clash with a dishwasher or other under-counter appliance.
You may not have heard of Beko as a brand.
They are a Turkish-based company and extremely popular in Europe and 140 countries worldwide.
In this case, it's the same as the others - a Sharp microwave with another name.
JennAir, Thermador, and Other Brands
Many of the other brands have rebates, usually around $1,399. I know of JennAir and Thermador.
We don't carry a few brands like Monogram, Viking, or Dacor, which probably have similar deals.
Thermador to use this example sells their MD30WS microwave for $1,899. Apply the rebate for $500. It's less expensive than Beko or, ironically, even Sharp.
Key Takeaways
First, microwave drawers are safe and reliable. They also look good in your kitchen.
Installing one may be the toughest part of the purchase.
Buying one is not. You will be buying the same product with different names.
The Sharp convection has the best features allowing you to cook and microwave in the same unit.
Look at combining rebates from some of the premium manufacturers to buy a drawer at a much lower price.
After that, look at the lowest price because you will be buying the same product just with a different label.
Right now, Beko is the least expensive and has the best warranty for now.
Frequently Asked Questions
1. How much do microwave drawers cost?
Microwave drawers are typically more expensive than other types of microwaves. They usually range from around $1000 - $2000.
2. Can you install a microwave in a cabinet?
Microwaves can be installed in a cabinet. You can install countertop microwaves (with or without a trim kit), microwave drawers, and drop-down microwave ovens.
3. What sizes are available for microwave drawers?
The sizes available for microwave drawers are 24" and 30". However, the interior dimensions for cooking remain the same at 1.2 cubic feet.
Additional Resources:
Have questions on appliances? Read the Yale Appliance Buying Guide with the 10 most frequently asked questions, the best time to buy appliances as well as detailed profiles of all the brands. Well over 900,000 people have read a Yale Guide.
Related Articles:
Why Should You Trust Us?
It seems that every appliance review has nothing but glowing comments about almost every product, yet you read customer reviews and they are almost universally bad.
We are here to fill in the disconnect. We'll give you the best features, and the drawbacks as well, including reliability based on over 37,000 calls performed by our service team just last year. Our goal is to give you ALL the information so you know what's right for you.
Please consider subscribing or adding to the conversation in the comments below. We appreciate you stopping by.
A Note About Pricing
Pricing on this blog is for reference only and may include time sensitive rebates. We make every attempt to provide accurate pricing at time of publishing. Please call the stores for most accurate price.