The Best Integrated Refrigerators (2023 Update)
April 14th, 2023 | 10 min. read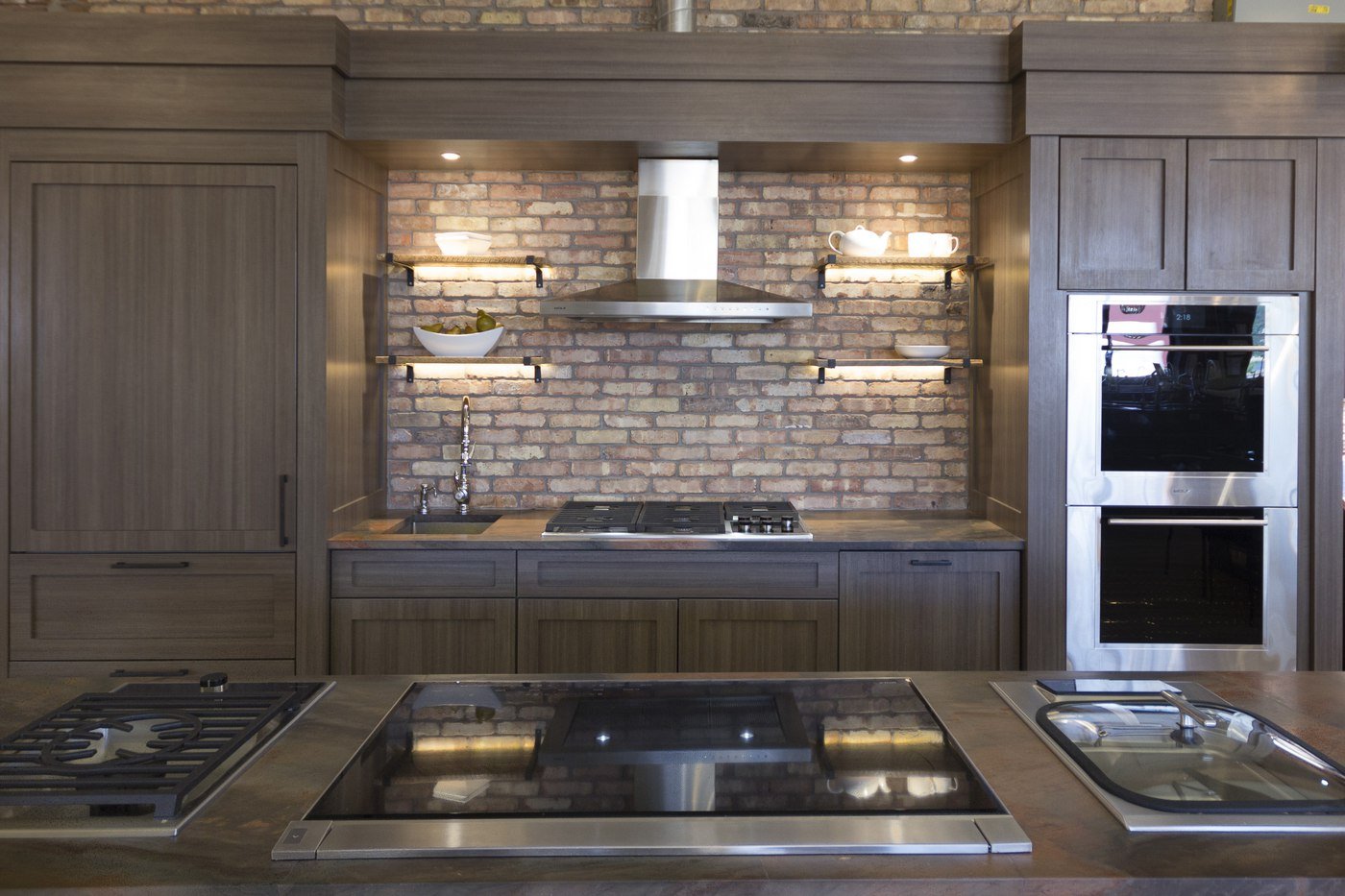 Key Takeaways: Integrated refrigerators are beautiful because they are seamless with your cabinet. However, lead times are ten months or more for some brands.
Why It Matters: Integrated refrigerators look great "hidden" in cabinetry. But order Thermador and Sub-Zero at the start of your project to ensure your kitchen is done on time.
Unlike a professional refrigerator with a compressor on the top, you cannot tell the difference between an integrated refrigerator and the actual cabinet.
You have plenty of good brands in this niche, like Thermador, Sub-Zero, Miele, Fisher & Paykel, and Signature Kitchen Suite (SKS).
However, while offering a sleek and modern look, integrated refrigeration units come with higher price tags, limited availability, and require more cubic footage due to their increased depth.
So, we've compiled a list of the best currently available models. We'll also share some tips on how to give any refrigerator a flush, integrated look.
Our focus is panel-ready models, and we'll provide pricing information for each brand's most popular units.
As a side note, installing a custom panel to your integrated refrigerator can be a hassle. That's why we're now offering installation service for just $99, where we take care of everything, from plumbing to electrical and cabinetry.
So if you're ready to upgrade your kitchen with an integrated refrigerator, keep reading to find the perfect unit for your home.
The Best Integrated Refrigerators for 2023
If you're in the market for an integrated refrigerator, here are some of the best options for 2023:
1. Best Overall: Sub-Zero IT-36CI-RH or IC-30RID-RH & IC-18FI-LH

Sub-Zero pioneered built-in refrigeration, introducing their first column refrigerator almost fifty years ago. While the original 27-inch size has since been discontinued, Sub-Zero continues to lead the industry with quality manufacturing.
Sub-Zero integrated refrigerators have the best vacuum-sealed door, which prevents air from infiltrating the refrigerator and spoiling your food.
In addition, the crisper drawers are magnetized, which ensures a tight seal and helps preserve your produce's freshness.
Another unique feature is the air purifier, which "scrubs" ethylene gas off spoiling foods and eliminates cross-contamination, resulting in longer-lasting and fresher food.
Sub-Zero offers a wide range of options, including 30-inch and 36-inch all-refrigerator or all-freezer bottom mounts.
Sub-Zero refrigeration is made in the US, has the most model options, and has an internal water dispenser. Sub-Zero is also the best for filtering and prolonging food freshness.
In a comparison test of Sub-Zero against four other brands over four weeks, Sub-Zero outperformed the others, delivering the freshest and longest-lasting food.
Sub-Zero's new Wi-Fi feature allows you to change the temperature and receive alerts when the door is open or when the air scrubber or filter needs to be changed.
However, it's worth noting that Sub-Zero refrigerators do have some drawbacks, including a lack of external ice makers and a lead time of ten months or more for orders. Check with your local store for exact lead times.
Pros:
Made in the US
Offers the most model options
Has an internal water dispenser
Best for filtering and prolonging food freshness
Cons:
No external ice makers
Availability Issues


2. Best Design for a Contemporary Kitchen: Thermador T36BT925NS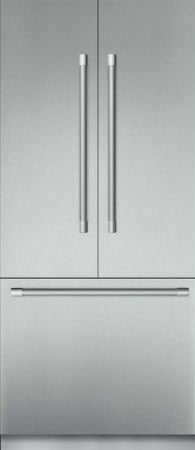 Thermador's integrated refrigerators offer customizable bins, a touchscreen display, and a push-to-open door, as well as a stainless-steel interior that helps keep food colder.
Their water purification filters are 99.1% effective, and the addition of Wi-Fi connectivity allows for remote access through the HomeConnect app.
Thermador's refrigeration units are part of their One-Two-Free program with qualifying purchases.
Pros:
Great new features
Competitive prices
Cons:
3. Best Temperature Control: Miele KF2982SF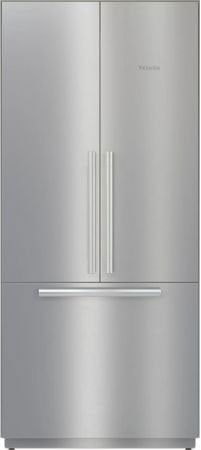 Miele is a high-quality brand known for its dishwashers and incredible laundry.
I interviewed their CEO (US), Jan Heck, for our Behind the Brand series on YouTube. I told him they weren't known for their refrigerators.
He said, "Wrong, Steve. Wrong."
He then shared Miele's plan to introduce new, differentiated products, including their refrigerators.
Miele's refrigerators are manufactured in the same plant as Thermador's, so you need help to compare the two.
One of my friends just moved into a condo in Boston with a Miele fridge. It's well lit with lights on either side. It's impressive.
Miele's integrated refrigerators offer excellent features that help keep your food fresh.
As part of my research, I combed through Miele's library to help explain what each of these features mean and how they are effective in food preservation. Here's a summary:
MasterCool maintains the optimal temperature and humidity to slow the ripening process.
PerfectFresh Technology allows you to adjust the temperature and humidity levels to suit the specific needs of different types of produce.
For example, you can choose a lower humidity level for apples and pears, which are prone to rotting. Higher humidity levels are better for leafy greens and herbs requiring more moisture.
Miele also touts their "Dynacool" distributing air they're the crisper. Their "AirClean filter filters odors out of your refrigerator.
Pros:
Decent availability (at least when I wrote this)
Excellent lighting
You will like the humidity controls in the crisper
Cons:
Interior is not stainless
Doesn't have the bin options of the Thermador
4. Best Convertible Drawers: SKS SKSFD3604P
SKS (Signature Kitchen Suite) is the premium brand of the parent company LG based in Korea. They have tons of features and one large basic problem.
The SKS SKSFD3604P built-in refrigerator is a great addition to any kitchen.
Its unique five-mode convertible drawer allows for temperature zones tailored to chilled wine, deli items, meats and seafood, cold drinks, or even converting to a freezer.
With precise temperature control and a metal interior, food stays fresh longer and the temperature remains consistent.
The internal water dispenser provides cold, filtered water with a simple touch.
As an eco-friendly option, this refrigerator is engineered with HFC/HCFC-free refrigerant and recyclable materials.
Pros:
Five-mode convertible drawer
Precise temperature control
Metal interior
Internal water dispenser
Eco-friendly
Cons:
5. Largest Column Refrigerator: SKS SKSCR3001P

SKS touts its 30-inch column refrigerator, the SKSCR3001P, as the largest in the market, offering 18 cubic feet of space compared to Thermador's 16.8 cubic feet.
It is all stainless-steel inside, like Thermador, and Wi-Fi is enabled through LG's ThinQ app. SKS will beta test the service component shortly, where the refrigerator will notify other service providers and us of potential problems before they become issues.
You have an internal dispenser for water, and the SKS is the quietest unit on the market at a noiseless 39 dB.
They have the most popular sizes covered except for one:
The refrigerator is 30- and 24-inch in width.
The freezer is 18-, 24-, and 30-inch in width.
What is missing is a 36-inch size column refrigerator and freezer, the most popular size on the market. Still, SKS is a brand worth considering in the larger 42,48-, and 60-inch sizes.
Pros:
Internal water dispenser
Quiet operation
Cons:
No 36-inch size column refrigerator and freezer available
Limited availability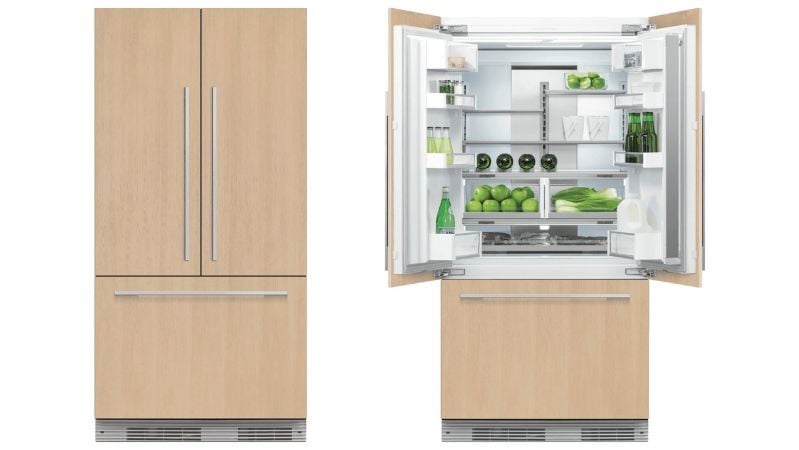 Fisher & Paykel, a New Zealand-based appliance company now owned by Haier, is well-known for its narrow-width, counter-depth refrigerators.
In fact, they are the most reliable counter-depth refrigerator brand, based on over 33,000 service calls logged last year.
Despite being the only basic refrigerator on this list, the $6,000 integrated unit still offers a sleek design.
Recently, Fisher & Paykel introduced a new line of integrated refrigerators.
Some of their best features include ActiveSmart technology, which utilizes temperature sensors and humidity control to keep food fresher for longer.
In addition, the Smart Touchscreen feature allows for easy resetting of settings.
It takes a lot of work to install a panel on this unit. It's available in just one size, 36 inches. It also needs height like other column refrigerators.
The availability could have been better on this unit, but then again, availability could have been better for every brand.
Pros:
Affordable
Reliable
ActiveSmart technology
Smart Touchscreen
Cons:
Only available in one size (36 inches)
Requires significant effort to install a panel
Needs height like other column refrigerators
Comparing the Best Integrated Refrigerator Brands and Features
| | | | | | |
| --- | --- | --- | --- | --- | --- |
| | Sub-Zero | Thermador | Miele | SKS | Fisher & Paykel |
| Sealed Door | Vacuumed sealed | Soft close door | Soft close door | Soft close door | Soft close door |
| Push to Open Door | No | Yes | Yes | No | No |
| Air Purifier | Yes | No | Active CleanAir Filter | No | No |
| Bins | Magnetic crispers | Customizable bins | Yes | Life & Go Bins | Removable Bins |
| Convertible Drawers | No | No | No | Yes | No |
| Spill-Safe Shelving | Yes | No | No | Yes | Yes |
| Wi-Fi Connectivity | Yes | Yes | Yes | Yes | No |
| Touchscreen Controls | Yes | Yes | Yes | Yes | Yes |
| Temperature Management | Touch controls for precise temperature management | Yes with Proprietary Cool Air Flow technology | Yes with MasterCool | Yes with Precise Preservation | Yes with ActiveSmart technology |
Below is a breakdown of some of each brand's best features:
Sealed Door:

It's tough to open a Sub-Zero door because it's designed to keep air out of your refrigerator.

Push to Open Door:

Thermador has this feature. It's interesting and useful because you can open the door even if your hands are full. On certain models, you at one time could buy the additional accessory to have the press-to-open feature for a Sub-Zero refrigerator.

Air Purifier:

Sub-Zero, known for keeping food fresher for a longer period, has an air scrubber to remove gas from spoiling foods and prevent cross-contamination. The others do not have an air scrubber.

Bins:

Sub-Zero's magnetic crispers prevent air from infiltrating your bins to keep food fresh, while Thermador's are fully customizable. Thermador's customizable bins on the door are exceptional. You can order whatever kind of bins you use.

Nanotechnology Shelving:

Sub-Zero has nanotechnology shelving, making cleaning spills easier while not spreading or leaving juice or milk rings.

Wi-Fi Connectivity:

All now have Wi-Fi connectivity

Touchscreen Controls:

Thermador has TFT controls. You can access all your functions and controls on the top of the refrigerator.
Which Integrated Refrigerator Should You Buy?
Integrated is the new growing trend for upscale refrigeration. As they all improve, the product is beginning to look the same.
And that's good because you have options. With supply an issue with many brands, you can still choose an available brand and be happy.
You should look at a local (and hopefully reputable store) before you buy to look at your options
Sub-Zero has most of the features, including nanotechnology shelving and a unique air purification system.
Thermador is a good lower-priced alternative with its rebate program. Miele has the best lighting and crisper drawers.
Fisher & Paykel and SKS have become more interesting because they are the most available. SKS offers a larger size at a better price.
A tie-breaker is service availability. Integrated refrigerators are reliable, but fixing them takes work. Make sure that it can be fixed in your area.
Integrated Refrigeration 101
What Is the Difference Between Built-In and Integrated Refrigerators?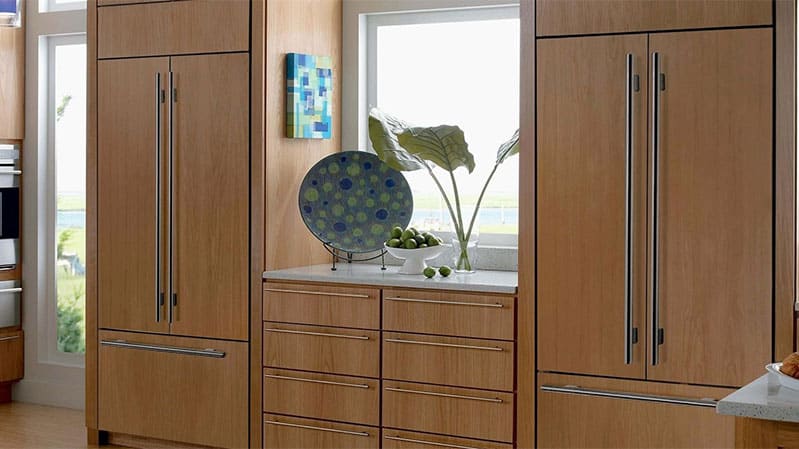 Sub-Zero Integrated Refrigerators with Custom Cabinet Panels
Both are considered built-in refrigerators and accept panels. Both will be called "shallow depth" as well. The main differences are width and depth, although integrated refrigerators are also shorter.
The compressor is mounted on the top of the "professional" built-in units versus the bottom of the integrated models.
Integrated Refrigerator Width
Integrated refrigerators are smaller and are mostly designed to be purchased in sets of two in the larger 42- and 48-inch sizes.
For example, you buy a 30 and 18-inch refrigerator and freezer in place of a 48-inch refrigerator. You can customize more and place your refrigeration anywhere with two units. You can put your refrigerator on the left with two units. You can also place the freezer somewhere else since you are not in it regularly.
Sizes range from 18 inches to 24, 30-, and 36-inches widths versus 30,36, 42, and 48 inches for the pro counter depths. Thirty-six inches is the most popular size for both.
Built-in refrigerators are deeper for total cubic footage than an integrated refrigerator. It's also less expensive per cubic foot than an integrated unit.
There are two counter-depth refrigerators ranging from 24 inches to 48 inches:
"Professional" refrigerators have the compressor on the top to look like a commercial refrigerator.
"Regular" counter-depth refrigerators look like regular refrigerators, just shallower than a normal refrigerator.
Integrated Refrigerator Depth
An integrated refrigerator's depth is designed to flush your cabinet with a panel.
Counter-depth varies, but the refrigerator depth is 24 inches plus the depth of the door. In other words, the integrated is flush, whereas the door will protrude on the counter depth.
The costs of a pro counter depth, integrated refrigerator, or column can cost between $10-18,000, depending on what you purchase. KitchenAid has the only regular counter depth with the ability to accept panels. However, it has a black trim around the door, which ruins the look.
Types of Integrated, Built-In Refrigerators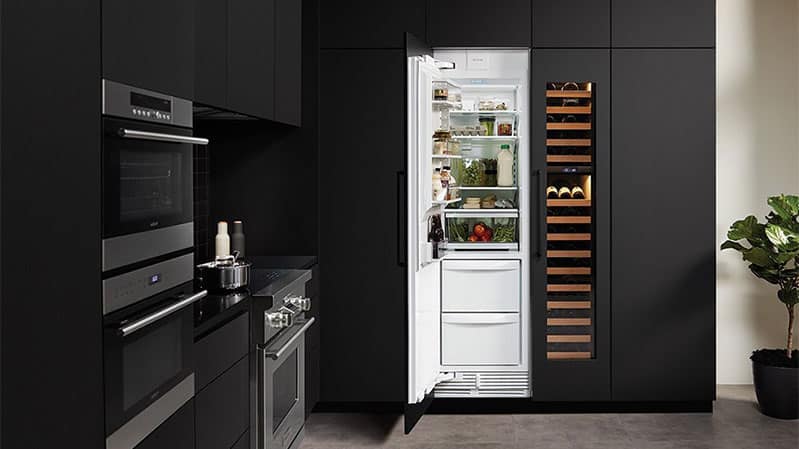 Sub-Zero Integrated Column Refrigeration with Custom Cabinet Panels
Integrated built-ins are available in all assorted styles. You have what the industry calls "columns." Just another tricky parlance to mean either all-refrigerator or freezer, but sometimes people can call a combo a column.
It can also mean both depending on the company or your salesperson (if they know). Then you have all different types of combinations. Thermador will have a French door, while Sub-Zero has several different drawer types of configurations.
Just know you can buy an integrated refrigerator in tons of separate ways, all refrigerator, freezer, French door, bottom mount, and bottom mount with two drawers.
Pro Tip: Both integrated and counter depth refrigerators can be paneled or stainless. Depending on what you do with your cabinet, integrated looks better with a cabinet, whereas a professional refrigerator looks a bit better in stainless.
Why You Should Not Buy an Integrated Refrigerator
I authored an article with this title just to make people think. Integrated is a good look in your kitchen. I have one. However, you lose about 10% of the total cubic footage in the same width.
Although these refrigerators look big, they have less cubic footage due to the shallower depth.
Pro Tip: If you build your cabinets out to 27 inches, you can integrate any counter-depth refrigerator. You can design any counter depth to integrate this trick.
Read More: 3 Reasons to Never Buy a Counter-Depth Refrigerator
Integrated Refrigerators
FAQs
Answers to the most commonly asked questions about integrated refrigerators.
What is an integrated refrigerator?
What brands make integrated refrigerators?
What's the difference between built-in and counter-depth refrigerators?
Do integrated refrigerators last longer?
What are the most reliable refrigerator brands?
Read More: Most Reliable Appliance Brands
Additional Resources
Download the Yale Counter Depth Refrigerator Buying Guide with features, specs, and inside buying tips for all the major brands of regular, professional, and integrated counter depth refrigerators. Over 1 million people have read a Yale Guide.
Related Articles
Why Should You Trust Us?
It seems that every appliance review has nothing but glowing comments about almost every product, yet you read customer reviews and they are almost universally bad.
We are here to fill in the disconnect. We'll give you the best features, and the drawbacks as well, including reliability based on over 37,000 calls performed by our service team just last year. Our goal is to give you ALL the information so you know what's right for you.
Please consider subscribing or adding to the conversation in the comments below. We appreciate you stopping by.
Steve Sheinkopf is the third-generation CEO of Yale Appliance and a lifelong Bostonian. He has over 38 years of experience in the appliance industry, and he is a trusted source of information for consumers on how to buy and repair appliances.

Steve has also been featured in numerous publications, including the New York Times, Consumer Reports, The Boston Globe, Bloomberg Radio, the New York Post, The Wall Street Journal, and Entrepreneur, for his knowledge of how to buy appliances and appliance repair.

Steve is passionate about helping consumers find the best appliances for their needs, and he is always happy to answer questions and provide advice. He is a valuable resource for consumers who are looking for information on appliance buying, repair, and maintenance.

Despite being the worst goalie in history, Steve is a fan of the Bruins and college hockey, loves to read, and is a Peloton biker. The love of his life is his daughter, Sophie.
A Note About Pricing
Pricing on this blog is for reference only and may include time sensitive rebates. We make every attempt to provide accurate pricing at time of publishing. Please call the stores for most accurate price.