Top 4 Best Integrated Refrigerators for 2021 (Reviews / Ratings / Prices)
With an integrated refrigerator, you cannot tell the difference between the refrigerator and the actual cabinet.
Typically, you need an integrated refrigerator less than 24 inches deep for this type of appearance in your kitchen to disappear behind your standard 24 inch deep cabinets.
You have plenty of good brands in this niche like Thermador, Sub-Zero, JennAir, Miele, and others.
However, the price is higher, and with less depth, you lose cubic footage.
In addition to showing you the 4 best-integrated refrigerators, you will also learn a few tricks to turn any refrigerator into an integrated flush look.
First, you should also know the differences between built-in and counter-depth refrigerators.
The terms column, integrated, shallow depth, counter depth, and pro counter depth are often used interchangeably and are admittedly confusing.
Please feel free to ask any questions in the comment section below.
I also focused on panel-ready models, and you will see prices for all the models in each brand plus their most popular units.
Short on time? Get our free Counter Depth Refrigerator Buying Guide
What Is the Difference Between Counter Depth and Integrated Refrigerators?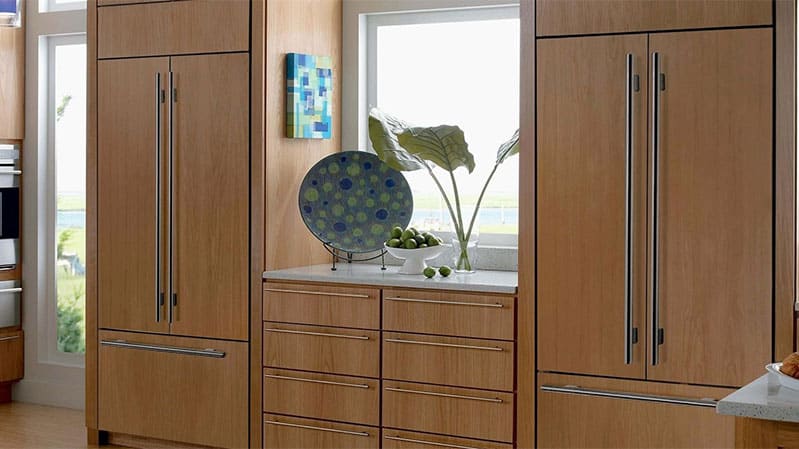 Sub-Zero Integrated Refrigerators with Custom Cabinet Panels and Bottom Freezers
Both are considered built-in refrigerators and accept panels. Both will be called "shallow depth" as well.
The main differences are in the width and depth, although integrated refrigerators can be shorter in some cases.
Width
Integrated refrigerators are smaller and are mostly designed to be purchased in sets of two.
For example, you buy a 30 and 18-inch refrigerator and freezer in place of a 48-inch refrigerator.
You can customize a bit better and place your refrigeration anywhere.
Sizes range from 18 inches to 24,30, and 36 inches widths.
Counter-depth refrigerators are deeper for total cubic footage than an integrated refrigerator.
It's also less expensive per cubic foot than an integrated unit.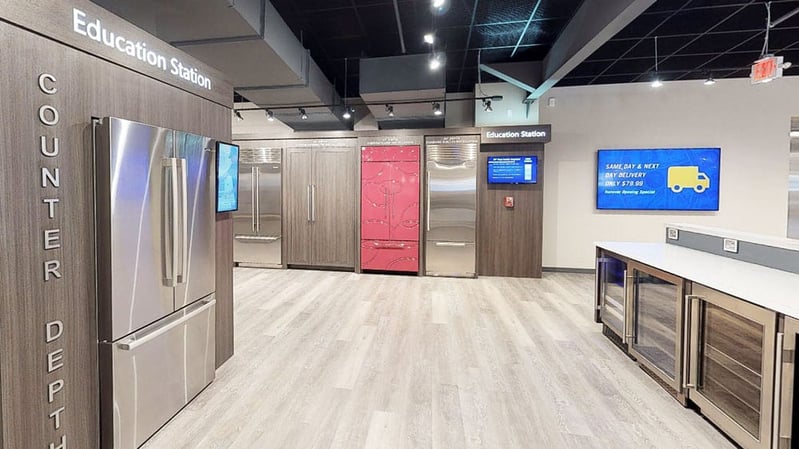 Counter-Depth Refrigerator at Yale Appliance in Hanover
There are two different types of counter-depth refrigerators ranging in size from 30 inches to 48 inches.
"Professional" counter-depth refrigerators have the compressor on the top to look like a commercial refrigerator.
"Regular" counter-depth refrigerators look like regular refrigerators, just shallower than a normal refrigerator.
Depth
An integrated refrigerator's depth is designed to be flush to your 24-inch cabinet with a panel.
Counter-depth varies, but the refrigerator depth is 24 inches plus the depth of the door.
In other words, the integrated is flush, whereas the door will protrude on the counter depth.
Pro Tip: You can design any counter depth to look integrated with this one trick. If you build your cabinets out to 27 inches, you can integrate any counter-depth refrigerator.
The costs of a pro counter depth, integrated refrigerator, or column can cost between $10-18,000, depending on what you purchase.
KitchenAid has the only regular counter depth with the ability to accept panels. However, it has a black trim around the door, so it ruins the look.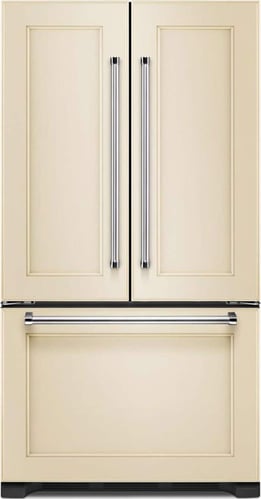 Unless you build the cabinet out, this refrigerator is your lowest price at $3,499 by far for 22 cubic feet.
Types of Integrated, Built-In Refrigerators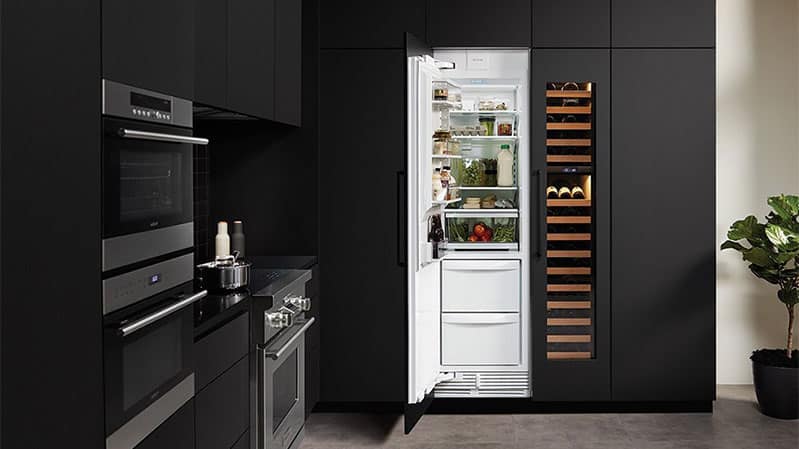 Sub-Zero Integrated Column Refrigeration with Custom Cabinet Panels
Integrated built-ins are available in all different styles.
You have what the industry calls "columns." Just another tricky parlance to mean either all-refrigerator or freezer.
It can also mean both depending on the company or your salesperson (if they know).
Then you have all different types of combinations.
Thermador will have a French door, while Sub-Zero has several different drawer types of configurations.
Just know you can buy an integrated refrigerator in tons of different ways.
Pro Tip: Both integrated and counter depth refrigerators can be paneled or stainless. Depending on what you do with your cabinet, integrated looks better with a cabinet, whereas a professional refrigerator looks a bit better in stainless.
The 4 Best Integrated Refrigerators for 2021
1. Sub-Zero IC-30RID-RH & IC-18FI-LH Integrated Refrigeration - $15,120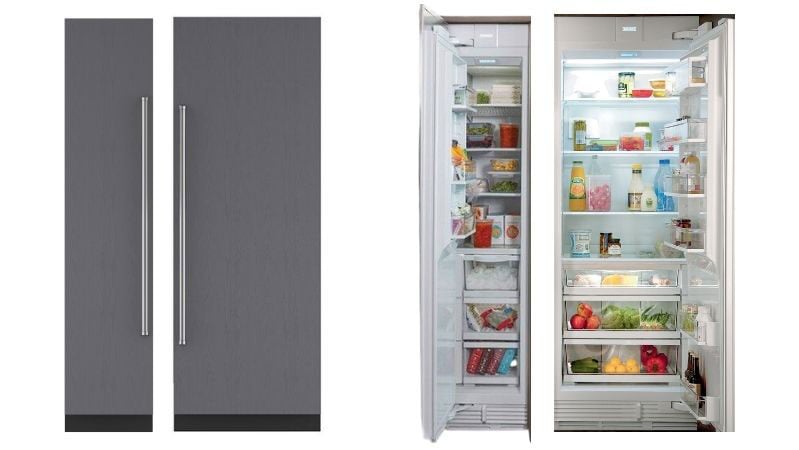 Sub-Zero Freezer Column: IC-18FI-LH - $7,030 | Sub-Zero Refrigerator Column: IC-30RID-RH - $8,090
Sub-Zero was the original industry pioneer for built-in refrigeration about fifty years ago. They manufactured the first column but at an odd, now discontinued 27-inch size.
They still have the best seal, so air cannot infiltrate into your refrigerator to spoil your food.
Crispers are magnetized, so they close better, not letting air into the crisper.
Their air scrubber "scrubs" the ethylene gas off spoiling foods and eliminates cross-contamination, so foods stay fresher, longer.
Sub-Zero makes more options that are 30" or 36" all-refrigerator or all-freezer bottom mounts as well.
Pros: Most model options, years of manufacturing, made in the US, options for internal water. Best filtering and air scrubber to prolong food life.
It has the best seal and is the only air scrubber for longer-lasting and fresher food.
Sub-Zero is number 1 because food lasts the longest in their refrigerator.
Their new Wi-Fi allows you to change temperature as well as alert you when the door is open or when the air scrubber or filter need to be changed.
We tested Sub-Zero against four other brands with fruit and vegetables over four weeks.
Sub-Zero performed the best. You can look at the results in the video below.
Cons: Interior is not as flashy as some of the others, no external water dispenser.
Their interior is not stainless. Lighting is just OK.
Features:
Made in the US
Dual Compressor and Evaporator
Accepts custom or stainless-steel panels
Double freezer drawers for optimal organization
Full height door - True cabinet integration without exposed venting grille
Internal water dispenser (optional)
Air purification system scrubs the air of ethylene, keeping food fresher longer
Crystal interior with Nano-coated spill-proof shelving
Soft-close doors and drawers
Soft-on LED lighting gradually illuminates refrigerator interior
Smart-touch control panel for user-friendly precise temperature management
Low temperature and high humidity-controlled storage crispers
2. JennAir JBRFR30IGX & JBZFL18IGX Integrated Column Refrigeration - $13,298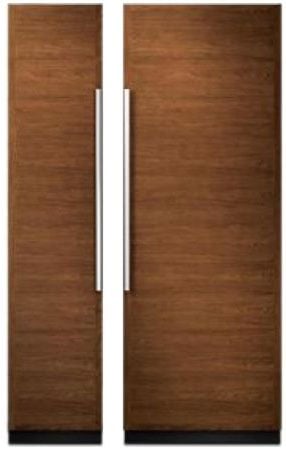 JennAir Freezer Column: JBZFL18IGX - $6,299 | Thermador Refrigerator Column: JBRFR30IGX - $6,999
JennAir is newer to integrated refrigeration.
They are among the first with Wi-Fi connectivity, along with Dacor (owned by Samsung). They were the first to be compatible with Amazon's Alexa.
JennAir's three-zone temperature management system allows you to differentiate the temperatures between multiple zones.
There are two zones for the crispers and one for the main compartment. The freezer has two as well.
The interior is striking and well-lit. The shelving is smart.
Along with Sub-Zero, JennAir uses nanotechnology on its shelves to congeal spills and prevent spreading.
Cleaning grape juice in a refrigerator is tough, but these shelves will help keep your refrigerator cleaner.
JennAir also has attractive rebates as well for a whole kitchen.
Pros: Well thought out the refrigerator with temperature management, Wi-Fi, and better shelving.
Cons: Availability is just poor and has been for years.
Features:
Obsidian Interior
Fully Flush, Fully Integrated Design
Style with Custom Wood Panels or Suite-Coordinating Stainless Steel Panel Kits (not included)
TwinFresh Climate Control System
Multi-Point LED Theater Lighting
Light-Guided Capacitive Touch Controls
Soft-Close Crisper Drawers
Produce Preserver
FreshFlow Air Filter
Variable Capacity Compressor
Automatic Ice Maker with Storage Drawer
Max Ice Option
Bottom-Freezer Refrigerator
Multi-Point LED Theater Lighting
3. Thermador T30IR905SP & T18IF905SP Integrated Column Refrigeration - $12,098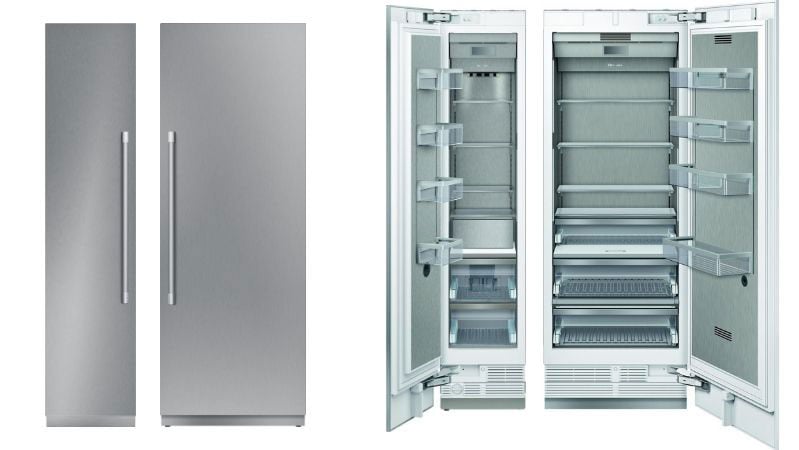 Thermador Freezer Column: T18IF905SP - $5,499 | Thermador Refrigerator Column: T30IR905SP - $6,599
Thermador, Gaggenau, Miele, and the Bosch built-ins are all in the same Turkish factory.
Until recently, Gaggenau was premium with a stainless steel interior. Miele has the best lighting along with their MasterChef crisper controls.
Bosch was the least expensive.
Thermador's integrated refrigerators have customizable bins, a touchscreen display, and a push to open door.
Brand new this year, Thermador's integrated refrigerators now have a stainless steel interior to keep food colder.
They added Wi-Fi so you can access the refrigerator remotely through your phone via Thermadors' HomeConnect app.
The water purification has been upgraded to filter 99.1%.
Later in 2021, Thermador will offer a less expensive unit as well, so Gaggenau on the high end and Bosch on the lesser expensive side will have to be repositioned or phased out.
Features:
Made in Turkey
Half-gallon bins on the door for more fresh food space
Door shelves and produce bins can be adjusted to any level on the door for more flexibility
Open door assist, the door can open with a light push to the panel, great for full integration with handless kitchen cabinets
Humidity controlled crisper drawers
A super cool feature in the refrigerator allows you to reduce temp to cool foods quickly temporarily
LED internal theater lighting
Soft-close doors and drawers
TFT touch controls to regulate temperature
Option for filtered external ice/water dispenser on 18" and 24" freezer columns
Automatically filtered diamond ice maker in the freezer
Wi-Fi
Stainless Interiors
Enhanced Purification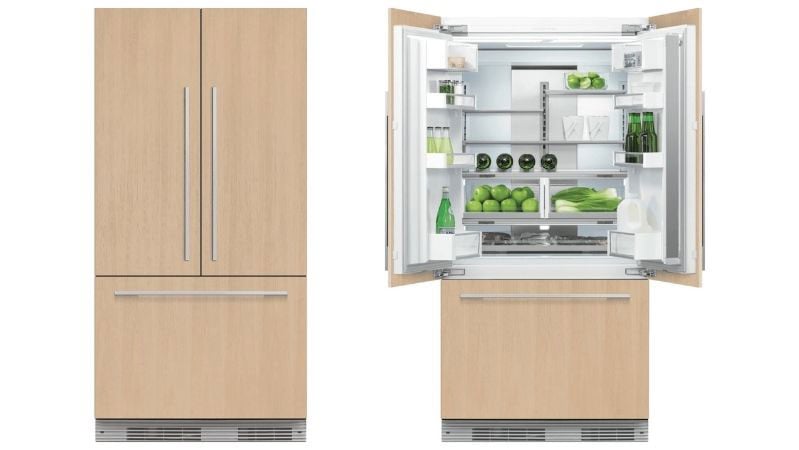 Fisher & Paykel Integrated Built-In Bottom-Freezer Refrigerator RS36A72J1N - $3,999
Fisher & Paykel is an appliance company based out of New Zealand now owned by Haier. They are best known for manufacturing narrow width, counter depth refrigerators, and dishwasher drawers in the US market.
Fisher & Paykel is the only basic refrigerator on this list besides integrating the Kitchen-Aid counter depth with panels.
It looks like a regular refrigerator, and at $6,000, it's the least regular integrated unit by far.
Pros: The price is aggressive.
Cons: It's tough to install a panel on this unit. It's available in just one size, 36 inches. It also lacks height like other column refrigerators.
The availability has been poor on this unit, but then again, availability has been poor for every brand.
Features:
Active Smart technology maintains consistent temperature and monitors your habits to operate efficiently
Ice maker with a filter built into the refrigerator (different than other freestanding Fisher & Paykel models)
Fast freeze allows you to lower the temperature temporarily so that you can make sure your groceries get cold quickly
LED internal lighting
Stainless panel option sold separately
Accessory kits available to extend height to fit old refrigerator cutouts
Which Integrated Refrigerator Should You Buy?
Integrated is the new growing trend for upscale refrigeration. Your choice will likely depend on aesthetic preferences, features such as internal or external water, service history, and your budget.
It depends on what you value, which we took the time to list below:
The Best Control Panel: JennAir Integrated Refrigerator
You have it on your phone with an app.
The Best Lighting: JennAir Integrated Refrigerator
JennAir's sidewall LED lighting is the best out there.
Runners Up: Sub-Zero and Thermador
These brands also offer a comprehensive TFT display to adjust refrigeration conditions.
Runner-up: Thermador
Best for Contemporary Kitchen Design: Thermador Integrated Refrigerator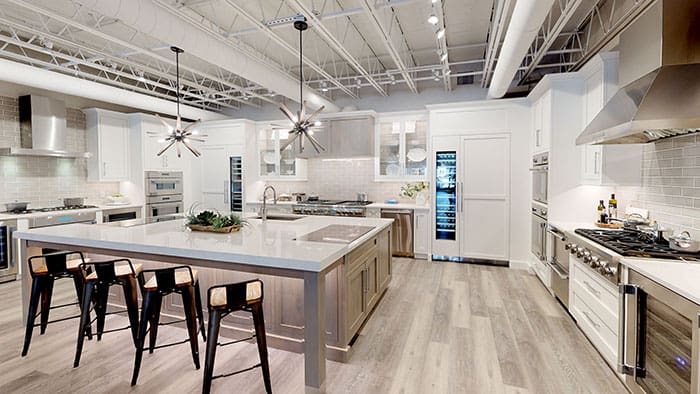 Thermador's new integrated refrigeration can be touch-to-open, perfect for handleless kitchen designs.
Best for Running Water: Sub-Zero Integrated Refrigerator
Sub-Zero offers a filtered internal water dispenser on many of their integrated models that maintain the seamless aesthetic of integrated refrigeration outside and do not affect internal refrigerator capacity.
Runners Up: Thermador
These brands make select freezers with external ice/water. However, the ice maker does take up a huge portion of the total cubic footage.
Least Expensive: Fisher & Paykel Integrated Refrigerator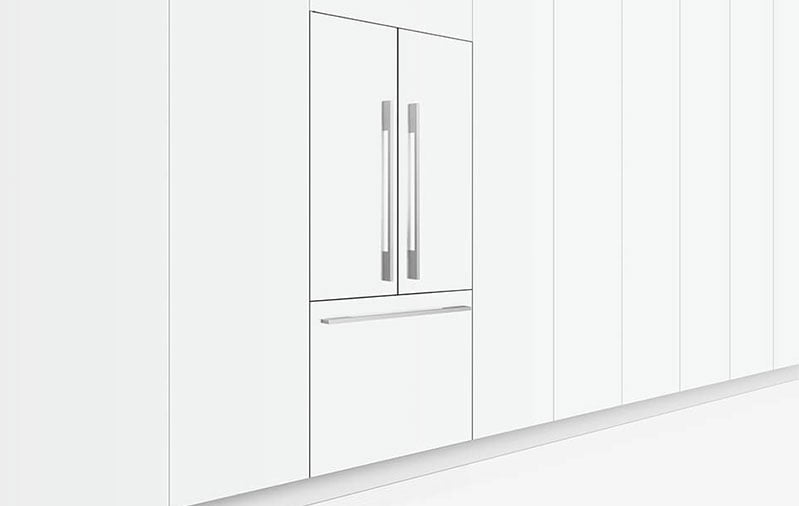 For years, the industry begged for a fully integrated counter-depth refrigerator. Fisher & Paykel is the first to market with a solution under $6,000.
Best Bins: Thermador Integrated Refrigerators
You can customize the bins for whatever you use.
Best Cooling System: Sub-Zero and JennAir Integration Refrigerators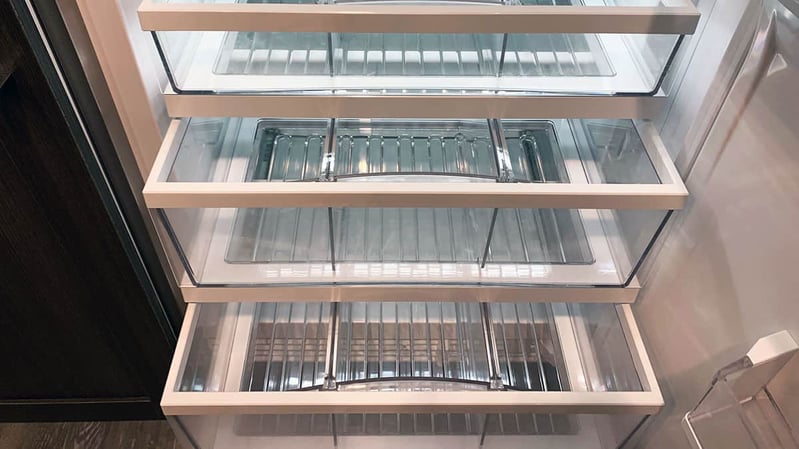 The goal is to make your food cold. Sub-Zero is the most advanced in temperature control in conjunction with an air scrubber system to remove ethylene gasses. JennAir has the best temperature management system with three zones.
Differences Between Sub-Zero, Thermador, and JennAir Integrated Refrigerators
| | | | |
| --- | --- | --- | --- |
| | Sub-Zero | Thermador | Jenn-Air |
| Sealed Door | Vacuumed sealed | Soft close door | Full magnetic seal |
| Push to Open Door | On a select few you can add the Press to Open accessory | Yes | No |
| Air Scrubber | Yes | No | No |
| Bins | Magnetic crispers | Customizable bins | Steel and aluminum bins |
| Nanotechnology Shelving | Yes | No | Yes |
| Wi-Fi Connectivity | Yes | No | Yes |
| Touchscreen Controls | Yes | Yes | Yes |
| Temperature Management | Touch controls for precise temperature management | You can temporarily reduce temperatures to cool foods quickly | Three temperature zones for better temperature management |
These are the top three integrated brands with their most unique features.
Sealed Door: It's tough to open a Sub-Zero door because it's designed to keep air out of your refrigerator. JennAir has a full magnetic seal. We will have to test both.
Push to Open Door: Thermador has this feature. It's interesting and useful because you can open the door even if your hands are full.
On certain models, you at one time could buy the additional accessory to have the press-to-open feature for a Sub-Zero refrigerator.
Air Scrubber: Sub-Zero, known for its reputation of keeping food fresher for a longer period, has an air scrubber to remove gas from spoiling foods and prevent cross-contamination. JennAir and Thermador do not have an air scrubber.
Bins: Sub-Zero's magnetic crispers prevent air from infiltrating your bins to keep food fresh. JennAir's bins are steel and aluminum, while Thermador's are fully customizable.
Thermador's customizable bins on the door are exceptional. You can order whatever kind of bins you will use.
Nanotechnology Shelving: JennAir and Sub-Zero have nanotechnology shelving making spills easier to clean up while not spreading or leaving juice or milk rings.
Wi-Fi Connectivity: All now have Wi-Fi connectivity
Touchscreen Controls: Thermador has TFT controls. Almost all your functions and controls can be accessed by on the top of the refrigerator. Sub-Zero and JennAir have touchscreen controls as well.
Temperature Management: JennAir has three temperature zones you can adjust and manage.
Which Integrated Do You Buy?
Fisher Paykel is the least expensive. Jenn-Air technically has the most features.
However, Sub-Zero and Thermador are the most popular by far.
Do you buy the lesser expensive stainless interior Thermador with a better rebate program or the better food preservation with the American-made Sub-Zero?
Frequently Asked Questions
1. What is an integrated refrigerator?
An integrated refrigerator sits seamlessly with your cabinets and looks great.
For example, GE, Whirlpool, and Frigidaire either do not manufacture an integrated refrigerator or sell a small amount through a subsidiary like GE Monogram. Only niche companies like Viking, Thermador, Gaggenau, Liebherr, Sub-Zero and Bosch actively market the product.
2. What brands make integrated refrigerators?
Integrated refrigerators are specialty products.
For example, GE, Whirlpool, and Frigidaire either do not manufacture an integrated refrigerator or sell a small amount through a subsidiary like GE Monogram.
Only niche companies like Viking, Thermador, Gaggenau, Liebherr, Sub-Zero and Bosch actively market the product.
3. What's the difference between built-in and counter-depth refrigerators?
A counter-depth refrigerator is a less deep freestanding refrigerator that comes side by side or French doors with a freezer on the bottom. They are 24" depth models that are designed not to exceed your cabinets. Most models are 36" wide.
Built-in refrigerators are built into the cabinetry. They are only 24" deep. They are 80 to 84-inches tall. They can run 30 to 48-inches wide. They accept wood panels that make refrigerators blend into the cabinets for a seamless look. They can also come in a stainless steel finish that gives you a professional look.
Integrated refrigerators are flush to the cabinet. Nothing protrudes. While the other two are noticeable, integrated refrigerators will look more like your cabinets.
Column Refrigeration vs. Refrigerators and Freezers
Integrated refrigerators are generally available at 18", 24", 30", and 36 inches to fit standard cabinet sizes containing both a refrigerator and a freezer.
Columns generally are the same size but are either refrigerator or freezer.
You customize columns to how much space you want to dedicate toward refrigeration or freezing.
Since I tend to use a lot of refrigeration space, I would place a bigger refrigerator column in my kitchen's central location. A smaller drawer integrated freezer can be placed anywhere since I use it so sparingly.
4. Do integrated refrigerators last longer?
The integrated refrigerator is a higher quality product. They are new, so it is hard to say. However, most lack the heavily serviced dispenser. Buying both units should add years as well.
5. What are the most reliable refrigerator brands?
The standard refrigerators like Whirlpool, GE, and Frigidaire are the most unreliable. The life expectancy is 8-10 years. The seam to have higher rate repair.
Samsung has the best repair record, yet awful service when there are issues.
Additional Resources
Download the Yale Counter Depth Refrigerator Buying Guide with features, specs, and inside buying tips to all the major brands of regular, professional and integrated counter depth refrigerators. Well over 900,000 people have read a Yale Guide.
Related Articles
Why Should You Trust Us?
It seems that every appliance review has nothing but glowing comments about almost every product, yet you read customer reviews and they are almost universally bad.
We are here to fill in the disconnect. We'll give you the best features, and the drawbacks as well, including reliability based on over 37,000 calls performed by our service team just last year. Our goal is to give you ALL the information so you know what's right for you.
Please consider subscribing or adding to the conversation in the comments below. We appreciate you stopping by.
A Note About Pricing
Pricing on this blog is for reference only and may include time sensitive rebates. We make every attempt to provide accurate pricing at time of publishing. Please call the stores for most accurate price.