What's the Difference Between the La Cornue Château and the CornuFé Series Ranges?
La Cornue is considered the best range in the world allowing you endless color choices and more customized cooking based on your preferences.
They manufacture two series - the highly personalized Château series and the less expensive CornuFé. It's probably confusing knowing the Château ranges are more expensive. You should know why.
In this article, we'll highlight the best features of both series, how they compare, and how they stack up to competitive brands.
We will also explain every cooking mode for both series and, more importantly, what the cooking mode is most commonly used for. In the end, you will know which range is right for you. Let's get started.
Short on time? Get our free Pro Cooking Buying Guide
Who Is La Cornue?
La Cornue Château Series Professional Range
La Cornue is a French range manufacturer dating back to 1908. They pioneered the first convection oven. Before that, food was cooked over a flame. Recently, La Cornue was bought by Middleby Residential, the same manufacturer of Viking appliances.
Ordering La Cornue Ranges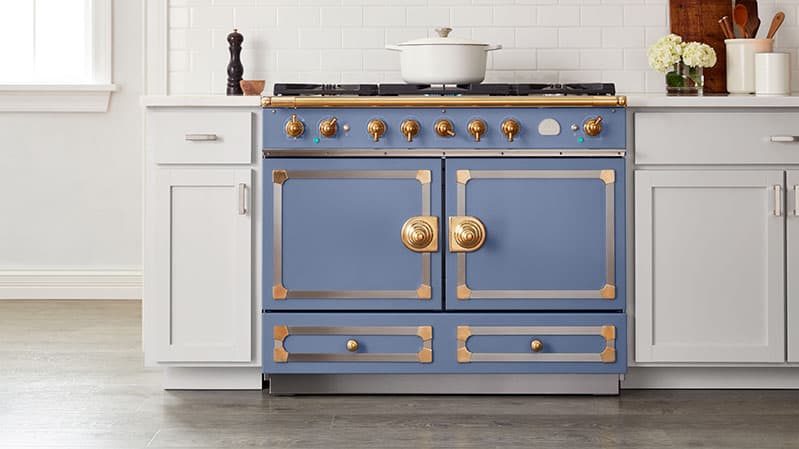 La Cornue CornuFé Lavender Blue Range
Nowadays, La Cornue is known for incorporating the best materials into its ranges. Each unit is individually hand-made and customized based on your requests and specifications.
For instance, you are assigned a project manager for your Château range. It is a detailed process only offered by La Cornue, guaranteeing you are delivered the right range.
It's pretty amazing since the Château series has 8,000 different possible ranges customized by size, finish, stovetop, and trims.
It's quite a testimony that they have never had a mix-up between Provence or Lavender Blue.
La Cornue Manufacturing
Most of the range is still built by 60 master craftsmen who spend generations building and refining their ranges. Machines were added only recently to aid the process.
One of their master craftsmen talks about manufacturing a La Cornue range on their YouTube channel. You get a real sense of his passion for manufacturing ranges for people. It's impressive as he talks about his craft. It's unusual in a world of automated mass manufacturing.
La Cornue Château Series Ranges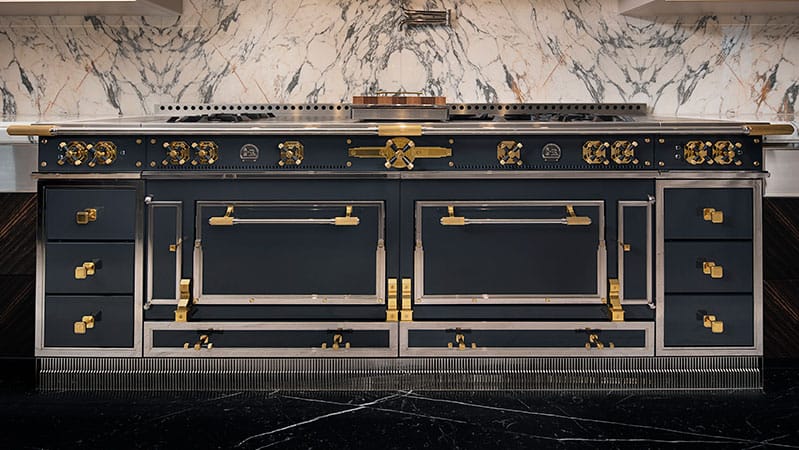 La Cornue Château Suprême Range
La Cornue is a completely different range with the ability to customize colors, trims, and even the configuration of the tops. It is the finest range you can buy, but it's not for everyone.
In the video below, you will learn about La Cornue's Château series ranges, along with its best features and a few drawbacks to consider.
Features of La Cornue Château Ranges
Ability to Customize
Custom Designed La Cornue Range
You can design almost anything with La Cornue. Colors are bold in La Cornue, but you can personalize this range in your own finish if you want.
Many companies like Viking, BlueStar, Capital, and Bertazzoni offer colors at lower prices. However, La Cornue executes color better than any other brand.
You can choose between 48 colors and six trims.
Your La Cornue range is designed to be an heirloom and focal piece in your kitchen. You can also request any other color for a custom look. People have sent in paint samples.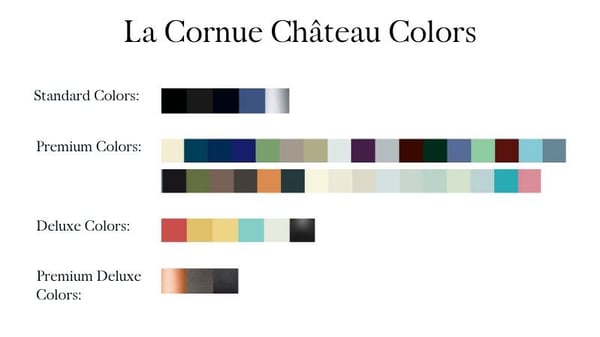 Oven Design
La Cornue Château Oven
Most upscale brands have convection ovens but La Cornue's convection system is unique. The air flows from the bottom of the oven, not from a fan in the back. Oven fans can dry out your food.
To prevent this, La Cornue has a patented concave arched top to provide a natural convection effect so your food cooks evenly without drying out.
The larger ovens from 46.5" and up have one gas oven great for roasting and broiling. You also have an electric oven. Electric heat is better for baking. Then again, you can choose both ovens to be electric or gas.
Cooking Modes
I had our chef describe how you would use each mode. The Convectional Heat Mode is similar to old-fashioned (thermal) ovens without convection. This mode would work as a finishing mode to crisp the bottom of pastries or cakes. You could also make pizzas in this mode.
The Floor Vault Combination Function operates with top and bottom heat only, the top being hotter and cooler as you get to the bottom of the oven. This mode also claims to offer a temperature variance from top to bottom, the top being hot and the bottom being cool. With this function, you could bake delicate pastries, cakes, or soufflés that need to rise in the oven.
The Forced Air Convection Mode is known as True European Convection. With a fan and heating element at the back of the oven. There is no top or bottom heat in this mode. It's great for multi-rack cooking, like three trays of cookies or any items that cook at similar temperatures.
The Convection Assisted Oven Mode offers heat from all three sources - top heat, bottom heat, the convection fan, and the third heating element around it. It's fast, intensive, and great for larger items like roasts, so the time and temperature will be adjusted accordingly.
The Defrosting Mode circulates cold air through the oven cavity, which is ideal for thawing out smaller cuts of meat like fish fillets and chicken. You could defrost desserts and frozen cakes on this mode as well. It is not recommended for larger cuts of meat.
The Broiling Function uses intensive direct heat from the top of the oven. It's used as a finishing mode to melt cheese or brown the tops of casseroles and lasagnas.
The Convection Broiling Mode uses direct heat from the top of the oven and a convection fan circulating the heat, making the broiler less intense. You could cook denser or thicker cuts of meat like steaks or whole fish with this mode.
Rangetop Configuration
La Cornue Château Stovetop Options
Unlike every other manufacturer, the rangetop is fully customizable with every type of burner from electric to gas and French tops.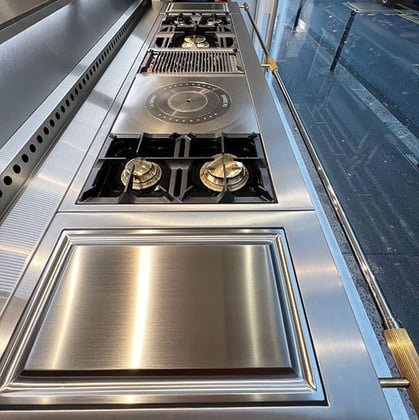 Gas Burners:

17,000 BTU (British Thermal Units) and One 7,500 BTU. The burners are sealed brass, not stainless, for more evenly distributed heat.

Lava-Rock Grill:

T

he Lava-Rock Grill has a linear 14,500 BTU gas burner running front to back beneath a bed of natural lava rocks to more evenly disperse the flame.

Power Burner:

The Power Burner at 22,000 BTU is great for sautéing, stir fry, and wok cooking.

French Top:

A French Top is one gas burner beneath a solid cast iron top and radiates heat outward so you can cook multiple items at different temperatures.

Induction Burners:

Induction is the fastest to heat but also has the lowest simmer due to its infinite control.

Teppanyaki:

A Teppanyaki allows cooking throughout the surface at one temperature only. It is coated in chromium for easy clean-up. With a Teppanyaki stovetop, you can set your food directly onto its surface, similar to a griddle.
La Cornue Château Sizes and Prices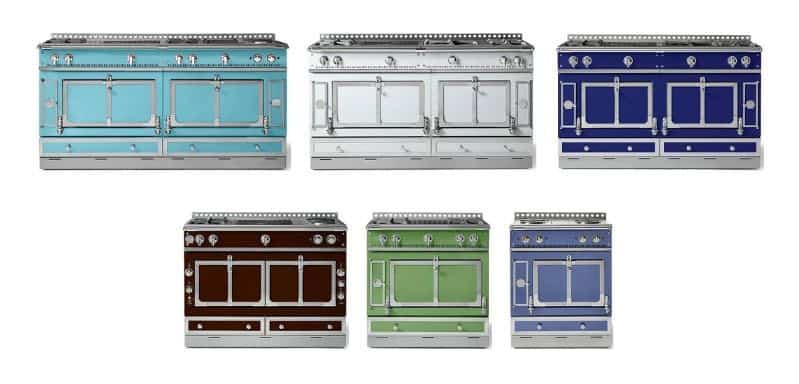 When we teach classes in design, we always talk about how appliances fit in standard openings. It is true for almost every brand.
Except for La Cornue, the dimensions are similar but not the same. American cabinet specifications for ranges are 20, 24, 30, 36, 48, and 60 inches in width.
The following are sizes in widths and starting price for La Cornue Château ranges:
Grand Palais 180: 70 inches from $60,300
Le Château 165: 65 inches from $56,000
Le Château 150: 59.1 inches from $52,300
Le Château 120: 47.2 inches from $49,275
Le Château 90: 35.4 inches from $34,700
Le Château 75: 29.5 inches from $27,500
La Cornue Château Ranges vs. Other Competitve Professional Ranges
You can buy many ranges with decent colors and less expensive options like a Bertazzoni or Fisher & Paykel. Viking and BlueStar professional ranges offer custom colors like La Cornue.
However, only La Cornue allows you to customize the top with gas and electric ovens along with more vibrant color and trim combinations.
Every company uses fan-driven convection, and only La Cornue allows for extensive customization.
Lacanche is another French brand. It's a beautiful range. However, Lacanche is a convection range using air and vapor instead of the natural convection like La Cornue.
Read More: Should You Buy a La Cornue Château Professional Range?
La Cornue CornuFé Series Ranges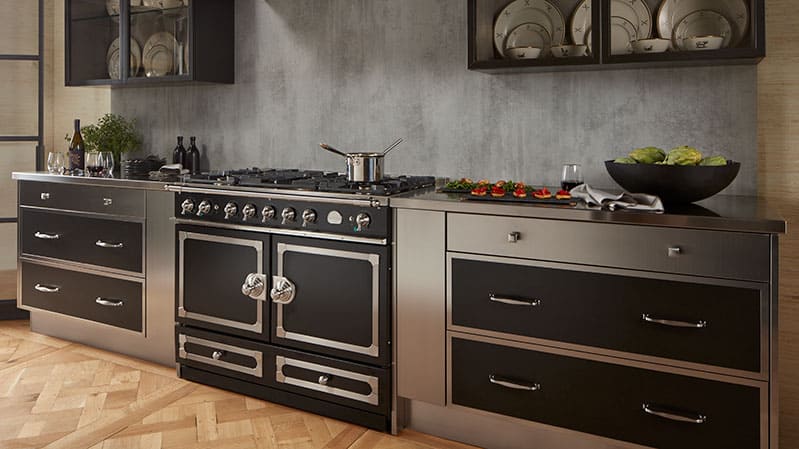 La Cornue CornuFé 110 Series Range
The CornuFé is a unique range and very different from the Château series as well as different manufacturers. In the video below, we will review the CornuFe series as well as the benefits of considering a La Cornue range.
Features of La Cornue CornuFé Series Ranges
La Cornue's CornuFé series ranges are built in more of a factory than the Château's artisanal "workshop" because a CornuFé range is more of a standard product for La Cornue, unlike the customizable Château.
The CornuFé has fewer options and sizes than the larger Château.
You still have colorful finishes and a unique look for far less money. The CornuFé is French engineered but manufactured in England in an AGA Rangemaster factory. The Château is still manufactured in France.
AGA is another sophisticated range line also owned by Middleby. You may have seen an AGA range in a magazine or online. They have an "always-on" heater range.
Ability to Customize
The CornuFé offers 12 colors and your choice of three trims instead of the 48 colors and six trim options of the Château. However, you can now customize the CornuFé in the Château colors as a special order.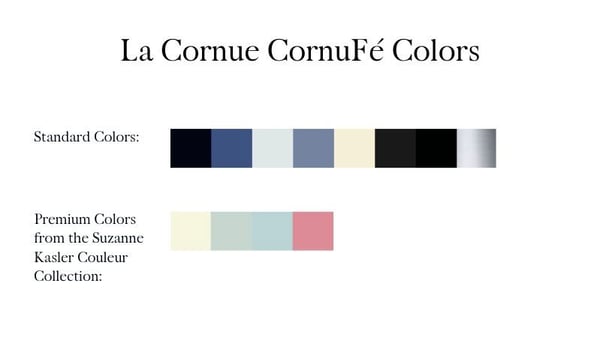 CornuFé Oven Cooking Modes
Both ovens are electric convection with seven different cooking modes designed for any type of cooking. The seven cooking modes are Thaw and Serve, Convection, Convection Broiling, Convection Assist, Conventional, Browning, and Warming.
The following is a description of each cooking mode and how you would use it.
Thaw and Service Mode circulate cold air into the oven to speed up the defrosting process. It's ideal for defrosting desserts, cakes, and smaller cuts of meat and poultry. You don't want to defrost your food with heat because it induces bacteria growth.
Convection Mode used fan-forced heat for more even baking and multi-rack cooking. La Cornue uses pure convection with the heating element behind the fan. When converting a recipe to convection, always use the 25/25 rule. Set convection at 25 fewer degrees for 25% less cooking time.
Convection Broil utilizes the fan and the broiling element great for denser meats and larger cuts of fish. Convection Broil distributes heat better and caramelizes your food without the intense heat.When using any broiling mode, use a grill pan to eliminate flareups and place your food on the bottom rack.
Convection Assist uses top and bottom heat with a fan disbursing it. This mode is not true convection with the element behind the fan. It's a cycle to use with longer cooking times because it does not dry out the food. Ideally, placing your food on the middle rack would be the best for this model.
Conventional Mode is a traditional thermal oven without a fan. It works with bread and other foods needing to rise like a soufflé.
Browning uses less intense heat than broiling used for melting cheese or toasting coconut flakes or nuts.
With Warming, you can keep food at a lower temperature because only the lower element is activated. Want to crisp the bottom of a pizza? Try the warming mode.
CornuFé Range Accessories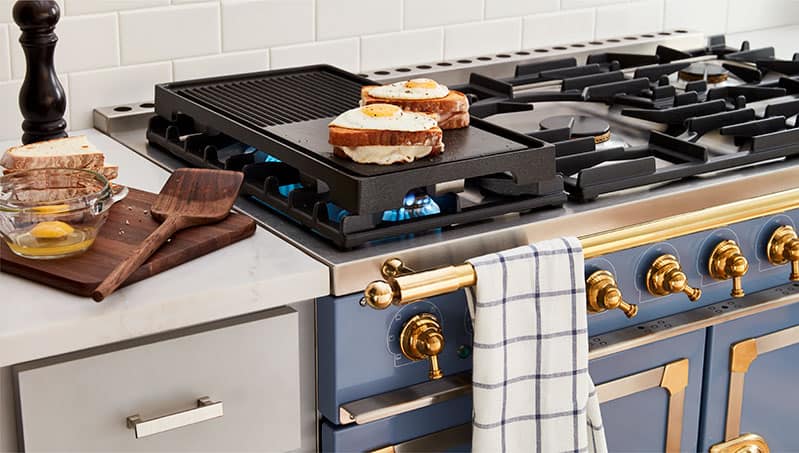 La Cornue CornuFé Griddle Accessory
There are three accessories. The French Plaque or French Top spreads the heat out to cook different items at different temperatures.
French Top Accessory:

It provides a large, flat surface for indirect heat – perfect for simmering and slow cooking. This cast aluminum accessory holds up to five pots and radiates heat from the center resulting in multiple heat zones. The Château offers the French top to be integrated into the range, unlike the CornuFé.

Grill and Griddle Accessory:

The reversible grill and griddle accessory comprises coated cast aluminum and features a half grill and half griddle. It's perfect for quick indoor grilling and fits snug over the two left burners of the CornuFé 110 and 90 dual fuel ranges. Of course, you do have the griddle option with the Château.

Wok Accessory:

You also have a Wok ring accessory for holding a wok.
La Cornue CornuFé Sizes and Prices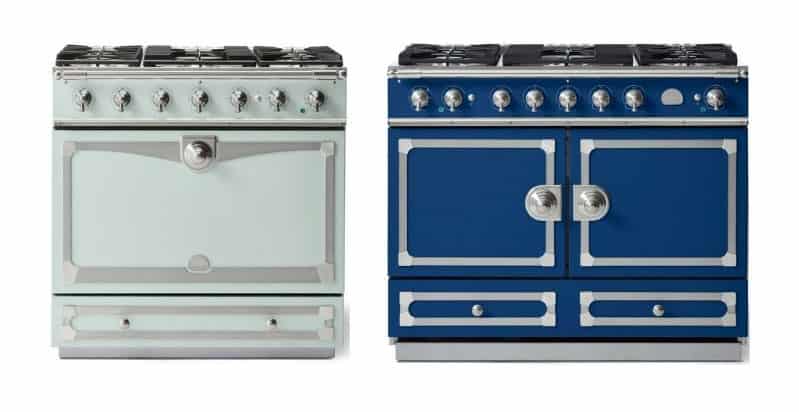 There are two sizes. The CornuFé 90 Albertine is 35.4 inches wide and starts at $8,475 in duel Fuel and $9,500 in induction versus $34,000+ for the similar-sized Château.
The CornuFé 110 is 43 inches at $10,450 in gas and $11,700 in induction. The Château only has 36, and 47 inch ranges between $34,000 and $47,000. Both have the same top, either five gas burners with a 17,000 BTU max burner or a five-zone induction top.
The 43-inch range has a double oven, whereas the 35.4 has a single oven. Forty-tree inches is an odd dimension, especially in the US. However, it is the most popular single range.
What people do is customize the kitchen around the range. In this case, place the range by itself in your kitchen instead of in a row of cabinets.
CornuFé vs. Other Competitve Ranges
If you are looking for high output from a professional range, the La Cornue CornuFé has average power with a max burner of 17,000 BTU on one burner versus 18,000-25,000 BTU on a professional range.
It does not have the robust features of many modern ranges like steam functionality and Wi-Fi connectivity of a Wolf dual fuel, Miele, or Thermador range.
The CornuFé may not have the high output power but has great color options and style, whereas most professional ranges come in stainless finishes only. You also have more cooking modes on the CornuFé.
Read More: Should You Buy a La Cornue CornuFé Range?
What's the Difference Between the La Cornue Château and the CornuFé Series Ranges?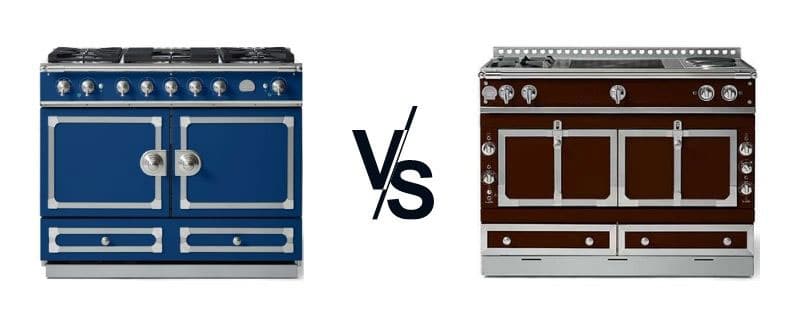 As we mentioned above, the CornuFé is the less expensive version of the French-made Château.
The Château has ranges from 29.5 inches to 71 inches, whereas the CornuFé only has two sizes at 35.4 inches and 43 inches.
The ovens of the Château have an arched top with the air emanating from the bottom for natural convection. The CornuFé's oven uses fan-driven electric convection. Oven fans can dry out food a bit more than a natural convection oven.
You can customize every aspect of the Château from styles of burners to 48 colors and six trim packages compared to 12 colors and three accessory options for the CornuFé.
However, the size, customization, and natural convection capability cost much more for the Château series. The Château starts at $27,500 for a 30-inch range versus $8,475 for the CornuFé in 35.4 inches. The Château range in 30 inches is more than triple the cost of the CornuFé range.
In terms of how it compares to other ranges, no other range is quite like it. Many offer competitive ranges to the CornuFé colors like Bertazzoni and Fisher & Paykel.
Both ranges look good, but La Cornue looks more refined and is built better with more usable cooking modes. However, La Cornue is not for everyone. La Cornue makes functional, personalized, and beautiful ranges.
However, neither series of ranges are technical and don't have some of the updated conveniences of other brands.
La Cornue's ranges don't have a clock and timer, although many professional ranges, like BlueStar, do not. They don't have Steam Assist like Miele's pro range ovens or Thermador with their full steam oven in their larger 48-inch and 60-inch ranges. They are also not Wi-Fi enabled like JennAir, Thermador, or Wolf.
Which Range Should You Buy, the La Cornue Château or the CornuFé?
They are two different ranges. The Château gives you the ability to customize the range to how you cook. You choose the top, the oven, and the color. However, all that customization increases the price.
The CornuFé is a good-looking alternative available in various styles with the most popular options. It is a good, less expensive alternative to the best range manufactured, the Château.
La Cornue Château and CornuFé Frequently Asked Questions
1. Do the La Cornue Château and CornuFé Ranges Have a Window to View the Inside of the Oven?
No, they do not have a window into the oven. You just open the door. The temperature will still stay constant as part of the design. Most users are active cooks and would open the door to measure if their food is cooked through. Also, you don't need a service call to clean the fog inside the windows.
2. Do They Have a Clock and Timer?
Although most French ranges do not, some ranges like BlueStar and Vikings do not either. You will have to adjust to not having a clock and timer but, more than likely, your phone can provide those features.
3. Are the La Cornue Château and CornuFé Ranges Wi-Fi Enabled?
Most ranges have smart functionality. La Cornue does don't have smart features at this time.
4. Are the 110 Ovens Too Small?
The user reviews suggest otherwise. They appreciate the versatility of having two distinct ovens to cook different foods. You can fit a 9 x 13 pan easily. However, it cannot fit a 16-inch diameter pizza dish. Then again, most ranges can't either.
5. Does La Cornue Range Have Self Cleaning?
Neither lines offer self-cleaning. Many professional ranges do not offer self-cleaning such as BlueStar, Wolf in all gas, Thermador Harmony in all gas, and some Viking ranges. High heat self-cleaning will, over time, compromise the inside of the oven liner.
Additional Resources
Get our free Pro Cooking Buying Guide with tips, trends, and reviews of all the best brands. Over 1 million people have already found answers in a Yale guide.
Related Articles
Why Should You Trust Us?
It seems that every appliance review has nothing but glowing comments about almost every product, yet you read customer reviews and they are almost universally bad.
We are here to fill in the disconnect. We'll give you the best features, and the drawbacks as well, including reliability based on over 37,000 calls performed by our service team just last year. Our goal is to give you ALL the information so you know what's right for you.
Please consider subscribing or adding to the conversation in the comments below. We appreciate you stopping by.
A Note About Pricing
Pricing on this blog is for reference only and may include time sensitive rebates. We make every attempt to provide accurate pricing at time of publishing. Please call the stores for most accurate price.