Best Professional Outdoor BBQ Grills for 2021 (Reviews / Ratings / Prices)
Choosing a professional grill is not an easy choice.
Kalamazoo is the best professional grill without question and the most unique, as you will see.
However, the price of their grills starts at $15,000.
What you should buy in the next tier down between Hestan and Lynx is not as clear. It depends on how you use the grill.
They look similar but differ greatly with features like infrared burners, rotisseries, and overall construction.
In this article, you will learn the features, differences, and a few problems between all three premium grills.
As a bonus, in the end, you will see the differences between a pro grill and Weber's best regular grill.
You will also learn the other grill types like pellets and charcoal grills. They cook differently than a professional gas grill.
You should know the difference before you buy any grill.
Let's get started.
Narrow down BBQ grill options with our free tool
Best Professional Outdoor BBQ Grills for 2021
First, let's talk about what they have in common and what you should expect from a professional grill.
First, each grill is made of type 304 stainless steel. There are no plastic or painted metals in any of the three.
The burner output on all three is 25,000 per burner. We will talk about the different burner compositions a bit later.
Each is available as a built-in to be placed in an outdoor kitchen or stand alone as a freestanding in several different sizes.
Lastly, each brand has matching appliances to outfit your outdoor kitchen.
If you are looking to design an outside space, click this link for our webinar and step-by-step guide.
Best Pro Grill Overall: Kalamazoo Hybrid Fire Grill K500HS - $21,995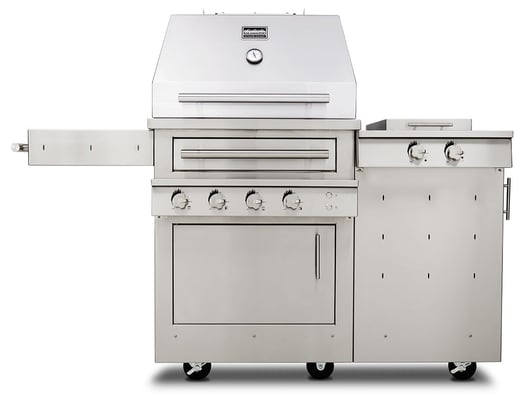 Sizes available in built-in and freestanding: 28, 37 7/8, and 54 inches
Kalamazoo is built to order and unique in so many ways. It will allow you to BBQ differently with its hybrid drawer.
You can add wood and charcoal to infuse better flavor and texture than just using a straight gas grill.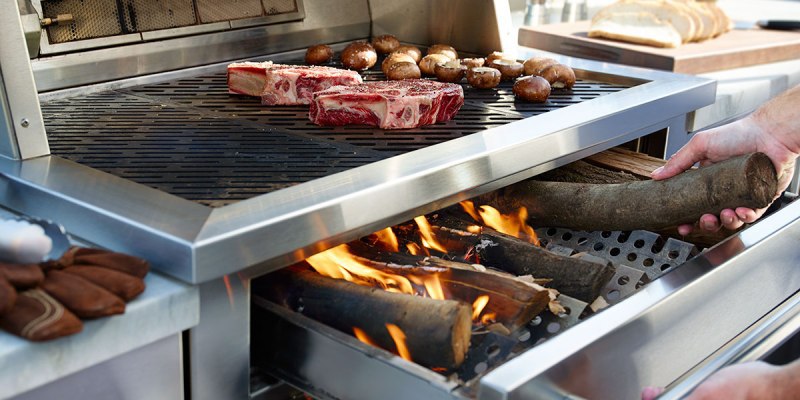 Kalamazoo Wood-Fired Grilling
It's easier to light with the burners stationed below, unlike a traditional charcoal grill,
All you have to do is open the drawer to refill the charcoal, which is much easier than a traditional charcoal grill.
Searing Capability
Unlike Hestan and Lynx, Kalamazoo does not have a true sear zone. However, when you add charcoal, the grill does reach sear temperatures of 1,200 degrees.
Burner Output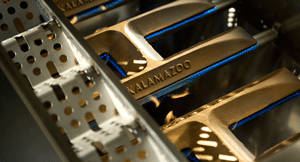 Kalamazoo Hybrid Grill Brass Burners
Kalamazoo is a powerful grill as well.
Like Hestan and Lynx, the burners are 25,000 BTUs each, but unlike the others, the cast brass weighs about 14 pounds with the ports placed in the back, so they don't clog over time.
Natural Convection
Its deep well grill construction allows for more air circulation and natural convection, so food is also cooked more evenly.
Clean Up
Along with the deep well, clean-up is easy for ash and grease with collection located in the bottom.
Customization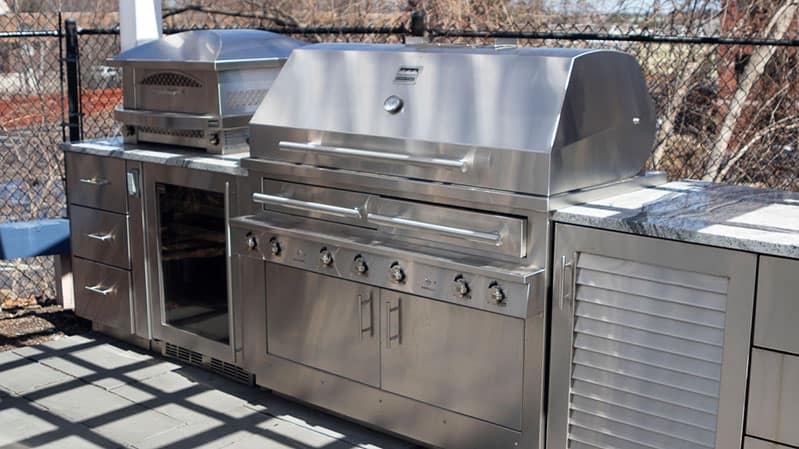 Kalamazoo Outdoor Kitchen at Yale Appliance in Framingham
The grill can be customized even to the grates designed for meat, fish, veggies, and even a Pancha or griddle to cook breakfast items.
Kalamazoo is also available in marine-grade metal if you live by the ocean for a higher price. "Marine Grade" is a marketing term.
It's usually a better grade of stainless or a taurine finish to resist rusting.
Each Kalamazoo is handcrafted in Michigan and signed by the people who built it.
Kalamazoo Problems
This grill has no apparent weaknesses. The infrared rotisserie burner is not as hot as the Hestan at 18,000 BTU.
Kalamazoo is more than double the price of the others, starting at $14,595 for a built-in and $16,695 for a freestanding grill.
You have to wait 2-3 months to get it as well.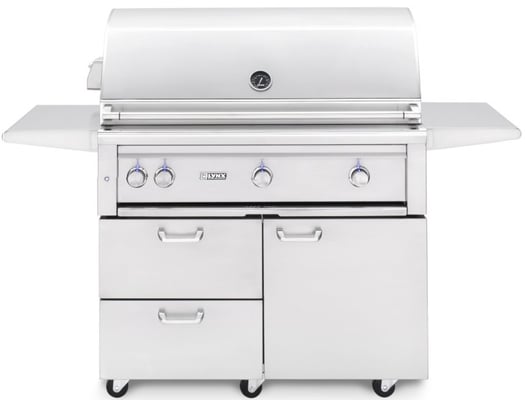 Sizes available in built-in and freestanding: 27, 30, 36, 42, and 54 inches
Lynx was the first and probably best-known professional grill.
This grill is available in 4 ways as all gas burners, a combination of gas burners and their trident infrared burner, all-infrared red burners, and the only pro-Smart grill be operated from your phone.
Infrared Burner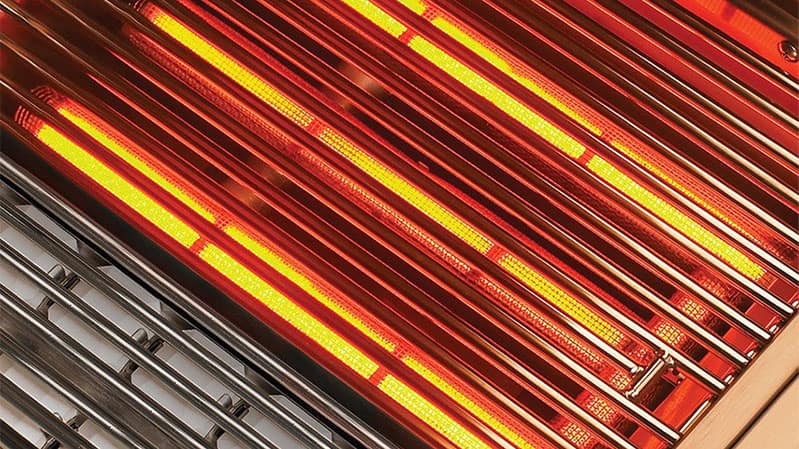 Lynx Infrared Burner
The infrared trident is direct, intense heat, unlike a traditional gas burner that spreads heat. For a grill, you can quickly sear the outside of your meat without overcooking.
In a Lynx trident, the sear is variable from 300-1,000 degrees, so you can turn down the heat rather than moving your food and placing it on another burner.
As I said, you can buy the Trident sear on all the grills or with just one burner if you also want a traditional gas burner.
Ceramic Burner
Unlike the other two, Lynx has a ceramic burner instead of cast brass.
Cast brass is excellent, but ceramic never weathers.
They placed the burner ports on the underside so that they won't get clogged with any drippings.
Heat Distribution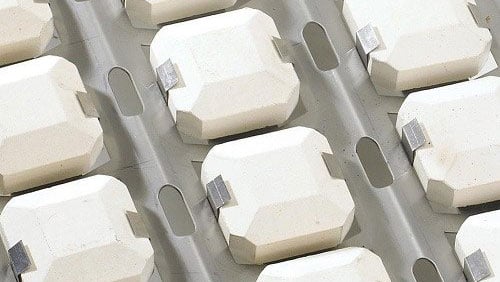 Lynx Grill Briquettes
For heat distribution, Lynx has the briquettes to increase heat and reduce flare-ups.
Just flip the briquettes to self-clean.
You also have a slide-out shelf to catch any drippings.
As we mentioned previously, Lynx is the only Smart Pro BBQ grill.
You can receive alerts to turn the food over or remove it using 300 sensors throughout the grill.
It even has a learning algorithm to learn how you like your food cooked and a recipe interface through an app on your phone.
At least that's what's advertised.
However, the technology hasn't kept up with the marketing. Also, with the worldwide chip shortage, you probably won't see the Smart Grill this year.
If you want Smart technology, use the Webers IGrill accessory using BlueTooth thermometers.
Lynx Problems
Availability will be tough in 2021. Lynx is a solid grill. However, Hestan will have thicker grates and a better rotisserie burner (as you will see).
The Smart Grill is a great idea but hasn't evolved.
Sizes available in built-in and freestanding: 30, 36, and 42 inches
Hestan is the industry's newest grill with a ton of features. Let's start with the grill hood.
You can move it with one finger like the others, but the Hestan will stay in place so that you can grill with the hood partially open.
Grates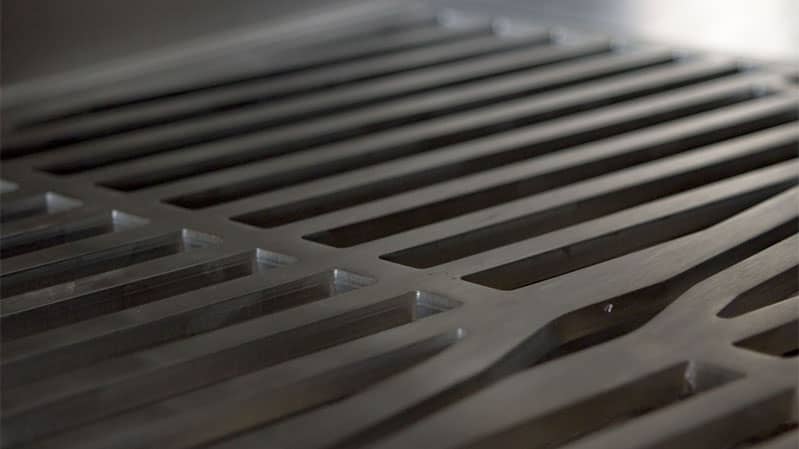 Hestan BBQ Grill Diamond-Cut Grates
Hestan has the diamond cut, thick grates at 5/16ths of an inch. It will hold heat and be more even as well.
Heat Distribution
Like Lynx, Hestan features reversible briquettes for evenness of cooking, reducing flare-ups, and easier cleaning.
Trellis Burner
The Trellis burner is a 321-grade metal with ports on all four sides.
Typically, metal would rust, but Hestan has done significant saltwater testing to prove its superiority to type 304.
Variable Rotisserie Burner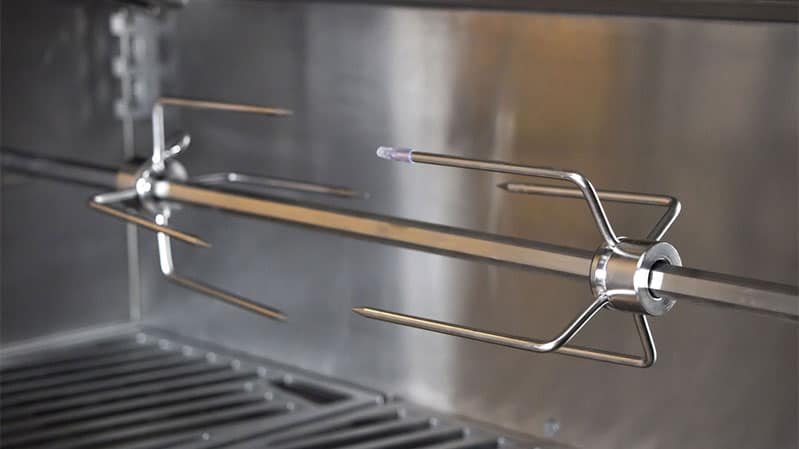 Hestan BBQ Grill Rotisserie
Their rotisserie infrared burner is the best and is variable between 12-18,000 BTU.
It's located on the top, so you can use it for cooking on the utility shelf right below.
Customization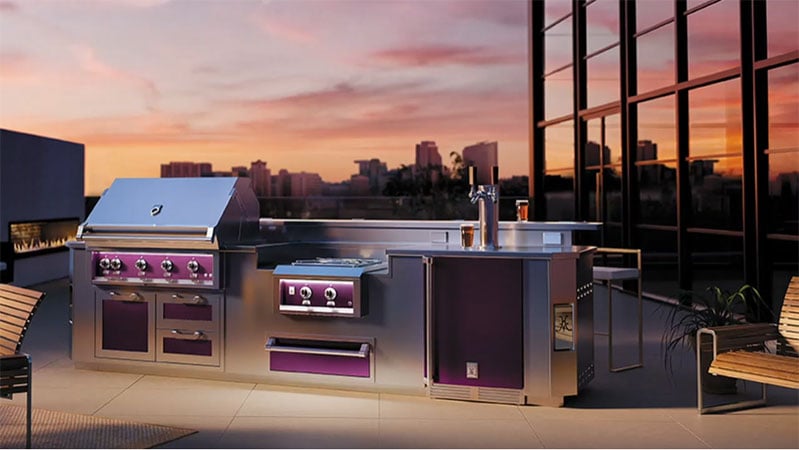 Hestan Outdoor Kitchen
Lastly, Hestan is the only grill available in 12 California colors and available in freestanding or built-in.
Hestan Problems
Like the others, this is a great grill, but unlike the others, the burner ports face the food directly and cause the burners to clog.
Editor's Note: If you want to save some money and spend under $5,000, Lynx and Hestan have less expensive series. Lynx has their Sedona line, whereas Hestan has their Aspire line.
Which Professional Grill Is the Best?
First, they all have their merits. All will give better heat output, rotisseries, and sear burners.
Kalamazoo is the best grill with the ability to cook with wood, gas, and charcoal, but $15,000 plus for a grill is steep.
Lynx also has a good all-around grill. Their all sear is another excellent consideration, but infrared is different from a regular gas burner and has to be learned.
Hestan is another excellent grill with the best grates, rotisserie burners, and choice of color.
So, it depends on how you like your grill.
The Kalamazoo Hybrid gives you the ability to infuse flavor.
Lynx will allow you to cook and sear faster, while the Hestan is a good-looking alternative that does a bit of everything well.
How Is a Professional Grill Different From a Regular Grill?
There is no official definition of what makes a grill professional.
However, this grill class is all stainless with higher BTU output at 23-29,000 BTU per burner versus 6-10,000 on regular grills.
You are also buying features like the ability to rotisserie, sear, or smoke your foods in most pro grills.
However, a pro grill is $5,500 and above versus Weber's best grill with similar features at $2,749.
Are Professional Grills Truly Better Than the Best Weber Grill?
First, let's look at Weber's best grill, the Weber Summit S-670.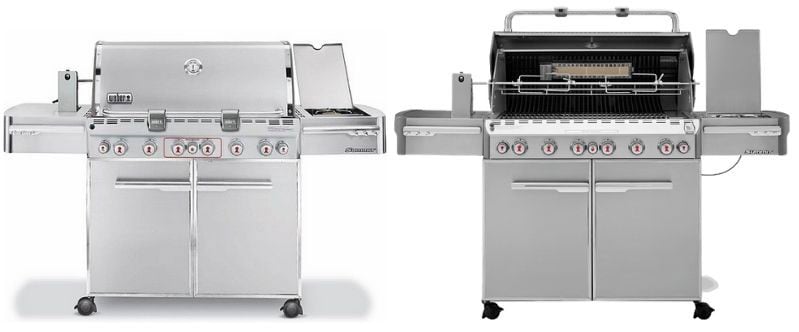 Weber Summit Series S-670 Grill 7370001 - $2,949
The specs are impressive at first glance. It is a grill still worth considering at half the price, but it's not a professional grill, and here's why.
BTU Output: The total BTU output of 60,000 is competitive compared to most professional grills, but six 10,000 BTU burners achieve it
In comparison, pro grills have fewer burners but are more powerful at 25,000 BTU each to quickly cook, char, and sear your food.
Rotisserie: The Summit is good at 10,600 with direct, infrared heat. However, pro grills are almost double at 18,000 BTU to cook the meat quickly. You can also use it as an ancillary burner to cook on the top shelf.
Smoker: Weber has a 6,800 BTU smoker to infuse the meat with wood or other flavors. Kalamazoo and DCS have far better ways of smoking.
Grates: I never thought we would ever talk about grates in an article, but thicker grates hold the heat better than thinner stainless grates of regular grills.
Briquettes: Lynx, DCS, and Hestan have briquettes to increase heat to the surface and eliminate flare-ups for faster and safer grilling.
Do you need to spend $6,000-$24,000 versus $2,799 for a Weber?
Certainly not, but a pro grill will grill quicker and more thoroughly than even the best conventional grill.
Pellet and Charcoal Grills
Before you buy any grill, you should look at all your alternatives. We cover this more thoroughly in other articles.
The two main grill alternatives are pellet and charcoal grills.
Pellet Grills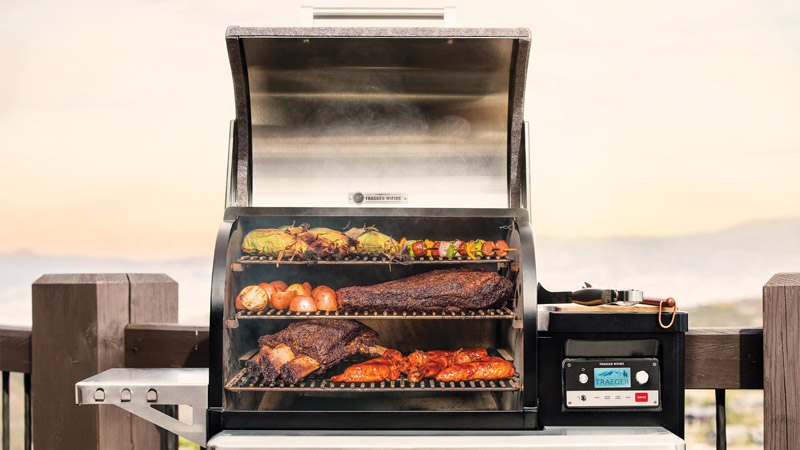 Traeger Pellet Grill
Pellet grills are powered by wood pellets which then heat your burners. The convection fan spreads the heat produced from the wood pellets throughout the grill.
The upside to this grill is flavor.
Pellet grills are not grills at all. They should be considered smokers.
The top temperature of a pellet is 600 degrees. A pro grill can heat to 900-1100 degrees to sear and char your food.
Pellet grills do not have that capability or the ability to cook quickly.
Charcoal Grills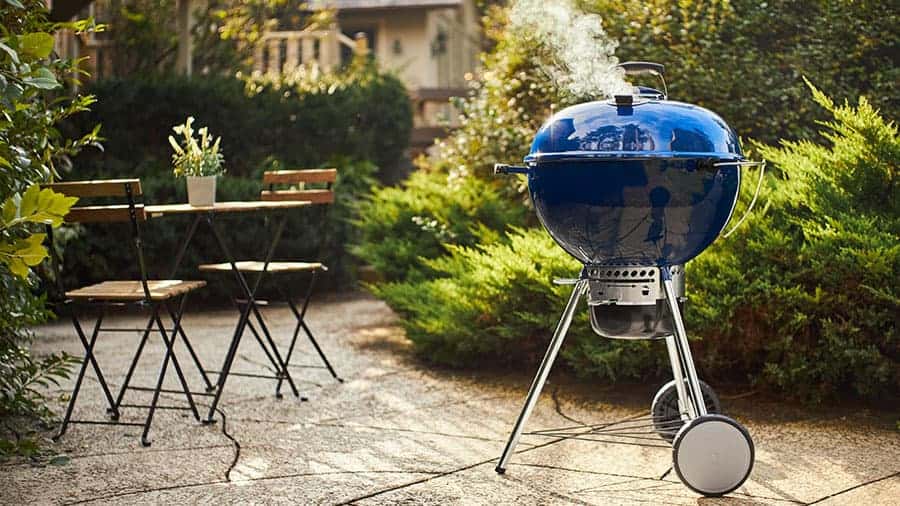 Weber Charcoal BBQ Grill
Charcoal grills have the heat and add texture to food, unlike gas grills. Charcoal can reach the high temperatures of gas.
The downside to charcoal is adding and removing the ash. The temperature can vary, unlike the more precise grills.
Additional Resources
Get the Yale BBQ Grill Buying Guide with features, specs, and tips to all the brands. Over 820,000 people have already found answers in a Yale Guide.
Related Articles:
Why Should You Trust Us?
It seems that every appliance review has nothing but glowing comments about almost every product, yet you read customer reviews and they are almost universally bad.
We are here to fill in the disconnect. We'll give you the best features, and the drawbacks as well, including reliability based on over 37,000 calls performed by our service team just last year. Our goal is to give you ALL the information so you know what's right for you.
Please consider subscribing or adding to the conversation in the comments below. We appreciate you stopping by.
Steve Sheinkopf
Steve is the third-generation CEO of Yale and a lifelong Bostonian. He currently resides in Boston, one mile from where he was born. Despite being one of the worst goalies of all time, he is a huge hockey fan of college hockey and the Boston Bruins. The love of his life is his daughter Sophie.
A Note About Pricing
Pricing on this blog is for reference only and may include time sensitive rebates. We make every attempt to provide accurate pricing at time of publishing. Please call the stores for most accurate price.