Should You Buy a Thermador Professional Range?
May 25th, 2021 | 8 min. read
Thermador is one of the most popular selling professional ranges in the industry.
They were behind many innovations like the Star Burner, extra-low simmering, and promotions like free dishwashers or hoods with qualifying purchases.
In this article, you will learn about Thermador's best features, reliability based on actual service calls, and a few problems.
Then we will compare Thermador's Pro Grand range to its Pro Harmony series and brands like Wolf, JennAir, Miele, SKS, and Hestan, just like you were shopping in a store.
In the end, you will know if Thermador is the right range for you.
As usual, feel free to ask questions in the comments below.
Thermador History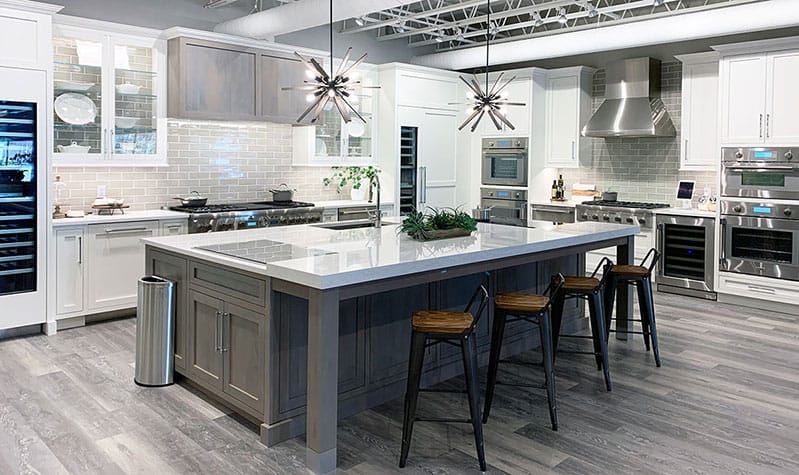 Thermador Kitchen at Yale Appliance in Hanover
Thermador is a premium appliance brand founded in the U.S. back in 1916.
When I started back in 1986, they were incredibly innovative with convertible microwave and oven combinations along with a convection microwave wall oven and the best slide-in ranges and cooktops.
German-owned Bosch acquired them in the 1990s. Bosch instilled reliability in the brand while retaining and even expanding U.S. manufacturing.
However, Thermador is not an innovative leader anymore.
Being in the service business as we are, reliability is more important than cutting-edge features anyway.
They are now best known for their star-shaped burner, aggressive package offerings, and their rebate program with free dishwashers and hoods for qualifying purchases.
Thermador has always been marketed as a good value alternative to industry leader Wolf.
With newer ranges on the market, you will see whether Thermador can compete with some more updated brands.
Thermador Pro Ranges
Thermador is available only in the 30, 36, 48, and 60-inch sizes with a variety of configurations in dual fuel (gas over electric) as well as all gas.
Thermador Pro Grand Ranges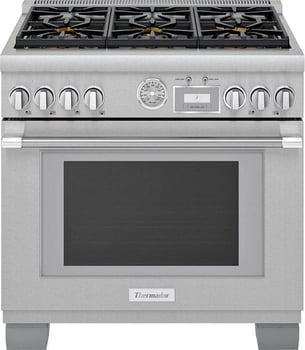 Available Options:

Thermador 36-Inch Pro Grand Range with All Burners, a Griddle, or Induction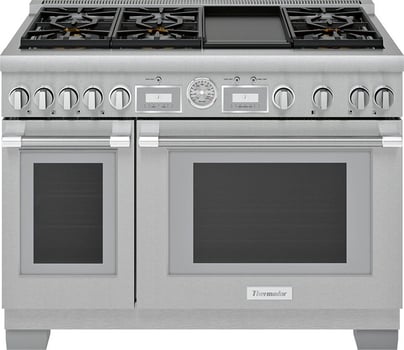 Available Options: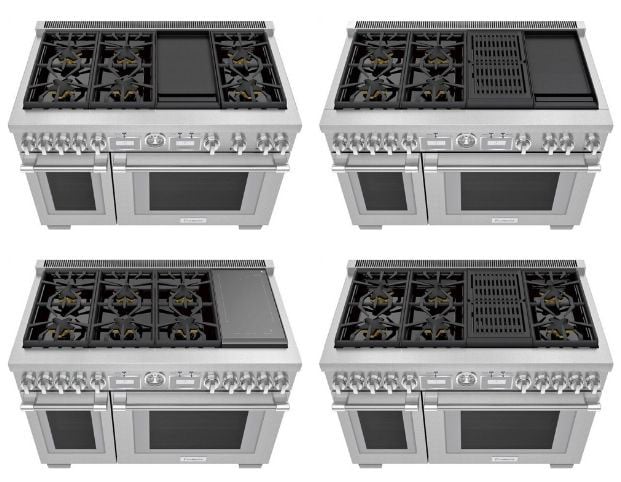 Thermador Pro Grand 48-Inch Range Options Griddle, Grill/Griddle, Induction, and Grill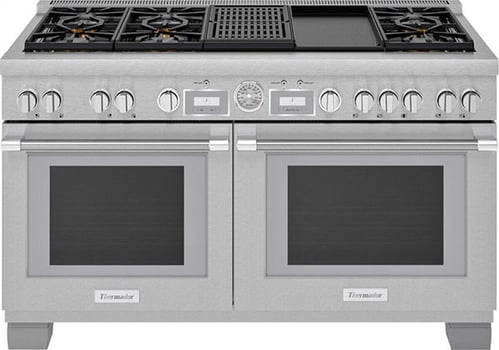 Available Options:

Thermador 60-Inch Pro Grand Range with Grill/Griddle and 24-Inch Griddle
Thermador Pro Harmoney Ranges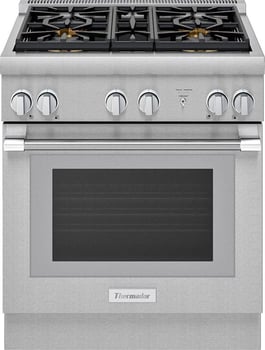 Available Options: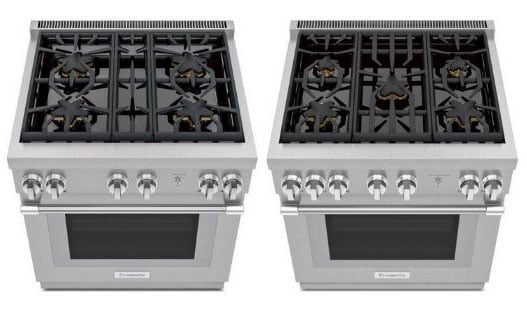 Thermador 30-Inch Pro Harmony Options with 4 Burners and 5 Burners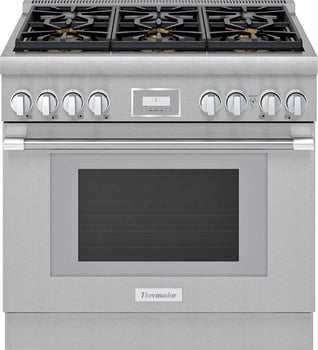 Available Options:

Thermador 36-Inch Pro Harmony Range Options with All Burners, Griddle, and a Grill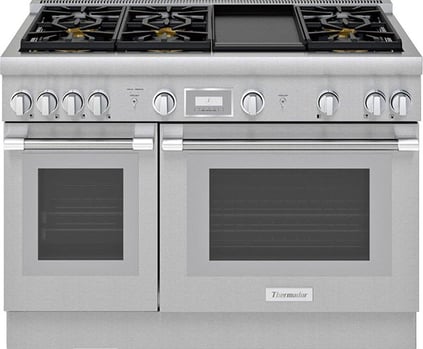 Available Options: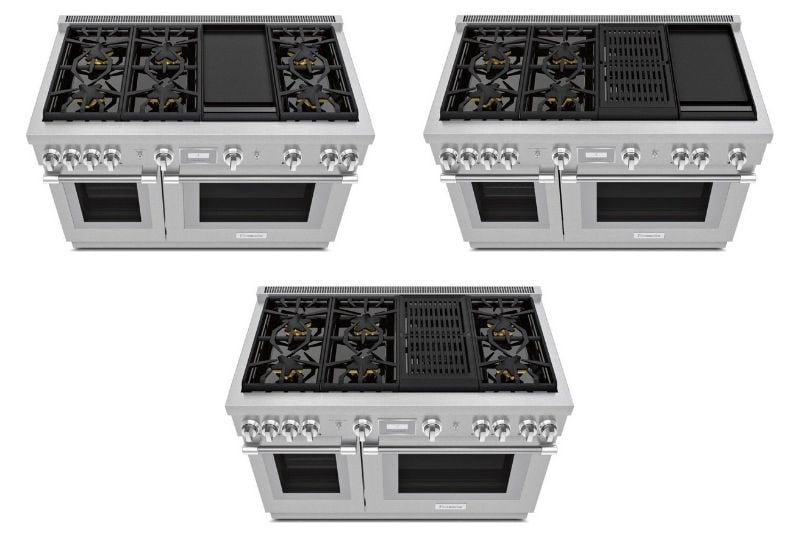 Thermador 48-Inch Pro Harmony Range Options All Burners, Griddle, and Grill
Thermador Features
Let's look at the cooktop surface first.
Their Star Burner is raised, so it's the easiest to clean. Their simmer is the best for gas at 100 BTU, and Pro Grand does have one 22,000 BTU burner.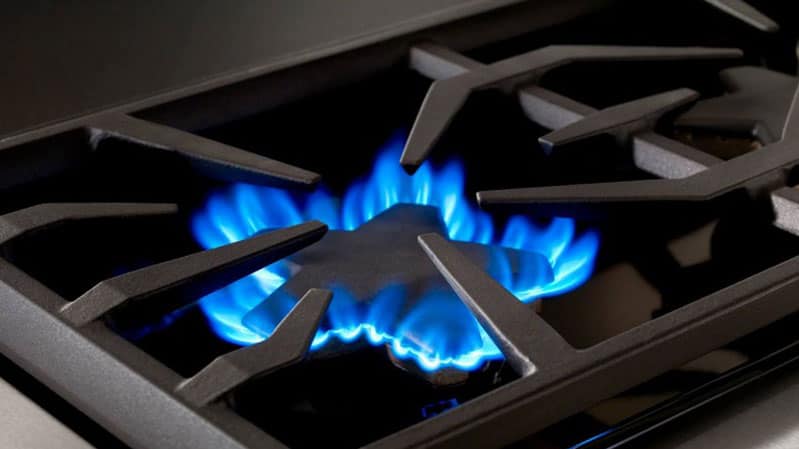 The rest of the burners used to be all 18,000 at one time.
In 2019 half Thermador reduced the burners to 15,000 BTU. Thermador ranges have a combination of 15,000 and 18,000 BTU burners along with one 22,000 BTU burner.
The only exception to this trend is their 30-inch range, the PRG305WH. This range has one 18,000 BTU burner and one 15,000 BTU burner in the front with a 10,000 BTU burner in the middle and 8,000 BTU burners in the back.
For the Pro Harmony, the range is just a combination of 18,000 and 15,000 BTU burners.
You can also buy an induction set of burners on the Pro Grand.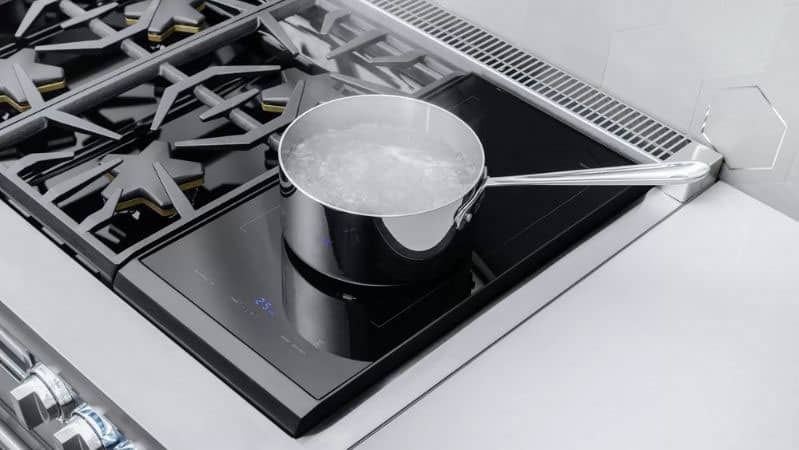 Magnetic induction is by far the best for simmering and speed.
Thermador has their Liberty technology so you can move the food back and forth, and it remembers.
It's also child-safe because it has to sense metal to activate. Cleaning is easier as well because the surface does not heat like gas or regular electric burners.
The Thermador ranges are also Wi-Fi enabled. You can control your range through an app on your phone.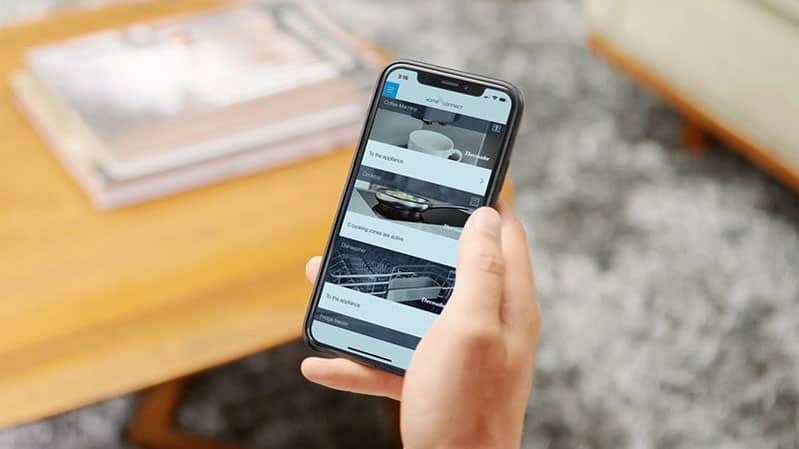 Thermador also integrates recipes and your ability to change temperature and turn your range on or off remotely.
The app is highly rated as well, unlike some other brands.
Thermador Pro Grand vs. Pro Harmony Ranges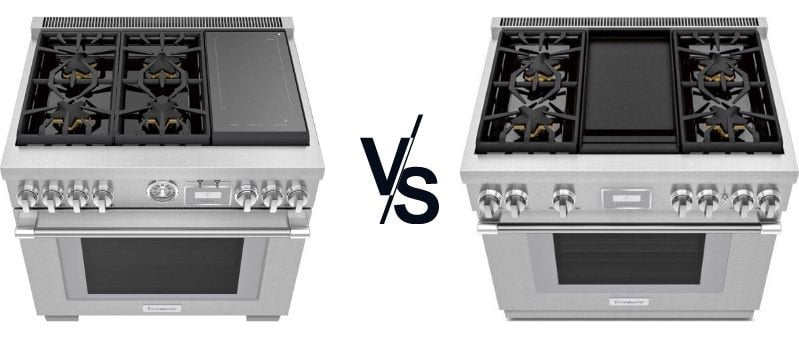 Thermador manufactures two styles of gas ranges - their Pro Grand and their Harmony Series. The Thermador Pro Grand gas range is $1,500-2,000 more expensive.
The Pro Harmony is available in 30, 36, and 48 inches in terms of sizes, while the Pro Grand is available in 36, 48, and 60-inch sizes.
The biggest difference may be its depth.
The Pro Grand is 27.875 inches deep versus 24.75 for the Harmony.
The main oven will be 5.7 cubic feet vs. 4.9 cubic feet for the Pro Harmony so that you can fit a chef's pan in the Pro Grand.
However, the Harmony will sit flush in your cabinets, whereas the Pro Grand will protrude almost 4 inches.
Only the Pro Grand has an induction burner option.
For modes, the Pro Grand also has a proof mode for baking bread and is self-cleaning in gas and dual-fuel, whereas the Harmony is not self-cleaning in gas.
For the ovens, along with extra depth, the Pro Grand is available with a full steam oven and warming drawer and double ovens in the 48 and 60-inch sizes. Only the Thermador Pro Grand is offered in a 60-inch size.
Dual Fuel vs. All Gas Range
Thermador has the self-clean addition in their dual fuel Harmony ranges.
What you should buy depends on how you cook.
Baking is better in electric ovens because the heat is drier and more consistent.
All gas is moister and better for roasting. Broiling is significantly better in a gas oven with an infrared broiler.
Common Features
They both have similar simmers and electric grill and griddle options and the same black porcelain top.
Both have the Star Burner. The Pro Grand has the enhanced 22,000 BTU burner, but the other burners have an identical output of 18,000 on the front and 15,000 BTU on the back.
For controls, both ranges are similar, with the Pro Grand adding a small radial time clock.
Both have the same single convection ovens. You will see a comparison to other brands shortly.
How Does the Thermador Pro Grand Compare to Other Manufacturers?
It depends on the feature. Let's look at the top, then the controls, and then the oven.
Output and burners
Pro Grand has a decent combination of burners starting at 22,000, then 18 and 15,000.
Newer ranges like Hestan have more with a 30,000 BTU power burner in their 5-burner 36-inch and 48-inch ranges.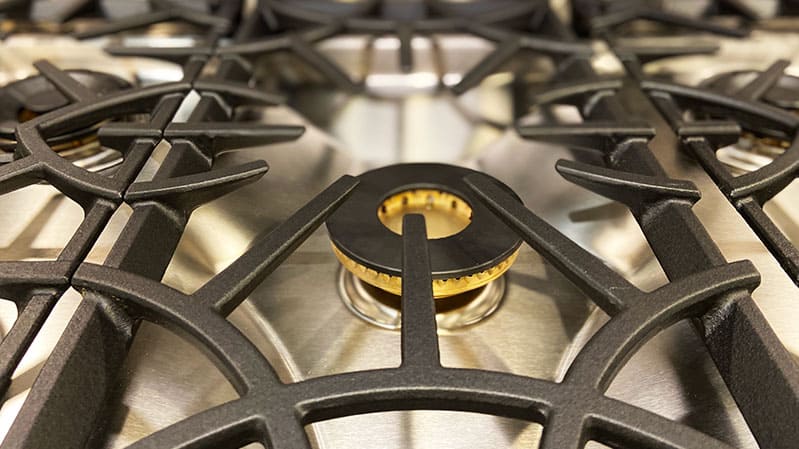 Hestan Pro Range 30,000 BTU Burner
SKS and Fisher & Paykel have a combination of 23,000, 18,000, and 15,000 BTU burners
BlueStar has 25 and 22,000 BTU burners on their Platinum all gas units.
Wolf and JennAir will have two 20,000 and a combo of 18 and 15,000 BTU burners.
The Star Burner, however, will be easier to clean than all the other round ones.
Cooktop Options
Other manufacturers offer more specialty cooking options like French tops for BlueStar and Wolf or Sous Vide for SKS.
Grill and Griddle
The electric grill and griddle are consistent at temperature but not as responsive as gas.
JennAir, Wolf, Hestan, and Miele have infrared grills and griddles for instant direct heat. The infrared burners are the same as a sear burner on a Pro Grill like Lynx to sear quickly.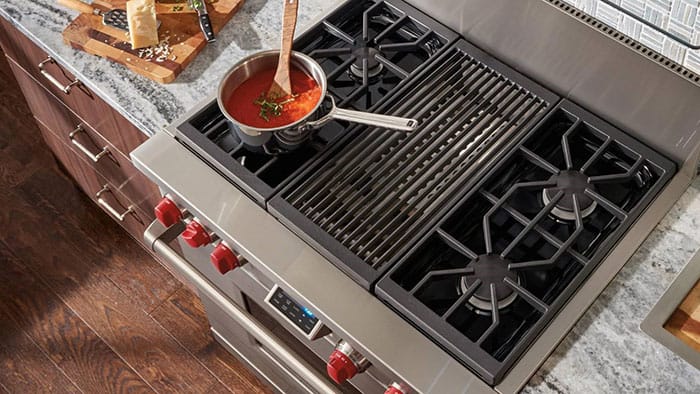 Wolf 36-Inch Range With an Infrared Grill
Electric grills cannot sear nearly as well. (None of us have an electric grill in the backyard)
It's also a big advantage, especially in cleaning the grill, as the intense heat of the grill evaporates any residue or drippings.
Induction
Thermador does offer induction. Only SKS and Fisher & Paykel offer it in a pro range but with one or two induction modules.
Induction is faster than gas with a better simmer, as we've said.
Oven
Thermador has size but is only single straight convection.
Most like JennAir, Miele, SKS are twin convection.
Wolf will be debuting their VertiCross blower convection with even better heat distribution.
BlueStar has its Pure convection on the gas side with the element in the back for faster preheat and more even general cooking.
Steam Ovens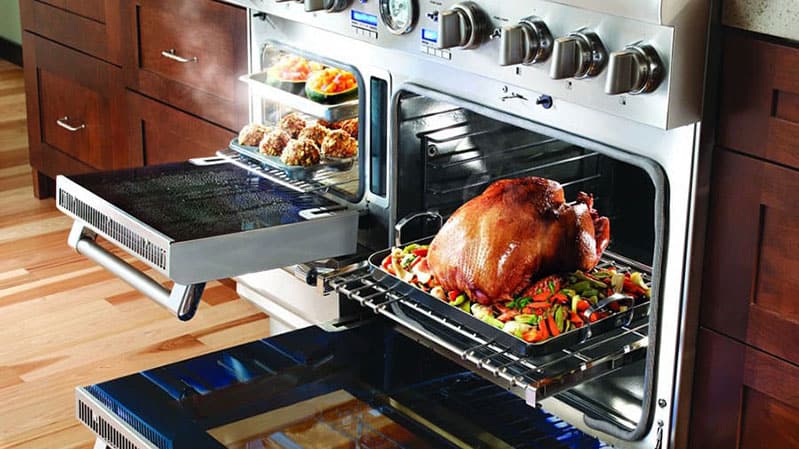 Thermador 48-Inch Pro Range With Steam Oven
Thermador does have their steam oven and warming drawer.
Miele has a speed oven or microwave convection combo with a warming drawer.
Miele offers a steam assist to use moisture for baking bread and caramelizing tops.
You can cook a whole meal in just a steam oven, whereas steam enhances the convection cycle.
SKS offers steam assist and steam in their 48-inch dual fuel.
Controls
The best is Miele with their MasterChef for 100 preset recipes and automatic cooking modes.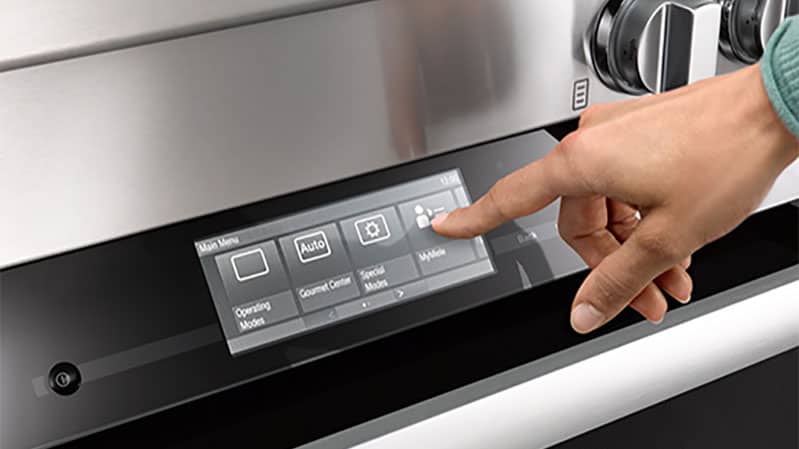 Miele 36-Inch Pro Range Featuring MasterChef Controls
Wolf will have their screen and Wi-Fi set up later this year.
JennAir has their Culinary Centre showing pictures of what the food will look like before it's cooked. JennAir also features Wi-Fi and recipe tie-ins through their JennAir app.
Hestan has their "Marquise" swipe controls on the handle of their dual fuel ranges only.
Fisher & Paykel has guided cooking.
SKS is Wi-Fi enabled with an LED touch screen through the parent company, LG's, ThinQ App.
Colors
Like most of the other ranges, Thermador is stainless only.
BlueStar offers 1000 colors and ten different trim packages, plus the ability to customize your color.
Hestan has 12 colors.
Wi-Fi
Thermador does have a highly rated Wi-Fi app, HomeConnect, with tie-ins to their recipes. You also can turn the oven on or off remotely.
JennAir has more functionality with their Culinary Centre showing how the food will look before it's cooked.
However, in terms of connectivity, Home Connect is the best currently. SKS has Wi-Fi as well.
Are Thermador Pro Ranges Reliable?
For reliability, Thermador is about average at 13.41% repair in the first year. For dual fuel, that repair rate more than doubles to about 30%. It's not surprising given the amount of added features.
For any pro range, service and service availability should be a deciding factor for buying any brand.
Should You Buy a Thermador Pro Range?
First, you have more brand choices now more than ever.
Thermador does have a good all-around array of features for oven size, BTU output, with the possibility of induction on the top.
The Star Burner is simpler to clean as well.
However, you can buy ranges with better output or with better grills and griddles and even better convection technology in the oven.
But no one range has every feature.
Whether you consider Thermador is based on what features are important to you and how you use the range.
Additional Resources
Get our free Pro Cooking Buying Guide with tips, trends, and reviews of all the best brands. Over 900,000 people have already found answers in a Yale guide.
Related Articles:
Why Should You Trust Us?
It seems that every appliance review has nothing but glowing comments about almost every product, yet you read customer reviews and they are almost universally bad.
We are here to fill in the disconnect. We'll give you the best features, and the drawbacks as well, including reliability based on over 37,000 calls performed by our service team just last year. Our goal is to give you ALL the information so you know what's right for you.
Please consider subscribing or adding to the conversation in the comments below. We appreciate you stopping by.
Steve Sheinkopf is the third-generation CEO of Yale Appliance and a lifelong Bostonian. He has over 38 years of experience in the appliance industry, and he is a trusted source of information for consumers on how to buy and repair appliances.

Steve has also been featured in numerous publications, including the New York Times, Consumer Reports, The Boston Globe, Bloomberg Radio, the New York Post, The Wall Street Journal, and Entrepreneur, for his knowledge of how to buy appliances and appliance repair.

Steve is passionate about helping consumers find the best appliances for their needs, and he is always happy to answer questions and provide advice. He is a valuable resource for consumers who are looking for information on appliance buying, repair, and maintenance.

Despite being the worst goalie in history, Steve is a fan of the Bruins and college hockey, loves to read, and is a Peloton biker. The love of his life is his daughter, Sophie.
A Note About Pricing
Pricing on this blog is for reference only and may include time sensitive rebates. We make every attempt to provide accurate pricing at time of publishing. Please call the stores for most accurate price.