Speed Queen vs. Fisher Paykel Laundry (Reviews/Ratings/Prices)
There seems to be a backlash against front load laundry. The Maytag Neptune and its myriad issues started it. Front load washers do have a mold problem if you leave water in the gasket and they are more expensive to repair.
Perhaps you hate bending down and find a top load more convenient. Many people are once again purchasing top load washers (Editor's Note: Front load washers are only 2% less reliable and the mold problem is easily corrected by keeping the door open a bit after a load).
Buying a good top load washer is incredibly difficult. The hybrids washer, or top load washers without the agitator, do not work properly. Samsung just recalled millions of top load washers, so where do you find a good one?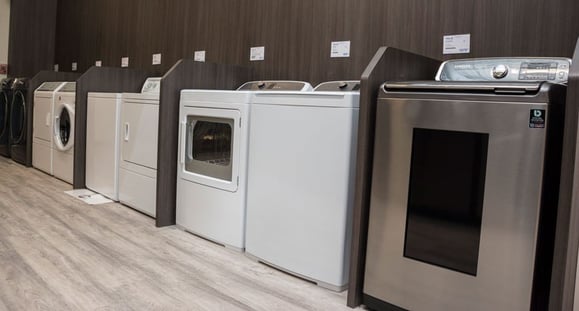 Many of the major brands like Maytag, Whirlpool and Frigidaire have not changed since the 1940s. LG, Samsung and Electrolux do not manufacture a simple top load washer with the agitator (non-hybrid).
Incredibly, the two best top loaders are Speed Queen and Fisher & Paykel, and both are very different. Speed Queen promotes durability where Fisher & Paykel promotes technology and efficiency.
(Short on time? Get our free Washer Buying Guide with tips, specs and reviews of all the major brands)
So, you may ask which one is better for you. Well, let's compare the 2 brands and their laundry products and help you decide.
Let's look at both companies.
Speed Queen
In 1908, the founders of Speed Queen purchased some hand powered washing machines from a company in Kansas City, MO. While experimenting with the machines they figured out a way to increase the machine's efficiency using high speed gears.
(See more about Speed Queen Front Load Washers)
In 1939, Speed Queen changed the tub to stainless steel which is still in use today. Speed Queen is incredibly popular in laundromats and their residential machines are built to similar specifications and are backed by the best warranty in the business.
Speed Queen Top Load Laundry
Available with digital electronic or manual knob controls.
Top Load Washer Features
3.3 cu. ft. Capacity
½ HP Motor
710 RPM Max spin speed
Can do a 30 minute heavy load
25lbs per load capacity
Self leveling rear legs
Soak/Prewash/Extra Rinse options
Stainless Steel Tub
3-year parts and labor warranty on models with manual knob controls
5-year parts and labor warranty on models with digital electronic controls
Fisher & Paykel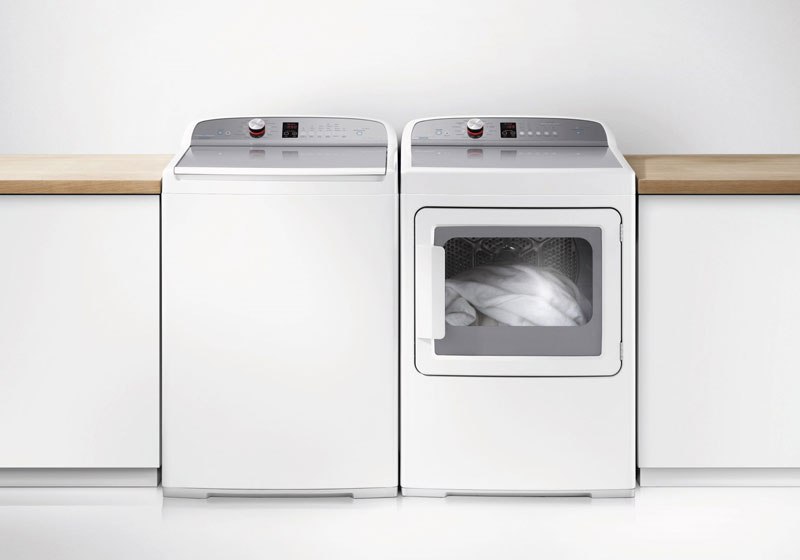 Fisher & Paykel have been designing products since 1934. Since then it has grown into a global company in over 50 countries. They manufacture products in the USA, Mexico, Italy, Thailand, and New Zealand.
They are known for their high quality apartment size appliances, especially refrigeration. Their claim to fame was the double drawer dishwasher. Most recently, Fisher & Paykel was purchased by Haier out of China. You will know Haier for buying GE Appliances.
Laundry is just a small part of their business. They only specialize in top load washers and dryers. Let's take a look at Fisher & Paykel's laundry.
Fisher & Paykel Top Load Laundry
Fisher & Paykel 3.9 cu. ft. Top-Load Washer (WA3927G1) - $799
3.9 cu. ft. Capacity
1,100 RPM Max Spin Speed
Flexible Finned Agitator – Ensure less tangling and provide great clothes care
Smart Drive Technology – Can sense each load so it uses less water and energy
6 Wash Cycles
Energy Efficient
2-Year Parts and Labor Warranty
Fisher & Paykel AquaSmart 4.0 cu. ft. Top Load Washer (WL4027P1) - $999
4.0 cu. ft. Capacity – 22 LBS
1,100 RPM Spin Speed
12 Wash Cycles
Automatic Load Sensing
Auto Water Level
Soft Close Glass Lid
Smart Touch Controls
2-Year Parts and Labor Warranty
Fisher & Paykel Dryer – Available in Gas (DG7027P2 - $1,049) or Electric (DE7027P2 - $999)
7.0 cu. ft. Capacity
12 Dry Cycles
4 Temperature Selections
Steam
Drying Rack
Smart Touch Controls
Delay Start
Timed Dry
Clean Lint Filter Indicator
2-Year Parts and Labor Warranty
Speed Queen vs. Fisher & Paykel Top Load Laundry
So which is better?
This depends on what you value. Fisher & Paykel uses less water and is larger than Speed Queen. They have a smaller agitator so you have added capacity. It also spins at 1,100 RPMs, so the clothes are almost spun dry.
Although the specs on the Fisher & Paykel are better. Speed Queen stays true to its commercial roots by being the least serviced top load at just over 7% within the first year (read Most Reliable Top load washers) or almost 3 times more reliable than Fisher & Paykel.
So it is reliability versus capacity and features...
Additional Resources
Get our free Washer Buying Guide with tips, specs and reviews of all the major brands. Over 180,000 people have already found answers in a Yale guide.
Recommended Reads
Roger Pontes
Roger Pontes has been with Yale Appliance + Lighting for over 10 years. He's worked in both the lighting and appliance department over the years. Roger truly enjoys helping people. He's a married father of 2 kids, a boy and a girl. On his spare time Roger enjoys spending time with his family and playing sports.

Read more about Roger here.
A Note About Pricing
Pricing on this blog is for reference only and may include time sensitive rebates. We make every attempt to provide accurate pricing at time of publishing. Please call the stores for most accurate price.