Samsung WF50A8600AV vs. LG WM4500HBA Front Load Washers
Laundry should be a much easier purchase than it is.
You only have a few choices for brands like LG, Samsung, GE, Whirlpool, and Electrolux. Of these, LG and Samsung are the most intriguing.
But how do you choose one over the other? Both look the same with similar features. Even their newest feature, Artificial Intelligence (AI), is the same.
In this article, you will learn the differences in a few features, including reliability, based on over 40,000 service calls logged by our service department just last year.
In the end, you will know the best model for your home.
Let's look at both companies.
Short on time? Get our free Washing Machine Buying Guide
Samsung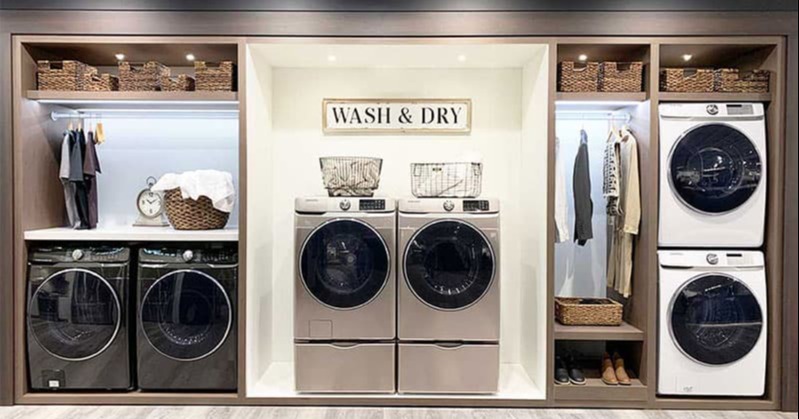 Samsung is a Korean conglomerate. Its main businesses are semiconductors, chips, and phones. They are known for their aggressive promotions and their almost futuristic styling.
Samsung has been one of the few companies to be able to compete with Apple, a company known for style. Their ability to improve the look of a home appliance propelled Samsung to be the number one appliance brand in the US.
However, appliances are a small part of Samsung's overall revenue. They have not fared too well during the pandemic years but have returned, at least for now.
LG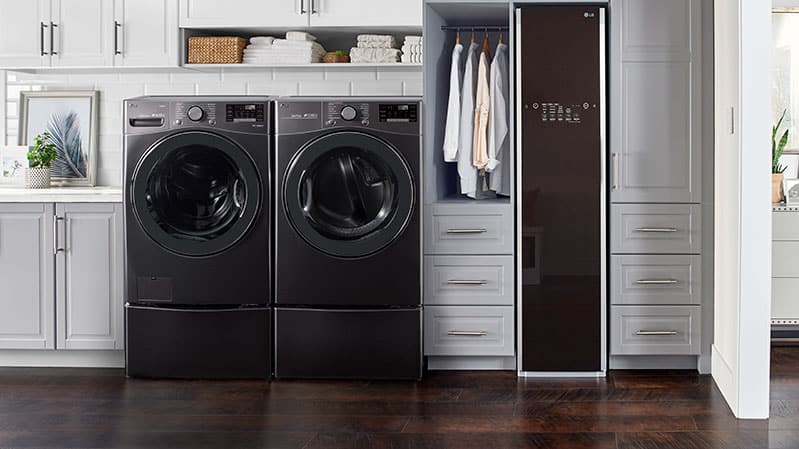 LG is another Korean conglomerate. Like Samsung, LG has many business units. Unlike Samsung, LG is an appliance-first company, especially after it retreated from the cell phone business. Many of the innovations like inverter technology have been developed by LG.
LG has weathered the pandemic better than any other major appliance company because they manufacture more of the appliance instead of outsourcing.
It also improved their reliability, as you will see later. Now let's look at the best model for each brand and compare them.
Samsung WF50A8600AV vs. LG WM4500HBA Front Load Washers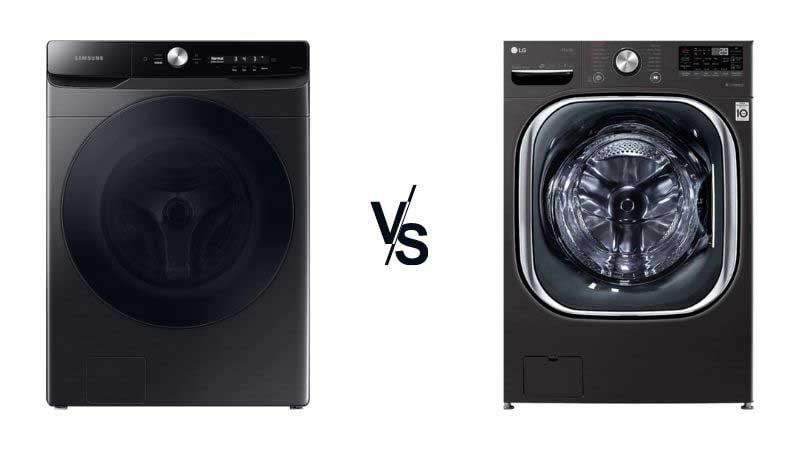 | | | |
| --- | --- | --- |
| | Samsung WF50A8600AV | LG WM4500HBA |
| Dimensions (Width x Height x Depth) | 27 W, 38.75 H, 33.5 D | 27 W, 39 H, 33.25 D |
| Capacity | 5.0 Cu. Ft. | 5.0 Cu. Ft. |
| Reversible Door | No | No |
| ADA Compliant | Yes | No |
| Spin Speed | 1200 RPM | 1300 RPM |
| Smart Connectivity | Yes | Yes |
| App Integration | Samsung SmartThings App | SmartThinQ |
| Automatic Detergent Dispenser | No | Yes |
| Number of Cycles | 24 Cycles, 13 Options | 14 Cycles, 16 Options |
| Mold Protection | Yes with CleanGuard | No |
| Price | $1,049 | $1,099 |
What LG and Samsung Washers Have in Common
Capacity
Both have an internal capacity of five cubic feet with similar outside dimensions. Five cubic feet is large, almost twice as much as a regular top load washer.
LG is 0.25 inches taller and 0.25 inches shallower. In the standard 4.5 cubic foot sizes, LG is the shallowest at 30 ⅛ and the easiest for closets and other tight spaces.
Steam
Both models feature steam. Steam loosens up tough stains like wine or grass.
Artificial Intelligence and Cycles
No, the cyborgs are not out to get you (at least not yet).
AI learns and recommends cycles based on your clothes and your most often selected cycles.
Both have an unbelievable number of cycles and options, five wash rinse combinations, and five spin speeds for any type of fabric.
Speed Cycles: Samsung's Super Speed vs. LG's Turbo360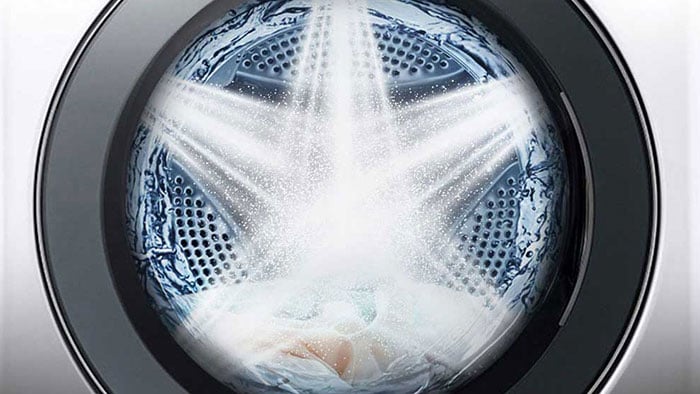 LG Turbo360 Speed Wash Cycle with Five Jets
You can wash a load of laundry in 28 minutes with Samsung's Super Speed cycle and 30 minutes with LG's Turbo360 cycle. Both have similar methods.
Samsung has a high-speed water jet on the top, while LG uses five around the front of the drum.
LG does advertise washing a larger load at 10 pounds during the speed cycle versus eight for Samsung.
Spin Speed
Both have high spin rates, so clothes are drier after the wash giving them less time in the dryer. LG is the fastest at 1300 RPM (Revolutions Per Minute) while Samsung is close at 1200 RPM.
Smart Functionality and Remote Access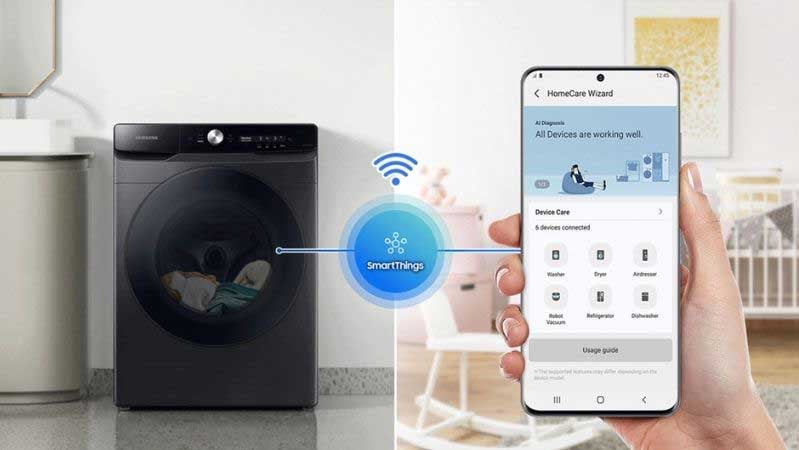 Samsung Wi-Fi Enabled Front Load Washer with App Integration
Smart hasn't lived up to its promise in other appliances yet. However, smart functionality works for laundry. You can turn the machine on or off remotely. You can start your laundry from your office and have it ready after your commute.
Seeing the time remaining and notification after the cycle is over will save you time. You don't have to continually check your laundry to see if it's done.
LG is testing service through Smart Diagnosis. Your machine will self-diagnose and send for service along with replacement parts. Smart service will be huge in reducing any problems before they become issues.
How Samsung and LG Washers Differ
Antimicrobial Protection
GE popularized antimicrobial coatings with Microban surfaces to reduce mold and mildew in the gasket, dispensers, and hoses. Their "OdorBlock" fan also dries the inside of the machine to eliminate any standing water.
Samsung has followed to a lesser extent with their "CleanGuard" technology in the gasket, dispenser, and control panel.
Having changed my then baby on changing tables with Microban, I was familiar with the company. Yet, CleanGuard is more of an unknown.
However, LG does not have any antimicrobial protection other than their clean tub cycle. You can eliminate most mold by drying the gasket and the dispenser. Leaving the door open also helps.
Automatic Detergent Dispenser
Automatic dispensers take the guesswork out of dispensing by releasing the right amount of detergent at the right time.
Most people pour in too much detergent like a top load washer. Front loads only need a capful, so all that excess detergent ends up in the machine to be an expensive future service call.
The LG WM4500 has a 15-load automatic dispenser while you must pour your detergent each time with Samsung.

Reliability and Service
Both LG and Samsung were number one and two last year in reliability with service rates of 3.3% and 4.9% for front load washers.
LG is more significant because we sold ten times the amount over Samsung last year due to availability. Because LG manufactures more of the washers, parts are more accessible as well.
Most Reliable Front Load Washers from December 2020 to October 2021
The following service rates are based on a minimum of 300 front load washers sold per brand and a total sample of over 3000 from December 2020 to October 2021.
| | |
| --- | --- |
| | Service Ratio |
| LG | 3.3% |
| Samsung | 4.9% |
| GE Appliances | 8.0% |
| Whirlpool | 9.5% |
| Maytag | 15.0% |
| Grand Total | 6.3% |
Read More: Most Reliable Front Load Washers
Availability
LG has been the best with the supply chain from 2020, while Samsung has been tougher in buying appliances, parts, and services.
Price
Both LG and Samsung are the most promotional appliance companies. Both promoted less in the last two years due to supply constraints. With Samsung seemingly back with inventory, they are back promoting. Whether LG follows remains to be seen.
A difference of over $150 may be a key feature of two nearly identical machines. Just make sure whatever you buy will be delivered on the promised date.
Many stores will promote promotional prices. After taking your money, they will push out the promised delivery. Just be careful.
Key Takeaways
Both are good machines with excellent features like steam, AI, smart functionality, and every spin and wash combination you can think of.
Samsung will have the antimicrobial CleanGuard and probably a lower price during promotional holidays.
LG is the most reliable and has a slightly better spin speed. Their auto dispenser will allow you to dump 15 loads of detergent and let the machine do the work.
In machines this close, look at the price and, as I always say, look for available technical service in your area as the deciding factors.
Additional Resources
Download our Yale Washer Buying Guide with all the features, terms, and brands of laundry. Over 1 million people have already found answers in a Yale guide.
Related Articles:
Why Should You Trust Us?
It seems that every appliance review has nothing but glowing comments about almost every product, yet you read customer reviews and they are almost universally bad.
We are here to fill in the disconnect. We'll give you the best features, and the drawbacks as well, including reliability based on over 37,000 calls performed by our service team just last year. Our goal is to give you ALL the information so you know what's right for you.
Please consider subscribing or adding to the conversation in the comments below. We appreciate you stopping by.
A Note About Pricing
Pricing on this blog is for reference only and may include time sensitive rebates. We make every attempt to provide accurate pricing at time of publishing. Please call the stores for most accurate price.