Best Stainless Steel Kitchen Appliance Packages (Reviews / Ratings / Prices)
So, you are buying a full suite of appliances for your kitchen. It is not easy researching each unit, but there is a better way. Consider buying by brand.
This strategy works because all your appliances will match. Rebates also increase when you buy a whole kitchen appliance package. It's a much smarter way to shop.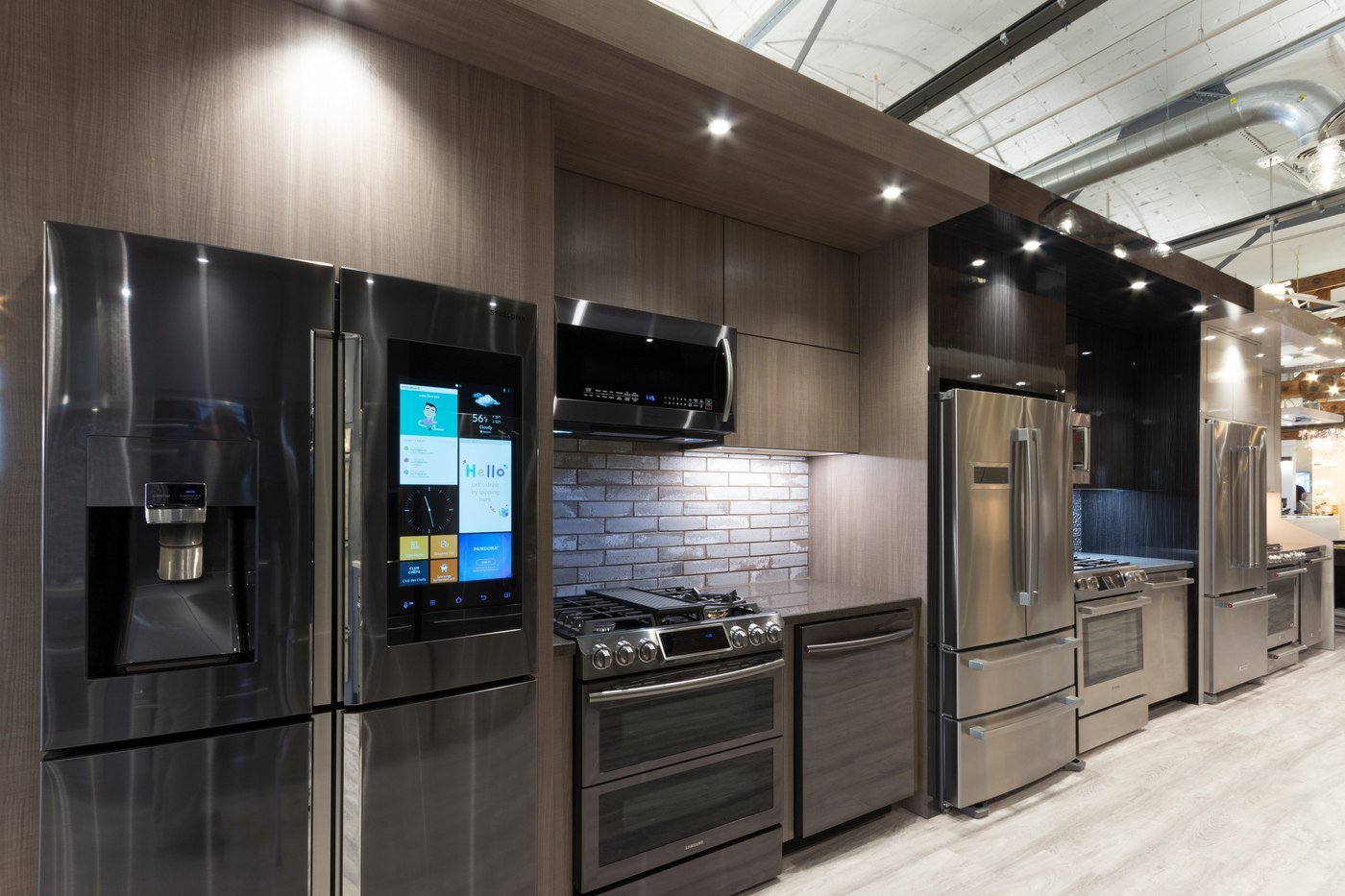 Yale Boston Kitchen Packages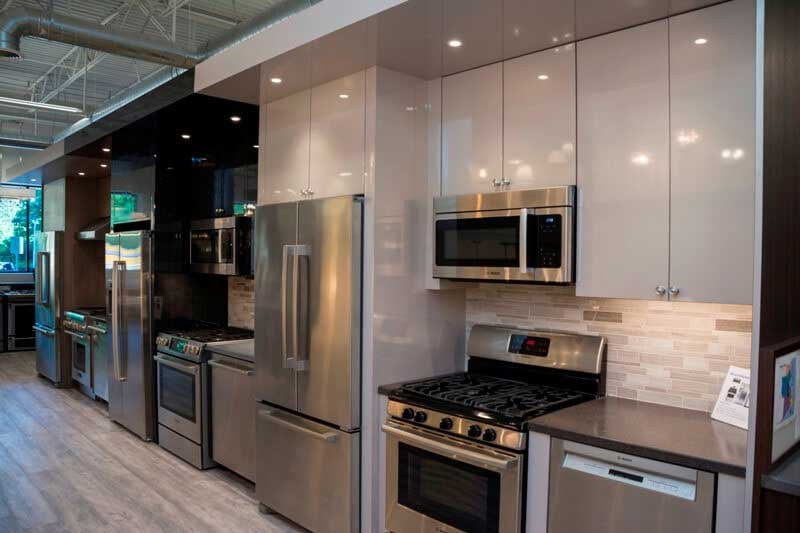 Yale Framingham Kitchen Packages
At the same time, this is your kitchen. Buy what you like and what you will use. Just be mindful of the different handle styles and shades of stainless of the different brands.
Should You Buy a Kitchen Appliance Package? [Video]
Best Stainless-Steel Kitchen Appliance Packages
Pricing for December 2018
The best packages change monthly as rebates, specials, and promotional holidays effect prices throughout the year.
Below, you will notice the range and refrigerator change because they have the most options. The dishwashers change to be quieter with a few more features. The matching microwaves area usually the same.
These packages also tend to maximize kitchen rebates in most cases.
There are other package possibilities but these are the best sellers in recent history. Keep in mind, if you have a specific need, we can always look at rebates and help you find more suitable appliances.
Samsung Top Mount Package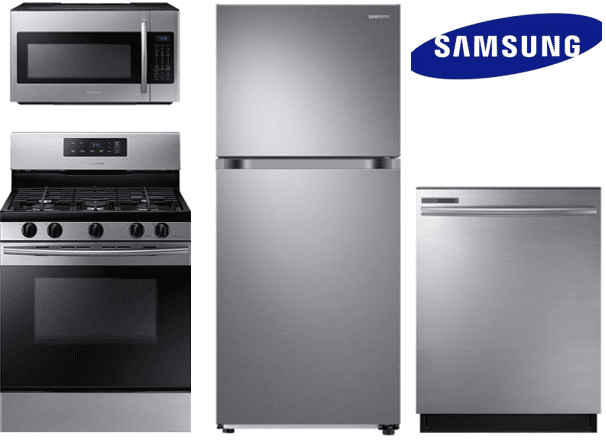 Samsung has a stylish stainless-steel kitchen package. The refrigerator has twin cooling, so the air of the refrigerator and freezer do not commingle. Thus, there will be less freezer burn and your frozen food will taste better.
In addition, you can convert your freezer into a refrigerator and back again for added flexibility. Samsung has one of the most reliable brands and the most reliable dishwasher based on our 30,761 service calls last year.
It is good looking in a clean, modern way. However, in the first package, the electric range is not self-cleaning. Just be mindful of that.
Because of the price, this is popular with builders. However, it's also a good consideration if you do not need the self-cleaning feature.
Whirlpool Top Mount Package
This suite is also very popular with builders. Whirlpool is also the most reliable manufacturer sold at Yale with a less than 5% service rating in the first year.
Their products are solid but lack the style of Samsung. Their gas range is excellent, however, with 2 power burners at 15,000 BTU.
This package features a 30-inch top mount refrigerator designed to fit in smaller cabinets.
Samsung Counter Depth Package
KitchenAid French Door Package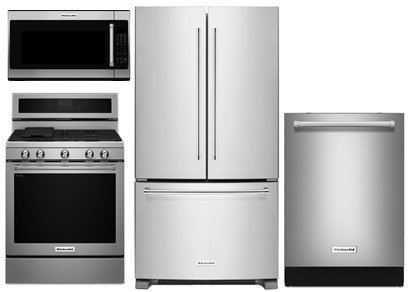 KitchenAid features a counter depth refrigerator and a convection oven as well as a quiet dishwasher and over-the-range microwave. Their new style is more industrial, commercial looking.
Bosch Slide-In Kitchen Package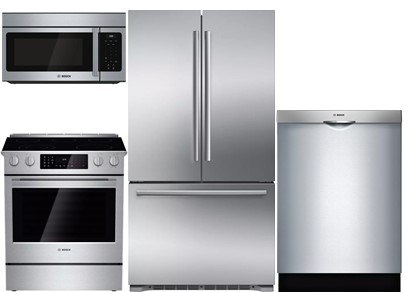 Package includes a Side-by-Side counter depth refrigerator, slide-in convection range, almost noiseless dishwasher and over-the-range microwave hood.
Samsung Slide-In Package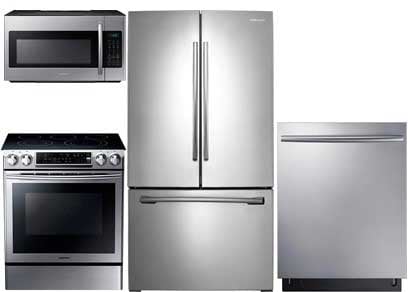 The Samsung RF265BEAESG is a connected counter depth 4-door French door refrigerator. You can leave digital memos on the door. It functions as a full-featured multi-media center. You can even see inside the refrigerator through an app when shopping. You'll never forget a condiment or grocery again.
The range includes convection for more oven baking and roasting by keeping temperatures more even. The 5 burner cooktop includes a griddle burner for morning pancakes.
Bosch Kitchen Package Upgrade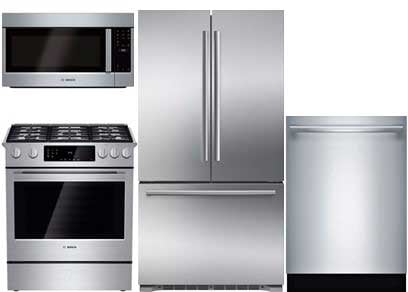 Package includes a french door counter depth refrigerator, slide-in convection range, integrated dishwasher, and over-the-range microwave hood.
Jenn-Air Counter Depth Package
Jenn-Air is one of the best selling packages for more upscale appliances, especially for cooking. The range has the largest capacity plus an additional baking drawer below.
The over-the-range microwave is also convection, so you can cook microwave, convection or combination to save time without losing flavor and texture.
Package includes shallow depth refrigerator and quiet dishwasher.
Wolf Pro Package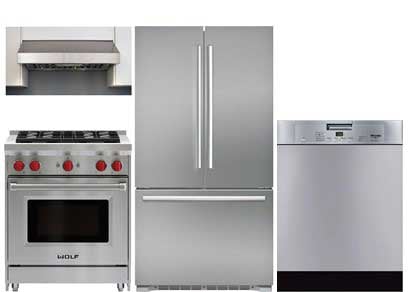 This package features the industries best appliances. Sub-Zero has the best temperature management system along with the air cleaner, vacuum seal and magnetic crispers to keep food fresher longer.
Wolf has three power burners with the ability to simmer to 500 BTUs. Oven is convection with a powerful infrared broiler.
The Miele dishwasher has three racks including one just for silverware. It also has the best drying system with ports for cooler air to convert the steam to water in your dishwasher.
Also included is our most popular 600 CFM hood.
Which is the Best Choice?
Well, this list runs the gamut. If you are just starting out and buying your first kitchen package, then Samsung and Whirlpool are even a decent options to consider.
Samsung has the most options, especially in counter depth refrigerators with better ranges.
For Pro, look at the Wolf Pro Package this month.
Remember, buying these packages and prices change frequently with rebates. Next month could be completely different.
Additional Resources
Looking for more help on appliances? Get the free Yale Appliance Buying Guide with the 10 most frequently asked questions, their answers, features on the major brands, and lastly, advice for the best buying strategies. Well over 350,000 people have read a Yale Guide.

Steve Sheinkopf
My goal has always been simple: I want Yale to be the best retail experience anywhere. I have tried to create a compelling environment for customers and employees alike.
A Note About Pricing
Pricing on this blog is for reference only and may include time sensitive rebates. We make every attempt to provide accurate pricing at time of publishing. Please call the stores for most accurate price.