Best Stainless-Steel Kitchen Appliance Packages for 2022
Bloomberg media reported a woman trying to buy a refrigerator for weeks in El Paso, Texas.
She wanted a French door refrigerator before finally deciding on a side-by-side cancellation by another customer.
If one appliance is so hard to buy, how about a whole package?
This article will show you what available your best brand options are, and then as a bonus, you will learn how to create your package using different brands.
Don't worry. You can still do this. It's just a bit harder to find appliances. Please feel free to leave any comments or problems you are experiencing. I will answer directly.
Unavailable Appliance Brands
Every brand has changed from last year's article. Last year, we had 20 available packages on our site.
Now there are seven with only a few brands. Hopefully, the inventory and selection will improve, but you can't buy packages from out-of-stock brands.
Finding one appliance is challenging. Four is near impossible.
Samsung has had hard problems shipping anything this year. Coordinating a Samsung package is a bit like playing the lottery. It can happen, but incredibly unlikely. You have better odds with a scratch ticket.
Samsung will be more available in box stores. However, Samsung has a lack of service technicians, so just check for local service before you buy.
Bosch just decreased their output targets by another 25-30%. That's on top of the previous 25-50% announced earlier. I like the company. Bosch is styled and priced right.
However, everyone wants their dishwasher, so buying a Bosch package will be tough into 2024.
Our once go-to brands, KitchenAid and JennAir, have dried up in 2022 for various reasons.
Miele, Sub-Zero, Wolf, Thermador, JennAir, BlueStar, and True have 4–14-month lead times.
Short on time? Get our free Appliance Buying Guide
Available Appliance Brands
LG
LG has been the most consistent during the pandemic. At the same time, their product is stylish and, more importantly, reliable.
LG was also the most reliable brand sold at Yale based on 40,000+ service calls logged last year.
SKS
SKS (Signature Kitchen Suite) is the best appliance within LG's product portfolio, including its professional ranges and integrated refrigerators.
Beko
Beko just started importing into the US as the pandemic hit. Their products are interesting, like the Active Fresh Blue Light and ethylene filters to keep food fresher in your refrigerator. IonGuard pulses negative ions canceling the positive ions of odors for fresher smelling appliances.
Beko only has a limited number of dealers, so their inventory doesn't seem limited. You can buy Beko appliances if you can find a dealer in your area.
Fisher & Paykel
Fisher & Paykel may be from New Zealand but are owned by Haier. They also own GE. Their unusual products, like their DishDrawer, aren't sold everywhere, so you have a good shot with this brand.
GE Appliances
GE has a few package opportunities. They have been a good supplier throughout this crisis. However, it's hard to coordinate a kitchen package with all the GE labels.
Best Stainless-Steel Kitchen Appliance Packages for 2022
LG Side-By-Side Kitchen Package
Electric - $4,262| Gas - $4,362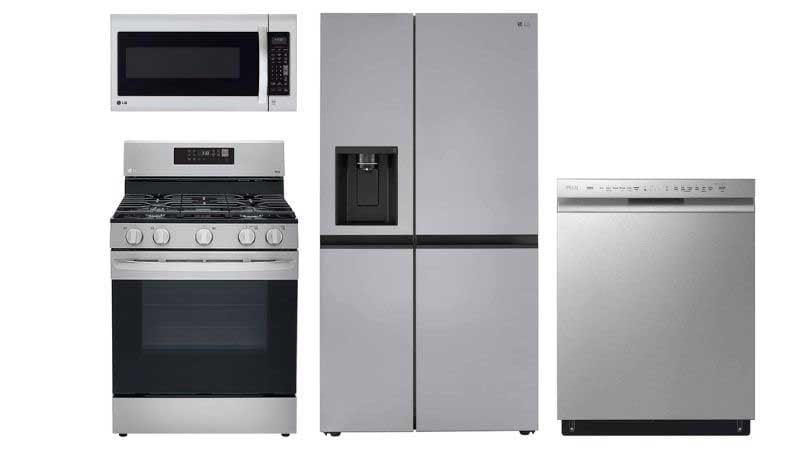 LG has some good features even in their base models. Their refrigerator has two evaporators to keep the refrigerator and freezer air separate for better-tasting food, especially in the freezer.
LG's freestanding range has convection with the largest oven capacity at 6.3 cubic feet, while the dishwasher has its "QuadWash" wash arm and a third rack for silverware.
This kitchen package includes:
LG 36-Inch Full Depth Side-By-Side Refrigerator LRSXS2706S
LG Front Control Dishwasher LDFN4542S
LG Over-the-Range Microwave LMV2031SS
LG Counter Depth Kitchen Package
Electric - $6,079| Gas - $6,479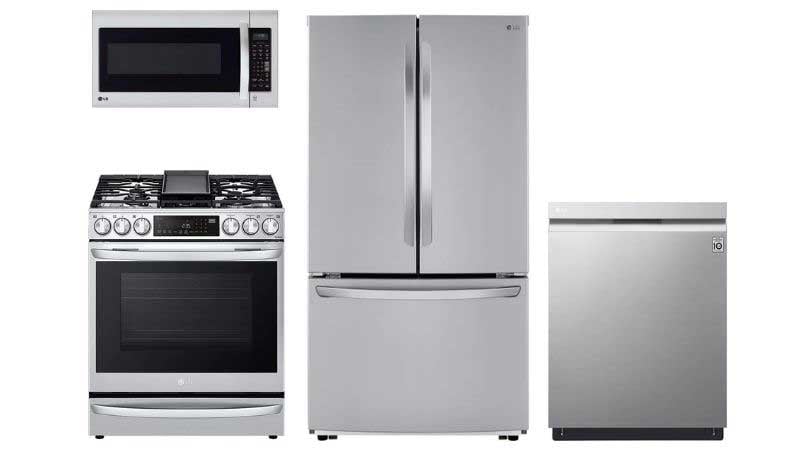 This package is popular because of its counter-depth, French door refrigerator. These units look better in your kitchen because they don't protrude from your cabinet.
The oven has front controls and a large 6.3 cubic foot oven. With slide-in and front control ranges, you can see your backsplash.
This kitchen package includes:
Beko Counter Depth Kitchen Package
Electric - $6,099 | Gas - $6,199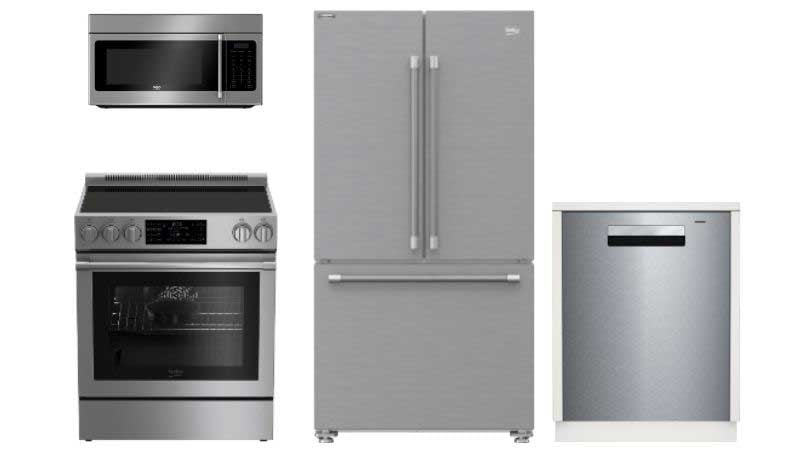 Beko is one of the most popular selling packages sold at Yale.
The refrigerator features ActiveFresh BlueLight. This lighting mimics sunlight to prolong the life of your fruits and vegetables. The ethylene filter removes gases from spoiling foods and has twin evaporators to separate the freezer and refrigerator air.
Beko was second-best in keeping food fresh in a four-week experiment. Sub-Zero placed first for keeping food fresh the longest.
Beko's dishwasher has special sprays and cycles to scour your bottom dishes. It's also a noiseless 39 dB (decibels) with Wi-Fi to operate it from your phone.
The range is large at 5.7 cubic feet with convection as well.
This kitchen package includes:
GE Profile Kitchen Package
Gas - $7,639 | Induction - $7,989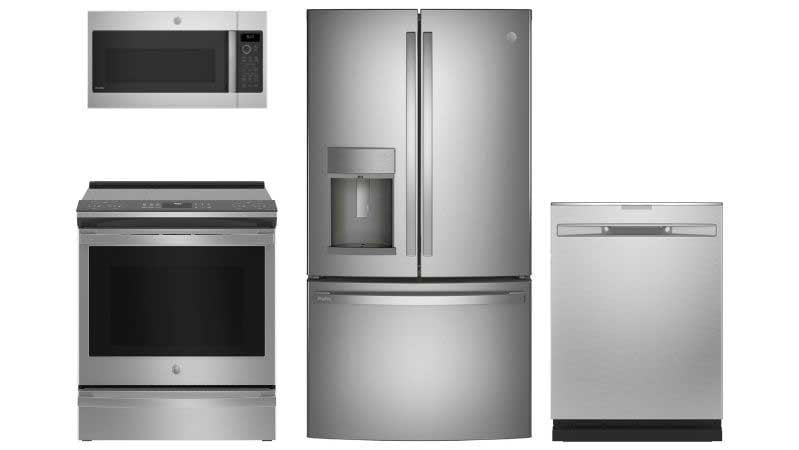 The GE package includes a 22 cubic foot counter depth refrigerator with a large convection range.
This kitchen package includes a convection or induction range and microwave convection over-the-range microwave.
The convection over-the-range microwaves allow you to cook microwave, convection, or combination for faster cooking without the rubbery texture of a microwave only.
Their new dishwasher is interesting.
They placed their antimicrobial Microban surfaces on the handle and dishwasher.
You also have dedicated sprays for bottles and silverware. Therefore, you can wash the protein from the bottom of your sports bottle easier.
GE is quiet at 42 decibels but still has a grinder instead of a filter, unlike every other quiet brand.
This kitchen package includes:
LG Studio Kitchen Package
Gas - $8,696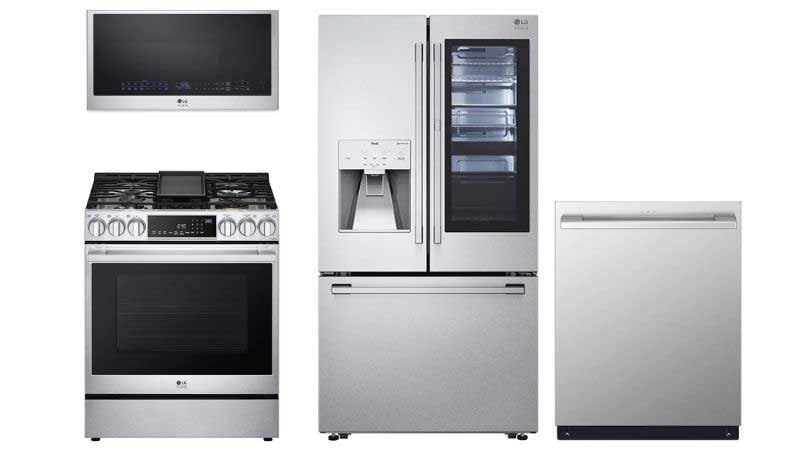 LG Studio is another line from LG featuring a large 24 cubic foot counter depth with the Instaview door. Instaview is the large glass door on the refrigerator side. All you have to do is tap the door twice to look inside.
The Studio is metal inside, has the Door-in-Door, and makes Craft Ice. You can buy the range in gas or induction with the over-the-range convection oven.
The LSDT9882S uses steam and the Quad Washing system to clean along with a quiet 40 dB rating.
This kitchen package includes:
SKS Kitchen Package with Craft Ice Refrigerator Ice Maker
Gas - $9,246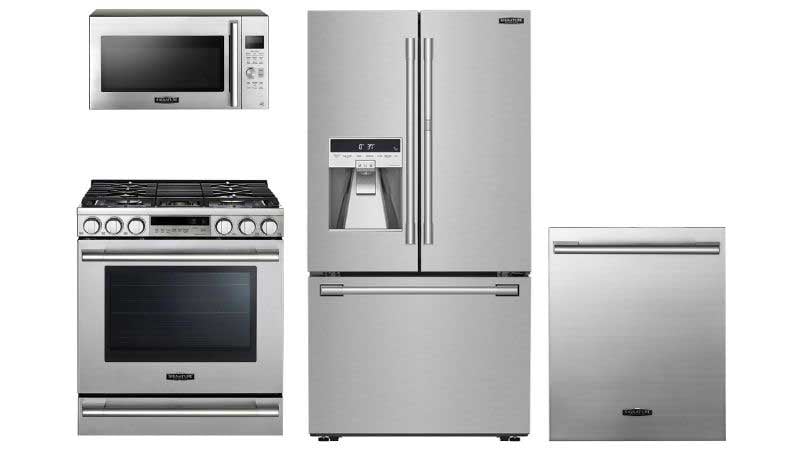 SKS (Signature Kitchen Suite) appliances have a titanium finish. It's a shade lighter than stainless and it looks unique.
The refrigerator is excellent. It's a French door with a secondary "Door-in-Door" so you can easily access your milk and juices without opening the whole refrigerator.
It's metal on the inside. Metal absorbs cold better and is easier to clean. You have the two evaporators like the regular LG. You also have "Craft Ice," or cylindrical cubes dissolving slower for less water in your drink.
The dishwasher is quiet and uses steam to power out tough stains. The range and over-the-range microwave is convection.
This kitchen package includes:
Fisher & Paykel Integrated Package
Gas Only - $9,800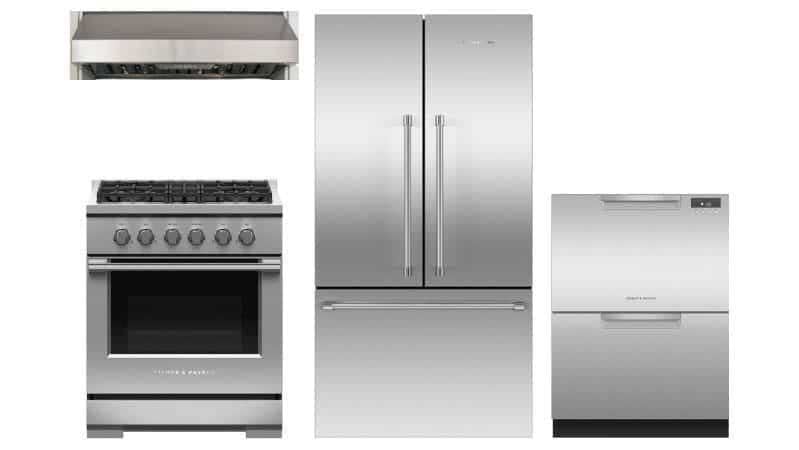 The Fisher & Paykel integrated refrigerator sits flush with your cabinet. The door doesn't protrude, and it looks great with custom cabinet panels.
The dishwasher is the world's only dishwasher drawer. You don't have to bend to fill the top drawer. It also looks great in stainless steel.
The professional range has good output, convection, and unique styling, while the hood can handle the exhaust.
This kitchen package includes:
How to Choose an Appliance Package
There is no one best package for everyone. You should always start with the basics.
The first is to know your measurements and what will fit in your space.
It may seem odd, but your refrigerator can be 24-48 inches wide in a city like Boston, with 36 inches being the most common. Ranges can be 20-60 inches wide, with 30 generally the most popular size.
Typically, the refrigerator is 36 inches, and the range is 30 inches as the most popular size, but measure anyway.
The second is to know the fuel type you will need.
Is it gas or electric? Don't rush to run propane or a gas line when an induction range is faster with a better simmer. Induction is more child safe, easier to clean, and requires less venting.
Electric is better for baking, while gas is better for roasting. The broiler is far better in a gas oven as well. Then again, in certain buildings in Boston, you do not have the amps and power to run an induction range.
The third is to focus on venting.
Inspectors in certain areas have been checking for Make-Up Air, a newer regulation, since 2007. If you are venting a professional range or want a hood over 400 CFM, you have to plan for Make-Up Air or retrieving the equivalent outside air.
It is simple to do at the beginning of your project and way harder after it. Once again, if you live in a condo, you will have to check if running a vent is possible.
Your Appliance Options and Features
Now the easiest part is choosing your appliance features and types.
Refrigerators
Top-Mount Refrigerators: You would see top mounts on the less expensive packages with a freezer on the top and a refrigerator on the bottom. Top mounts are at a premium because of last year's rush. People were buying them as secondary refrigerators to store more. The most available top mounts are Whirlpool and LG.
Side-By-Side Refrigerators: You have organized storage side-by-side but less lateral storage for trays and platters. Side-by-sides refrigeators have become more popular because of their larger freezer capacity.
Many people have purchased side-by-side refrigerators for storage because freezers have become so scarce with the COVID-19 crisis. The most available side-by-side refrigerators are from LG, GE, and Beko.
French Door Refrigerators: A French door refrigerator is a side-by-side top with a pull-out freezer drawer. It is the most popular because you have lateral storage.
Counter Depth Refrigerators: These refrigerators do not protrude past the cabinet, and you do not see the textured side. You pay more for fewer cubic feet, but it looks better in your kitchen. Counter depths can be side-by-sides, French doors, or professional types.
Professional Refrigerators: Professional refrigerators H=have the compressors on the top for a commercial look. The style is industrial. Sub-Zero, True, and Viking are the most popular brands. Professional refrigerators have lead times of four months (True) to 14 months (Sub-Zero).
Integrated Refrigerators: Integrated refrigerators are shallower than counter-depth refrigerators. It fits within 24 inches, so it's seamless with your cabinet. They look great with custom cabinet panels because you can't distinguish between the refrigerator and your cabinet.
The Fisher & Paykel in the featured packages includes an integrated refrigerator. Other brands are Sub-Zero, Thermador, JennAir, and Liebherr. Lead times are four weeks to 14 months.
Learn More: Counter Depth Refrigerator Buying Guide
Ranges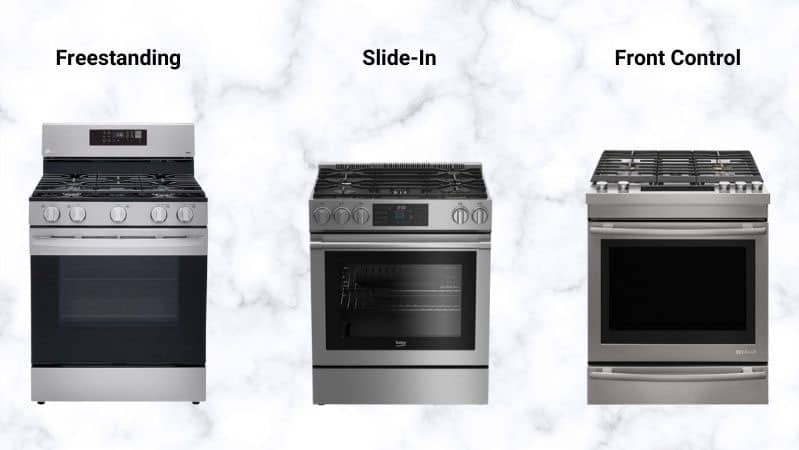 Slide-In vs. Freestanding Ranges: Freestanding has a backguard. Slide-ins and front control ranges do not, so you can see your backsplashes without looking at range controls. (In my opinion, slide-ins and front control ranges, as well as counter depth refrigerators, are the least expensive way to improve the look of your kitchen without remodeling).
Convection Ranges: Convection ovens use fan-forced heat for a more even temperature.
Warming Drawer: Underneath the range, you can warm food for up to three hours instead of a storage drawer.
Two Ovens: There are a couple of double oven combinations. You can buy them with the smaller oven above and below.
Professional (Pro) Gas Range: Multiple high output burners for faster boiling, heating, or wok cooking.
Induction Ranges: Induction is electric magnetic heat with the fastest speed to boil and the lowest simmer. Induction is also safer and requires less venting.
Learn More: Gas Cooking Buying Guide
Microwaves
Convection Microwaves: Ability to cook like an oven, microwave, or both at once.
Dishwashers

Lower Silence Ratings: Any level under 44 dB is quiet, and 42 dB would be noiseless.
Third Racks: A third dishwasher rack above your cups for silverware.
Integrated: Integrated dishwashers feature hidden controls on the top of your dishwasher.
Concentrated Spray Arms: KitchenAid, Samsung, Beko, JennAir, and GE have more spray arms in their dishwashers.
Learn More: Dishwasher Buying Guide
Wi-Fi and Smart Functionality
We had a webinar, Introduction to Smart Appliances, on smart functionality late last year. It's evolving where most brands offer some limited capabilities. LG with their ThinQ App and GE SmartHQ are the best in terms of functionality.
All brands can turn the appliance on or off remotely and see the time remaining on the cycle. Some have recipe tie-ins as well. However, GE and LG are both Beta testing services. The product will alert service companies of potential problems along with the right part to fix.
As a service agent for both, it's exciting. We can fix your appliance with less guesswork. You have much less downtime when there are problems.
Learn More: Smart Appliance Buying Guide
Kitchen Appliance Package Prices and Rebates
Appliance packages are repetitive by the brand. The prices increase due to appliance upgrades. The manufacturer and local and national buying groups may have different rebates on the same appliance for a low price.
However, these rebates can expire at different times. Developing a package over the long term is incredibly confusing. They may also have different delivery dates, so you have to accept delivery by a certain date to qualify. Yes, it can be confusing and frustrating.
Other rebate programs have been ongoing for years. Thermador has a "One, Two, Free" program or free dishwashers and hoods with qualifying purchases.
Other Ways to Create a Kitchen Package
You have to be creative. You have probably figured that out as you are building your house. Let's say you don't like the available packages. You can mix and match.
Normally, I would dissuade you from doing so because you lose rebate opportunities. However, rebates have been limited, and they won't help an out-of-stock brand.
The other issue is coordination. You would want the appliances to match, like steel and especially handles. To minimize this issue, let's look at your basic kitchen design. The stove and dishwasher are usually together while the refrigerator is off on its own. That's by design.
You use your dishwasher more than your refrigerator, and it's the most used appliance, your sink. So, let's look at that dishwasher again. Can you buy a non-existent Bosch, Miele, Beko, or any other brand with a pocket handle to coordinate with every brand?
Then you will have no design differences between your stove and dishwasher. You can always look at placing a panel on your refrigerator or dishwasher, but the options are more limited.
When Is the Best Time to Buy a Kitchen Appliance Package?
As we have said throughout this blog, you should wait to buy appliances until promotional holidays or sales. Now, promotional holidays serve as the last opportunity to purchase before the prices increase.
The COVID-19 pandemic has affected supply and demand. It's still worth waiting for a promotional holiday to buy appliances or start a kitchen remodel.
The best times to buy appliances are:
Presidents' Day: 2 weeks in February

Memorial Day: 1 week at the end of May

July 4th: 10 days around July 4th

Labor Day: Late August/ early September

Black Friday: Now, All of November
Key Takeaways
From a brand standpoint, you only have a few choices like Beko, Fisher & Paykel, LG, and SKS. All are good options, but the amount of brands and models is limited compared to last year or the heady days of pre-COVID-19. You can still buy a decent package by mixing brands.
Additional Resources
Looking for more help on appliances? Get the free Yale Appliance Buying Guide with the 10 most frequently asked questions, their answers, features on the major brands, and advice for the best buying strategies. Well over 1 million people have read a Yale Guide.
Related Articles
Why Should You Trust Us?
It seems that every appliance review has nothing but glowing comments about almost every product, yet you read customer reviews and they are almost universally bad.
We are here to fill in the disconnect. We'll give you the best features, and the drawbacks as well, including reliability based on over 37,000 calls performed by our service team just last year. Our goal is to give you ALL the information so you know what's right for you.
Please consider subscribing or adding to the conversation in the comments below. We appreciate you stopping by.
A Note About Pricing
Pricing on this blog is for reference only and may include time sensitive rebates. We make every attempt to provide accurate pricing at time of publishing. Please call the stores for most accurate price.