10 Best Stainless Steel Kitchen Appliance Packages (Reviews / Ratings / Prices)
So, you are buying all new appliances for your kitchen. It's not easy researching each unit, but there is a better way.
Consider buying by brand.
You won't have to worry about the steel or handles matching. The rebates also increase with the more products purchased from the same manufacturer.
At the same time, this is your kitchen. Buy what you like and what you will use. Just be mindful of the different handle styles and shades of stainless of the different brands.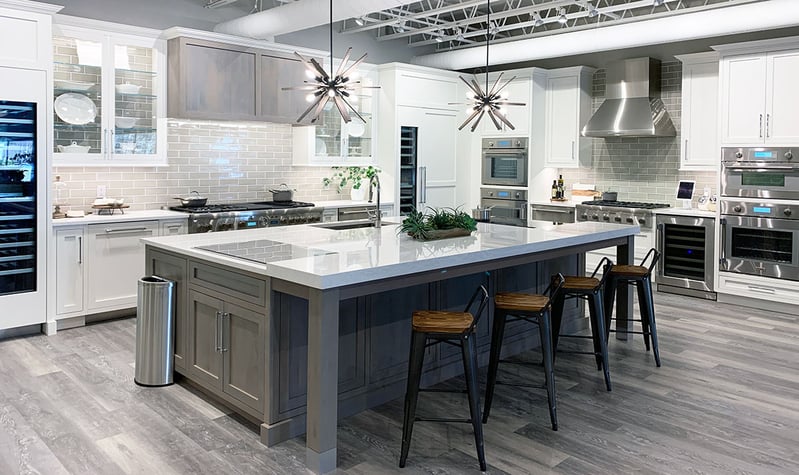 Thermador Kitchen at Yale Appliance in Hanover
The best packages change monthly as rebates, specials, and promotional holidays affect prices throughout the year.
In this article, you'll see the most popular kitchen appliance packages right now.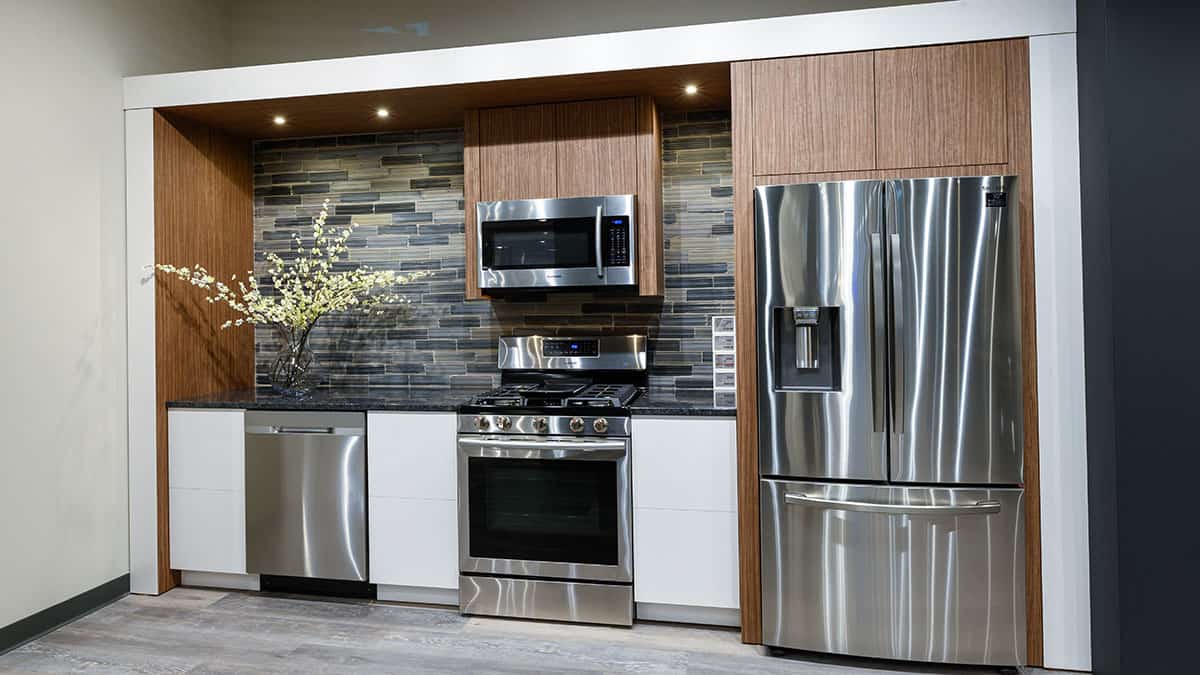 Samsung Kitchen Appliance Package at Yale Appliance in Hanover
You will also learn reliability by brand and product type based on 35,256 service calls logged by our service department just last year.
You should know who will be servicing your appliances before you buy when you have the most leverage.
It always seems like it is someone else's problem after the fact in our industry.
So be proactive.
Short on time? Get our free Appliance Buying Guide
How To Choose An Appliance Package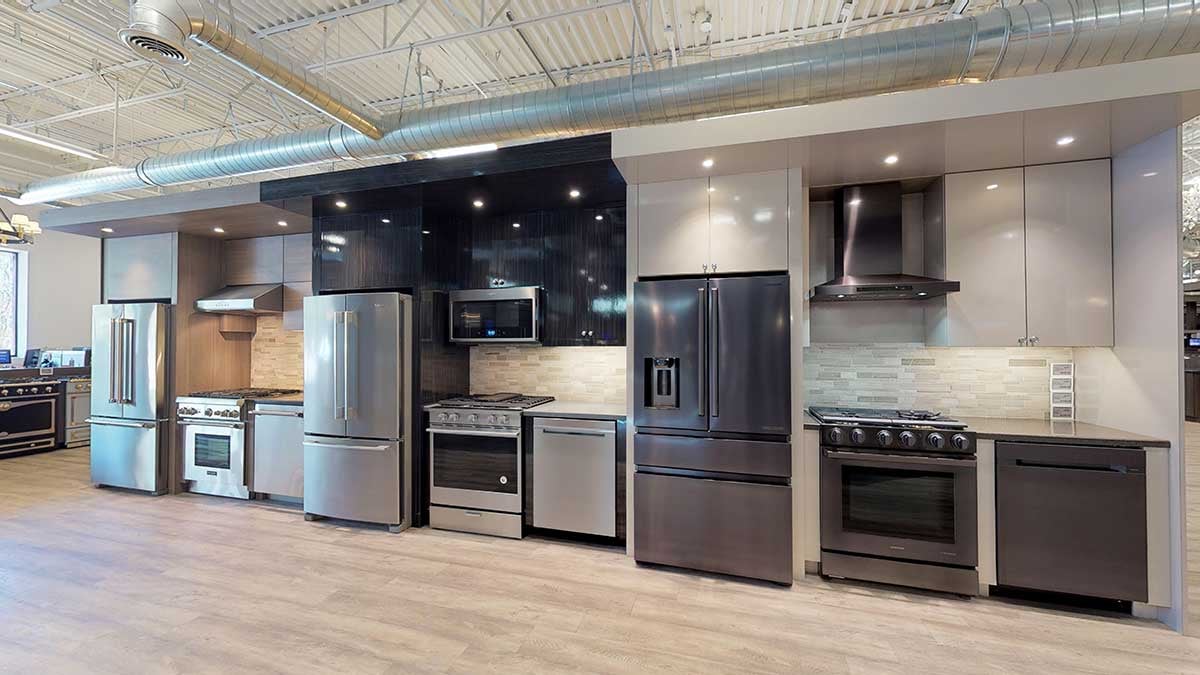 Kitchen Appliance Package Learning Center at Yale Appliance in Framingham
There is no one best package for everyone. You should always start with the basics.
The first is to know your measurements and what will fit in your space. It may seem odd, but in a city like Boston, your refrigerator can be 24-48 inches wide. Ranges can be 20-60 inches in width.
Typically, the refrigerator is 36 inches, and the range is 30 inches as the most popular size, but measure anyway.
The second is to know the fuel type you will need. Is it gas or electric.
Don't be in a rush to run propane or a gas line when an electric induction is a better range. Then again, in certain buildings in Boston, you do not have the amps and power to run an induction range.
The third is to focus on venting. Inspectors in certain areas are checking for Make-Up Air, a newer regulation since 2007.
If you are venting a professional range or want a hood over 400 CFM, you have to plan for Make-Up Air or retrieving the equivalent outside air.
It is simple to do at the beginning of your project and way harder after the fact.
Download our free Ventilation Guide with tons of tips and pointers to vent your kitchen properly.
Your Appliance Options and Features
Now the easiest part is choosing your appliance features and types. You will see packages from $2,000-10,000. I will show you the upgrades in each category.
Refrigerators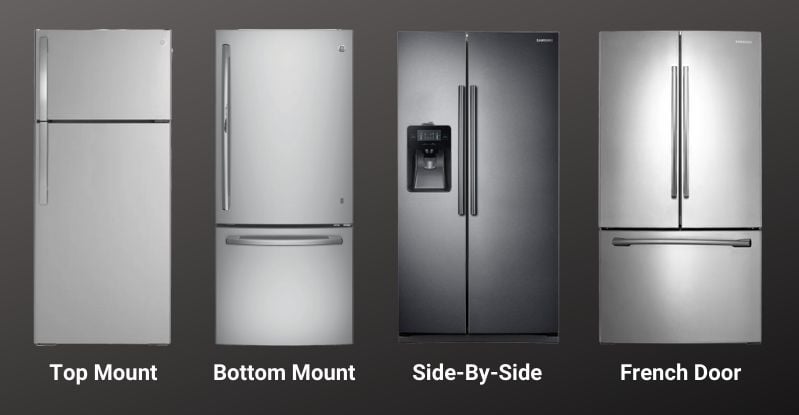 Top-Mount Refrigerators: You see top mounts on the less expensive packages with freezer on the top and refrigerator on the bottom.
There is nothing wrong with a top mount, except you do stoop for fruits and veggies. They are also available only in limited sizes.
Side-By-Side Refrigerators: You have organized storage in a side-by-side, but less lateral storage for trays and platters.
Side-by-sides have become more popular because of their larger freezer capacity.
With the Covid-19 crisis, freezers have become scarce, so many people have purchased side-by-sides for storage.
French Door Refrigerators: Side-by-Side top with a pull out freezer drawer. It is the most popular because you do have lateral storage.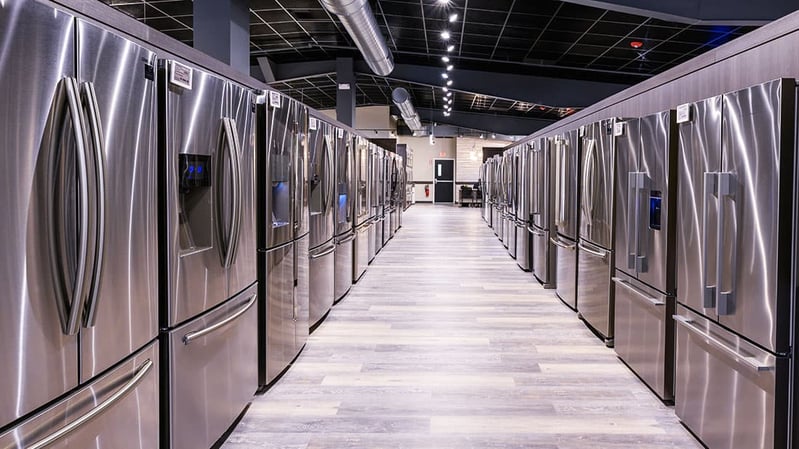 French Door Counter Depth Refrigerators at Yale Appliance in Hanover
Counter Depth: These refrigerators do not protrude past the cabinet, so you do not see the textured side.
You do pay more for less cubic feet, but it looks better in your kitchen.
Counter depths can be side-by-sides, French doors, or professional types.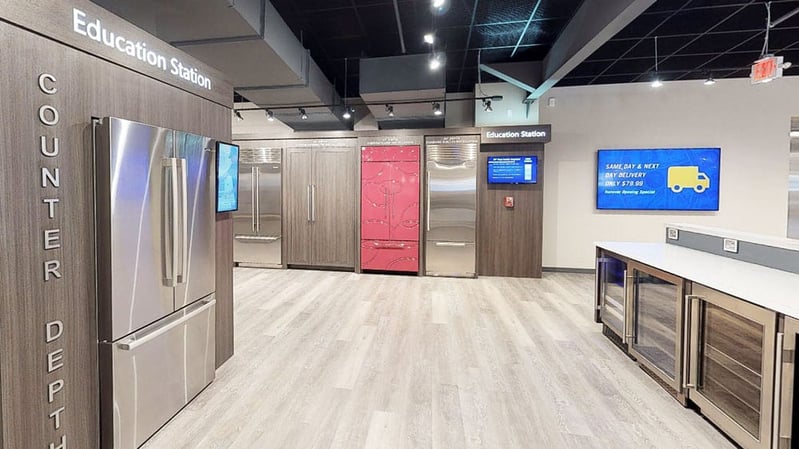 Counter Depth Refrigerator Learning Center at Yale Appliance in Hanover
Professional Refrigerators: Have the compressors on the top for a commercial look. The style is industrial. Brands like Sub-Zero, JennAir, and GE Café dominate this look at a much higher price.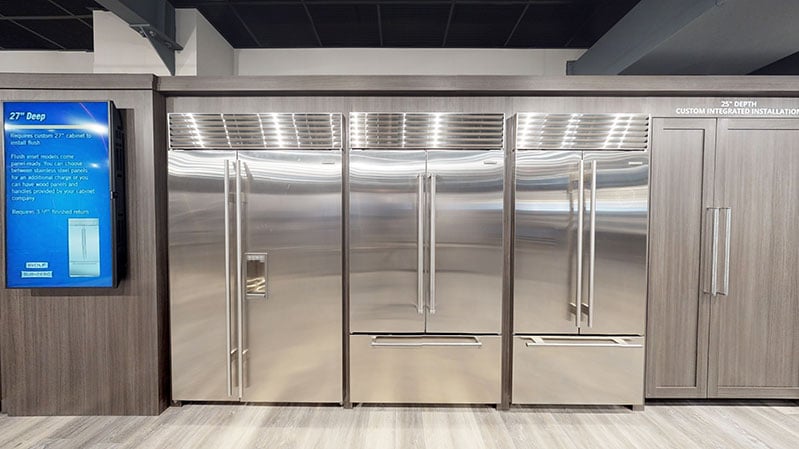 Professional Refrigerators at Yale Appliance in Hanover
Integrated Refrigerators: Integrated is shallower than even counter depth. It fits within 24 inches, so it's seamless with your cabinet.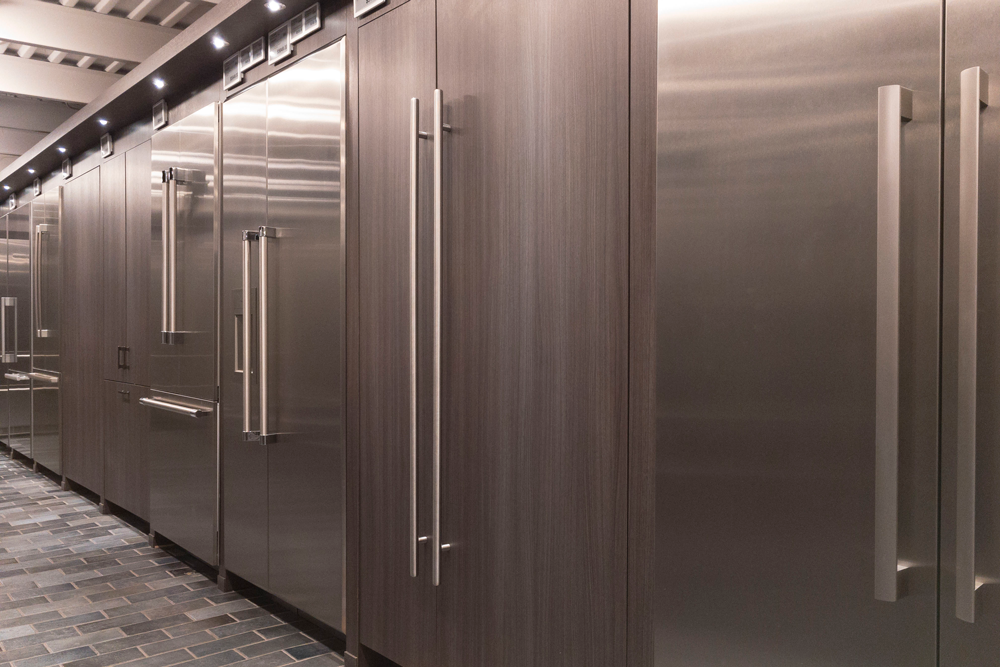 Integrated Refrigerators at Yale Appliance in Boston
Confused about counter depth refrigerators? Download our free Counter Depth Refrigerator Buying Guide with the differences between every kind of refrigerator, th best brands to consider, and more.
Ranges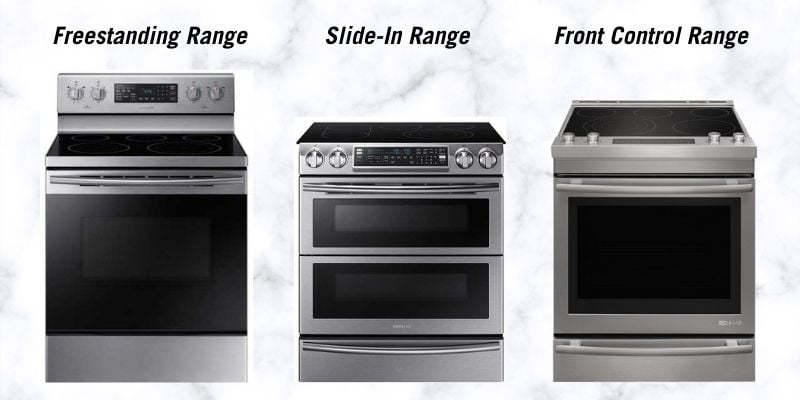 Slide-In vs. Freestanding: Freestanding has a backguard. Slide-ins and front controls do not, so you can see your backsplashes without looking at range controls.
(in my opinion, slide-ins and front control ranges as well as counter depth refrigerators are the least expensive way to improve your kitchen look without remodeling).
Convection: Fan forced heat for a more even temperature.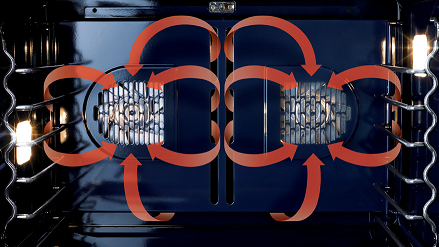 Convection Oven Circulating Hot Air with Twin Fans
Warming Drawer: Underneath the range instead of a storage drawer, you can warm food for up to 3 hours.
Two Ovens: There are a couple of double oven combinations. You can buy them with the smaller oven above and below.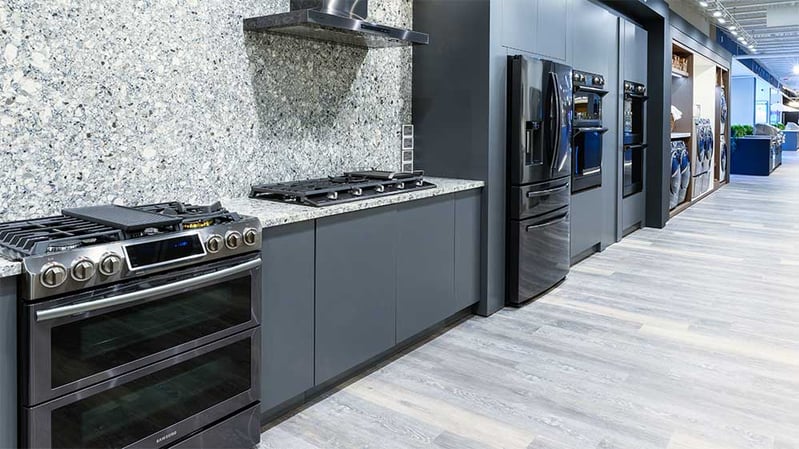 Samsung Kitchen Featuring Flex Duo Gas Range Range at Yale Appliance in Hanover
The Samsung Flex Duo has a double oven. You can remove the divider for one larger oven as well.
Professional (Pro) Gas Range: Multiple high output burners for faster boiling, heating or wok cooking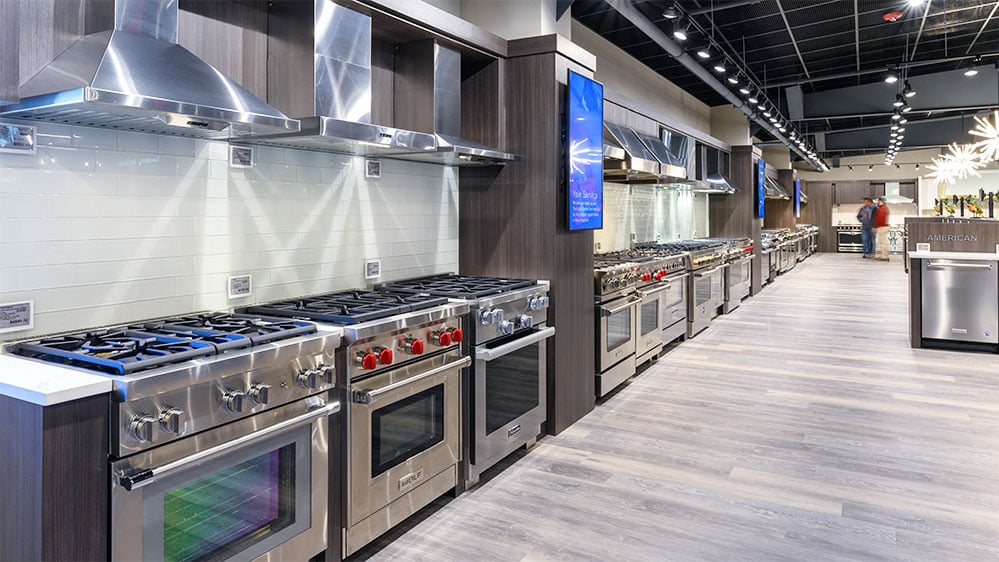 30-Inch and 36-Inch Professional Ranges at Yale Appliance in Hanover
Induction Ranges: Induction is electric magnetic heat with the fastest speed to boil and the lowest simmer. Induction is also safer and requires less venting.
Microwaves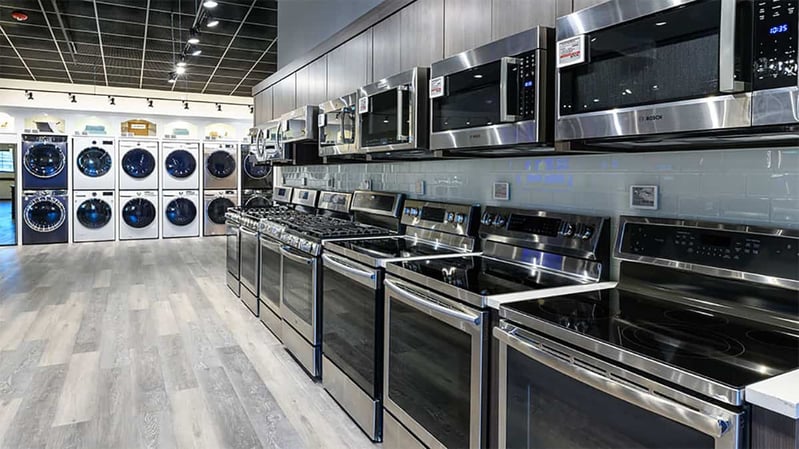 Over-the-Range Microwaves at Yale Appliance in Hanover
Convection Microwaves: Ability to cook like an oven, microwave, or both at one time.
Dishwashers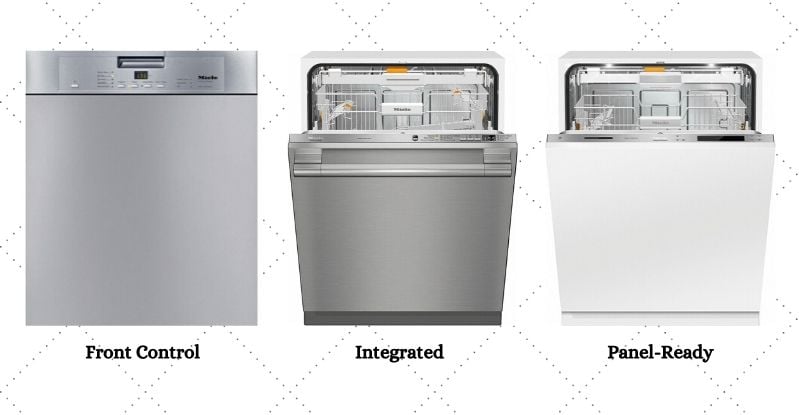 Lower Silence Ratings: Any level under 44 DB is quiet, and 42 DB would be virtually noiseless.
Dishwasher Sound Level Comparison [VIDEO]
Third Racks: A third dishwasher rack above your cups for silverware.
Integrated: Controls on top.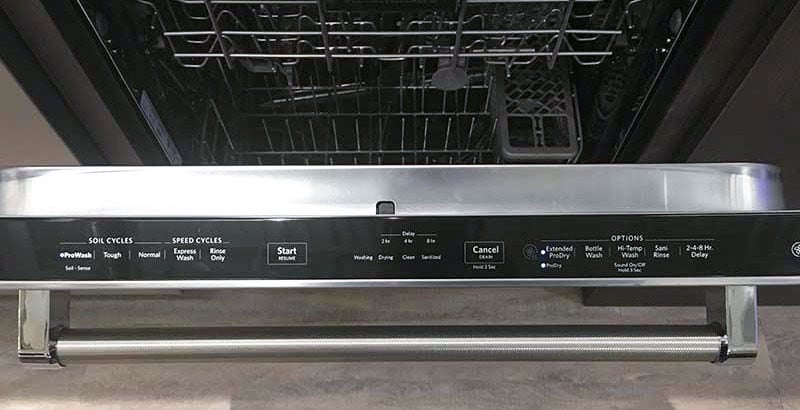 Integrated Dishwasher Controls on a KitchenAid Dishwasher at Yale Appliance in Framingham
Concentrated Spray Arms: KitchenAid, Samsung, and GE have more concentrated sprays to power out tough sprays in their better dishwashers.
Kitchen Appliance Package Prices and Rebates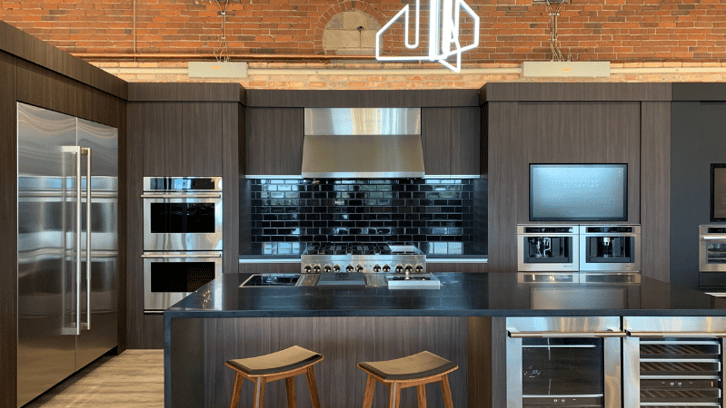 Jenn-Air Professional Appliances at Yale Appliance in Boston
Appliance packages are repetitive by the brand. The prices increase due to appliance upgrades.
These packages have the best rebate percentages right now.
The manufacturer and local and national buying groups may have different rebates on the same appliance for a low price.
However, these rebates can expire at different times, so it is incredibly confusing to develop a package over the long term.
They may also have different delivery dates, so you have to accept delivery by a certain date to qualify.
Yes, it's confusing and frustrating - it's probably designed that way.
Other rebate programs have been ongoing for years. Thermador has "1,2, free" or free dishwashers and hoods with qualifying purchases.
Jenn-Air Pro has had a similar $1399 rebate based on their qualifiers.
Presently, the best and least expensive packages are Samsung appliance packages. There are other competitively-priced brands, but none match for features, style, and reliability.
A small note about Samsung appliances: Samsung is the number one brand in the US, but their repair and support can be lacking in certain areas.
You should inquire about service for any brand or appliance before you buy instead of finding out later (second time I said it, I know).
Should You Buy a Kitchen Appliance Package? [Video]
10 Best Stainless-Steel Kitchen Appliance Packages for 2020
In order of lowest price to highest price.
1. Samsung Side-by-Side Package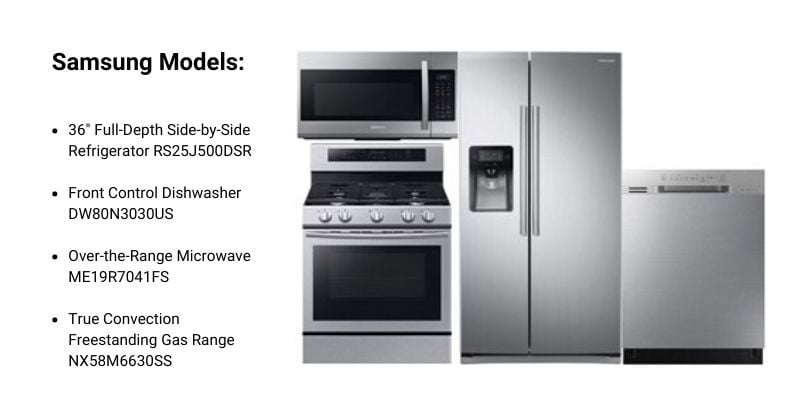 I remember when a side-by-side was $1499 back in the 1980s. Anyway, with the largest freezer capacity, side-by-sides again have become more popular during the recent COVID crisis.
Their other appliances are solid and reliable by percentage. You have a convection oven in this package as well.
2. Samsung Counter Depth Package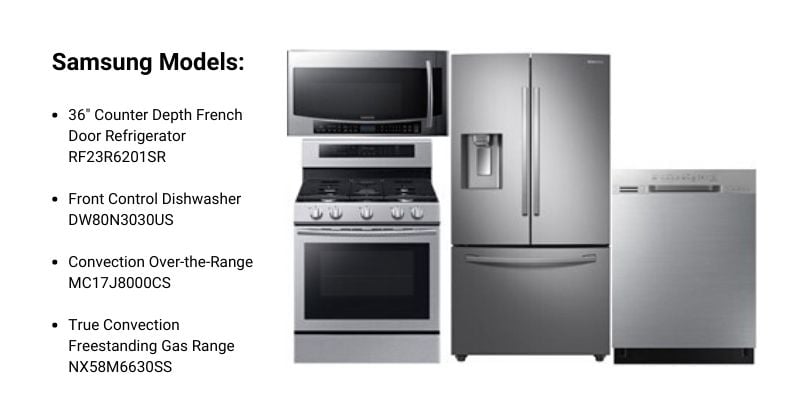 This package is popular because of its counter-depth, French door refrigerator. These units look better in your kitchen because they don't protrude from your cabinet.
Micro convection ovens allow you to cook as a microwave, an oven, or combination to save you half the cooking time without the rubbery microwave texture.
3. GE Profile Full Depth Package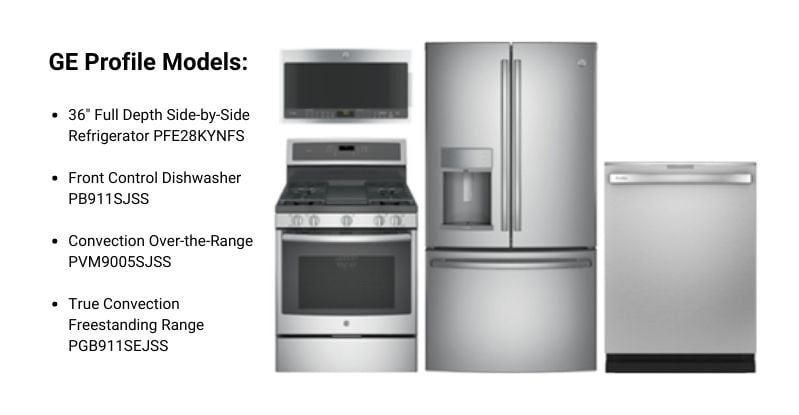 GE is known for its cooking. You have their best-selling, freestanding range and a convection oven in this package.
Having convection as an option in your microwave allows you to microwave or bake in a small oven (like the previous Samsung).
The refrigerator is massive at 28 cubic feet (largest on this list).
The dishwasher is integrated with hidden controls to complete the package.
4. KitchenAid French Door Package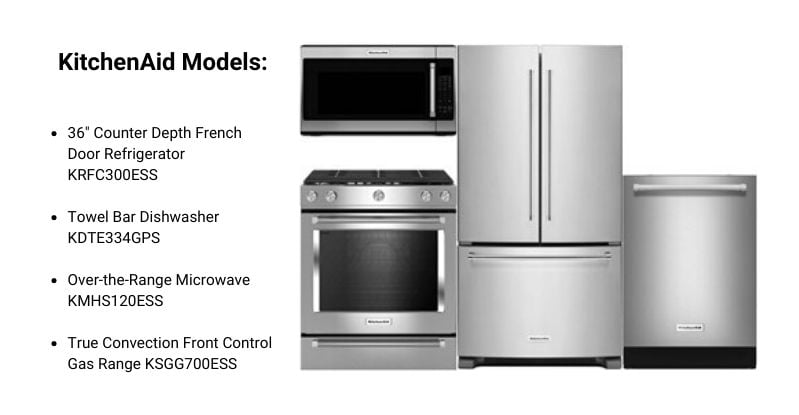 KitchenAid features a counter depth refrigerator and a convection oven as well as a quiet dishwasher and over-the-range microwave.
This package combines three appliance elements desired in an upscale kitchen. This package has a counter depth refrigerator and a slide-in range for aesthetics with a quiet dishwasher so you can watch TV in the next room.
5. Jenn-Air Counter Depth Package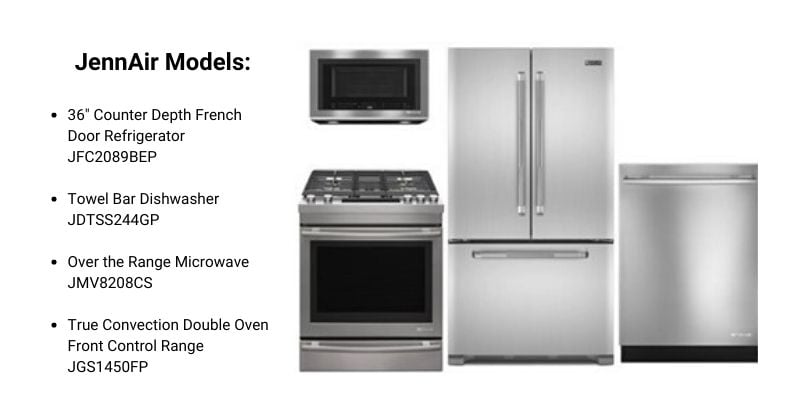 Look at this package: It's $2,000 off because the handle is discontinued.
Jenn-Air is one of the most popular packages for upscale appliances in the country, especially for cooking.
The range has the largest capacity plus an additional baking drawer below.
The over-the-range microwave is also convection so you can cook microwave, convection, or combination to save time.
Package includes a shallow depth refrigerator and a quiet, integrated dishwasher.
How You Should Approach Discontinued Products
Buy them only if:
You are saving more money than buying the new model. You are saving $2,000 here
There are no feature differences or fewer features in the new release.
You can match it with other appliances, especially if it's unique looking.
The new model has a long lead time.
You like it better, do not care either way or can live with it (don't buy at any price if you hate the look because it will be staring you in the face for 6-12 years).
6. Beko Counter Depth Package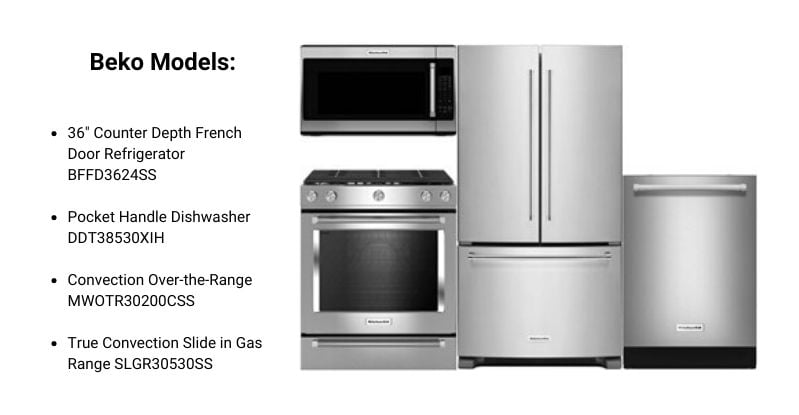 Beko has been marketed under the Blomberg name in the US for almost ten years. They also produce for other brands. They manufacture the Viking dishwasher, for example.
The company has a German name, but it's Turkish. They are extremely popular in Europe.
Their style is unique, and their products have different features, especially their refrigeration.
The Blue Light Crisper Drawers prolong the life of fruit and vegetables by photosynthesis.
The refrigerator also has dual evaporators, so warmer air of the refrigerator does not circulate to your freezer.
Your ice cream should taste better because the odors from the refrigerator won't deposit into your freezer.
It also has IonGuard to filter bacteria and prolong the life of your food.
As I said, Beko is an interesting lone worth considering.
7. Bosch Slide-In Kitchen Package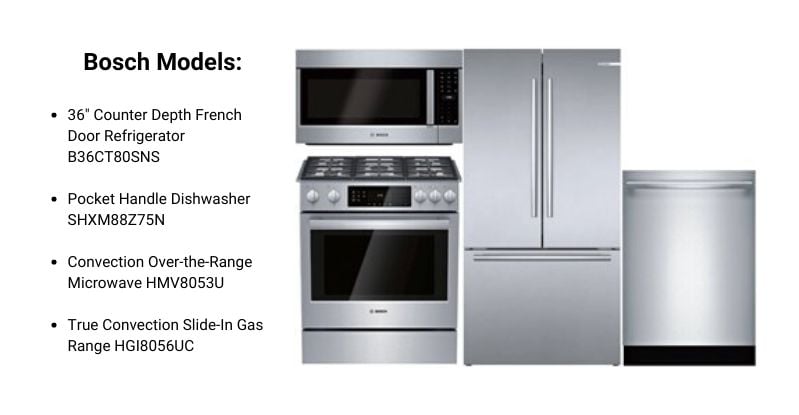 This package includes a French door counter depth refrigerator, slide-in convection range, and almost noiseless dishwasher, and an over-the-range microwave hood.
Bosch is mostly known for its dishwashers, but this dishwasher.
Their new French door is interesting with two compressors to eliminate air crossover between refrigerator and freezer.
Two compressors are better than two evaporators for temperature and humidity control.
8. KitchenAid Freestanding Package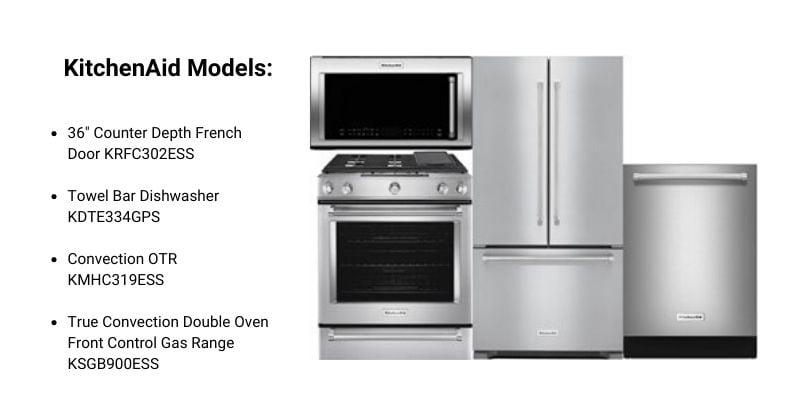 This package differs from the original KitchenAid in three ways:
The refrigerator is two cubic feet larger.
Instead of a microwave, you have the microwave convection feature.
The range adds a baking drawer instead of storage below.
Best Professional Kitchen Packages
You can still buy a pro range in a package by combining it with the less expensive counter depth refrigerator, rather than the pro (compressor on top style)
9. Thermador 30-Inch Kitchen Package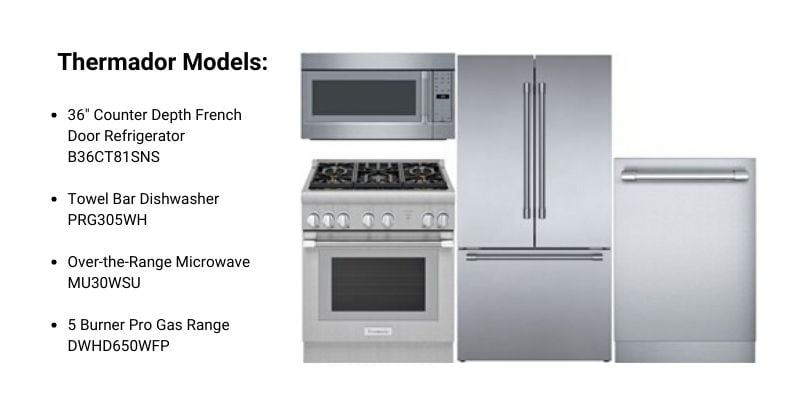 The Thermador 5 burner pro has a high output burner and simmers extremely well down to just 100 BTU on two burners.
Bosch and Thermador are part of the same company so that the styling will match.
We included a Thermador dishwasher and a powerful Yale 600 CFM exhaust.
10. Jenn-Air Professional Package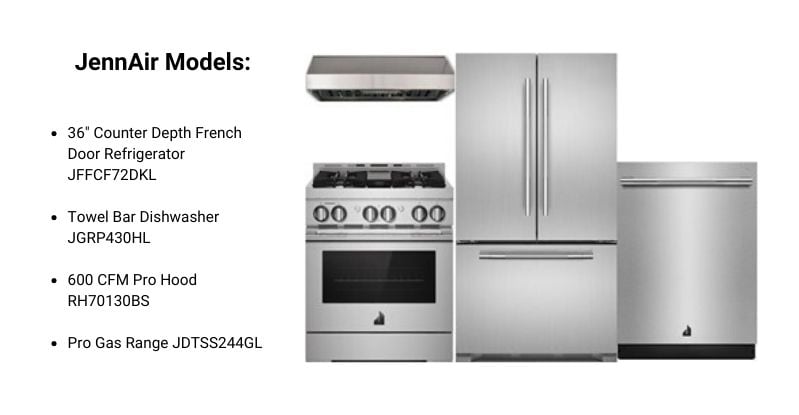 The new Jenn-Air Pro range is striking and features packed.
You have 2 20,000 BTU burners on the top and twin convection for even temperature in the oven
It is also Wi-Fi enabled, so you can turn it on or off remotely through an app on your phone as well as change temperature.
Their Wi-Fi is better than most because it has tie ins to Yummly, a cooking app, so you can download recipes to elevate your cooking experience.
Like the Thermador, you match it with a regular counter depth Jenn-Air refrigerator, rather than a pro to keep costs down. It also features the 600 CFM hood.
Best Stainless Kitchen Packages: Key Takeaways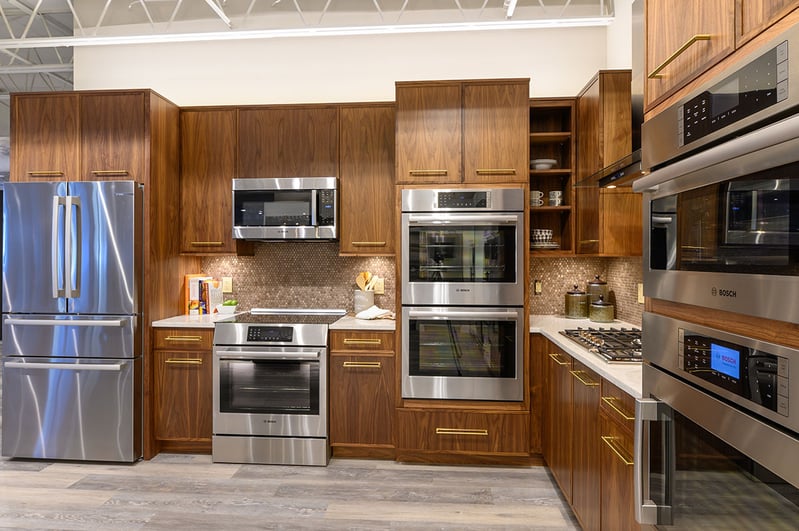 Bosch Kitchen Appliance Package Options at Yale Appliance in Hanover
Well, this list runs the gamut. If you are just starting and buying your first kitchen package or you are a builder, then Samsung and GE have the best decent options under $4,000.
Samsung is popular because it is beautifully styled and fairly inexpensive. But most brands have decent packages in the mid to high-end range.
Bosch, KitchenAid, Samsung, Beko, and Jenn-Air have decent packages in the $4,000-$8,000.
On the high-end, all are solid choices.
The Jenn-Air at $4,999 is especially good given the features and lower price.
You can still buy a pro range package under $10,000 by combining it with a regular shallow depth refrigerator instead of the more expensive pro and integrated types.
Ultimately, it also depends on what you want.
Then consider what features are the best for you. Is it a better range or counter depth refrigerator? How about a quiet (but not too quiet) dishwasher?
Lastly, consider service and which brand has the best service in your area.
Everything You Should Know About Purchasing An Appliance Package In 2020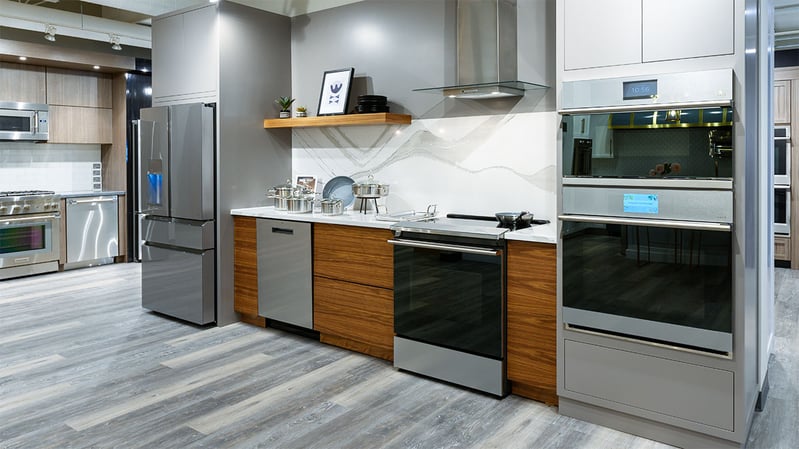 GE Profile Kitchen Appliances at Yale Appliance in Hanover
When Is The Best Time To Buy A Kitchen Appliance Package?
As we have said throughout this blog, you should wait to buy appliances during specific times.
Manufacturers always promote to some degree during these holidays:
Presidents' Day: 2 weeks in February
Memorial Day: 1 week at the end of May
July 4Th: 10 days around July 4th
Labor day: Late August/ early September
Black Friday: Now All of November
Purchasing During The Coronavirus (COVID-19) Pandemic
The COVID-19 pandemic has affected supply and demand.
It's still worth it to wait for a promortional holiday to buy appliances or start a kitchen remodel. However, in 2020, nobody is certain if we will see a lot of huge sales iwth discounts over 35% off.
What Appliances Are The Most Reliable?
Based on 35,256 service calls. The following are the most reliable brands in order of product type.
French Door Refrigerators
Counter Depth French Door Refrigerator Reliability for 2020
| | | | |
| --- | --- | --- | --- |
| | Service Qty | Shipped Qty | Service Ratio |
| BlueStar | 23 | 36 | 63.89% |
| Jenn-Air | 308 | 595 | 51.76% |
| KitchenAid | 103 | 239 | 43.10% |
| Whirlpool | 6 | 17 | 35.29% |
| Bosch Appliances | 135 | 422 | 31.99% |
| LG Electronics | 10 | 46 | 21.74% |
| Samsung | 248 | 1220 | 20.33% |
| Fisher & Paykel | 31 | 192 | 16.55% |
| GE Profile | 9 | 59 | 15.25% |
| GE Appliances | 5 | 35 | 14.29% |
| Café Appliances | 2 | 41 | 4.87% |
| Grand Total | 916 | 2932 | 31.24% |
The average service rate for French door refrigerators is 28.94% in the first year versus 13.6% for appliances in general. From almost every manufacturer, the numbers aren't good.
However, the most common issue for French door refrigerators stems from their ice makers. Sending a frozen cube through a warmer refrigerator is problematic. However, the refrigerator does still works.
Dishwashers
Dishwasher Reliability for 2020
| | | | |
| --- | --- | --- | --- |
| | Service QTY | Shipped QTY | Service Ratio |
| Asko | 103 | 190 | 54.21% |
| Jenn-Air | 188 | 493 | 38.13% |
| Bosch Benchmark | 25 | 70 | 35.71% |
| Fisher & Paykel | 56 | 193 | 29.02% |
| Miele | 185 | 903 | 20.49% |
| Maytag | 2 | 10 | 20.00% |
| Gaggenau | 16 | 104 | 15.38% |
| Thermador | 126 | 872 | 14.45% |
| KitchenAid | 90 | 688 | 13.08% |
| Café Appliances | 3 | 25 | 12.00% |
| Bosch | 398 | 3573 | 11.14% |
| Samsung | 134 | 1297 | 10.33% |
| LG | 5 | 81 | 6.17% |
| Cove | 2 | 44 | 4.55% |
| Ge Appliances | 1 | 37 | 2.70% |
| Whirlpool | 38 | 1471 | 2.58% |
| Grand Total | 1377 | 10166 | 13.55% |
The average service rate for dishwashers is about 9.93% and about 13.6% on all appliances. The best dishwasher brands to buy based on service and parts availability are any from the Whirlpool companies (Jenn-Air, Kitchen-Aid, and Maytag) and Bosch.
Gas Ranges
Gas Range Reliability for 2020
| | | | |
| --- | --- | --- | --- |
| | Service Qty | Shipped Qty | Service Ratio |
| Bosch Benchmark | 13 | 25 | 52.00% |
| Jenn-Air | 109 | 323 | 33.75% |
| Blomberg | 6 | 18 | 33.33% |
| Fisher & Paykel | 2 | 8 | 25.00% |
| KitchenAid | 55 | 237 | 23.21% |
| Café Appliances | 6 | 41 | 14.63% |
| LG Electronics | 3 | 24 | 12.50% |
| Bosch Appliances | 29 | 233 | 12.45% |
| Whirlpool | 22 | 197 | 11.17% |
| Premier | 2 | 24 | 8.33% |
| Samsung | 76 | 1170 | 6.50% |
| GE Profile | 2 | 71 | 2.82% |
| Grand Total | 352 | 2450 | 14.37% |
Simpler gas ranges with fewer features are more reliable. For instance, Bosch's average range has a service rate of 19.38% within the first year, but their more featured Benchmark Series is 28.57%. Samsung and LG contradict that trend. All their ranges are highly featured yet have lower service problems.
Electric Stoves
Electric Range Reliability for 2020
| | | | |
| --- | --- | --- | --- |
| | Service Qty | Shipped Qty | Service Ratio |
| Jenn-Air | 28 | 63 | 44.44% |
| KitchenAid | 31 | 89 | 34.83% |
| GE Profile | 2 | 18 | 11.11% |
| Café Appliances | 3 | 28 | 10.71% |
| Bosch Appliances | 10 | 154 | 6.49% |
| Samsung | 27 | 754 | 3.58% |
| Whirlpool | 12 | 1269 | 0.95% |
| LG Electronics | 0 | 62 | 0.00% |
| Premier | 0 | 19 | 0.00% |
| Blomberg | 0 | 17 | 0.00% |
| Avanti | 0 | 17 | 0.00% |
| Grand Total | 114 | 2513% | 4.54% |
The average repair rate for electric ranges is about 7.76% in the first year. Appliances, in general, are about 13.6%. In the chart below, we removed any brands with fewer than five ranges shipped in 2018. Electric ranges haven't changed much and are some of the most reliable appliances. Having burners under glass helps as well.
Additional Resources
Looking for more help on appliances? Get the free Yale Appliance Buying Guide with the 10 most frequently asked questions, their answers, features on the major brands, and lastly, advice for the best buying strategies. Well over 580,000 people have read a Yale Guide.
Related Articles
Why Should You Trust Us?
It seems that every appliance review has nothing but glowing comments about almost every product, yet you read customer reviews and they are almost universally bad.
We are here to fill in the disconnect. We'll give you the best features, and the drawbacks as well, including reliability based on over 37,000 calls performed by our service team just last year. Our goal is to give you ALL the information so you know what's right for you.
Please consider subscribing or adding to the conversation in the comments below. We appreciate you stopping by.
Steve Sheinkopf
Steve is the third-generation CEO of Yale and a lifelong Bostonian. He currently resides in Boston, one mile from where he was born. Despite being one of the worst goalies of all time, he is a huge hockey fan of college hockey and the Boston Bruins. The love of his life is his daughter Sophie.

Steve has also been featured in numerous publications such as the New York Times, Consumer Reports, The Boston Globe, Bloomberg Radio, and Entrepreneur, for his knowledge of how to buy appliances and appliance repair.
A Note About Pricing
Pricing on this blog is for reference only and may include time sensitive rebates. We make every attempt to provide accurate pricing at time of publishing. Please call the stores for most accurate price.