4 Major Appliance Delivery Problems Nobody Ever Tells You About
I think about pizza a lot these days. I realize this is a curious way to open an appliance delivery article. But pizza is delicious, my daughter loves it, and it's one less meal I need to plan.
You can have a pizza within 30 minutes. It's made, boxed, and then delivered within that narrow time frame.
Appliances are sitting in a warehouse. They are already "premade." Yet, you have to pay for a 4-hour delivery window from appliance stores. Yet, time is only one expense. You will find all sorts of hidden fees after the delivery.
In this article, you will learn how to negotiate better appliance delivery. You have the most leverage to negotiate your delivery at the time of the sale.
In the end, you will learn the one delivery issue that can destroy your home and how to prevent it from proactively happening.
You should download our free Delivery Checklist to compare your local and online appliance stores.
With the shortage of experienced technicians, these problems have become worse over the last two years. The good news is that you can eliminate any of these issues with some planning.
4 Major Appliance Delivery Problems Nobody Ever Tells You About (Until Now)
1. Wasting Your Time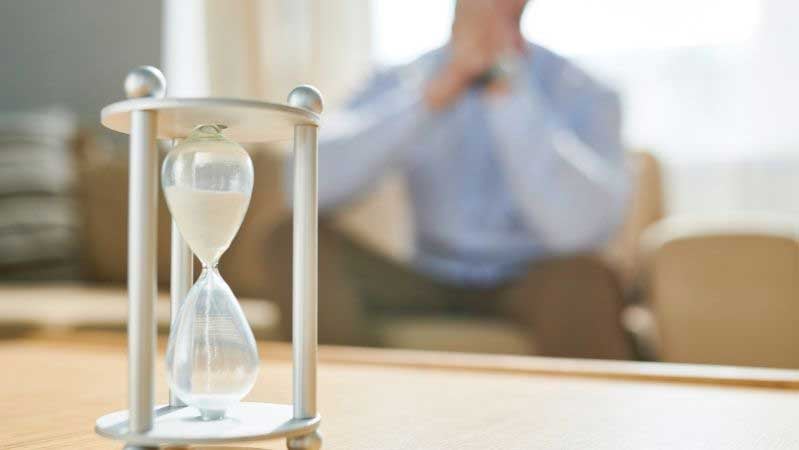 Almost every appliance company has a problem with timely deliveries, including us. Some companies charge for a four-hour window.
Twenty years ago, when I was service manager, I let customers pick the time. We had 20 first stops at 8 AM and 20 last stops after 4 PM with nothing in between.
Overall, what you and I want is for you to be home when our delivery truck is just arriving. You aren't wasting time yet and are still home, which is crucial for us.
The good news is software has advanced considerably over the last 20 years. It has been made popular by Uber and Lyft.
Here is what a modern delivery should look like:
The Night Before -

You received a text with a two-hour window for delivery. It's not ideal because you cannot pick the time, but it's better than most other companies' whole day or half day window.

Day of Delivery -

You can track the truck within 30 minutes to your home. You can also request a call when the delivery team is ten to 15 minutes away.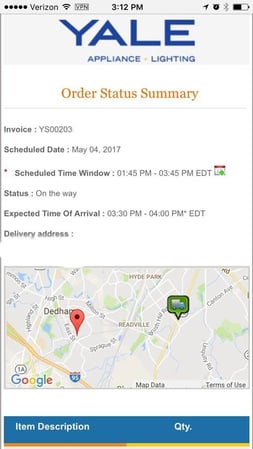 So, instead of wasting four hours, you are waiting for 30 minutes tops, a three-hour, and 30-minute time savings. Many companies have this type of delivery experience. You can shop for it or look on their websites to track the truck.
Now let's uncover many of the cash-only hidden fees you will be subjected to at the time of delivery.
2. Hidden Fees
Another common issue is unforeseen, yet increasingly common extra fees charged at delivery. Free delivery is great, but most of the time, it's a drop-off at your curb, and that's okay for smaller packages or a dishwasher.
However, it would help to ask the right questions at the sale, not when the delivery team is at your door.
Home Depot, for example, advertises free delivery, but the following is what it doesn't include.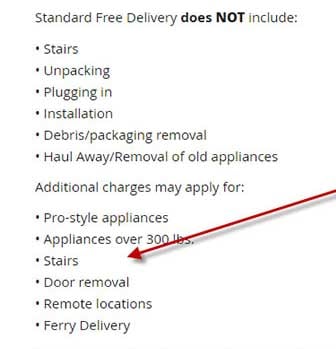 Delivering Up Stairs
Any delivery over a flight seems to be a charge. How much depends on the vendor. We charge after a fourth-floor walk-up because of the extra time. However, that only applies to Brownstones in Boston.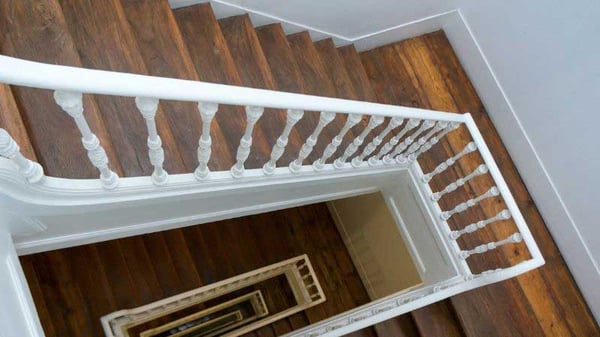 You must negotiate stairs at the time of sale. I will repeat that a lot in this article, but the added price is $60 extra for three staircases. If the company does indeed climb stairs.
Removal of Previous Appliances and Packaging
How much does each removal of your old appliances cost? The going rate is $20-$40. The removal of packaging is often a separate charge as well.
Basic Connection
You probably want the appliance to work when the delivery is finished. You will pay extra for gas appliances in the state of Massachusetts. Built-in wall ovens, cooktops, and dishwashers require experienced technicians to repair them.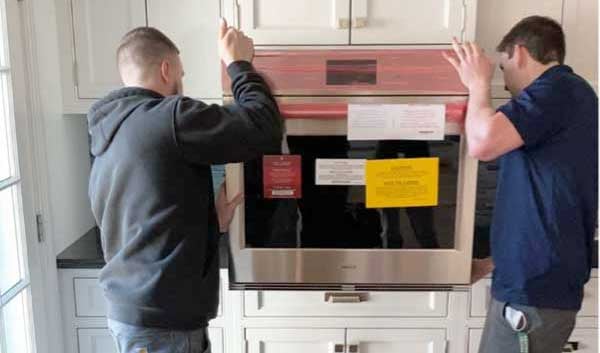 Yale Appliance Wall Oven Installation
Basic installation is almost always an extra charge, even for electric ranges, dryers, and washers. How much is that charge?
On average, vendors charge about $30 to remove an old appliance when offered. That's per removal, so it's $120 to remove four appliances or a typical kitchen of appliances. Home Depot was the least expensive at $25.
In many cases, removal does not include the box except Lowe's, Home Depot, and Best Buy. Best Buy will charge $29.99 for installation plus $39.99 to recycle your refrigerator, for instance. Every company is probably recycling.
It's not because they are good corporate citizens but because they are paid for the scrap. Once again, you won't know until it is addressed at the time of the sale. Have I said to get that "Free" installation signed by the salesperson and manager?
What you want is to know the delivery price to your home, including connection and removal.
Now the really bad stuff.
3. Appliance Damage

If you remember only one piece of advice from this article it should be this: Never sign for anything without inspecting the items thoroughly first.
Most companies will not allow you to place a damage claim after the fact. Not just damage either but wrong products delivered that you install.
Whatever you do, take your time inspecting your appliances on delivery. Don't feel rushed or hassled into signing for them.
Don't leave it in your garage boxed either. Always unpack and inspect any delivery whether it's appliances, furniture, or home accessories.
Leading Causes of Damage
Damage is almost inevitable, especially now. Depending on the store, damage happens 3-9% of the time or more.
With the shortage of industry experts, damage to the appliance and your home has become an even more likely problem during delivery.
Damage From Transportation - Many of your appliances are made in Korea, Europe, and Mexico. There will be some shipping problems in moving appliances multiple times over the oceans and transporting them across the country using multiple warehouses. The damage is bound to happen with multiple touchpoints.
Damage to Your Home -

Appliances have also become heavier, mainly stoves and refrigerators, while floors have become softer, so damage can occur to your house or the actual appliance.
Pro Tip: If you take delivery of heavier appliances, place them on melamine, so they don't leave an indentation on your floor. You will learn a few tricks like this in our Delivery Checklist.
Of course, walls are vulnerable to larger appliances too.
We video every delivery of the products plus the delivery path to your home. However, we are not perfect. We insure ourselves for every kind of scenario so you will be taken care of in the event damage occurs.
In Case Damage Happens to Your Appliances or Your Home Upon Arrival
Often, the store will give you a discount for keeping a damaged appliance, but you want to make sure it will not affect the appliance's operation.
You need to take pictures and document the damage.
Then have the delivery guys sign their delivery form verifying the damage.
Call the store while your delivery team is still there.
You need as much documentation as possible, especially with property damage.
Most companies will lowball estimates, so you will have the added burden of providing a real contractors estimate.
If you do not verify that damage, you will have to go through your homeowner's insurance. A bad enough problem will certainly increase or even cancel your insurance.
Most companies want you to own their problems because your insurance will increase, not theirs. The damage is the biggest problem, but there is a type of damage that may cause lasting consequences for your home.
4: Water Damage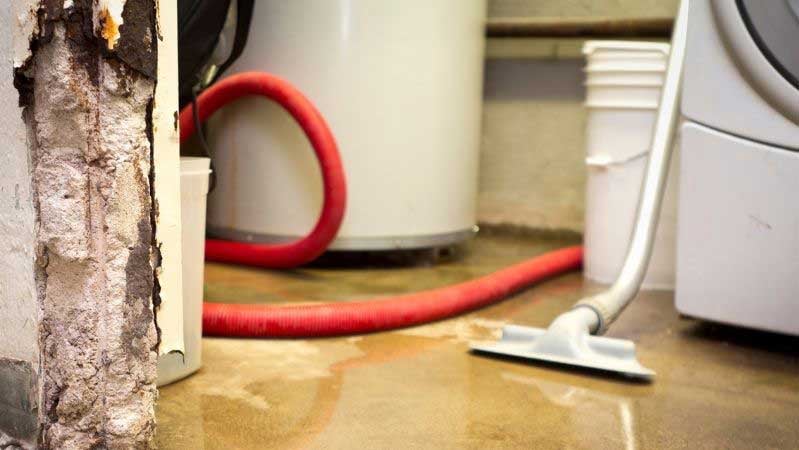 Consider this nightmare scenario: You install a new dishwasher in your vacation house on the Cape. Shortly after that, you close the house.
However, that slow leak is a ticking time bomb in your home. When you open your home in April, it won't be pretty. You will lose a season in your home and probably your mind fighting insurance companies for the next 18 months.
We use leak detection paper in every installation with water. If the paper is dry within 24 hours, you throw it away. If not, you call us, and it is fixed before it becomes an issue.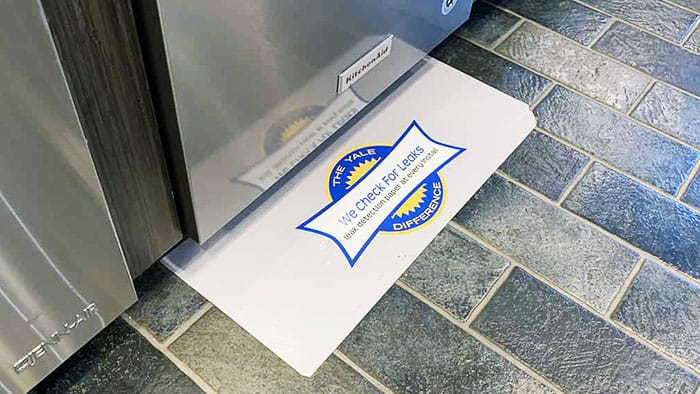 Yale Appliance Leak Detection Pad
You can do the same. Just cut some brown sheen, no absorbent paper, and place it under the dishwasher, refrigerator, or washer. It will save a ton of time, money, and future sanity.
Key Takeaways
Scared? Don't be.
Ask the right questions beforehand, especially how much a delivery will cost with stairs, including installation and removal. Your time is probably worth more than the $120-200 in added fees.
More importantly, take your time inspecting any delivered appliances or heavy delivery like furniture or cabinets.
Document any problems at the time of the delivery. Wasting a whole day, delivery damage, and installation issues are often more costly than a good delivery with a fee.
Additional Resources
Download our Delivery Checklist below and shop it to all the stores like your appliance order and save yourself a ton of hassle and pain later on.
Related Articles:
Why Should You Trust Us?
It seems that every appliance review has nothing but glowing comments about almost every product, yet you read customer reviews and they are almost universally bad.
We are here to fill in the disconnect. We'll give you the best features, and the drawbacks as well, including reliability based on over 37,000 calls performed by our service team just last year. Our goal is to give you ALL the information so you know what's right for you.
Please consider subscribing or adding to the conversation in the comments below. We appreciate you stopping by.
A Note About Pricing
Pricing on this blog is for reference only and may include time sensitive rebates. We make every attempt to provide accurate pricing at time of publishing. Please call the stores for most accurate price.