Why Doesn't Every Appliance Brand and Store Offer Service?
I want you to visualize your holiday dinner.
You have invited your family to dinner. You have shopped for the organic, free-range 30-pound turkey.
You have all the fixings mashed, veg, gravy, and perhaps garlic bread.
You turn on your stove one week before to be safe and……. it doesn't work.
That is the wrong time to discover you won't get it fixed in time for the holidays.
In certain areas, you will need a month for your stove to be operating.
Amazon has taught us to expect your order today or tomorrow. Appliance service is the extreme opposite.
In this article, you will learn why and how to protect yourself best, so you can have a happy Thanksgiving, Easter, Christmas, Memorial Day, July 4, Passover, or any other family get-together.
Appliance service is unlike any other business you will ever encounter. After reading this article, you will understand why.
How Yale Appliance Entered the Service Business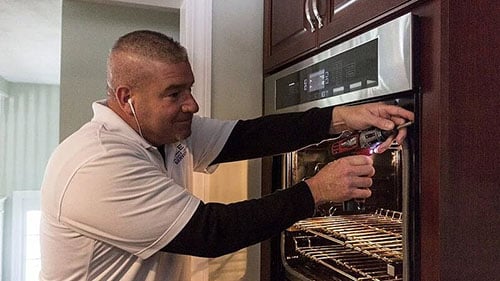 Yale Appliance Service Technician
August 10, 1993 - I remember that day as if it was yesterday.
One of my customers had an ignition problem with a new professional range.
So, I sent an independent service technician after weeks of begging.
The next call was my frantic customer saying the range blew up.
The firemen doused his new kitchen with water making the problem much worse.
My next few months were spent helping him with his insurance company.
This story was part of a disturbing trend.
Products broke, and I had to beg companies to fix their products and manage that repair with often unfortunate results.
So, we opened our service department almost 30 years ago. I was not prepared for the results.
Becoming An Appliance Service Company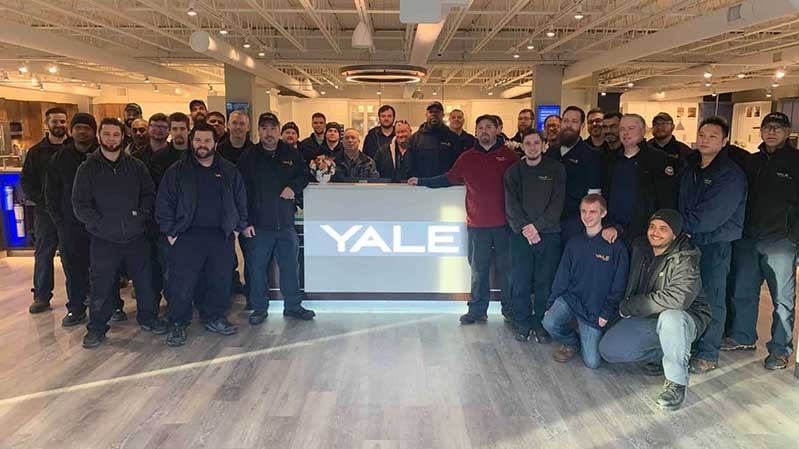 Yale Appliance Service Technicians
Our appliance service company started in the backroom of our Dorchester store.
I was the original service manager with two people answering phones, four technicians, and a parts manager.
It didn't start very well.
In many ways, it still is the most important job I have ever held at Yale, however miserable.
We traded other people not fixing an appliance to our guys needing to figure it out in 2-3 trips to your home.
Now 25 years later, we have one Head of Service with an overall manager, a customer service manager, a full-time trainer, one parts manager with three staff, two regional supervisors of 12-14 techs each, and 15 people answering the phone.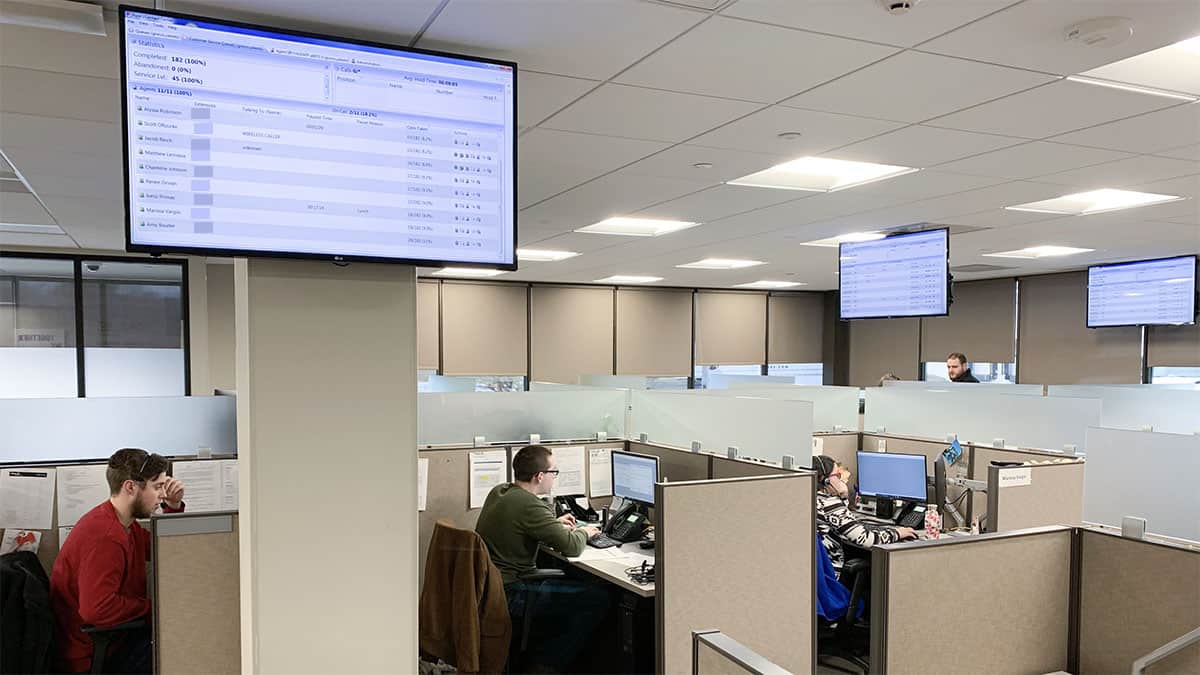 Yale Appliance Customer Service Team
That's what it takes to log over 37,000 service calls a year.
This department is the busiest in the company. We had to stop servicing other stores' customers in 2020.
We are looking to hire and train 20 new techs.
Why You Need Appliance Service
The graphic below tells the story.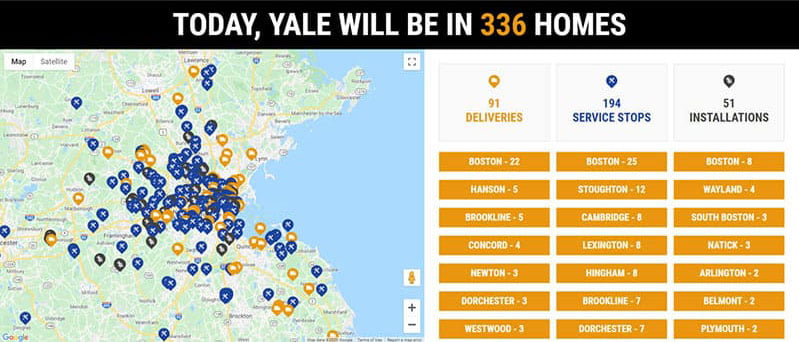 Appliances require service 9.7% of the time, just in the first year. Poor delivery and installations add 20% to that figure. The number escalates from there.
You will need service statistically on any appliance you buy.
Why Don't Retailers Offer Appliance Service?
The Spruce is a good website for comparisons and general information.
They listed the top places to buy appliances as:
Home Depot
Lowe's
Best Buy
Wayfair
Costco
AJ Madison
Appliance Connection
First, no, I am not insulted. We are not national and only sell to a small part of the country (plus, we don't buy affiliate links from any website).
They are all good companies depending on what you are considering.
Yet, it is somewhat ironic that none of these stores offer any kind of appliance service. They look at the country this way:
Amount of Appliance Service Needed in the U.S.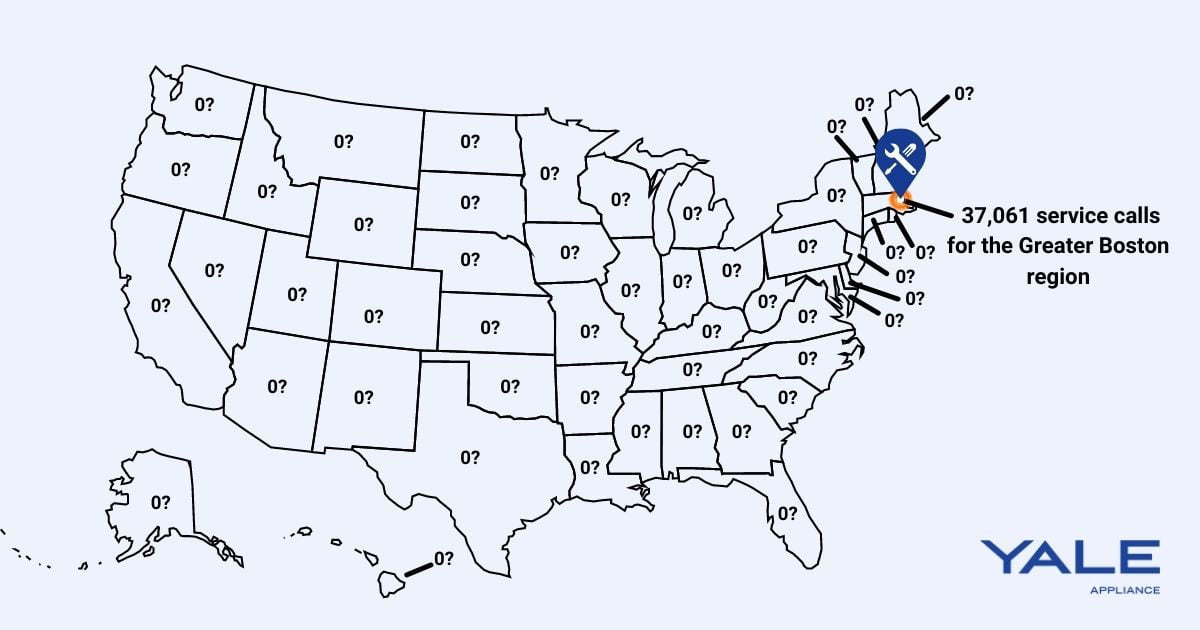 From December 2019-November 2020, Yale Appliance had 37,061 service calls for MA residents.
So, why don't retailers offer appliance service?
There are two reasons - time and mostly money.
First, it takes time to be efficient. We are almost 30 years in the business and are always learning.
Service also needs to be a priority with its management structure independent of sales.
Most stores want to sell products. It's easy.
What happens after that is the tough part, namely delivery, installation, and service is the hardest.
The main problem is the expense.
Our service department is budgeted to lose $1,200,000 just this year.
Manufacturers do not compensate for the actual cost of repairing their products in warranty, so we fund it out of marketing.
The ability to fix expensive appliances is the best marketing - far better than seeing my face on TV or a magazine.
It's odd.
In contrast, your car dealer is probably more invested in service along with strict NPS (Net Promoter Score) metrics from the brands.
Yet, in the appliance industry, many stores have stopped service completely while overspending on marketing.
Worcester and Braintree's main competitors disbanded their significant service departments in the last few years.
Most retailers' explanation is "the manufacturer will handle it."
However, it's not a reasonable explanation when they aren't doing it in Boston.
For many brands, there are even deeper issues.
A note to the many appliance stores reading this: Sales may be profitable but you are still spending most of your time trying to solve problems without a support staff.
You will not grow unless you can solve your customer's service problems.
Why Don't Appliance Brands Service Appliances?
The years of good factory service are mostly over for lack of funding.
For a brand, service is an expense, not a mechanism for customer recovery and your brand loyalty.
Brand loyalty is not quantifiable on a profit and loss statement or a balance sheet.
Many brands have deemphasized service. Many more do not employ a single technician.
Read the comments on our blog.
Everyone hates everything for a good reason.
You cannot even have minor problems fixed anymore.
Big companies are also a different breed.
Will a CEO spend 50-100 million building a nationwide service network?
Then recommit 20 Million annually? How will they sell that to investors?
It will take years to see results with the next CEO receiving the credit.
Most big companies will invest in marketing and product development for a much quicker return on their investment.
Unfortunately, bad customer service becomes amplified on social media and is a bigger issue than ever.
So there is no brand loyalty because loyalty is about what happens when problems arise.
How to Find Good Appliance Repair
You have the most leverage before you buy versus after you pay.
Remember that.
Take that opportunity to find good service.
Look at Yelp, Google, and call the manufacturers for lead times to service products before buying.
If you are unsure of similarly priced brands like Bosch compared to KitchenAid or Wolf versus Gaggenau, service should be a deciding factor.
You should shop for available services as you do for brands, features, and benefits.
There are still great service companies in different parts of the country.
Don's in Pittsburgh is a great service company. Four out of the six brothers work in the service department.
LG just hired the best service manager, Bill Lange, with an actual budget. Whirlpool has also made a better investment.
Sub-Zero has invested in parts and a more responsive service department. They have made it a priority.
That's commitment and what it takes to run a service department.
A few of our competitors do a very good job in Massachusetts, like George Washington Toma TV and Appliance, Belcher's Appliance Center, Hunter Appliance, and Poirier Sales and Service.
You also need to focus on service and reliable brands.
The time you spend finding service will pay you dividends when the product needs a repair because appliances break and everyone, now including you, knows.
Focus on service as a key purchase component to enjoy that holiday without worrying about your stove.
Additional Resources
Looking for more help on appliances? Get the free Yale Appliance Buying Guide with the 10 most frequently asked questions, their answers, features on the major brands, and lastly, advice for the best buying strategies. Well over 355,000 people have read a Yale Guide.
Related Articles:
Why Should You Trust Us?
It seems that every appliance review has nothing but glowing comments about almost every product, yet you read customer reviews and they are almost universally bad.
We are here to fill in the disconnect. We'll give you the best features, and the drawbacks as well, including reliability based on over 37,000 calls performed by our service team just last year. Our goal is to give you ALL the information so you know what's right for you.
Please consider subscribing or adding to the conversation in the comments below. We appreciate you stopping by.
A Note About Pricing
Pricing on this blog is for reference only and may include time sensitive rebates. We make every attempt to provide accurate pricing at time of publishing. Please call the stores for most accurate price.