Is The Beko DDT39432X Dishwasher Any Good? (Reviews / Ratings / Prices)
Editor's Note: Shopping for appliances will be challenging in 2020-2021. Many factories have had COVID-19 contamination somewhere in their supply chain for parts, factories, or warehouses.
Bosch, for example, is only working at 50% capacity after being shut down earlier in the year.
So you will see fewer models and brands available in the next six months to a year.
Beko is a new brand, not a new product. It's already sold in the US under its Blomberg brand. Many retailers in Boston still promote the Blomberg label.
Beko is currently doing what most new brands do: Selling you better products less expensively to gain market share.
The Beko DDT39432X has some interesting features for a dishwasher.
In this article, you will learn who Beko is, the different features than we will compare Beko to its main competition, KitchenAid, Bosch, and Miele. You can decide whether its right for you versus a more recognizable brand.
Let's get started.
Who Is Beko?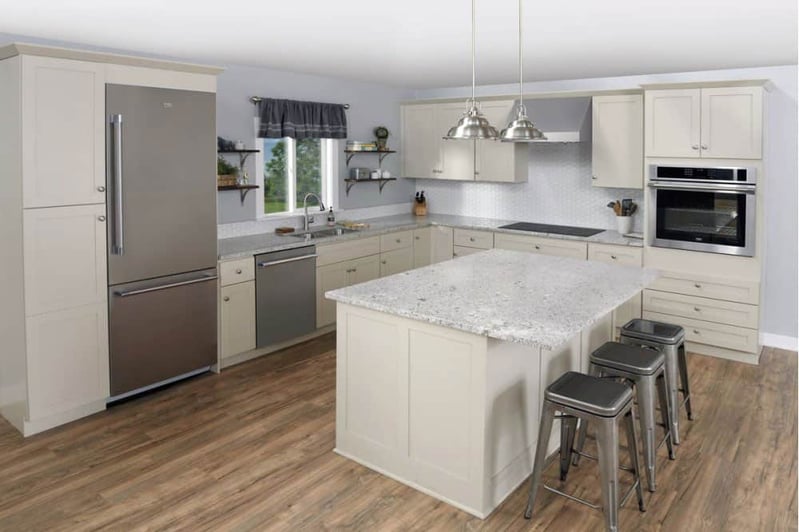 Beko Kitchen Appliances Featuring The Beko DDT39432X Dishwasher
First, Beko is a giant appliance only company based out of Turkey. They are popular in Europe and widely sold in 140 countries
As we said previously, they have been selling under the Blomberg name and producing dishwashers for Viking.
Is The Beko DDT39432X Dishwasher Any Good? [Video]
Beko DDT39432X Dishwasher Review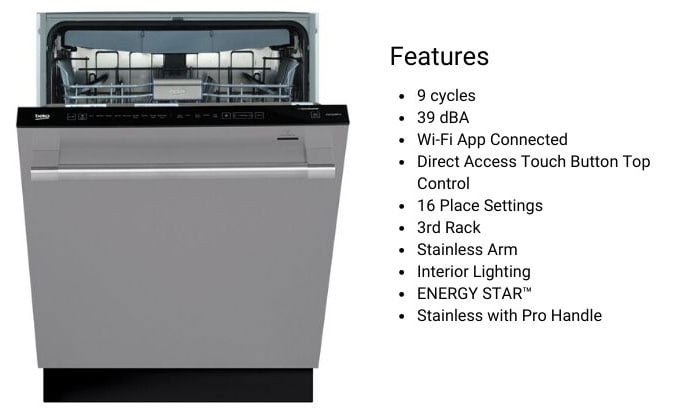 Hallmarks Of The Beko DDT39432X Dishwasher
1. Beko Dishwasher Cycles
Beko Dishwasher Controls
Beko has three wash action levels and a third silverware rack like most other dishwashers, but it has a cycle called AquaIntense.
It's a separate set of sprays to scour baked-on casserole dishes at the bottom of the dishwasher.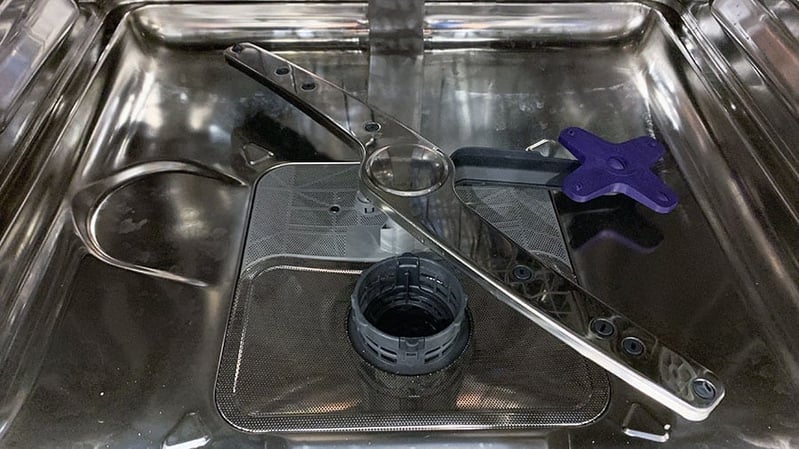 Beko AquaIntense Feature
You can combine that cycle with Aquaflex distributing 60% more water pressure on the bottom and lighter amounts for delicate items like china or crystal on the top rack.
The Fast cycle cuts time in half by adding more water pressure and a higher temperature. At 167 degrees, Beko is amongst the hottest dishwashers.
So for incredibly dirty dishes, Beko has more water pressure at a higher temperature than any other brand.
2. Beko Dishwasher IonGuard
IonGuard is another Beko exclusive. The dishwasher sends negatively charged Ions to neutralize the positive ions of odors to keep your dishwasher smelling fresh.
3. Beko Dishwasher Noise
It's also the quietest in this $1,099 price range at an almost noiseless 39 DB. It also has Wi-Fi so you can turn your dishwasher on or off from an app in your phone.
Because it's so quiet, you may want an alert about the cycle being over rather than opening when it's still running.
So it's a pretty loaded dishwasher, but how does it compare to Bosch, KitchenAid, or Miele.
Dishwasher Sound Level Comparison Video
Beko & Their Competitors, KitchenAid, Miele, And Bosch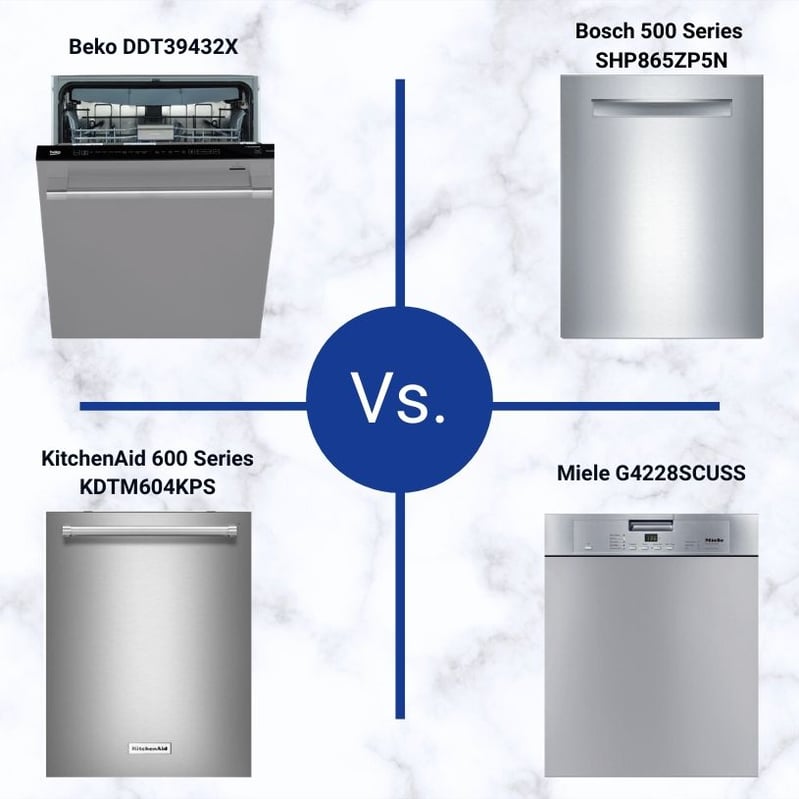 Drying
In terms of drying, the Bosch, Miele, and KitchenAid may be technically better. Like most stainless steel dishwashers, Beko uses condensation or heat from the wash combined with JetDry or other finishing rinses.
KitchenAid and Miele channel outside air to the dishwasher's sides, so the moist heat is attracted to the colder air and dissipated as water.
KitchenAid also adds a heating element to absorb moisture.
Click here for a review and video of the KitchenAid 600 series dishwasher.
The Bosch 500 series uses condensation like Beko at the same price.
At a slightly higher price, they have the Autodry feature popping the door open at the end of the cycle to release steam and moisture.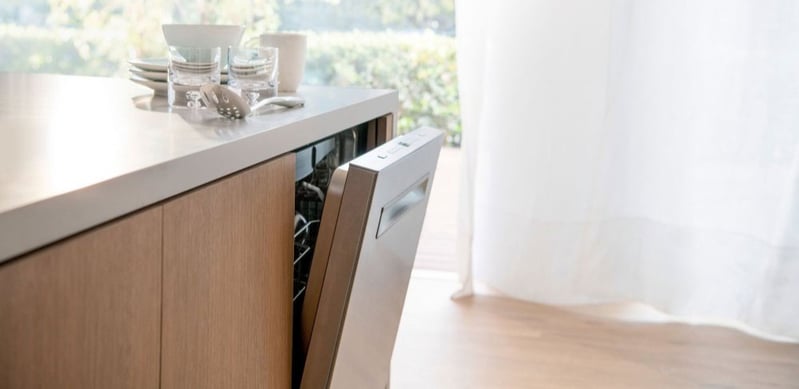 Bosch 500 Series Dishwasher with AutoDry
Their CrystalDry has volcanic elements to absorb moisture and increase heat, but it's over $1,200.
Click here for a review and video of the Bosch 500 series dishwasher.
Washing
In terms of washing, none employ the pressurized wash like Beko, and none have specialized sprays either.
However, KitchenAid has a better silverware rack with more total sprays, including one from the third rack itself. It's also competitively priced to a Beko at $899.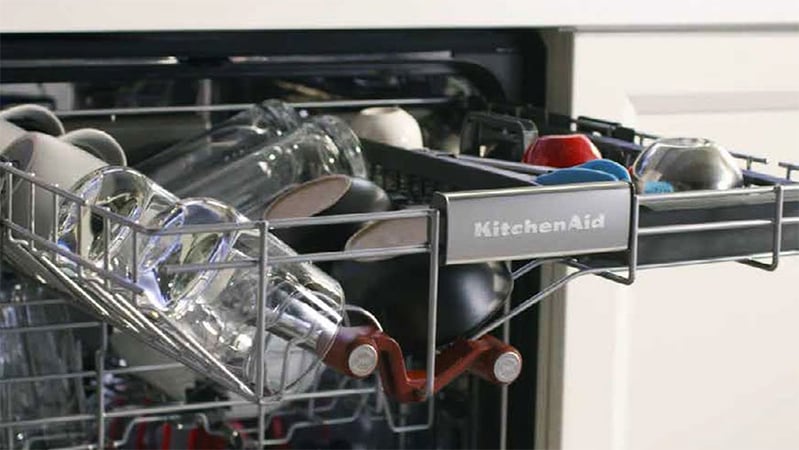 KitchenAid 600 Series Dishwasher Third Rack
Noise
As I previously said, the average decibel rating is 44-45 DB at this price range versus just 39 for Beko. 44 is still pretty good and the standard for quietness, but 39 is almost noiseless.
Are Beko Dishwashers Reliable?
Dishwasher Reliability for 2020
| | | | |
| --- | --- | --- | --- |
| | Service QTY | Shipped QTY | Service Ratio |
| Asko | 103 | 190 | 54.21% |
| Jenn-Air | 188 | 493 | 38.13% |
| Bosch Benchmark | 25 | 70 | 35.71% |
| Fisher & Paykel | 56 | 193 | 29.02% |
| Miele | 185 | 903 | 20.49% |
| Maytag | 2 | 10 | 20.00% |
| Gaggenau | 16 | 104 | 15.38% |
| Thermador | 126 | 872 | 14.45% |
| KitchenAid | 90 | 688 | 13.08% |
| Café Appliances | 3 | 25 | 12.00% |
| Bosch | 398 | 3573 | 11.14% |
| Samsung | 134 | 1297 | 10.33% |
| LG | 5 | 81 | 6.17% |
| Cove | 2 | 44 | 4.55% |
| Ge Appliances | 1 | 37 | 2.70% |
| Whirlpool | 38 | 1471 | 2.58% |
| Grand Total | 1377 | 10166 | 13.55% |
KitchenAid and Bosch are two of the more reliable dishwashers at 11 and 13% service in the first year. Miele is usually the best but had a minor defect not with a performance, but with noisy solenoids last year.
For reliability, Beko is truly an unknown. There is no service history yet. Blomberg was decent, but that was years ago. Beko also has more features than the old Blomberg dishwashers.
However, they have a 2-year full warranty better than the standard one year of most other brands.
As we said in the beginning, new companies add features including warranties to entice you to buy their products.
Should You Buy The Beko DDT39432X Dishwasher?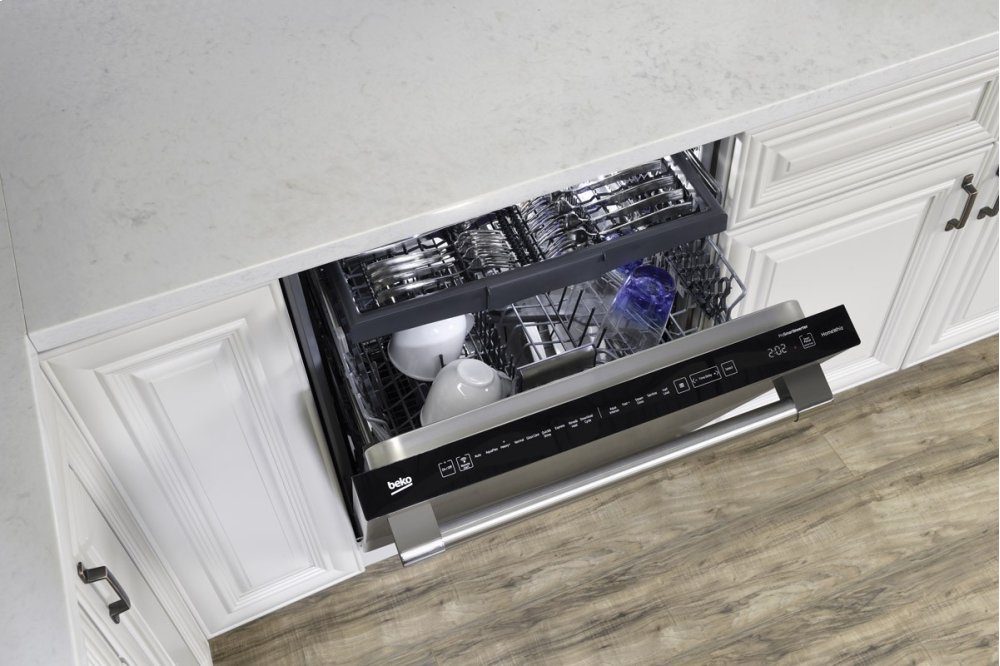 Beko Dishwasher DDT39432X
The Beko DDT39432X is a good dishwasher to consider at $1,099, not just because other competitive models might be out of stock.
It offers the right combination of heat and water pressure to clean your dishes. It is also the quietest if you have a kitchen open to your living room.
Although it has a good warranty, service could be a concern. Find a dealer or service agent who understands how to fix a dishwasher (same I would say for any brand).
You definitely should consider Bosch, KitchenAid, and Miele, but you should also add this Beko dishwasher to that list.
Additional Resources
Get our free Dishwasher Buying Guide with tips, trends, and reviews of all the major brands. Over 820,000 people have already found answers in a Yale guide.
Related Articles:
Why Should You Trust Us?
It seems that every appliance review has nothing but glowing comments about almost every product, yet you read customer reviews and they are almost universally bad.
We are here to fill in the disconnect. We'll give you the best features, and the drawbacks as well, including reliability based on over 37,000 calls performed by our service team just last year. Our goal is to give you ALL the information so you know what's right for you.
Please consider subscribing or adding to the conversation in the comments below. We appreciate you stopping by.
A Note About Pricing
Pricing on this blog is for reference only and may include time sensitive rebates. We make every attempt to provide accurate pricing at time of publishing. Please call the stores for most accurate price.