What Are The Best Dishwashers Under $1000? (Reviews / Prices)
So you need a new dishwasher? The brands have changed quite a bit over the last few years and so have the options
So while spending money to replace a new dishwasher is not much fun, you will end up installing a quieter dishwasher with better loadability
So its not all bad (just mostly)
We're going to look at 7 of your best options under $1000.
At the end of this article, you will better understand the newest features, brands, options as well as real reliability based on 34,669 service calls our service department logged last year.
What Are The Best Dishwashers For Under $1,000?
Can you believe dishwashers can now sell at almost $3,000? There are three brands pushing expensive dishwashers for your home.
You can still spend $500 for a decent dishwasher, $800 for a very good dishwasher, and just under $1,000 for an excellent one.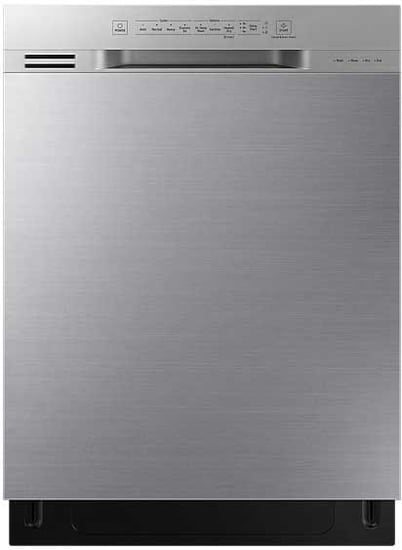 This is primarily a model we sell to builders and for rental apartments. It's a great value for the price of $449.
You have your main cycles with a stainless tub and plastic bottom. There are three racks, and the dishwasher pops open at the end of the cycle.
It's a bit noisy at 51 DBs, but there is value for the price and Samsung is surprisingly reliable.
Features:
51 Decibels
Three racks
Leak sensor
Plastic/Stainless interior
Delay start
External controls
Water softener option
Short on time? Get our free Dishwasher Buying Guide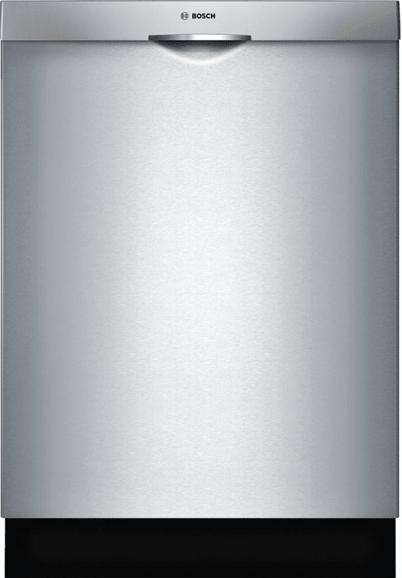 Nationally, this is Boschs' most popular dishwasher. It is quiet at 44 decibels and has the features you will use all the time: Normal, delicate, and quick.
Features:
44 Decibels
Three racks
Stainless steel tub
Quick wash
Delay start
Indicator light
Sanitize cycle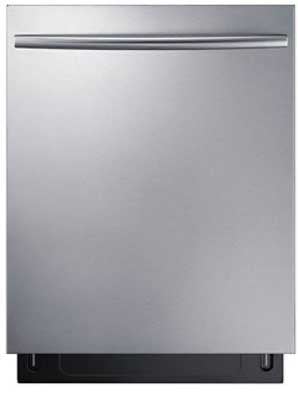 Samsung is the number one selling appliance brand in the US. It also has one of the best reliability ratings based on service calls.
This dishwasher has many premium features of much more expensive dishwashers.
It is quiet at 44 DBs and has the third rack with the major cycles like most dishwashers in this class.
However, it has the "Storm Wash" of high pressured jets at the bottom for deep cleaning a baked-on dish or tray. Lasagna pans are a good example.
The dishwasher, like a $1700 Miele, pops open at the end of the cycle to speed drying.
Features:
44 Decibels
Three racks
Leak detection
Stainless steel tub
Delicate cycle
Delay wash
Indicator light
Water softener option
Storm wash high powered wash on the bottom
Auto open door during drying cycle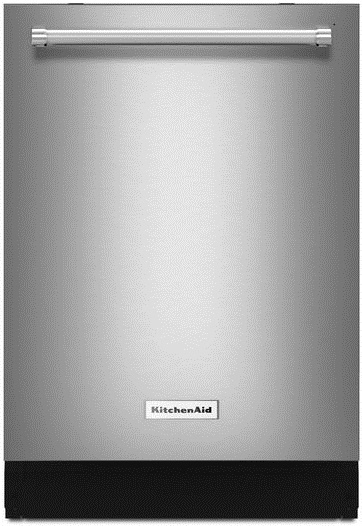 The KDTE334GPS is the best KitchenAid dishwasher, and it is not the most expensive.
In terms of quietness, this dishwasher is almost noiseless at 39 DB and has every feature available.
If you wash sport or baby bottles, there are specialized sprays on the top rack.
Like the Samsung, KitchenAid has the ProScrub, its high-pressure spray at the bottom of the dishwasher.
This dishwasher shifts in price from $619-1099 during the year, so buy it at the right time.
Features:
39 Decibels
Three racks
Bottle wash
Sanitize cycle
Stainless steel tub
Fan assist drying
Internal controls
Indicator light
Water softener option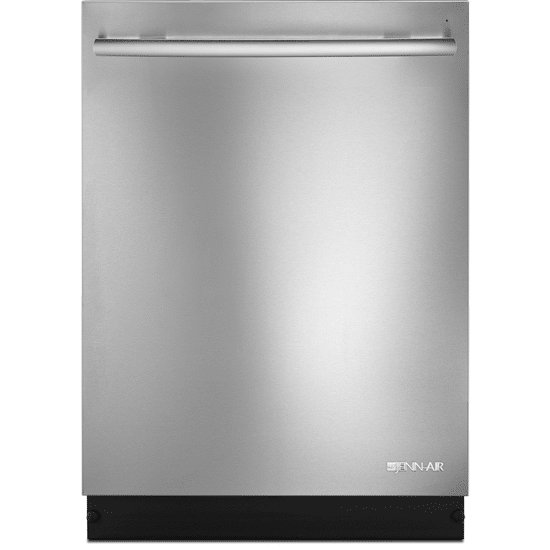 Jenn-Air is part of the KitchenAid family. In fact, this is a repackaged KitchenAid.
Jenn-Air is comparably priced to the KitchenAid with nicer glide racks and double the warranty. Jenn-Air products all come with 2-year parts and labor warranty.
Features:
46 Decibels
2 Racks
Upper glide rack
Internal controls
Stainless steel tub
Wash indicator light
Sensor wash with turbidity sensor
Waterlock flood protection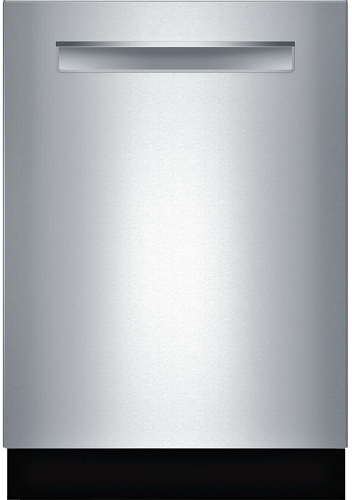 Bosch is the overall quietest dishwasher brand. This model is the number one selling dishwasher at Yale. It's not branded and has a pocket handle to match any other brand of appliances in your home.
There are several Bosch "SHP" models. The YP5N designates ball bearing racks on the top and a rack stop below.
Ball-bearing racks glide out better and won't sag over time. The rack stop prevents your toddler from flinging the bottom rack out of the dishwasher.
Features:
44 Decibels
Three racks
Rack stop to keep the bottom rack from sliding out all the way
Info light to tell you when it's running
Adjustable middle and upper racks
Speed60 Wash
Load size sensor
Sanitize cycle
Extra scrub cycle
Stainless steel tub
AquaStop leak protection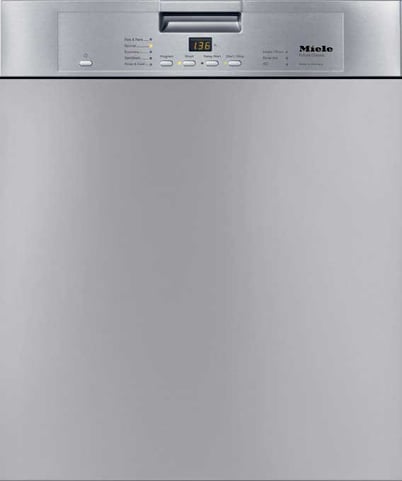 Miele is perhaps the best-made dishwasher in the world. They are usually the most reliable as well, but last year, they had an isolated issue with their motors.
Every part of this dishwasher is made by Miele in Germany, except the rollers under the racks.
Miele is the best drying under $1000. Their system allows outside air to the side of the dishwasher, so the steam is attracted to the colder side and dissipated as water.
Miele also has the best washing system with the third spray arm on top of the dishwasher.
Features:
46 Decibels
Three racks
Leak sensor
Stainless steel tub
Delay start
Quick wash
External controls
Indicator light
Glide racks
To learn more about Miele dishwashers and how it compares to other brands, click here for our free dishwasher buying guide.
What Is The Best Dishwasher Under $1,000?
It depends on what you are looking for and how you wash your dishes.
| | | | | | | | |
| --- | --- | --- | --- | --- | --- | --- | --- |
| | Jenn-Air | Bosch | Bosch | Samsung | Samsung | KitchenAid | Miele |
| Model | JDB9000WS | SHP865YP5N | SHS863WD5N | DW80K705US | DW80N303US | KDTE334GPS | G4228CSUSS |
| Price | $899.00 | $999.99 | $749.99 | $679.99 | $449.99 | 749.99 | $999.99 |
| Decibels | 46 | 44 | 44 | 44 | 51 | 39 | 46 |
| # of Racks | 2 | 3 | 3 | 3 | 3 | 3 | 3 |
| Leak Sensor | Yes | Yes | Yes | Yes | Yes | Yes | Yes |
| Flush install | No | Yes | Yes | No | No | No | Yes |
| Tub Interior | Stainless | Stainless | Stainless | Stainless | Plastic/Stainless | Stainless | Stainless |
| Delicate Cycle | Yes | No | No | Yes | No | No | No |
| Drying Type | Heating Element | Condensation | Condensation | Heating Element | Heating Element | Fan Assist | Condensation |
| Delay Start | Yes | Yes | Yes | Yes | Yes | Yes | Yes |
| Quick Wash | Yes | Yes | Yes | Yes | Yes | Yes | Yes |
| Bottle Wash | No | No | No | No | No | Yes | No |
| Controls | Internal | Internal | Internal | Internal | External | Internal | External |
| Indicator Light | Yes | Yes | Yes | Yes | No | Yes | Yes |
| Turbidity Sensor | Yes | Yes | Yes | Yes | Yes | Yes | Yes |
| Water Softener | Yes | No | No | Yes | yes | Yes | No |
| Brand repair rate in the first year | 18.72% | 11.08% | 11.08% | 9.29% | 9.29% | 16.31% | 14.38% |
For features, Samsung and KitchenAid have a concentrated wash for baked-on dishes. For bottles, KitchenAid has the bottle wash.
For quiet, they are all decent. Samsung is loud at 51, and KitchenAid is super quiet at 39 DB
In terms of price, then Samsung has two great choices.
For features, KitchenAid, Bosch, and Samsung have great features.
Miele is technically the best for washing and drying.
How To Choose The Best Dishwasher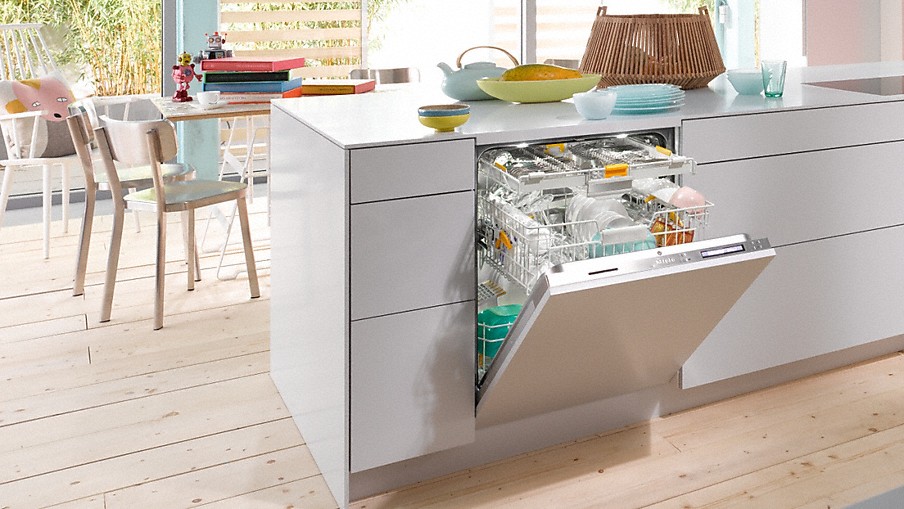 If you're making your first dishwasher purchase or your first one in a long time, you might not be aware of all the features that are offered. Here are some of the most commonly sought after features to look for.
Sound
Today, the number one question we get asked about dishwashers is, "Is it quiet?"
What you think is quiet, and what I think is quiet could be very different. But a good rule of thumb is anything 44 decibels or less is very quiet. You will need an indicator light to tell that it's even on.
We tested 44, and 55 DB live in a kitchen with a sound microphone. Here is the difference:
Dishwasher Sound Level Comparison [VIDEO]
How do companies achieve this level of quietness compared to the old days? The first thing is insulation. The sides of the units are filled with different types and amounts of sound-absorbing material.
Also, in the old days, all dishwashers used grinders at the bottom to crunch up the discarded food and wash it down the drain.
Most dishwashers now have filters that you need to empty on occasion. The grinder was the biggest contributor to the noise.
Cycle Time
How long will it take to do a cycle? This is probably the second most asked question by our customers.
The standard wash cycle can be as long as 2 hours. Depending on what type of drying method the dishwasher uses, this could add on more time. European brands use condensation drying (see more on drying below), and this takes quite a long time.
Most brands have a "quick wash" that takes 60 minutes or so. Well, yes, it's a quick wash, but this time doesn't include a dry cycle.
Drying
Since we mentioned drying, let's talk about that. As I stated, many brands use condensation drying. Think of this as what happens when you get out of the shower. The hot steam from the water is drawn to the colder mirror which fogs it up. The same thing happens in a dishwasher.
The hot air from the last rinse cycle is attracted to the colder sides of the dishwasher. However, as cycle time and the quality of the drying has become an issue, many brands are adding different ways to assist in the drying process.
Some will have the door pop open during the dry cycle to get some airflow, some will cool the interior walls to speed up the condensation process, and some have a heating element.
Miele has the best because it allows outside air on the side and speeds up the condensation process.
For dishwashers over $1,200, some Thermador and Bosch dishwashers use a mineral called Zeolite to speed up the drying process. Zeolite doesn't add any electricity and never needs to be replaced.
Pro Tip: Use Rinse Aid. Every brand recommends it, and not many people use it. This will significantly help the drying process.
Cleanliness
Ultimately the goal of the dishwasher is to get your dishes clean. If it can't do this, then get used to using paper plates.
Most will do this job just fine. The dishwashers of my youth were not as good as they are today. Today the two biggest problems are that we pre wash our dishes and we use too much detergent. Dishwashers don't need a lot of detergent.
If you use too much detergent, it can affect the longevity of the machine and create some residual build-up. And prewashing is no longer necessary.
Most dishwashers have turbidity sensors. What this does is measure the level of dirt in the water. The wash cycle is adjusted based on this dirt level. If it doesn't detect any dirt particles, the machine thinks the dishes are already clean and may stop the cycle before it should.
You should scrape the food off your dishes, but don't wash and don't even rinse them.
Reliability
Which model will have the least repairs? Not all brands are created equal.
But no matter how reliable an overall product is, sometimes things break. Yale has one of the largest service departments in New England.
In 2018 we performed over 34,687 service calls.
Below are the actual repair rates for the brands during their first year for 2018 and 2019.
(Note: Whirlpool products are mainly sold to builders, and we usually may not get these service calls. Therefore, our repair rates for Whirlpool are not as precise as the other brands listed).
Most Reliable Dishwasher Brands for 2019
| | | | |
| --- | --- | --- | --- |
| | Service Qty | Shipped Qty | Service Ratio |
| Signature Kitchen Suite | 0 | 17 | 0.00 % |
| Whirlpool | 44 | 1030 | 4.27 % |
| Gaggenau | 2 | 42 | 4.76 % |
| LG Electronics | 4 | 78 | 5.13 % |
| Samsung | 85 | 915 | 9.29 % |
| Maytag | 3 | 29 | 10.34 % |
| Bosch Appliances | 303 | 2735 | 11.08 % |
| Miele | 155 | 1078 | 14.38 % |
| Kitchenaid | 115 | 705 | 16.31 % |
| Thermador | 123 | 711 | 17.30 % |
| Jenn-Air | 170 | 908 | 18.72 % |
| Blomberg | 6 | 28 | 21.43 % |
| Fisher & Paykel | 42 | 175 | 24.00 % |
| Bosch Benchmark | 38 | 158 | 24.05 % |
| Asko | 47 | 195 | 24.10 % |
| Amana | 3 | 11 | 27.27 % |
| Frigidaire | 10 | 22 | 45.45 % |
| Frigidaire Gallery | 5 | 8 | 62.50 % |
| Electrolux | 2 | 2 | 100.00 % |
| Frigidaire Professional | 2 | 2 | 100.00 % |
| Grand Total | 1159 | 8852 | 13.09 % |
Our Final Advice
As you see in most categories, there is no definitive winner. They are all good.
It boils down to what's important to you.
If you want the quietest, go for KitchenAid. If you want something that will sit flush with your cabinets, it's Bosch or Miele.
The best drying will be Jenn-Air, Samsung, or KitchenAid. (Bosch will match that on their newer models that are coming out this fall). Most reliable; Samsung and Bosch.
There is no clear winner for everyone, just a winner for you. Choose yours wisely.
Frequently Asked Questions
1. What Is The Quietest Dishwasher?
Overall Bosch is the quietest dishwasher brand. However, if you want to take a nap next to a dishwasher, Bosch Benchmark, JennAir and Miele all have dishwashers that go as low as 38 decibels.
These units can cost as much as $3000.
The human ear can't detect a difference between 44 decibels and lower, so this isn't a feature you should pay extra for.
2. What's The Best 18-Inch Dishwasher?
There aren't a lot of options for the best 18-inch dishwashers, but it's an important question for older cities like Boston with a lot of small apartments that can't accommodate a full-size machine.
Bosch and Miele are the two best companies in this category although Frigidaire and Monogram . Bosch will be less featured and also less expensive.
3. What Are The Best Dishwasher Brands To Consider?
The best dishwasher brands depend on what's best for your needs. Bosch is the most popular brand for dishwashers and has a really wide range of features and price points.
Miele, Thermador, Bosch, and Sub-Zero Cove are all excellent "luxury brand" choices. For less expensive but well-featured brands, Samsung, KitchenAid, and Whirlpool should be considered.
Additional Resources
Get our free Dishwasher Buying Guide with tips, trends, and reviews of all the major brands. Over 580,000 people have already found answers in a Yale guide.
Related Articles:
Why Should You Trust Us?
It seems that every appliance review has nothing but glowing comments about almost every product, yet you read customer reviews and they are almost universally bad.
We are here to fill in the disconnect. We'll give you the best features, and the drawbacks as well, including reliability based on over 37,000 calls performed by our service team just last year. Our goal is to give you ALL the information so you know what's right for you.
Please consider subscribing or adding to the conversation in the comments below. We appreciate you stopping by.
Craig Marcotte
Craig Marcotte is an Appliance Sales Consultant at Yale Appliance. He has been with Yale for over two years now. Before working at Yale, Craig was a corporate trainer and later spent several years managing restaurants in Boston. A New Hampshire boy at heart, you can often find Craig on a mountain or running a Spartan race when he isn't helping customers upgrade their homes.
A Note About Pricing
Pricing on this blog is for reference only and may include time sensitive rebates. We make every attempt to provide accurate pricing at time of publishing. Please call the stores for most accurate price.