The 5 Best Dishwashers Under $1,000 (2023 Update)
July 12th, 2023 | 8 min. read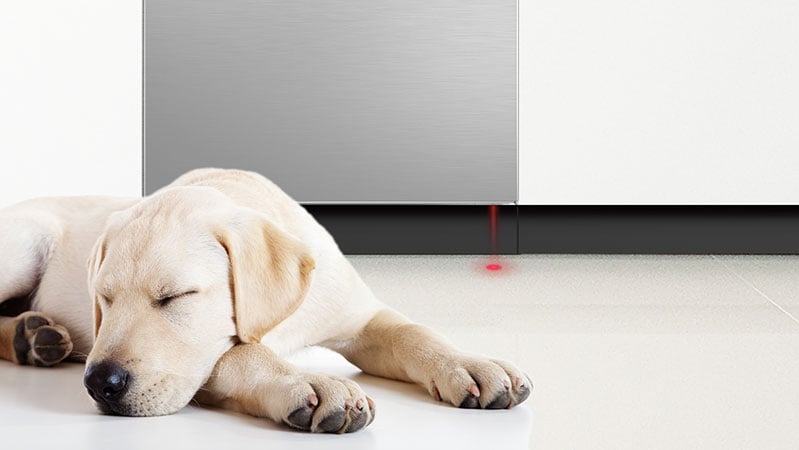 Yes, you can buy a good dishwasher for under $1000.
Just not this one: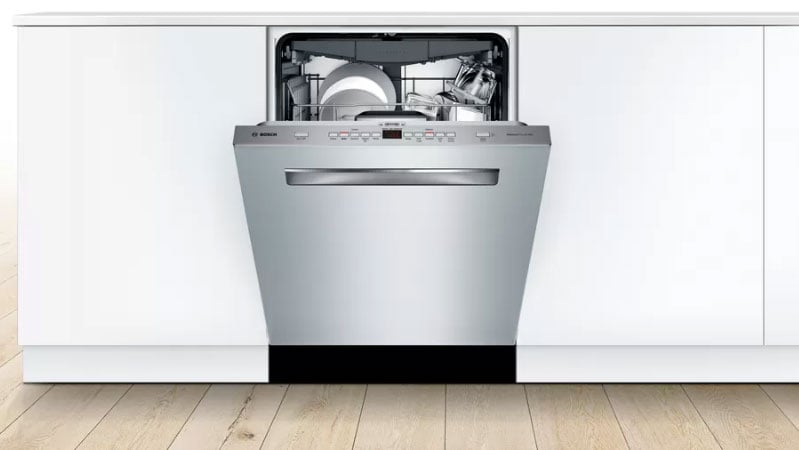 Bosch dishwashers have not been available for under $1,000 for almost three years.
Nevertheless, we'll share five good alternatives under $1,000. We'll highlight the best features of each so you can pick the one right for you.
What You Should Look for in a Dishwasher Under $1,000
Quietness
If you're in the market for a new dishwasher, it's important to consider the noise level. The industry standard for quietness is 44 decibels (dB), and anything at or below that level won't disrupt your TV watching, even in an open floor plan.
The good news is that you don't have to break the bank to find a quiet dishwasher. There are plenty of options available for under $1,000.
Read more: Quietest Dishwashers by Decibel Rating
Stainless Steel Tub
When it comes to choosing a dishwasher, one of the key factors to consider is the material of the interior. A dishwasher with a stainless steel interior is the best choice compared to one with a plastic interior.
Not only does stainless steel not retain odors like plastic, but it is also more durable and resistant to stains and scratches.
Third Utensil Rack
These dedicated racks allow for more room on the bottom rack for plates without the silverware basket.
The 5 Best Dishwashers Under $1,000
Quietest: KitchenAid KDFE204KPS ($849-$1,034)
39 dBA Dishwasher with Third Level Utensil Rack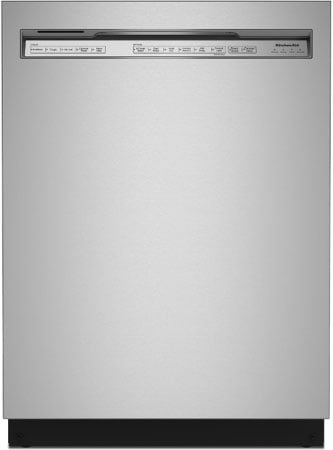 Like all the dishwashers in this article, this dishwasher has a stainless-steel interior tub which is more hygienic and resistant to odors than plastic or hybrid tubs.
You also have three levels of wash action like the other models on this list, plus the third utensil rack, so you have an organized place to put your silverware and save room on the top.
KitchenAid has its ProWash cycle to measure soil and adapt wash times. It is also exceptionally quiet at 39 decibels.
A quiet silence rating seems to be their main selling point under $1,000. However, the others on this list are also below the 44-decibel quietness standard.
Cons
KitchenAid has a heated drying system but no special cycles for bottles and silverware like the others. The cycles are also basic, and you don't have a delicate wash cycle in this model.
KitchenAid KDTM404KPS ($899-$1,214)
44 dBA Dishwasher in PrintShield™ Finish with FreeFlex™ Third Rack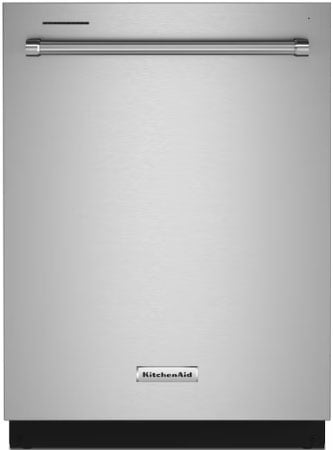 KitchenAid's more expensive series has a better drying system using a fan to pull air into the dishwasher. The colder air attracts the steamier air, so it's dissipated as water.
The KitchenAid KDTM404KPS a larger third rack with an additional set of rotating spray jets for a fourth level of wash action.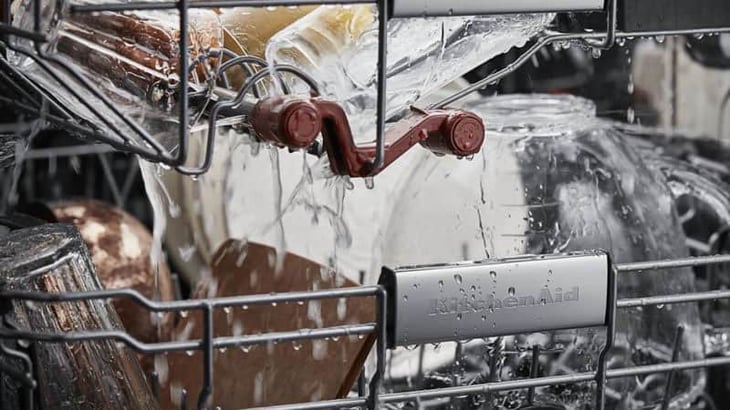 Can you buy this model for under $1000? Maybe. That depends on how the recession affects dishwasher sales.
Follow this tip for the best prices on appliances: Most of these models will have a price range of up to 35% off during promotional holidays. The best time to buy appliances is around holidays like Presidents' Day, Memorial Day, July 4th, and Black Friday.
GE redesigned its Profile dishwashers a few years ago with some unique features such as Microban-coated handles, special wash jets, and a new drying system.
Microban-Coated Handles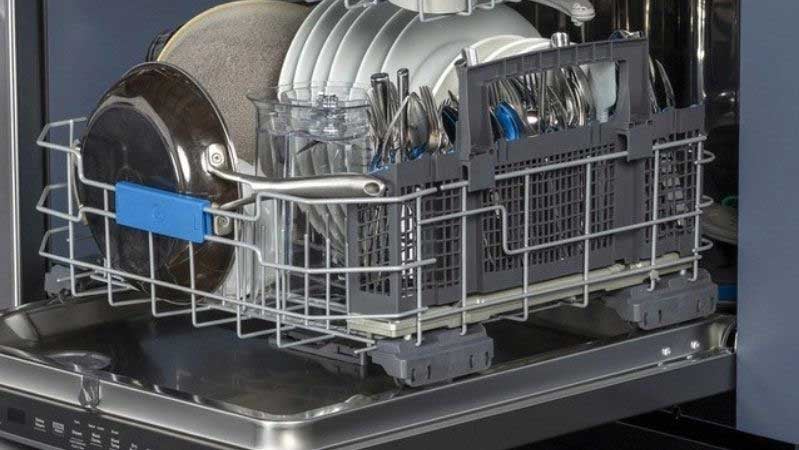 GE's successful odor, mold, and moisture prevention package in their washers was added to this new line of dishwashers.
This GE Profile dishwasher now has Microban antimicrobial surfaces on the outside handle. Microban surfaces help to inhibit the growth of bacteria and mold.
Furthermore, the dishwasher is equipped with the "UltraFresh" fan system, which effectively dries residual moisture and eliminates the presence of mold and mildew.
Special Sprays
Their wash system adds special sprays for silverware under the basket and four special wash jets for bottles on the top tack.
The GE Profile dishwasher is the most flexible for loading, especially silverware. You also have the cutlery rack and the basket at the bottom with special sprays for caked-on utensils.
Bottle Wash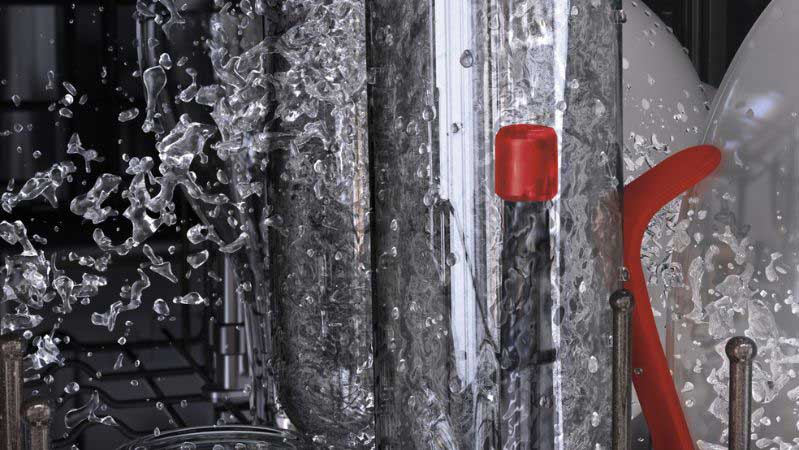 The top rack features four high-pressure wash jets.
The GE Profile dishwasher is engineered to effectively remove any leftover residue from protein shakes.
My daughter is almost seven as I write this. When she was little, I wished I had this to scrub that formula fr0m the bottom of her baby bottles.
Drying
They also improved the drying system with a fan to remove excess moisture and speed up the drying process, even for plastics.
Many companies use a fan to pull in moisture so it dissolves as water. Interesting that GE Profile does the opposite.
Quietness
For quietness, which is important if your kitchen is opened to your living room, GE Profile is 42 decibels, far below the standards for quietness.
However, unlike every other dishwasher we are about to compare, GE is quiet with a food disposer instead of a filter you have to clean.
Cycles
As you would expect, the GE Profile has plenty of cycles:
Child Lock
Wash Zone Lower Only
Start/Reset
Bottle Jets (SmartHQ option)
UltraFresh
Delay Start 1-12 Hr.
Wash TempBoost
Steam PreWash
Sani (Certified to NSF Standard 184)
Sabbath Mode
Heated Dry
Dry Boost™
Wash Zone Upper Only
Cons
The only downside is the top spray arm is more like a sprinkler head than a full wash arm. It's like the Bosch dishwasher mentioned earlier.
Quick Note: If you want to place a panel on a dishwasher, American brands like GE and KitchenAid will protrude from the cabinet and won't look good. Stick to a European dishwasher like the next model we'll talk about.
The Beko dishwasher comes equipped with 12 cycles and 10 functions, making it capable of washing all types of dishes.
Additionally, it features Wi-Fi functionality that allows users to turn the dishwasher on or off remotely and check the remaining cycle time.
Quietness
Beko, like KitchenAid, is so quiet at 39 decibels you can open it while running, thinking the cycle is over. So seeing the time remaining and being notified through an app on your phone is a decent feature.
EverClean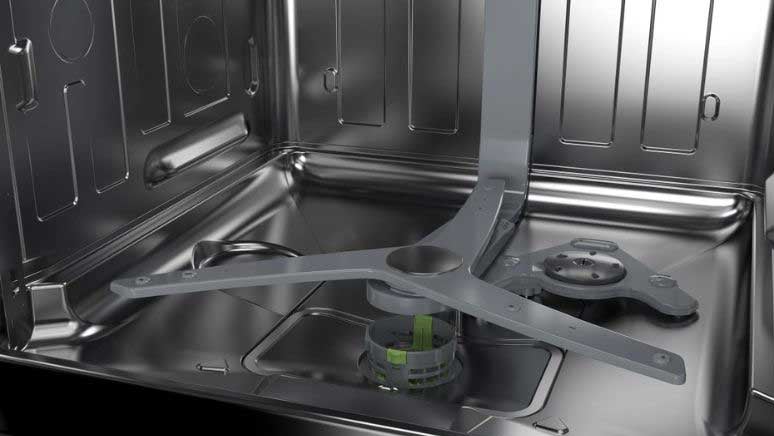 Beko automatically rinses their filter with pressurized water dubbed "EverClean," so you don't have to clean it as often as the others.
The third rack up top has two wash arms and a sprinkler, like the GE Profile and unavailable Bosch dishwashers.
CornerIntense
Beko has a new wash system called "CornerIntense."
Instead of rotating on a fixed axis like every other dishwasher. Beko is on a movable axis, so more water is sprayed in a square pattern.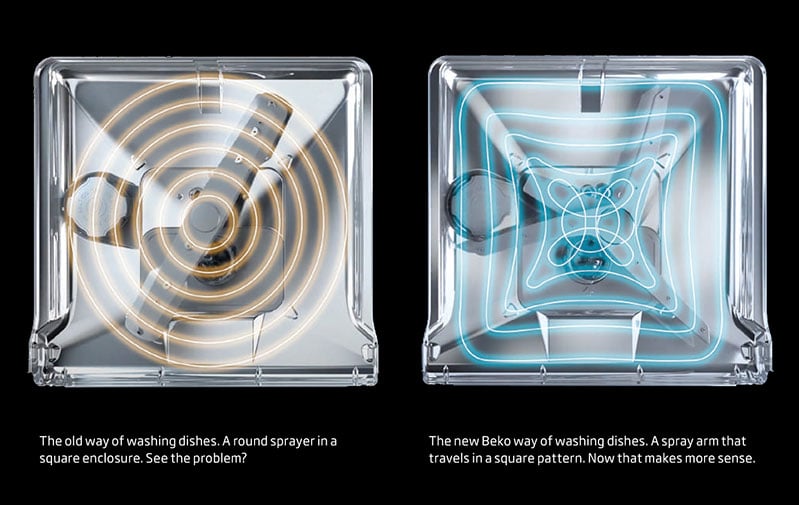 It makes sense. The dishwasher itself is square.
Bottle Wash
For special features, Beko has three dedicated power washes to power spray that gunk, or residue, out of the bottom of your sports and baby bottles and pans up to 12 inches deep.
AquaFlex
Most dishwashers wash with the same pressure every cycle.
However, the AquaFlex cycle diverts most of the water pressure at the bottom of the dishwasher to scour your heavily soiled dishes.
Drying
Their drying system is also updated with their SelfDry system, popping open the dishwasher at the end of the cycle to release the moist, steamier air.
This feature is also seen in the Bosch 500 series and all Miele dishwashers.
It's simple, but it works. Steam rises so that air will move rapidly out of the dishwasher
Ion Generator
Beko also has a cool feature to reduce odors using an ion generator. It pulses negatively charged ions throughout the inside of the dishwasher.
How does that reduce odors, you are probably asking?
Turns out odors have positively charged ions, so the negative pulses cancel them out.
Cycles
Auto
AquaFlex
Heavy+
Normal
Glass Care
Quick & Shine
Express
Rinse & Hold
Downloadable Program
Cons
Beko was serviced a bit over the average last year. The problems were minor, as opposed to your dishwasher not working.
To their credit, Beko is responsive and has a 2-year full warranty.
However, most stores don't service what they sell, and most brands don't have their own service department.
However, GE and KitchenAid have their own service departments, with GE being the best of the manufacturers. Like we say in all of our articles, Google service in your area before you buy any appliance.
Subscribe to the blog and be notified first of future comparisons, reliability reports, and how-tos. Homeowners, renovators, and other appliance stores (yes, we know) have subscribed to the Yale Blog.
The LG LDPH7972S has all the features with three levels of washing, decent racking with the third rack up top like most competitive brands, and all the most common cycles.
Like the others, it is below the quietness standard at 42 decibels. Like Beko, it is also Wi-Fi-enabled.
Steam
This dishwasher dispenses steam at 212 degrees. Steam loosens tough stains like those baked-on lasagna dishes you left in the sink the night before.
My neighbor has an LG steam dishwasher. Curious, I baked a casserole and left the casserole dish in the sink.
Then I washed it in a steam cycle. The results were impressive. It washed all the baked-on food. There was one sliver that I easily wiped off.
Then again, steam is a feature in washing machines for loosening up stains like wine and grass. Steam is a good consideration if you leave your dishes in the sink overnight.
Steam also removes spots on glasses in the dry cycle.
QuadWash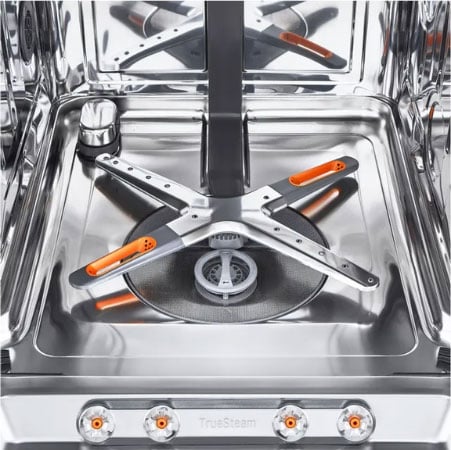 The arms are elliptical, so the washing is in irregular patterns washing more places than the standard round arms of a normal dishwasher.
Dynamic Dry
Most dishwashers in this price range use condensation drying, an industry term for the heat from the wash, jet drying, and time. Lots of time.
LG has a dynamic drying system, their term for adding heat and steam to speed up the drying process.
1-Hour Wash & Dry
Miele has their QuickIntense cycle for their 1-hour drying time, starting at $1,200.
The unavailable Bosch has their Speed60 cycle for their 1-hour drying cycle. Using heat and steam, LG effectively washes and dries your dishes in one hour.
So, the LG LDPH7972S has a unique combination of steam and better washing and drying capabilities.
But here is their best feature:
Reliability
LG is the most reliable dishwasher sold at Yale with a service rate of only 3.5%, according to our 33,000+ service calls completed last year.
Cycles
Auto
Normal
Heavy
Delicate
Steam
FlexZone
High Temp.
Dry Boost
Night Dry
Cons
LG is a good combination of features and reliability. However, their sudden popularity is a constraint to their ability to fix problems when they do happen.
It's not a parts problem, as all these angry service technicians say. The problem is finding technicians to fix problems when they do occur.
Key Takeaways
Which dishwasher do you think is best? Leave it in the comments below.
Dishwashers
FAQs
Answers to the most commonly asked questions about dishwashers.
Can I find a good quality dishwasher under $1000?
What features should I look for in a dishwasher under $1000?
Are there any energy-efficient options within this price range?
Can I find a dishwasher with a stainless-steel interior within this budget?
Are there any reliable brands that offer dishwashers under $1000?
How do I determine the right dishwasher size for my needs?
Can I install a dishwasher myself or do I need professional help?
How long can I expect a dishwasher under $1000 to last?
Are there any additional costs to consider when buying a dishwasher?
Additional Resources
Click this link to download our free dishwasher buying guide. We all know someone who's been talked into buying the wrong appliance, don't let that happen to you. Over 1.5 million people (about the population of West Virginia, Go Mountaineers!) have found the right answers in a Yale guide.
Related Articles:
Why Should You Trust Us?
It seems that every appliance review has nothing but glowing comments about almost every product, yet you read customer reviews and they are almost universally bad.
We are here to fill in the disconnect. We'll give you the best features, and the drawbacks as well, including reliability based on over 37,000 calls performed by our service team just last year. Our goal is to give you ALL the information so you know what's right for you.
Please consider subscribing or adding to the conversation in the comments below. We appreciate you stopping by.
Steve Sheinkopf is the third-generation CEO of Yale Appliance and a lifelong Bostonian. He has over 38 years of experience in the appliance industry, and he is a trusted source of information for consumers on how to buy and repair appliances.

Steve has also been featured in numerous publications, including the New York Times, Consumer Reports, The Boston Globe, Bloomberg Radio, the New York Post, The Wall Street Journal, and Entrepreneur, for his knowledge of how to buy appliances and appliance repair.

Steve is passionate about helping consumers find the best appliances for their needs, and he is always happy to answer questions and provide advice. He is a valuable resource for consumers who are looking for information on appliance buying, repair, and maintenance.

Despite being the worst goalie in history, Steve is a fan of the Bruins and college hockey, loves to read, and is a Peloton biker. The love of his life is his daughter, Sophie.
A Note About Pricing
Pricing on this blog is for reference only and may include time sensitive rebates. We make every attempt to provide accurate pricing at time of publishing. Please call the stores for most accurate price.